Make your own homemade roasted tomato sauce using fresh, juicy tomatoes from the garden! Roast your tomatoes and puree them with garlic cloves, olive oil, and fresh basil.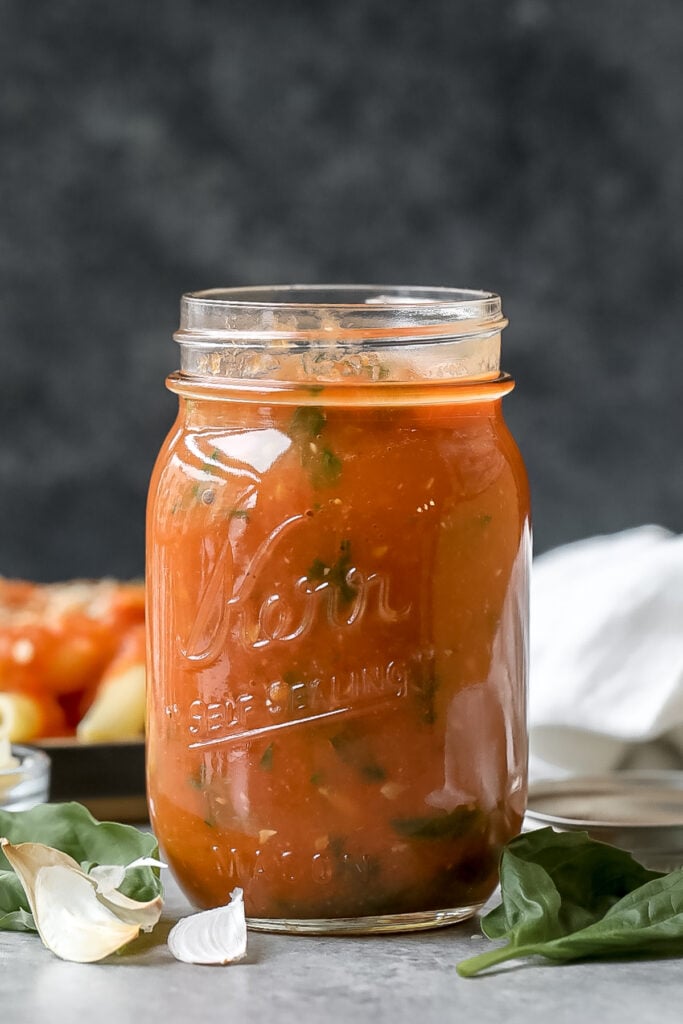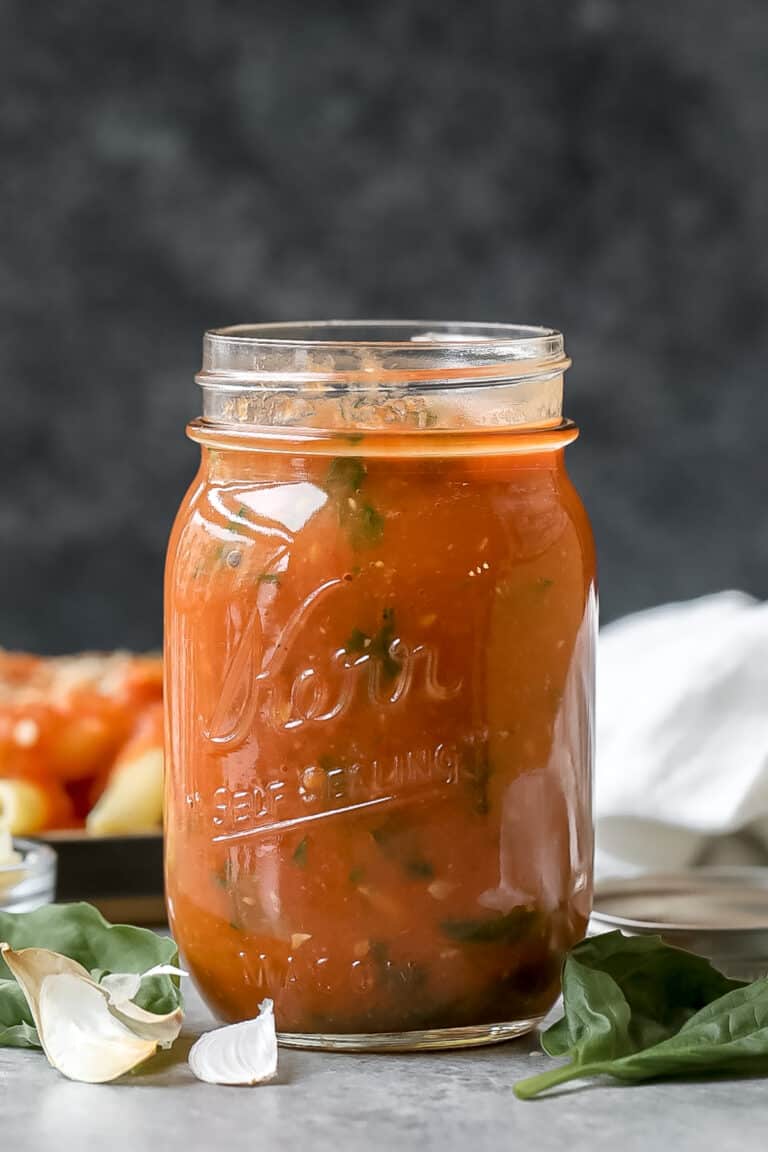 Make Your Own Roasted Tomato Sauce!
Are you ready to learn how to make tomato sauce? This homemade roasted tomato sauce recipe is bursting with flavor from freshly roasted tomatoes and combines garlic cloves, olive oil, and fresh basil for the most delicious tomato sauce.
I absolutely love serving this tomato sauce from scratch on top of pasta and in other Italian-inspired dishes such as chicken parmesan because it's freshly made and so easy to make!
This tomato sauce is similar to our homemade marinara sauce, but instead of using canned tomatoes, we're using fresh!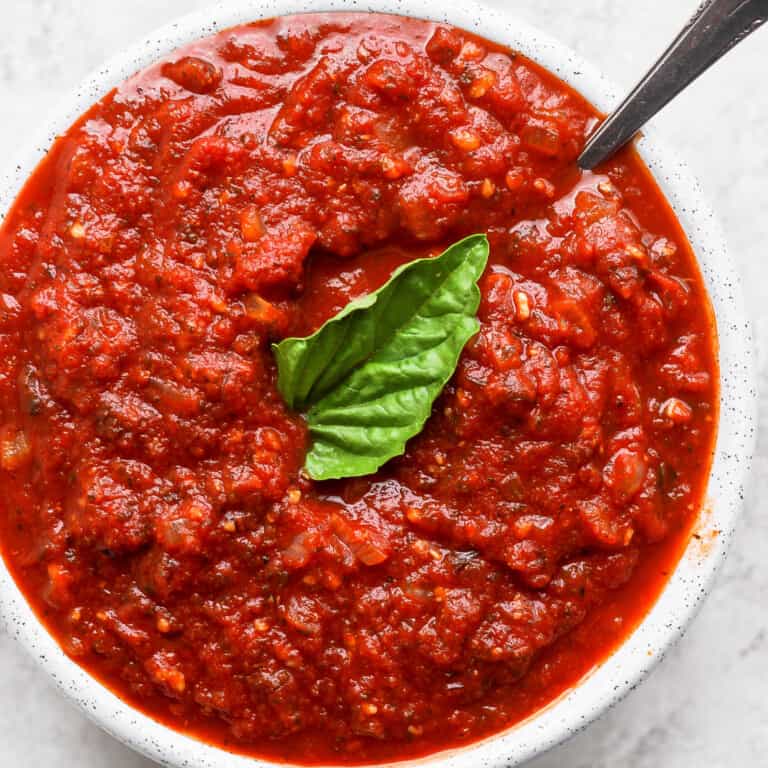 Homemade
Marinara Sauce
The most delicious homemade marinara sauce is ready in no time and is made with simple ingredients such as chunky tomato sauce, onion, and garlic.
Get Recipe
What is tomato sauce?
Tomato sauce is a tomato-based sauce consisting of cooked-down tomatoes, salt, and other flavors. It's commonly used in different pasta dishes and is the base of many Mexican dishes.
What kind of tomatoes do you need for homemade tomato sauce?
In order to make homemade tomato sauce, you can technically use any kind of tomato you have on hand, however, we recommend a medium to large tomato because they're much easier to peel than cherry tomatoes.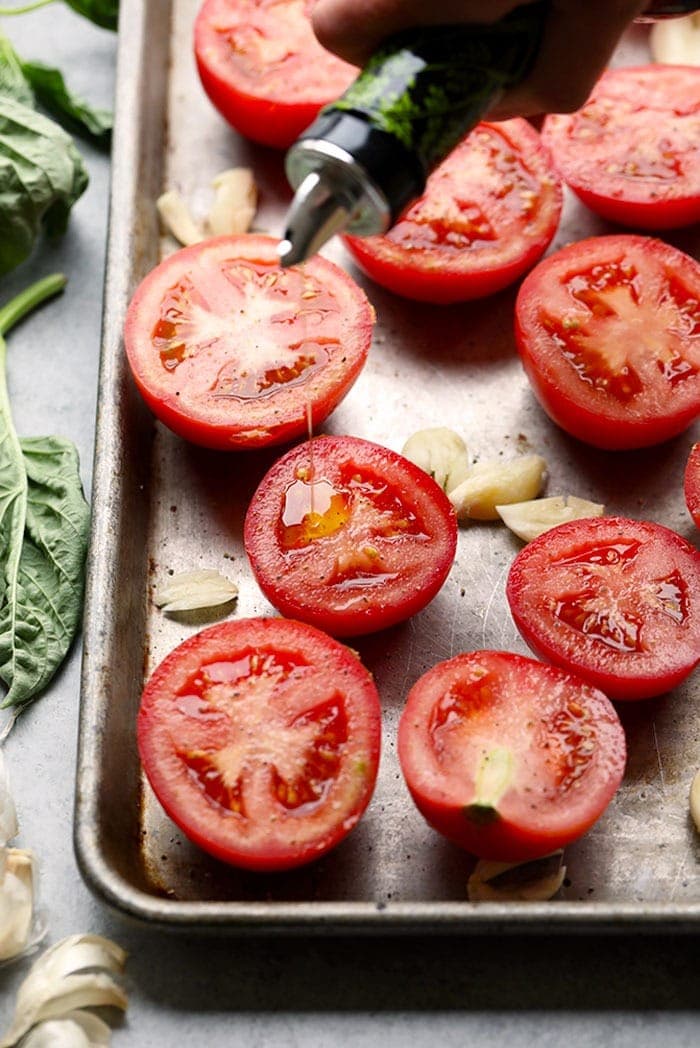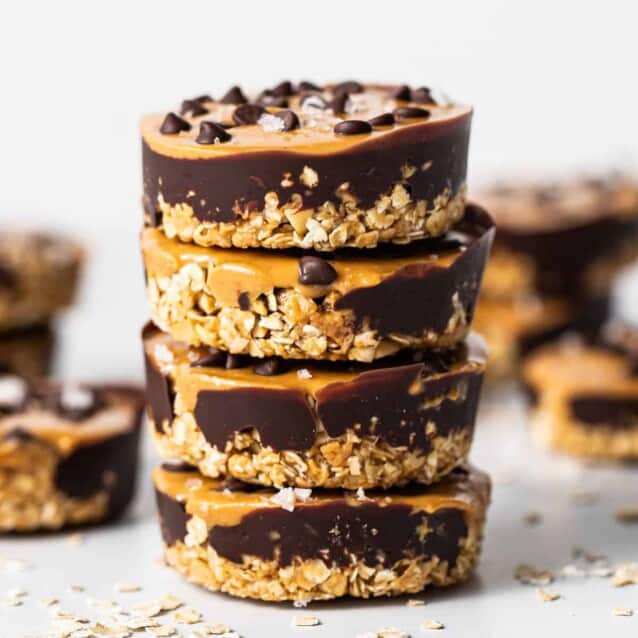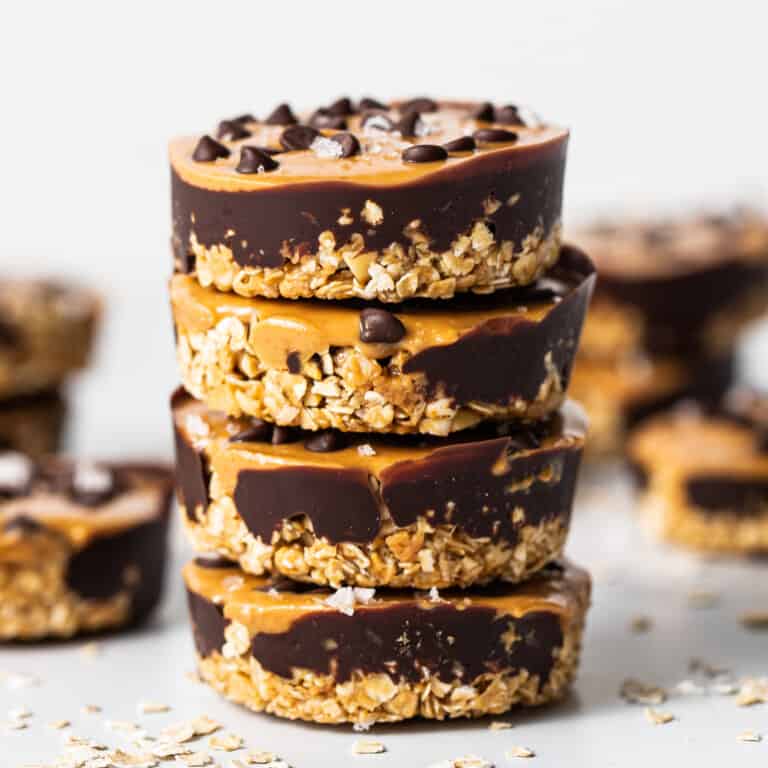 Get our Top 10 5-Star Recipes!
Join our email list for new recipes and BONUS: get our top 10 ⭐️⭐️⭐️⭐️⭐️ recipes e-book!
Recommended Kitchen Tools
While we used a food processor for this sauce, you can also use a high-speed blender! Here are the kitchen tools we recommend.
What You Need for Oven Roasted Tomato Sauce
All you need are a few fresh ingredients (7 to be exact!) and you're on your way to heaven in a jar!
tomatoes: we recommend using medium to large tomatoes because they will ultimately be easiest to peel. However, you can use any kind of tomato.
olive oil: olive oil is such a wonderful flavor. It's used to help break the tomatoes down in the oven.
garlic cloves: roasted garlic is one of our favorite things. The flavor is wonderful and you don't want to skip this!
salt and pepper: you'll note in this recipe that we're leaving the salt and pepper up to you. This is because we know everyone has a different palate. Salt in steps and don't forget to taste test!
fresh basil: the fresh basil really makes this recipe. We left ours in larger chunks so you can really get a burst of flavor, but you're more than welcome to puree it further.
apple cider vinegar: apple cider vinegar is our secret ingredient. It's going to help bring out all of these delicious flavors and make them pop!
quick tip!
If you use smaller tomatoes, your bake time will need to adjust.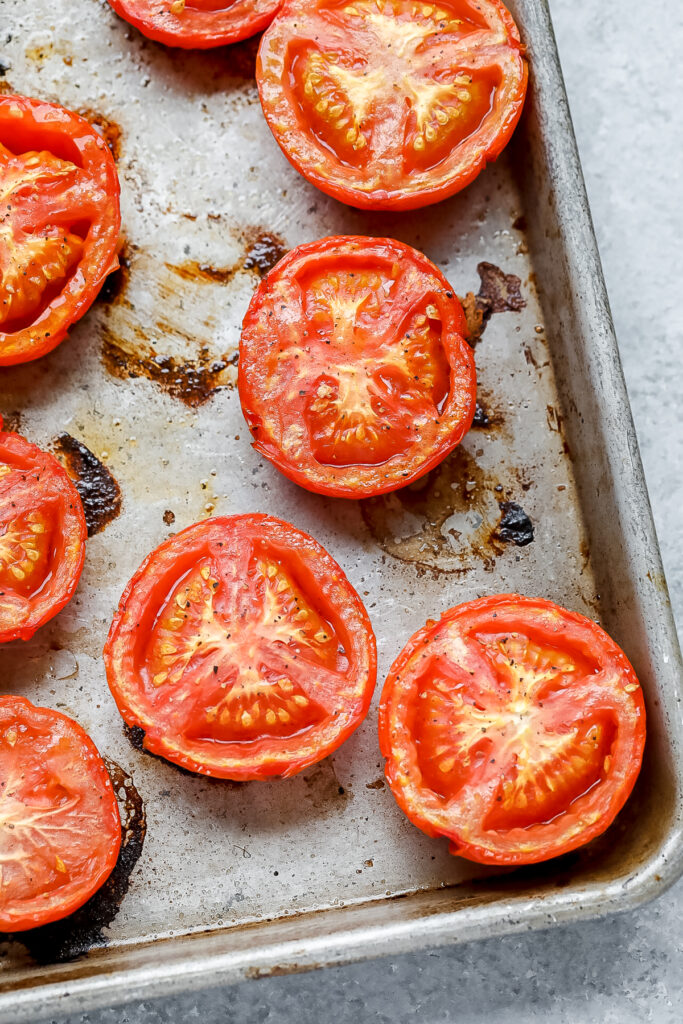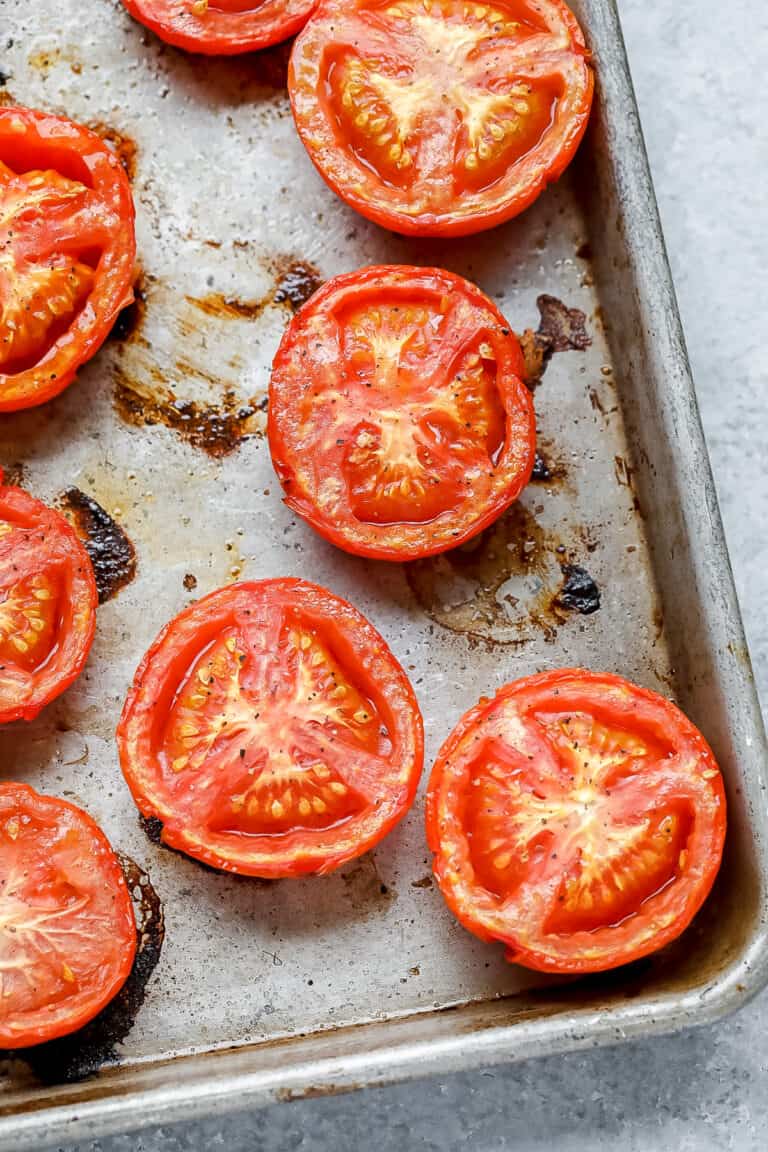 Roasting Tomatoes for Sauce
Step 1: Oil & Roast Tomatoes
First, begin by prepping your tomatoes. Slice them in half and then transfer them to a baking sheet.
Drizzle your fresh tomatoes with a generous amount of olive oil and season with salt. Then, roast them on a baking sheet at 400ºF for around 30 minutes before you add the garlic cloves. Bake for another 20-30 minutes or until tomatoes reduce in size and begin to brown.
Step 2: Peel Tomatoes
Let tomatoes cool ever so slightly so you can peel the skins right off without burning your hands. The skin should come right off of the meat. Discard the skin.
Do you have to peel tomatoes before making sauce?
You don't necessarily HAVE to peel your tomatoes, but we don't recommend skipping this step. By peeling your tomatoes, you're making sure to have a smooth consistency. After roasting the skins can shrivel and become hard.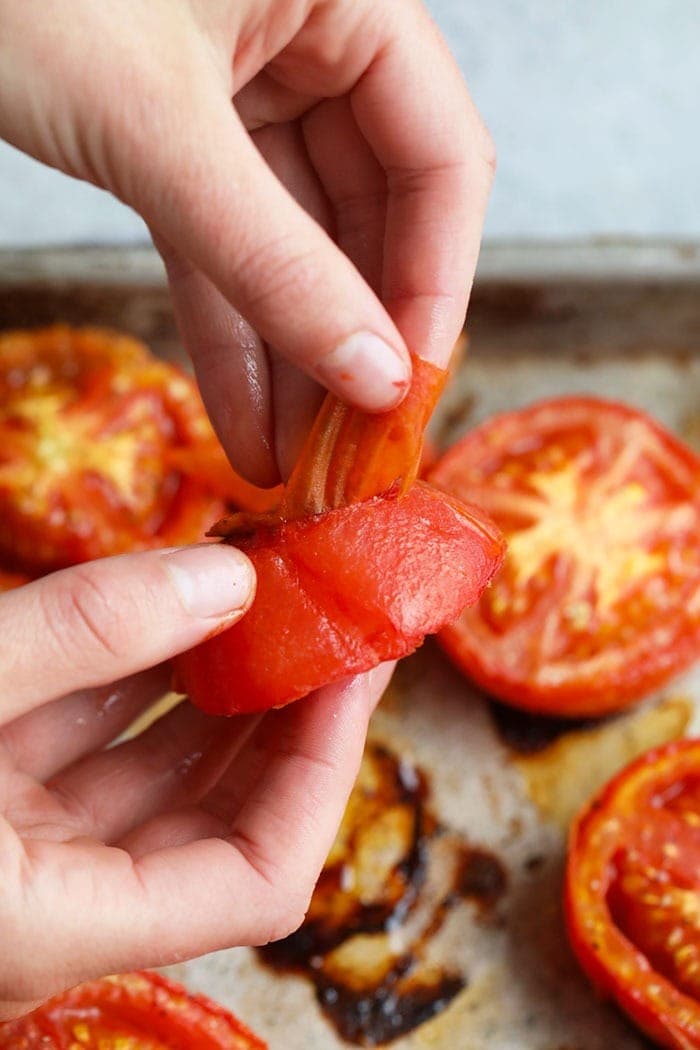 Step 3: Blend
Place everything from the baking sheet into a high-speed food processor or blender (like a Vitamix) and blend until smooth. Then, add in the fresh basil and pulse until it's broken up into smaller chunks.
Optional sweetener: This recipe calls for no added sugar, but adding a little bit of maple syrup (a few teaspoons) will really bring out all of the amazing flavors of the tomatoes. The option is yours!
Step 4: Serve or Jar
We suggest serving this marinara sauce immediately, but you can also transfer it into a mason jar or glass container for later!
How much sauce does this recipe make?
This tomato sauce recipe yields around 3 cups. So, plan accordingly if you're meal prepping this for later in the week!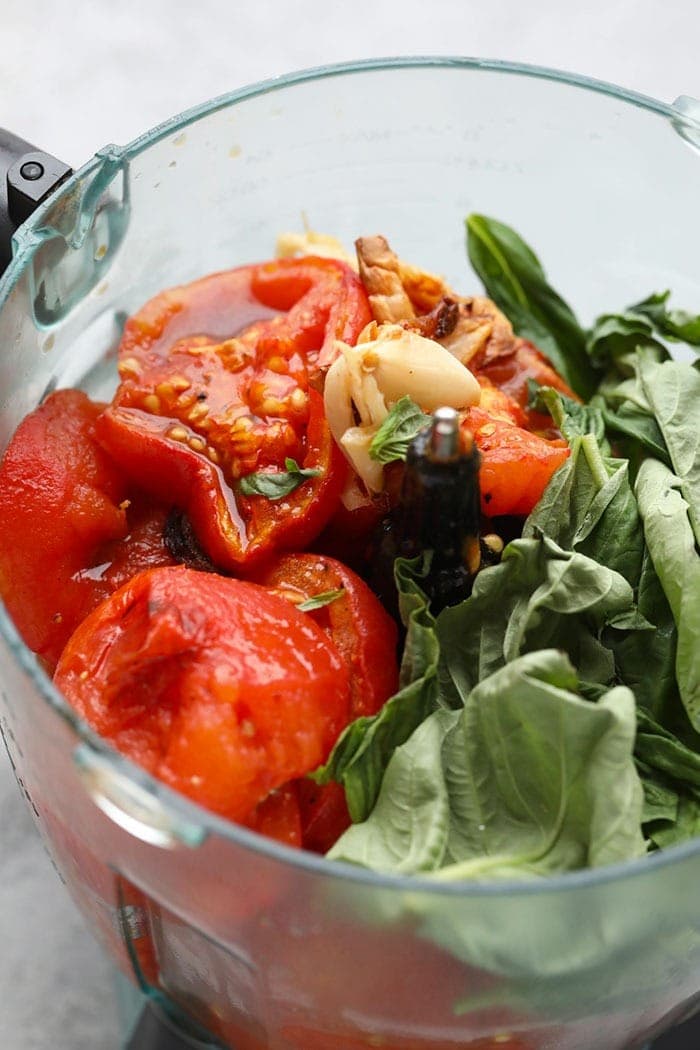 Recipes to Use this Tomato Sauce In
While you can keep things simple and serve this on top of spaghetti, you can also use this homemade tomato sauce recipe in countless other recipes!
Storage
This sauce will stay good in the fridge for around 4 days. Remember, there aren't any additives/preservatives and this recipe is 100% fresh. That's why the shelf life isn't super long.
Freezer Directions
Let sauce cool completely.
Then, transfer the tomato sauce into an airtight container.
Seal and freeze for up to 3 months.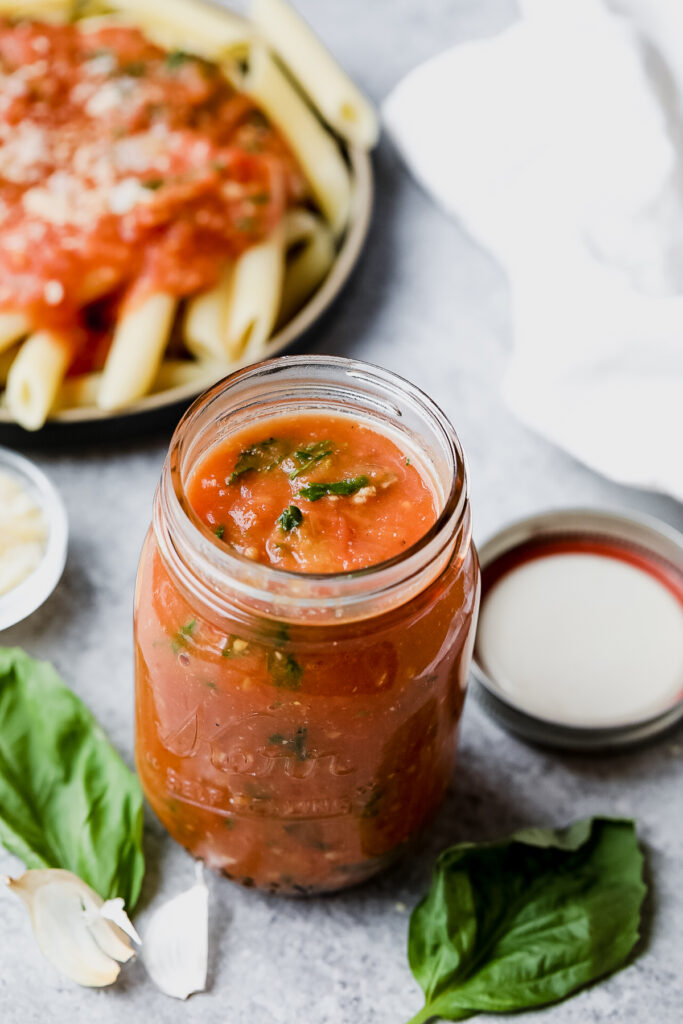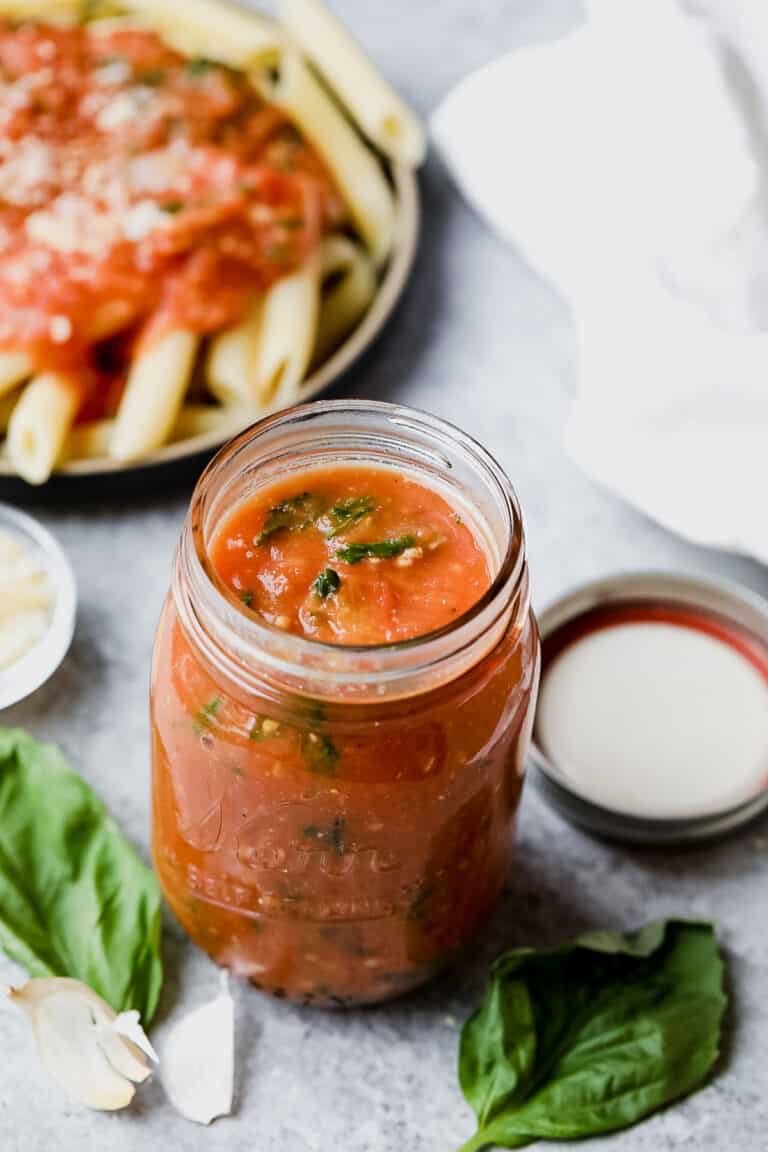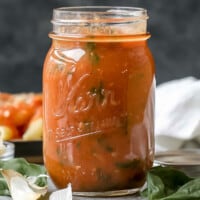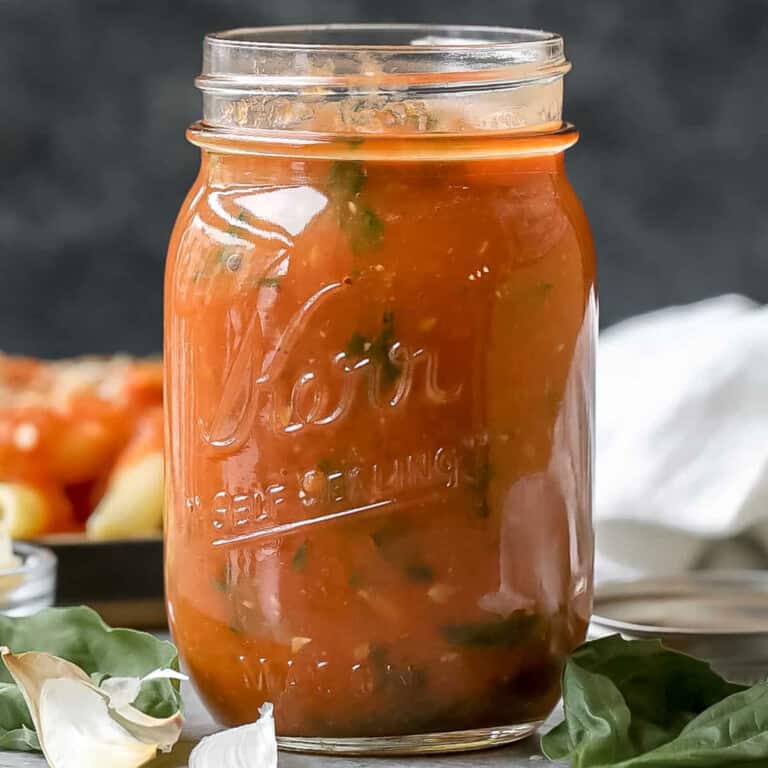 Roasted Tomato Sauce
Making your own homemade roasted tomato sauce is so easy. Learn how to make tomato sauce using roasted tomatoes, olive oil, garlic, and fresh basil!
Instructions
Preheat oven to 400ºF and lightly spray a baking sheet or casserole dish with nonstick cooking spray.

Prep tomatoes by washing, patting dry, and cutting in half. Then, place on baking sheet face up and drizzle with a generous amount of olive oil. Season with salt and pepper.

Roast at 400ºF for about 30 minutes. Then, add cloves of garlic to the pan and place back in the oven for 20-30 more minutes or until the tomatoes begin to brown. Be careful that the garlic doesn't burn.

Let tomatoes sit for around 5 minutes and then peel the skin off of them and discard.

Place roasted tomatoes, garlic, fresh basil, and apple cider vinegar into a high-speed food processor or blender (like a Vitamix) and process until smooth.

Once smooth, do a taste test and add more salt and pepper to taste.

Store in a mason jar or airtight container in the fridge for up to 3-4 days OR serve immediately.
Tips & Notes
Feel free to omit the basil if you're hoping for a more basic tomato sauce recipe.
We kept the basil in bigger chunks because it's more flavorful that way, but you have the option to puree everything.
Yields: ~3 cups
Nutrition facts
Calories:
182
kcal
Carbohydrates:
10
g
Protein:
1
g
Fat:
14
g
Fiber:
0
g
Sugar:
0
g