Ever wondered how to make marinara sauce? It's so easy! Follow this recipe for a Roasted Tomato Basil Homemade Marinara Sauce!
For this Roasted Tomato Basil Marinara Sauce recipe, you'll only need a few ingredients with no added sugar!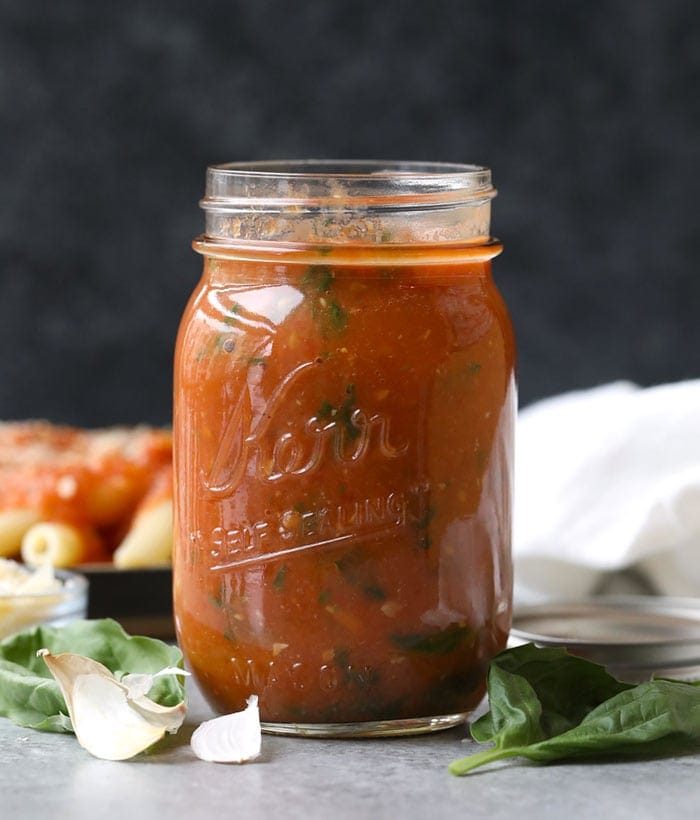 Make Your Own Marinara!
It's almost August and tomatoes are about to be as ripe as they can be. They deserve to be made into a delicious homemade marinara sauce. That's where this recipe comes into play! In less than 1 hour you can have a healthy, no-sugar-added marinara sauce that's ready to eat!
All you need are a few key ingredients and you're on your way to heaven in a jar!
tomatoes
olive oil
garlic cloves
salt
pepper
basil
apple cider vinegar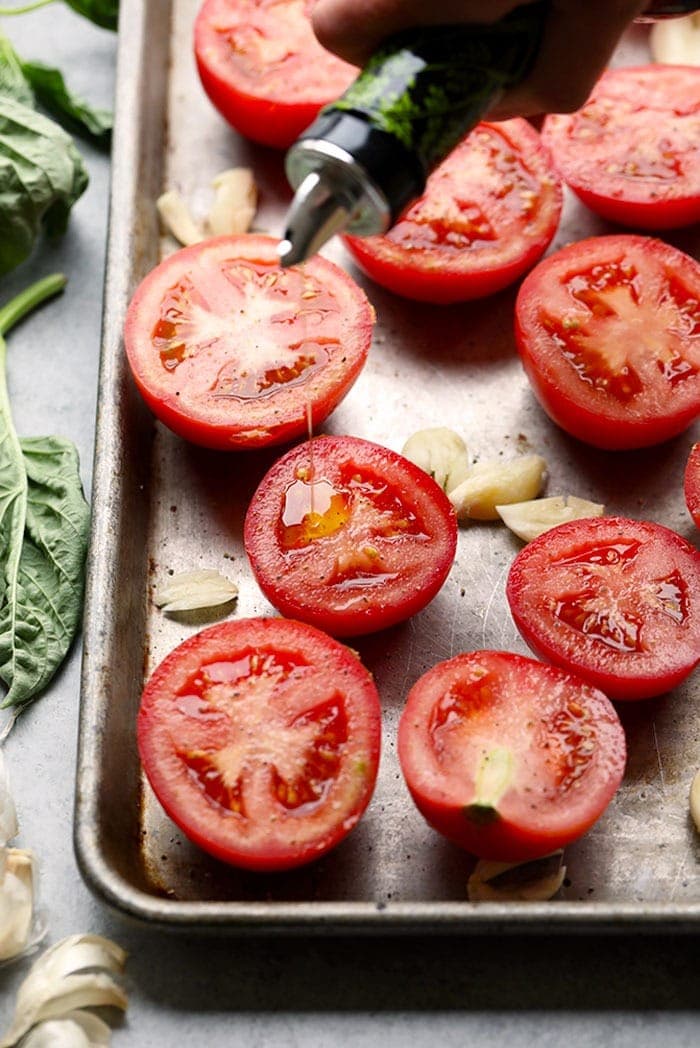 It's pretty simple to make your own marinara sauce from scratch. Before we get started, you're going to need one important piece of kitchen equipment: a high-speed food processor or high-speed blender. Alright, let's go!
How to Make Marinara Sauce in 4 Steps
Step 1: Oil & Roast
Drizzle your fresh tomatoes with a generous amount of olive oil and season with salt. Then, roast them on a baking sheet at 400ºF for around 30 minutes before you add the garlic cloves. Bake for another 20-30 minutes or until tomatoes reduce in size and begin to brown.
What kind of tomatoes should you use?
For this recipe, you can use any kind of tomato your heart desires! We definitely recommend using a larger tomato because it is less work to peel 8 bigger tomatoes than 30 cherry tomatoes.
Step 2: Peel
Let tomatoes cool ever so slightly so you can peel the skins right off without burning your hands. The skin should come right off of the meat. Discard the skin.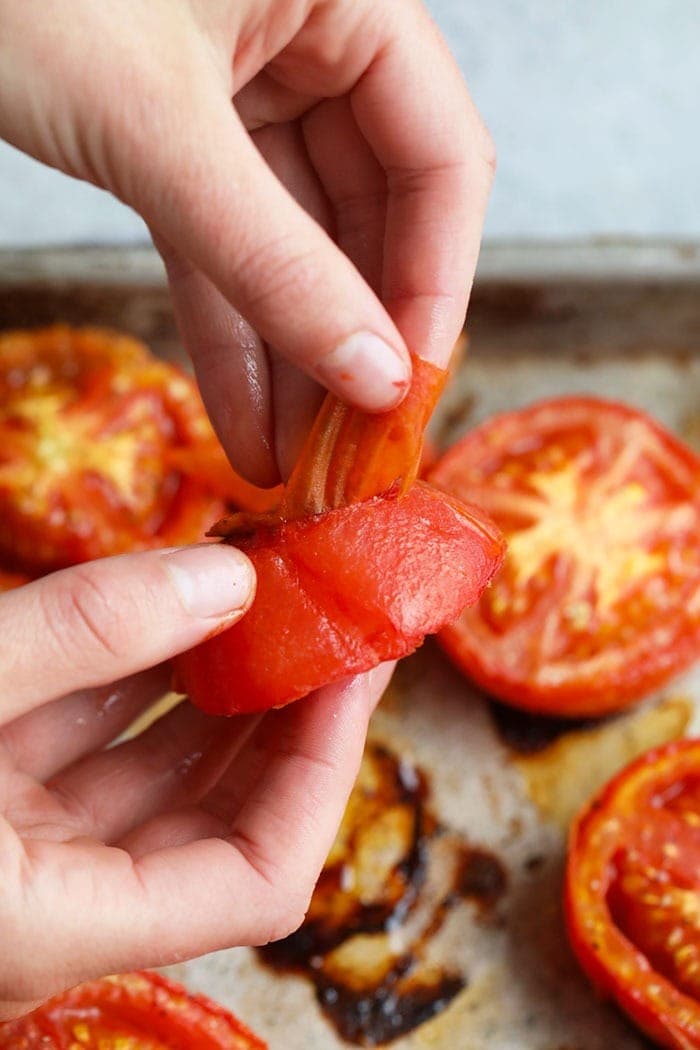 Step 3: Blend
Place everything from the baking sheet into a high-speed food processor or blender (like a Vitamix) and blend until smooth. If you'd like your basil a little chunkier (like we do), you can puree the tomatoes and garlic first and then pulse in the fresh basil.
Optional sweetener: This recipe calls for no added sugar, but adding a little bit of maple syrup (a few teaspoons) will really bring out all of the amazing flavors of the tomatoes. The option is yours!
Step 4: Jar
We suggest serving this marinara sauce immediately, but you can also transfer into a mason jar or glass container for later!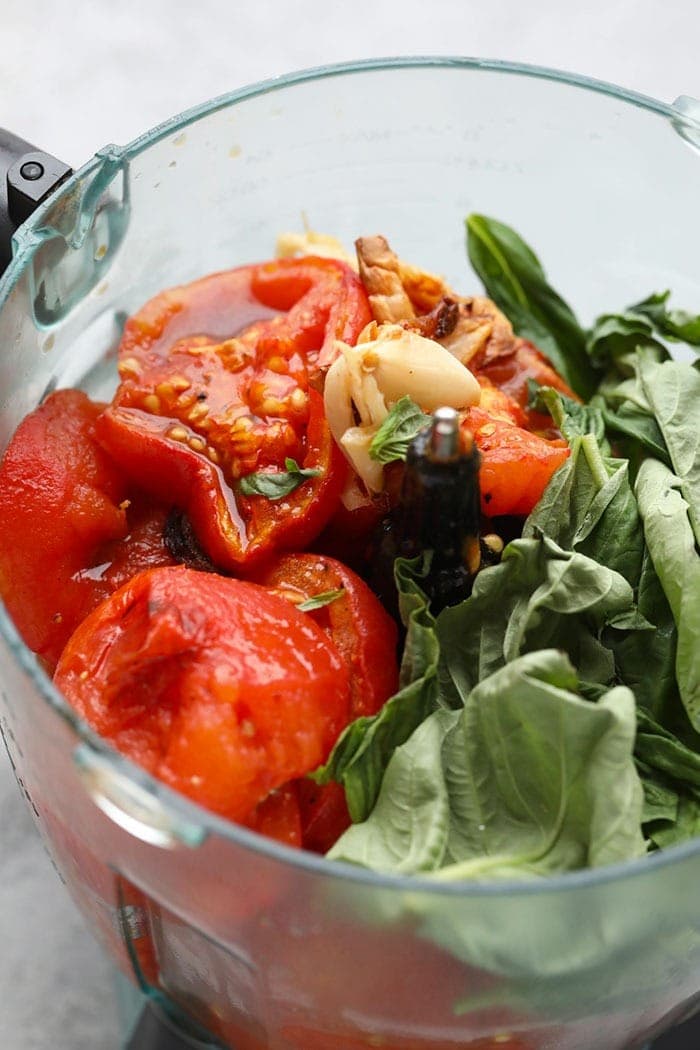 Storage
This sauce will stay good in the fridge for around 4 days. Remember, there aren't any additives/preservatives and this recipe is 100% fresh. That's why the shelf life isn't super long.
Serving Suggestions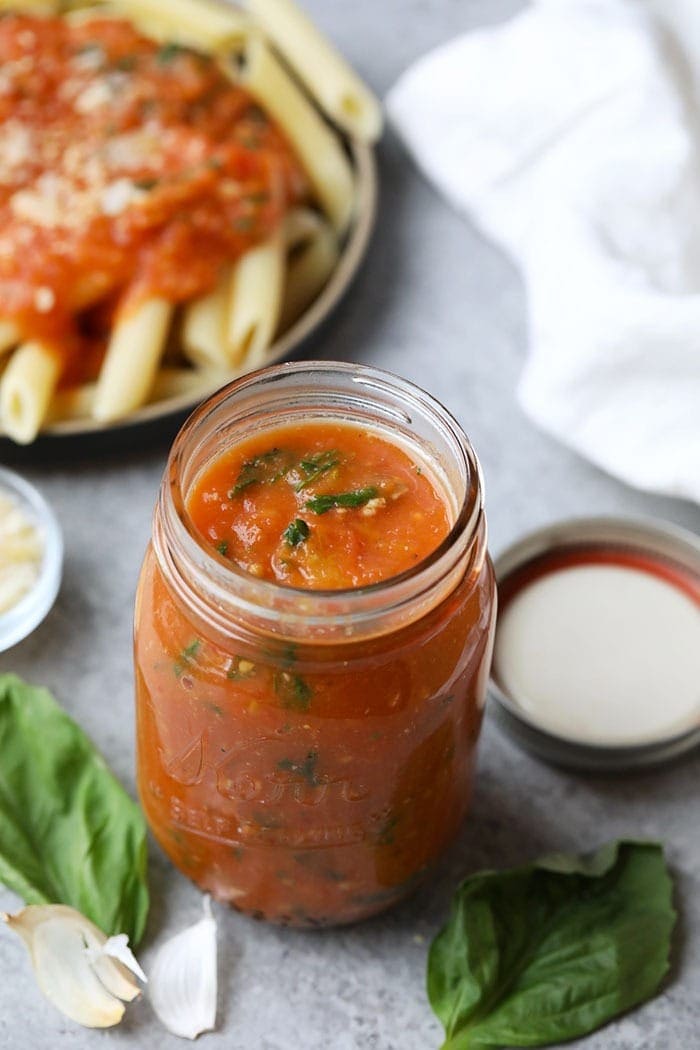 How-To Video
More Homemade Sauce Recipes
Roasted Tomato Basil Marinara Sauce
Ever wondered how to make your own marinara sauce? It's so easy! For this Homemade Roasted Tomato Basil Marinara Sauce recipe you'll only need a few ingredients…and no added sugar added! Make this healthy marinara sauce with fresh tomatoes today!
Prep:
10 minutes
Cook:
1 hour
Total:
1 hour 10 minutes
Fat
14
Carbs
10
Protein
1
Ingredients
8

medium tomatoes

2

 tablespoons olive oil

8

–

10

garlic cloves
salt, to taste
pepper, to taste

20

leaves fresh basil

1 teaspoon

apple cider vinegar
Instructions
Preheat oven to 400ºF and lightly spray a baking sheet or casserole dish with nonstick cooking spray.
Prep tomatoes by washing, patting dry, and cutting in half. Then, place on baking sheet face up and drizzle with a generous amount of olive oil. Season with salt and pepper.
Roast at 400ºF for about 30 minutes. Then, add cloves of garlic to the pan and place  back in the oven for 20-30 more minutes or until the tomatoes begin to brown. Be careful that the garlic doesn't burn.
Let tomatoes sit for around 5 minutes and then peel the skin off of them and discard.
Place roasted tomatoes, garlic, fresh basil, and apple cider vinegar into a high-speed food processor or blender (like a Vitamix) and process until smooth.
Once smooth, do a taste test and add more salt and pepper to taste.
Store in a mason jar or airtight container in the fridge for up to 3-4 days OR serve immediately.
Tips & Notes
We kept the basil in bigger chunks because it's more flavorful that way, but option to puree everything.
Nutrition Facts
Serving Size:
3/4 cup
Calories:
182
Sugar:
0
Fat:
14
Carbohydrates:
10
Fiber:
0
Protein:
1
Category:
Sauce
Method:
Oven
Cuisine:
Italian