This air fryer chicken parmesan takes no time to whip up and only requires 5 main ingredients. Bonus – there is no oil involved!
Serve your chicken parmesan in air fryer on top of your favorite pasta with a generous sprinkle of cheese.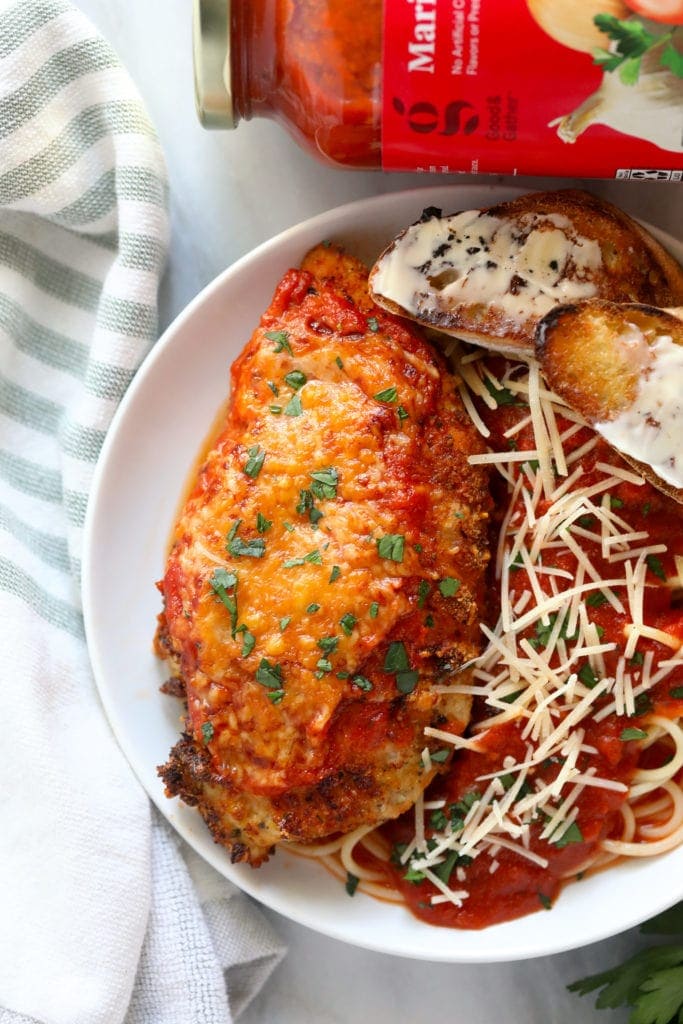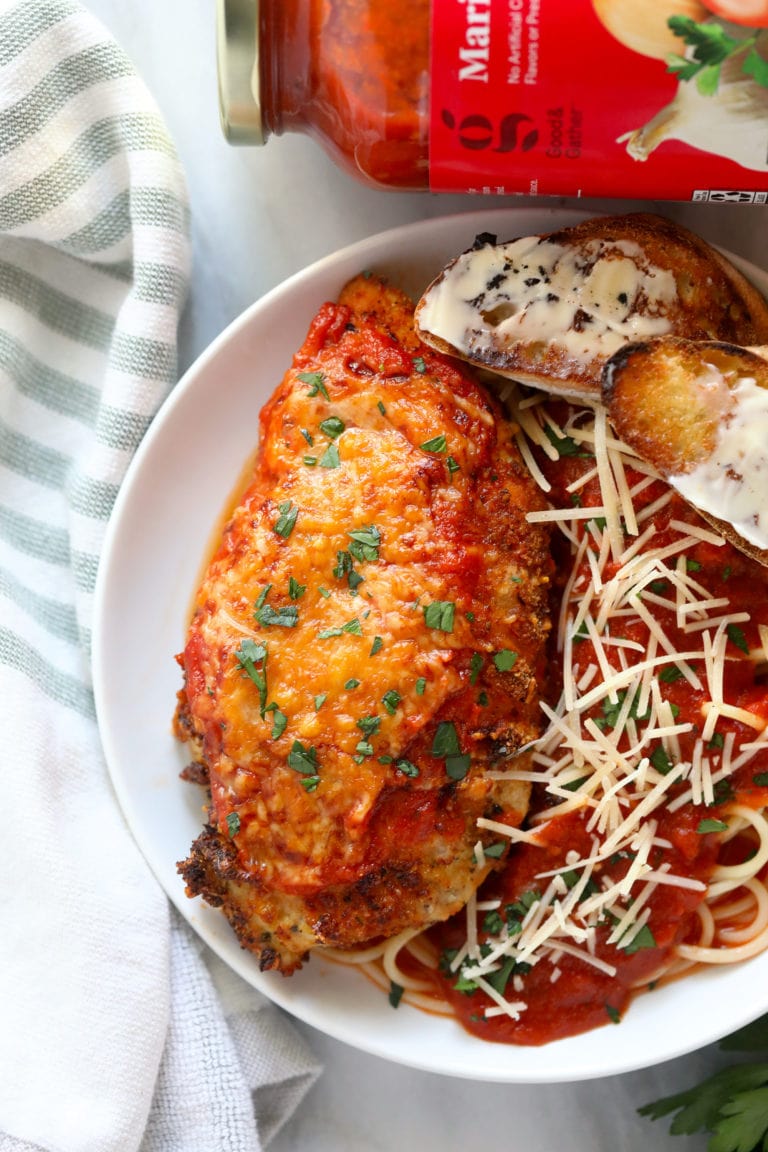 Easy Air Fryer Chicken Parmesan
If you love classic chicken parmesan, then you are going to absolutely enjoy this air fryer chicken parmesan! Same classic chicken parm flavors, but instead of baking or pan-frying, you make air fried chicken breast instead.
The result is perfectly cooked chicken breast on the inside and a crusty, delicious outside all thanks to the air fryer!
Good & Gather by Target
Today's air fryer chicken parmesan recipe is sponsored by Target using their fabulous Good & Gather line. If you've looked through Target's grocery aisles, you'll notice that Good & Gather has pretty much everything you need.
All Good & Gather products are free of:
synthetic colors
artificial flavors
Artificial sweeteners
high-fructose corn syrup.
Air Fryer Chicken Parmesan with 5 Main Ingredients
Our goal with today's recipe was to choose 5 basic Good & Gather ingredients and turn them into a flavorful weeknight meal that is a cinch to make. We've been loving air fryer chicken lately and Good & Gather's marinara sauce is so tasty, so we decided to put the two together and make an easy air fryer chicken parmesan recipe!
Chicken Parmesan Basics
Optional Add-Ins
As always with Fit Foodie Finds recipes, feel free to add ingredients as you please! Here are 2 ingredients we added in:
Spices: We tested this recipe with AND without spices. We recommend using the suggested spices because they add so much great flavor, but if you don't have one or all of them, don't worry, your chicken parmesan will still be delicious.
Spaghetti: Chicken parmesan is delicious on its own, but if you're looking to make it a complete meal and add a grain, we suggest spaghetti. Get creative and use your favorite noodle!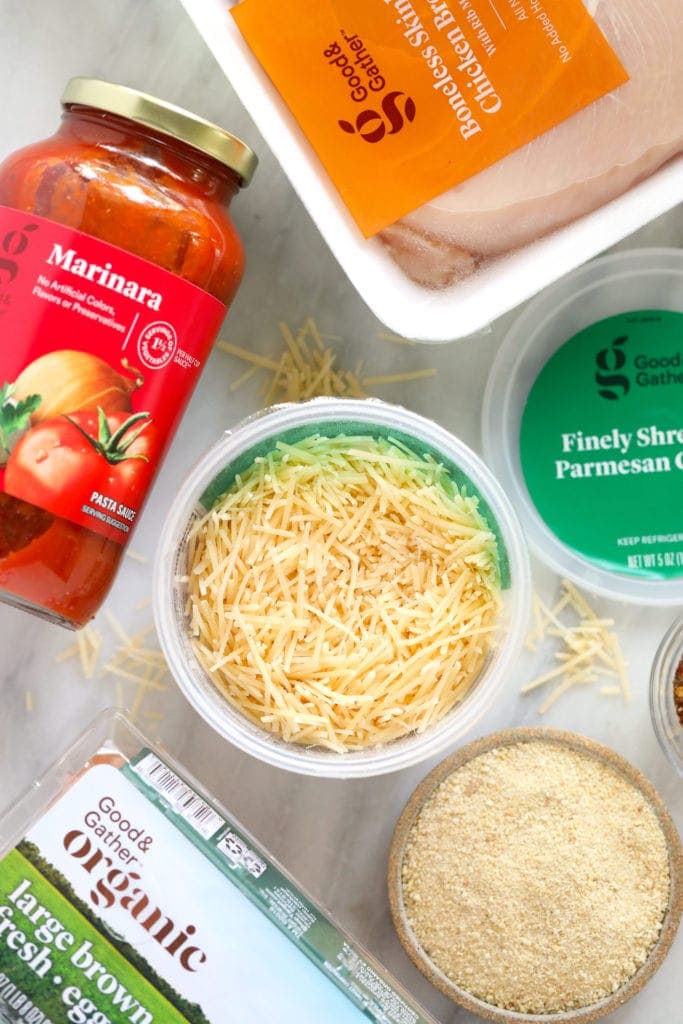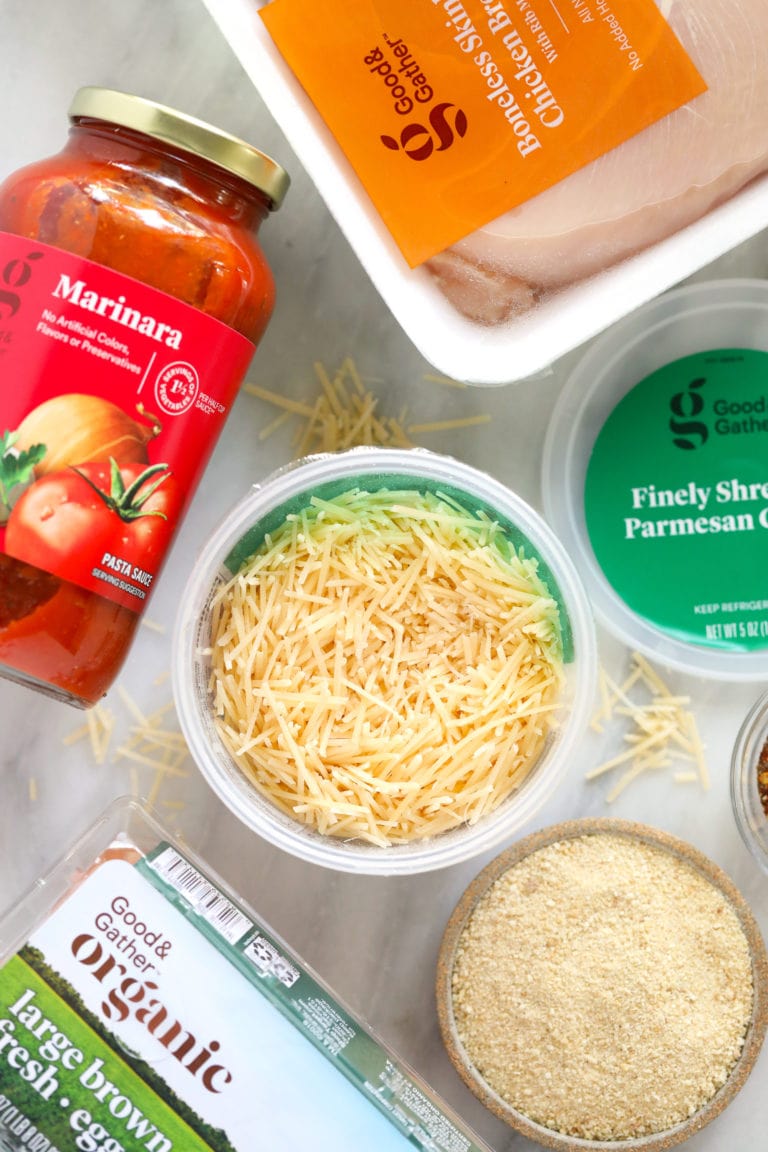 How to Make Air Fryer Chicken Parmesan
The steps to making air fryer chicken breast are very similar to baked chicken breast. Keep reading to learn the step-by-step process of how to make air fryer chicken parmesan.
Step 1: Prep Chicken
First things first, we must prep our chicken breast for flavoring and air frying. For this step, you'll need a meat cleaver in order to pound your chicken to be 1/2-inch thick. Typically, chicken breasts are thicker on one end compared to the other, so making sure that it's 1/2-inch thick throughout is very important for even cooking.
PS: Chicken breasts vary in size. You can find a single chicken breast that is 1-lb. and another that is 1/4-lb. So, feel free to cut your chicken breasts in half if they are extra-large breasts.
Step 2: Dip & Dress Chicken
Crack 2 eggs into a medium bowl and whisk. Then, in another medium bowl, mix together parmesan cheese, bread crumbs, and spices.
Dip each chicken breast into the egg mixture, making sure to fully coat each chicken breast. Then, dip each chicken breast into the breadcrumb mixture, generously coating both sides.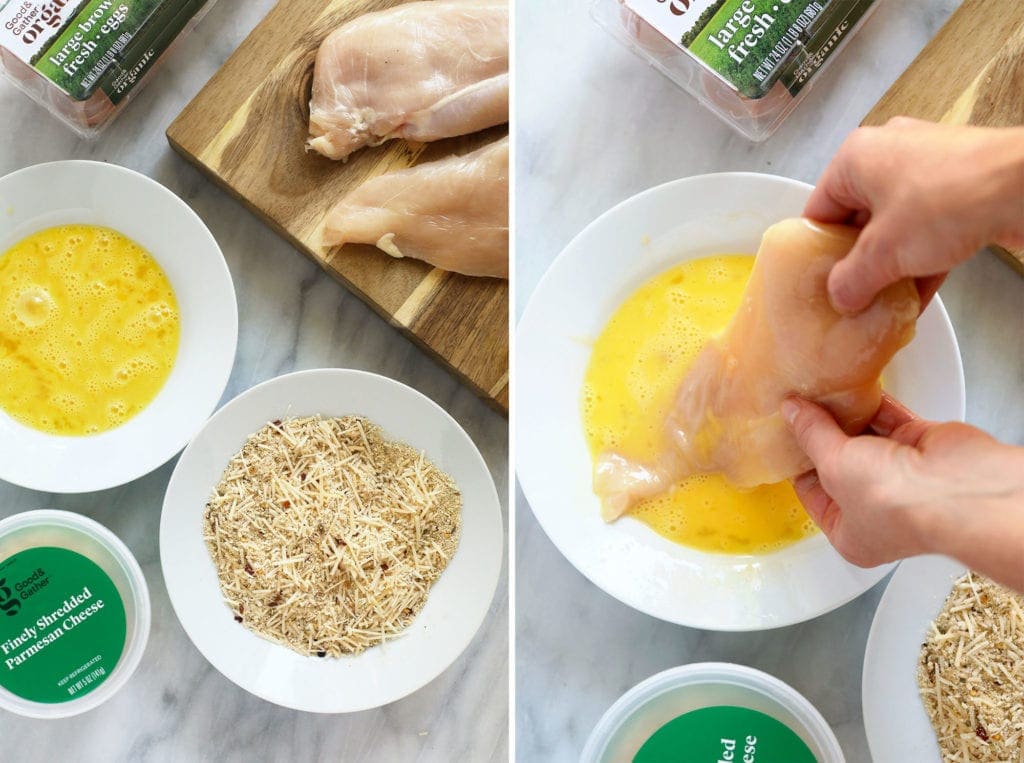 Step 3: Use Air Fryer to Cook Chicken
Preheat your air fryer to 375ºF and spray the fryer basket with nonstick cooking spray (olive oil cooking spray works, too). Once the air fryer is preheated, place chicken parmesan on the pan. Depending on how large your chicken breasts are, you can either cook 1 or 2 at a time. Just make sure they aren't touching.
Next, cook your air fried chicken breasts for 6 minutes.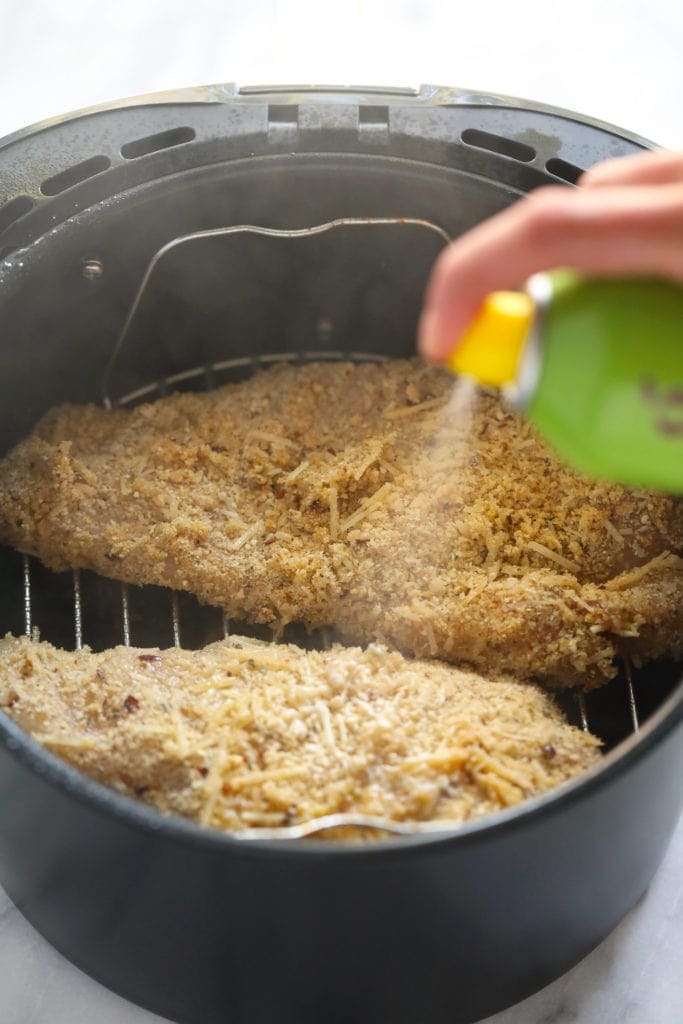 Step 4: Flip, Sauce, & Cheese
Once the timer goes off, open the fryer basket and flip your chicken parmesan over. Then, spoon 1/4 cup of marinara sauce on top of each breast, and give them a generous sprinkle of parmesan. Option here to use mozzarella cheese if you have it!
Air fry chicken for 5-6 more minutes at 375ºF, or until your chicken reaches an internal temperature of 165ºF. We recommend using a meat thermometer to check the temperature.
FAQ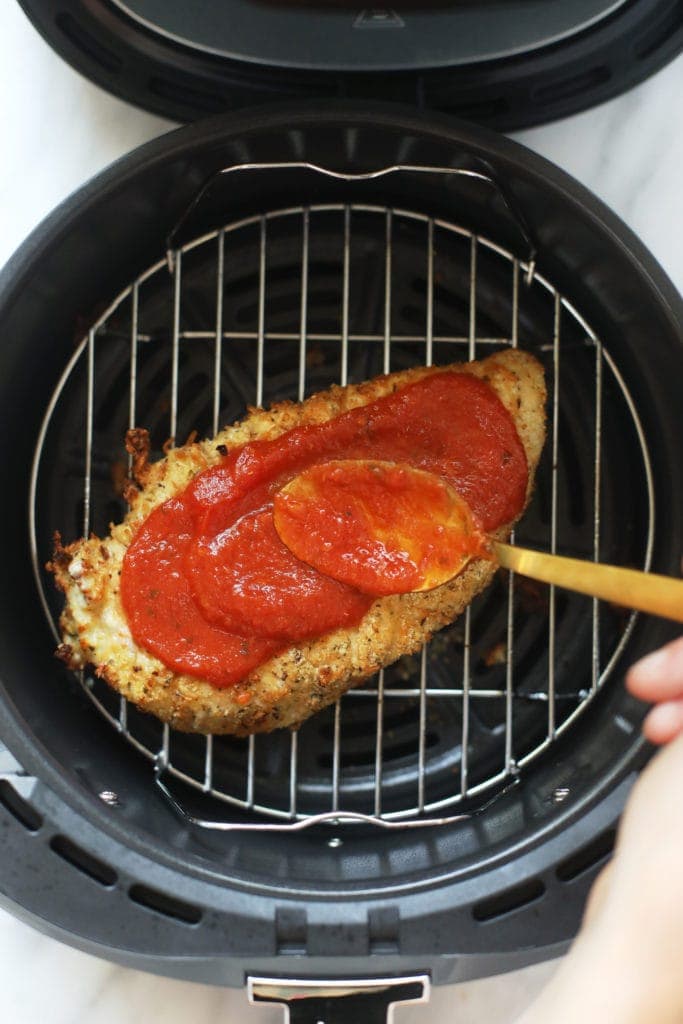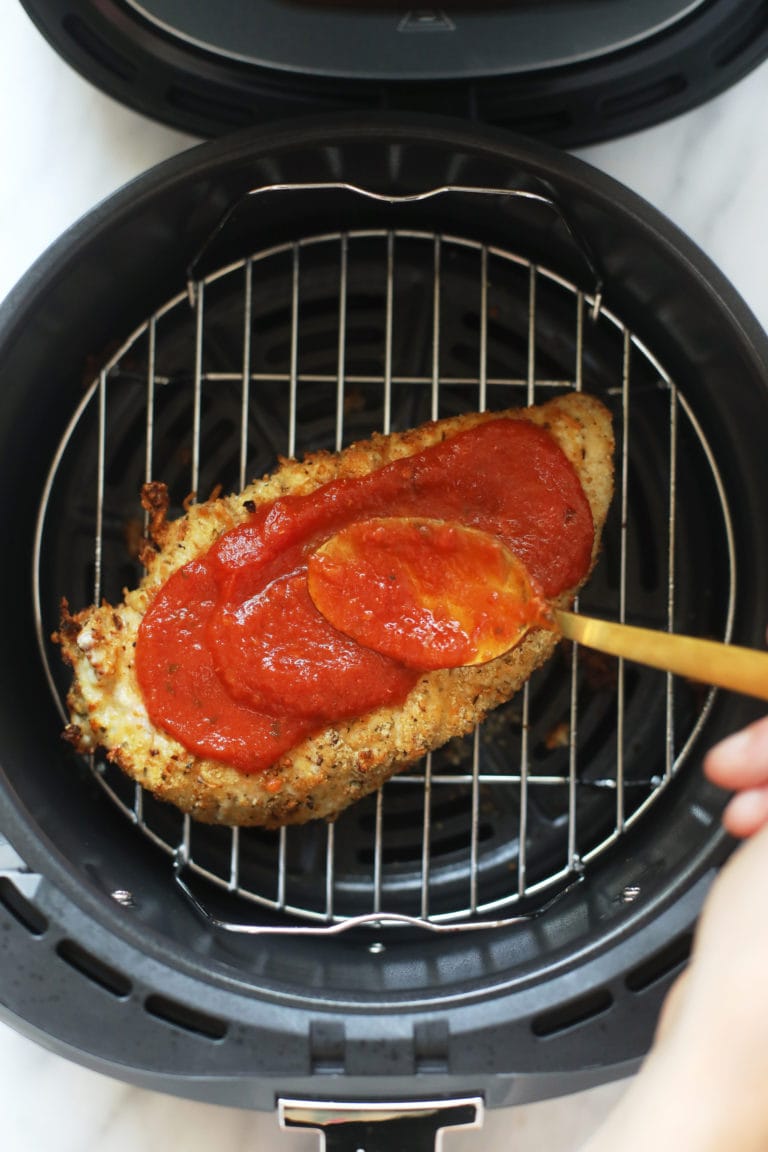 Chicken Parmesan Air Fryer Tips
Preheat: Make sure to let your air fryer heat up for at least 3-5 minutes before setting your timer and making air fryer chicken breast.
Cooking Spray is Your BFF: One of the reasons we love the air fryer is because it makes it possible to fry things without oil. Instead of going 100% sans oil, we recommend using cooking spray. We love both olive oil and coconut oil cooking spray. Give whatever you're cooking a nice spray before air frying!
Don't Overlap or Overcrowd: If you plan on cooking more than one thing such as chicken breast, fries, etc., make sure that none of your food overlaps. Whatever you're cooking needs to stand alone to make sure that the entire thing gets air fried.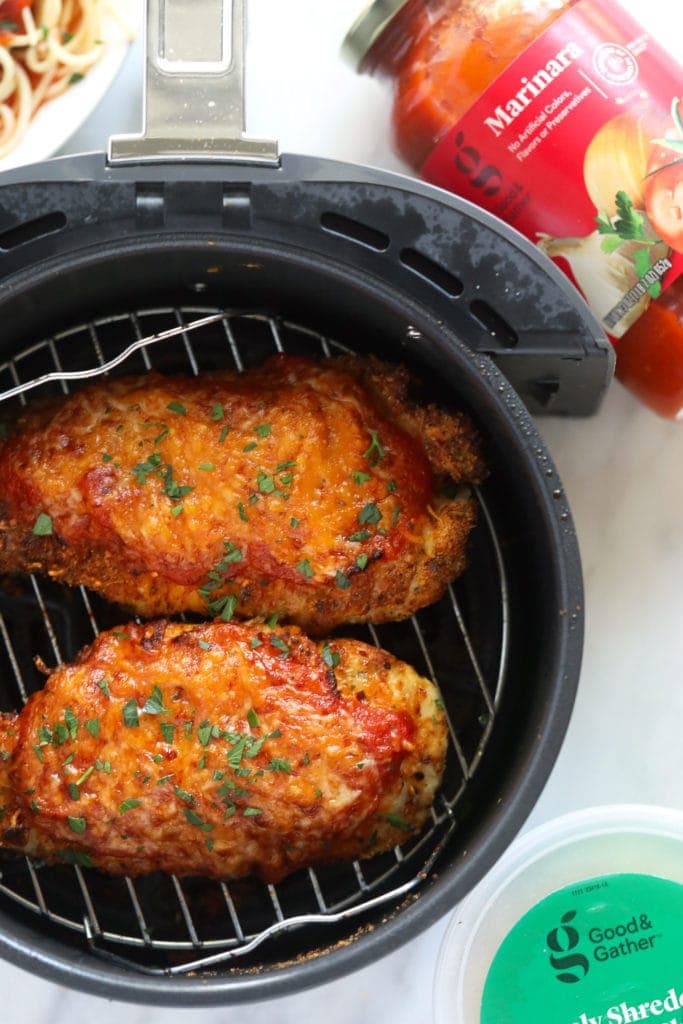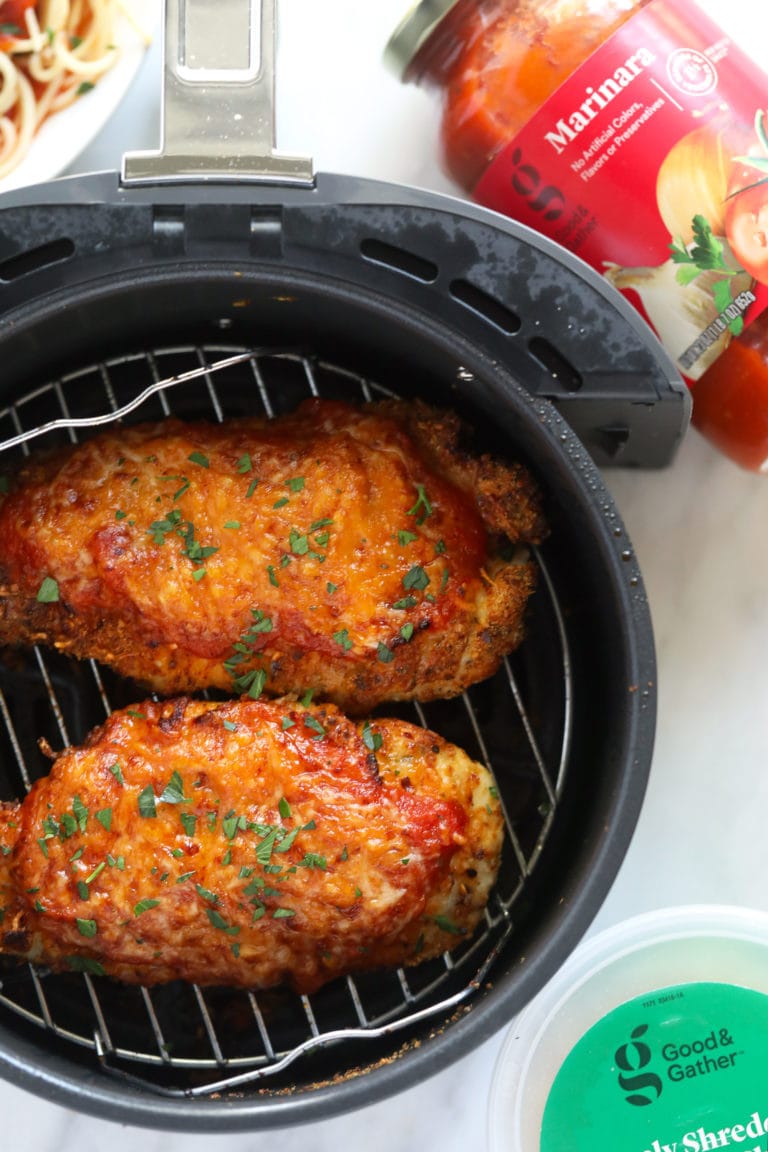 Baking Instructions
Because not everyone has an air fryer, here are some easy instructions on how to make this chicken parmesan in the oven! These directions are for AFTER the chicken has been fully dressed with the parmesan and breadcrumb mixture (step 2 from above).
Preheat oven to 375ºF.
Heat 1 tablespoon of olive oil in a large oven-safe pan over medium/high heat. Sear chicken breast for 2-3 minutes on each side to brown them and then place the entire skillet into the oven and bake at 375ºF for 10 minutes. You may need to do this part in batches depending on how big your pan is.
Remove chicken from the oven and top each breast with around 1/4 cup of marinara sauce and a generous sprinkle of parmesan cheese.
Broil on high for 1-2 minutes or long enough to melt the cheese. Remove chicken breast from the oven, check to see that the internal temperature is 165ºF, and serve immediately over spaghetti with freshly ground pepper and fresh parsley.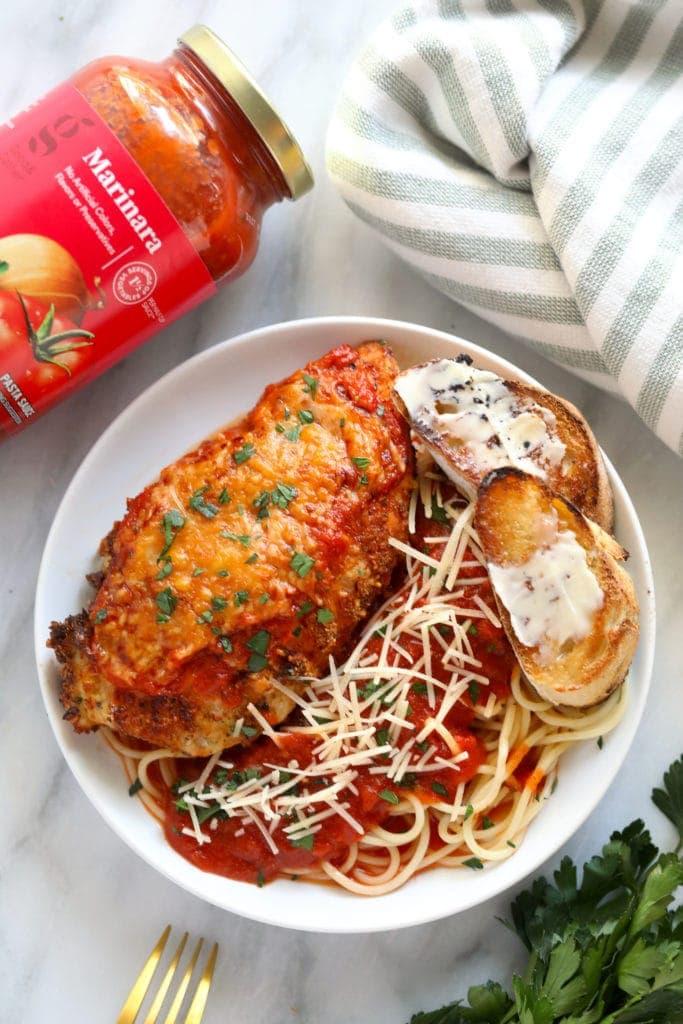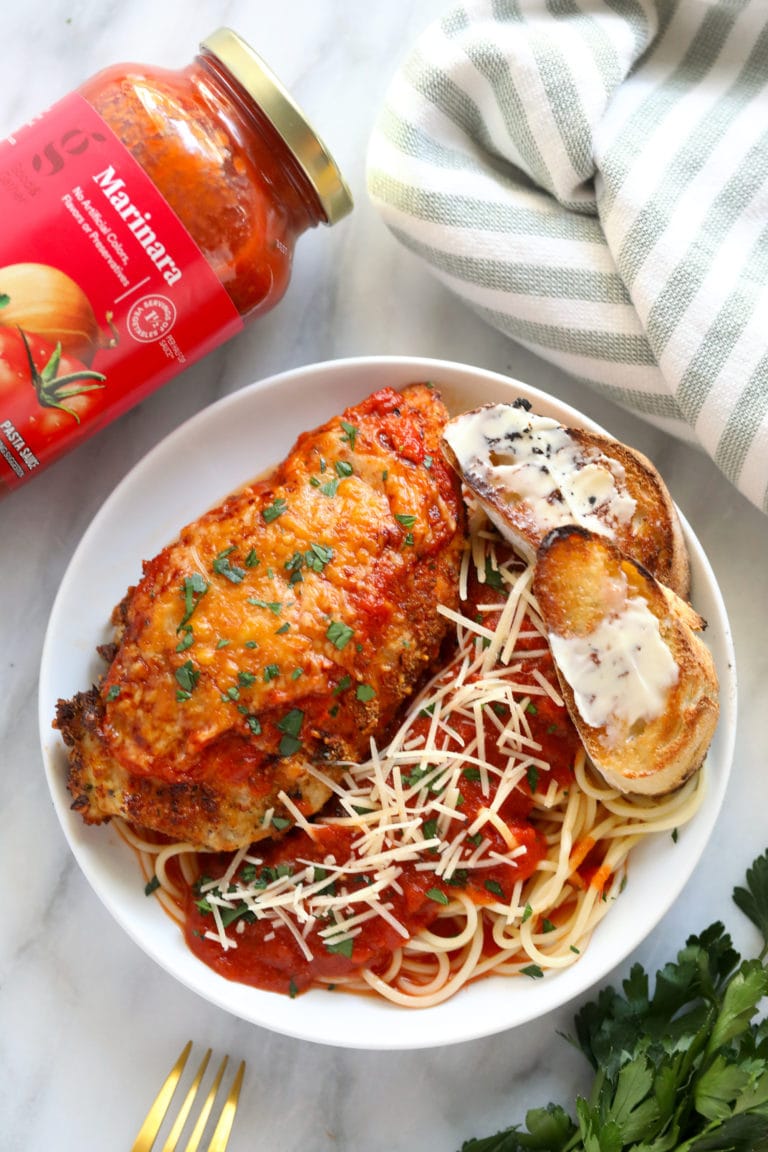 Storage
Let air fryer chicken parmesan cool completely. Then, transfer it into an air-tight container. Seal and store in the refrigerator for up to 3-4 days.
Disclaimer: This post is sponsored by Target. We were compensated and all opinions are our own. Thank you for supporting Fit Foodie Finds!