Get juicy baked chicken breast every time by first marinating your chicken and then baking it at 375ºF until juicy perfection,
You are going to love these 6 oven baked chicken breast recipes. In this post, we're teaching you how to bake chicken breast perfectly every time along with sharing all of our tips and tricks in getting flavorful baked chicken breasts.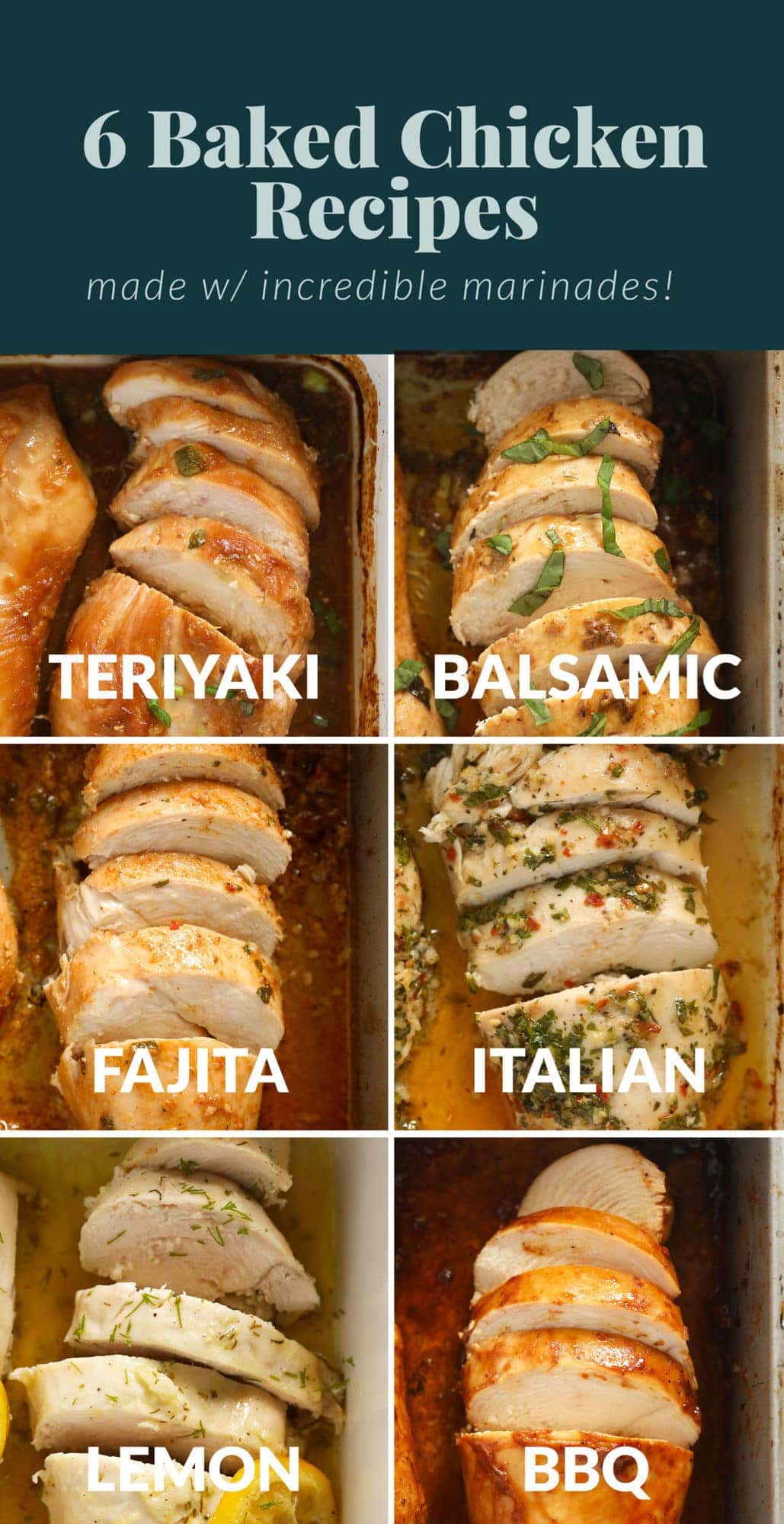 We Love Baked Chicken Breasts
Baked chicken was a childhood dinner staple of mine. Whether it was Italian chicken or a simple baked chicken and rice, we loved every bite.
In my adulthood, I continue to eat a lot of chicken breast, but in a variety of different cooking methods – grilled chicken, stovetop chicken, Instant Pot chicken, and baked chicken.
I love that this lean cut of chicken is easy to flavor, cook, and is high protein. Today, we are talking about a very popular way of cooking chicken- oven baked chicken breast!
Oven baked chicken breast is:
High-protein: one 4 oz. chicken breast has 25g of protein. Um, yes, please!
So juicy: perfectly cooked baked chicken breast comes out so juicy.
Quick: you can have dinner ready in less than 30 minutes!
Versatile: chicken breasts can be flavored in so many different ways that it never gets old!
Flavorful: whether you're using a chicken dry rub or a chicken marinade, chicken breast can be easily infused with flavor.
Meal-prep: when in doubt, make a double or triple batch. Baked chicken can be used for meal-prepping multiple meals throughout the week. Check out our best chicken meal prep recipes.
What kind of chicken breast should I use?
We recommend using boneless skinless chicken breast for this recipe, but bone-in will work too. You'll need around 1 – 1.5 lbs.
It's always best to buy high-quality meat, so try and look for organic, free-range chicken breast. This type of meat is not only better for you, but also tastest better.
Finally, you want to make sure that your chicken breast is all relatively the same size so that they cook evenly in the oven.
How to Bake Chicken Breast – 3 Steps
Flavor Chicken
The two main ways to flavor oven baked chicken breasts for baking are dry rubs and marinades. You guys are absolutely obsessed with our 6 chicken marinade recipes post, and that is how the 6 baked chicken breast recipes in this post were made. Let's break down both methods below.
Marinades are essentially like a flavor bath for chicken breasts typically made from oil, spices, citrus, and other flavors. Marinades infuse your entire chicken breast leaving them moist and juicy. Marinate your chicken for at least 30 minutes, or for the best results, 2-4 hours.
Dry rubs give chicken breast a flavor infusion in a different way. Chicken dry rubs and chicken seasonings really add flavor to the outside of your chicken and the flavor is usually pretty strong. Dry rubs can help add texture and sometimes even a crust!
How much marinade do you need for 1 lb. of chicken?

We suggest using around 1/2 cup of marinade per 1 – 1.5 lbs. of chicken breasts.
How much dry rub do you need for 1 lb. of chicken breast?

Use anywhere from 1-3 tablespoons of dry rub per lb. of chicken breasts. One thing to look out for is the amount of salt in your dry rub. Too much salt is never good.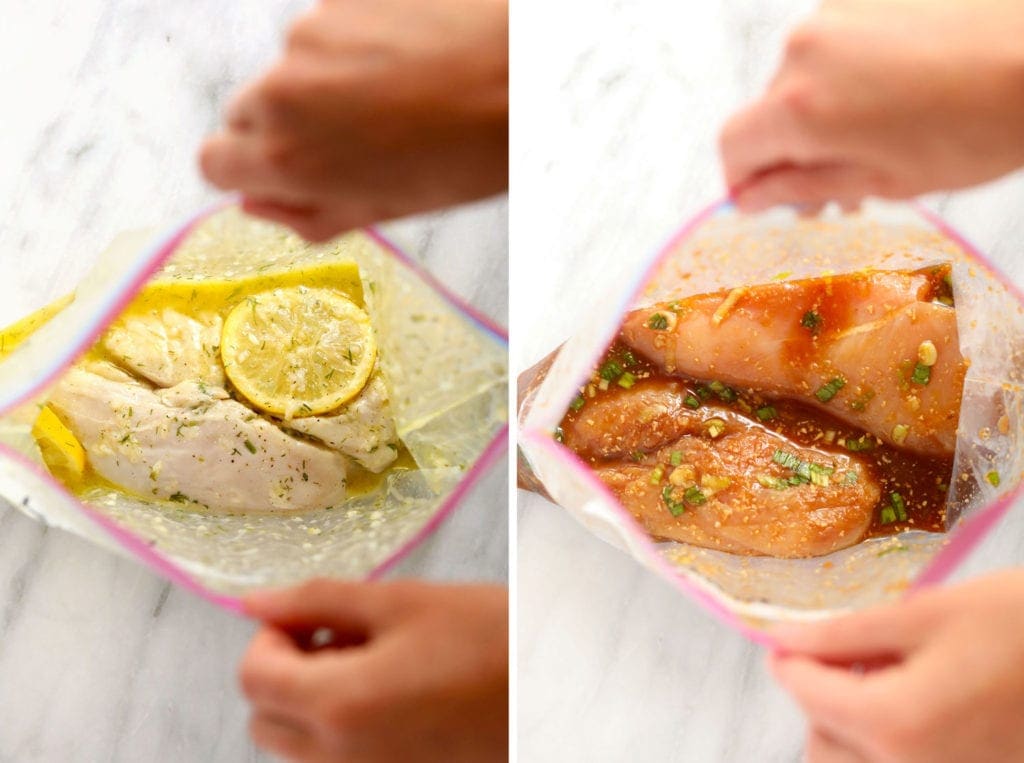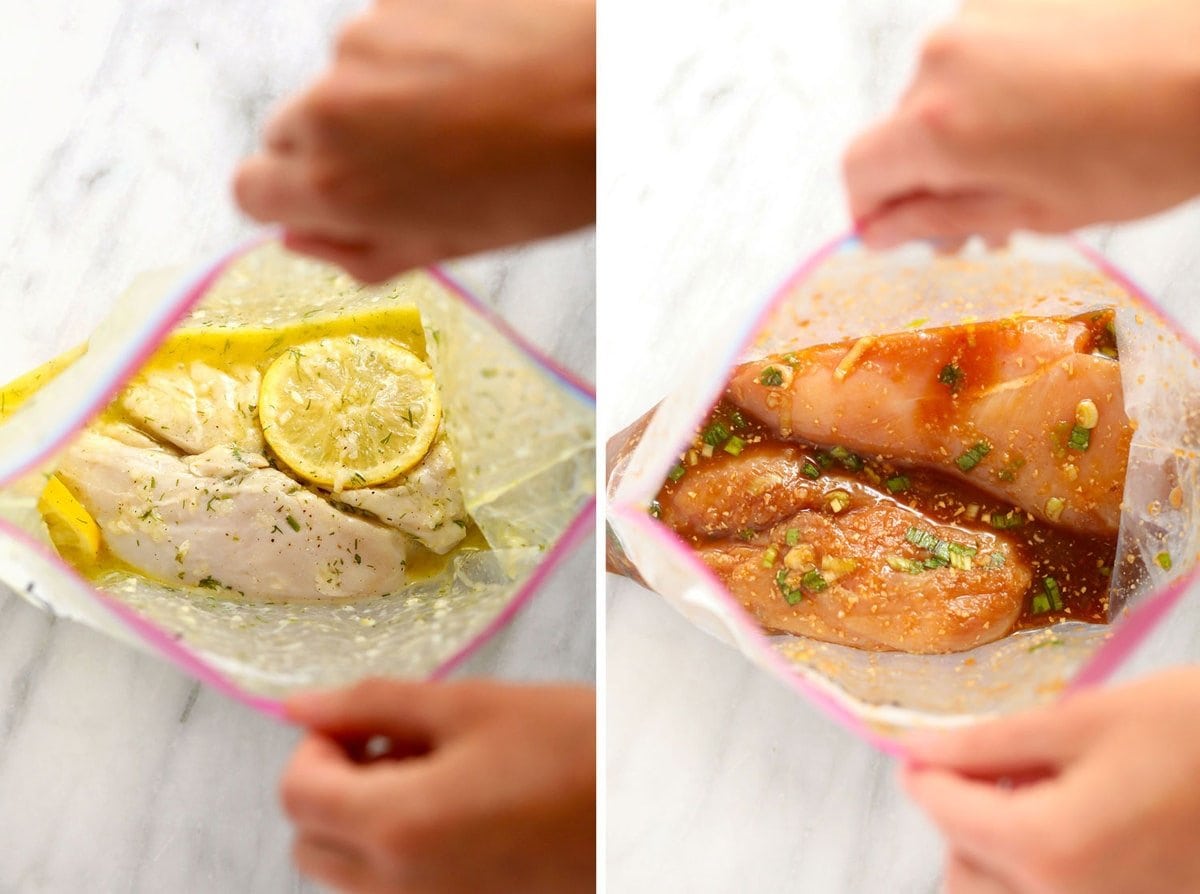 More flavor ideas!
here's a tip
Short on time and ingredients? Pop over to the store and buy a store-bought salad dressing such as Italian or French and use that as a marinade for your oven baked chicken breasts instead!
Bake Chicken @ 375ºF
There is a lot of controversy on the internet about the perfect oven temperature for baked chicken breasts. 400ºF? 350ºF? 425ºF?
I've been baking chicken breasts for 30+ years (okay, at least watching my mom do it!) and the perfect temperature that gets you juicy, tender chicken breast every time is 375ºF. At this temperature, you won't dry out your chicken; it's foolproof!
If you use a lower temperature you might end up with tougher chicken breast and if you use anything hotter, you might end up with a drier chicken breast with a more well done outside.
How long to bake chicken breast at 375ºF?
Bake 1 lb. of chicken breast at 375ºF for 20-25 minutes. You know your chicken is done when the internal temperature reads 165ºF.
How do I know when my chicken is done?
The most scientific way to know that your chicken breast is done cooking is by using a meat thermometer. Stick the thermometer half-way into the thickest part of your chicken breast and then measure the temperature. It should measure at least 165ºF to be safe to eat.
No meat thermometer? Your chicken breast should be white in color and firm to the touch. We recommend cutting through the thickest part of the breast and pressing down on it with your finger.
Baked Chicken Kitchen Essentials
Below we are sharing some of our favorite kitchen essentials to make baking (and eating) chicken super simple!
Let chicken breast Rest
Once your chicken has reached 160ºF, remove it from the oven. Then, immediately transfer it to a plate to let rest for 5 minutes.
As the chicken sits, the internal temperature will raise 5ºF and reach 165ºF, which is a safe eating temperature for poultry.
Do I have to let my chicken rest?
It is important to let your chicken rest to not only come to a safe eating temperature but to become ultra juicy,
As the chicken rests, all of those yummy juices will settle and make your chicken so juicy and tender.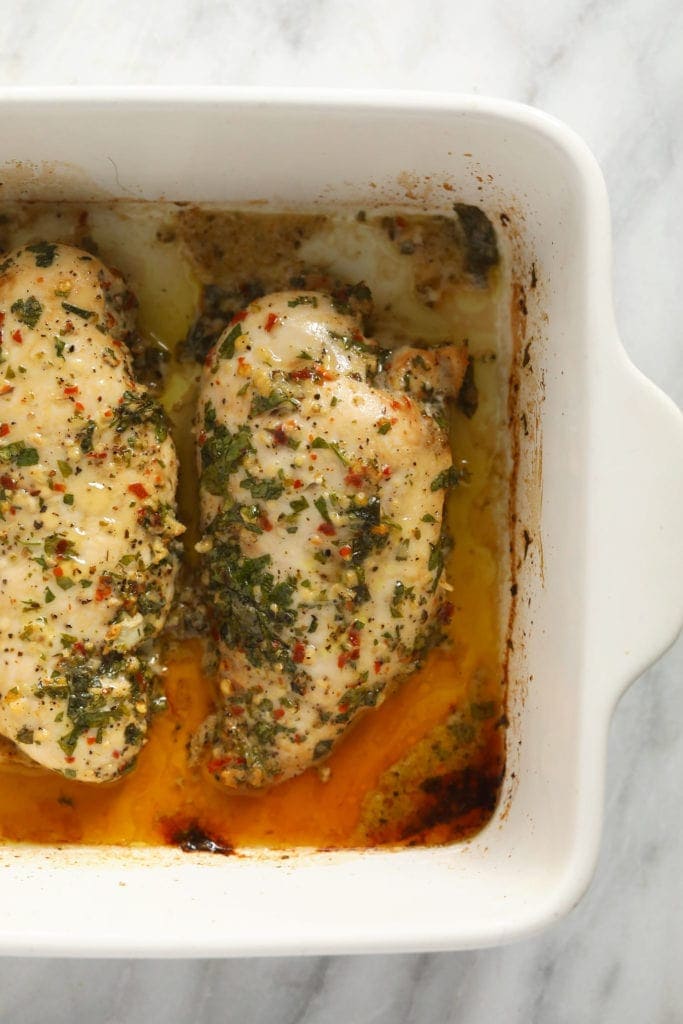 Baked Chicken Breast Q&A's
How long to cook chicken breast in oven?

We recommend cooking chicken breast at 375ºF for around 20-25 minutes or until the internal temperature reaches 165ºF.
How do you bake chicken without drying it out?

If you want juicy, tender baked chicken breasts, we recommend cooking your chicken at 375ºF and cooking it until it reaches an internal temperature of 165ºF. This is about 20-25 minutes depending on the size and thickness of your breasts. Anything hotter/longer, will dry out your chicken.
Should I bake chicken covered or uncovered?

Bake your chicken breast at 375ºF uncovered. With this baking temp, you don't have to worry about your chicken drying out.
How long does it take to bake chicken breast per pound?

Per pound, it should take anywhere from 20-30 minutes to bake your chicken breast. The reason why there is such a big range is that sometimes you can get 3 or 4 small chicken breast per pound and sometimes you can get 1 that is a full pound.

For best results, we suggest using a meat thermometer to check your chicken breast's internal temperature. To consume poultry safely, it should be at least 165ºF.
Is skinless chicken breast healthy?

Boneless skinless chicken breast is extremely healthy. It's high protein, low fat, and low carb.
Storage Suggestions
Let chicken cool completely before transferring into an airtight container such as a glass-meal prep container or plastic bag.
Store in the refrigerator for around 3-5 days.
How to reheat chicken: remove chicken from the refrigerator and transfer to a microwave-safe plate. Microwave on high for 60-90 seconds. Alternatively, you can reheat on the stove-top or in the oven as well.
Can you freeze baked chicken breast?
We recommend freezing your chicken breast BEFORE it's baked. If you make one of these delicious chicken breast marinades, simply place the marinade and chicken breast into a gallon-size bag and remove as much air as possible. Then, freeze for up to 3 months.
When you are ready to bake, remove the bag from the freezer and let thaw completely before following the directions in the recipe card.
Can you freeze already baked chicken?
If you've already baked your chicken breast, you can still freeze it! Let it cool completely and then transfer it into a freezer-safe gallon-size bag. Remove as much air as possible and freeze for up to 3 months.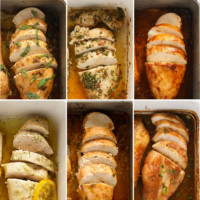 Juicy Baked Chicken Breast Recipes – 6 Ways
Looking to make a juicy, tender baked chicken breast recipe that's flavorful and easy to whip up? Pick from one of these 6 baked chicken breast recipes – fajita, lemon, bbq, teriyaki, Italian, or balsamic!
Ingredients
Instructions
Choose a chicken marinade flavor and place all ingredients (minus the chicken breast) into a medium bowl and whisk to combine.

Place chicken breast into a glass container or gallon-size bag. Then, pour the marinade on top of the chicken, making sure it is covered.

Let chicken marinate in the refrigerator for at least 30 minutes, or for best results, for 2-4 hours.

When you are ready to bake, preheat oven to 375ºF and spray a baking dish with nonstick cooking spray. Option to line the baking dish with tin foil first. Then, transfer all of the contents of your bag (including the marinade) into a 9×9-inch baking dish. 

Cook chicken breasts at 375ºF for 20-25 minutes. Use an instant-read thermometer to make sure the chicken breast reads 160ºF – 165ºF.

Remove chicken breast from the oven and then place it onto a plate. Let chicken rest for 10 minutes before serving so that the internal temperature of the chicken can reach 165ºF, which is the safe eating temp for chicken.

Option to eat as is, chunk the chicken, or shred it.
Tips & Notes
Nutrition information is for the lemon chicken.
Leftover marinade: want to make a sauce out of your leftover marinade? Simply eat it as is or use a little cornstarch to thicken your sauce before serving.
Nutrition facts
Calories:
246
kcal
Carbohydrates:
4
g
Protein:
26
g
Fat:
15
g
Fiber:
0
g
Sugar:
3
g
Fajita Baked Chicken
Made with lime juice, garlic, and fajita spices, you will love this fajita baked chicken recipe! It's not too spicy, but such a great Mexican chicken recipe. Pair this chicken with: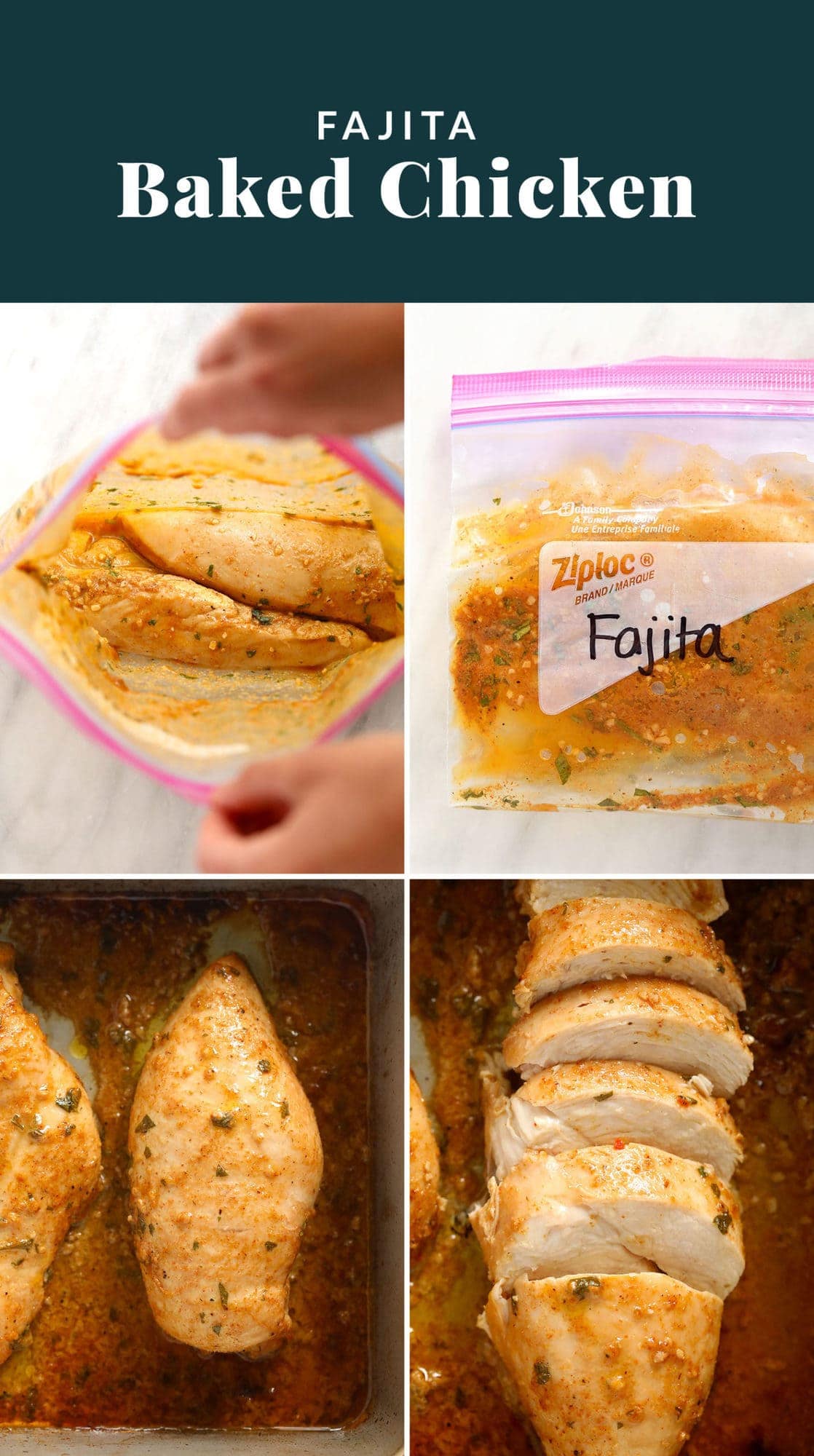 Baked Lemon Chicken
This baked lemon chicken is citrusy, juicy, and such a great main meal to serve any night of the week. Marinate your lemon chicken for at least 2 hours and then bake your breast in the marinade. Make sure to save some sauce for serving! Serve your baked lemon chicken with: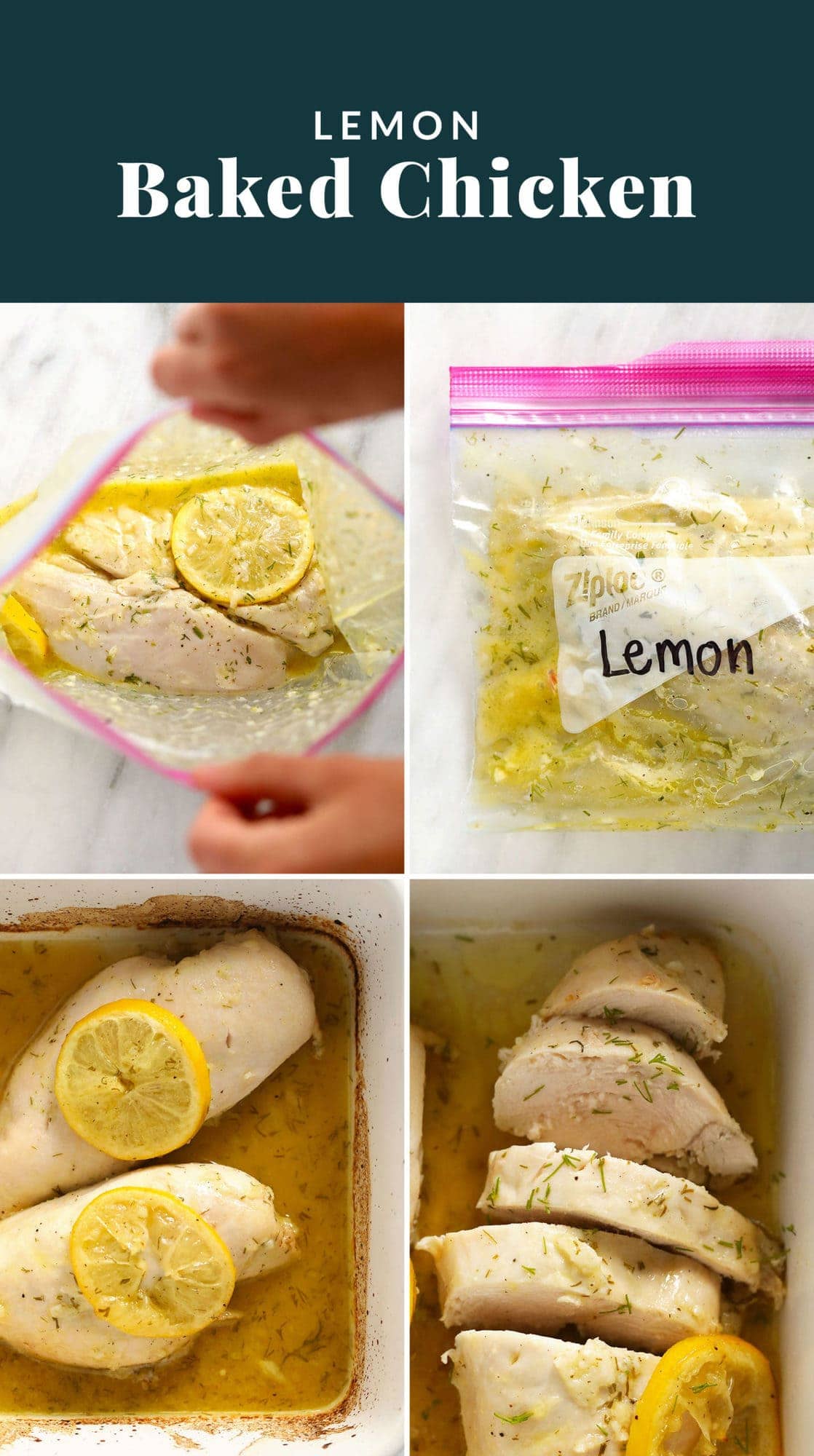 Baked Balsamic Chicken
Whip up a delicious balsamic chicken marinade and make this baked balsamic chicken. It's made with balsamic vinegar, olive oil, fresh basil, and other spices. Serve your chicken with: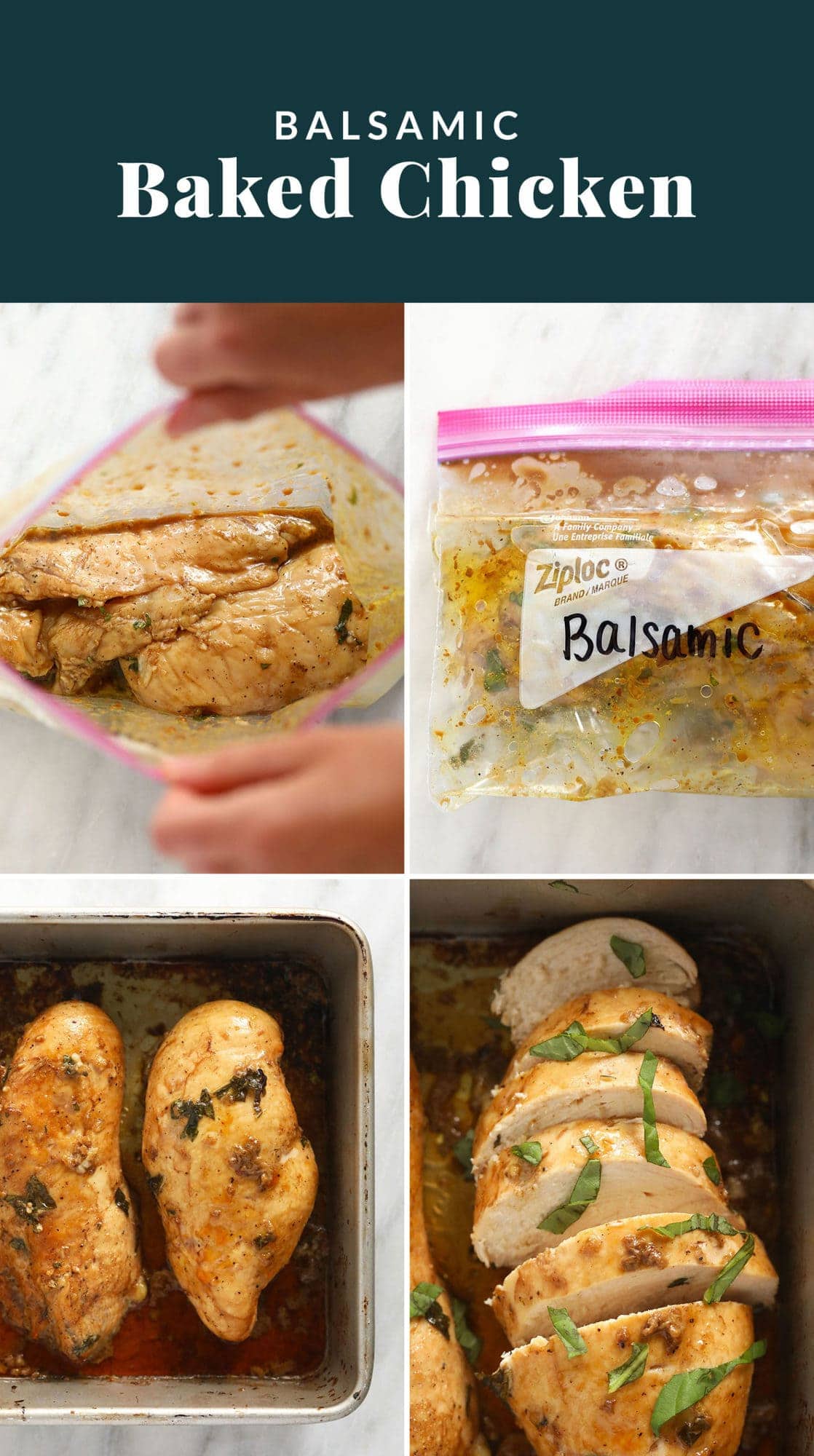 Baked Teriyaki Chicken
Say hello to the most Baked Teriyaki Chicken! This chicken breast is marinated in our homemade teriyaki sauce, baked, and then shredded for serving. Serve it with: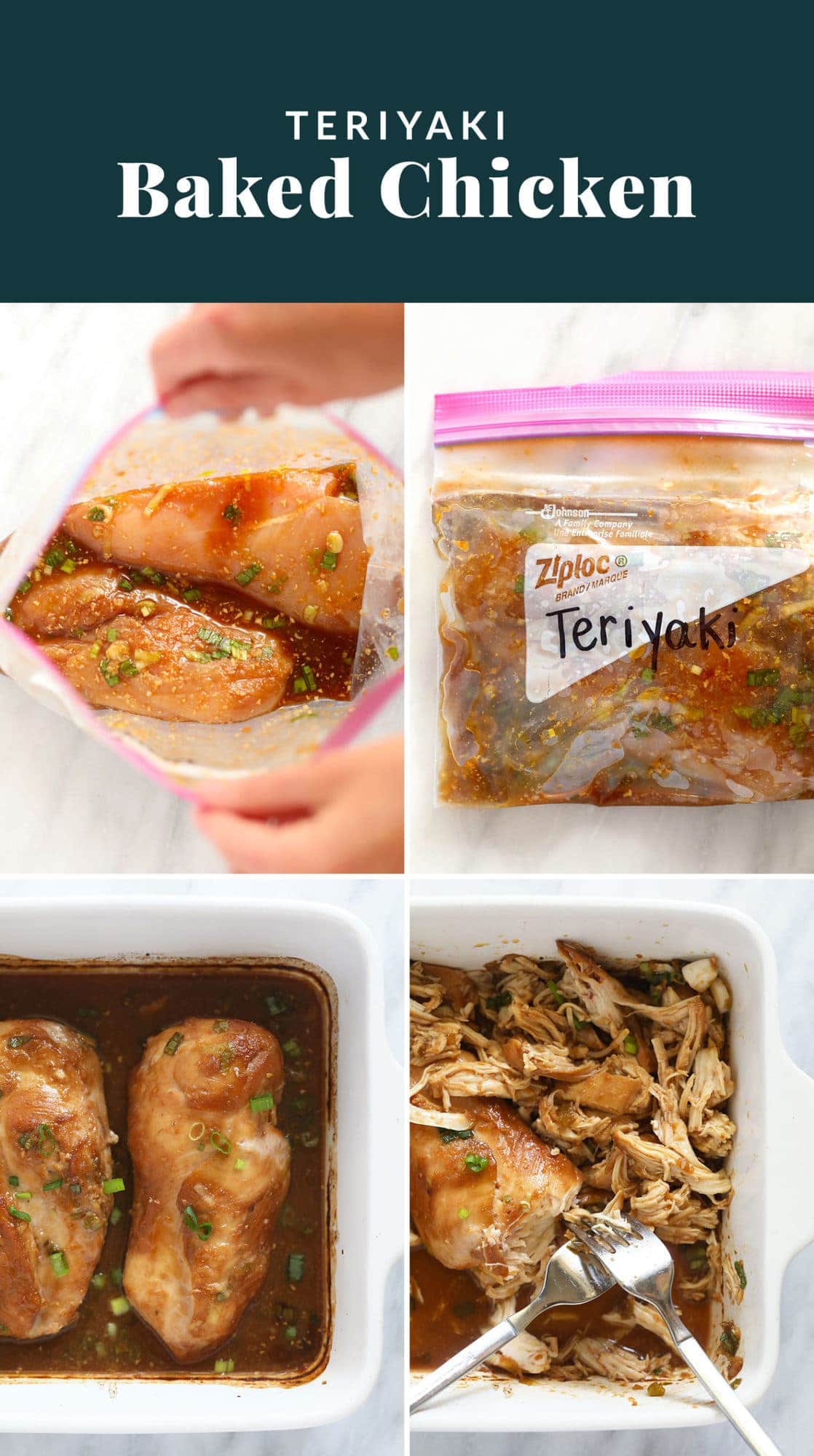 Baked BBQ Chicken Breast
It doesn't get any easier than baked BBQ chicken! Whip up this delicious semi-homemade bbq chicken marinade and then bake your chicken breast to perfection. Serve this chicken with: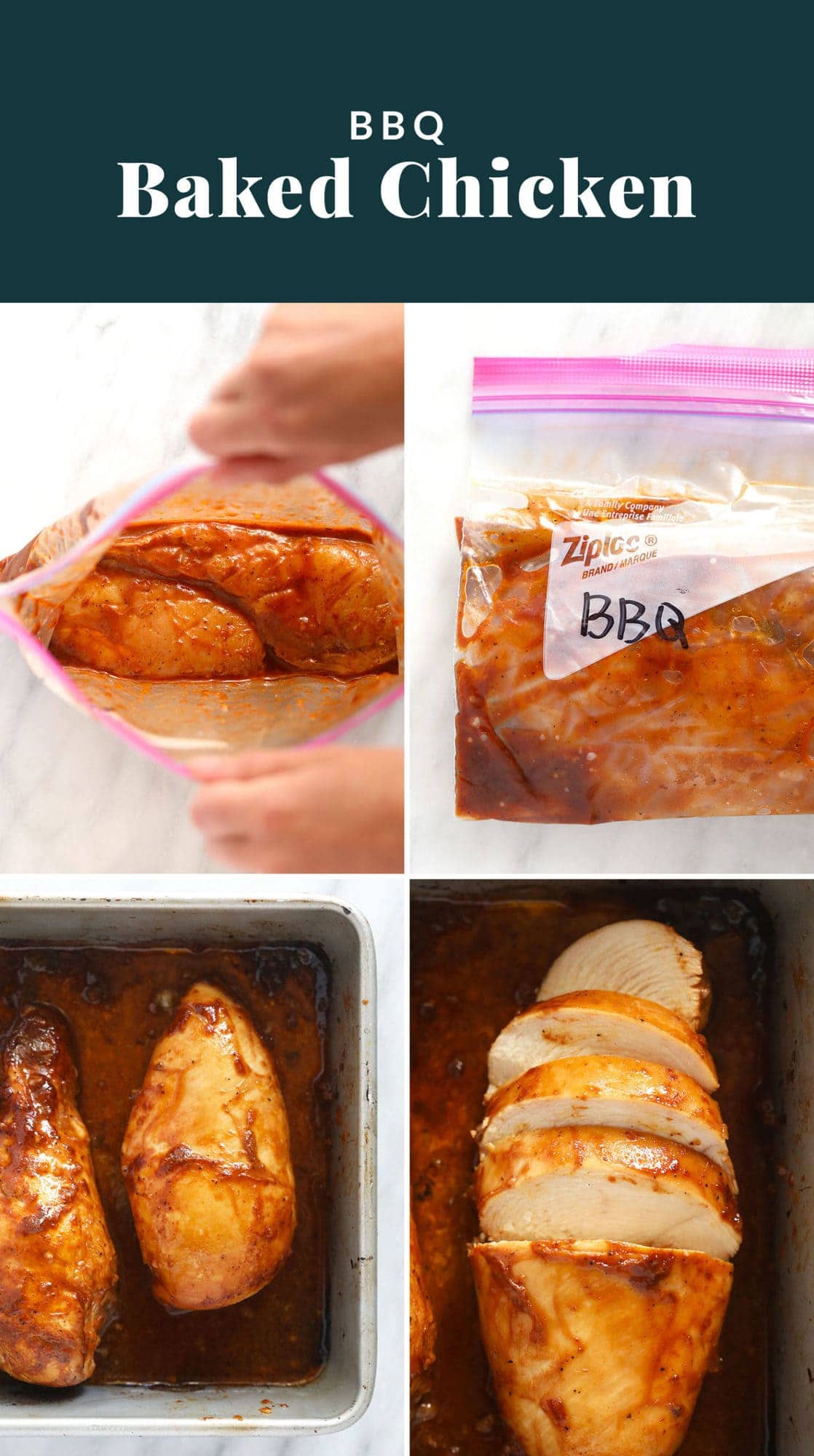 Baked Italian Chicken
Make your own Italian chicken marinade with olive oil, lemon juice, garlic, and red pepper flakes. This baked chicken breast comes out tender and juicy! Serve it with: