This is the best homemade Italian dressing chicken marinade you'll find on the internet. It will leave your chicken juicy, tender, and flavorful.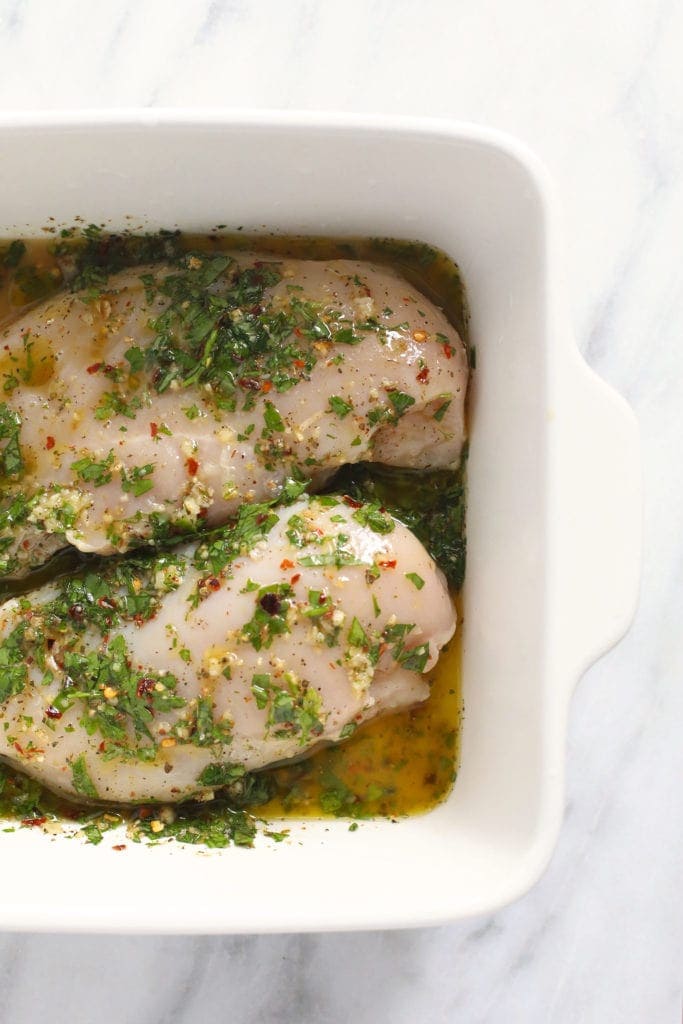 Best Italian Chicken Marinade
This Italian Chicken Marinade recipe makes me all nostalgic for my childhood. Once a week my mom would marinate chicken breast in store-bought Italian dressing for the family.
I obviously had to recreate this meal with a homemade Italian chicken marinade that's just as good…okay, better!
This marinade actually doubles as a salad dressing, it's lemony, an made with fresh herbs and garlic.
What You Need
The foundation of this marinade is lemon juice, olive oil, spices, and fresh herbs. Here's what you need along with a few swap recommendations.
Olive oil – EVOO is an Italian staple, so this is our preferred oil. You can try using vegetable or canola, instead.
Lemon juice – Make sure to use freshly squeezed lemon juice and not the kind you can buy in the yellow container.
Apple cider vinegar – ACV is going to help balance out the citrus and give your Italian marinade a great tang.
Italian seasoning – All you need is 1 teaspoon of Italian seasoning.
Red pepper flakes – A few red pepper flakes go a long way! Option to add more of skip this part.
Garlic – Fresh garlic gives me life. You can either mince your own cloves or use pre-minced.
Fresh parsley and basil – Fresh herbs really make this marinade, so don't skimp on these!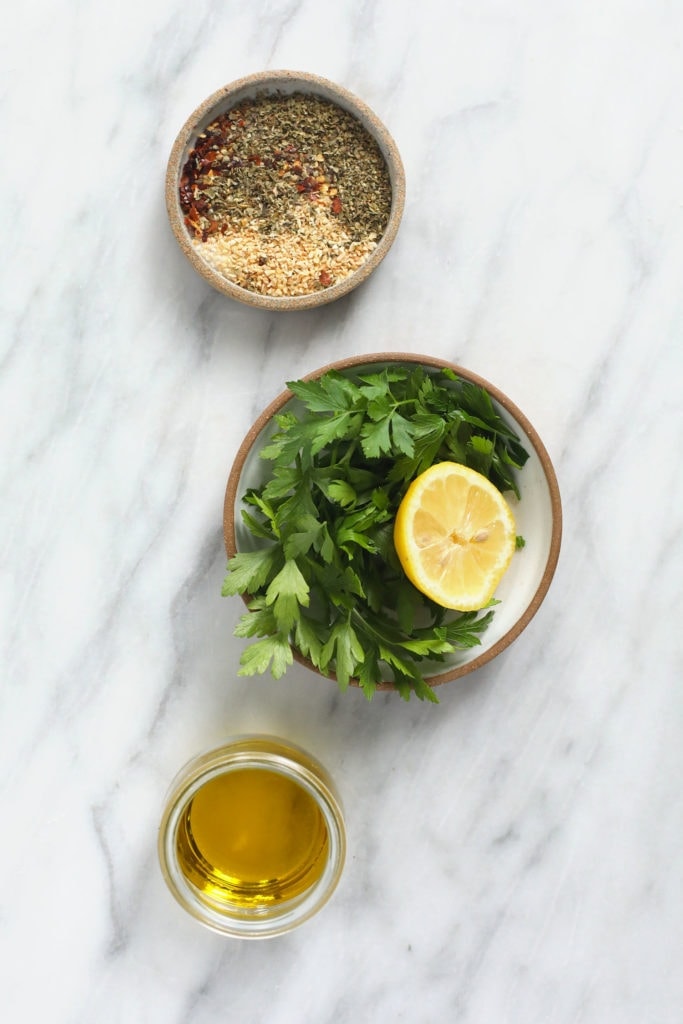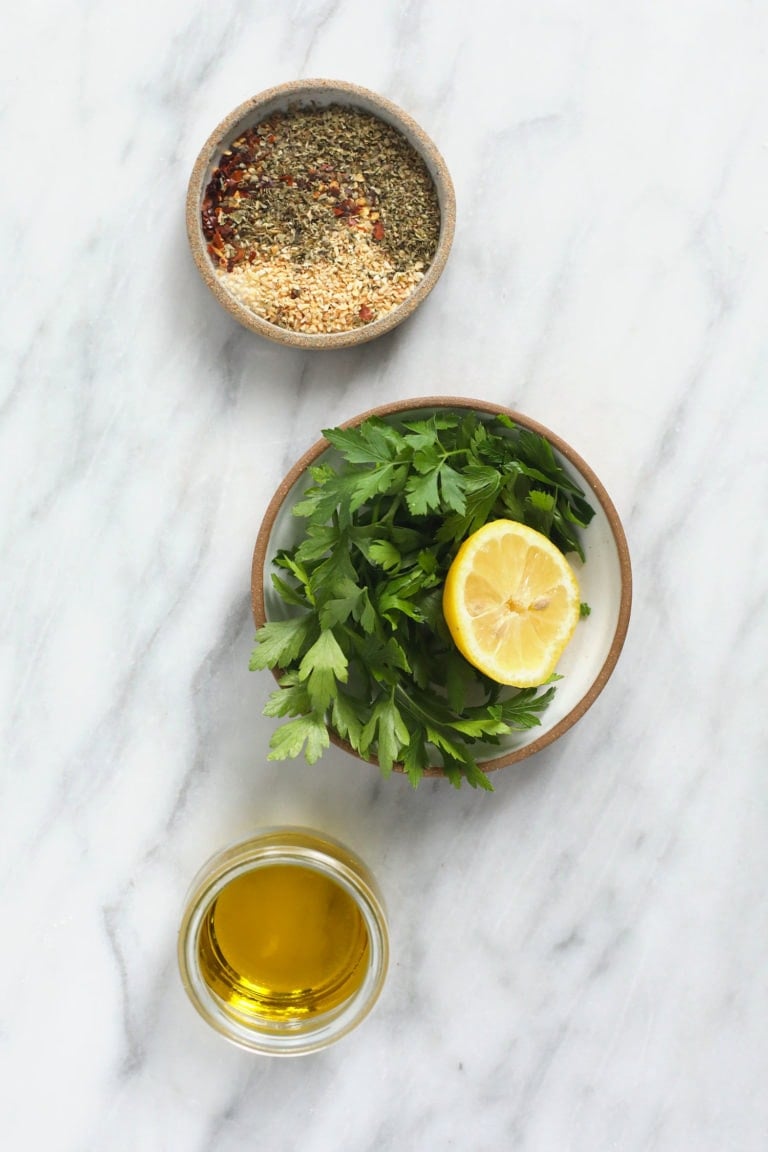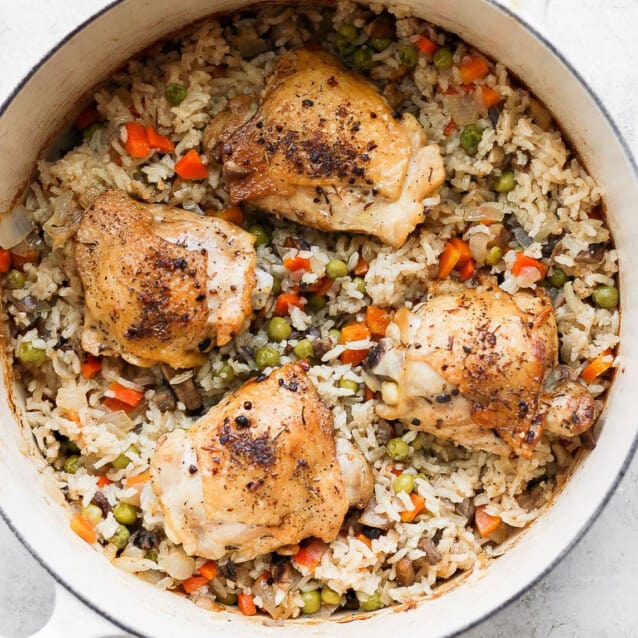 Become a Pro at Cooking Chicken!
We'll teach you everything you need to know on how to cook chicken perfectly every time + we'll share our top chicken recipes when you subscribe to our emails today!
How Long to Marinate Chicken
The longer the better when it comes to marinating chicken breast. We recommend a full 24-hours because your chicken will absorb so much flavor over that time.
However, if you're short on time, all you really need is 20-30 minutes!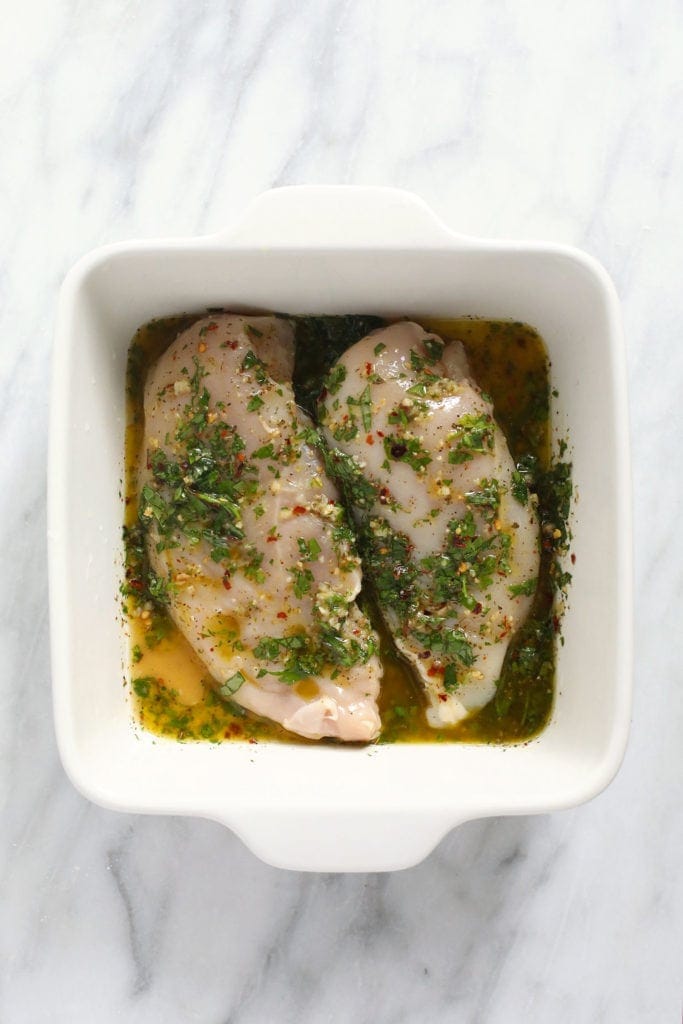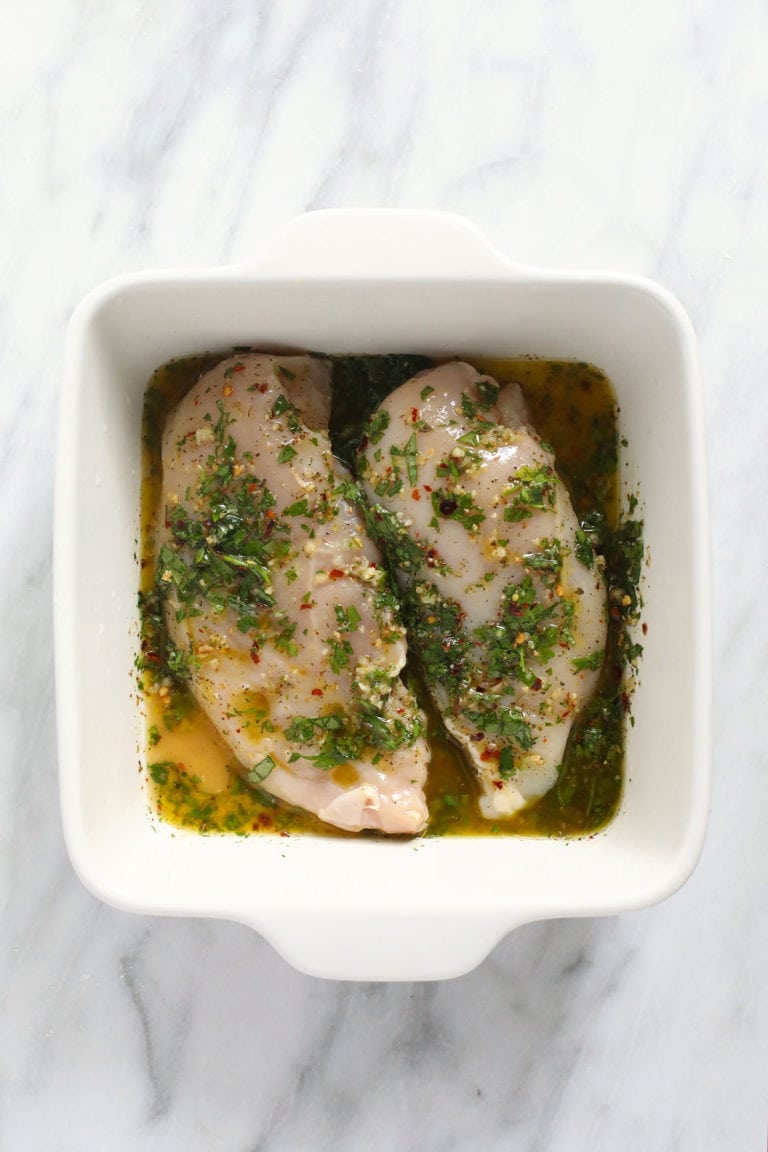 Ways to Cook Marinated Italian Chicken
Pretty much any cooking method is fair game. We're linking to some of our basic chicken breast recipes below so you can learn how to easily cook your marinated chicken.
Baking Instructions
Baking marinated chicken breast is super simple. Simply transfer the marinated chicken plus the excess marinade into a baking dish and bake at 375ºF for around 20-25 minutes or until the internal temperature reaches 165ºF.
Checks out full instructions here on how to bake chicken breast.
Freezing Instructions
Freezing marinated chicken is a secret meal prep tip that will change your life. Prep 1 meal, 2 meals, or 5 meals all at once to have easy access to Italian marinated chicken any day of the week.
Place the Italian dressing chicken marinade along with 1 lb. of chicken into a freezer-safe gallon-size bag.
Remove as much air as possible and then seal.
Write "Italian Chicken" on the front of the bag along with the date. Freeze up to 3 months.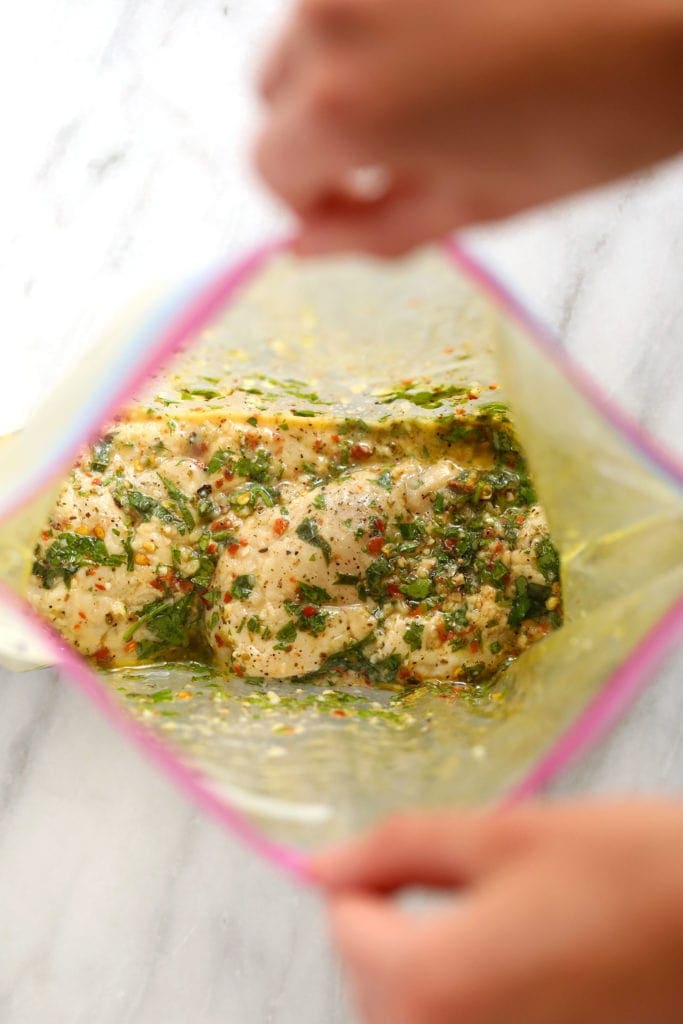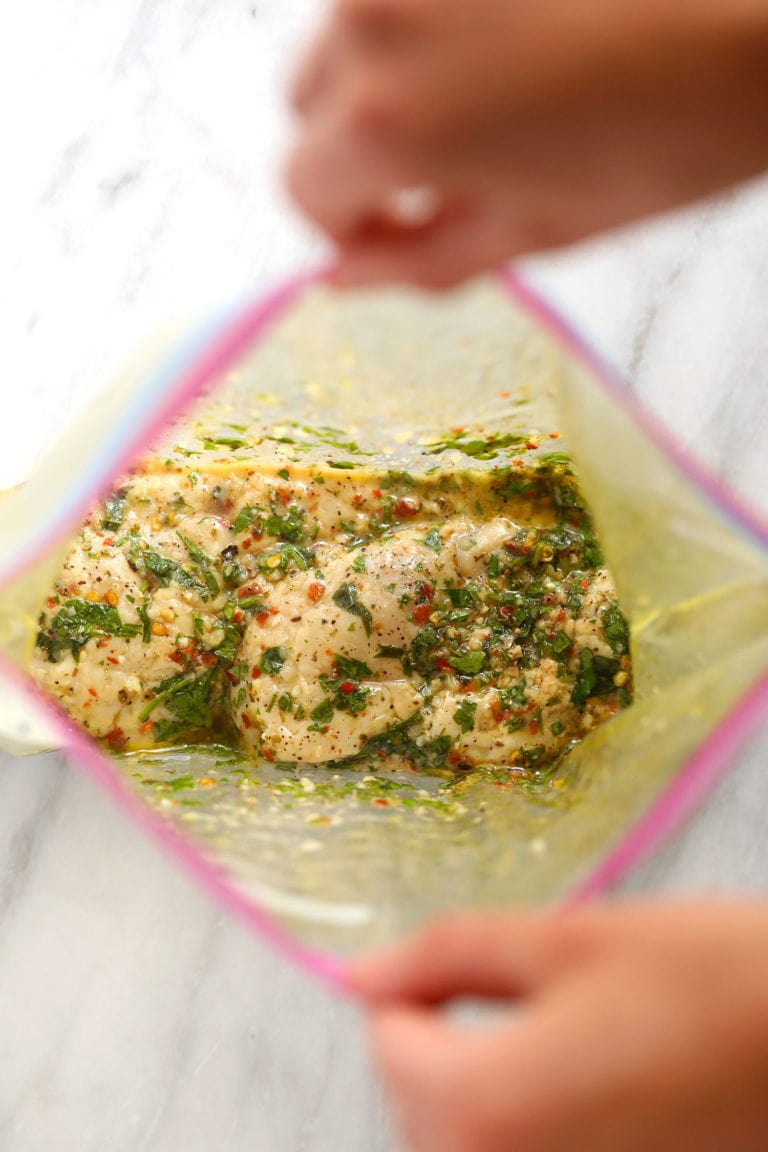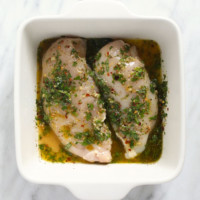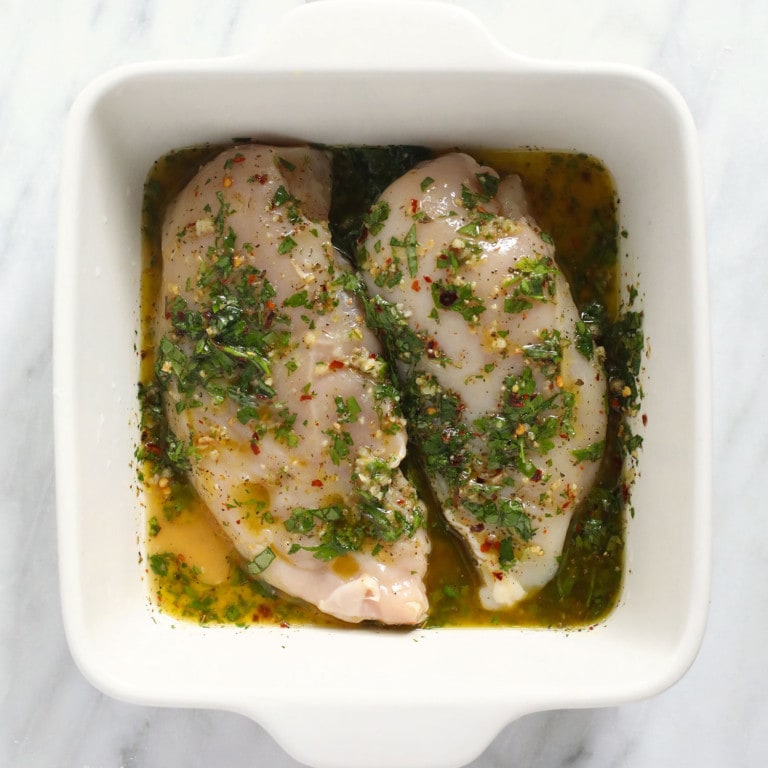 Homemade Italian Chicken Marinade
This is the best homemade Italian dressing chicken marinade you'll find on the internet. It will leave your chicken juicy, tender, and flavorful.
Ingredients
1/4

cup

olive oil

1

tablespoon

lemon juice

1

tablespoon

apple cider vinegar

1

tablespoon

water

1

teaspoon

Italian seasoning

1

teaspoon

red pepper flakes

1

clove

garlic

minced

2

tablespoons

fresh chopped parsley

1

tablespoon

fresh chopped basil

salt

to taste

1 – 1.5

lbs.

boneless skinless chicken breast
Instructions
Marinade Instructions
Place olive oil, lemon juice, apple cider vinegar, water, Italian seasoning, red pepper flakes, garlic, parsley, and basil into a large container or gallon size bag. We like using a bag because it will cover all sides of the chicken.

Whisk together to combine.

Next, add boneless skinless chicken breast to the marinade and then remove as much air as possible from the bag and seal.

Place in the refrigerator for at least 2 hours, or overnight. For best results, we suggest marinating your chicken for a full 24 hours.
Tips & Notes
Nutrition information is for 1 lb. chicken breast.
Nutrition facts
Calories:
255
kcal
Carbohydrates:
3
g
Protein:
28
g
Fat:
25
g
Fiber:
0
g
Sugar:
0
g