This Greek salad dressing recipe is tangy, sweet, and perfect for Greek salads, marinating meat, and more!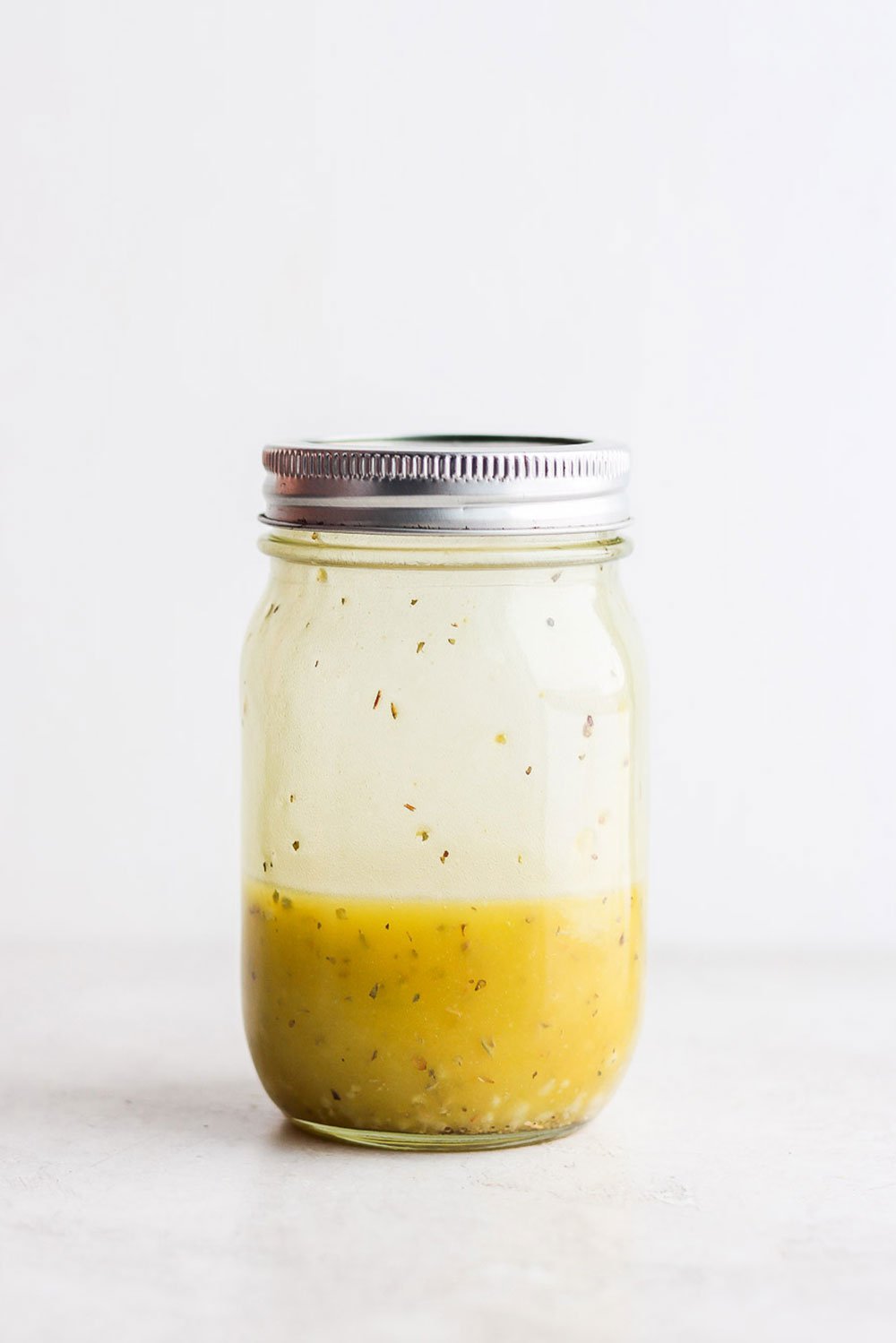 Forget the store-bought Greek salad dressing and make this homemade Greek salad dressing! We are big fans of homemade salad dressing on Fit Foodie Finds.
Guess what? You don't only have to use this salad dressing on a salad! There are so many ways you can use this Greek dressing to flavor other delicious recipes.
All the Ingredients in Greek Dressing
Have you ever ordered a Greek salad and thought, OMG I love how fresh and light this salad is? Guess what, you don't have to go out to a restaurant to enjoy a Greek salad.
A good Greek salad is made up of fresh produce and a delicious Greek salad dressing! This greek salad dressing is light, fresh, and so easy to make! Here is what you need to make this dressing.
Olive Oil
White Wine Vinegar
Minced Garlic
Honey
Lemon Juice
Dijon Mustard
Dried Oregano
Salt
Hopefully, you have a stocked pantry and you have all of the ingredients you need to whip this recipe upright when you want it!
Try our Greek salad recipe!
This Greek salad is made with sweet cherry tomatoes, cucumber, red onion, feta, and homemade Greek salad dressing! It is perfect for meal prep, a summer picnic, or just a healthy summer meal!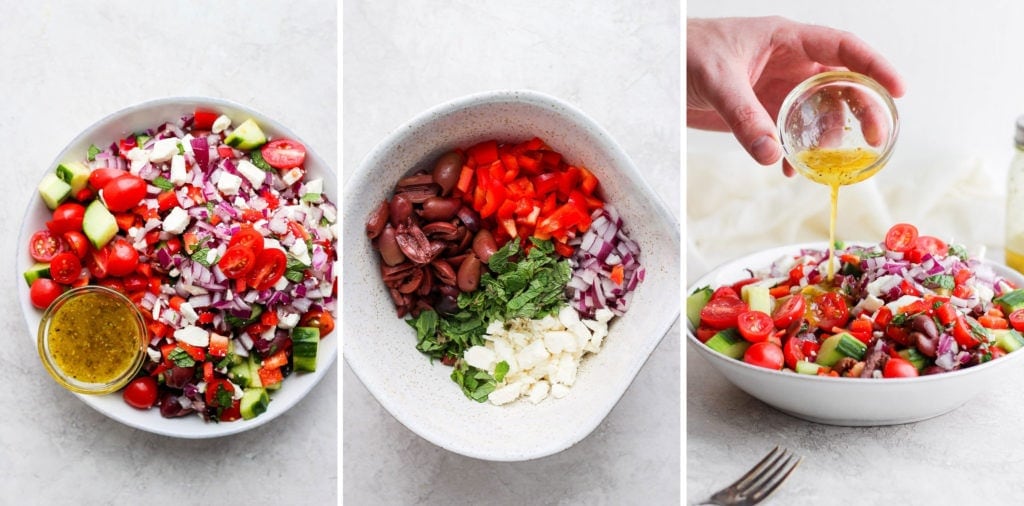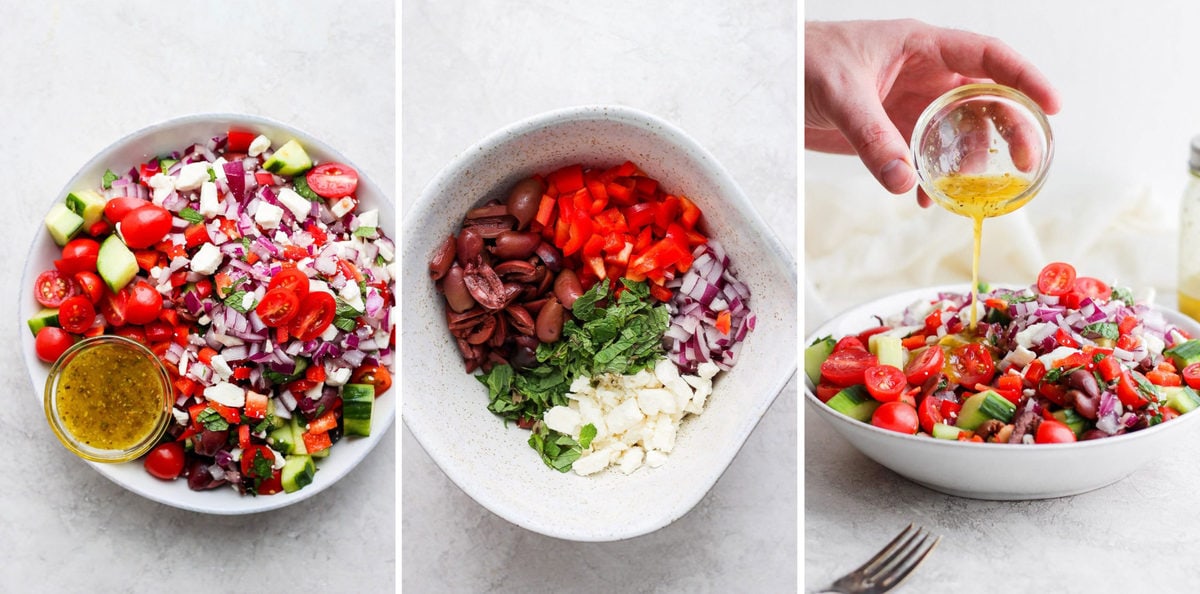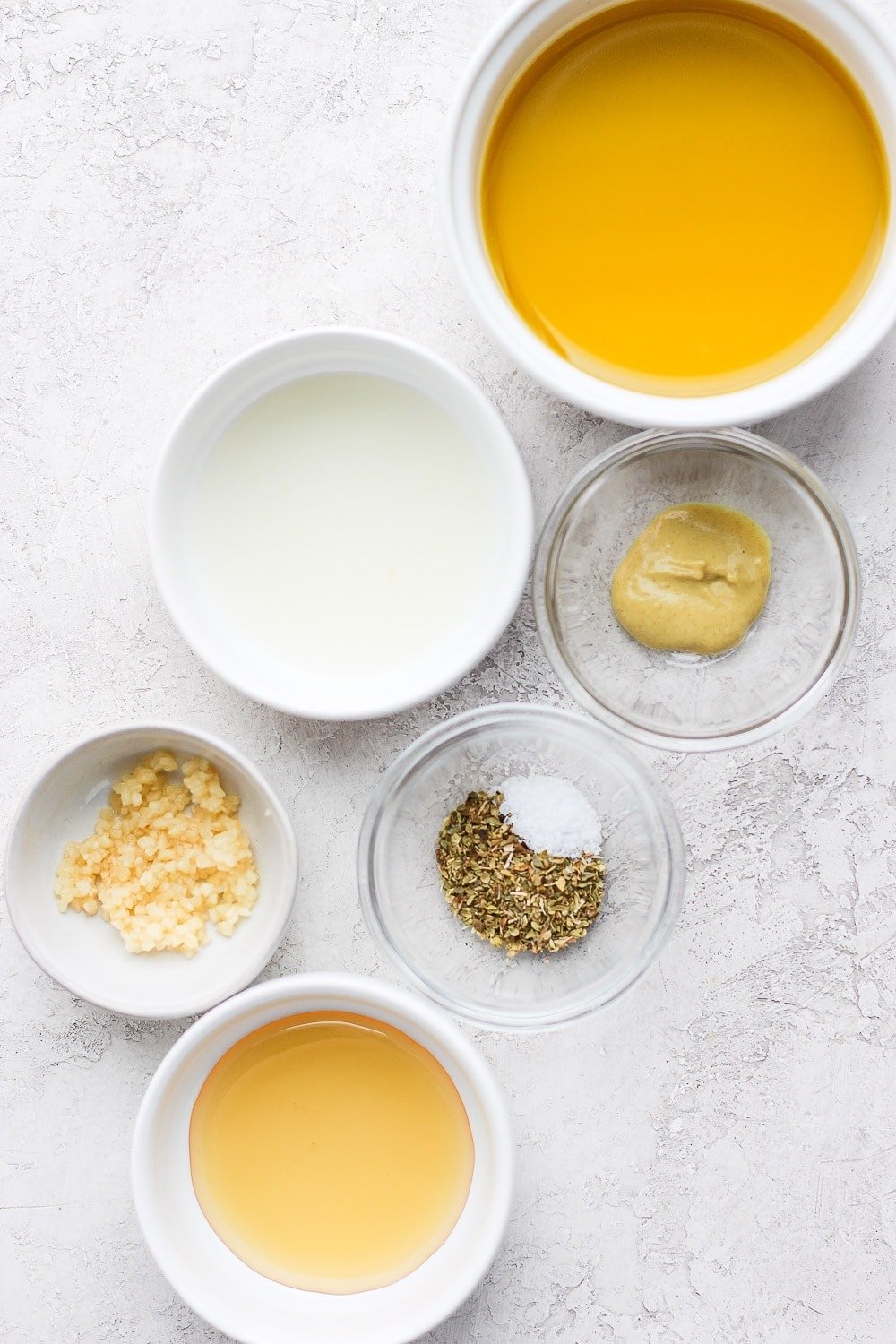 All the Ways You Can Use Greek Dressing
Greek salad dressing is so incredibly delicious on a tomato and feta filled salad, but there are also many different ways you can use a Greek dressing that isn't on a salad! Here are a couple of different ways!
Use it as a marinade.
We love using any of these delicious dressing recipes as marinades for meat! This Greek salad dressing is a perfect marinade for chicken breasts, chicken thighs, chicken wings, and even beef!
All you have to do is place your protein in a bowl or bag, make a batch of this Greek dressing and pour it over the protein. Let everything sit for at least an hour (or overnight for optimum flavor) and then cook it up!

try it!
Check out our delicious Grilled Greek Lemon Chicken recipe for more inspiration on how to use this amazing dressing as a Greek chicken marinade.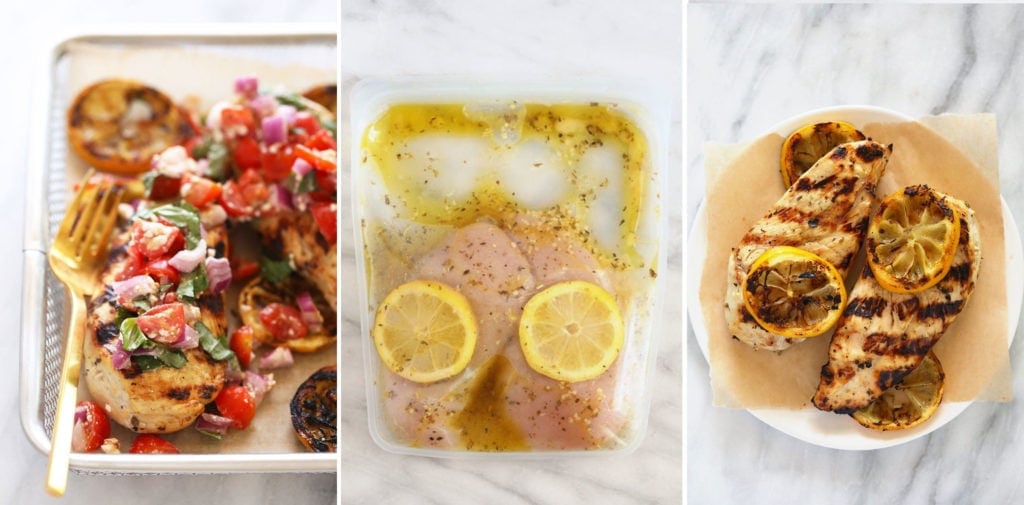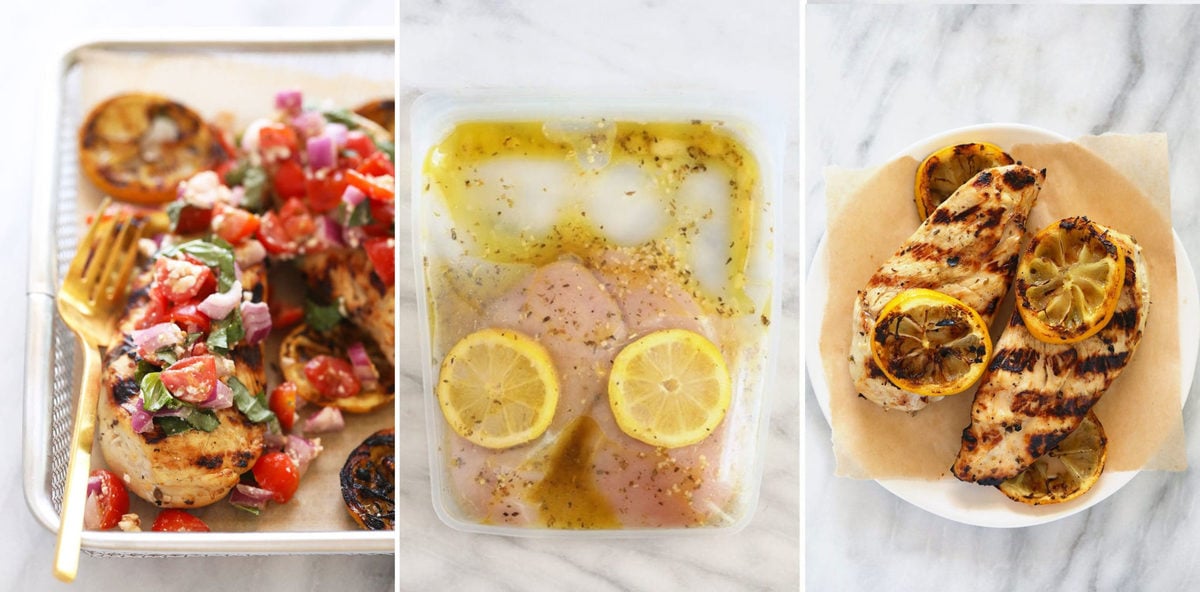 Perfect on pasta salad.
Oh mommy, who doesn't love a delicious pasta salad? We love whipping up our healthy taco pasta salad or this rainbow asian salad as a delicious summer lunch!
You can make a delicious Greek pasta salad by pouring this Greek dressing over pasta, fresh vegetables, feta cheese, and olives! BOOM. The most delicious Greek pasta salad!
It makes a great DIP!
Add a couple tablespoons of this Greek dressing to a cup of Greek yogurt for a flavorful vegetable dip or to your favorite classic hummus recipe for a delicious Greek spin on a hummus.
Both are delicious meal prep dips or great healthy appetizer ideas for your next summer picnic!

Tips + Tricks
What is the trick to making homemade dressing at home? There are a couple of tips and tricks to make sure you are getting the most bang for your buck!
Storage
Make sure you have a jar with a lid! It is the easiest way to prepare and store your salad dressing. All you have to do is place ingredients in the jar and shake!
After that, place your dressing in the refrigerator with the lid tightly sealed and your homemade dressing can last for up to 7 days in the refrigerator.
Substitutions
Most of the ingredients in this Greek dressing have a substitution that will work just if you are in a pinch for ingredients! Check out our substitution options below.
Olive Oil—> Avocado Oil
Lemon Juice—> Lime Juice
White Wine Vinegar—> Apple Cider Vinegar
Oregano–> Italian Seasoning
Fresh Garlic—> Garlic Powder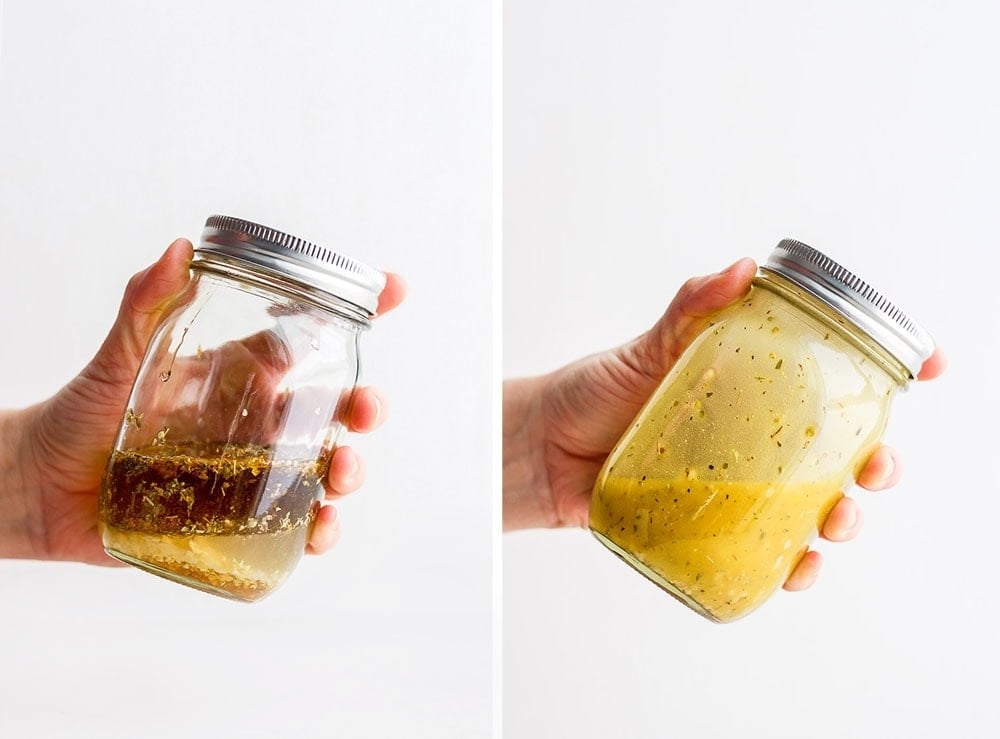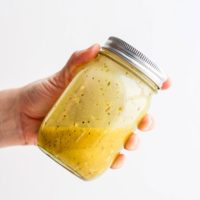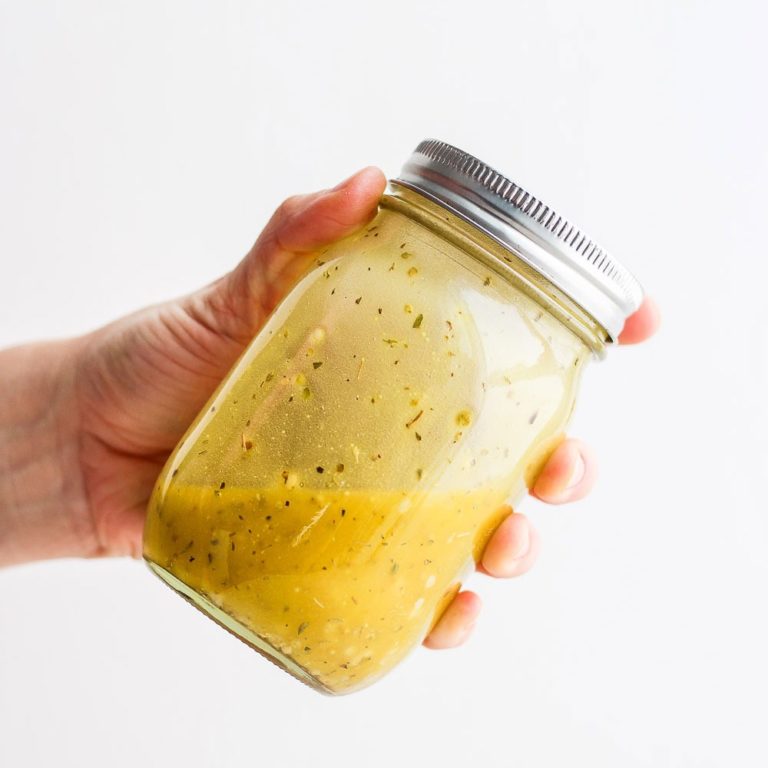 Greek Dressing Recipe
This Greek salad dressing recipe is tangy, sweet, and perfect for Greek salads, marinating meat, and more!
Instructions
Place all ingredients into a mason jar and cover.

Shake mason jar until all ingredients are combined.

Serve over your favorite salad or use as a marinade.
Tips & Notes
Storage- This dressing can last up to 7 days if stored in an air tight container.
Nutrition facts
Calories:
151
kcal
Carbohydrates:
3
g
Protein:
0
g
Fat:
24
g
Fiber:
0
g
Sugar:
3
g
Photo Credit: The Wooden Skillet