Our homemade ranch recipe is smooth and creamy and made with buttermilk, Greek yogurt, lemon zest, vinegar, and classic ranch spices.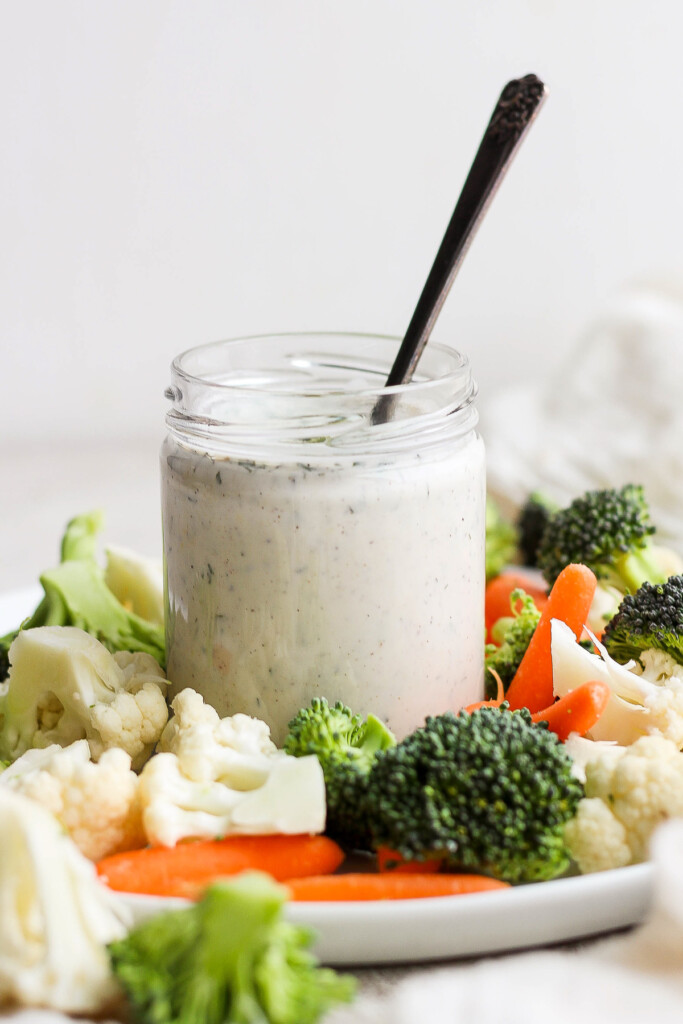 Favorite Homemade Ranch Dressing
That creamy, slightly tangy dressing that's also a dip is an American hero, ranch. When in doubt, get a side of ranch dressing.
Did you know that midwesterners put ranch on pretty much everything? Salad –> ranch. Chicken wings –> ranch. Chicken nuggets –> ranch. Pizza –> ranch. Yes, we eat ranch on pizza.
In this post, we'll teach you how to make ranch dressing + we're sharing recipes for what to serve it with.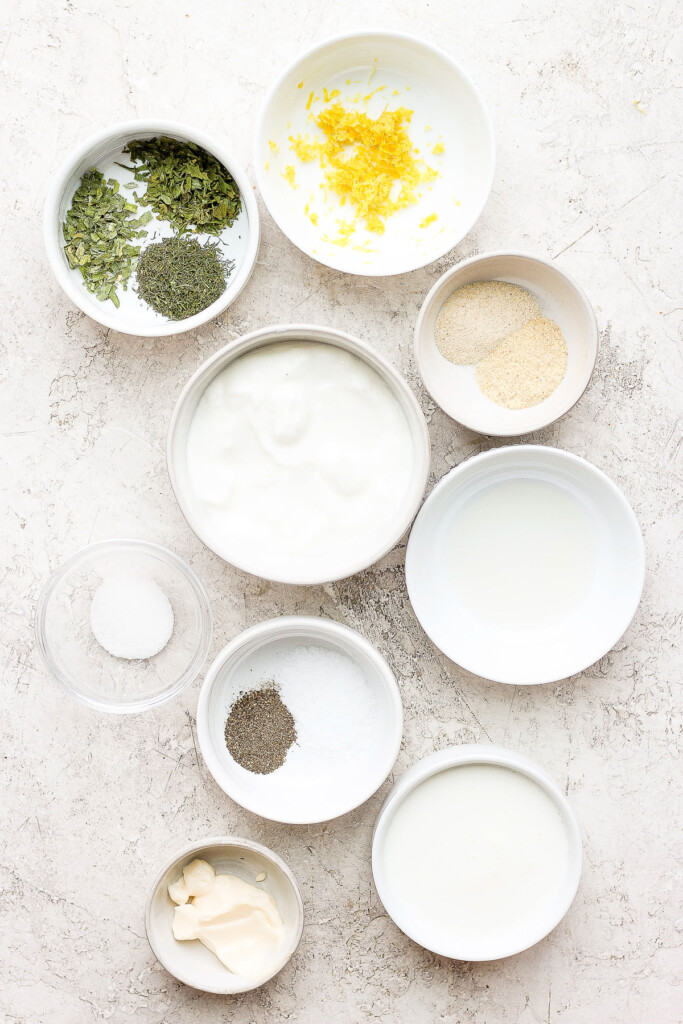 What is in ranch dressing?
Classic ranch is made from the base of buttermilk (or buttermilk powder) and mayonnaise with the addition of dried herbs such as parsley, chives, dill, and garlic powder.
Our recipe features Greek yogurt in place of mayo for a creamy, tangy ranch dressing.
Spices in Ranch Dressing
This homemade ranch calls for a handful of dried herbs and spices. Here's what you need:
parsley
chives
dill
onion powder
garlic powder
salt and pepper.
So, is ranch basically mayo?
While some ranch dressing recipes are heavy on the mayo, ranch is typically made from a buttermilk base, not a mayonnaise base.
Latest Salad Dressing Recipes
More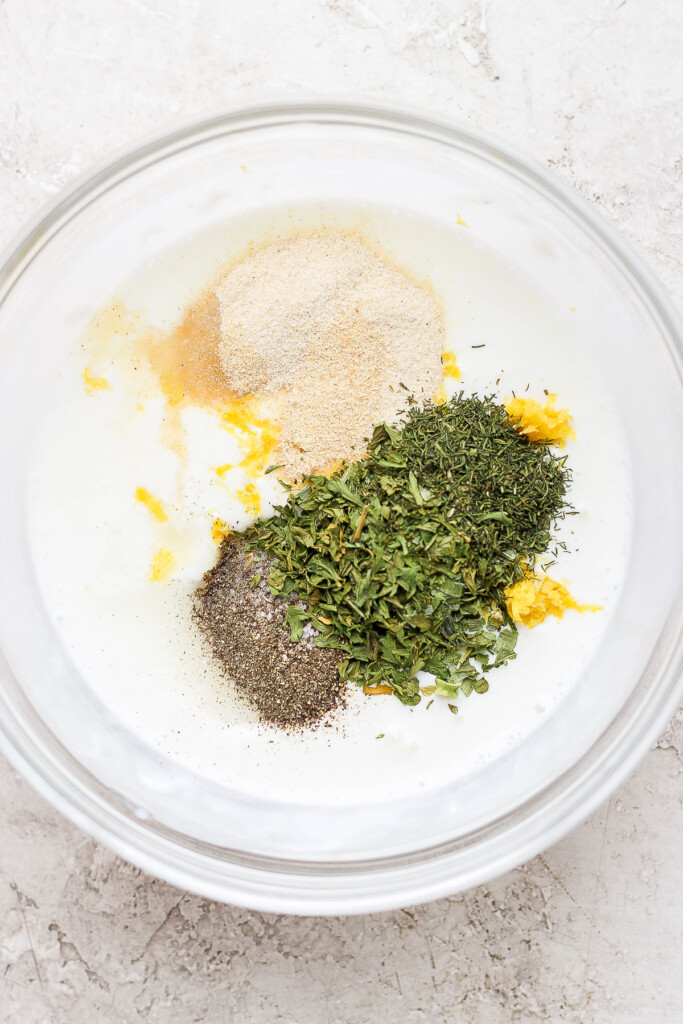 How to Make Ranch Dressing in 1, 2, 3
Whisk together base: combine Greek yogurt, buttermilk, and mayo.
Add flavors: add the dried spices, salt, lemon zest, and vinegar, and whisk again.
Store in Fridge: transfer the dressing into an airtight container or jar and store in fridge.
Is there a difference between ranch and ranch dressing?
There is no difference between ranch and ranch dressing. However, some people may serve their dressing a bit thinner than the dip.
What is ranch sauce made of?
Ranch sauce and dressing is made from the base of buttermilk (either the actual milk or powder), mayonnaise, and dried spices.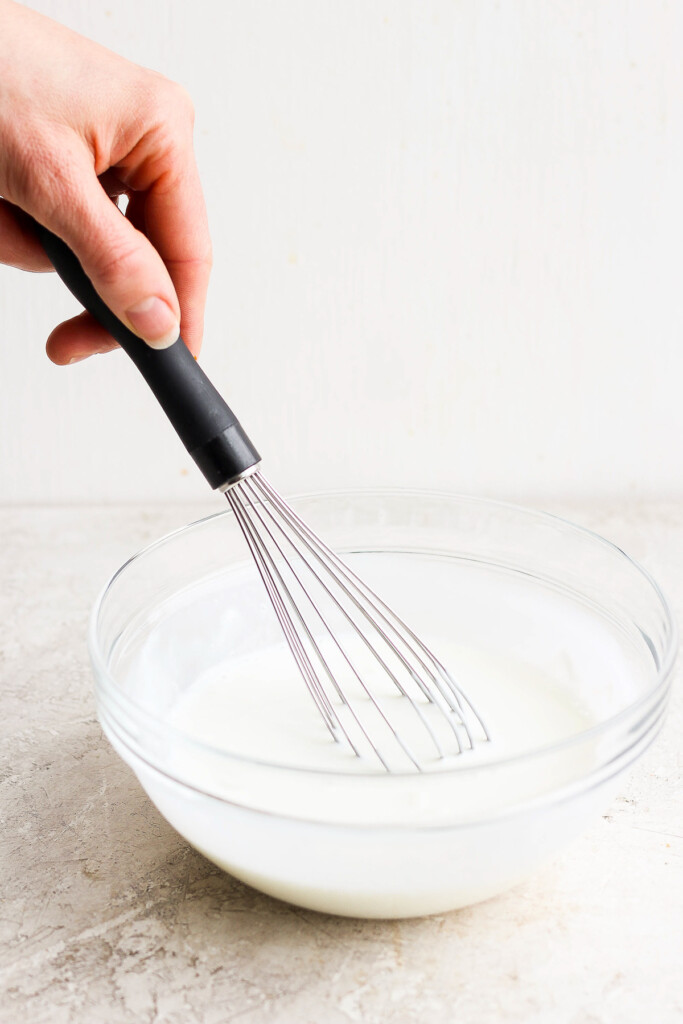 What to Serve Ranch With
Buffalo Chicken: buffalo chicken is a classic meal to serve with ranch. We have tons of buffalo chicken recipes on Fit Foodie. Check out our favorites:
Pizza: any kind of pizza dips perfectly in ranch. Try our BBQ Chicken Pizza or Grandma Marie's Pizza Crust!
Raw Veggies: if you're looking for a healthy snack, any wrap veggie is perfect with ranch dressing. Try broccoli, celery, or carrots.
Salad: When in doubt, order ranch dressing with your salad. Some of our favorite salad recipes are below!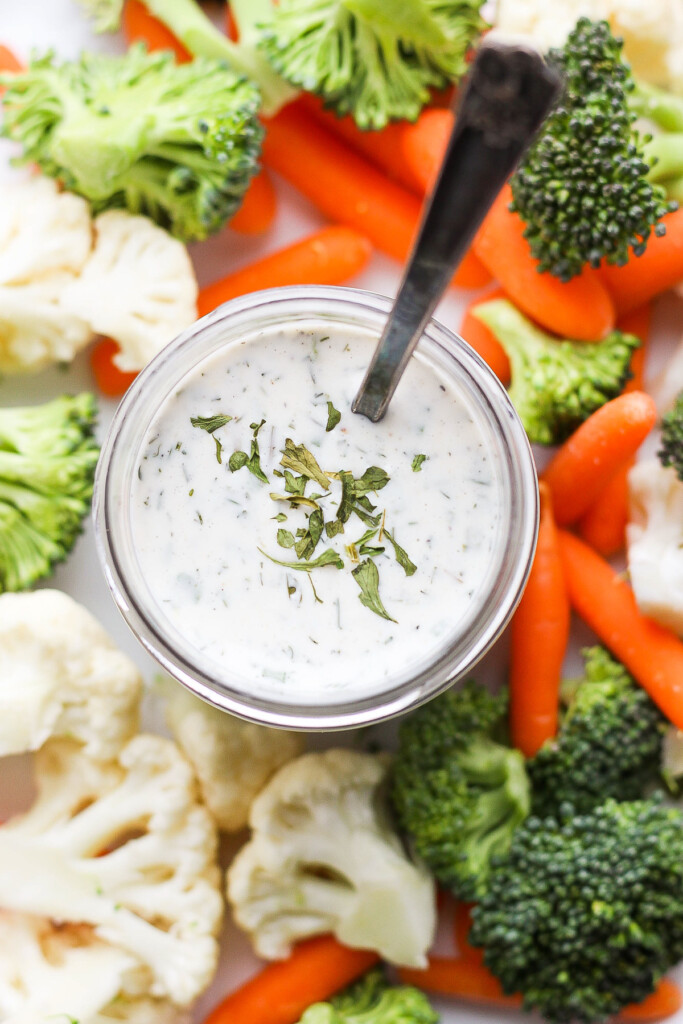 Storage
Store ranch dressing in an airtight container in the fridge for up to 7 days.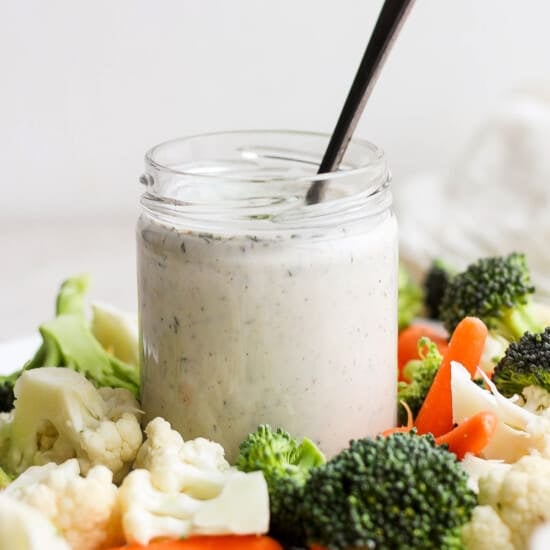 Homemade Ranch Dressing
Learn how to make homeamde ranch dressing with classic ingredients such as buttermilk, maonaisse, and dried spices!
Instructions
Whisk together the Greek yogurt, buttermilk, and mayo in a large bow until smooth.

Add the remaining ingredients and whisk until combined.

Store in the refrigerator for up to 5 days.
Nutrition facts
Calories:
50
kcal
Carbohydrates:
4
g
Protein:
3
g
Fat:
3
g
Fiber:
0.4
g
Sugar:
2
g
Photography: photos taken in this post are by Ashley McGlaughlin from The Edible Perspective.