If you are looking for a delicious on-the-go lunch that is packed with protein and veggies, you will love this Buffalo Chicken Wrap recipe. It's is made with our famous buffalo chicken, blue cheese, and tons of veggies.
Buffalo chicken lover? Check out some of our other favs from Fit Foodie Finds: Grilled Buffalo Chicken Salad, Crockpot Buffalo Chicken Dip, Buffalo Chicken Mason Jar Salad, and Buffalo Chicken Lettuce Wraps.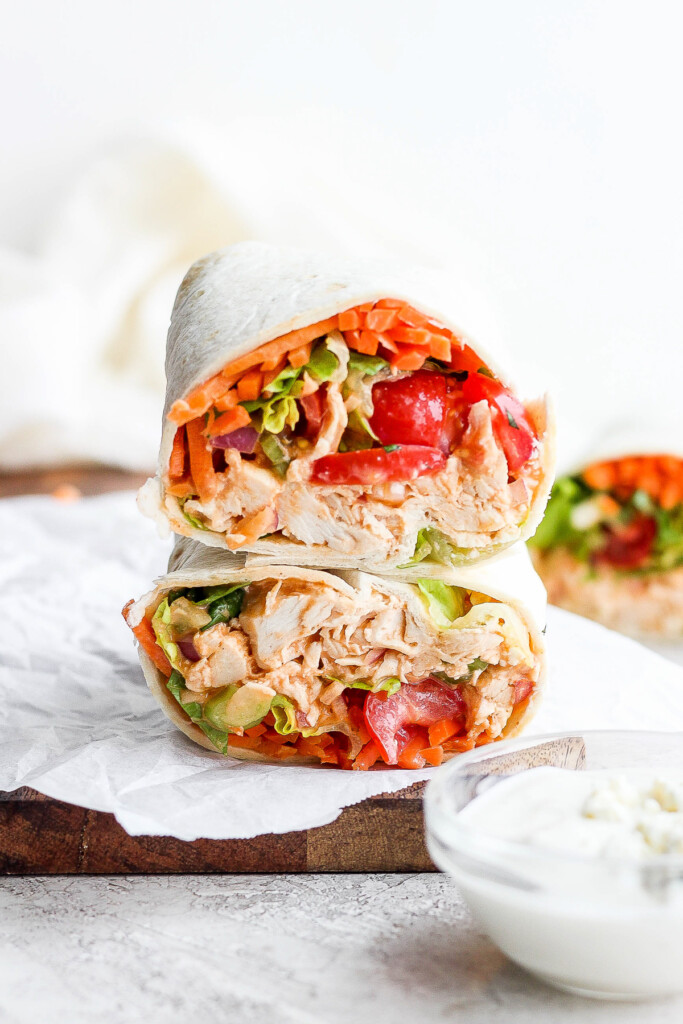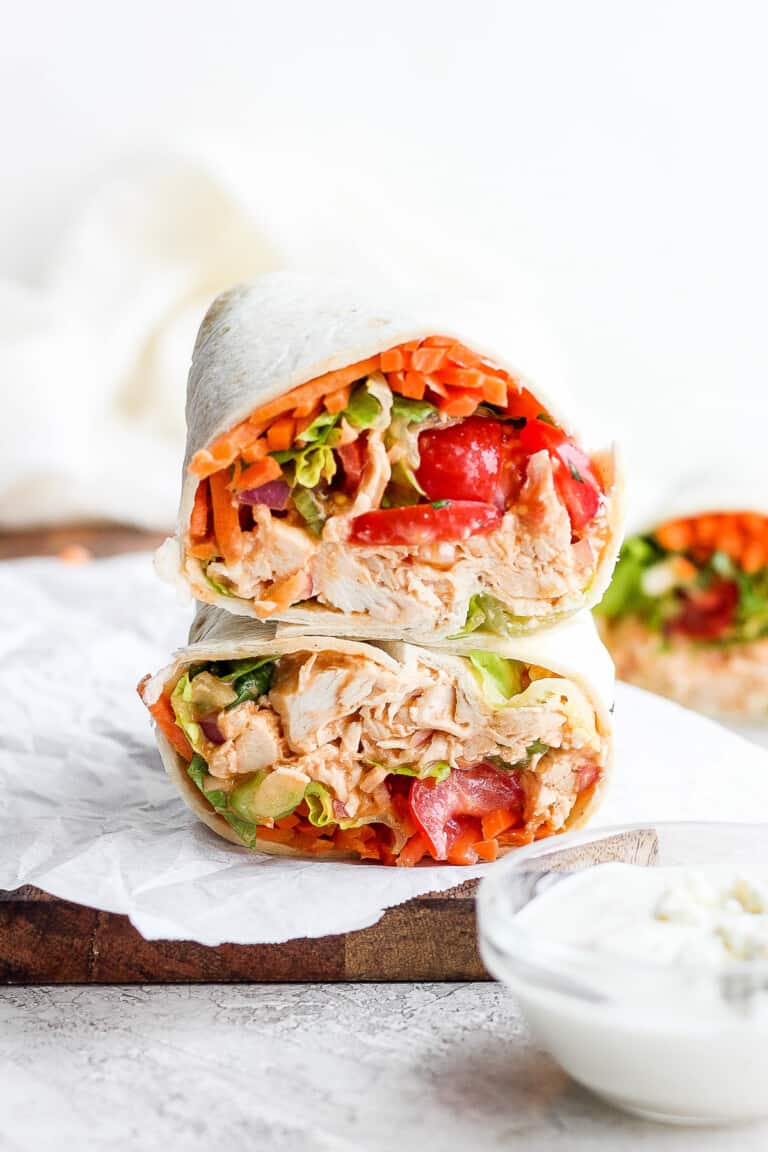 Our Favorite Chicken Wrap
Made with 25g of protein/serving, these delicious buffalo chicken wraps are nourishing, flavorful, and kid-friendly!
Today we are sharing one of our favorite chicken wrap recipes. It involves buffalo chicken and blue cheese, so, you're welcome.
Not only are these most delicious than restaurant buffalo chicken wraps, but they're made in your own kitchen with tons of veggies and an easy buffalo chicken mixture.
Why you'll love them!
High-protein: these chicken wraps pack in 25g protein per wrap.
Easy-to-make: we're sharing tips and trick of how to make these in 30 minutes or less.
Great for meal-prep: prep all the different parts of these wraps and then assemble the day of.
Work/school-friendly: these pack up super nicely in a Ziploc bag or meal-prep container.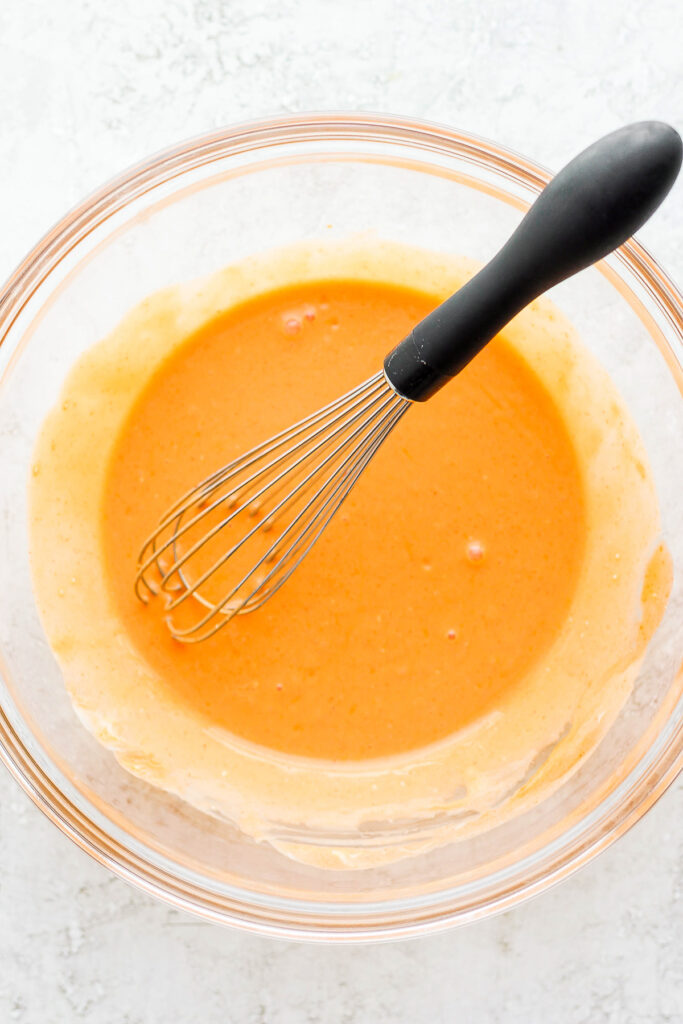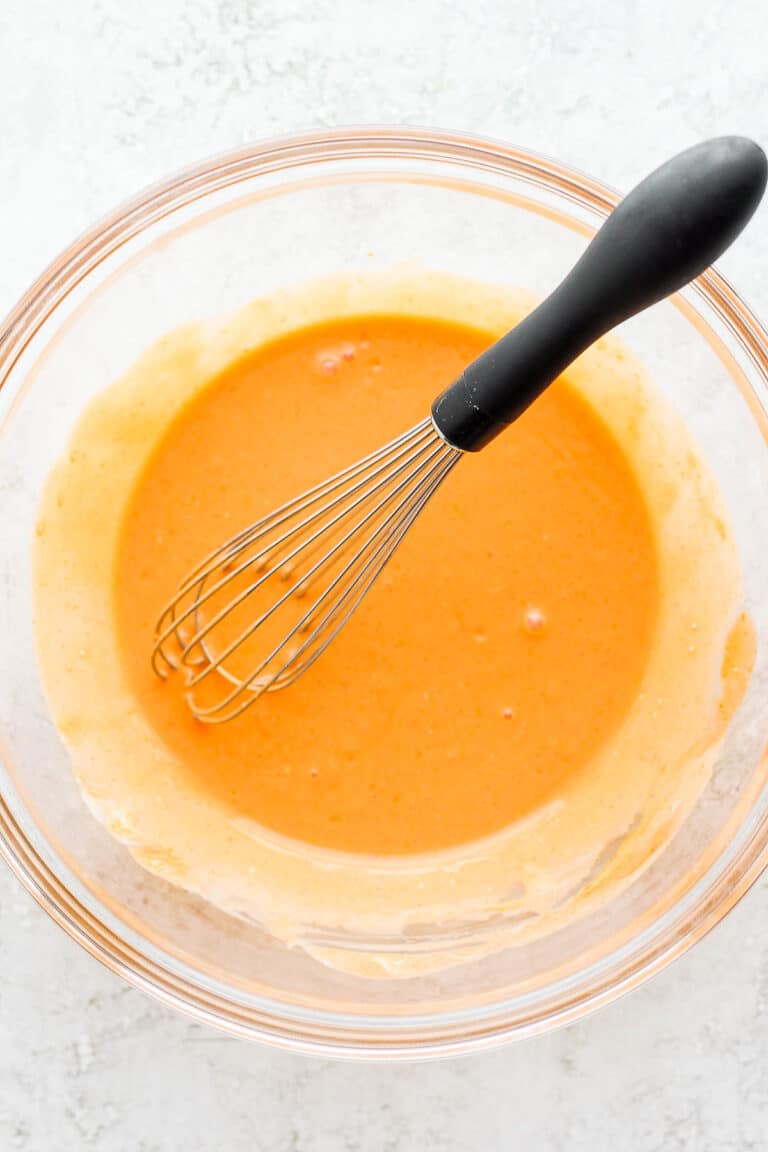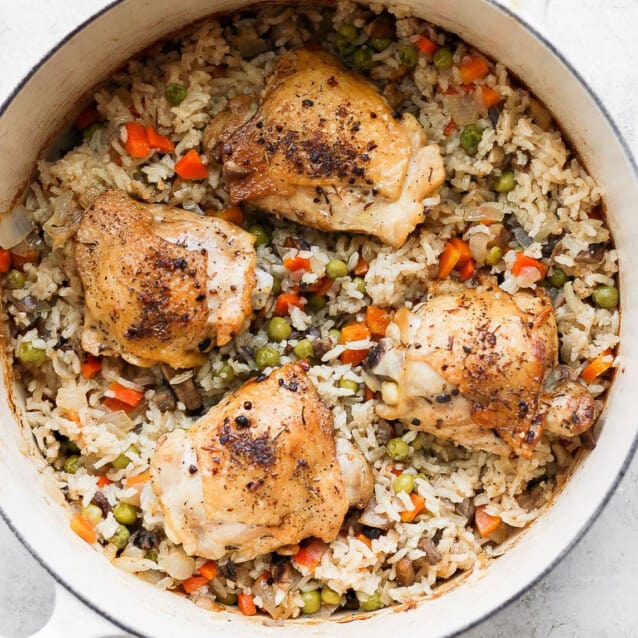 Become a Pro at Cooking Chicken!
We'll teach you everything you need to know on how to cook chicken perfectly every time + we'll share our top chicken recipes when you subscribe to our emails today!
All About the Buffalo Chicken
Let's talk about this buffalo chicken for a second. It is, in fact, the star of this chicken wrap recipe. Our signature buffalo chicken recipe is made with 4 simple ingredients. Here's what you need:
Shredded chicken breast – bake your chicken any way you want and then use 2 forks (or a stand mixer) to shred your chicken.
Plain Greek yogurt – Greek yogurt is the base of the buffalo sauce. You can use any fat % Greek yogurt, or even plain yogurt as well.
Hot sauce – we prefer Frank's Red Hot Sauce when it comes to buffalo. But, if you have another favorite, feel free to use that one.
Honey: honey is our secret weapon for taming the heat. It brings the hot sauce down just a tad and also adds a little sweetness to every bite.
Ways to Make Shredded Chicken
This wrap with chicken uses shredded chicken, so we thought we'd give you a few pointers on how to make it!
You can make your shredded chicken however you want; you can even buy pre-shredded chicken at the grocery store which is the biggest time saver. If you're making your own shredded chicken, check out some of our easy tutorials below:
Once you've got your cooked chicken breast all you need to do is shred it. To keep things simple, we use 2 forks to shred the chicken breast, but you can also use a stand mixer.
Simply shred each chicken breast with your forks by pulling them apart.
Is buffalo chicken healthy?
Not all buffalo chicken is healthy, but our recipe is only 4 simple ingredients and made with protein-packed Greek yogurt and lean chicken breast.
How long does buffalo chicken last in the fridge?
Your buffalo chicken will last up to 3-5 days in the fridge. Make sure to store it in an airtight container like a glass meal prep container.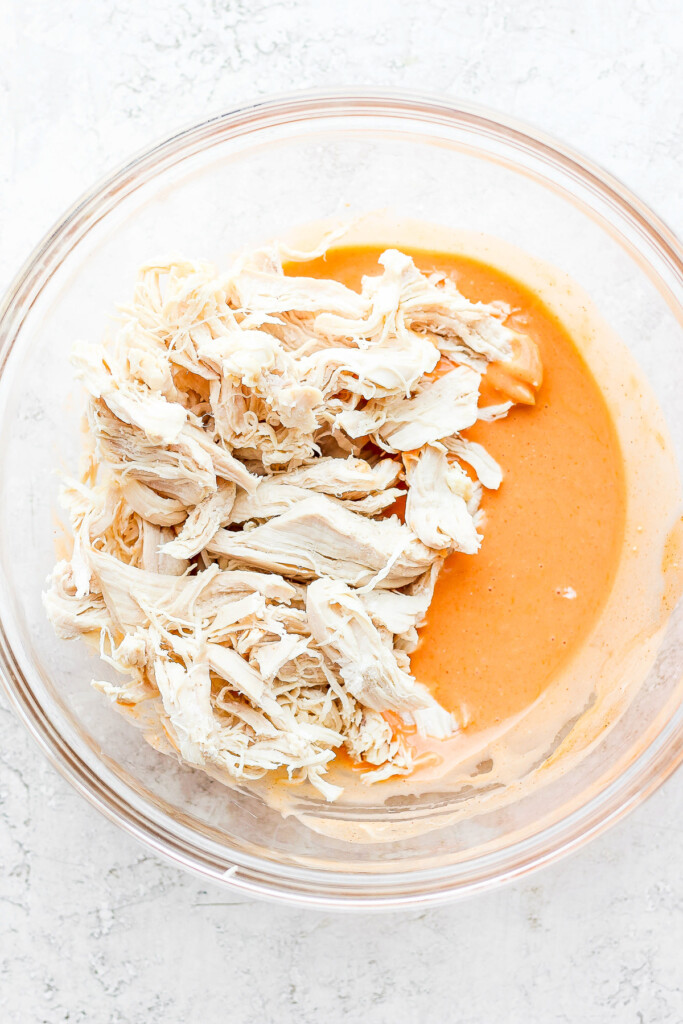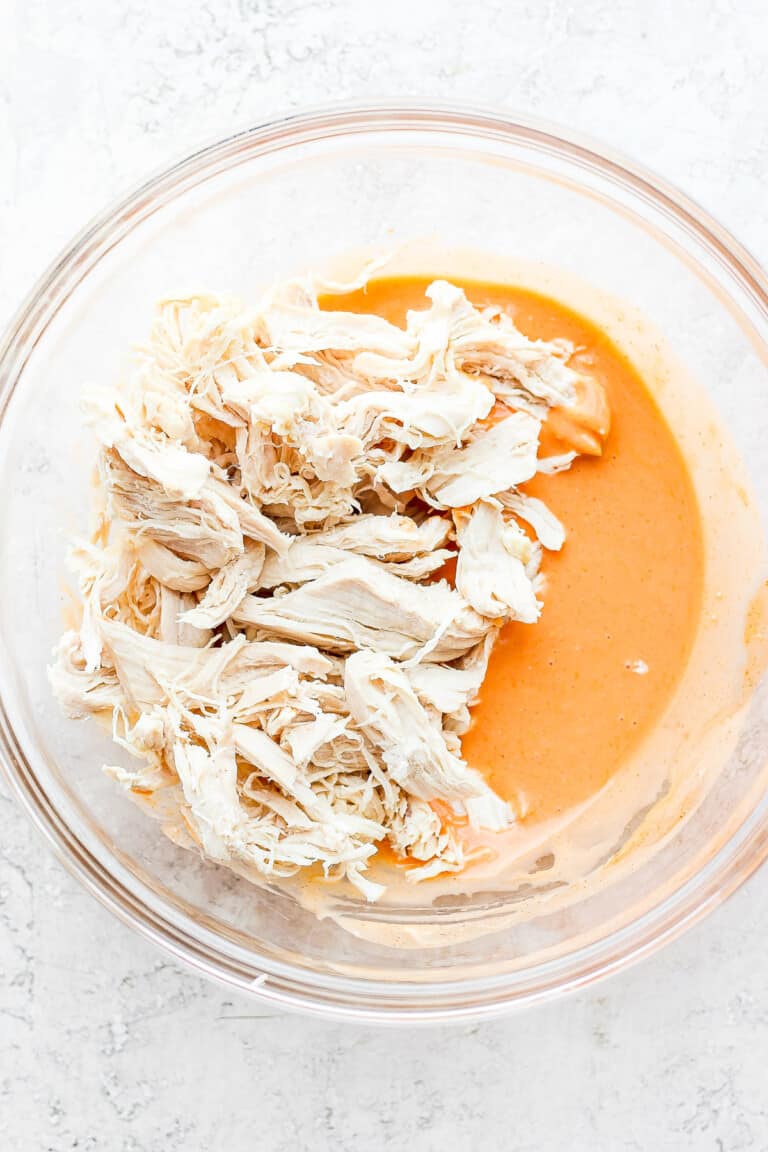 Other Chicken Wrap Ingredients Needed
We love how colorful this chicken wrap is and that's because of all the glorious crunchy veggies that are included.
Tortillas: we handsdown recommend a flour tortilla for this recipe. You'll want to use 8 large flour tortillas.
Celery: celery adds an amazing crunch.
Onion: any kind of onion works including red, white, yellow, or even green onions.
Carrot: feel free to buy pre-shredded carrots or you can use a cheese grater to shred them yourself.
Lettuce: any kind of lettuce will work in these wraps. Try using romaine, spinach, butter lettuce, or even arugula.
Tomato: tomatoes add a pop of color and sweetness.
Blue cheese: every buffalo chicken recipe needs to be paired with a little blue cheese!
Try it!
Have other produce or fresh vegetables on hand? Try adding any of the following:
avocado
sliced cucumber
fresh cilantro or parsley
corn
jalapeños
bell peppers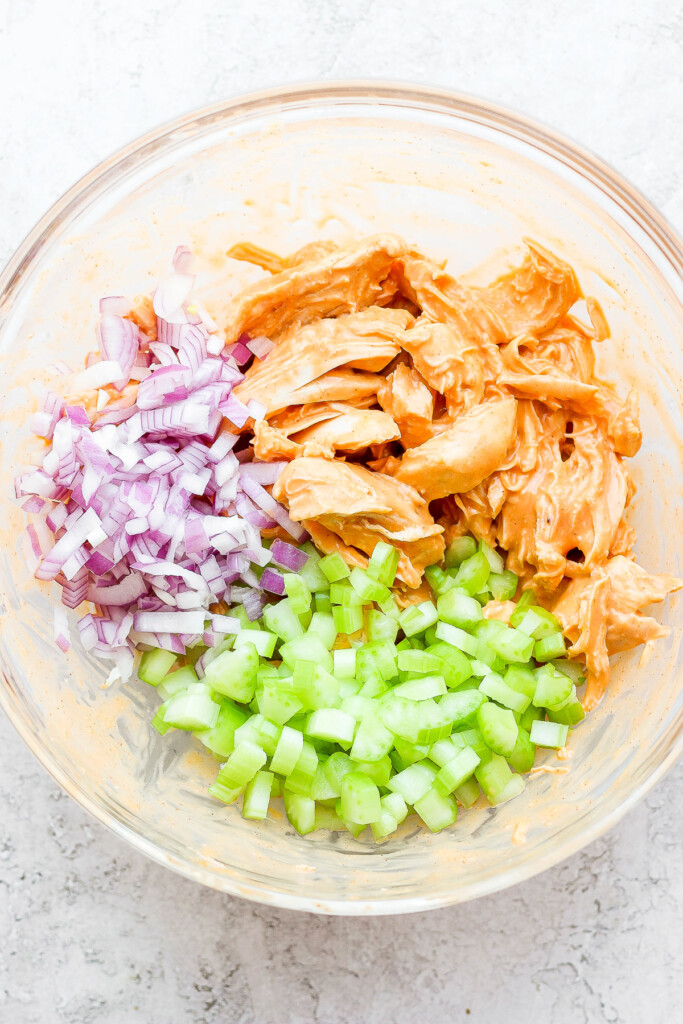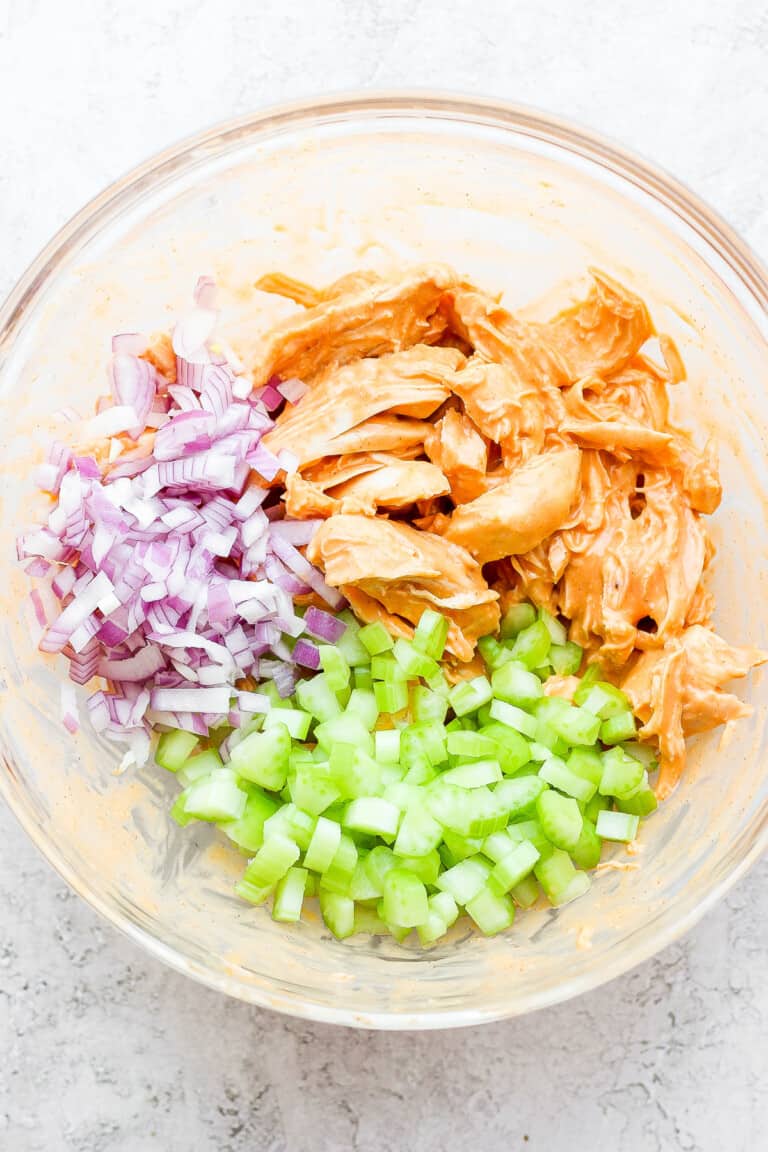 Wrap Variations
Looking to swap the tortilla out for something else? Here are some ideas:
Lettuce – turn this recipe into a lettuce wrap! Same flavors, just less carbs.
Low carb/calorie wraps – there are so many low carb wraps on the market these days. Head to the grocery store and grab your favorite one.
Cabbage – don't have lettuce? Try a piece of cabbage for the same effect as a lettuce wrap.
No wrap – turn it into a salad like this Buffalo Chicken Salad.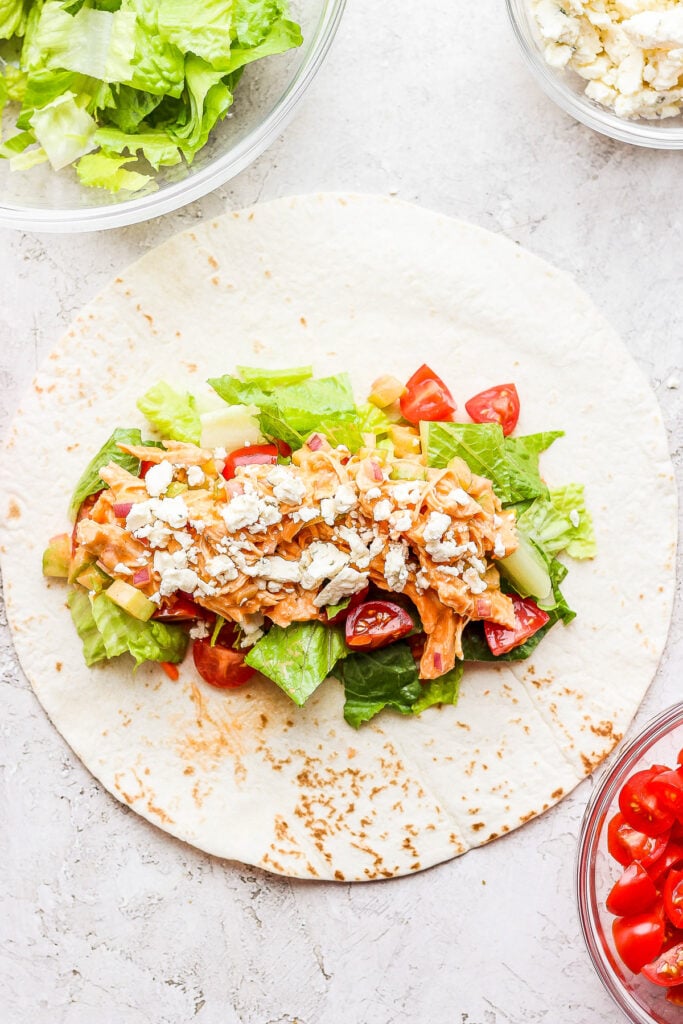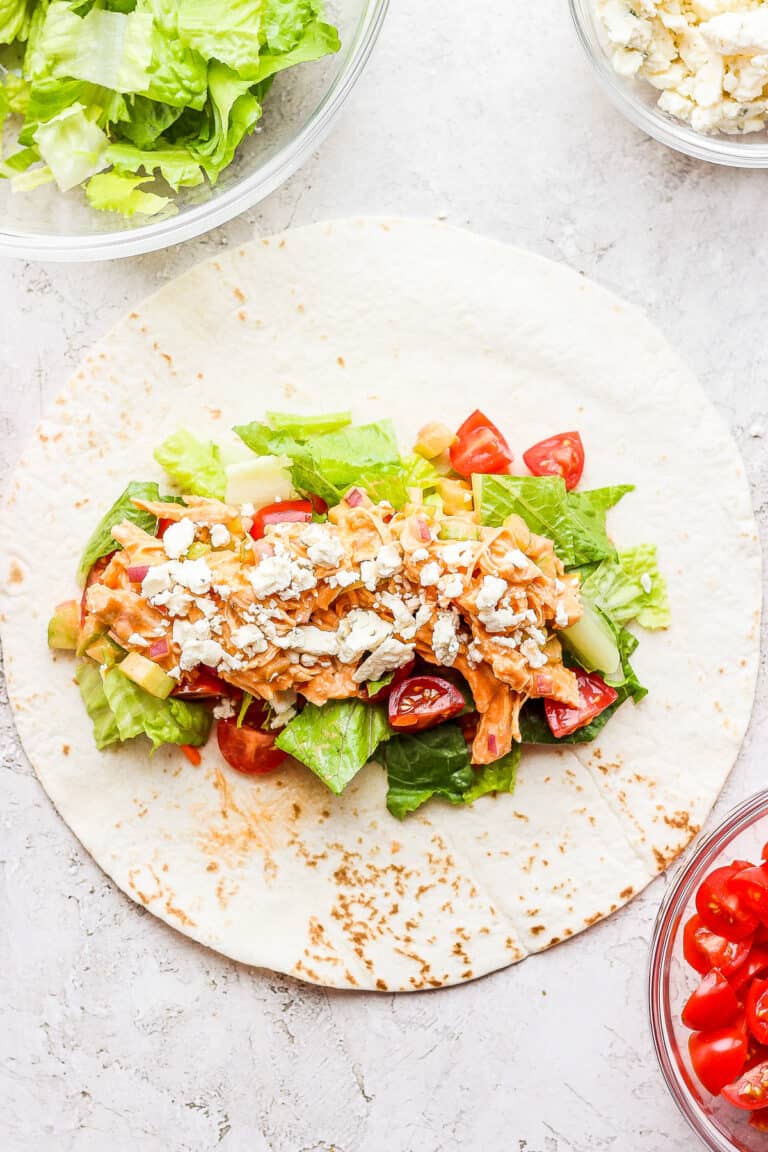 Tips & Tricks
Meal Prep it!
This Buffalo Chicken Wrap is a delicious lunch option (and one of our fav chicken meal prep recipes!) for lunch on the go.
We recommend prepping the buffalo chicken and slicing and dicing your veggies but storing them all separately until the day you want to make them.
No one likes a soggy tortilla and this is why we recommend making your life easy with the meal-prep aspect of it but storing the ingredients separately.
Q&A
Are buffalo chicken wraps gluten-free?

If you use a gluten-free tortilla (or no tortilla), then this recipe is naturally gluten-free.
Are chicken wraps good for you?

Make sure to find a chicken wrap recipe that is made with lean chicken breast and tons of veggies so you can get a balanced meal out of it.
Can you eat a cold chicken wrap?

Lots of chicken wraps (including this one) are meant to be eaten cold.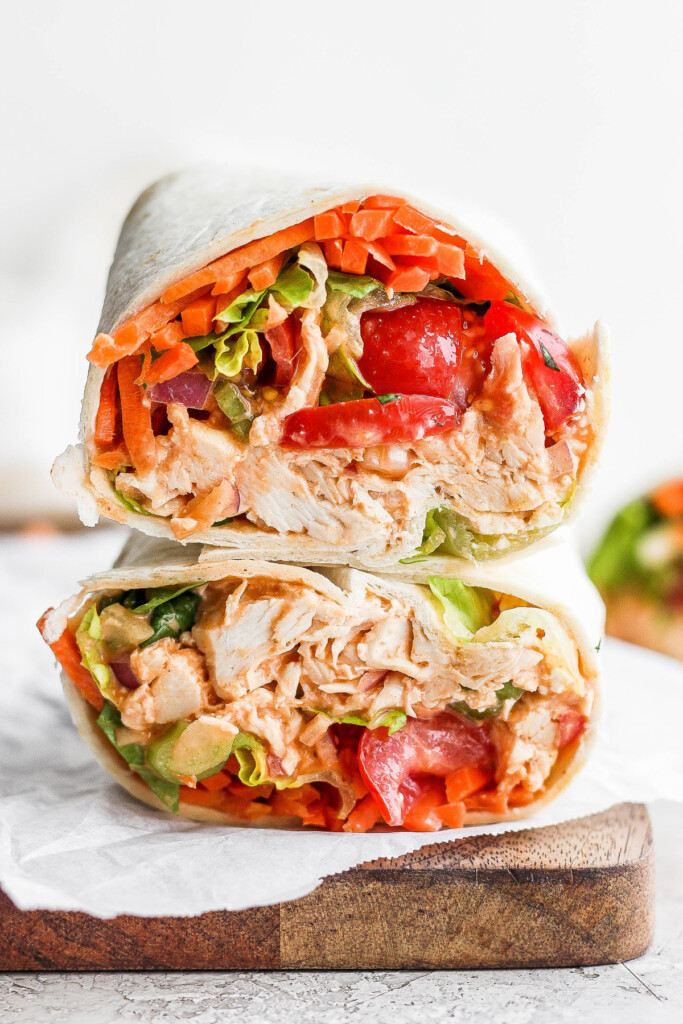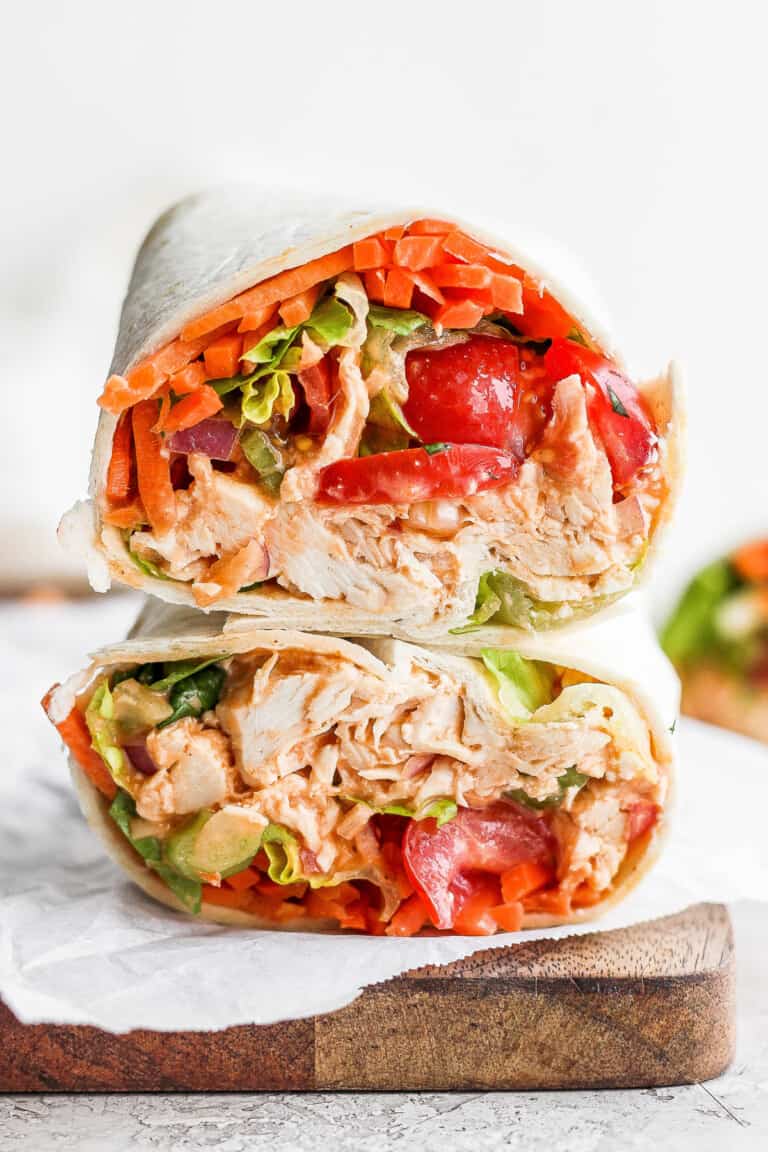 Storage
We recommend storing all of the parts of this recipe separately in the refrigerator so that nothing gets soggy as it sits in the fridge.
Prepare your buffalo chicken wraps the morning of or night before you're going to eat them.
Can you freeze these wraps? We don't recommend freezing these buffalo chicken wraps and here's why. Dairy doesn't freeze so well and risks curdling. These wraps are made with Greek yogurt, which is why we don't recommend freezing these for later.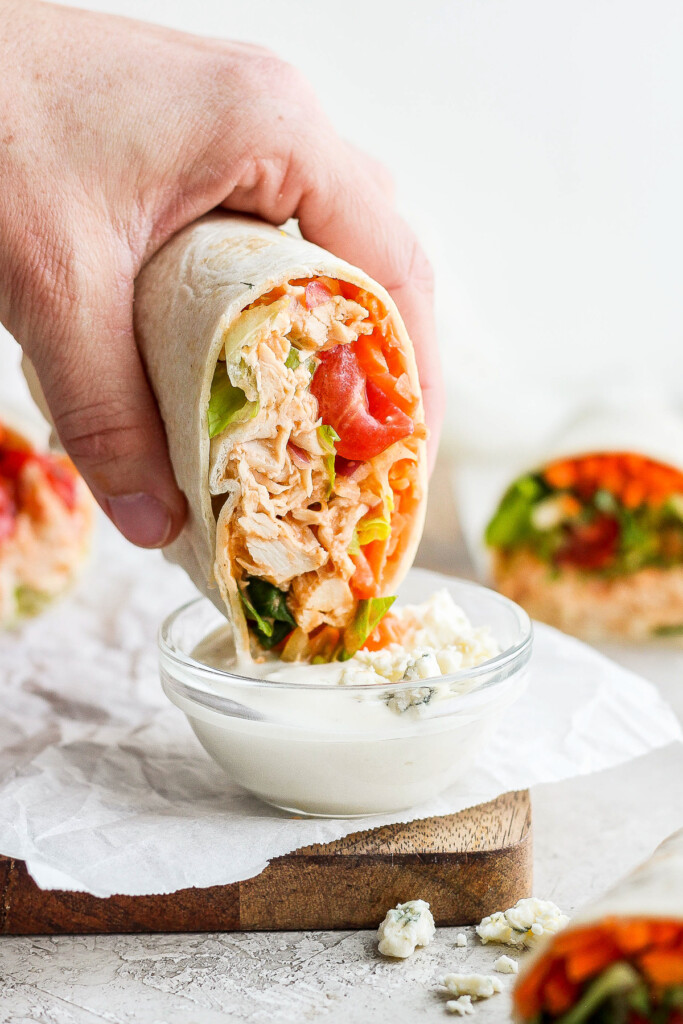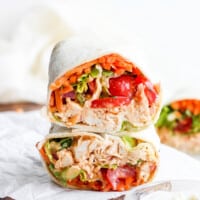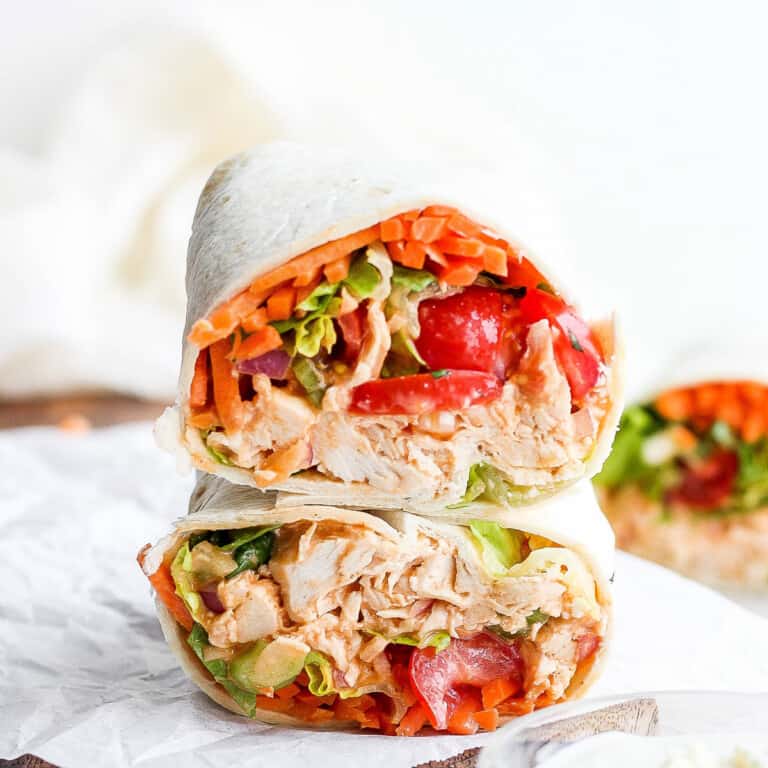 Buffalo Chicken Wrap
Looking for delicious chicken wrap recipes? Start here with this simple, yet flavorful buffalo chicken wrap made with shredded buffalo chicken, tons of veggies, and blue cheese.
Ingredients
8

large flour tortillas

1 - 1.5

lbs.

cooked shredded chicken breast

feel free to use rotisserie chicken or a pre-shredded chicken. We prepared our chicken breast in the Instant Pot following our Instant Pot chicken breast recipe.

⅓

cup

Franks buffalo sauce

⅓

cup

full-fat Greek yogurt

1

tablespoon

honey

3

stalks celery

minced

½

red onion

minced

2

cups

matchstick carrots

2

cups

romaine lettuce

2

cups

cherry tomatoes

quartered

1

cup

blue cheese crumbles
Instructions
Make the buffalo chicken first by adding the buffalo sauce, Greek yogurt, and honey to a bowl and whisk the ingredients together until the honey has dissolved. 

Next, add the shredded chicken to the Franks sauce and fold the chicken into the sauce. Be sure all the chicken is covered in sauce. 

Add the celery and onion to the bowl and fold them into the chicken salad. Set aside. 

Lay all the tortillas flat on a clean surface. It is easiest to divide all the wrap ingredients evenly if the wraps are made all at once. 

Start with the matchstick carrots. Add 3-4 tablespoons of matchstick carrots to each tortilla. Spread them out in the middle of the wrap. 

Top the carrots with 3-4 tablespoons of romaine lettuce and cherry tomatoes. 

Finally, add about ¼ - ⅓  cup of buffalo chicken salad to the wrap and sprinkle with 1-2 tablespoons of blue cheese crumbles. 

Tightly wrap each burrito by folding the sides in and rolling.

Enjoy the wrap immediately or tightly wrap each buffalo chicken wrap in plastic wrap and store them in the fridge for later
Nutrition facts
Calories:
316
kcal
Carbohydrates:
30
g
Protein:
25
g
Fat:
11
g
Fiber:
1
g
Sugar:
5
g
Photography: photos taken in this post are by Erin from The Wooden Skillet.