This is a simple and delicious arugula salad recipe. It is made with arugula, dried fruit, veggies, and fruit. It is the perfect side dish to any meal!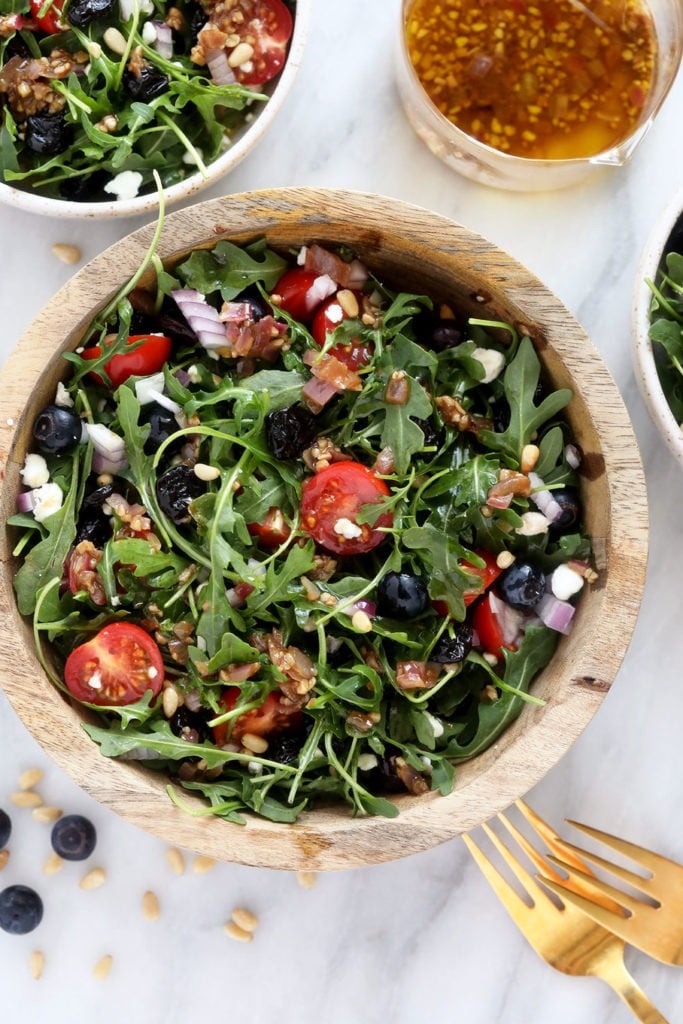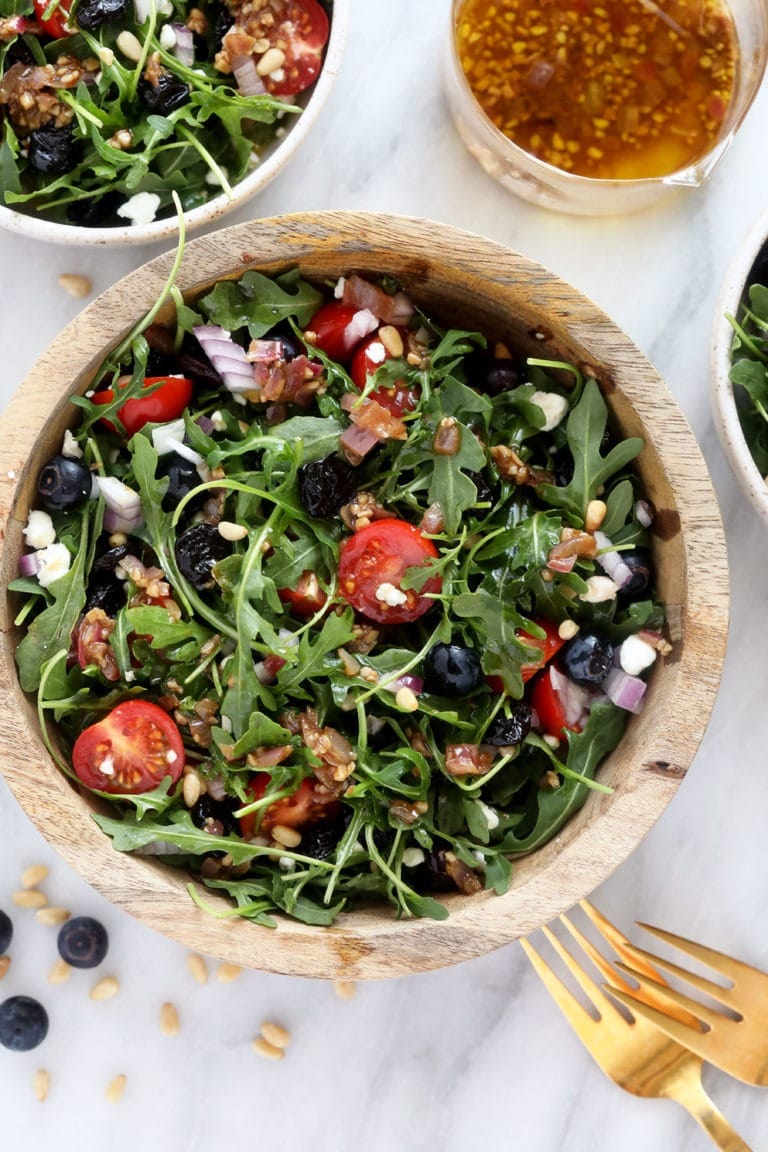 What is the difference between Rocket and Arugula?
Tomato, tomahto. Whether you call this delicious peppery green rocket or arugula, it is one amazing green! Forget about your run-of-the-mill spring green mix or iceberg lettuce and make more room for delicious arugula salads in your life!
Why do we love arugula? Let me count the ways!
Arugula has the most amazing spicy flavor! Unlike other greens, you don't need to add a ton of dressing or flavor to these greens because they offer so much flavor.
Arugula is packed with calcium, potassium, and vitamins!
Growing arugula in your own personal garden is so easy! It's easy to grow and once you trim it, it just grows back over and over. So you have arugula all summer long!
Arugula isn't just great in salads, but you can make pesto, add it to omelets, and even toss it in pastas!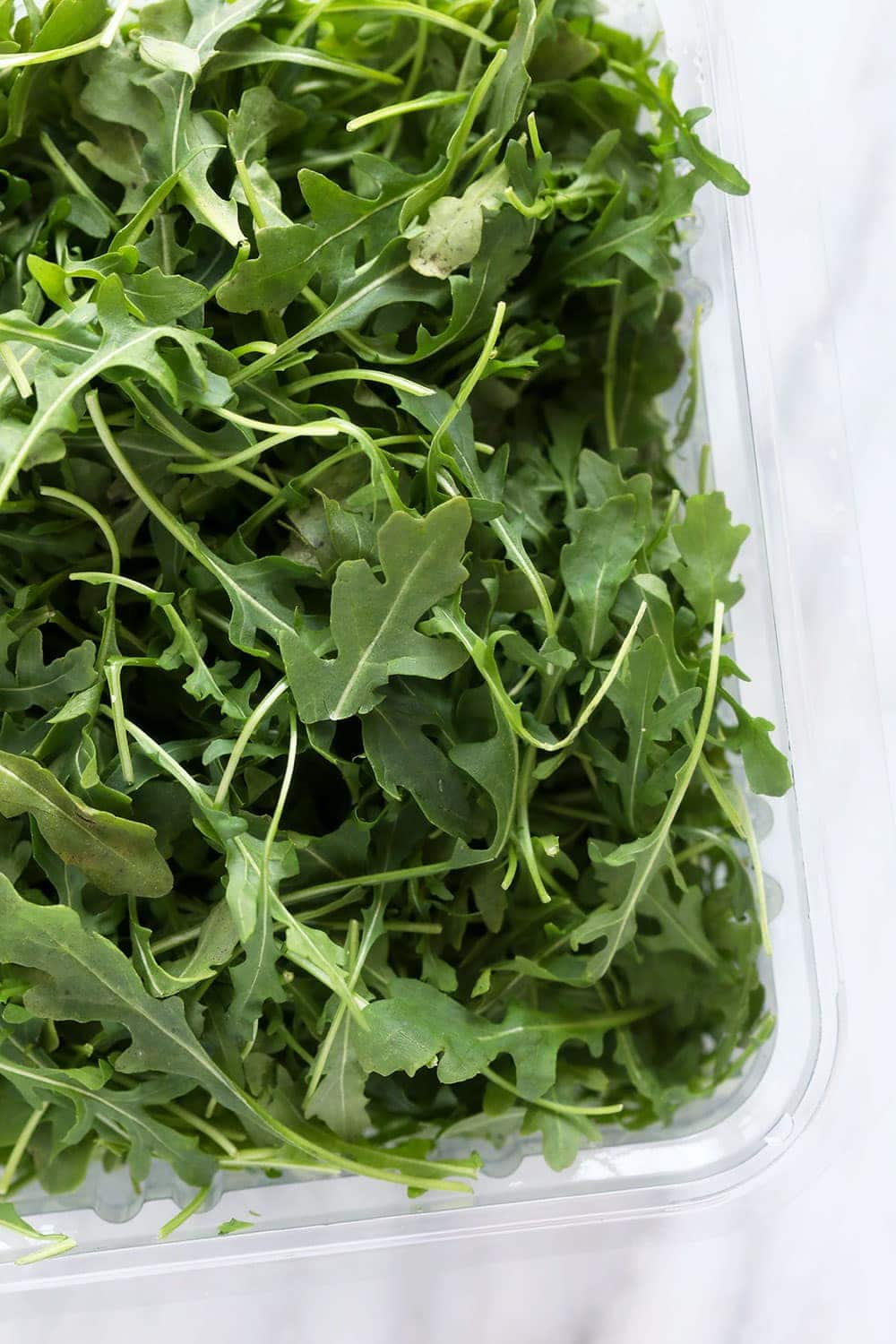 How to Make an Arugula Salad
This arugula salad recipe is our go-to recipe for salads for all occasions. We have this salad mixed up (without dressing for meal prep) most days in our refrigerator so we have access to a tasty salad all week long!
It really is the perfect salad! Though we love the combinations of ingredients in this salad, sometimes you don't have the ingredients you need for a recipe and you don't feel like running to the grocery store!
remember this.
The ingredients in this salad are interchangeable.
All you have to do is choose one ingredient from each of the categories below and you're golden. It's all about mixing textures and flavors!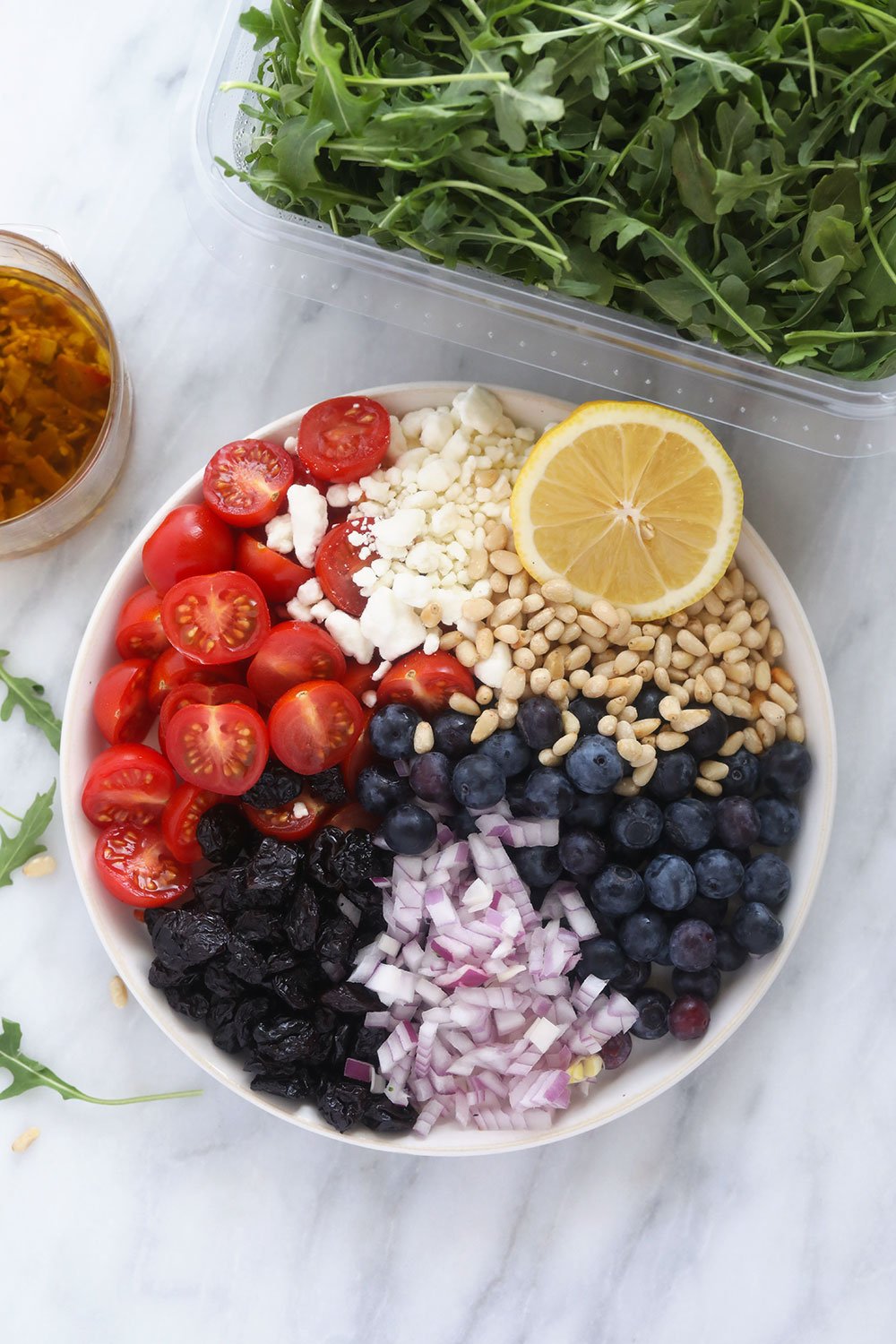 Ingredients You Need
Greens
This is an arugula salad, people. Use arugula! However, if you don't have arugula and want to make a delicious salad, massaged kale, or spring greens with some micro-greens are all good options!
Nuts + Seeds
Crunch is so important in a salad! Nuts and seeds offer a little texture to any salad, making them more fun to eat! Not only do nuts and seeds add texture but they are nutrient dense, adding more fiber, protein, omega-3s, and more!
We use pine nuts in this arugula salad, but feel free to add any of the nuts or seeds below as a substitute!
Slivered almonds
Sunflower seeds
Sesame seeds
Pistachios
Walnuts
Pecans
Cheese
When it comes to arugula salads, a little bit of cheese is a must! Cheese adds a creamy, tart, and even a nutty flavor to all salads! We used goat cheese in this salad, but feel free to use any of the cheese options below.
Crumbled Feta
Cotjia
Shaved parmesan cheese
Cheddar cheese cut into small cubes
Dried + Fresh Fruit
Fruit in a salad? Are we crazy? No! Dried fruit and fresh fruit are great additions to salads! They give each bite a little sweetness to balance out the salty and earthy flavors that come with any salad!
We used fresh blueberries and dried cherries in this salad, but it is fun to switch up the fruit in this salad based on this season!
Use any of the fruit options below, you can't go wrong!
Fresh
Blueberries
Raspberries
Sliced strawberries
Black berries
Chopped apples
Dried
Raisins
Cherries
Raisins
Apricots
Blueberries
Veggies
Though the base of this salad is a vegetable (arugula) I think it's key to add more veggies to every salad!
Especially vegetables that you can cut into bite sized pieces. I honestly believe that making sure you get almost every ingredient in every bite makes a salad that much better!
We added minced red garlic and halved cherry tomatoes to this salad, but below are some of the other vegetables that we love to add to salads!
Diced bell pepper
Sautéd mushrooms
Bite sized cooked beets
Shredded carrots
dressing
The beautiful thing about making salads at home is YOU get to choose what you want to put in it! Dressing is a great way to make any salad your own!
Our balsamic vinaigrette goes well with this arugula salad, but if it's not your thing any of our dressing recipes will do the trick! Below are three other dressings that we would use on this salad!
Q About Arugula
What is a classic arugula salad?
A "classic" arugula salad is usually an arugula salad with parmesan.
A classic arugula salad is made up of arugula, freshly shaved parmesan, a simple lemon vinaigrette, and (sometimes) toasted pine nuts! If you are feeling a simple salad, you can't go wrong with a classic arugula salad.
What goes well with arugula?
Since arugula does have a bit of a spicier flavor, we recommend pairing arugula with sweeter ingredients like dried fruit and bright and light salad dressings!
What do I serve with an arugula SAlad?
You can serve this arugula with any of the dishes below!
How do you store arugula salad?
If you are making this salad for meal prep for the week, store the salad separate from the dressing. Add the dressing to the salad right before serving.
What can you do with arugula besides salad?
There are so many things you can do with arugula! Here are some of our favorite ways to eat arugula if we don't have it in a salad.
Toss arugula in pasta
Arugula adds great flavor to any pasta! We like to make pasta and then we fold fresh arugula into the pasta right at the end. It's amazing! Check out this creamy asparagus pasta or this yummy BLT pasta. Both recipes incorporate arugula!
Add arugula to your breakfast
We add arugula to an egg scramble or an omelette all the time! You can also make this delicious arugula breakfast sandwich. It is a go-to breakfast on FFF!
Make arugula pesto or tabouli
Some people only use arugula as they would any other fresh herb because of it's peppery flavor. This makes it an ideal ingredient to add to pesto or tabouli! We made a delicious arugula pesto in this Mediterranean salmon recipe and added arugula to this quinoa tabouli!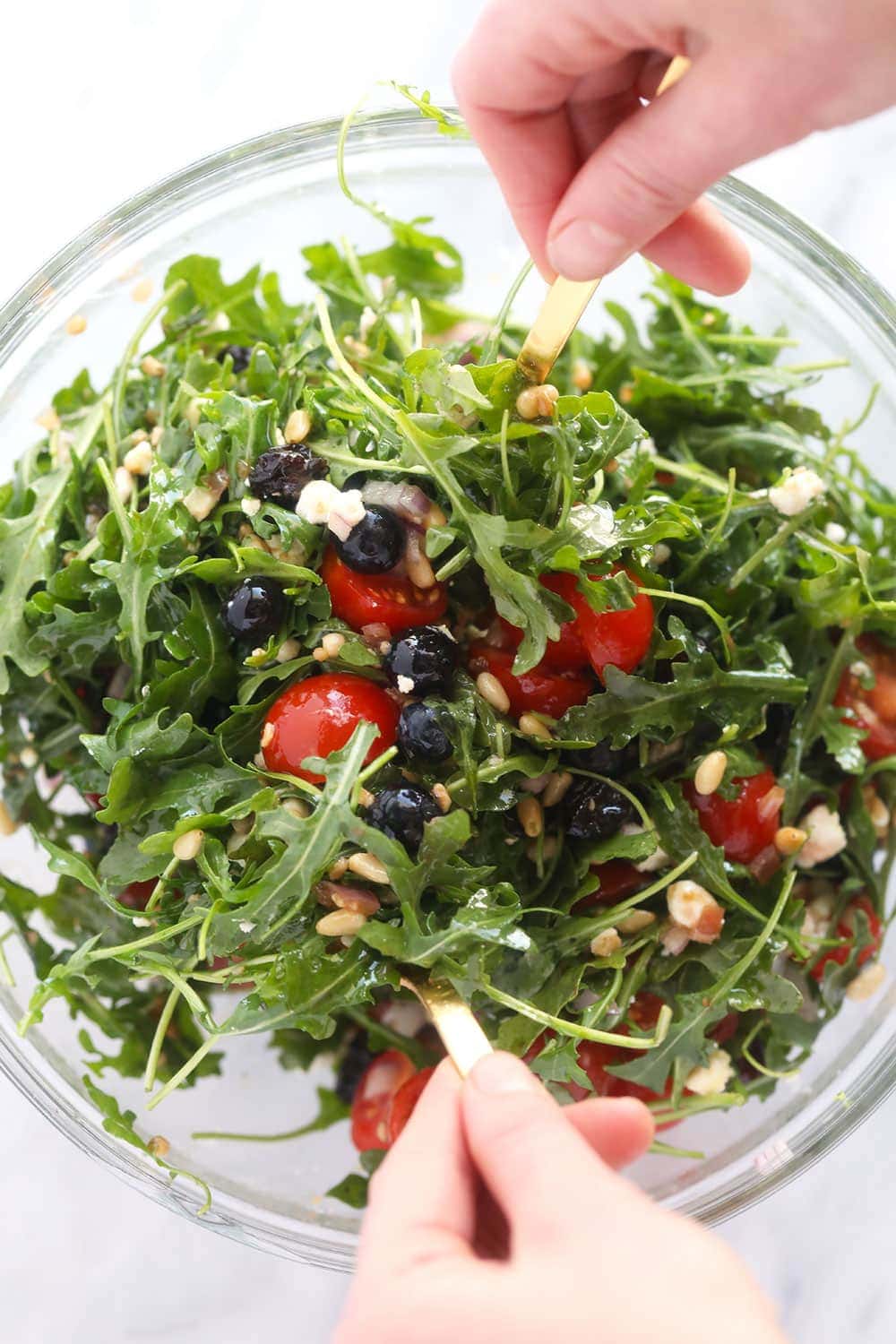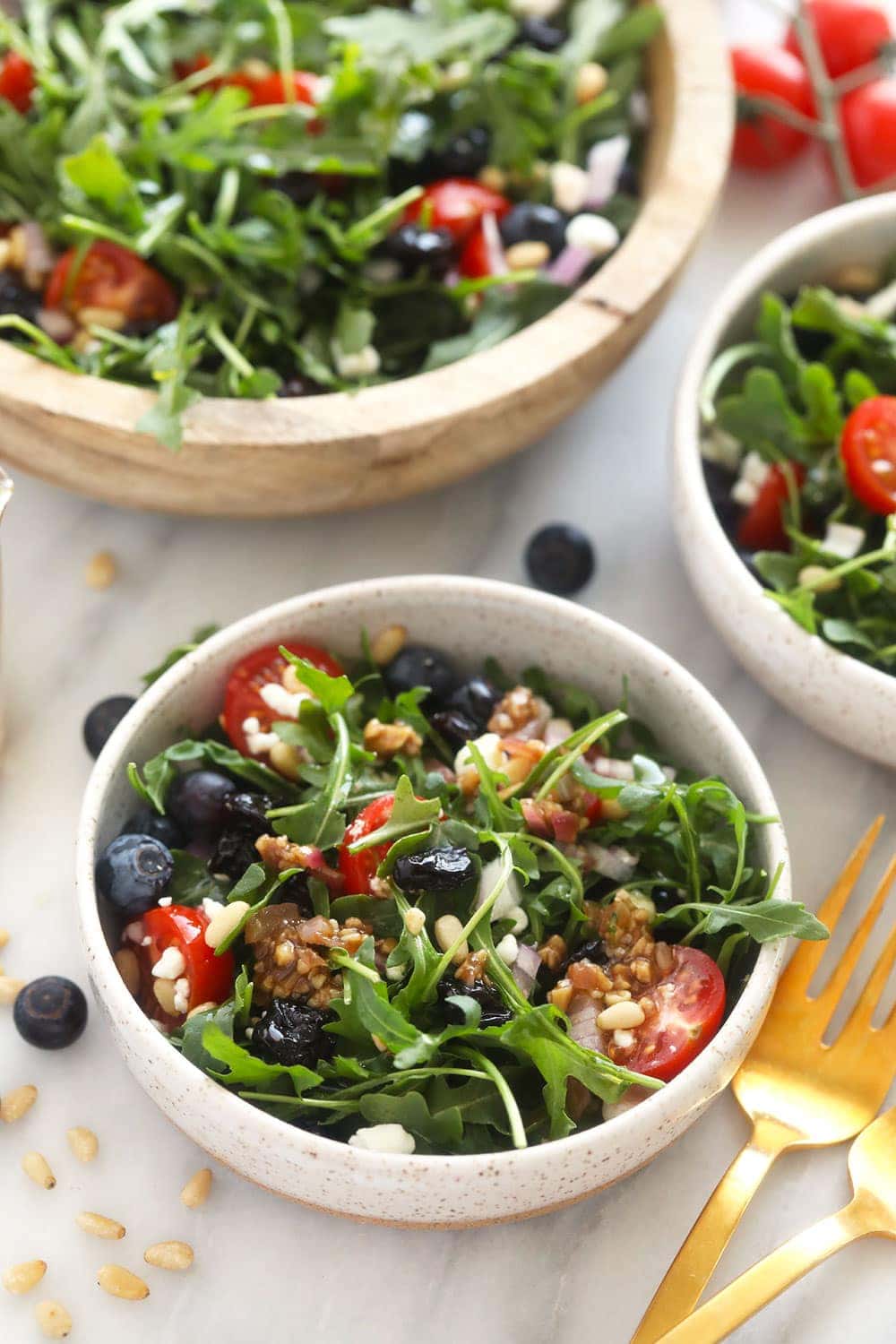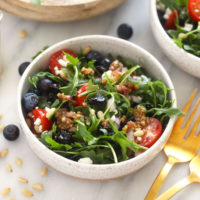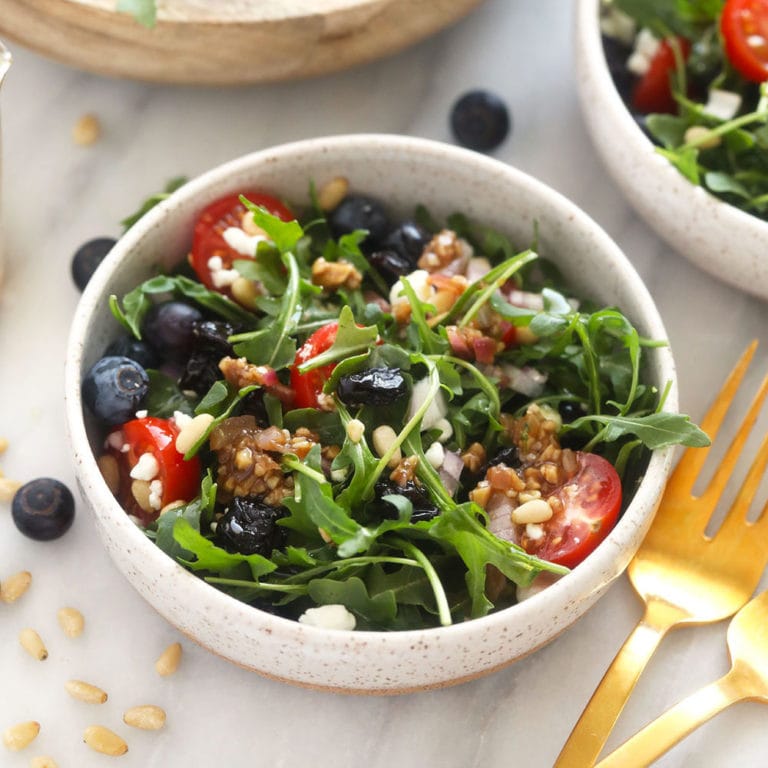 The Best Arugula Salad Recipe
This arugula salad recipe has dried fruit, vegetables, cheese, and a delicious dressing! It is the best arugula salad out there. It is perfect for a meal prep lunch or a great addition to any dinner!
Ingredients
3

tablespoons

balsamic vinaigrette*

1/4

cup

pine nuts

2.5

ounces

arugula

1/2

medium red onion

diced

1/2

cup

fresh blueberries

12

oz.

cherry tomatoes

1/3

cup

dried cherries

1/3

cup

goat cheese crumbles
Instructions
Begin by preparing this balsamic vinaigrette and then set aside. Option to use whatever vinaigrette you have on hand, but we love our homemade balsamic.

Next, in a small skillet, toast the pine nuts over medium heat for 4-5 minutes or until golden brown. Be careful, pine nuts can turn from brown to burnt very quickly, so keep an eye on them. Remove from heat and set aside until cool.

Add arugula, red onion, blueberries, tomatoes, cherries, goat cheese crumbles, and pine nuts into a large bowl and toss all of the ingredients together.

Finally, drizzle dressing onto the salad, one tablespoon at a time. Continue to add one tablespoon of dressing until salad is dressed as desired.**
Tips & Notes
If you make our entire homemade balsamic vinaigrette, you will have leftover dressing! It will last up to 7 days in the refrigerator!
If you are not serving right away, refrain from dressing your salad until serving.
Nutrition facts
Calories:
173
kcal
Carbohydrates:
21
g
Protein:
4
g
Fat:
9
g
Fiber:
3
g
Sugar:
14
g