This is a simple and delicious arugula salad recipe. It is made with arugula, dried fruit, veggies, and fruit. It is the perfect side dish to any meal!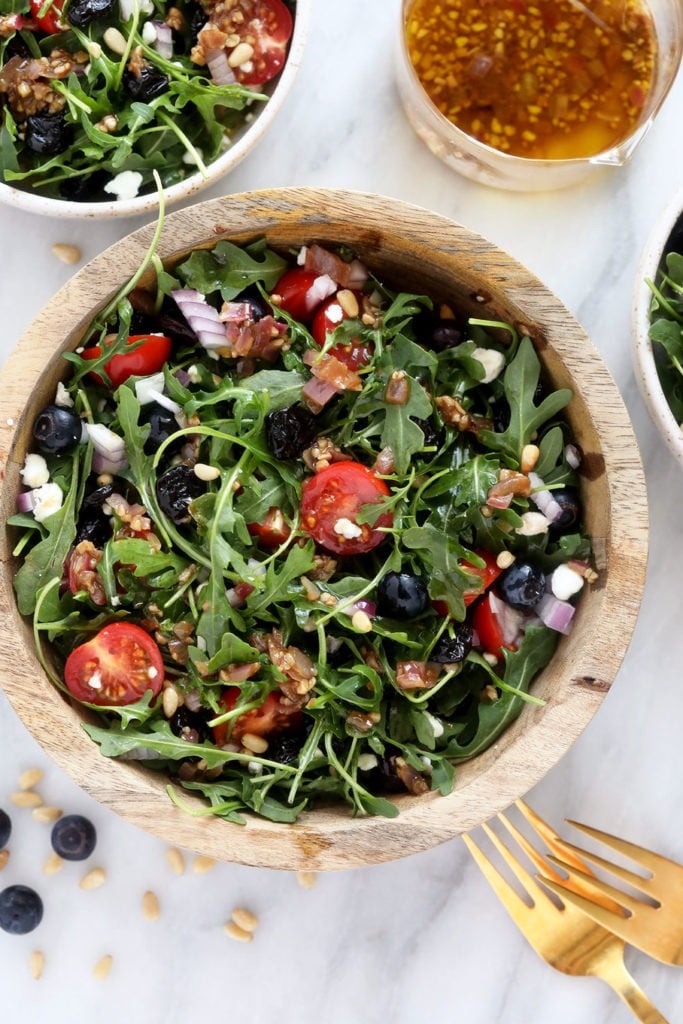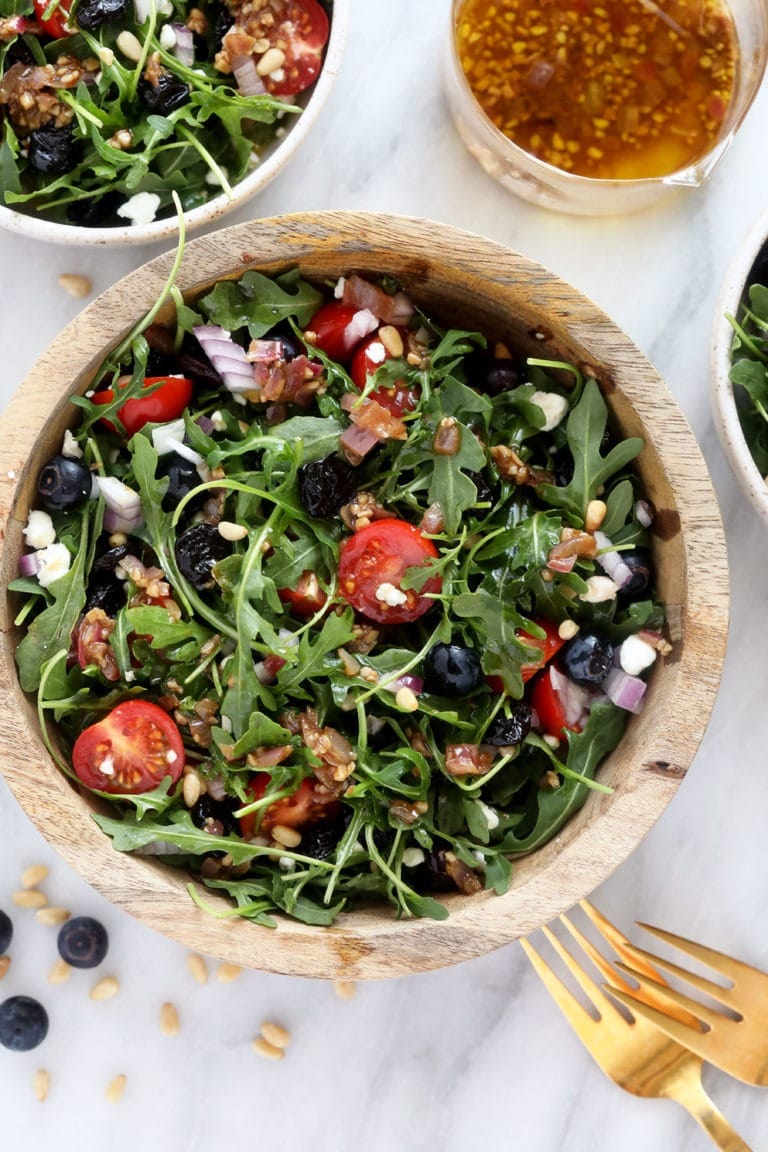 This arugula salad is a great way to get your daily dose of fruits and vegetables. It is also a good source of protein and healthy fats. The balsamic vinaigrette adds a touch of sweetness and acidity that balances out the bitterness of the arugula. This salad is perfect for a light lunch or dinner.
What is arugula?
Arugula is a peppery, leafy green that is often used in salads. It has a slightly bitter taste that can be balanced out with sweet fruits, salty nuts, and creamy cheese. This arugula salad recipe is a great way to enjoy the flavor of arugula without the bitterness.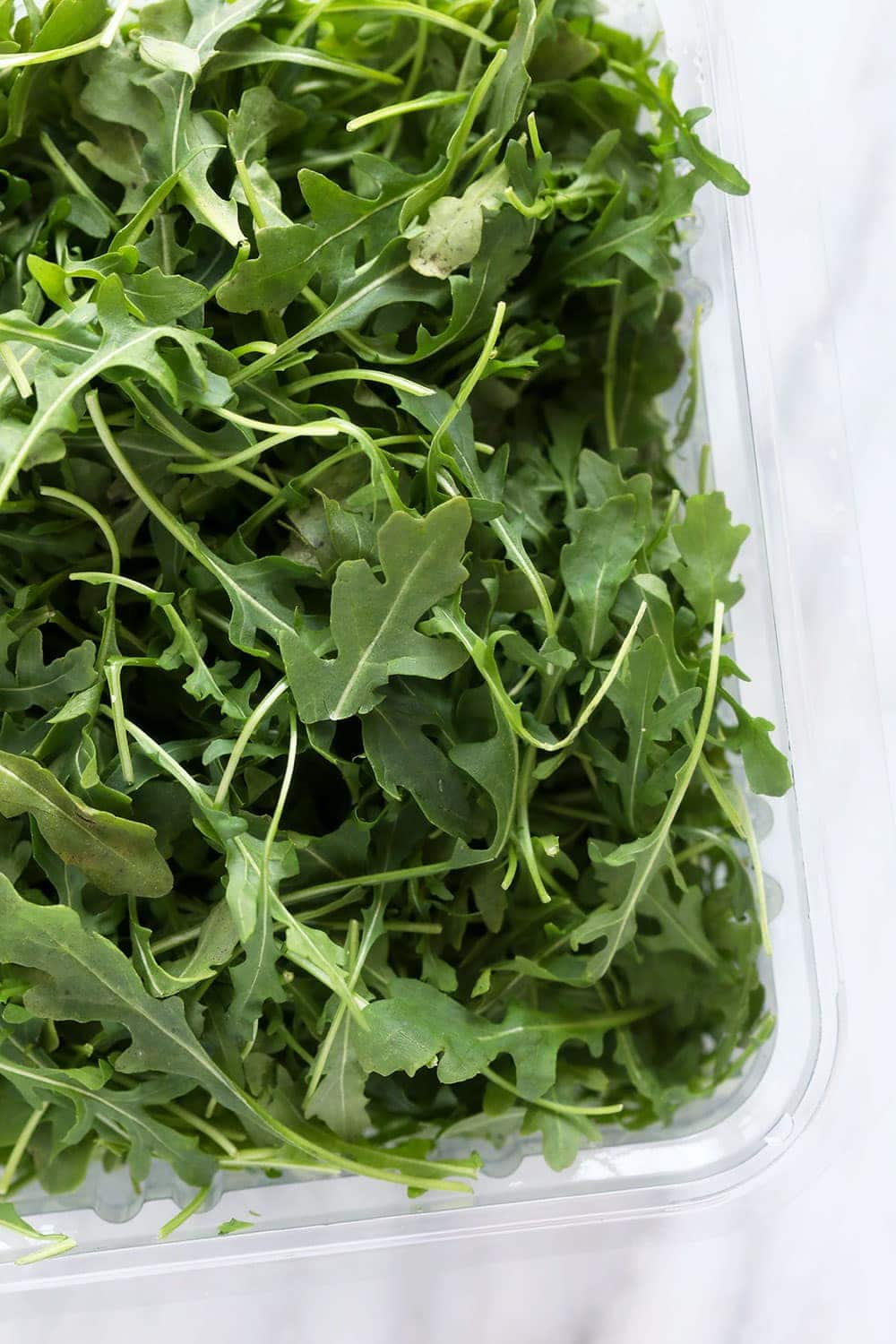 What You Need for this Arugula Salad Recipe
Fresh Arugula
This is an arugula salad, people. Use arugula! However, if you don't have arugula and want to make a delicious salad, massaged kale, or spring greens with some micro-greens are all good options!
Nuts + Seeds
Crunch is so important in a salad! Nuts and seeds offer a little texture to any salad, making them more fun to eat! Not only do nuts and seeds add texture but they are nutrient-dense, adding more fiber, protein, omega-3s, and more!
We use pine nuts in this arugula salad, but feel free to add any of the nuts or seeds below as a substitute!
Slivered almonds
Sunflower seeds
Sesame seeds
Pistachios
Walnuts
Pecans
Cheese
When it comes to arugula salads, a little bit of cheese is a must! Cheese adds a creamy, tart, and even a nutty flavor to all salads! We used goat cheese in this salad, but feel free to use any of the cheese options below.
Crumbled Feta
Cotjia
Shaved parmesan cheese
Cheddar cheese cut into small cubes
Dried + Fresh Fruit
Dried fruit and fresh fruit are great additions to arugula salads! They give each bite a little sweetness to balance out the salty and earthy flavors that come with any salad!
We used fresh blueberries and dried cherries in this salad, but it is fun to switch up the fruit in this salad based on this season!
Berries
Apple
Raisins
Dried cherries
Dried apricot
Veggies
Though the base of this salad is a vegetable (arugula) I think it's key to add more veggies to every salad!
Especially vegetables that you can cut into bite-sized pieces. I honestly believe that making sure you get almost every ingredient in every bite makes a salad that much better!
We added minced red garlic and halved cherry tomatoes to this salad.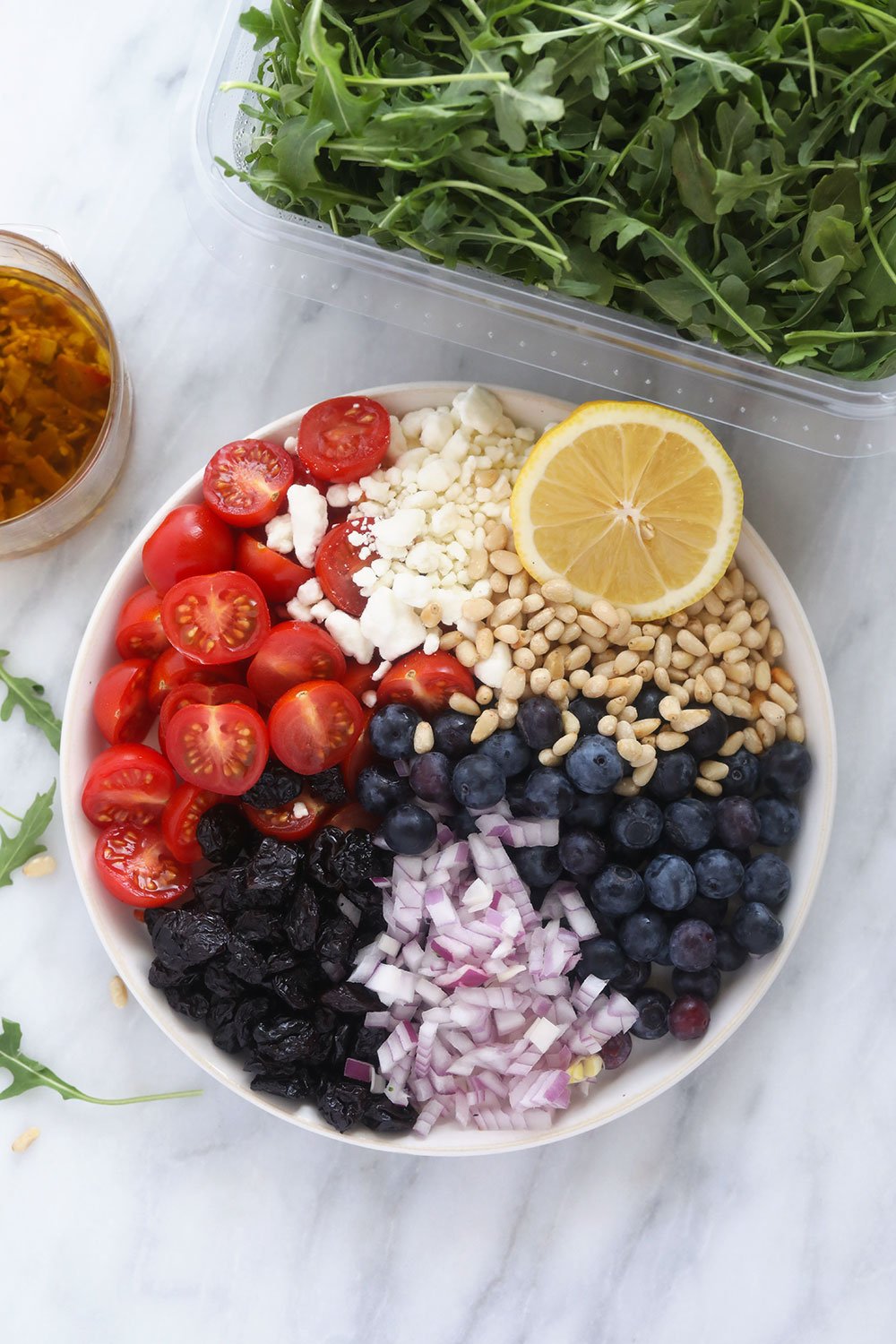 Top Tips for the Best Arugula Salad
Use fresh arugula. Arugula is best when it is fresh. Look for arugula that is dark green and has a peppery aroma.
Don't overdress the salad. Arugula is a delicate green and can easily become wilted if it is overdressed. Use a light hand with the dressing and add more if needed.
Add your favorite toppings. This arugula salad is a great blank canvas. Add your favorite fruits, nuts, and cheese to create a salad that is perfect for your taste.
FAQ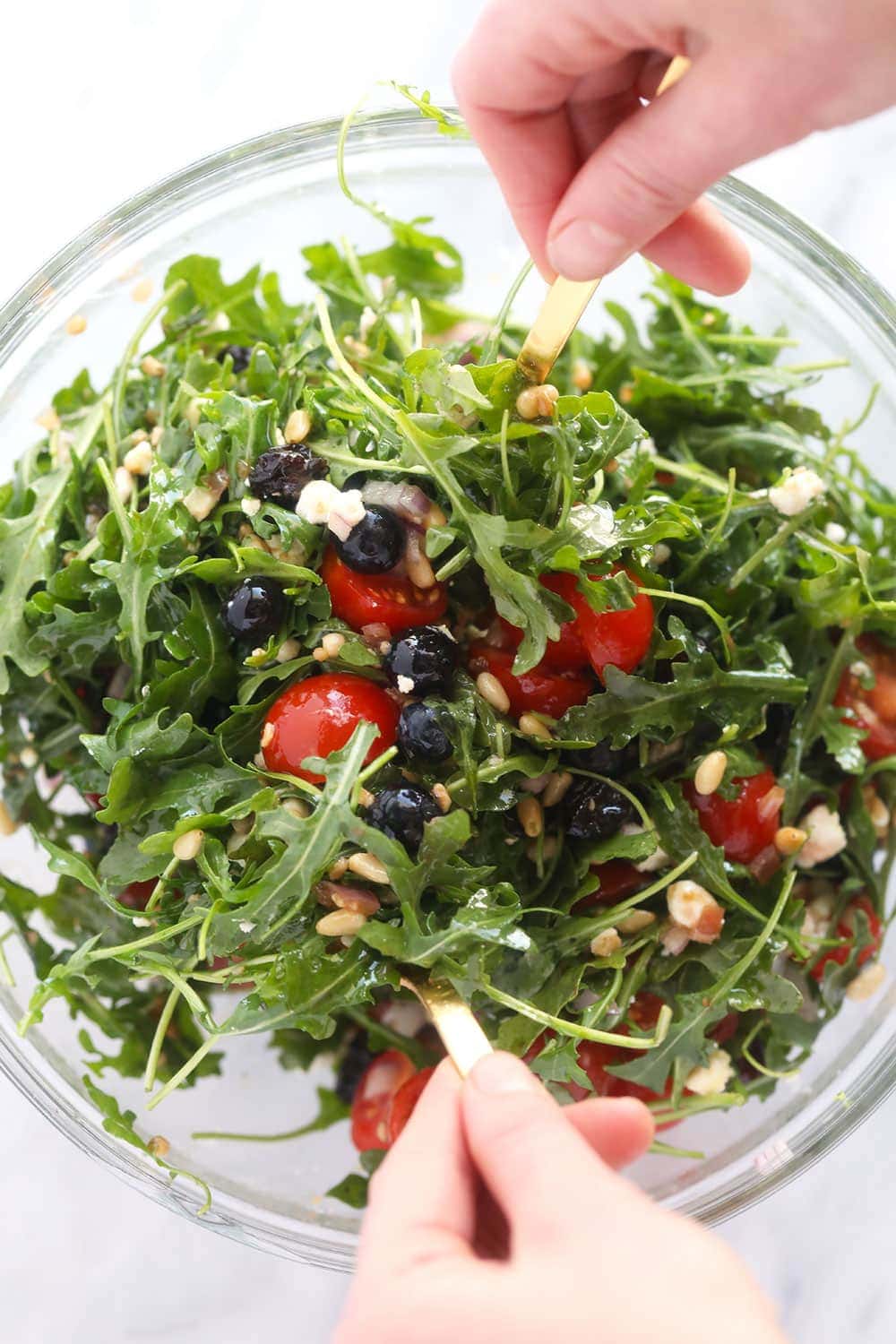 What can you do with arugula besides salad?
There are so many things you can do with arugula! Here are some of our favorite ways to eat arugula if we don't have it in a salad.
Toss arugula in pasta: Arugula adds great flavor to any pasta! We like to make pasta and then we fold fresh arugula into the pasta right at the end. It's amazing! Check out this creamy asparagus pasta or this yummy BLT pasta. Both recipes incorporate arugula!
Add arugula to your breakfast: We add arugula to an egg scramble or an omelette all the time! You can also make this delicious arugula breakfast sandwich. It is a go-to breakfast on FFF!
Make arugula pesto or tabouli: Some people only use arugula as they would any other fresh herb because of it's peppery flavor. This makes it an ideal ingredient to add to pesto or tabouli! We made a delicious arugula pesto in this Mediterranean salmon recipe and added arugula to this quinoa tabouli!