This Grilled Greek Lemon Chicken is perfectly marinated and then grilled to perfection. It's the ultimate summer dinner.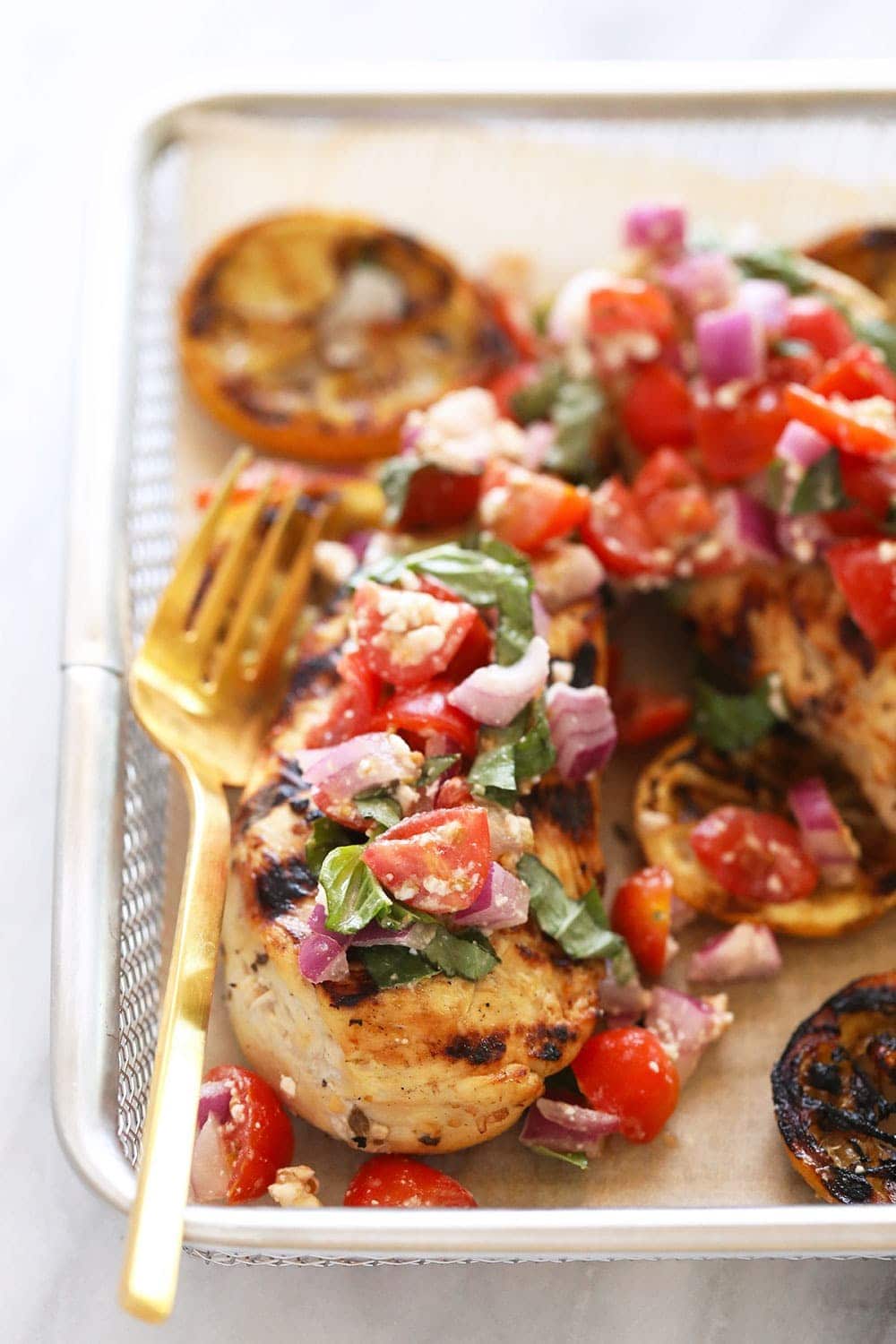 Easy Greek Lemon Chicken
When in doubt, grilled chicken is a great meal option for any night! We love grilling recipes because there is less clean up in the kitchen, do you feel me?
We have so many grilled chicken recipes to choose from on Fit Foodie and this grilled lemon chicken is a fan favorite. Grilled chicken is a great option for dinner because you can toss it in a chicken dry rub or a chicken marinade and let it sit for optimal flavors.
All you have to do is prep everything in the kitchen and then head out to the grill. We have the Weber Spirit II and we love it!
The Easiest Grilled Chicken Marinade
This grilled Greek lemon chicken is SO easy to make. All you have to do is marinate chicken breast in our delicious greek salad dressing. Yes, that's IT! Simple and flavorful!
Here are all the ingredients you need for the Greek dressing!
olive oil
white wine vinegar
minced garlic
honey
lemon juice
dijon mustard
dried oregano
salt
Double check that you have everything you need in your pantry now and get moving!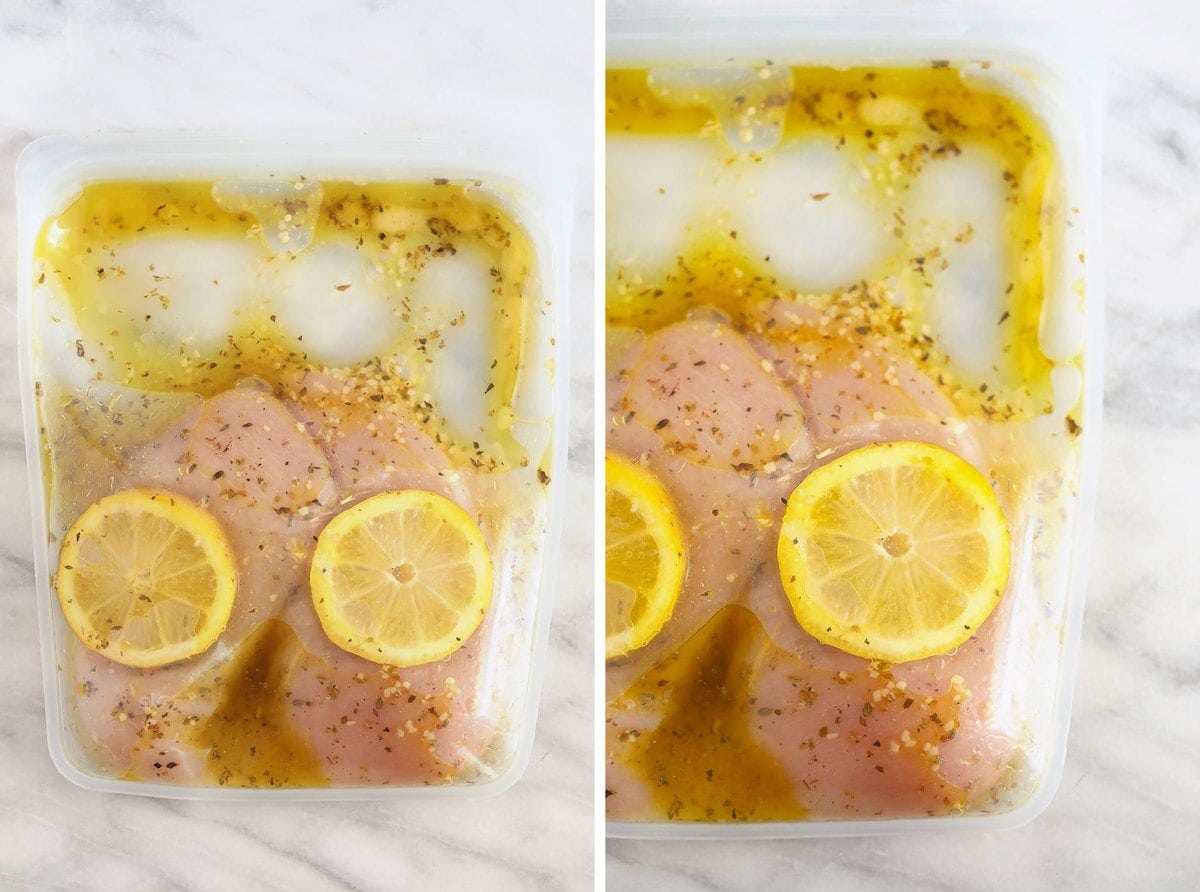 What to Serve with Grilled Greek Lemon Chicken
We decided to serve this lemon chicken with a delicious tomato chutney. We wanted a simple and fresh topper that would add a little sweetness and acidity.
If you are looking for some delicious side dish recipes that will go well with this chicken, check out some of favorites below!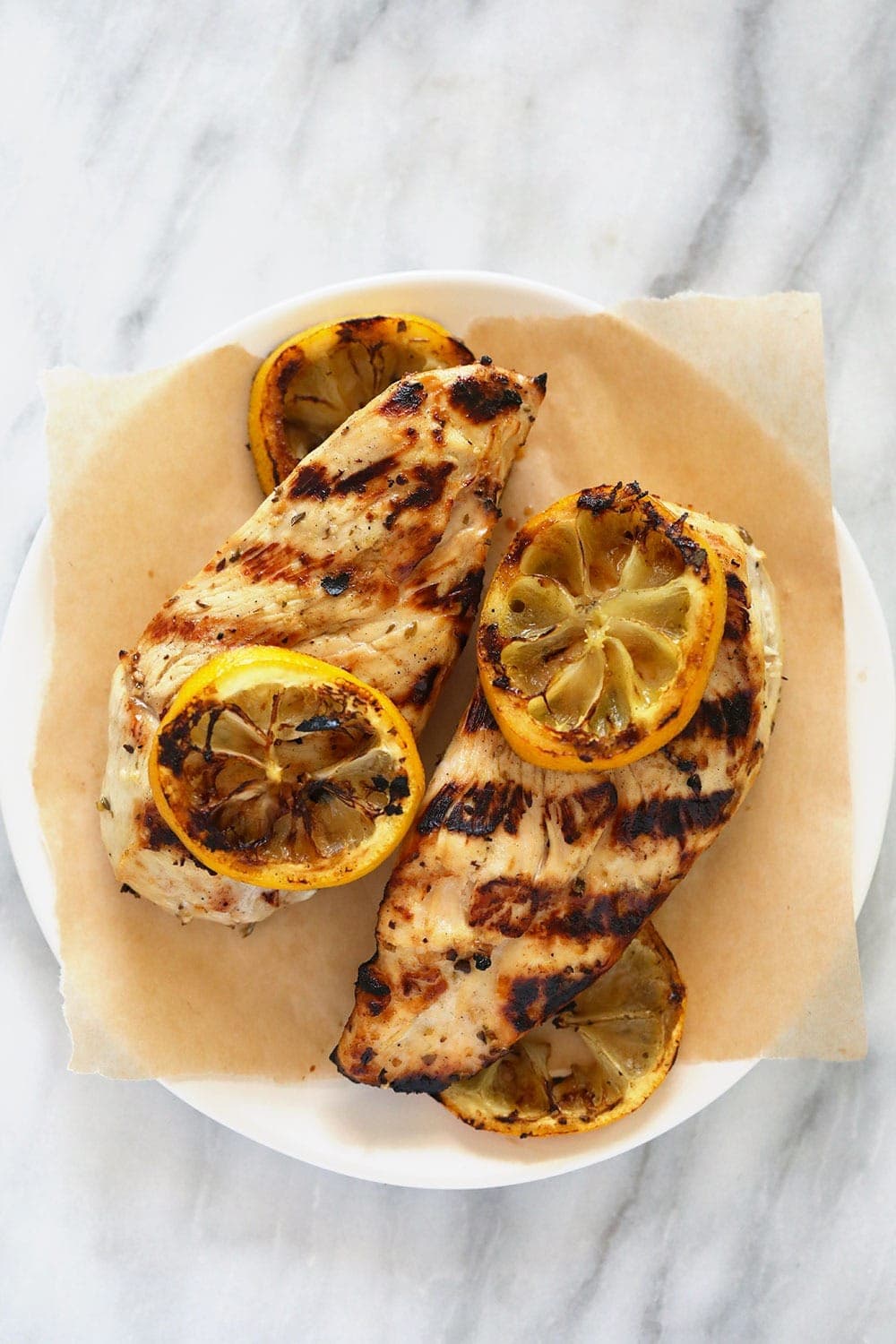 Grilled Greek Chicken 101
Can I use chicken thighs for this recipe?
Yes, you can use chicken thighs for this recipe. It would be delicious! The grill time may change slightly. Just keep an eye on the internal temperature of the chicken.
We also love this grilled chicken thighs recipe! Feel free to use the cooking instructions in this recipe if you are thinking of using thighs for this lemon chicken recipe.
Can Greek chicken marinate over night?
We do not recommend letting Greek chicken marinate overnight because the the acidity can start cooking the raw chicken breast and make it kind of funky.
How long does this chicken last in the refrigerator?
This chicken will last for up to 5 days in the refrigerator if it is stored in an air tight container.
What other salad dressing can I use for a marinade with chicken?
If you don't have ingredients for the Greek dressing or want to mix up the flavor of the chicken, try one of the dressings below as your marinade!
You can use any of these delicious chicken marinades or even any of the delicious dressing recipes below.
Can I freeze this Greek lemon chicken?
We do not recommend freezing this chicken raw. For the same reason you don't want to let the raw chicken sit overnight in acid.
Feel free to grill this chicken first, let it cool completely and then place the cooked chicken in the freezer for up to 3 months.
When you are ready to eat the chicken, remove the chicken and place it in the oven at 350ºF for 20-25 minutes to reheat.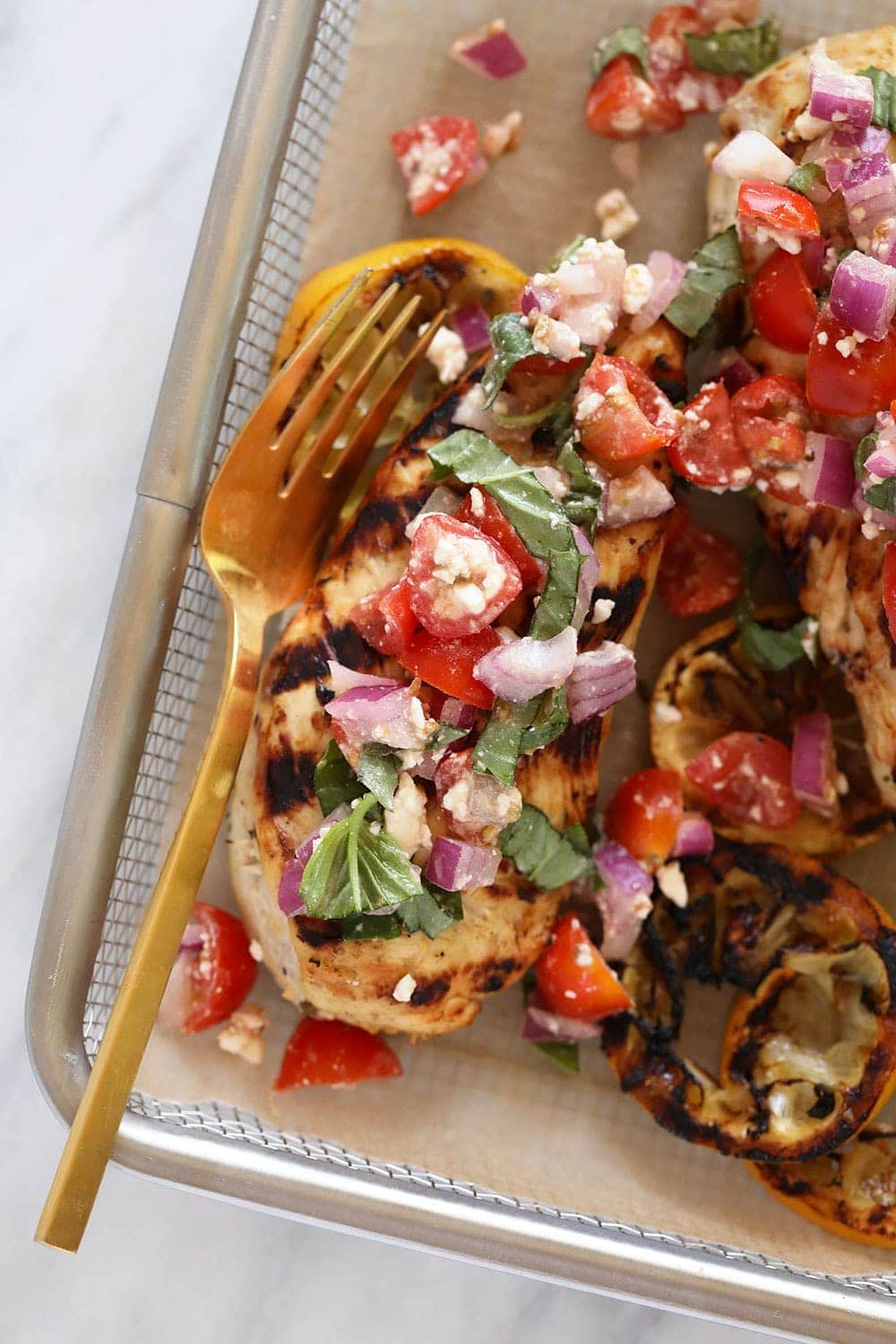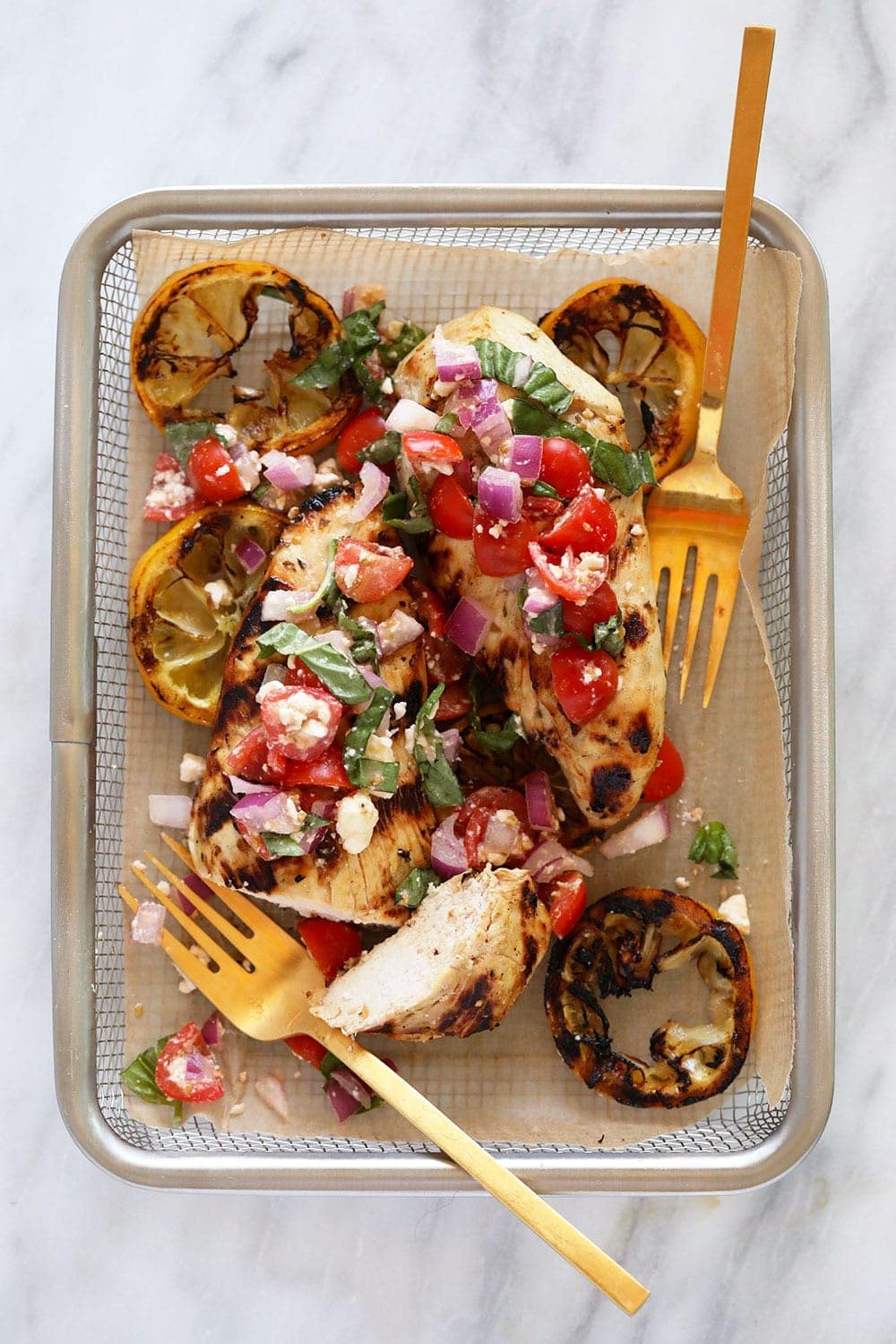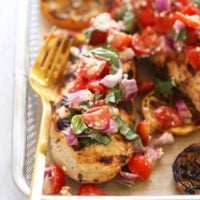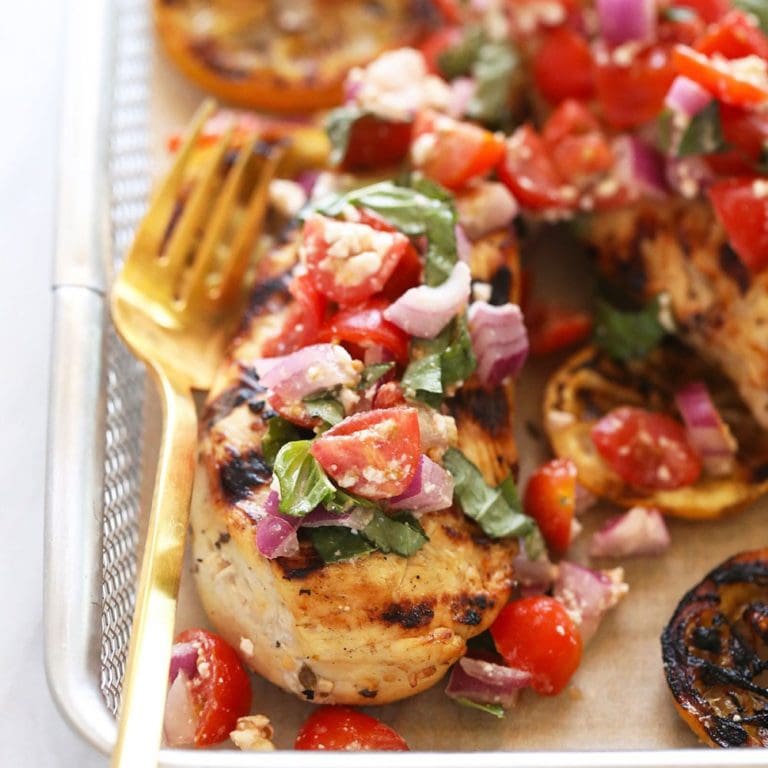 Grilled Marinated Greek Chicken
This Grilled Greek Lemon Chicken is perfectly marinated and then grilled to perfection. It's the ultimate summer dinner.
Ingredients
Tomato chutney
1/2

pint

cherry tomatoes

cut into fourths

1/4

red onion

finely diced

2

tablespoons

feta crumbles

2

tablespoons

fresh chopped basil

1

tablespoon

lemon juice
Instructions
First, prepare Greek marinade by mixing together olive oil, vinegar, garlic, honey, lemon juice, mustard, oregano, and salt. Then, transfer it into a large gallon-size bag or container and then add chicken breast. Make sure chicken is fully submerged in the marinade and let sit for 30 minutes to 2 hours.

Next, preheat grill to 400ºF. Once hot, spray the grill grates with nonstick cooking spray and place the marinated chicken breast over direct heat. Then, place a lemon slice on top of each breast. Close the grill and cook for around 7 to 8 minutes.

Once you see some beautiful grill marks appear on the chicken, remove the lemon and place it on the top rack and flip the chicken breasts. Close the grill and let cook for another 7 to 8 minutes.

Once the internal temperature of the chicken breast has reached 165ºF, remove from grill and let rest for 5-10 minutes.

Meanwhile, prepare the tomato chutney. Mix together tomatoes, red onion, feta crumbles, basil, and lemon juice.

Serve chicken breast topped with tomato chutney.
Nutrition facts
Calories:
381
kcal
Protein:
37
g
Fat:
22
g
Fiber:
1
g
Sugar:
3
g