This kale and watermelon salad involves grilling kale, green onions, and almonds, then combining them with cubed watermelon and microgreens.
The salad is dressed with a homemade concoction of olive oil, balsamic vinegar, honey, dijon mustard, pomegranate juice, and sesame seeds, creating a delightful balance of sweet and tangy flavors.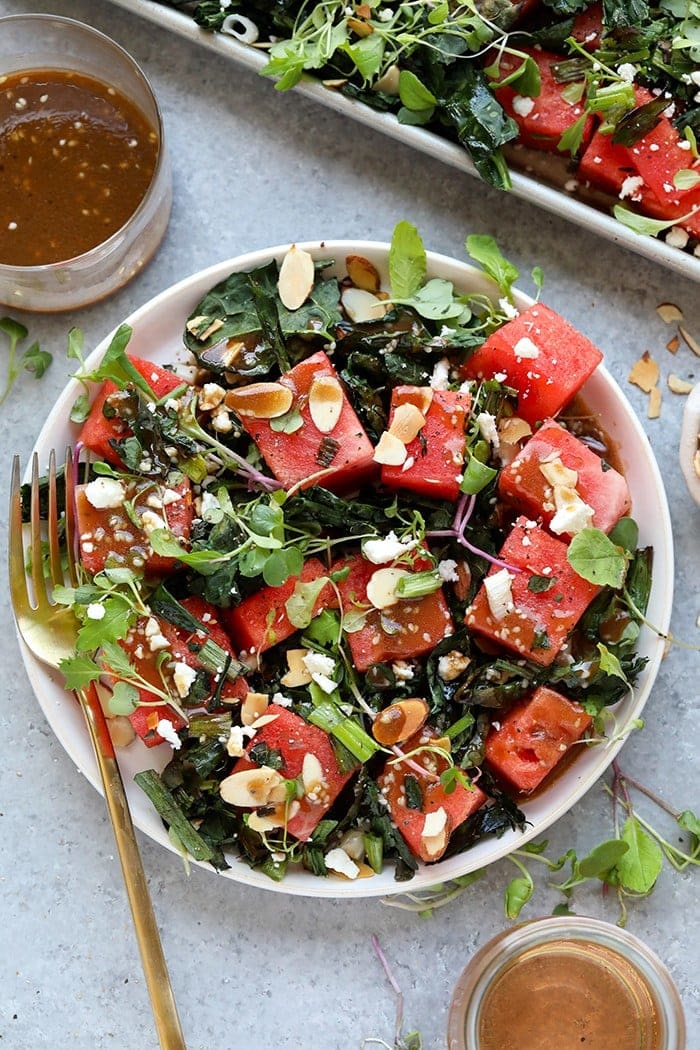 This grilled kale salad is a summer delight, combining the smoky flavor of grilled kale with the sweet juiciness of watermelon. We also added some grilled green onions and almonds for an extra crunch.
We topped this salad with a secret ingredient of microgreens for extra nutrition and texture. Honestly, we've been putting it on everything!
What is in Grilled Kale and Watermelon Salad?
kale: make sure to purchase stalks of kale and not already deboned kale.
watermelon
green onions: we recommend grilling the onions whole.
slivered almonds: almonds give every bite a little crunch.
microgreens: microgreens are our secret weapon for adding nutrition to this salad.
Salad Dressing Ingredients
olive oil
balsamic vinegar
honey
dijon mustard
pomegranate juice
sesame seeds
Pro tip: if you're looking for a different salad dressing, try our balsamic vinaigrette or herby hummus dressing.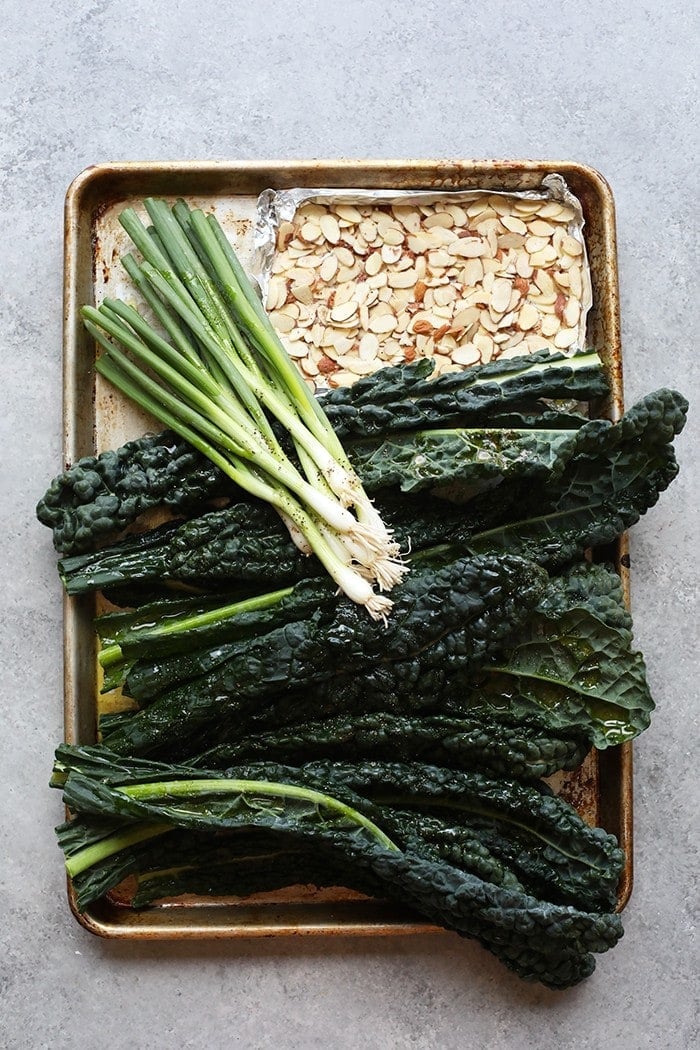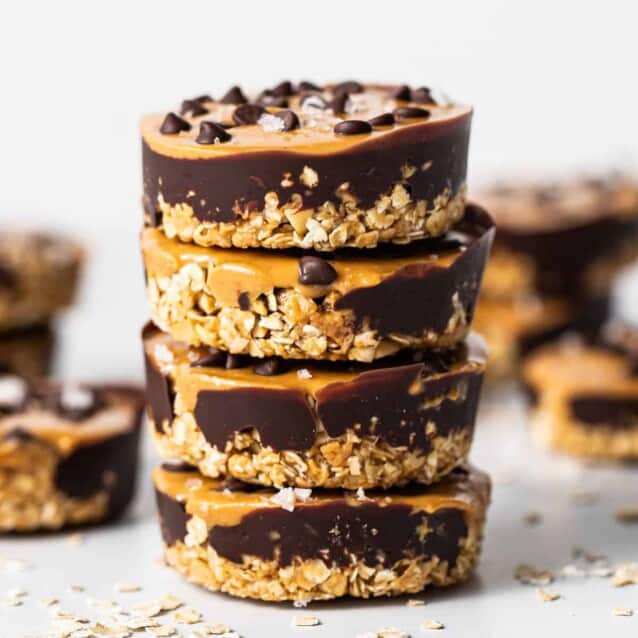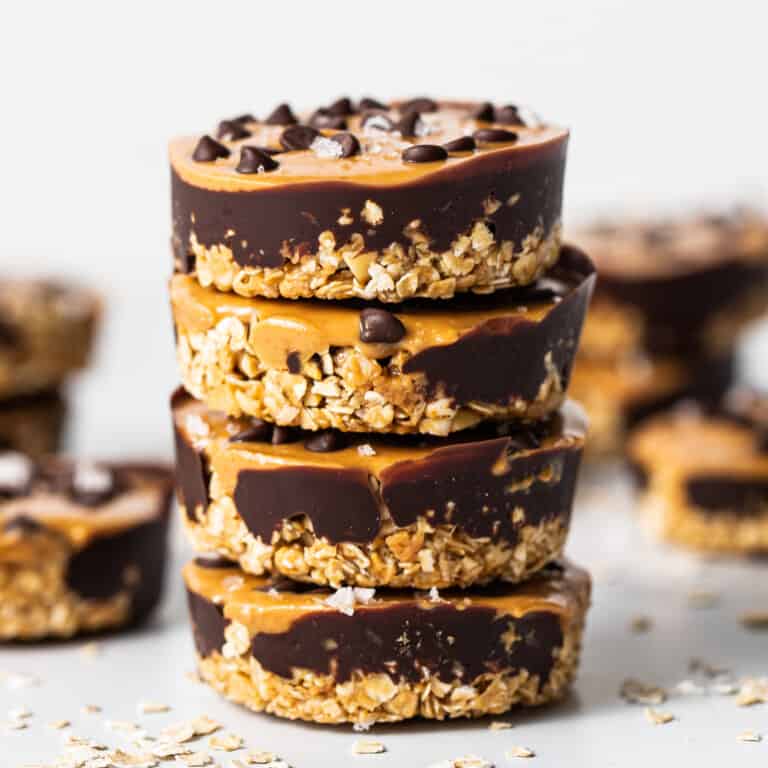 Get our Top 10 5-Star Recipes!
Join our email list for new recipes and BONUS: get our top 10 ⭐️⭐️⭐️⭐️⭐️ recipes e-book!
Serving Suggestions
This Grilled Kale and Watermelon Salad is a versatile dish that can be served in many ways. It's a fantastic standalone meal for a light lunch or dinner. Or, pair it with some grilled chicken legs for a more substantial meal. And don't forget your favorite summer drink! A glass of homemade lemonade or a refreshing Frose would be the perfect accompaniment.
Storage
We recommend eating this salad straight off the grill to get that crunch from the grilled kale. Also, once you dress the salad, the microgreens will likely wilt and the kale could get soggy.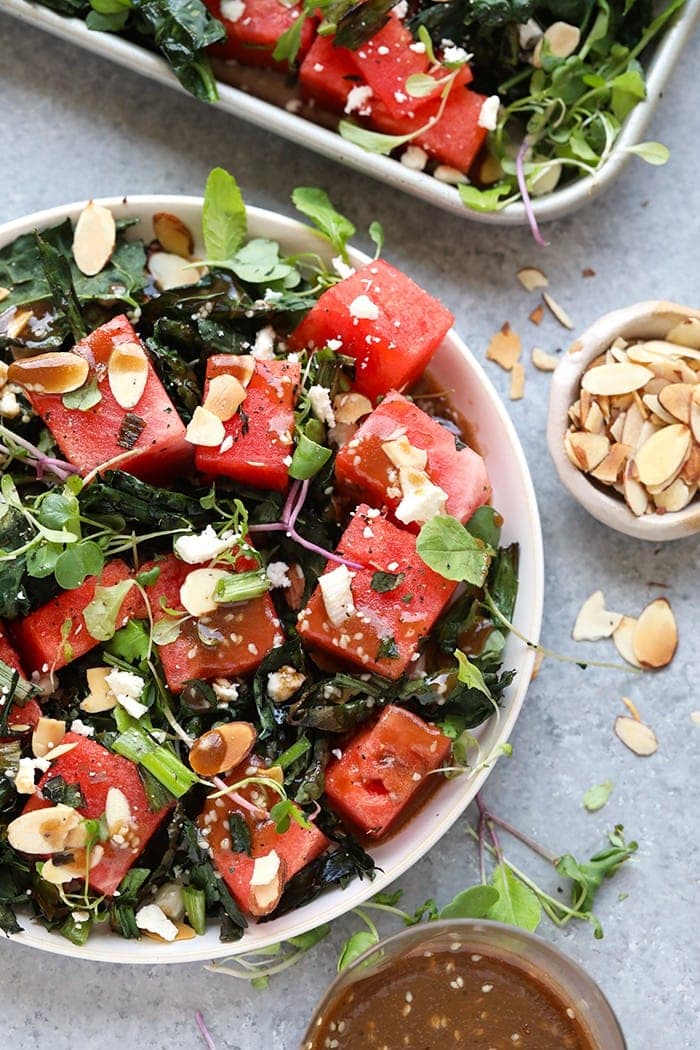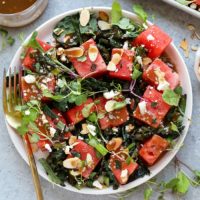 Grilled Kale and Watermelon Salad
This kale and watermelon salad involves grilling kale, green onions, and almonds, then combining them with cubed watermelon and microgreens.
Instructions
Preheat grill to 350ºF and make sure your grill grate is clean.

Next, make a small tin foil boat and place your almonds in the tin foil.

Prep kale (keep on the stalk) and green onions by placing them on a cookie sheet and drizzling them with olive oil and seasoning with salt and pepper.

Place kale stalks and green onion on direct heat on the grill. Place the tin foil boat with the slivered almonds in it on indirect heat on the grill. Cover grill and let cook for 5 minutes.

Remove kale from the grill once it begins to char a little bit and place back on the cookie sheet and set aside.*

After 5 minutes, flip green onions and stir almonds.** Place the cover back on the grill for another 5 minutes.

Prepare the dressing while vegetables are cooking on the grill by placing all ingredients for the dressing in a mason jar. Cover and shake until ingredients are well combined.

Remove green onions and almonds from the grill and set aside.

Prepare watermelon by cutting off the rind and then cutting into cubes.

Debone kale and chop and slice green onions. Then, mix kale, green onions, almonds, microgreens, and watermelon together in a large bowl or on a baking sheet.

Add dressing right before you plan to eat and enjoy!
Tips & Notes
You want the kale to be golden brown at the tips but not super crispy. If kale is still wilty keep it on the grill for an additional 2-3 minutes.
If you don't have pomegranate juice, use any darker fruit juice that you have such as a berry choice, cherry juice, etc.
Nutrition facts
Calories:
268
kcal
Carbohydrates:
16
g
Protein:
4
g
Fat:
23
g
Fiber:
3
g
Sugar:
11
g