Bring your salad game to the next level and make this delicious French Carrot Salad with honey mustard dressing. The carrots for this salad are Julianne and tossed with strips of thin green onions. It will be your next go-to salad.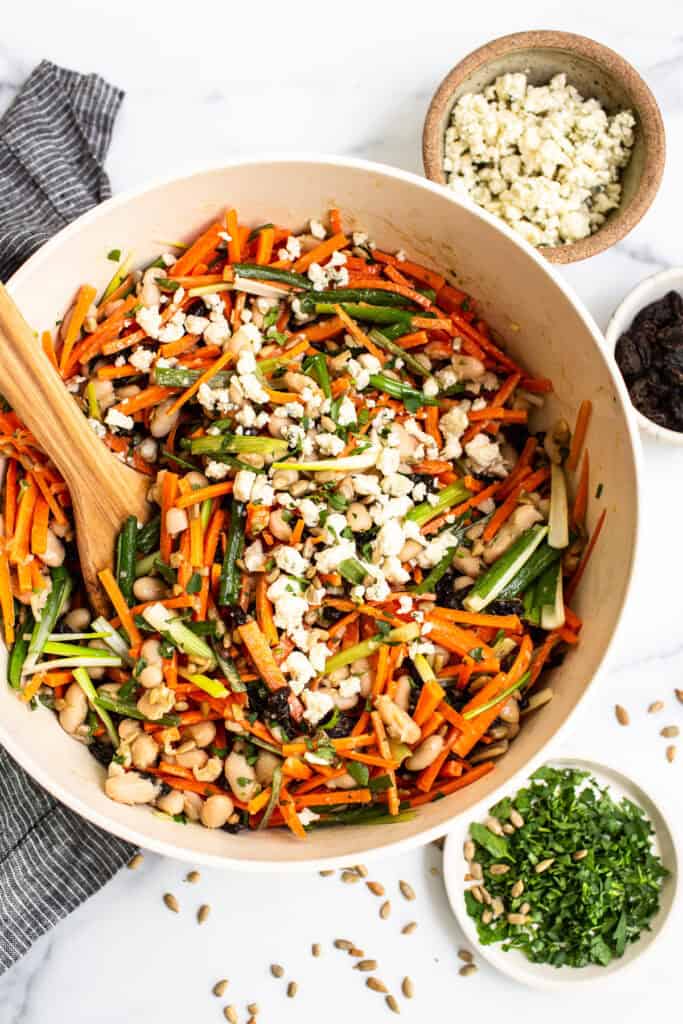 French Carrot Salad with Honey Mustard Dressing
If you are looking for a salad recipe that is packed with veggies but doesn't use greens, this French Carrot Salad with honey mustard dressing. It's crunchy, tossed with a delicious mustard dressing, and topped with a funky blue cheese crumble.
Next time you are heading to a BBQ or need an easy salad for the week, make this Carrot Salad with honey mustard dressing.
Why you'll love it!
There are so many reasons to make this carrot salad with hone mustard dressing.
It is delicious. The combination of crunchy carrots, creamy beans, seeds, and a honey mustard dressing leaves you with an amazing salad.
This carrot salad has a long shelf life (or fridge life). Carrots are a hearty root vegetable that lasts longer in the fridge than a green salad. It is the perfect salad to make at the beginning of the week and eat for days.
Not only can you eat this salad as a salad, but you can add it to sandwiches or wraps.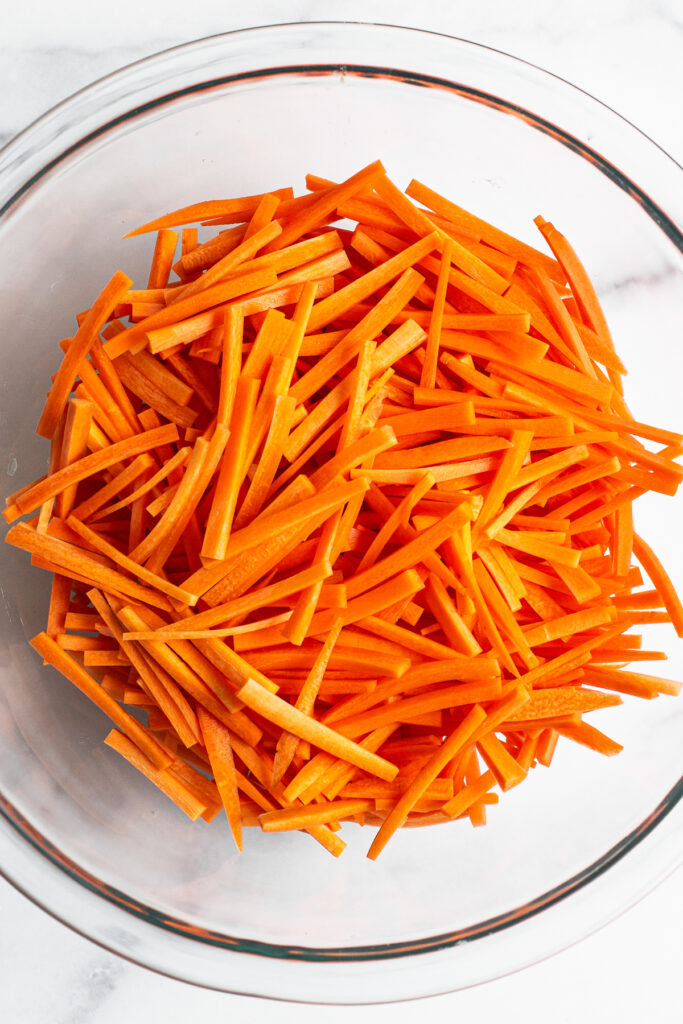 Featured Ingredients
Carrots– the star of this French carrot salad is obviously CARROTS. There are a few different ways you can prepare the carrots for this recipe. You can buy a pound of carrots, peel them, and then julienne them or you can buy a bag of matchstick carrots if you're running low on time.
Green onions- not only does the flavor of the green onions add a delicious onion-y flavor to this salad, but how you slice the green onions makes or breaks this salad.
Just like the carrots, you julienne the green onions. You use the white and green parts of the green onion. Don't skip them!
Northern white beans– we take two cans of northern white beans and we infuse them before tossing them into this salad. If you are using dried beans, be sure to prep them the day before.
Sunflower seeds- a seed is always a great addition to any salad. They add a light and salty bite to salads.
Blue cheese– what better pair is there but blue cheese and carrots? Find your favorite blue cheese or blue cheese crumbles and top this tasty salad with all the cheese.
Honey mustard dressing– we make a simple and homemade honey mustard dressing that is made from mustard, honey, white vinegar, red wine vinegar, garlic, paprika, and cayenne pepper if you'd like!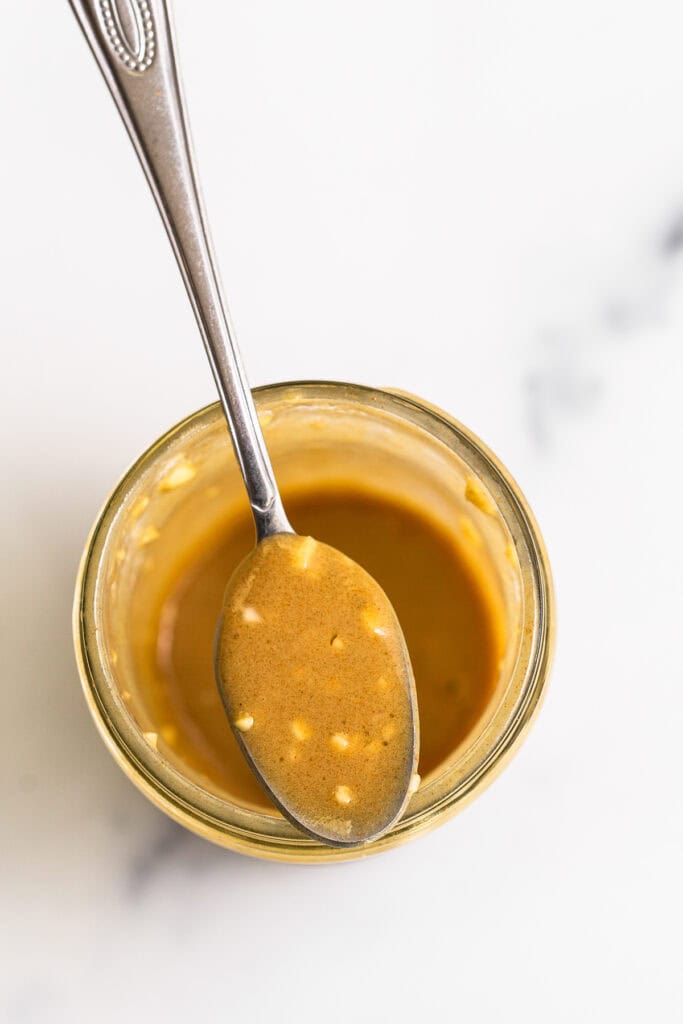 Simple Instructions
Prepare the Beans
Have you ever added beans to a salad and thought that something was missing? Us too. We quick infuse the northern white beans by first straining them from liquid and then tossing them with 1/4 cup olive oil, lemon juice, salt, and pepper.
Warm the beans up in the microwave for 90 seconds. Heating the beans with the oil, lemon, and spices warms the beans and when they sit in the liquid after you heat them the beans will soak up all the liquid and flavor.
Set them aside while you prepare the rest of the salad.
Toss the ingredients together.
Toss the carrots, raisins, seeds, onions, and parsley in a large bowl.
Make the dressing.
Keep it simple and add the mustard, honey, vinegars, spices, and 1 tablespoon of olive oil into a jar. Cover the jar and shake until combined.
Toss the salad.
Pour the dressing over the carrots and then pour the beans into the salad bowl, along with the oil that is full of flavor. Toss all the ingredients together and top the salad with blue cheese crumbles.
Latest Salad Recipes
More
Top Tips
Infuse the beans first. The longer the beans sit in the oil and lemon juice, the more flavorful they will be. Infuse them before even slicing and chopping your vegetables.
Salt to taste. Everybody has a different tolerance for salty foods. If this salad tastes bland, don't be scared to add more salt.
Add more spice. We use a pinch of cayenne pepper, but if you like things spicy, add more!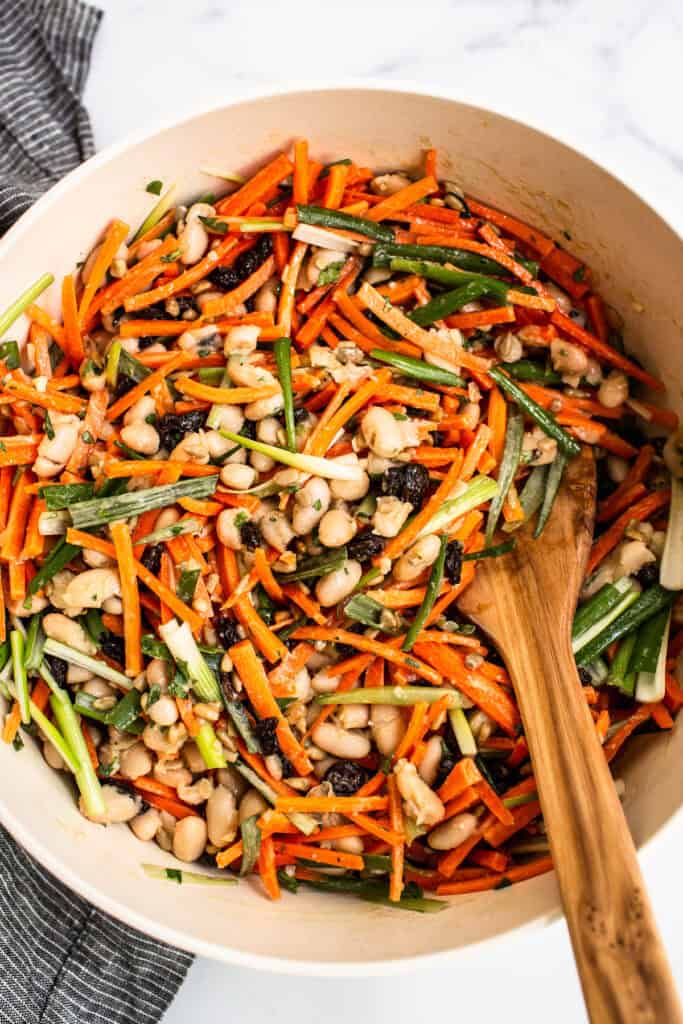 FAQ
What are the benefits of carrot salad?
Carrot salad is both healthy and hearty. It is packed with Vitamin A, fiber, and more.
How do you soften carrots for salad?
If you would like your carrot salad to be less crunchy grate your carrots instead of using matchstick or julienne carrots.
Who invented carrot salad?
There are different variations of carrot salad all around the world. This specific French carrot salad originated in France.
What to Serve with Carrot Salad
Any of these delicious chicken recipes would be delicious served along side this carrot salad.
Storage
Store this carrot salad in an airtight container for up to 7 days in the refrigerator.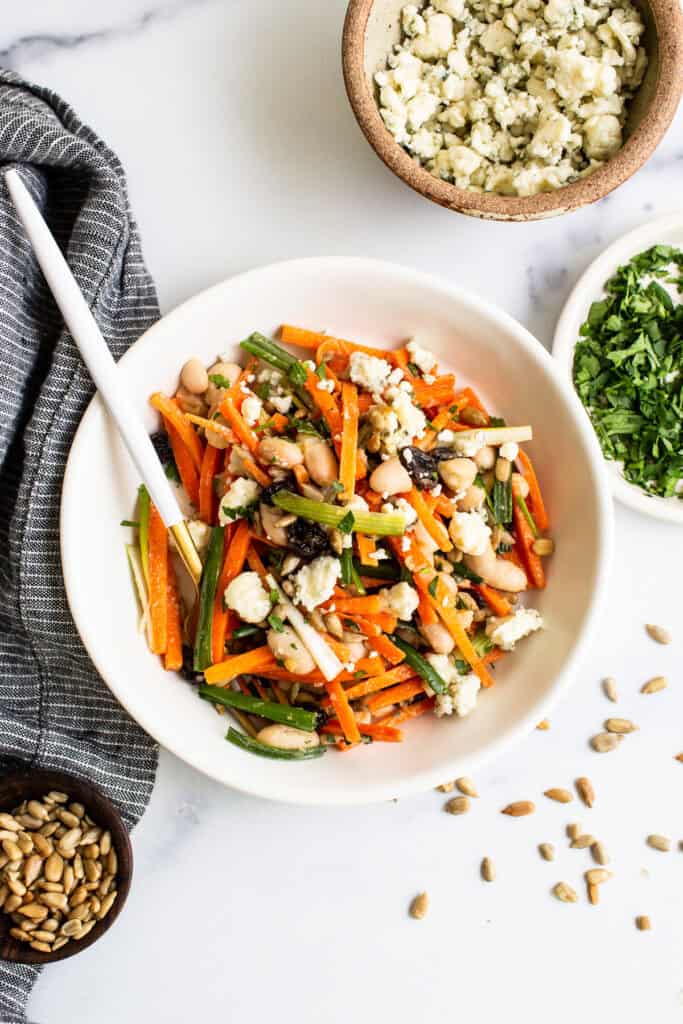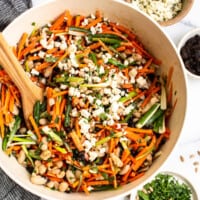 French Carrot Salad with Honey Mustard Dressing
Make this amazing carrot is tossed with a simple honey mustard dressing and topping with blue cheese crumbles. Serve it next to your favorite sandwich or main dish.
Ingredients
2 15-

oz.

cans great northern beans

drained and rinsed

¼

cup

+ 1 tablespoon olive oil

separated

1

tablespoon

fresh lemon juice

1.5

teaspoons

salt

separated

½

teaspoon

freshly ground pepper

4

cups

julienned carrots

matchstick carrots

1

cup

raisins

½

cup

sunflower seeds

6

green onions

cut into 1-inch strips

3

tablespoons

fresh parsley

chopped

1

tablespoon

dijon mustard

½

tablespoon

honey

½

tablespoon

white vinegar

½

tablespoon

red wine vinegar

2

cloves

garlic

peeled and minced

⅛

teaspoon

paprika

Pinch

cayenne pepper

¼

cup

blue cheese crumbles
Instructions
Place beans in a microwave safe bowl and add ¼ cup of olive oil,1 tablespoon of lemon juice, ¼ teaspoon salt, and ground pepper to the beans. Mix until combined.

Heat the beans on high for 90 seconds. Toss the beans and let the beans cool while preparing the other ingredients.

Place the carrots, raisins, sunflower seeds, green onions, and parsley in a large salad bowl and toss ingredients together.

Prepare the dressing. Add the mustard, honey, both vinegars, garlic, paprika, and cayenne pepper, and the remaining tablespoon of olive oil to a mason jar. Cover the jar and shake the ingredients together until completely combined.

Add the beans (including the oil) to the bowl with the carrots. Fold the beans into the salad.

Drizzle half the salad dressing over the carrots and toss. Taste the salad and add any remaining dressing that you would like.

Finally, top the salad with blue cheese crumbles.

Eat immediately or place in the refrigerator to chill for a cold salad.
Tips & Notes
If you don't have green onions or don't want to take the time to slice the green onions, use thinly sliced red onions instead. If you are not going to serve this salad right away, wait to dress the salad.
Nutrition facts
Calories:
460
kcal
Carbohydrates:
60
g
Protein:
15
g
Fat:
19
g
Fiber:
24
g
Sugar:
29
g
Photography: photos taken in this post are by Ashley McGlaughlin from The Edible Perspective.