This delicious Nicoise Salad is a spin on a classic Nicoise. There are six layers to this delicious dish, all dressed separately. All of the ingredients and flavors in this dish compliment each other perfectly.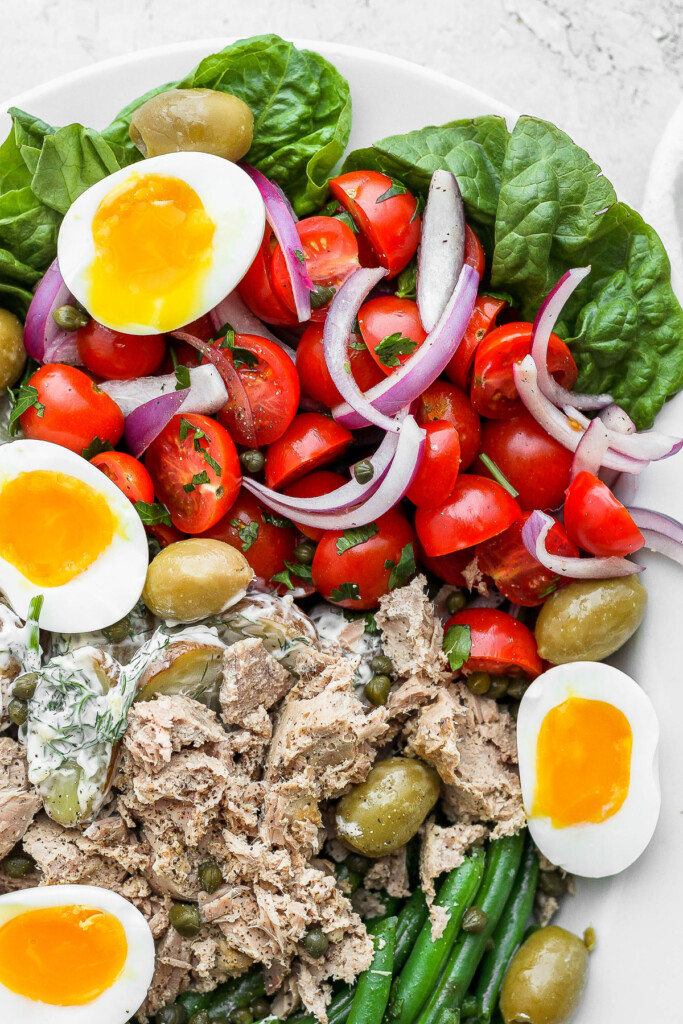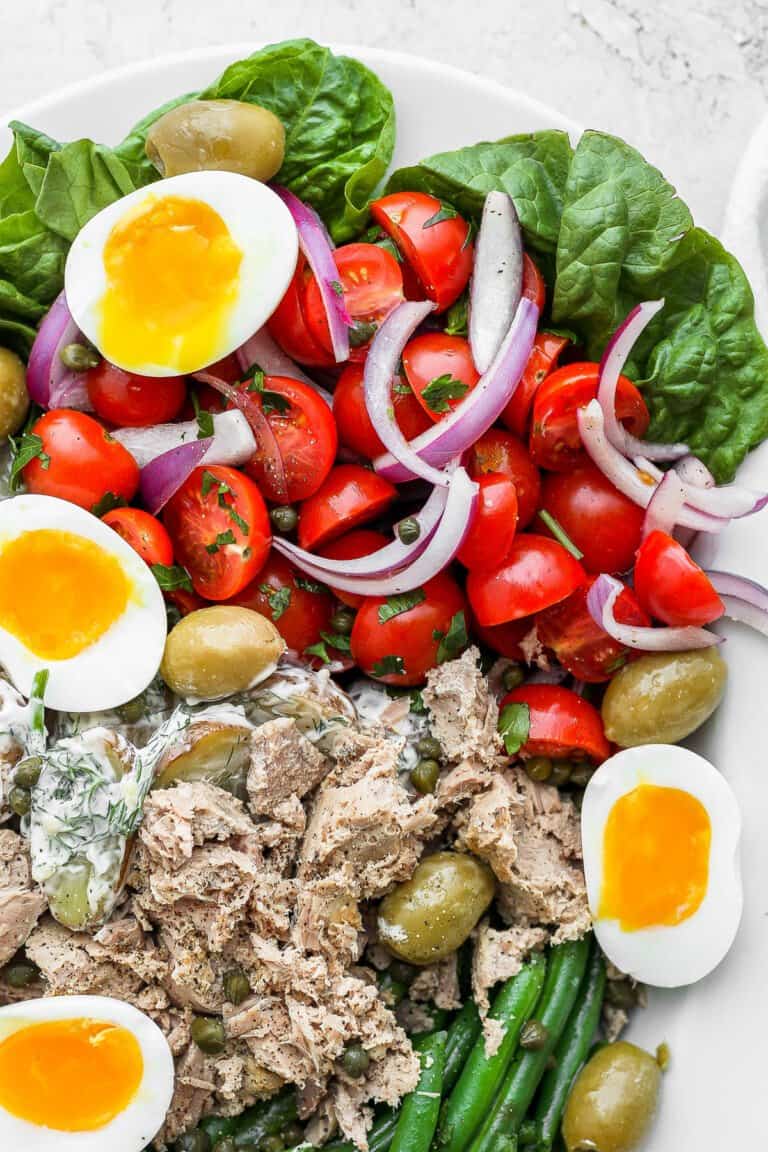 The Most Delicious Nicoise Salad
If you are a salad person that loves a fresh and crunchy salad as their main dish, this recipe is for you. This Nicoise salad is compromised of some classic Nicoise salad ingredients along with some new ingredients we added in.
This salad is a perfect salad anytime of year, but especially in the summer when you have fresh vegetables from the garden or the farmers market.
Things to remember before starting
This Nicoise salad is separated into 6 separate components that are all served together on a large platter. Together they make an amazing Nicoise salad.
We recommend following the order in which we make each separate component of this dish. If you've made a Nicoise salad before, feel free to go rouge!
This is not a 10 minute salad. Think of a Nicoise salad as a meal, not a salad. It is meant to take some time. Trust us, it's work it.
This salad is delicious right away or the next day. The flavors get better the longer the ingredients sit in the dressing.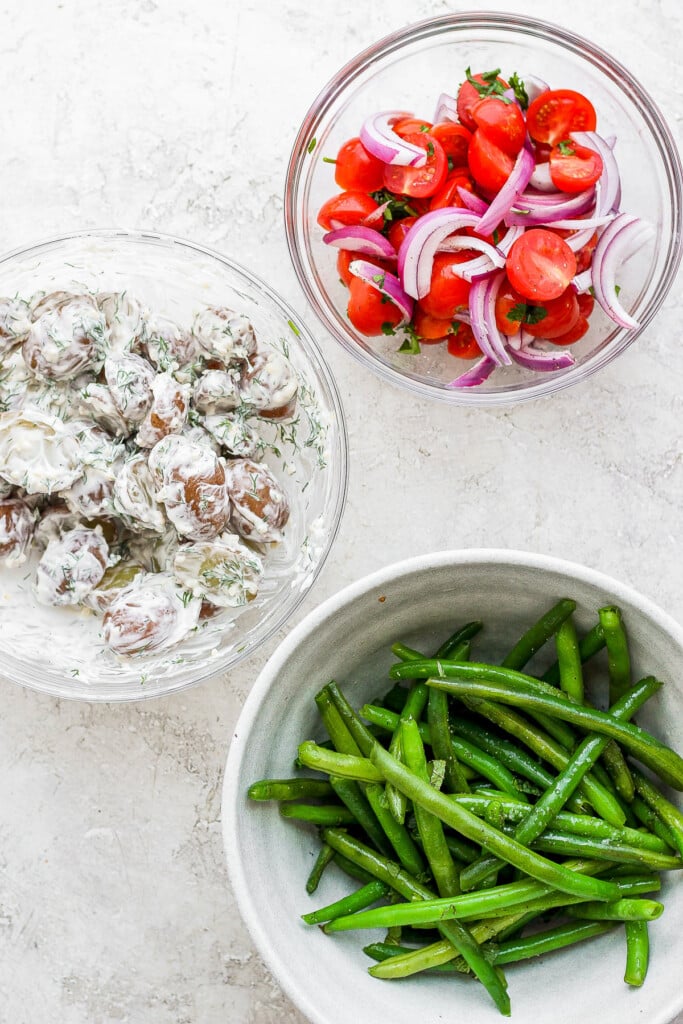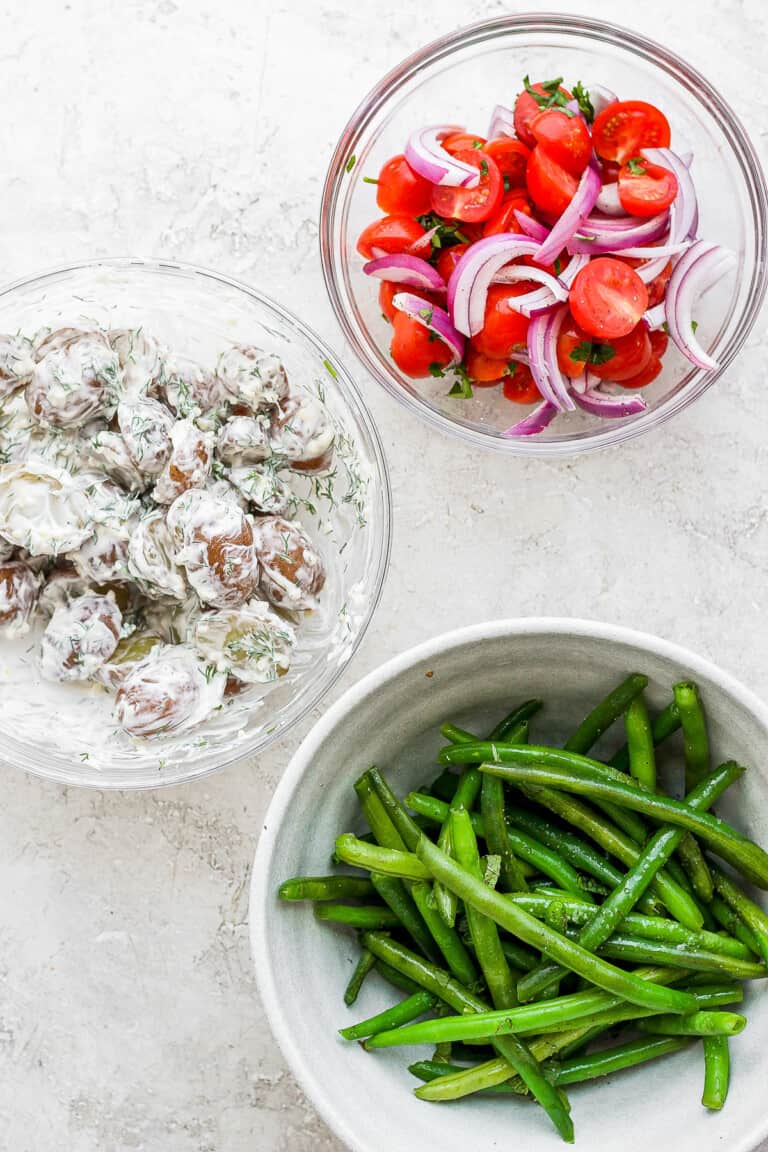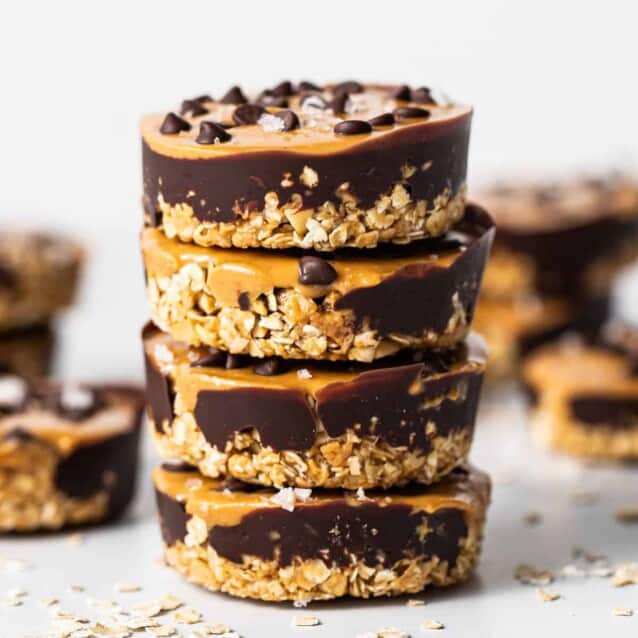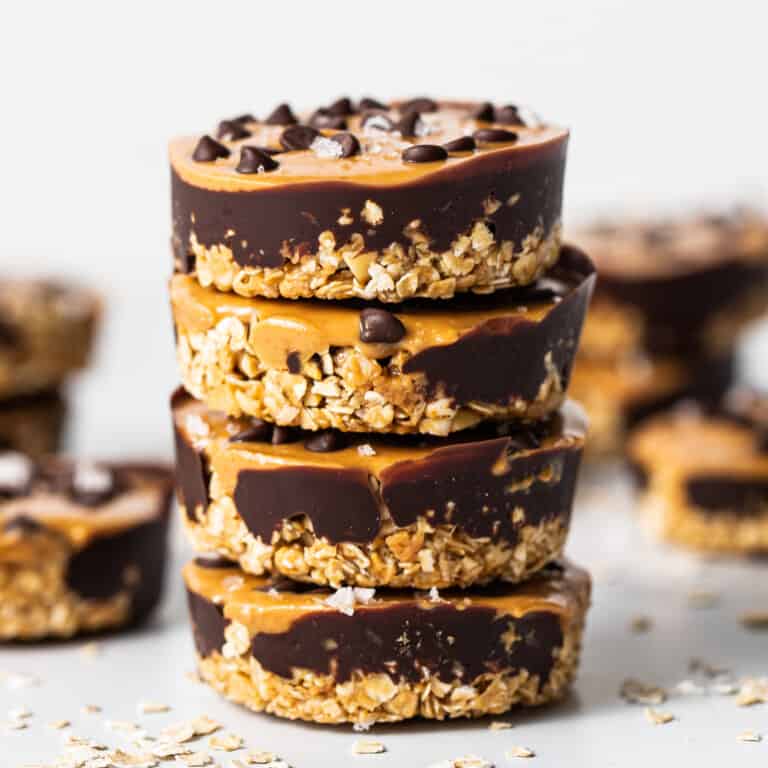 Get our Top 10 5-Star Recipes!
Join our email list for new recipes and BONUS: get our top 10 ⭐️⭐️⭐️⭐️⭐️ recipes e-book!
Featured Ingredients
This Nicoise salad may look complex, but it is made with very traditional and easy to find vegetables. This specific Nicoise salad recipe takes an extra step to dress each vegetable section separately, but all the ingredients are easy to find.
Tomatoes: tomatoes are a key ingredient in most Nicoise salads. We used cherry tomatoes, but you can use larger sandwich tomatoes and quarter them, as well as heirloom tomatoes.
Potatoes: potatoes are another classic ingredient in Nicoise salad. We prefer to use a smaller and creamier potato. We chose to use a mixture of baby red potatoes and baby creamy Yukon golds. The combination of the two potatoes add color and texture. Feel free to use whichever potatoes you prefer.
Green Beans: find yourself fresh green beans and be sure to trim the ends of the green beans before preparing them.
Eggs: large hard boiled eggs are another classic ingredient and source of protein in this salad.
Tuna: traditionally, a Nicoise salad is made with anchovies or canned tuna that is soaked in olive oil.
Olives: olives from Nice are the classic olive to use for this salad. However, any salty and delicious salad would work. We found the most amazing anchovy stuffed olives that we highly recommend.
Capers: another burst of salty goodness in this salad are capers.
Fresh herbs are key! We are big fans of adding fresh herbs to salads. This Nicoise salad is no different. We add fresh mint, parsley, and dill to different parts of this salad and it adds so much. Do not skip the fresh herbs!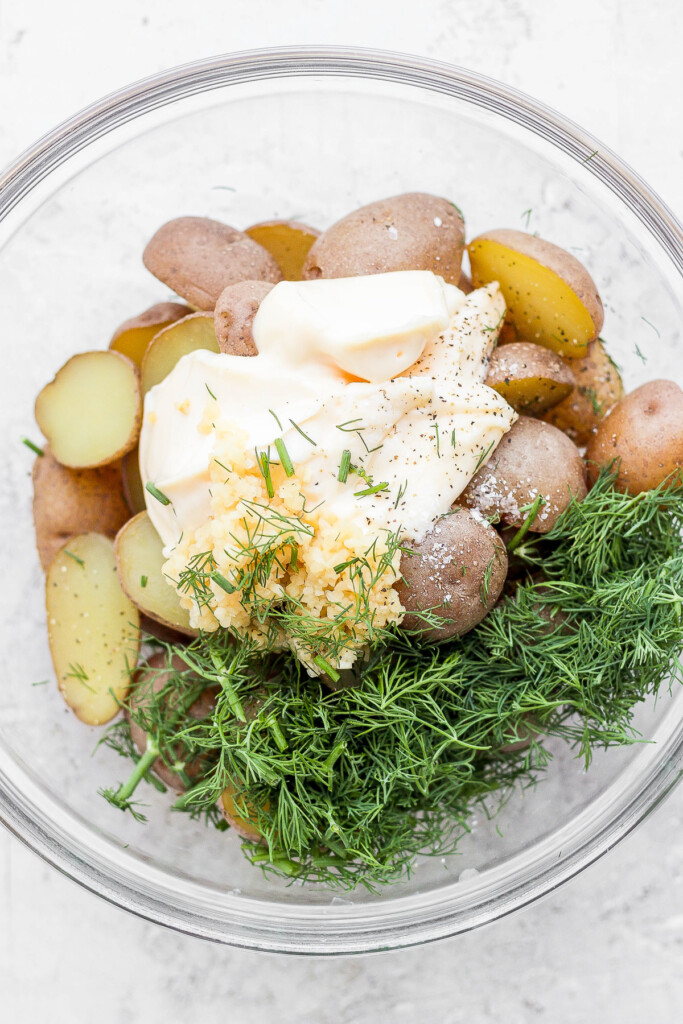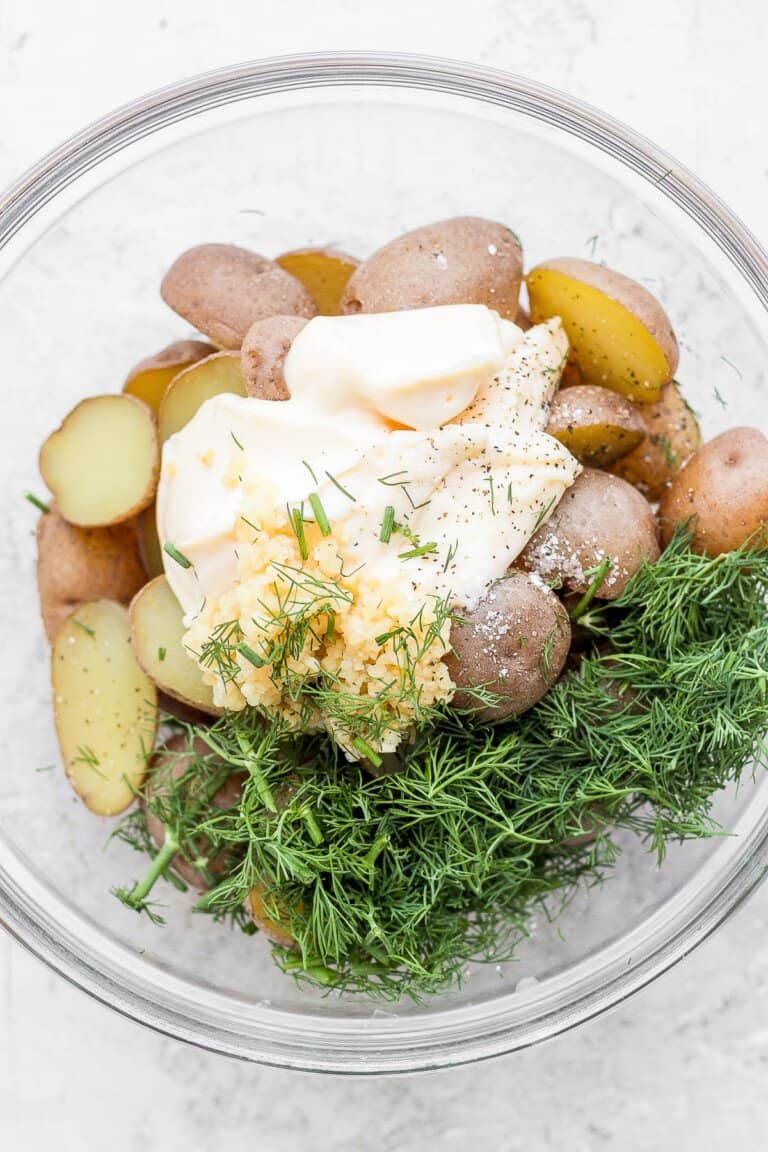 Ingredient Swaps
You can make simple ingredient swaps to make this salad your own. We suggest substituting the vegetables, but not the dressings! Below are different vegetables that would be easy and delicious swaps for a Nicoise salad.
cucumbers
green onions
English peas
smoked salmon
radishes
seared tuna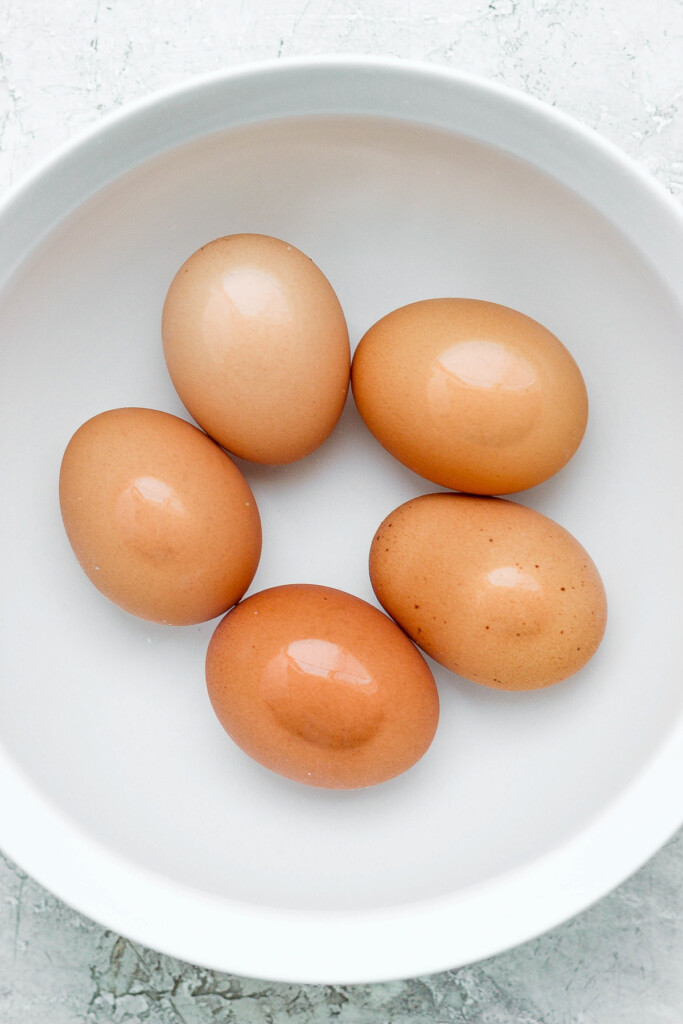 How to Make a Nicoise Salad
Prepare Each layer of the Salad
This salad is compromised for 6 different small, separately prepared and dressed components that are served on a platter. You will never eat a Nicoise salad the same way again. First up? Prepare those veggies.
Tomatoes- we suggest preparing the tomatoes first. You want to salt the tomatoes to draw out veggies and allow the tomatoes, onion, and parsley to sit in the vinegar dressing. The longer you let the ingredients sit, the more flavorful they will be.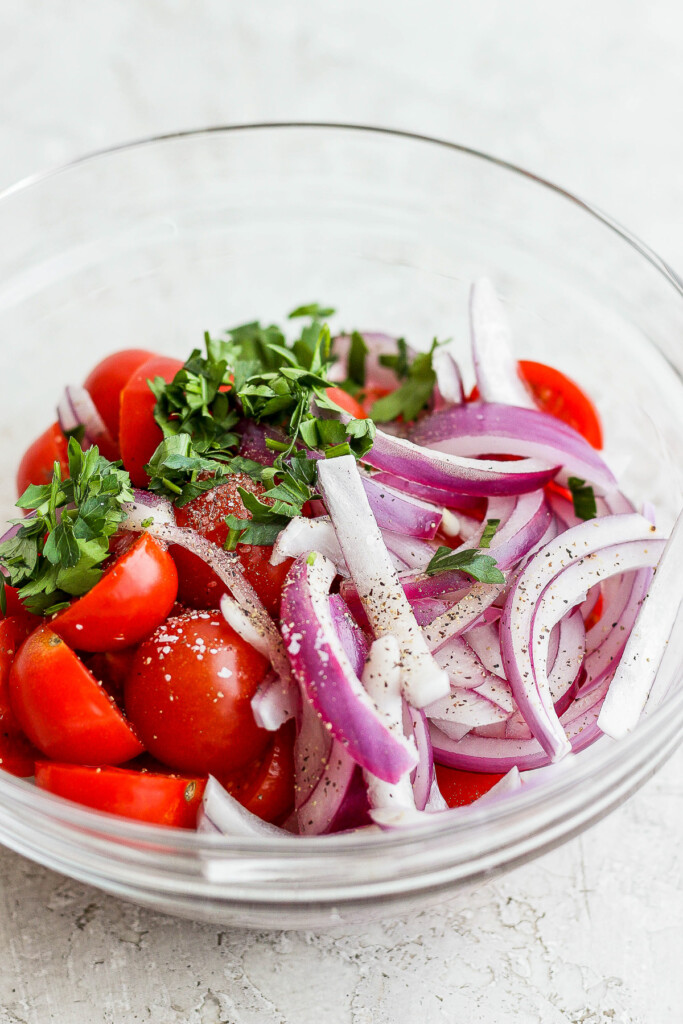 Potatoes- next up is the potatoes. Half the baby potatoes and place them in salt water. Bring the water to a boil until they are fork tender but not mushy.
While you are boiling the potatoes, mix up the most delicious creamy dressing that is made with fresh dill, lemon juice, and a few other ingredients.
You want to strain the potatoes from the water and gently rinse them with cold water to cool them off. Pour the dressing over the cooled potatoes and gently mix the ingredients together.
Beans- though you can use raw green beans for this recipe we prefer to use blanched green beans. Why? Blanched green beans cook the beans just enough, but leave them salty and crisp.
To blanch green beans, bring a large pot of salted water to a boil. Prepare an ice bowl with water that will be used for the green beans and set it aside. Place the trimmed green beans in the boiling water for 2 minutes and then immediately strain the beans and place them in the ice water to crisp.
Dress the green beans with olive oil, salt, and fresh mint.
Eggs- how long you cook your eggs for this salad is up to you! We prefer to serve a Nicoise salad with a jammy medium-boiled egg. Check out our post on how to cook hardboiled eggs just the way you like them.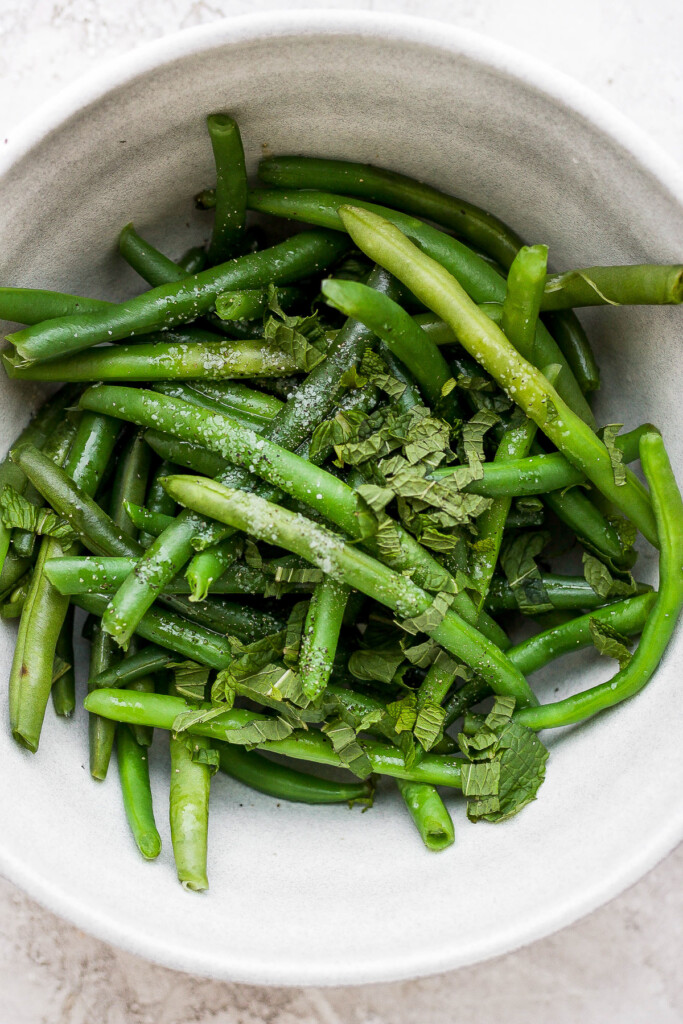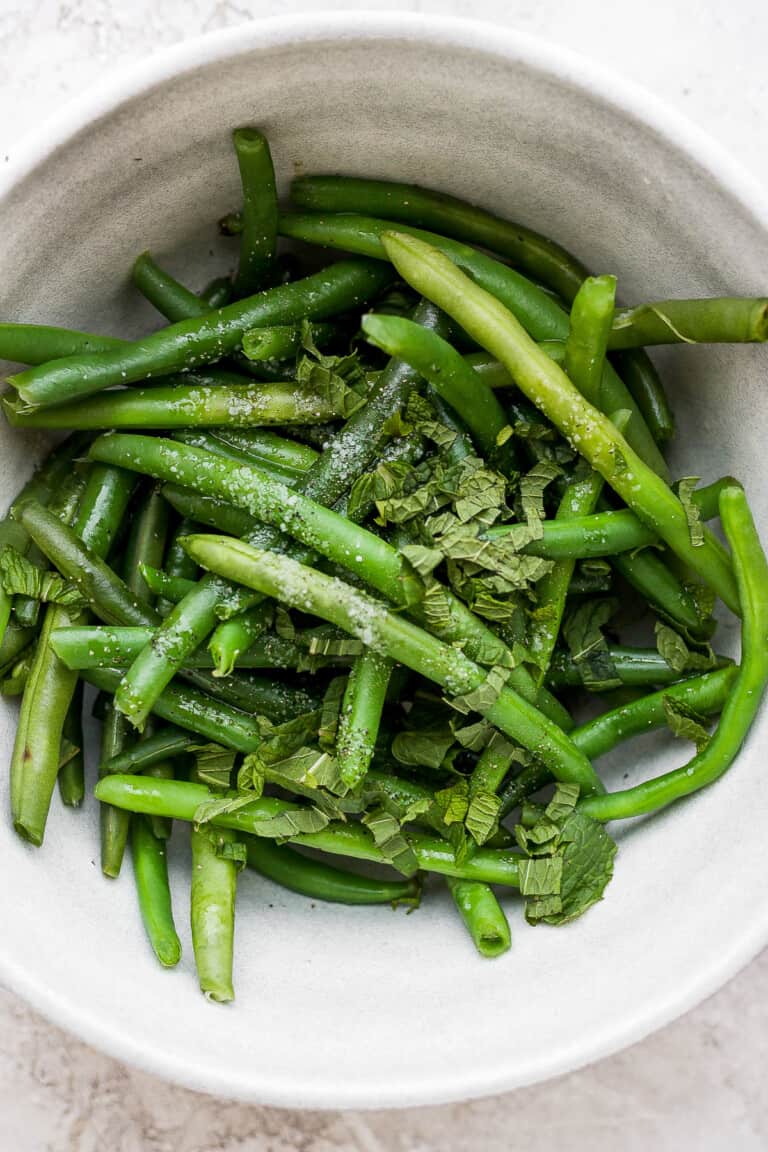 Assemble the Salad (Make it look Gorgeous)
Once you have prepared the tomatoes, potatoes, beans, and eggs it's time to assemble the salad on a platter.
If you are serving this salad immediately: Find a large platter that all of the ingredients will fit on. If you don't have a large platter, we love serving this salad on a baking sheet in place of a plater.
Add the tomatoes to one end of the platter, then the potatoes, and then the beans. Do not mix the salad yet. Half the hard boiled eggs and place them over the platter. Lastly, add the chunked tuna, olives, and capers to the platter. Serve!
If you are preparing this salad for later: Store each component of this salad separately in airtight containers until right before serving.
Don't forget more salt + oil
Once you have assembled your Nicoise salad, drizzle the whole salad with olive oil and sprinkle with salt. Serve your salad on it's own or with crackers or crunchy bread.
Nicoise Salad FAQ
What is the english meaning of Nicoise salad?

A Nicoise salad is a french salad (Salade Niçoise). It's meaning is simple, it is a salad from the French city of Nice.
What are the ingredients in a Nicoise salad

Traditional ingredients of an Nicoise salad are tomatoes, hard boiled eggs, olives, anchovies, and dressed with olive oil. There are many versions of Nicoise salads and it is very easy to make a recipe your own.
Can I substitute ingredients in a Nicoise salad?

Yes, there are many different ways to substitute ingredients for a Nicoise salad. Choose vegetables you love and replace them. You can also skip cooked vegetables and use raw vegetables if you wish.
What kind of fish do I use in Nicoise salad?

We use canned tuna that has been soaked in olive oil, but you can use seared tuna, smoked salmon, grilled salmon, or you can keep your Nicoise salad meat free!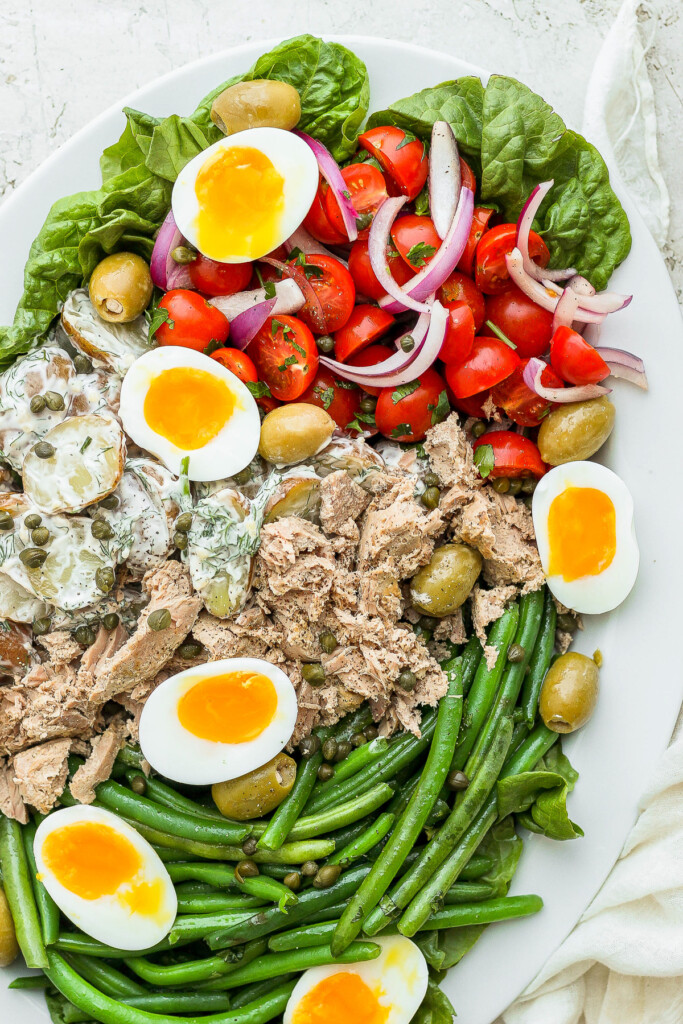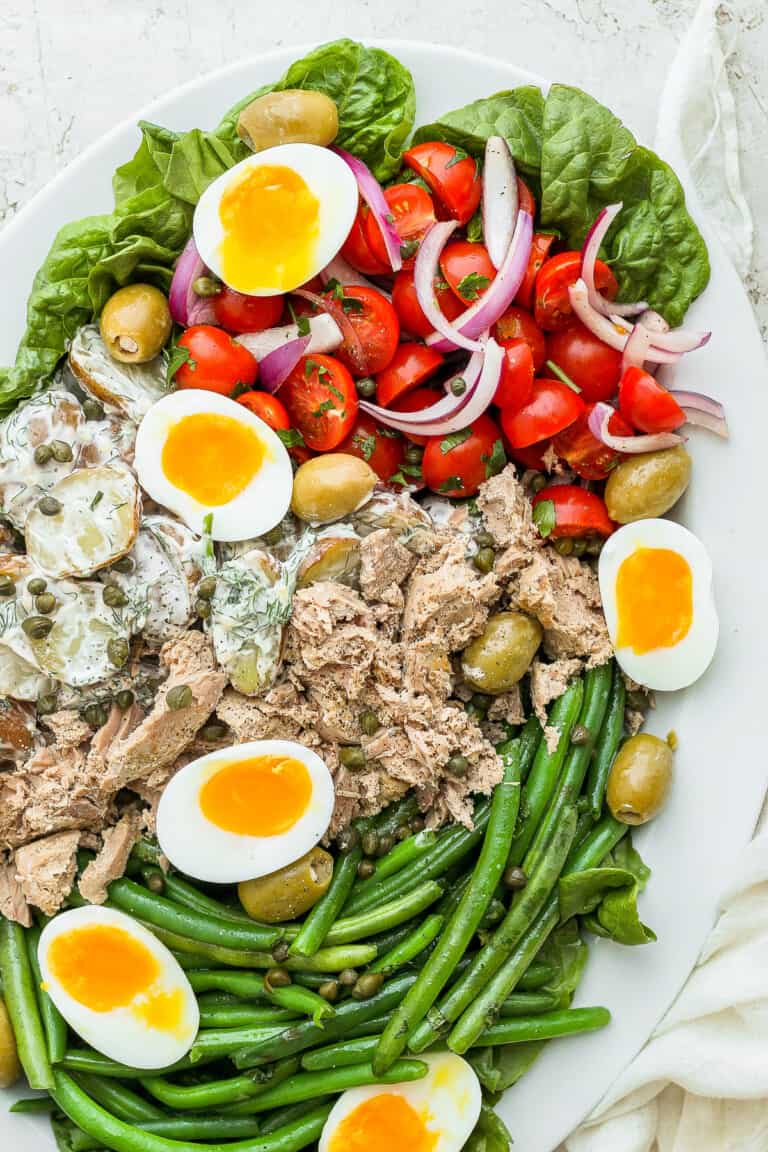 What to Serve with Nicoise Salad
Serve this fresh and delicious salad on its own or with one of these delicious protein main dishes.
Storage
Store your Nicoise salad in airtight containers in the refrigerator for up to 7 days.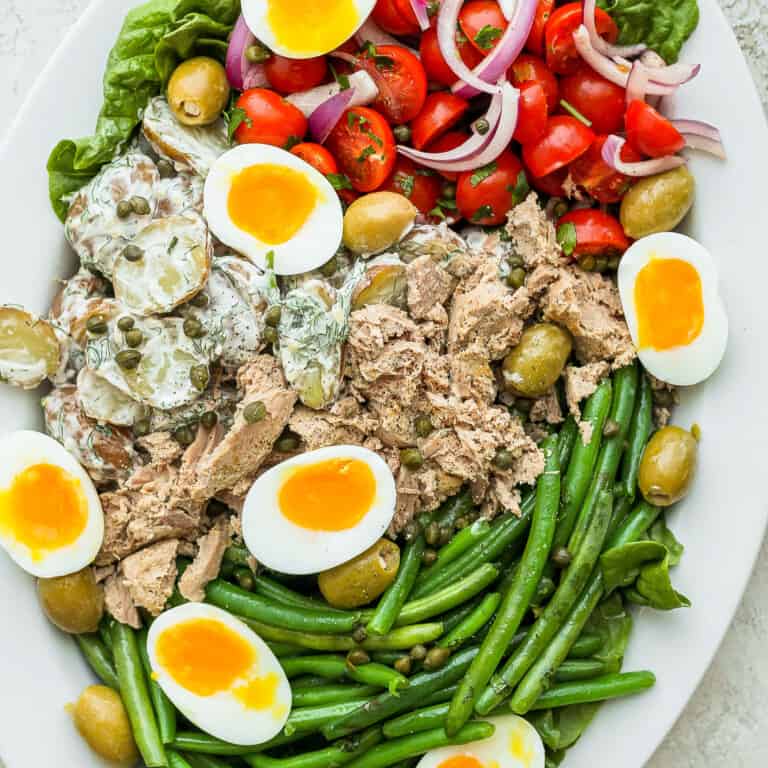 Nicoise Salad
This Nicoise Salad has layers of vegetables, delicious dressing, and a ton of flavor.
Ingredients
Tomatoes
1/2

large red onion

thinly sliced

10

oz.

cherry tomatoes

halved

1

tablespoon

red wine vinegar

½

teaspoons

salt

½

teaspoon

ground pepper

2

tablespoons

fresh parsley

minced
Potatoes
1

lb.

small red potatoes or baby yukon gold potatoes

halved (we used a mixture)

2

tablespoons

mayonaise

2

teaspoons

fresh lemon juice

3

cloves

fresh garlic

peeled and minced

¼

cup

fresh dill

minced

¾

teaspoon

salt

½

teaspoon

ground pepper
Tuna
2

5-oz.

cans tuna in olive oil

drained but kept in large chunks

½

teaspoon

ground pepper
Other Ingredients
¼

cup

anchovy stuffed olives

or your favorite olives

2

tablespoons

capers
Instructions
Tomatoes
Add all the ingredients for the tomatoes into a large bowl.

Toss the ingredients together until combined.

Set the tomatoes aside while preparing other ingredients.
Potatoes
Bring a large pot of salted water to a boil. Add the halved potatoes to the pot. Boil the potatoes until they are fork tender, about 8-10 minutes.

Meanwhile, prepare the potato dressing by combining mayo, lemon juice, galic, dill, salt, and pepper to a bowl and whisk the ingredients together until combined. Set aside.

Carefully strain the potatoes and rinse them with cold water. You want the potatoes to stay intact.

Place the potatoes into a large bowl and pour the dressing over the potatoes. Carefully fold the potatoes into the dressing until the potatoes are covered with dressing. Place in the refrigerator.
Beans
Prepare a large bowl with ice water. Set aside.

Bring a large pot of salted water (very salty) to a boil. Add the trimmed green beans to the pot. Set a timer for 2 minutes and allow the beans to blanch.

Remove them promptly from the water after 2 minutes and strain the beans. Place the green beans immediately into the ice water bath. Let them sit.

Once the beans are cool and crunchy (about 10 minutes), drizzle the green beans with olive oil, sprinkle with salt, and toss.

Finally, add the fresh mint to the beans and toss. Place in the refrigerator.
Eggs
Bring a small pot of water to a boil.

Add eggs to the water and let them boil for 7 minutes.

Remove the eggs from the water with a slotted spoon.

Place the eggs in cold water.

Peel the eggs and half them. Set aside.
Assembly of Salad
To assemble the salad, place the tomatoes on one side of a large platter, then the potatoes, then the beans.

Sprinkle the olive oil and capers over all the ingredients.

Place the eggs over the whole plater and then place the tuna in the middle of the patter. Sprinkle pepper over the tuna.

Serve over romaine lettuce or serve with sliced or toasted french bread.
Tips & Notes
The recipe takes a bit of time because each component is dressed separately. Feel free to prepare the steps simultaneously if you have the capacity. Otherwise, prepare the different parts of the salad in order.
When the salad is assembled, we recommend sprinkling the whole salad with a bit more salt and pepper.
Nutrition facts
Calories:
385
kcal
Carbohydrates:
37
g
Protein:
27
g
Fat:
15
g
Fiber:
7
g
Sugar:
6
g
Photography: photos taken in this post are by Erin from The Wooden Skillet.