This grilled salmon in foil needs to be the star of your next summer bbq. This grilled salmon is infused with herby butter making it ultra-tender and flakey!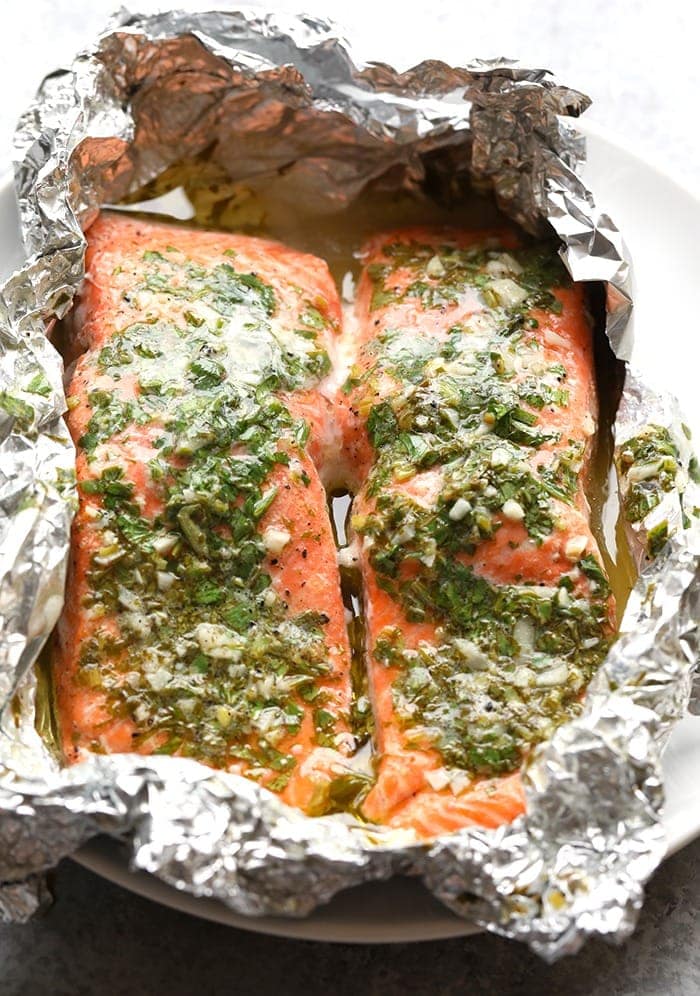 Salmon on the Grill in Foil
We are back with another amazing grilled salmon recipe that is so easy to make and infused with tons of light and fresh flavors. We've got another basic grilled salmon recipe that's ready in 8 minutes, but this one is a little different because it's wrapped in foil.
We love wrapping salmon in foil because it infuses the salmon with whatever you're cooking it in. In this recipe, we're using an herby butter.
Looking to grill white fish? Here's a fresh and simple grilled fish recipe!
Why you'll love it!
When it's time to freeze your cottage cheese ice cream, feel free to transfer it into a bread tin, or like we've done, right back in the cottage cheese container!
Infused with flavor: first and foremost, a foil pack helps the salmon really infuse with flavor. Our recipe uses butter and fresh herbs.
Flakey and tender: the foil pack helps steam the salmon making it extra tender and flakey.
Dinner in under 30: From start to finish, you can have this foil-wrapped salmon ready to go in less than 30 minutes.
Low carb and high protein: This salmon clocks in at just 1g carbohydrate and 22g protein!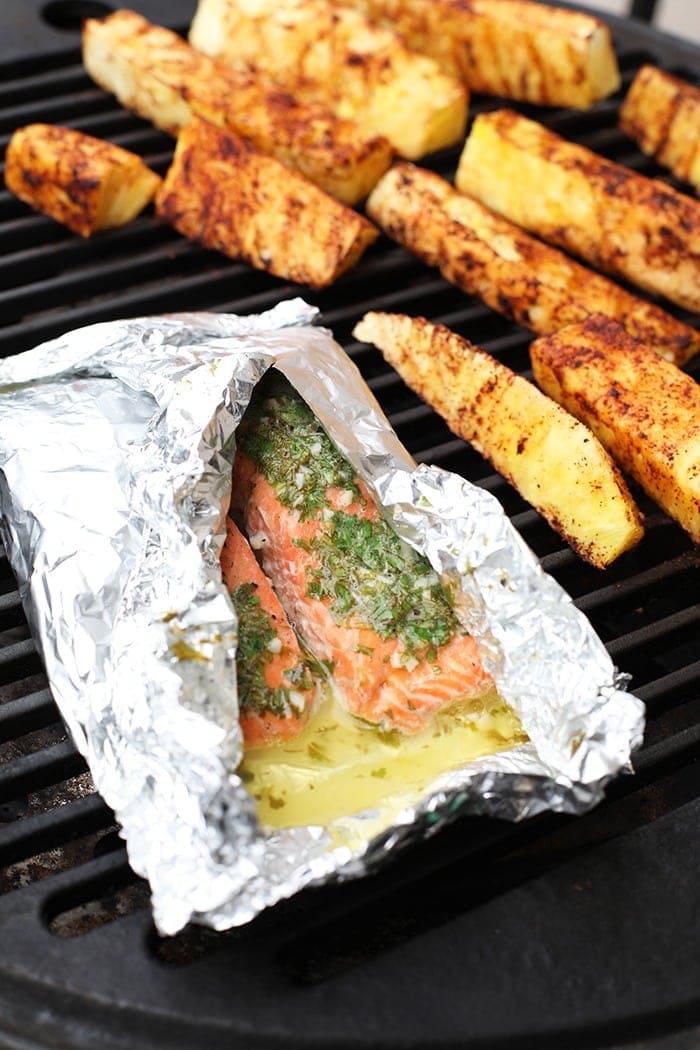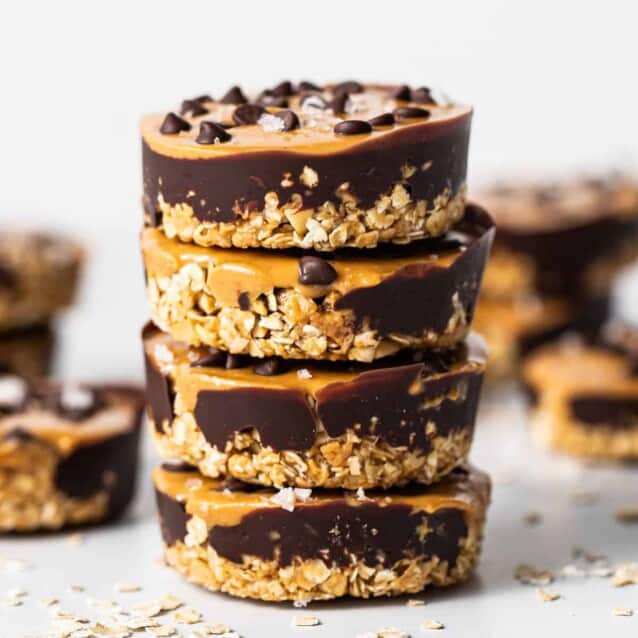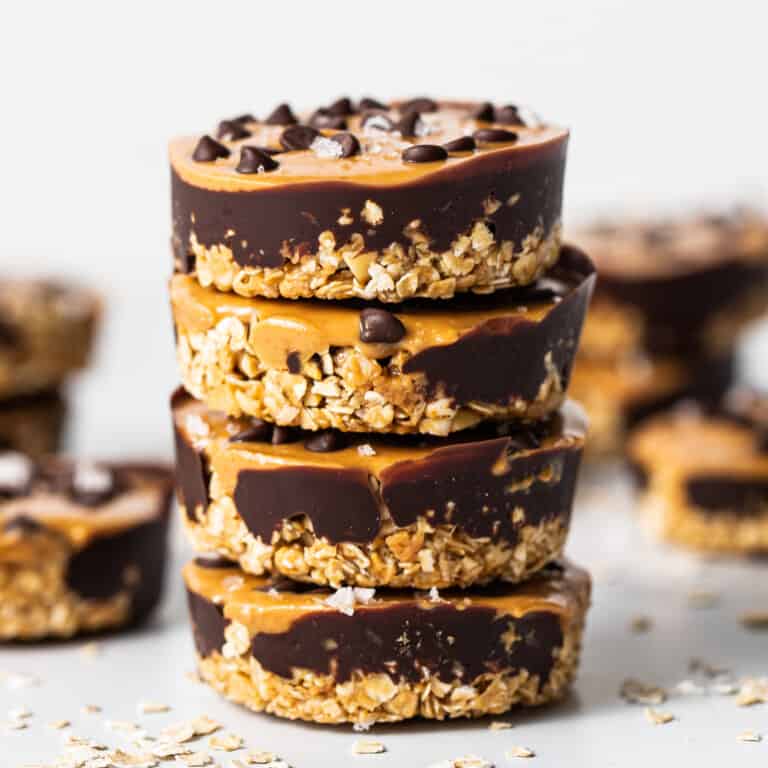 Get our Top 10 5-Star Recipes!
Join our email list for new recipes and BONUS: get our top 10 ⭐️⭐️⭐️⭐️⭐️ recipes e-book!
How to Grill Salmon in Foil
This grilled salmon foil recipe is ready in under 30 minutes. You just can't beat that for any meal. If you are looking for healthy, delicious, and fresh recipes to serve your family, start with this one right here.
Prep Salmon
Remove your salmon filets from the packaging and use two pieces of paper towel to remove as much moisture from the filets as possible.
Prep the herby butter topping. The flavor for the grilled salmon recipe comes from this glorious butter. It's simple. All you have to do is mix cilantro, garlic, salt, and pepper into softened butter and you're golden.
Try Surrender Salmon!
Our all-time favorite salmon is Surrender Salmon. They catch wild-Alaskan salmon off of Bristol Bay in Alaska. The salmon is bright orange, so flakey and delicious, and truly the best.
Surrender Salmon is a family-run company based here in Minneapolis and they are good friends of ours! Support a local business if you can.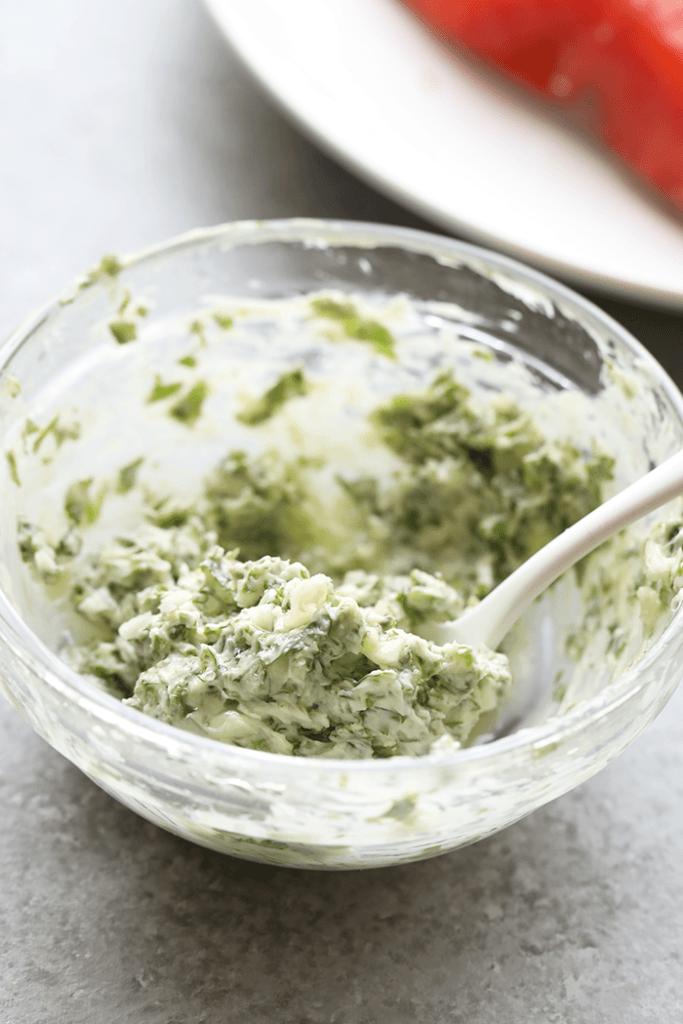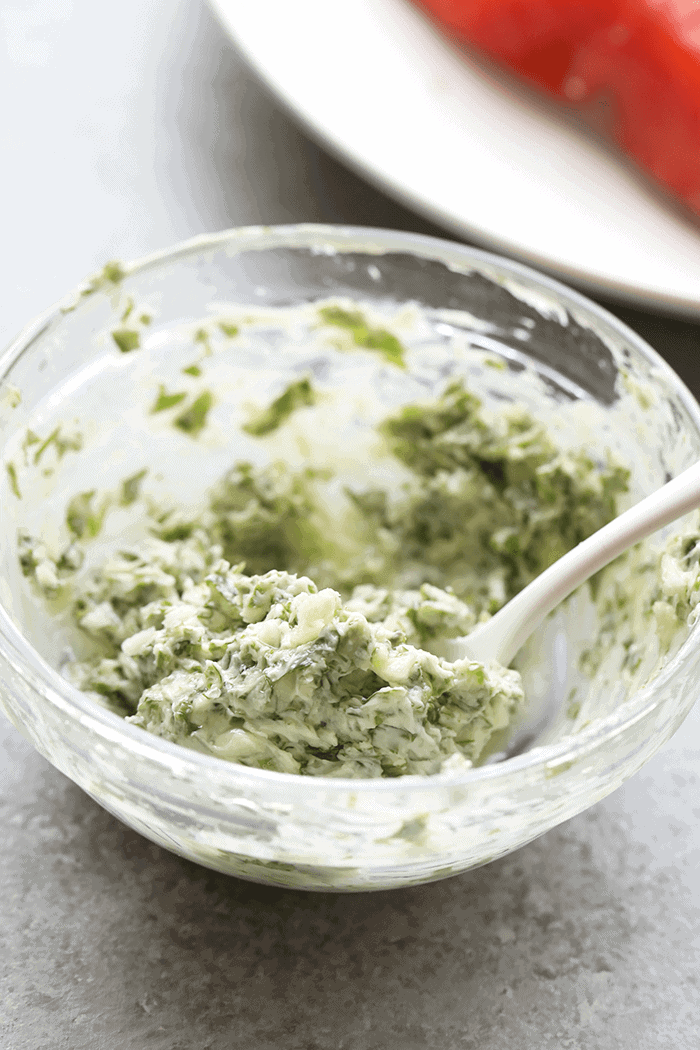 Create Foil Pack
After that, it's all about the foil pack. Place the salmon on a piece of heavy-duty foil and then fold all 4 sides in and seal. Just be sure there is no way for heat or liquid to escape.
why a foil pack?
Creating a foil pack is the best way to steam your salmon on the grill. It traps all of the flavors and heat to evenly cook the salmon!
Grill salmon in foil
Now it's time to grill your salmon! Preheat grill to 400ºF. Once fully heated, place salmon directly over the flame on your grill and let cook for 8-10 minutes.
We recommend checking your salmon after 8 minutes. The goal is to have your salmon be lighter in color, firmer, and flakey! Not done? Seal her back up and keep cooking.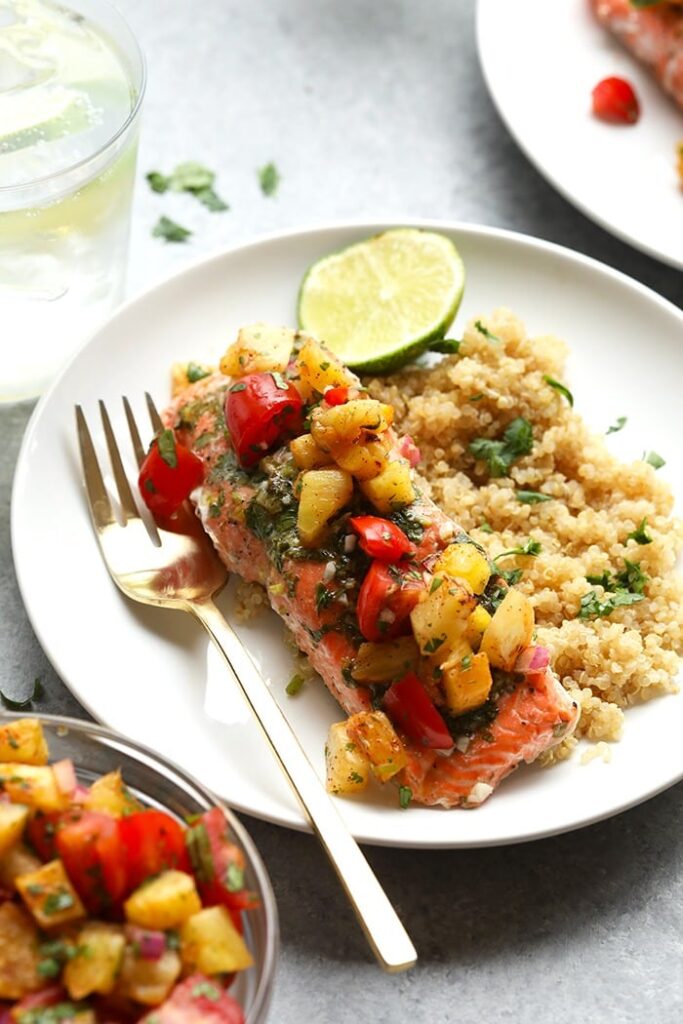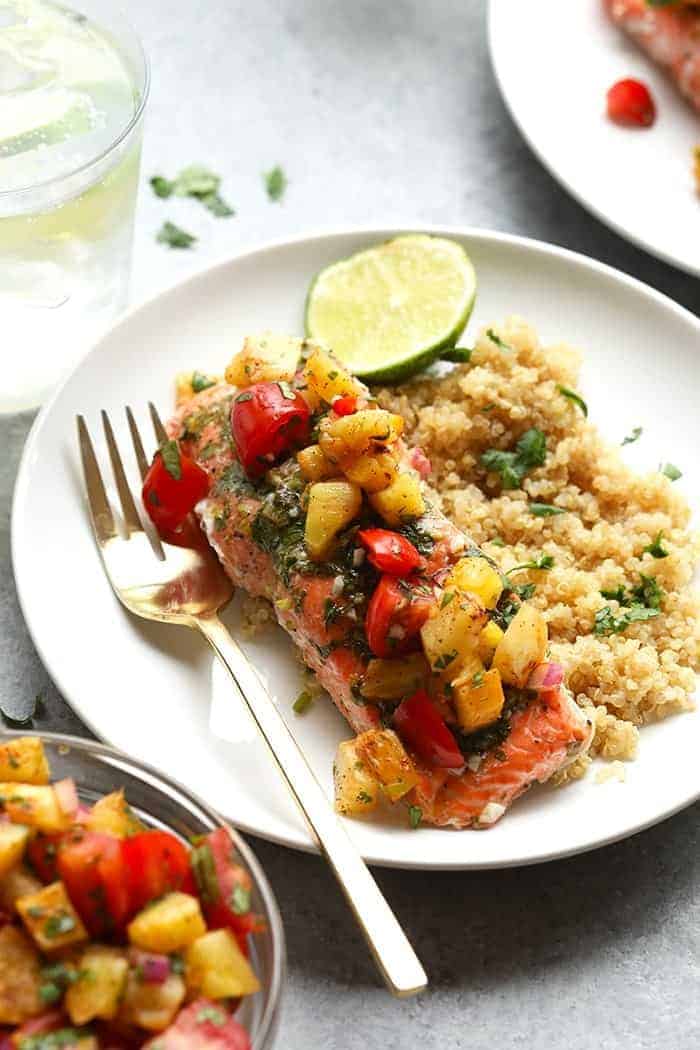 FAQ
What temperature should I grill salmon at? 

Preheat your grill to 400ºF to grill salmon.
How long do you cook salmon on the grill? 

Salmon cooks fairly quickly compared to other meats that you are used to grilling. Depending on how you like your salmon, cook salmon in foil for 8-10 minutes.
What temperature should grilled salmon be? 

The internal temperature of the salmon should be 145ºF. Something to keep in mind is that the salmon will continue to cook for a few minutes after you remove it from the grill! Leave the foil pack on the grill if you like your salmon well done!
How long do you grill salmon in foil?

grilled salmon in foil only takes 8 to 10 minutes to fully cook to an internal temperature of 145ºF.
Can I cook grilled salmon in the oven? 

Yes, you can prepare grilled salmon in the oven instead of the grill. Just set the oven to 400ºF and follow the same directions in the recipe card!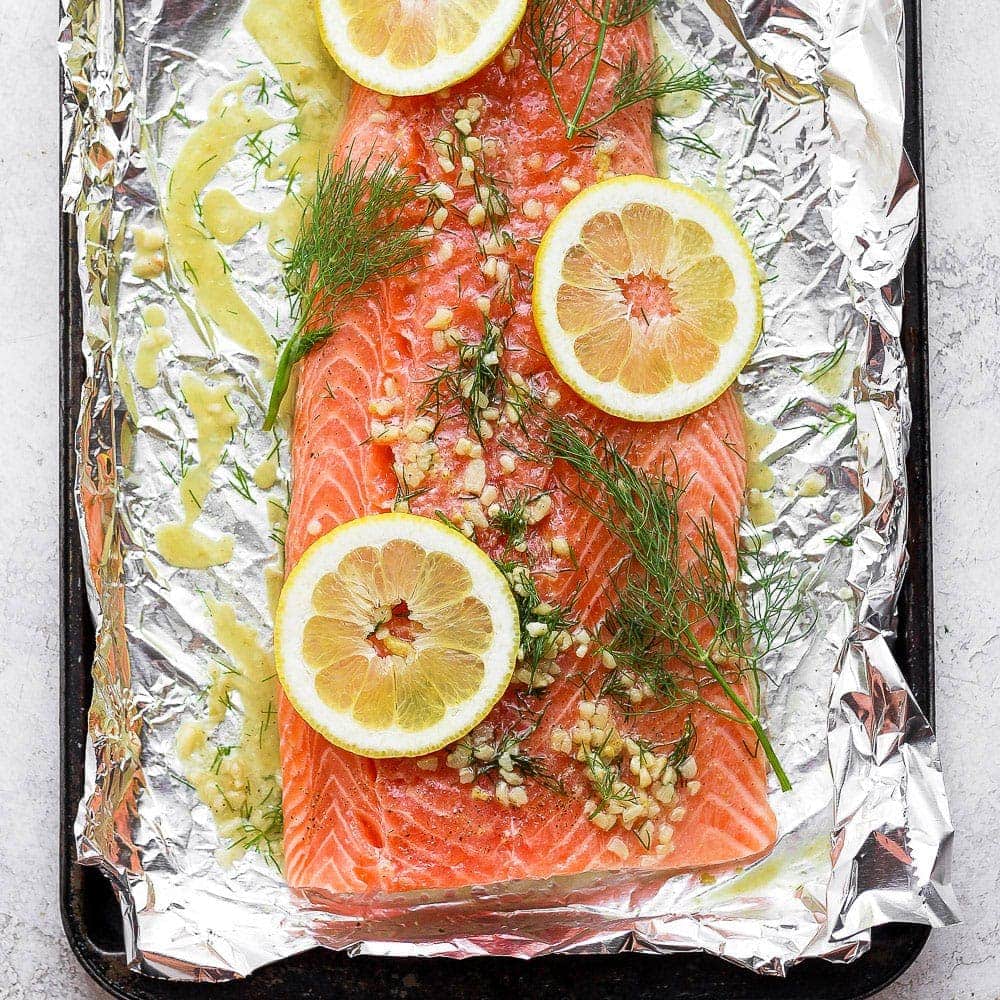 Try it!
Salmon Marinade
Marinate your salmon right in the foil pack and then toss it on the grill for an easy, flavorful grilled salmon in foil recipe!
Get Recipe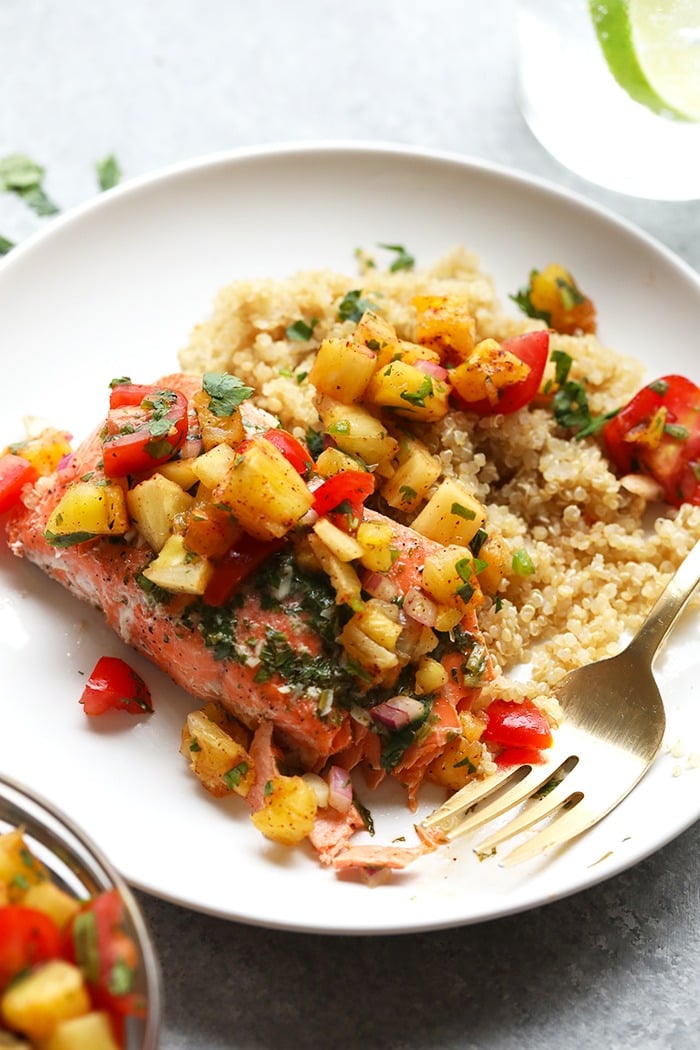 Try it with Pineapple Salsa!
Take this recipe up a notch with a delicious pineapple salsa topper to add more flavor and nutrients to your meal!
Here's what you need:
pineapple
chili powder
red onion
cilantro
cherry tomatoes
jalapeño
apple cider vinegar
lime juice
salt
We suggest grilling your pineapple for extra flavor, but you have the option to skip that step altogether! Mix everything together and serve it with your salmon!
Serving Suggestions
Grains
We served this salmon next to stovetop quinoa, but try it next to cilantro lime rice or even a quinoa salad!
Grilled Vegetables
Any kind of grilled veggie would be delightful next to this salmon. Here are some suggestions:
Grilled Carrots– These grilled carrots are sweet and savory, perfectly cooked, and full of amazing flavor! Throw these grilled carrots on the grill and serve them alongside any of your favorite BBQ dishes.
Grilled Zucchini– Turn on the grill and throw on some zucchini! Making grilled zucchini is easy and if you do it right you'll end up with grilled zucchini with a little crunch rather than a soggy mess.
Foil Pack Grilled Red Potatoes– These foil pack grilled potatoes are an easy side to add to any bbq. All you need to do to make these grilled potatoes in foil is toss them in olive oil, spices, and create a foil pack!
Drinks
Complete your meal with one of these refreshing cocktails!
Strawberry Vodka Lemonade– This Strawberry Vodka Lemonade is made with fresh strawberry puree, fresh squeezed lemons and a honey simple syrup, plus vodka, of course! Get ready for your new favorite homemade cocktail.
Honey Greyhound Cocktail– It's happy hour time! Make this Honey Greyhound Cocktail for a refreshing cocktail that is delicious, naturally sweetened, and perfect for a night out on the patio or the perfect cocktail to mix up when you have friends over.
Skinny Margarita– Our signature skinny margarita recipe is made with 4 simple ingredients: lime juice, tequila, ice, and your choice of honey or agave simple syrup!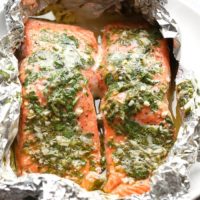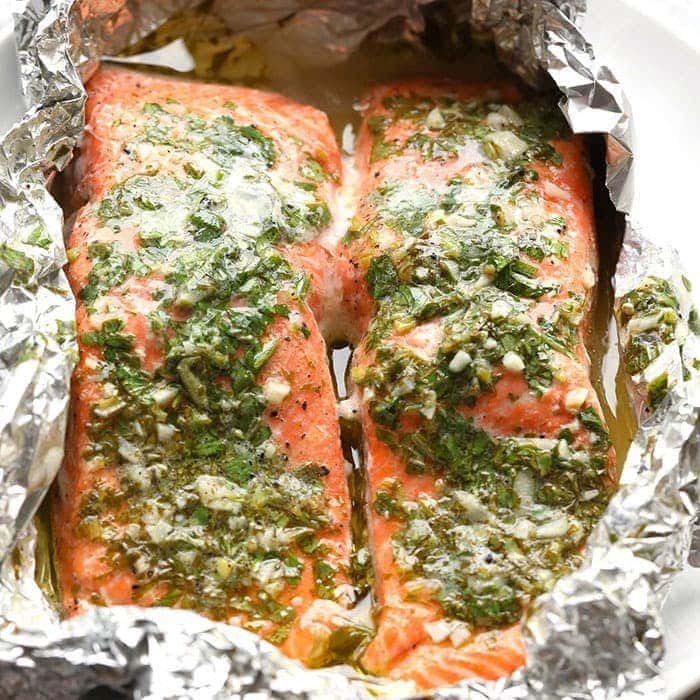 Easy Grilled Salmon in Foil
This incredible grilled salmon in foil is made with an herby butter in less than 30 minutes! It's high protein and low carb making it the ultimate healthy summer meal.
Ingredients
Grilled Salmon in Foil
2/3

lb.

salmon

sliced into 2 fillets

2

tablespoons

butter

softened

2

tablespoons

fresh chopped cilantro or parsley

1

teaspoon

minced garlic

salt and pepper

to taste

1

tablespoon

lime juice

~1/2 lime
Pineapple Salsa
1

small pineapple

cored and cut into strips (~2 cups chopped)

1/2

tablespoon

chili powder

1/2

red onion

minced

1/4

cup

fresh minced cilantro

1

cup

cherry tomatoes

quartered

1

tablespoon

fresh minced jalapeño

1

tablespoon

apple cider vinegar

2

tablespoons

lime juice

1/8

teaspoon

salt
Instructions
Grilled Salmon in Foil
Preheat grill to 400ºF. Spray a large piece of tin foil with non-stick cooking spray. Set aside.

Prepare salmon filets by patting dry with a paper towel and seasoning with salt and pepper.

Then, mix together softened butter, cilantro, garlic, salt, and pepper in a small bowl.

Spread the butter mixture on top of the salmon filets and transfer them onto the tin foil. Then, squeeze on lime juice.

Create a foil pack by folding the top half of the tin foil over the salmon and pinching the sides together. Make sure there are no holes where air can escape.

Grill salmon at 400ºF for 8-10 minutes* or until the internal temperature is 135ºF and flakey.

Remove from the oven and open the foil pack to let the steam out. Let rest for 5 minutes before eating.
Pineapple Salsa
In a medium-size bowl, mix together onion, cilantro, cherry tomatoes, jalapeño, apple cider vinegar, and lime juice. Place in the refrigerator for later.

Prepare pineapple by coring and slicing into strips. Season with 1/2 tablespoon of chili powder and about 1/8 teaspoon of salt.

Grill pineapple at 400ºF over direct heat for 12-15 minutes, rotating every 5 minutes.

Remove from heat, let cool, and then cut into small chunks.

Add pineapple to the rest of the salsa ingredients and mix well.
Tips & Notes
Oven: option to also bake the salmon in the oven. Follow the steps in making your foil pack and then bake at 400ºF for 7-10 minutes, or until flakey.
Cook time varies based on the size and thickness of the salmon filets.
Nutrition information is just for the salmon.
Nutrition facts
Calories:
273
kcal
Carbohydrates:
1
g
Protein:
22
g
Fat:
20
g
Fiber:
0
g
Sugar:
0
g