This simple salmon marinade is so fresh and delicious. It's made with fresh lemon, garlic, and dill. You'll never want to eat salmon any other way!
PS: marinated salmon comes out so tender, flakey, and infused with flavor. You will be head over heels for this salmon marinade recipe!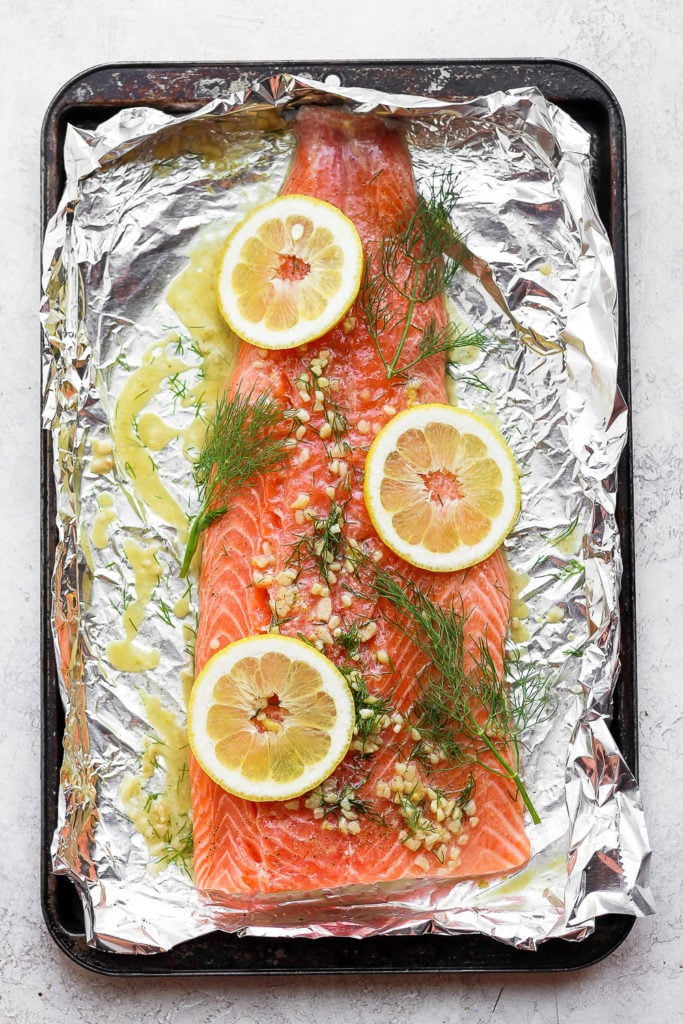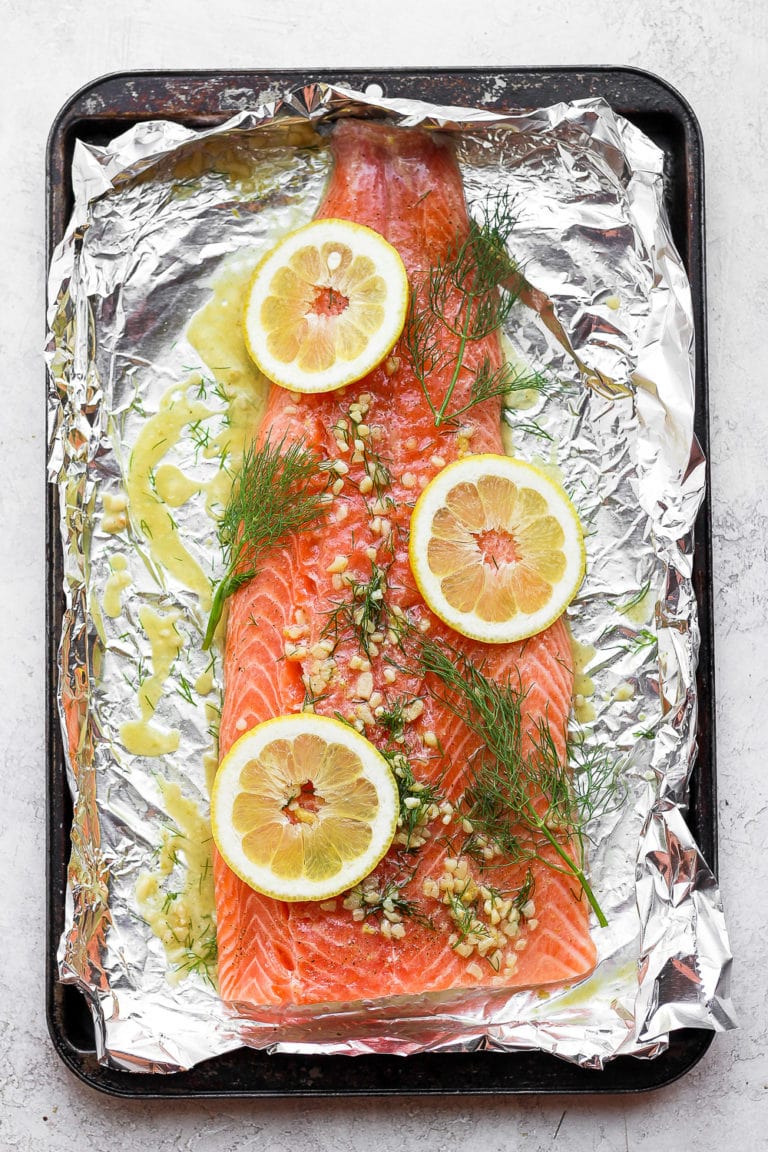 Best Salmon Marinade
Say hello to the brightest and best salmon marinade on the internet. It is the perfect combination of citrus and herb and it makes for the most tender and flakey salmon recipe! If you are hoping to make oven-baked salmon, pan-seared salmon, or grilled salmon, THIS is your salmon marinade!
This salmon marinade is:
why marinate your salmon?
Marinated salmon is seriously so good! By marinating your salmon fillets in a combination of citrus, herbs, and oil, you are infusing it with flavor so every bite is delicious.
What kind of salmon should I use?
You can use a half salmon filet (like pictured) or you can use a handful of smaller salmon fillets that are pre-portioned.
The important thing is the weight of salmon. This salmon marinade recipe is the perfect amount for 2.5-3 pounds of marinated salmon.
Try Surrender Salmon!
Our all-time favorite salmon is Surrender Salmon. They catch wild-Alaskan salmon off of Bristol Bay in Alaska. The salmon is bright orange, so flakey and delicious, and truly the best.
Surrender Salmon is a family-run company based here in Minneapolis and they are good friends of ours! Support a local business if you can.
Kitchen Tools for Marinating Salmon
You don't need much when it comes to this tasty salmon marinade. Here are the kitchen tools we recommend: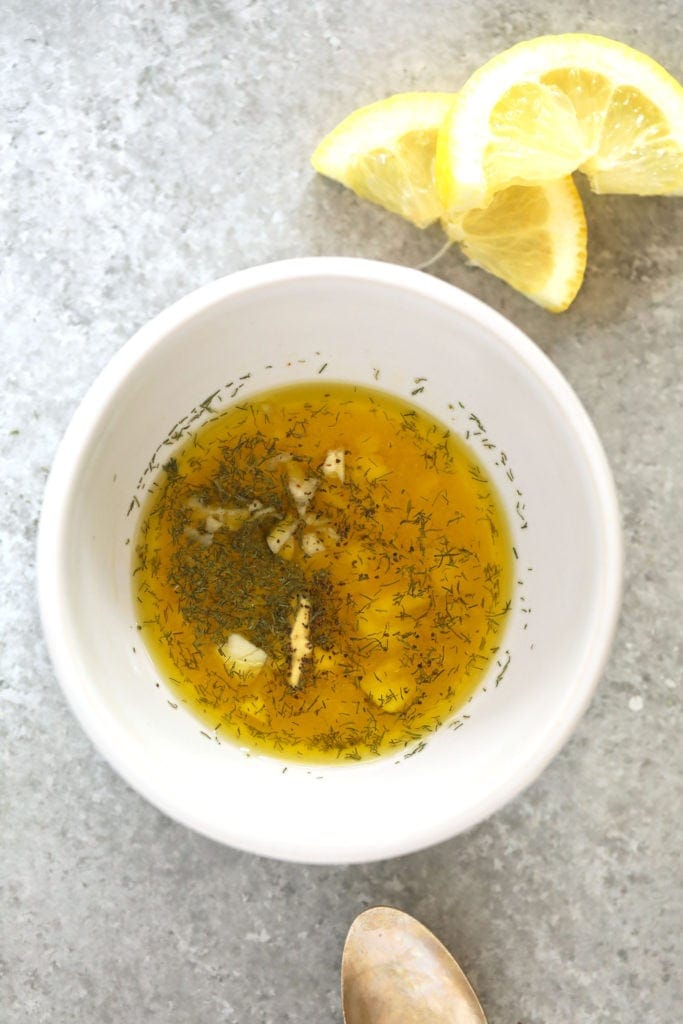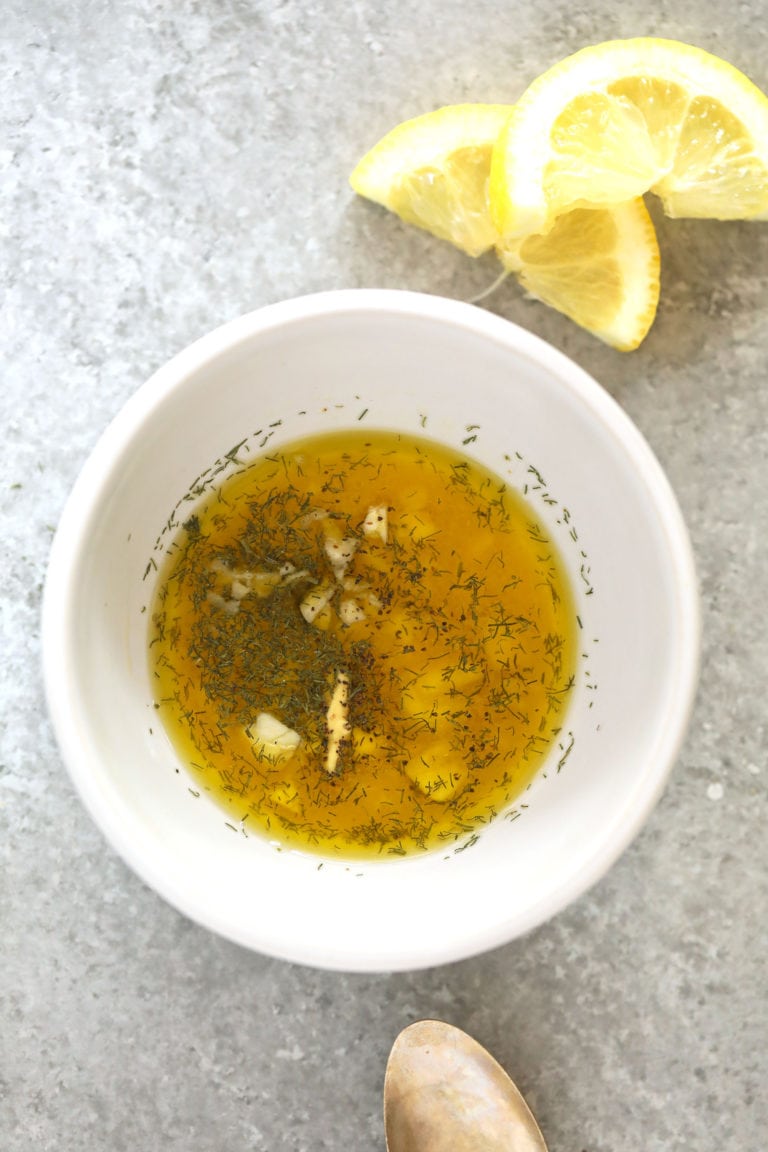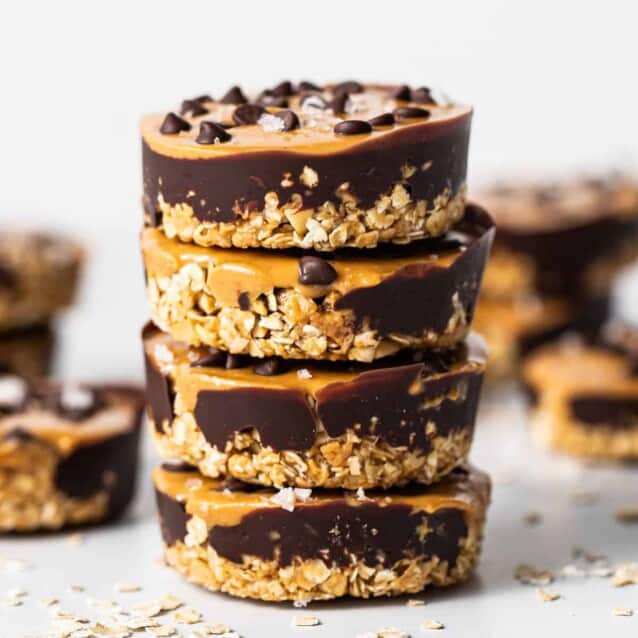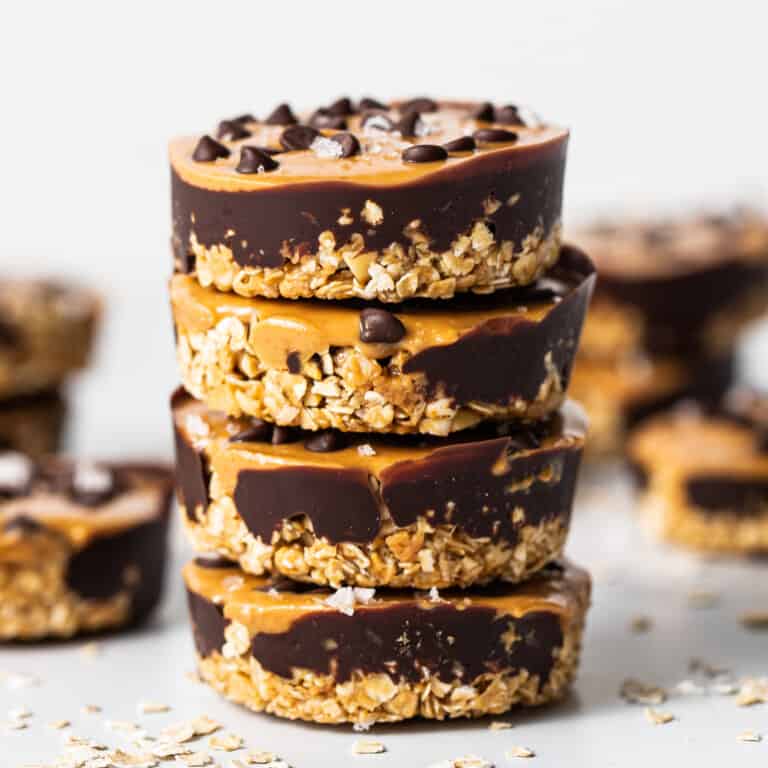 Get our Top 10 5-Star Recipes!
Join our email list for new recipes and BONUS: get our top 10 ⭐️⭐️⭐️⭐️⭐️ recipes e-book!
What You Need
This marinade for salmon is bright and lemony. It calls for simple, fresh ingredients. Here's what you need:
Olive oil- olive oil is the base of this marinade. It helps bind all the ingredients together and helps the marinade cling to the salmon.
Lemon Juice- The brightness of this marinade comes from the lemon juice! Fresh lemon juice is always a good idea with fish.
Mustard– You can't go wrong with adding a little mustard to a marinade. It offers a savory flavor and a zing of vinegar.
Garlic- Smash and mince fresh garlic. It is a great addition to any sauce, marinade, or dressing.
Honey– honey adds a bit of sweetness and really balances out the lemon juice and dill. Feel free to swap for maple syrup.
Salt– Don't skip the salt! Salt brings out the flavor of all of these ingredients.
Fresh Dill- fresh dill is the money ingredient in this marinade. When I say fresh dill, I mean fresh! It really makes a difference compared to dried.
A note: If you do one thing, use fresh herbs in this marinade! You will not regret it one bit.
How to Marinate Salmon (3 steps)
This recipe is so easy, it's ready in less than 5 minutes!
Combine: simply combine all of the ingredients in a bowl or jar and mix to combine.
Marine: Situate your large salmon fillet or 4-6 small salmon fillets in a dish or large gallon-size bag and pour in the marinade. Make sure that all sides are nice and coated.
Chill: Let salmon marinate in the fridge for 30-45 minutes.
You can see that in these particular photos, we laid a piece of tin foil on top of a baking sheet and marinated the salmon right on the baking sheet because after we baked the salmon in the oven.
How Long to Marinate Salmon?
Marinate your salmon fillets for around 30-45 minutes and not any longer.
Did you know? Unlike other proteins, you don't want to marinate salmon for too long because the citrus in the marinade can actually start the cooking process.
prep it early
You can prepare this salmon marinade a few days beforehand to use as a marinade for salmon throughout the week. Just add all the ingredients to a mason jar, shake, cover, and store in the refrigerator for up to 5 days.
Bonus: this salmon marinade is actually a delicious vinaigrette, too! If you have leftovers, toss it with some greens and enjoy.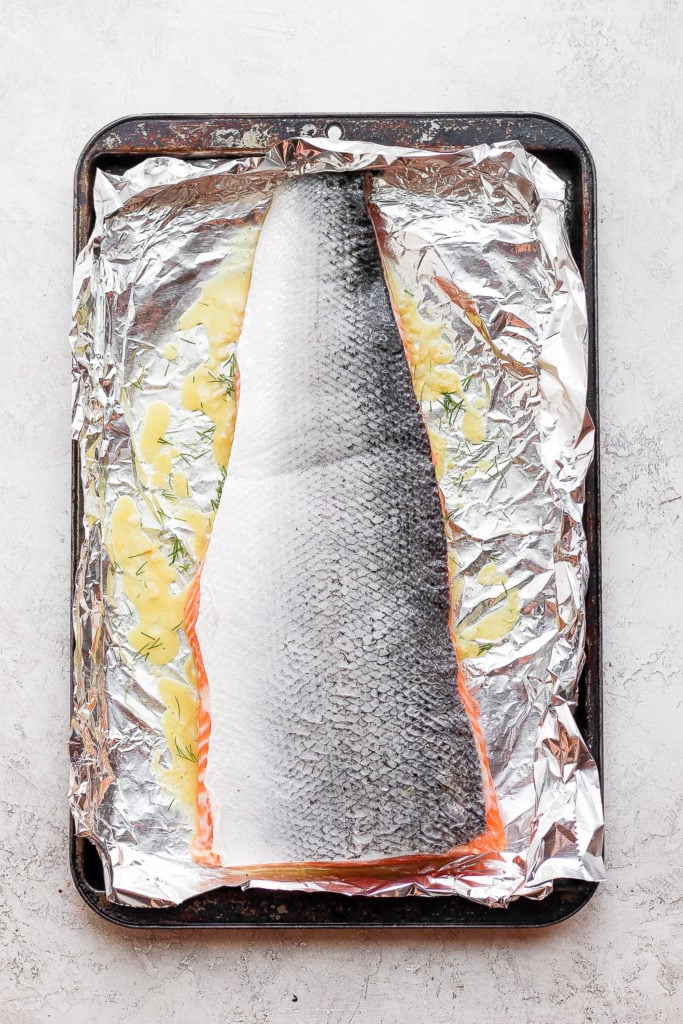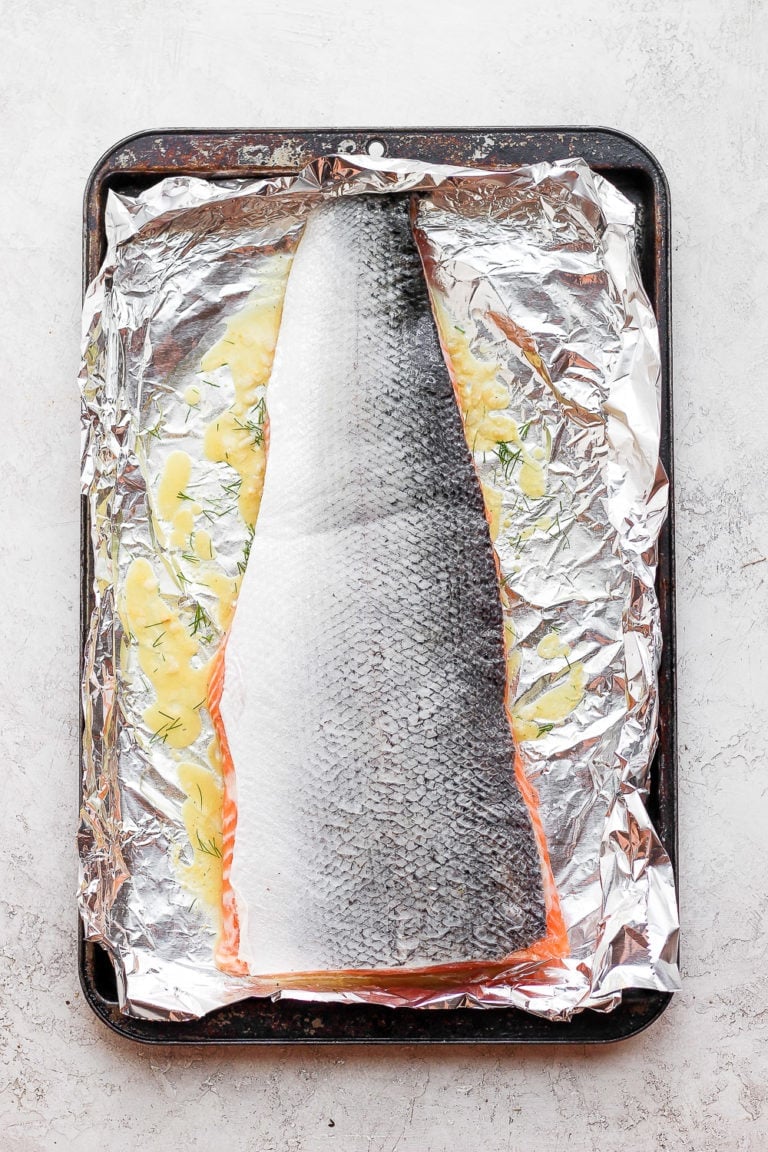 Ways to Cook Salmon
Now that you learned how to make this marinade for salmon, it's time to cook your fish. We have so many salmon recipes on FFF that you can choose from!
No matter how you prepare your salmon in the end, you can use this salmon marinade to flavor it. Here are some options:
Grilled Salmon
Our Grilled Salmon method is so easy. Grill salmon skin-side down at 450ºF (medium-high heat) for 6 minutes. Then, flip the salmon over and grill for an additional 2 minutes. Flip back over and grill until the salmon reaches an internal temperature of 140ºF – 145ºF. The skin and flesh will have a nice caramelization to it. Let rest for 5 minutes and enjoy.
Oven-Baked Salmon
Oven-Baked Salmon is so easy to make! Place salmon and the marinade on a large piece of tin foil skin-side down. Seal the salmon inside of the tin foil to create a tin foil boat and place it on a baking sheet. Bake marinated salmon at 375ºF for 25-30 minutes. Check the internal temperature of the salmon, it should read at least 145ºF. Use a fork to flake the salmon and it should be light pink in color.
Sous Vide Salmon
Sous Vide Salmon is such a fun, fool-proof way to cook perfect salmon. Place the marinade and salmon fillets in a vacuum-sealed bag and remove as much air as possible and seal. Set your water bath to 130ºF and cook your salmon for 45 minutes.
Remove from the bag and transfer fillets to a baking sheet. Broil salmon on high for 1-3 minutes. Check the internal temperature of the salmon, it should read at least 145ºF. The salmon flakes should come out nice and tender.
Pan-Seared Salmon
Pan-Seared Salmon is a fan favorite for cooking marinated salmon! Heat a couple of tablespoons of butter in a nonstick pan over medium/high heat. Once the butter has melted, pan fry the salmon skin-side down for about 4 minutes. Flip, and sear the salmon for an additional 3-4 minutes or until the internal temperature reaches 145ºF.
Air Fryer Salmon
Air fryer salmon comes out so crispy on the outside and flakey on the inside. Simply air fry the salmon at 4000F for 7-8 minutes or until the internal temperature reaches 145ºF.
Smoked Salmon
Smoked salmon is so yummy and flavorful thanks to those pellets. We love it with a salmon seasoning or with a marinade like this. Smoke the salmon at 225ºF for 1 hour. Then, up the temperature to 375ºF and cook for 10 minutes.
Salmon Cook Temp
According to FoodSafety.gov, salmon (fish with fins) needs to be cooked to 145ºF to be safely consumed. This, my friends, is our #1 tip when cooking salmon.
Measure the internal temperature at the thickest part of your salmon fillet. It should be at least 145ºF before eating.
How to Store Cooked Salmon
Salmon can last up to 5 days in an airtight container in the refrigerator. If you do have leftover salmon, try making our yummy salmon patties or these salmon breakfast frittatas.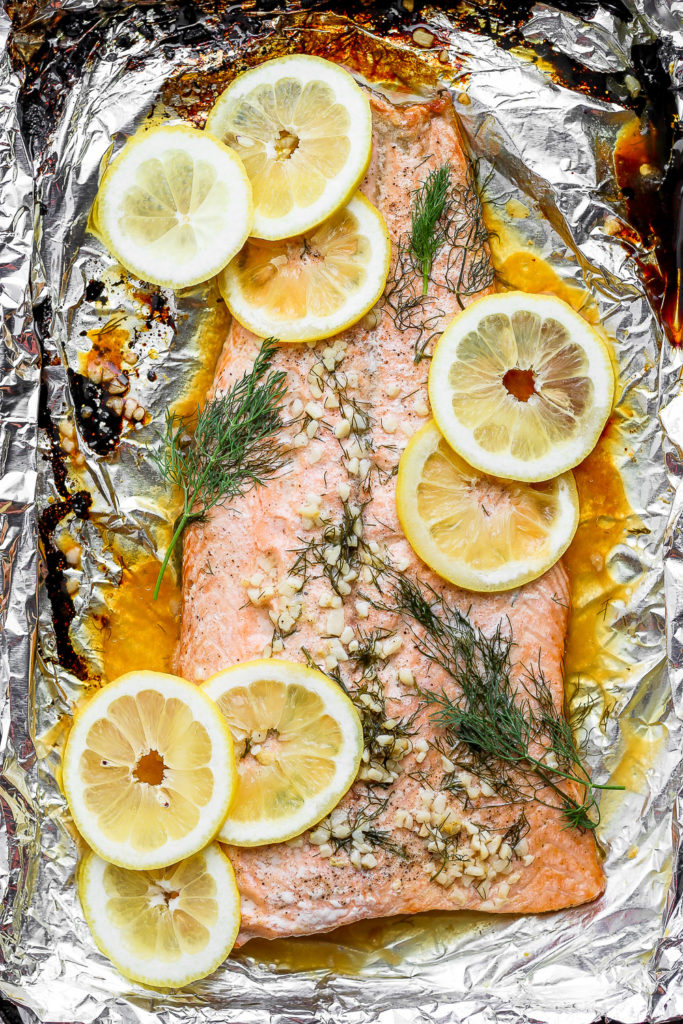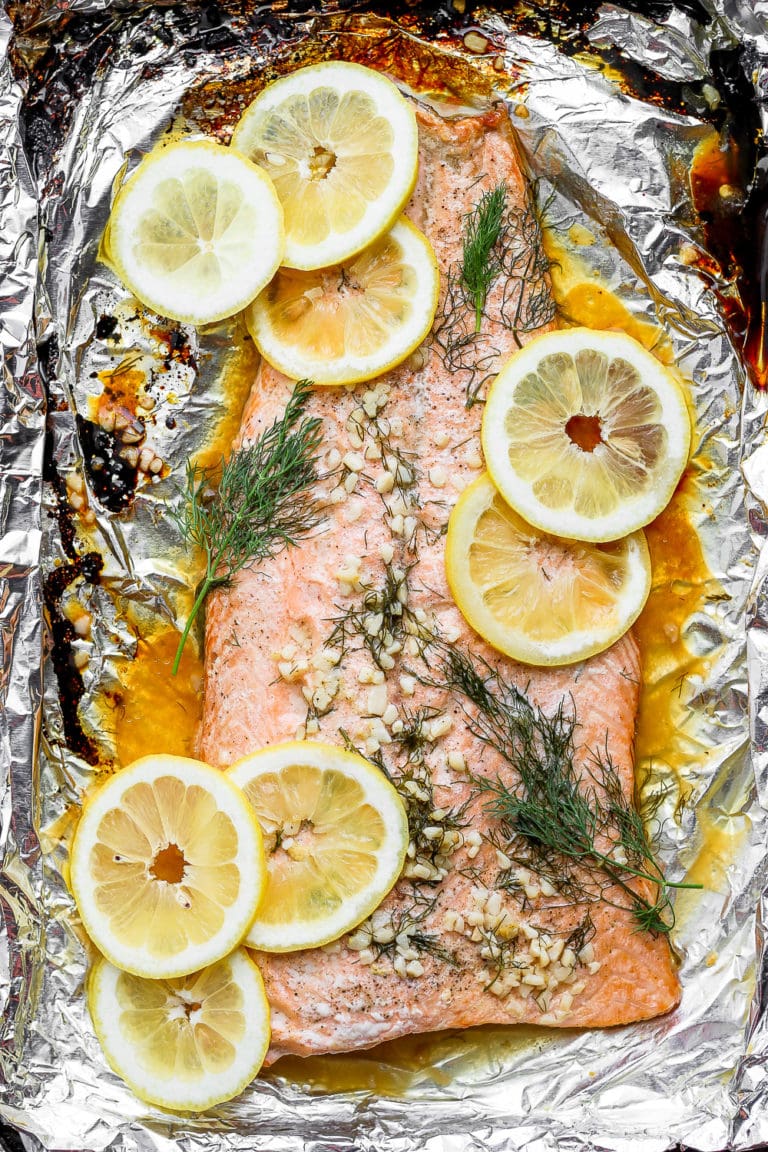 FAQ
How long should you marinate salmon?

We recommend marinating salmon for 30-45 minutes and no longer.
How do you marinate salmon?

Marinate salmon skin-side up in a dish or in a gallon-size plastic bag for best results.
What flavors go best with salmon?

Lemon and dill are 2 flavors that go amazing with salmon. You can also try maple dijon or bbq.
When should you marinate salmon?

We recommend marinating salmon around 1 hour before cooking especially if you're planning to use lemon or any kind of vinegar so the salmon flesh doesn't start cooking in the citrus.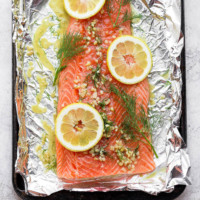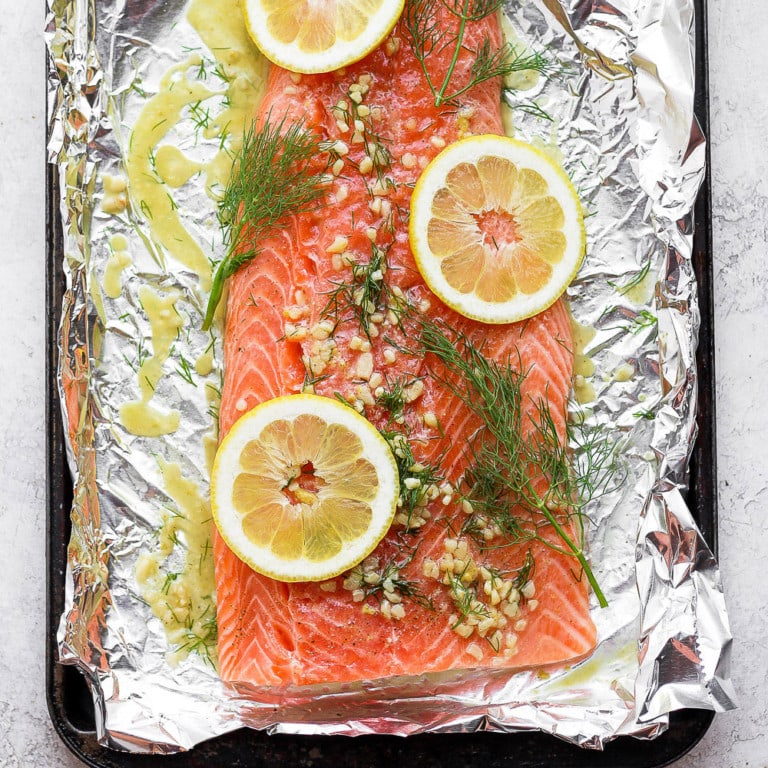 Best Salmon Marinade
This lemon dill salmon marinade recipe is fresh, easy, and so tasty! Your salmon will come out so tender, flakey, and full of flavor.
Ingredients
Instructions
Combine all of the ingredients for this salmon marinade (minus the salmon) into a medium bowl and whisk to combine.

Pour the marinade onto the bottom of a baking sheet, large casserole dish, or in a gallon-size plastic bag, and then place the salmon fillet skin side up in the marinade and cover. 

Let the salmon marinate in the refrigerator for at least 30-45 minutes. Make sure not to marinate any longer or you risk the citrus activating the cooking process.
Tips & Notes
Salmon: option to use one large fillet just like we did in these photos, or multiple smaller fillets. This salmon marinade can easily be doubled or tripled depending on how many lbs. you're hoping to cook.
Nutrition information is for 2 lbs. salmon and serves 6. 
Nutrition facts
Calories:
328
kcal
Carbohydrates:
5
g
Protein:
39
g
Fat:
16
g
Fiber:
0
g
Sugar:
2
g
Photography: photos taken in this post are by Erin from The Wooden Skillet.