These delicious grilled shrimp foil packets are packed with vegetables and seasoned with homemade old bay seasoning. You add the shrimp right at the end of the cook time for a delicious well rounded meal.
Delicious Grilled Shrimp Foil Packets
Why shrimp foil packets? Shrimp foil packets are an easy and delicious meal all wrapped up in foil. These shrimp foil packets are a whole meal in one. You've got corn, potatoes, kielbasa, tomatoes, and shrimp.
These shrimp packets are easy to make and the perfect summer meal for a big group or for a family who loves leftovers.
Why you'll love it!
Reasons why you'll love it.
These shrimp packets are full of flavor.
Clean up is easy!
You can add ingredients that you have on hand.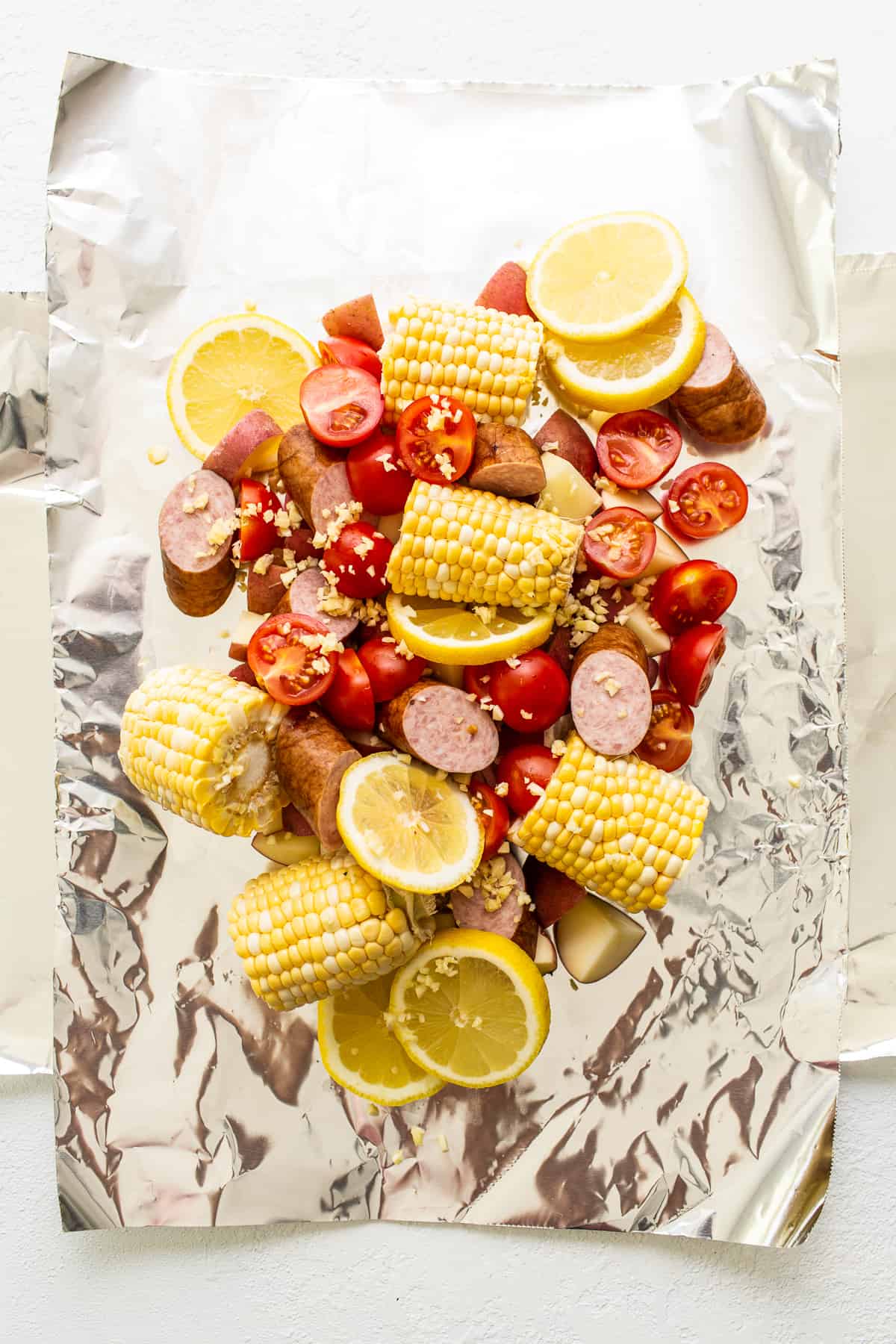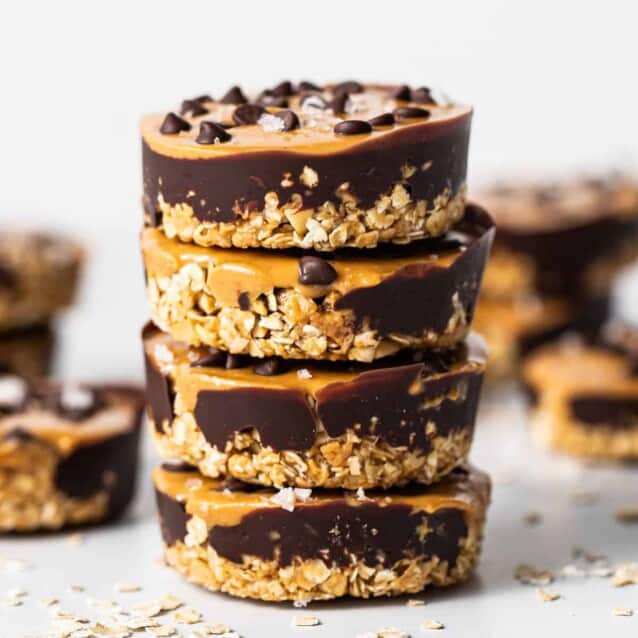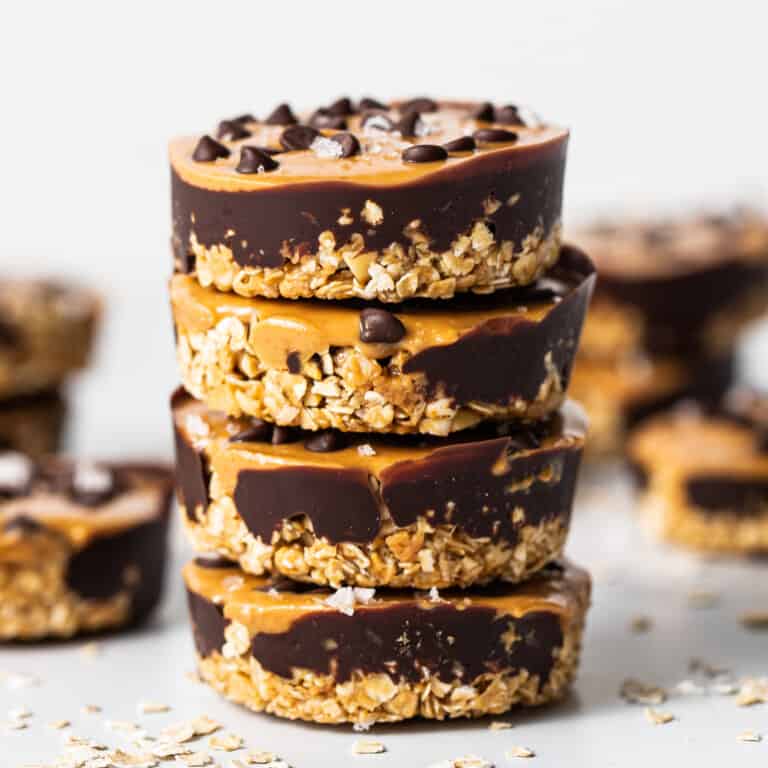 Get our Top 10 5-Star Recipes!
Join our email list for new recipes and BONUS: get our top 10 ⭐️⭐️⭐️⭐️⭐️ recipes e-book!
Featured Ingredients
Jumbo shrimp: we suggest making these shrimp packets with jumbo shrimp. Smaller shrimp tend to overcook easily.
Old bay seasoning. We suggest making our homemade old bay seasoning, but feel free to use store bought if you are short on time.
Red potatoes: chop up red potatoes into small chunks so they cook easily and quick. Red potatoes are cook a bit faster and are perfectly creamy.
Cherry tomatoes: cherry tomatoes cook down and add to a delicious sauce after the shrimp foil packets are grilled.
Ears of corn: ears of corn that are grilled in shrimp foil packs cook perfectly and are sweet and full of flavor from the old bay seasoning.
Lemons: a little citrus added to these foil packets are crucial. Don't skip it.
Kielbasa: like sea food boils and other seafood packets adding kielbasa adds saltiness and compliments other ingredients. If you don't like kielbasa you can omit or use your favorite pre-cooked sausage.
Chicken broth and wine: we use chicken broth and wine to create a delicious sauce that adds flavor but also is the base for a delicious sauce that you will toss all of the shrimp packets sauce with.
Tobasco: Tabasco adds a bit of vinegar and bite to the shrimp packet sauce.
Butter: butter and shrimp are made for each other. Don't skip it.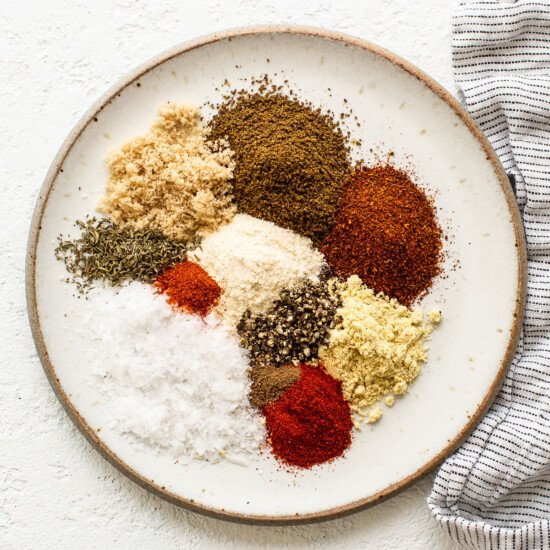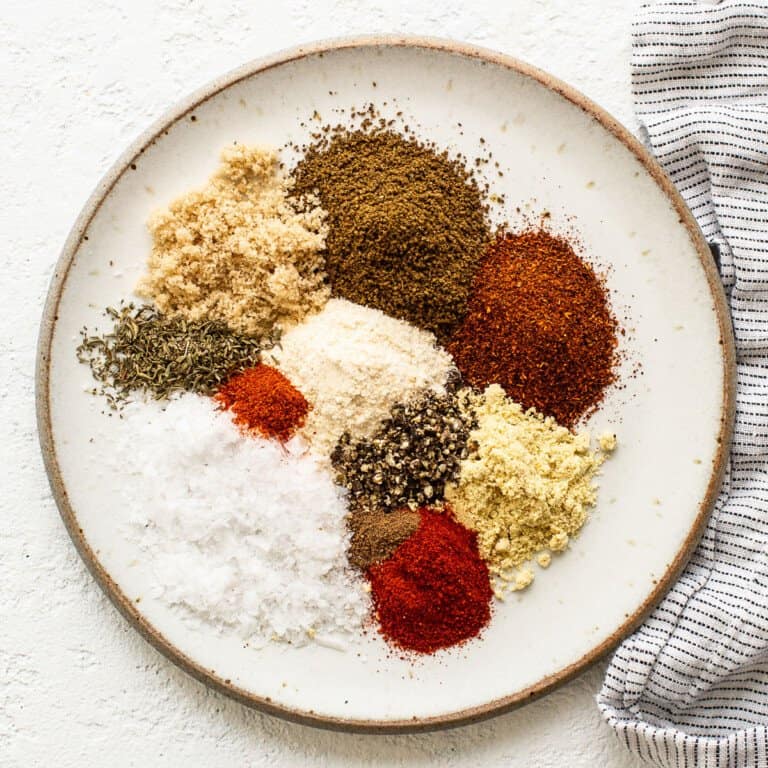 homemade
Old Bay Seasoning
Who doesn't love the classic old bay seasoning? Try making your own homemade seasoning from home and use it in this shrimp foil packet recipe.
Make It
Simple Instructions
Preheat the grill. Set your grill (or oven) to 400ºF. Be sure the grill and oven are hot before adding the shrimp packets.
Make the aluminum boats. This is a crucial part of the packets. You need to make large tin foil boats that will hold all of the ingredients for the shrimp packets without the foil ripping. You also need to make sure you can seal the boats completely. You may need to add extra foil while sealing the boats to make sure the heat does not release.
Season the shrimp. Before prepping all of the ingredients in the boat, toss the shrimp with the homemade old bay seasoning. Let the shrimp sit in the spices, they will be extra flavorful after sitting in the seasoning.
Add ingredients to the boats + cook. After you have made 2 large aluminum boats, add the onion, potatoes, garlic cloves, tomatoes, corn, lemons, and sausage to the boats and season them with old bay seasoning. Toss until all the ingredients are coated. Seal the aluminum boat tightly and place the boats on the grill and grill for about 25 minutes until the potatoes are fork tender.
Add shrimp. Quickly open the foil packs and place the shrimp in the packets and seal the packets immediately. Grill for an additional 5-7 minutes or until the shrimp is fully cooked.
Toss + enjoy. Once the shrimp are fully cooked toss all the ingredients in the sauce at the bottom of each boat. Serve with delicious crusty bread.
Are you serving a large group? Once the packets are done, pour the shrimp packets in to large bowls and toss so you can easily pass the shrimp and other ingredients around.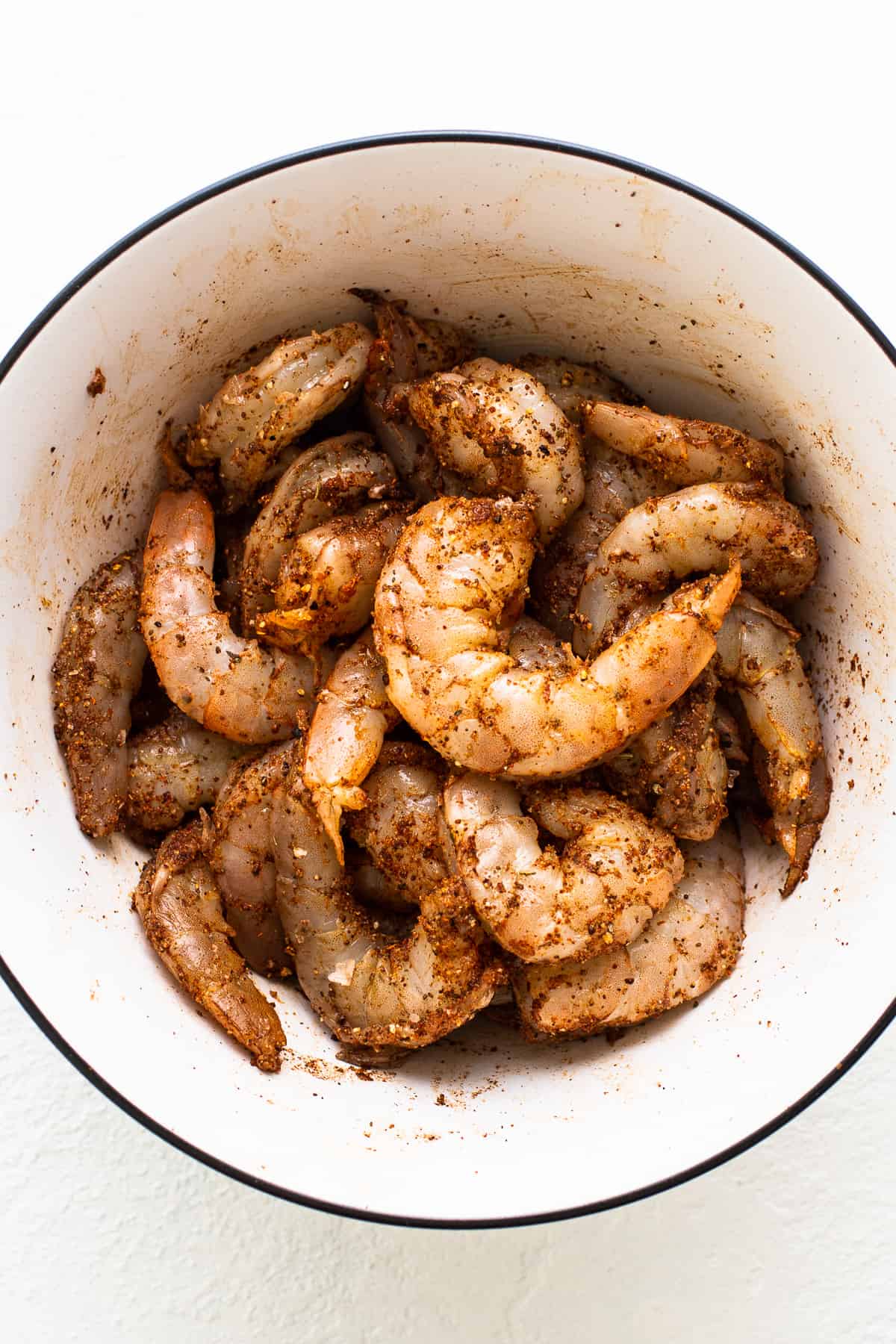 Top Tips
Be sure the shrimp foil packets are sealed tightly! If the heat escapes the foil packets the longer it will take for the ingredients to cook.
Make sure the potatoes are fork tender before adding the shrimp.
Don't waste the sauce at the bottom of the aluminum boats. It is so flavorful and delicious. Serve the sauce over each serving of shrimp packets and use the sauce as a dip for warm bread.
Latest Shrimp Recipes
More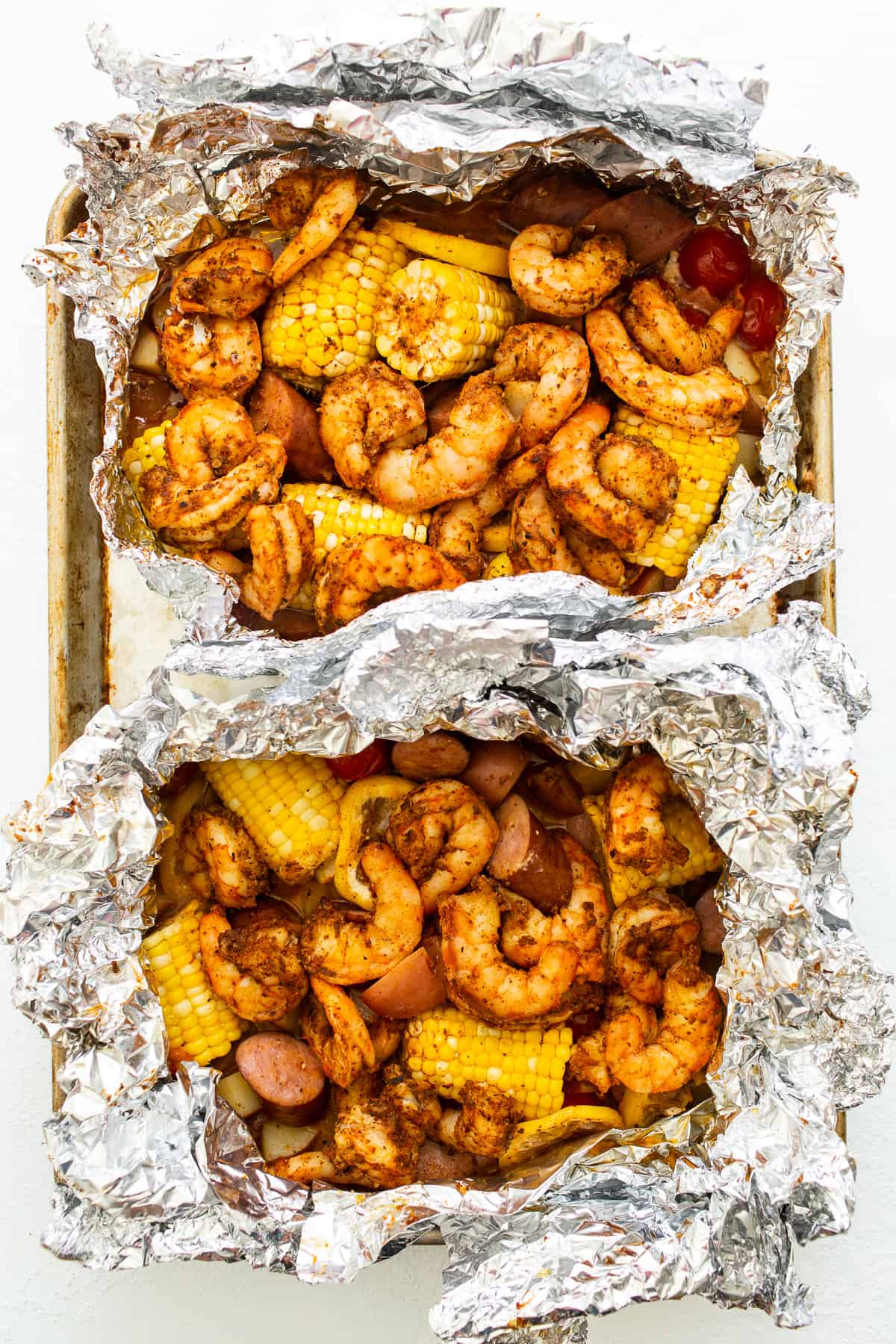 FAQ
How do you grill shrimp in foil packets?

Place ingredients for shrimp foil packets into an aluminum boat and seal it tightly. Grill at 400ºF for 25 minutes and then add the shrimp and grill for another 10-15 minutes.
Can you freeze shrimp foil packets?

Yes, we recommend throwing all of the ingredients foil packets into a foil pack and toss the shrimp in old bay seasoning and store the shrimp in a separate freezer safe bag. Place all ingredients the the same large freezer safe bag and freeze for up to 3 months.
Can I add ingredients to these foil packets?

Yes, you can add different vegetables, seasonings, and sauces to your shrimp packet.
Storage
Store the shrimp packet ingredients in an airtight container for up to 5 days.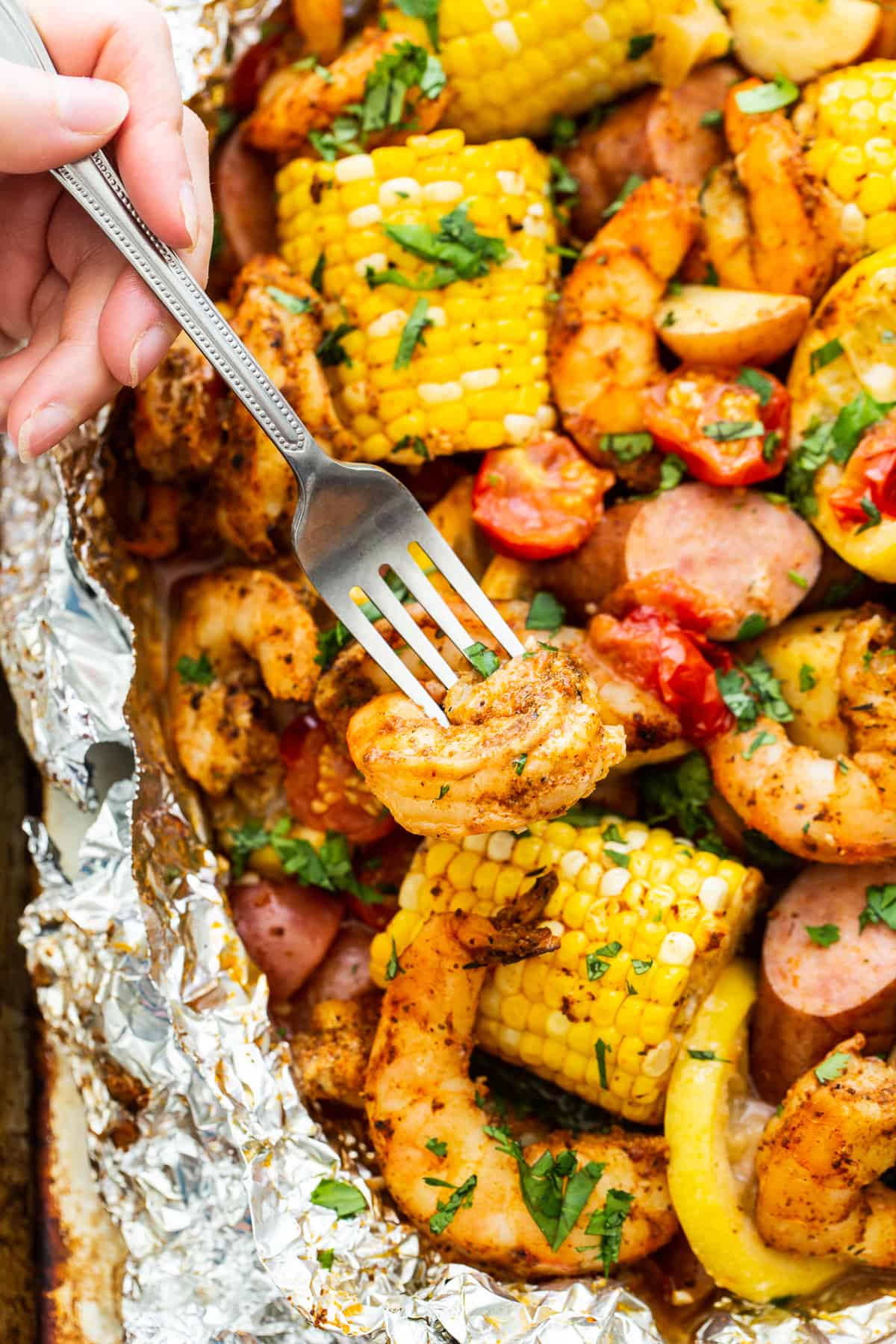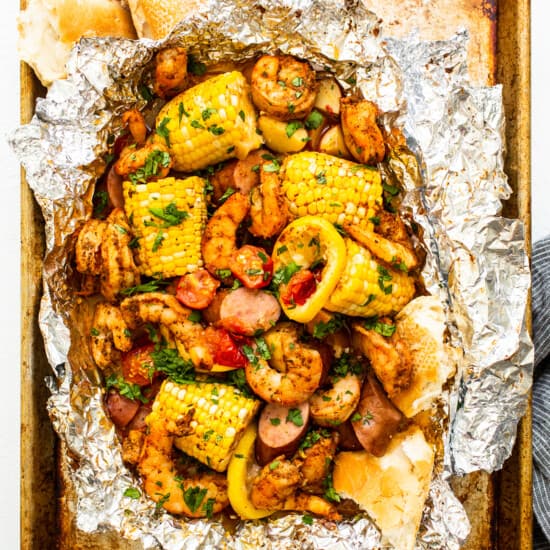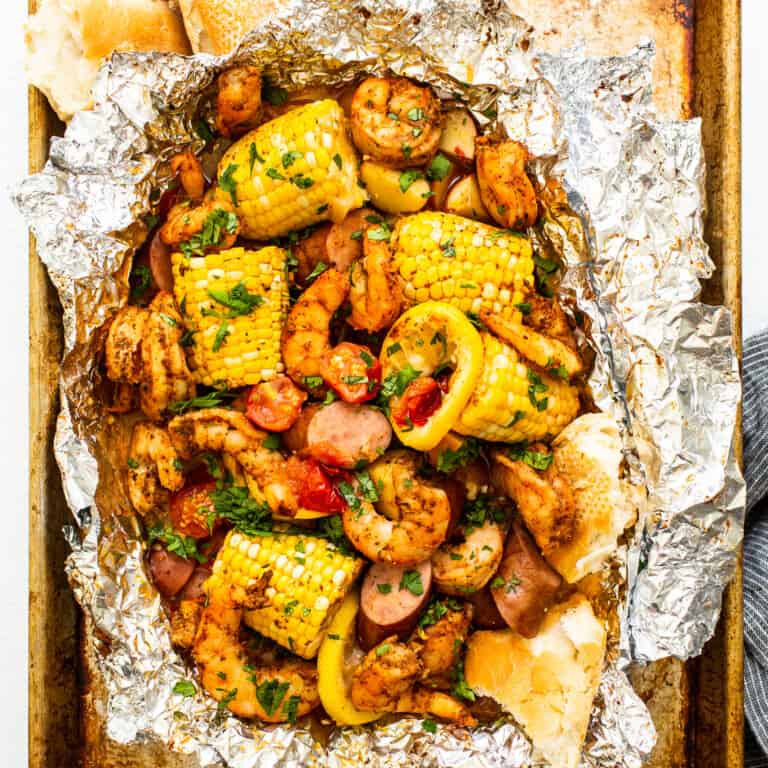 Grilled Shrimp Foil Packets
These shrimp foil packets are made with homemade old bay seasoning, shrimp, corn, and other vegetables. You grill all the ingredients together and top all of the ingredients with fresh herbs before serving.
Ingredients
Homemade Old Bay Seasoning
Foil Pack Shrimp
1.5-

lbs.

raw jumbo shrimp

thawed, peeled and deveined (we love the good and gather brand)

4

cups

red potatoes

chopped into ½-inch chunks

½

large white onion

chopped

6

garlic cloves

minced

1

pint

cherry tomatoes

3

large ears of corn

chopped into thirds

2

large lemons

sliced

1

ring of kielbasa sausage

(beef, pork, or turkey)

2

tablespoons

olive oil

½

cup

chicken broth

½

cup

sauvignon blanc

2

tablespoons

tabasco sauce

6

tablespoons

cold butter

cut into 6 tablespoons

½

cup

fresh cilantro

roughly chopped
Instructions
Preheat the grill (or oven) to 400ºF and prepare aluminum 'boats' by layering two 1-foot pieces of foil on top of one another into a cross shape and fold up the sides of the top foil so that no liquid will escape. Repeat so you have 2 boats. Set aside.

Add all of the ingredients for the old bay seasoning to a bowl or jar and mix to combine. Set aside.

Place the peeled shrimp into a large bowl and add 3 tablespoons of the old bay seasoning to the shrimp with an additional ½ teaspoon of salt to the shrimp. Toss until the shrimp are coated in spices. Place in the refrigerator.

You are going to split all of the ingredients for the foil packs into two boats. Each foil pack should have ¼ of a white onion, 2 cups of potatoes, 3 garlic cloves, half the tomatoes, a few chunks of corn, 1 sliced lemon, and half of the sausage. Once those ingredients are in each foil boat, drizzle them with 1 tablespoon of olive oil each and toss all the vegetables together. Add 1 tablespoon of old bay seasoning to each boat and toss again.

Add ¼ cup of broth, ¼ cup of wine, and 1 tablespoon of tabasco to each boat and top with 3 tablespoons of butter each. Fold the edges of the foil boat up so that heat and ingredients can not escape.

Place the boats over direct heat and cook for 25 minutes.

Open the foil boats and add the shrimp to the top of each boat, half of the shrimp in each boat. Seal the boats back up and cook for an additional 5-7 minutes or until the shrimp are cooked. The shrimp cook time will vary by size of the shrimp, grill, or oven that is being used. Cook the shrimp until pink.

Remove the boats from the grill and place them on a cooled baking sheet. Unfold the boats and top with cilantro. Toss again and serve with crusty bread.
Tips & Notes
You will have extra old bay seasoning. Store in an airtight container and store in a cool dark place. 
We made 2 large foil packets. Be sure when you make the foil packets, you are using 2 very large pieces of tin foil so all the ingredients will be enough room in each foil pack for ingredients and then for the shrimp later. If it's easier for you, you can make 4 smaller foil packs instead of 2 larger foil packs.
The key to this recipe is to make sure the aluminum foil boats are sealed and don't release heat.
This recipe is easy to change up. You can use any vegetables you have on hand.
We used a beef kielbasa but an andouille sausage would be delicious.
Oven directions: If you are making these shrimp foil packets in the oven, we recommend using only one layer of tin foil. Follow the directions for the shrimp foil packets and then preheat the oven to 400ºF and bake in the oven for 35-40 minutes before adding the shrimp. You need a bit more time in the oven than on the grill. 
Nutrition facts
Calories:
360
kcal
Carbohydrates:
29
g
Protein:
20
g
Fat:
19
g
Fiber:
4
g
Sugar:
8
g
Photography: photos taken in this post are by Ashley McGlaughlin from The Edible Perspective.