This ginger pea salad is made with fresh sugar snapped peas, vegetables, fresh herbs, and a ginger honey miso dressing. It's a light and delicious salad!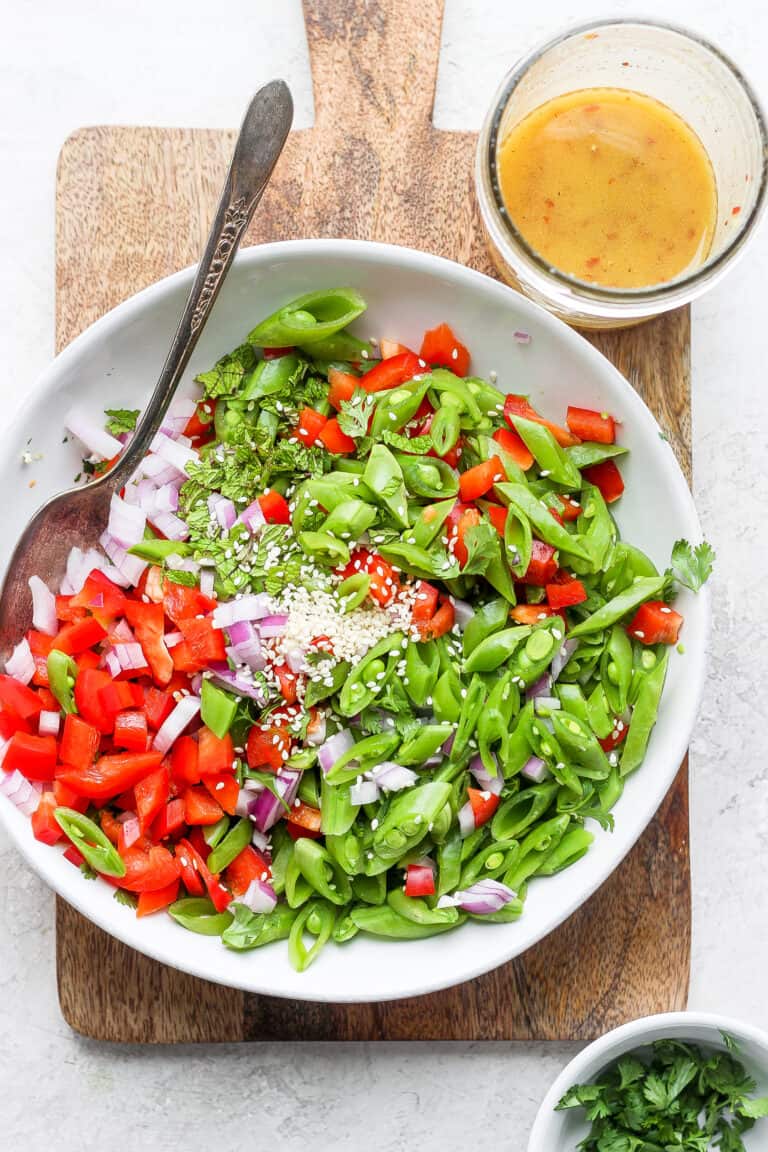 The Most Refreshing Ginger Pea Salad
If you love a salad with crunch, a ton of veggies, and a tasty dressing, this ginger pea salad is the salad for you. Whether you need to use up sugar snap peas from your garden or find fresh and crispy peas at your favorite grocery store, they are the hero of this salad.
We love this ginger pea salad because….
It is so incredibly fresh!
If you love miso + ginger you will love the dressing for this salad.
You can eat it for lunch or as a delicious side salad for dinner.
There are so many delicious veggies.
It is easy to change this salad up based on the ingredients you have in your fridge.
Ingredients You Need
All the veggies in this salad are raw, fresh, and go perfectly together. Below are all the ingredients you need for the base of this salad.
Sugar snapped peas- you can find sugar snap peas at most grocery stores. They are usually in the fresh produce department in a bag or you can sometimes buy them in bulk. Be sure to buy them in the pod!
Red onion– we love the sweetness and flavor of red onion!
Red bell pepper– the red pepper adds another layer of crunch and sweetness to this pea salad.
Fresh herbs (cilantro and mint)- what makes every salad better? Fresh herbs! We added in leaves of these two herbs to brighten up the salad and to add amazing flavor!
Sesame seeds– this salad is finished off with a delicious sprinkling of sesame seeds.
ingredient swaps
Don't have all the ingredients for this salad on hand? Below are some great ingredient swaps you can use instead!
red bell pepper—-> orange, yellow, or green peppers
red onion—> green onions
cilantro + mint —> Thai basil or green onion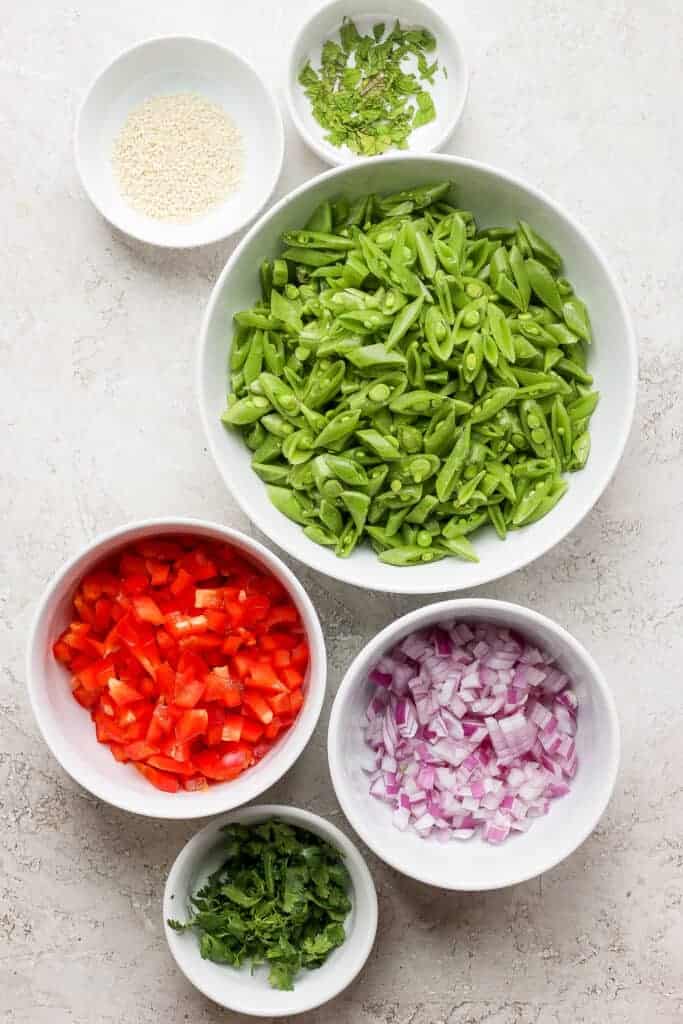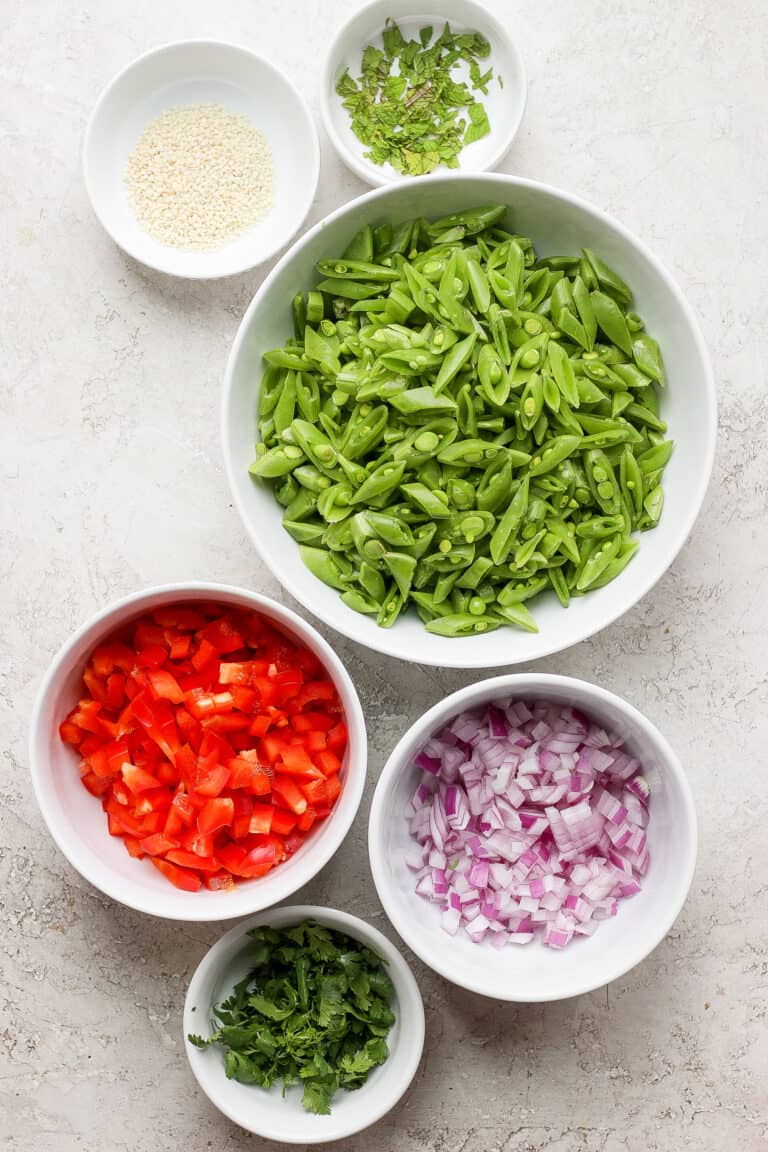 It's All About the Ginger Miso Dressing
Now that you have all of the vegetables and herbs in order for this pea salad, let's talk dressing.
We love how refreshing and flavorful this ginger miso dressing is! It is made with (mostly) ingredients that you have on hand. Here is everything you need to shake up this bright and delicious dressing.
Dressing Ingredients
Rice vinegar– we recommend rice vinegar for this dressing because it is a bit sweeter and neutral!
Lemon juice- get yourself a lemon and use the fresh lemon juice in this dressing rather than store bought dressing.
Fresh grated ginger- fresh ginger goes a long way in dressings. It can add a delicious spiciness to any dressing. If you don't have fresh ginger you can use ginger squeeze or powdered ginger as a last resort.
Red pepper flakes– we balanced out the sweetness of the dressing and the freshness of the veggies with a little spice by adding red pepper flakes.
Salt + pepper- salt and pepper enhance all of the flavors in any salad dressing.
White miso paste– miso paste adds an umami flare to this dressing. We used white miso paste, but yellow would work, too.
Honey– balance all of the vinegar and saltiness in this dressing out with a little honey. You an also use maple syrup or brown sugar as a good substitute.
Soy sauce– a little soy sauce compliments the miso and ginger, don't skip it but feel free to use low sodium soy sauce.
Olive oil– the binder in this dressing is olive oil, but feel free to use any neutral oil that you'd like!
Other dressing options
Not feeling this ginger miso dressing? No problem! Feel free to use one of the dressings below instead.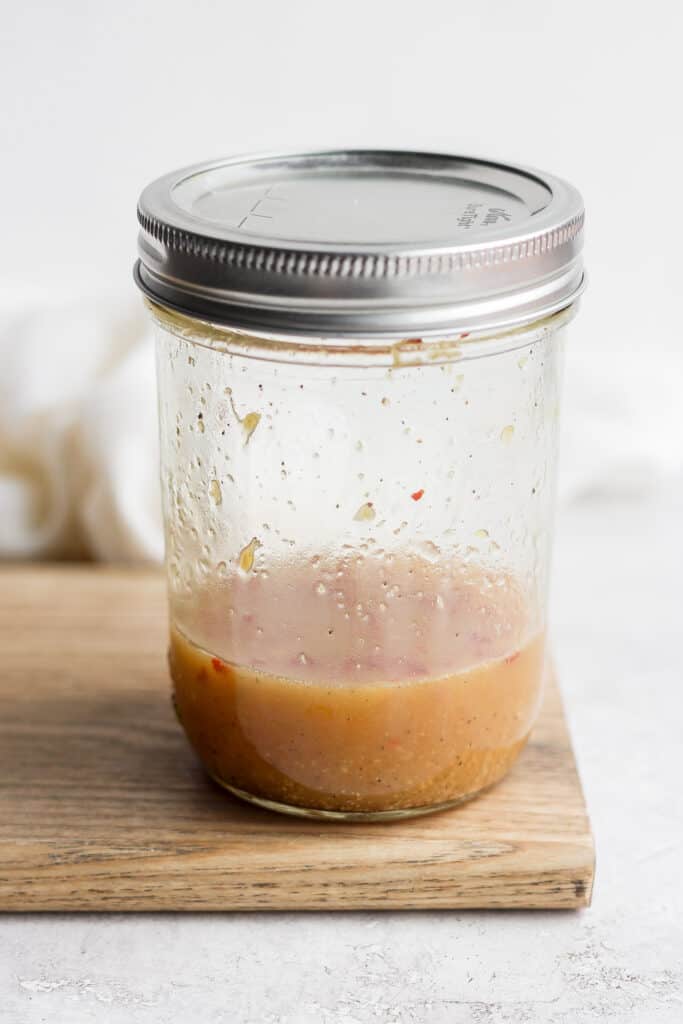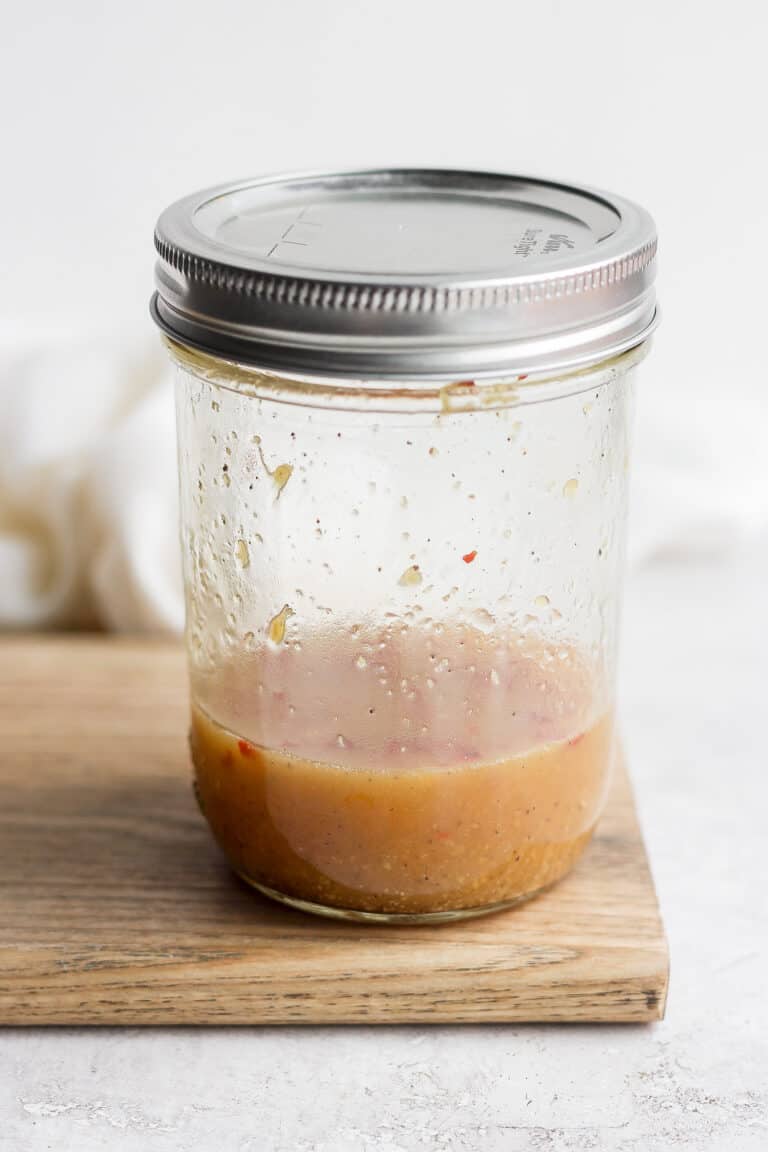 A Quick Look: How to Make this Ginger Pea Salad
Shake up the dressing. We prefer mixing up a dressing in a mason jar so you can store extra dressing easily in the refrigerator if you have extra. Place all of the ingredients in the mason jar, cover the jar and shake until all of the ingredients are combined. Set aside.
Prepare the vegetables. Slice up all of the veggies into bite-sized pieces and place them in a large salad bowl. Rip the fresh herbs from their stems (don't chop them) and toss them into the salad bowl with the vegetables.
Toss everything together. Drizzle the dressing over the vegetables and herbs and toss the ingredients together until all of the veggies are covered in dressing. Sprinkle the sesame seeds over the veggies and toss again.
Serve and/or Refrigerate. You can serve this salad right away or place it in the refrigerator to chill. Serve chilled and enjoy!
How to Slice Your Sugar Snapped Peas
People always ask how to slice sugar snapped peas for this salad! We highly recommend cutting the ends off of the sugar snapped peas and the slice them into thin, diagonal strips with a sharp knife.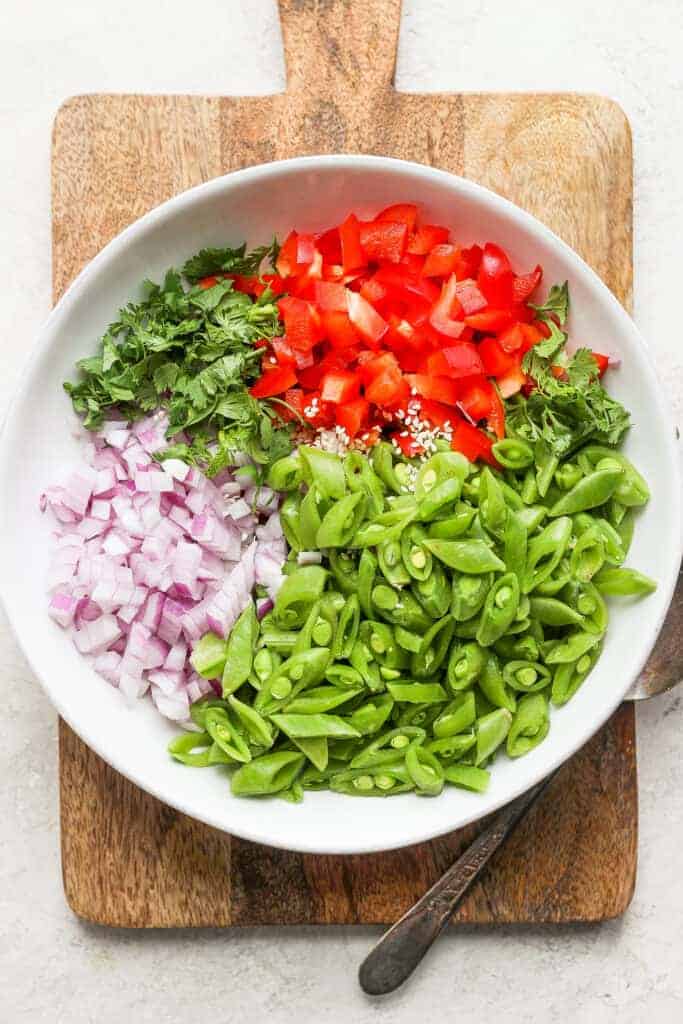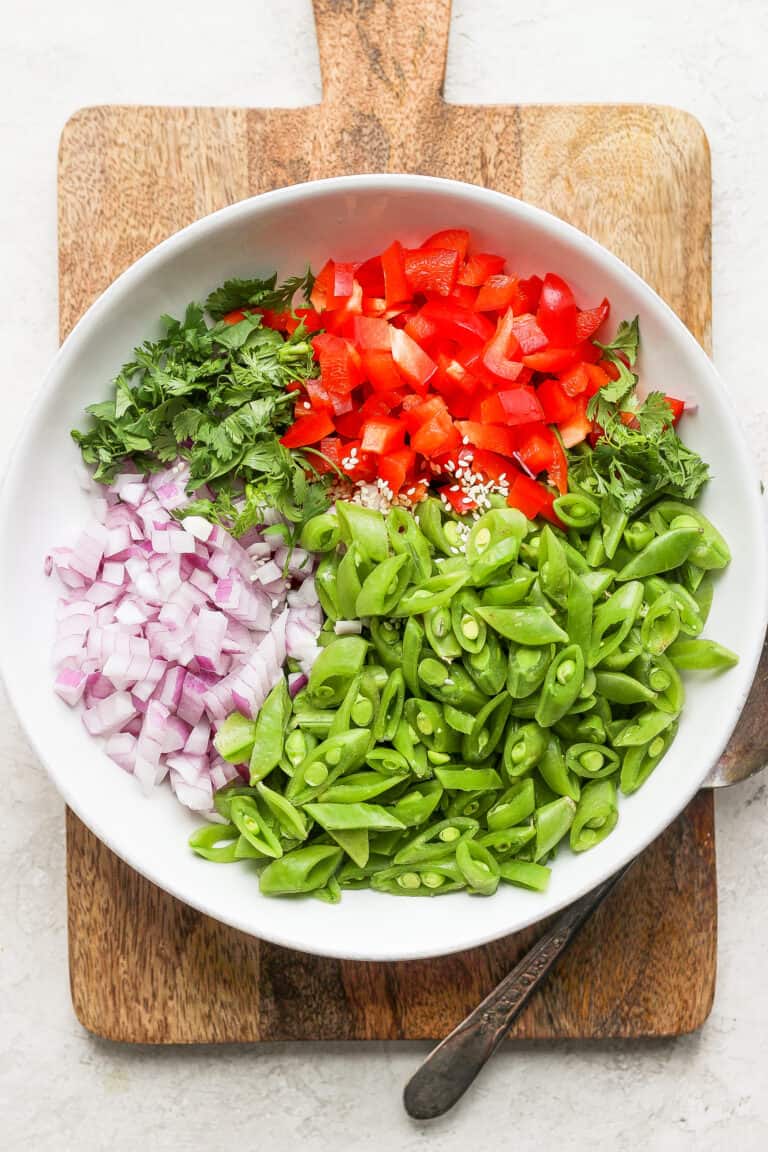 What to Serve with Ginger Pea Salad
We love that this ginger pea salad can be served with so many different main dishes. Here are a few of our favorite main dishes to serve with these refreshing salad.
Grilled Pork Chops- This grilled pork chops recipe comes out so juicy and tender on the inside and has gorgeous, charred grill marks on the outside.
Grilled Teriyaki Chicken- Grilled teriyaki chicken is such a flavorful way to serve grilled chicken. It's made with an easy teriyaki chicken marinade on the bbq!
Honey Sriracha Salmon- Whip up this amazing Honey Sriracha Salmon in just 8 minutes. All you need are 4 ingredients, and your oven broiler to make this protein-packed dinner that everyone will love!
Storage Preferences
This salad will last between 5-7 days if it is stored in an air tight container in the refrigerator.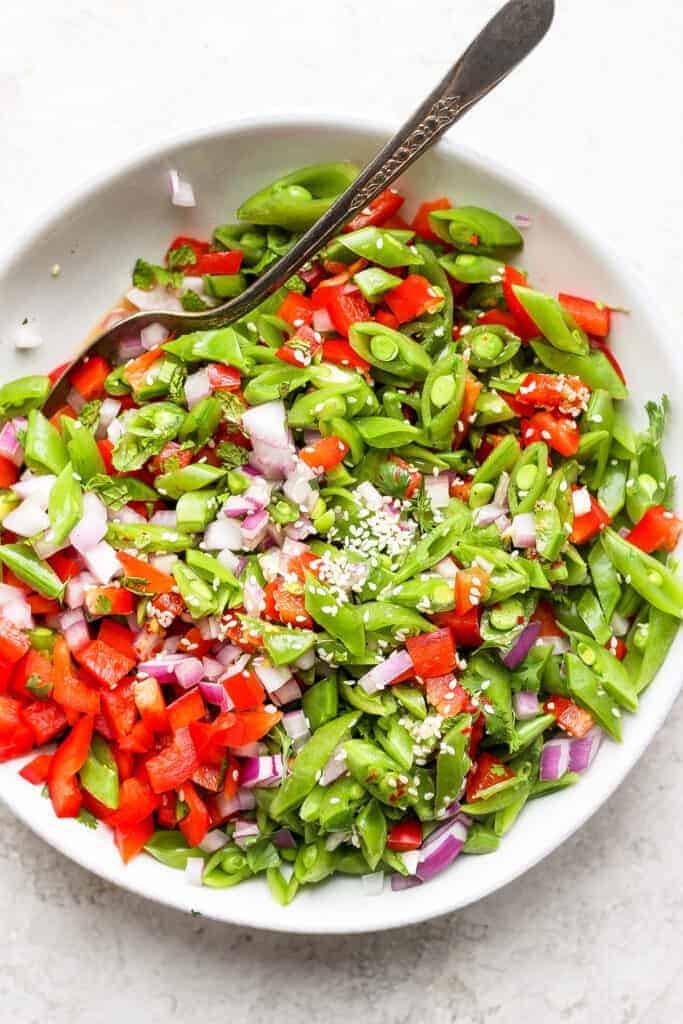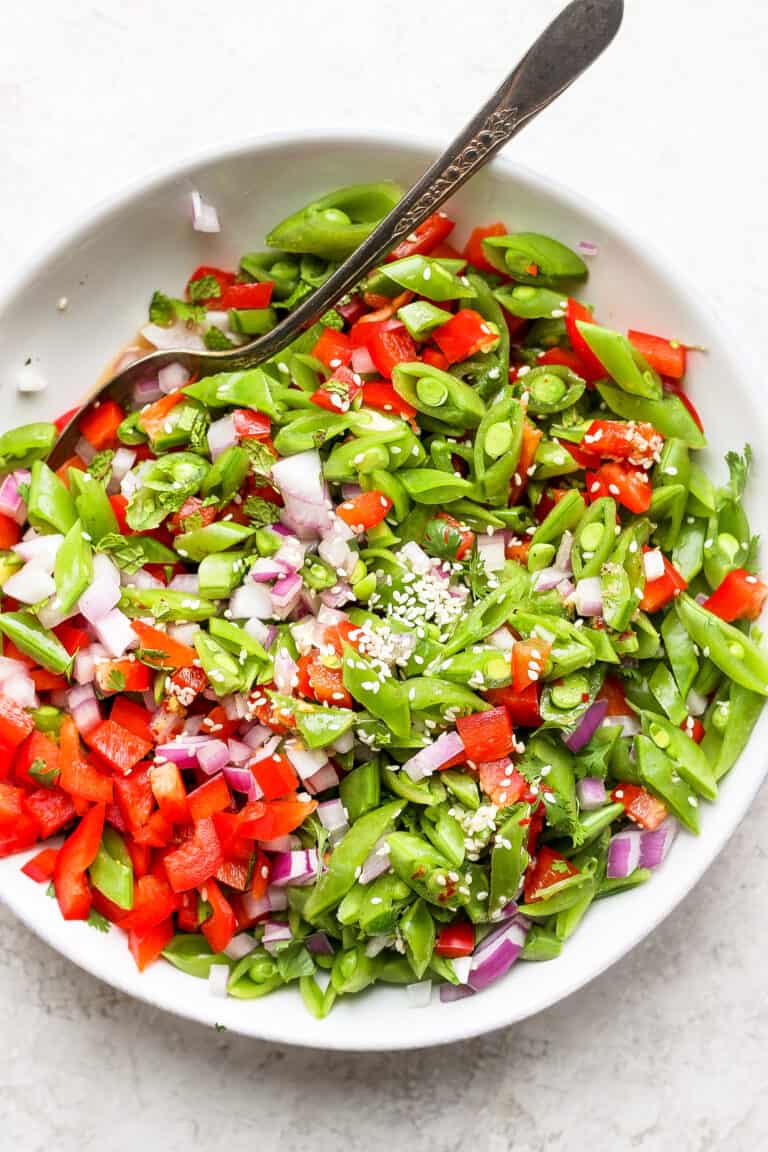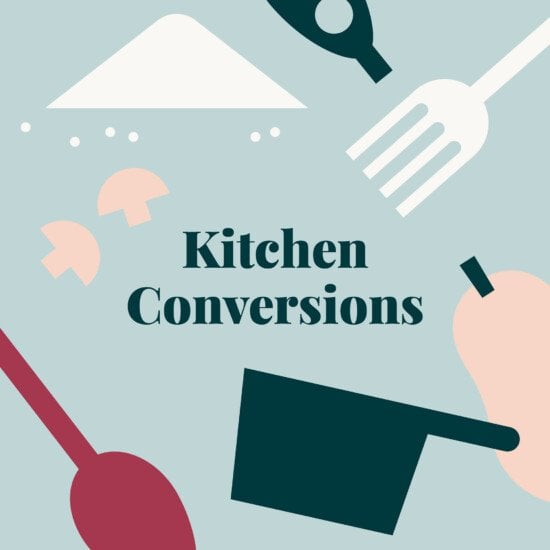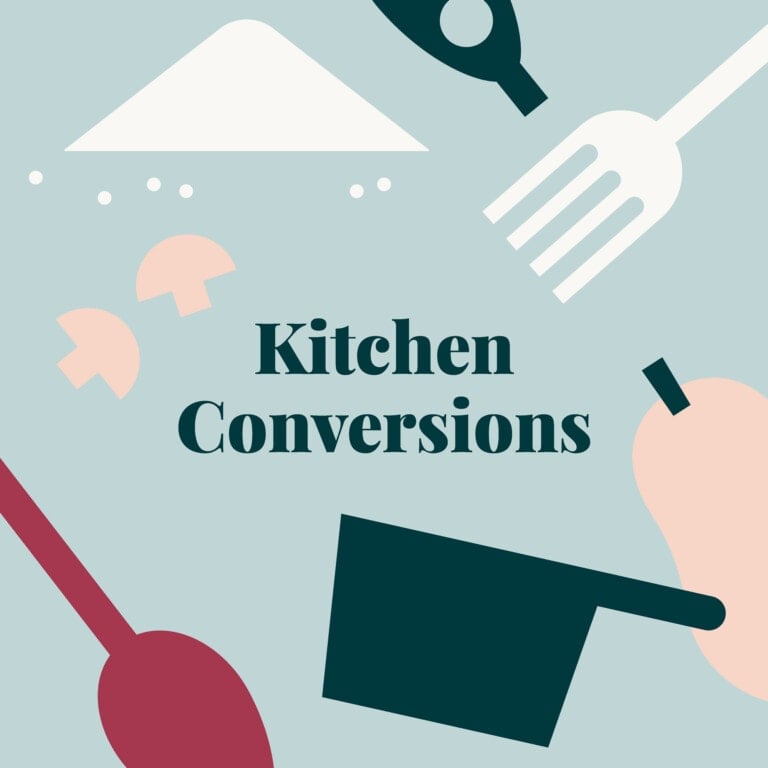 make it easy
Print Your Own
Keep common kitchen conversions like tablespoons to teaspoons and Fahrenheit to Celsius on hand at all times with our printable kitchen conversions chart.
get it now
Learn More Kitchen Conversions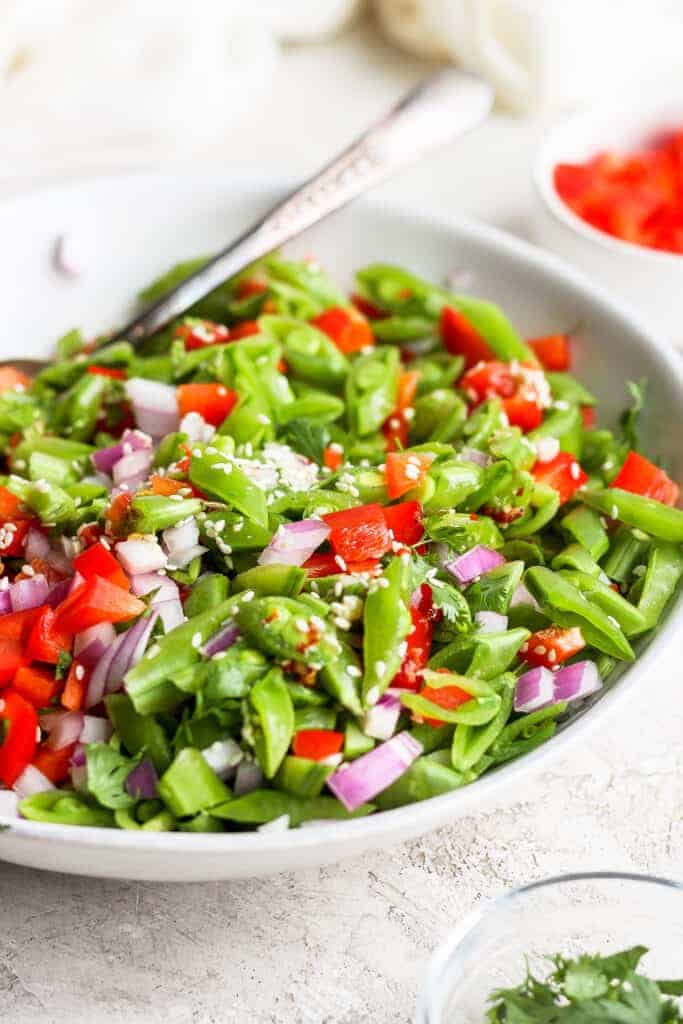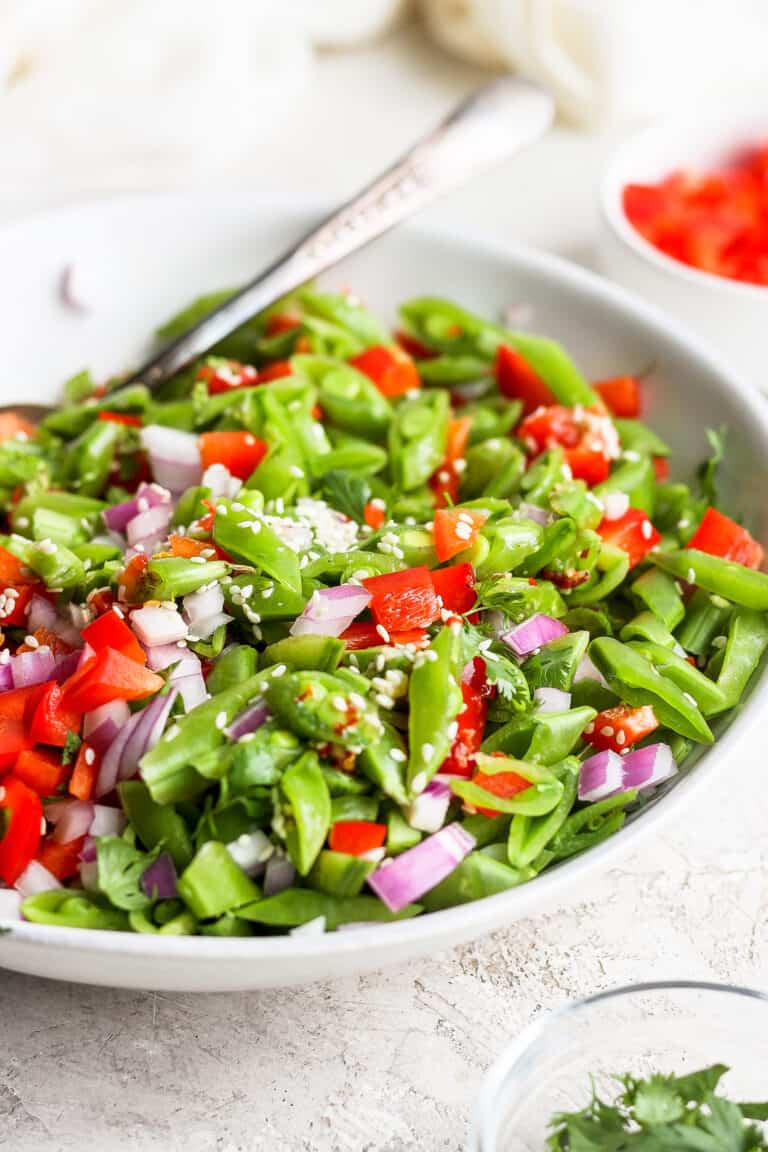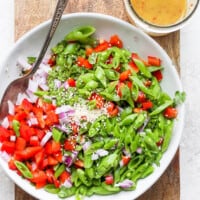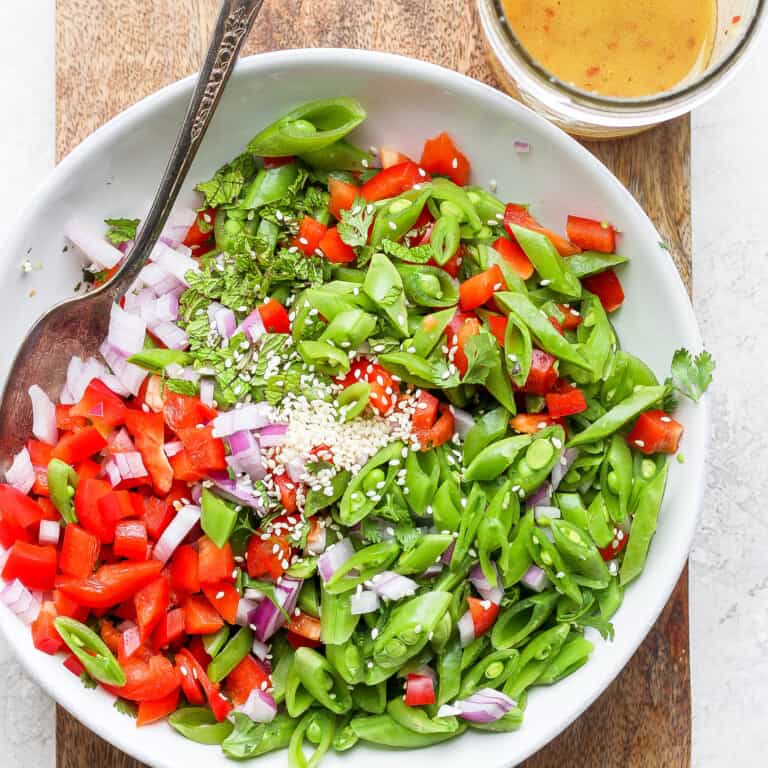 Ginger Pea Salad
This ginger pea salad recipe is made with fresh vegetables, ginger miso dressing, and sprinkled with sesame seeds. It makes a perfect fresh salad for any summer meal. 
Ingredients
Other Ingredients
4

cups

sliced sugar snapped peas

1

small red onion

minced

1

large red bell pepper

diced

¼

cup

fresh cilantro

chopped

¼

cup

fresh mint

chopped

3

tablespoons

sesame seeds
Instructions
Place all of the ingredients for the dressing into a mason jar and cover. Shake the mason jar until all the ingredients are combined. Set aside. 

Next, place the sliced peas, red onion, bell pepper, cilantro, and mint into a large salad bowl and mix until all the ingredients are combined. 

Pour the dressing over the salad and toss until all the ingredients are coated in dressing. 

Lastly, sprinkle sesame seeds over the salad and toss. 

Serve immediately or place in the refrigerator and serve cold. 
Nutrition facts
Calories:
142
kcal
Carbohydrates:
17
g
Protein:
4
g
Fat:
7
g
Fiber:
4
g
Sugar:
7
g