Grilled teriyaki chicken is such a flavorful way to serve grilled chicken. It's made with an easy teriyaki chicken marinade on the bbq!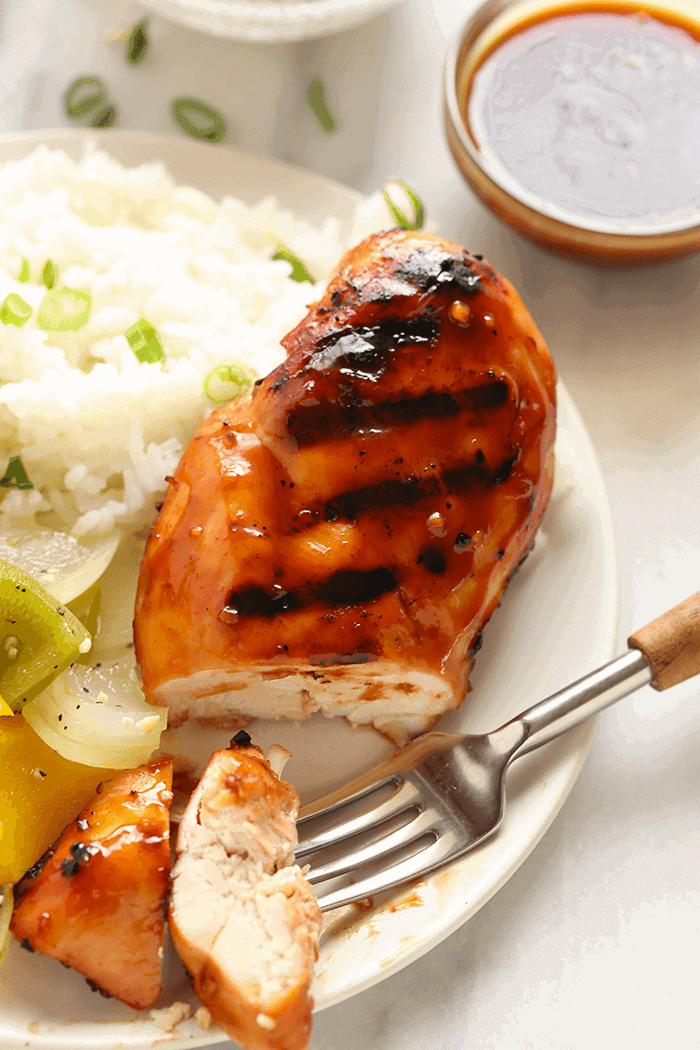 Favorite Grilled Teriyaki Chicken
We are all about grilled chicken and when it comes with a teriyaki twist, even better! This grilled teriyaki chicken recipe is a personal favorite and we make it all summer long.
I love that the teriyaki chicken marinade is so easy to make and that dinner can be ready in less than 30 minutes! The grill marks truly enhance the flavor and texture of this meal.
How to Make Grilled Teriyaki Chicken
Marinate Chicken
First things, first. Marinate your chicken breasts using our teriyaki chicken marinade. With any chicken recipe you make, marinating the chicken first elevates the flavor tenfold. You can stick the chicken and the marinade in a bowl or a large plastic bag. Here's what you need:
grated ginger
optional: sriracha
Combine all of the ingredients for the teriyaki chicken marinade together in a small bowl and mix to combine. Then, transfer it into an airtight container along with the chicken. Seal and place in the fridge to marinate.
If you love sauce, we suggest setting aside around 3 tablespoons of the marinade for serving (so that you don't contaminate it with raw chicken).
marinading tip!
We have been loving our large stasher bag for everything from marinating to sous vide to food storage. Stasher bags help cut down on waste and makes life in the kitchen easy! Check them out.
How long should I marinate my grilled teriyaki chicken?
We recommend marinating your chicken for at least 2 hours or for best results overnight. If you're short on time, marinate for no less than 30 minutes.
Can I use a different cut of chicken?
Feel free to use 1.5-lbs. of either chicken thighs or chicken legs for this recipe.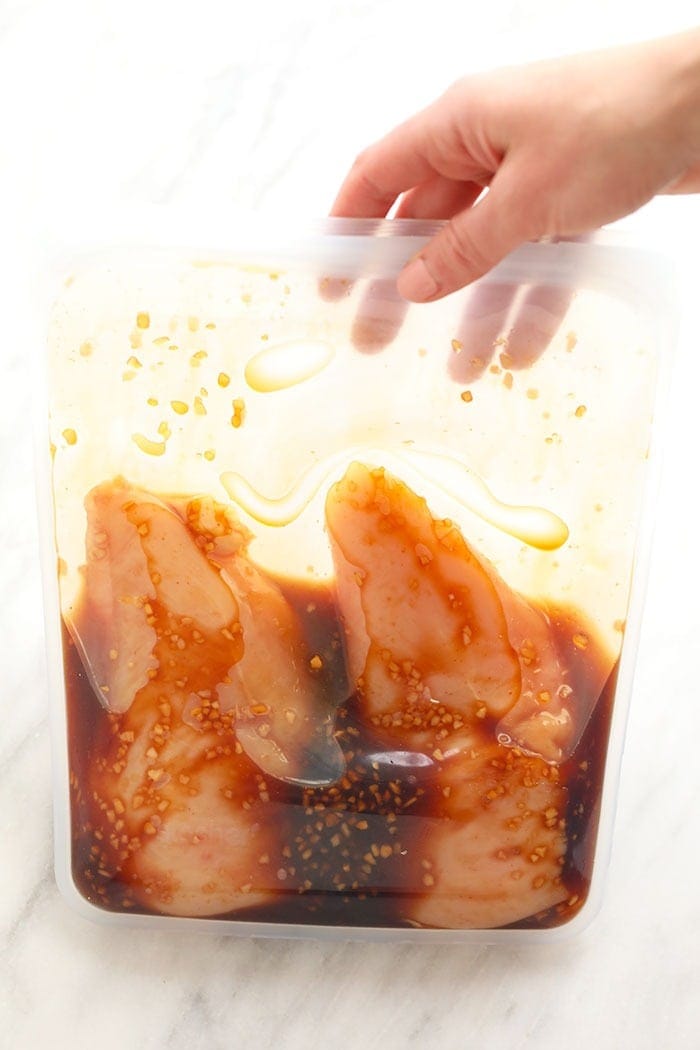 Grill Chicken
Don't be scared of the grill, my friends! Preheat the grill to 425ºF and then rub olive oil on your grill grates.
Grilling chicken breasts can be easy if you monitor the internal temperature of the chicken. A good old fashion meat thermometer will do the trick, however, we have been loving the Weber iGrill 2. Which let's use leave a metal thermometer in your meat at all times and then connects your Bluetooth.
No matter how you monitor the temperature of the chicken, the internal temperature of the chicken should be about 160ºF – 165ºF (which usually takes about 7-10 minutes per side) to be considered safe to consume.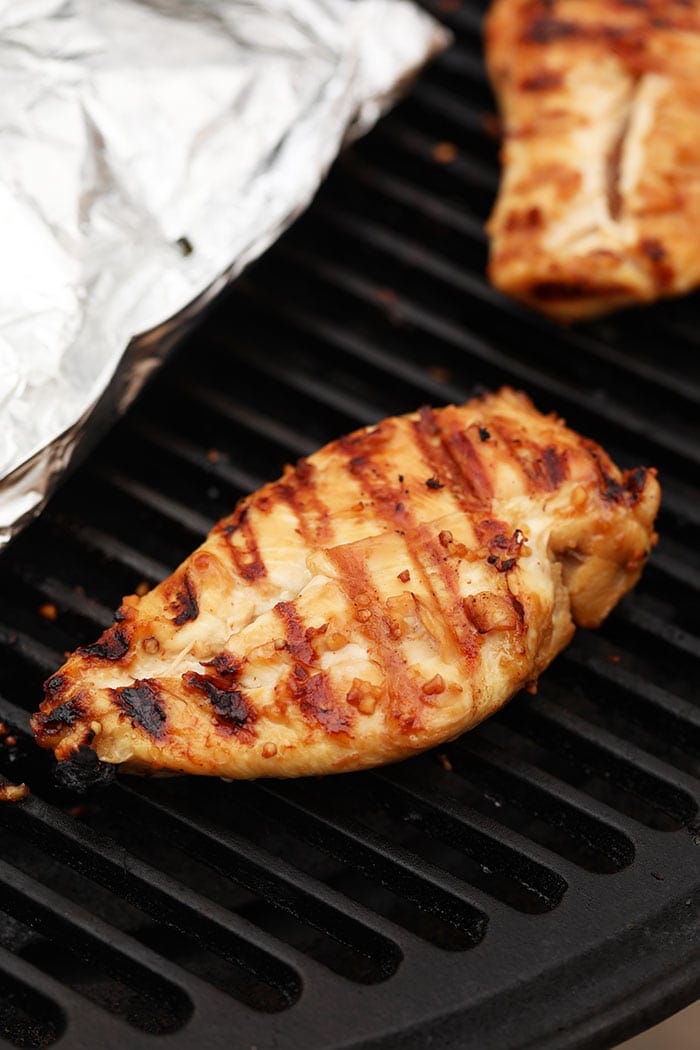 Let Rest
Remove your grilled teriyaki chicken from the grill and let it rest on a place for around 5 minutes. During this time, the internal temperature will elevate around 5 more degrees bringing the chicken to 165ºF.
Serve with extra sauce
Now it's time to dig in! If you set some teriyaki sauce aside, you can use it as-is on your grilled teriyaki chicken or you can thicken it with some cornstarch.
To thicken, create a cornstarch slurry by whisking together 1 teaspoon cornstarch and 2 teaspoons water. Transfer the leftover marinade into a saucepan and bring to a simmer. Once simmering, add the cornstarch slurry and whisk until thickened.
Serving Suggestions
Serve your grilled teriyaki chicken next to some white rice and one of our favorite grilled sides below: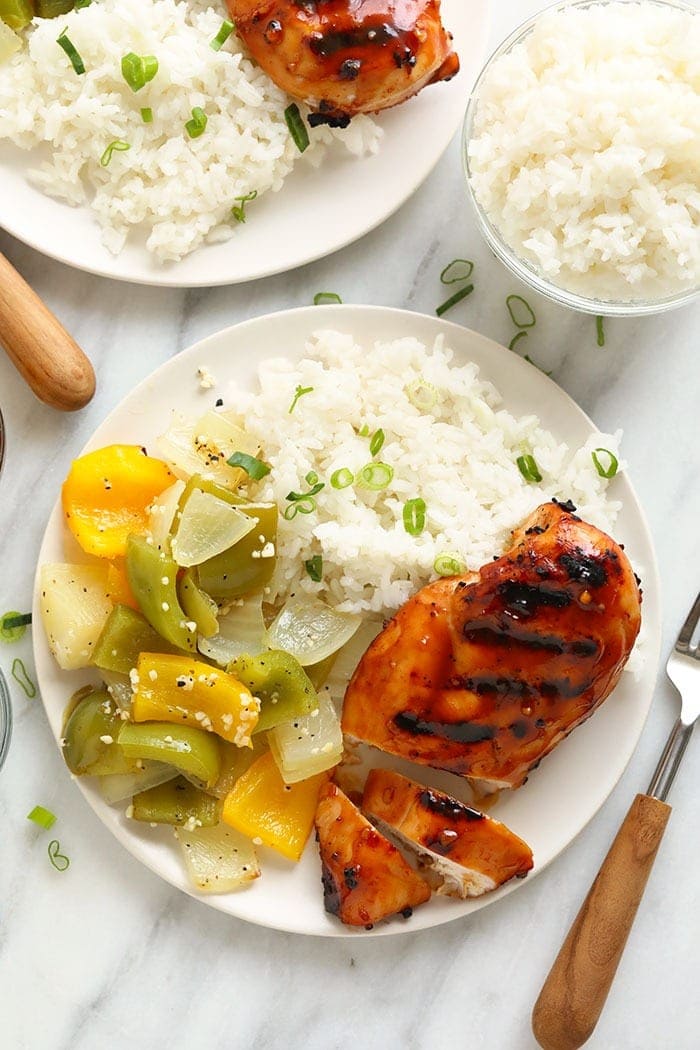 Storage
Let your grilled teriyaki chicken cool completely. Then, transfer it into an airtight container. Will last in the fridge for up to 3-5 days.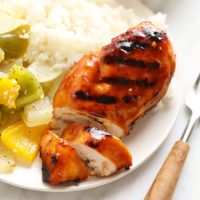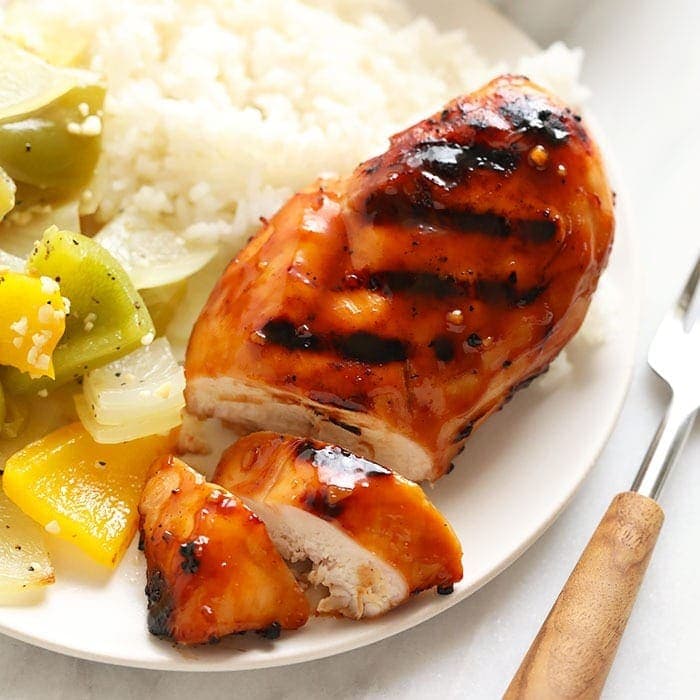 Grilled Teriyaki Chicken
Grilled teriyaki chicken is such a flavorful way to serve grilled chicken. It's made with an easy teriyaki chicken marinade on the bbq!
Prep:
40 minutes
Cook:
20 minutes
Total:
1 hour
Fat
11
Carbs
15
Protein
34
Ingredients
Grilled Teriyaki Chicken
3 tablespoons

maple syrup

1 tablespoon

minced garlic

2 teaspoons

fresh grated ginger
optional: 1 teaspoon sriracha
optional: 1 teaspoon cornstarch

1.5

lb. boneless skinless chicken breasts
Instructions
First, prepare homemade teriyaki chicken marinade by following this recipe. Reserve around 2 tablespoons of marinade to thicken for later.
Next, place 1.5-lbs. of chicken breast into a gallon-size plastic bag or large stasher bag. Then, pour on teriyaki marinade and let sit in the fridge for 30-minutes to 2 hours.
Preheat the grill to 425ºF and rub your grill grates with olive oil.
Grill chicken breast at 425ºF for 7-10 minutes on each side or until the chicken reaches an internal temperature of 160ºF – 165ºF. If you've got leftover marinade, we suggest using a meat brush to brush on some teriyaki marinade a few times during the grilling process to really infuse the chicken with flavor.
Remove chicken breast from grill and let rest for 5 minutes so that the chicken can continue cooking.
To thicken the remaining teriyaki sauce, pour the sauce you set aside into a small saucepan and bring to a boil. whisk 1 teaspoon of cornstarch with 2 teaspoons of water to create a cornstarch slurry and then add it to the pat. Whisk the sauce until thickened.
Serve grilled teriyaki chicken with the extra sauce and your favorite sides.
Tips & Notes
Nutrition information is for JUST the chicken.
Nutrition Facts
Serving Size:
1/4
Calories:
286
Sugar:
7
Fat:
11
Carbohydrates:
15
Fiber:
1
Protein:
34
Category:
Dinner
Method:
Grilling
Cuisine:
Asian
Keywords: Grilled Teriyaki Chicken