Have a big glass of this refreshing lemonade. All you need is fresh lemon juice, water, and simple syrup and you'll have a big pitcher of tart and sweet lemonade.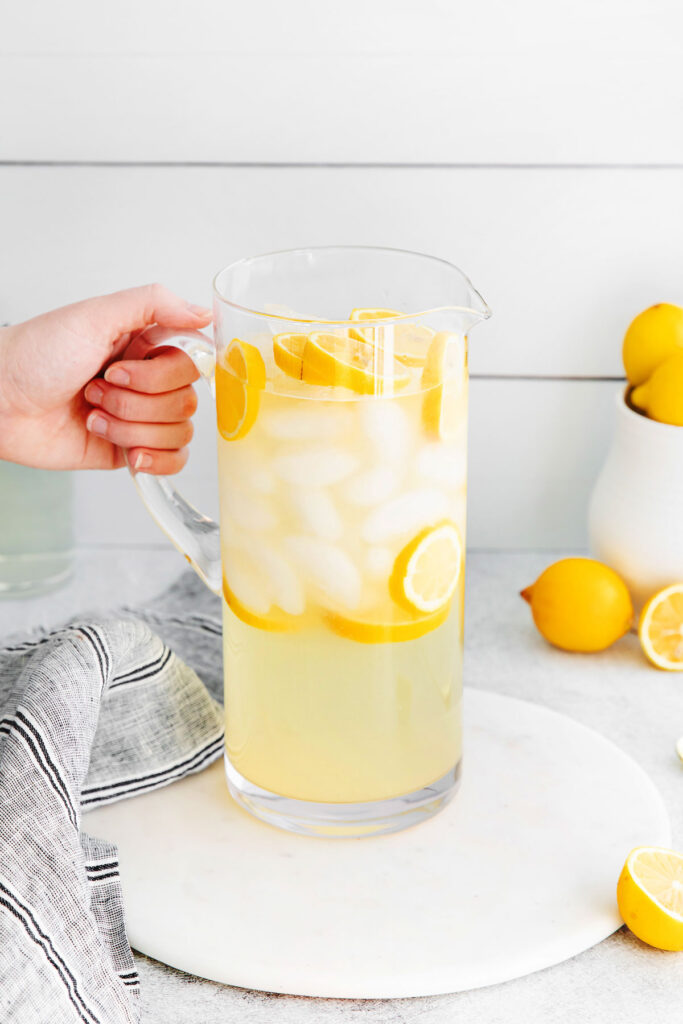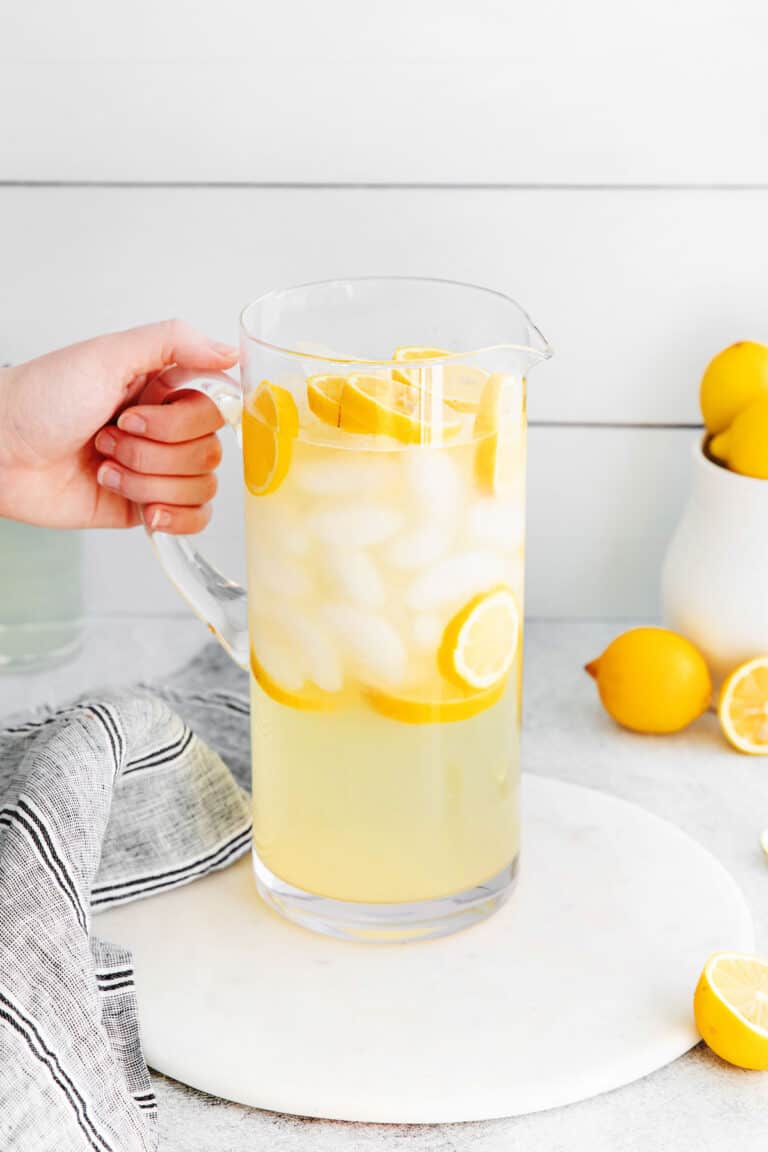 The Best Homemade Lemonade
When you are sitting in the heat of the summer sun, do you crave a big glass of refreshing lemonade? We do! There is no need to buy a concetrate mix when you can easily make your own homemade lemonade in minutes!
We love making homemade lemonade because….
There is no need for artificial sugar. We use a honey simple syrup to sweeten homemade lemonade.
Lemonade concentrate (frozen or powdered) has so much sugar that it doesn't even taste like lemons.
This homemade lemonade uses very few ingredients.
You can keep a pitcher of this homemade lemonade in the fridge for delicious lemonade all week long.
Homemade Lemonade Ingredients
Fresh lemon juice-
Water-
Ice-
Fun lemonade add-ins
This homemade lemonade a short ingredient list. There are a few ways you can jazz up your lemonade. Check out our favorite ways below.
Spice it up. Once you've made your homemade lemonade add a couple slices of jalapeño to the lemonade and let it sit for a few hours for a kick to your lemonade.
Add fresh fruit. You can slightly change the flavor of your lemonade by adding smashed raspberries, strawberries, cucumbers, or or blackberries to your lemonade and letting everything sit for a while. Pour the lemonade through the sieve to avoid seeds for a fruitier lemonade.
Garnish makes everything prettier. Whether you add smashed fruit to your lemonade or not, serve your homemade lemonade with a fresh and beautiful garnish of fresh herbs, slices of lemon and lime, or just ice and frozen berries.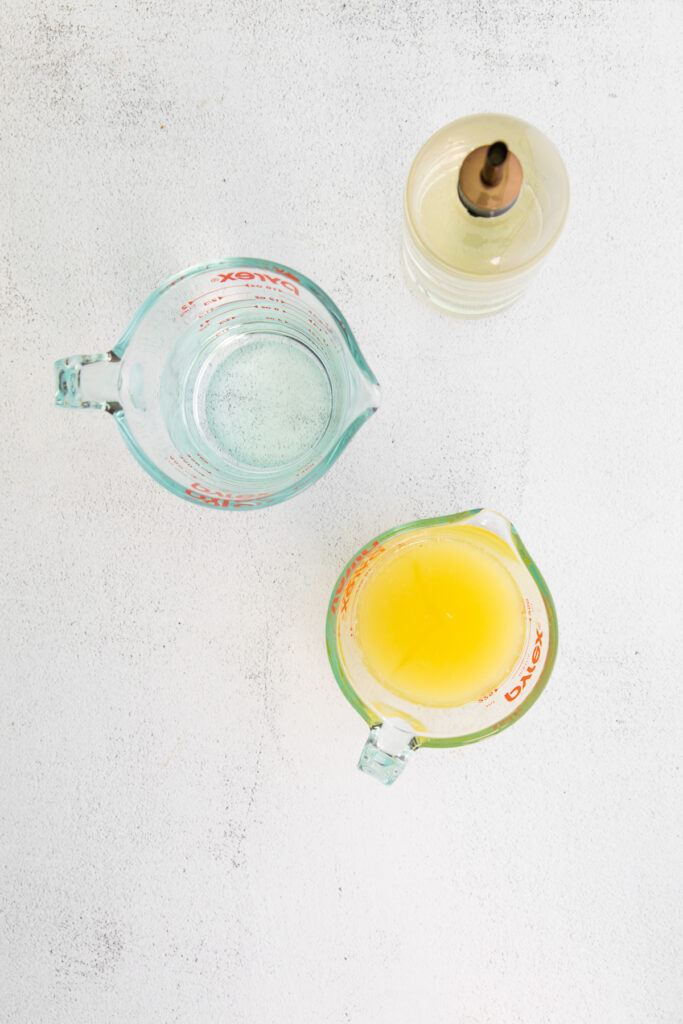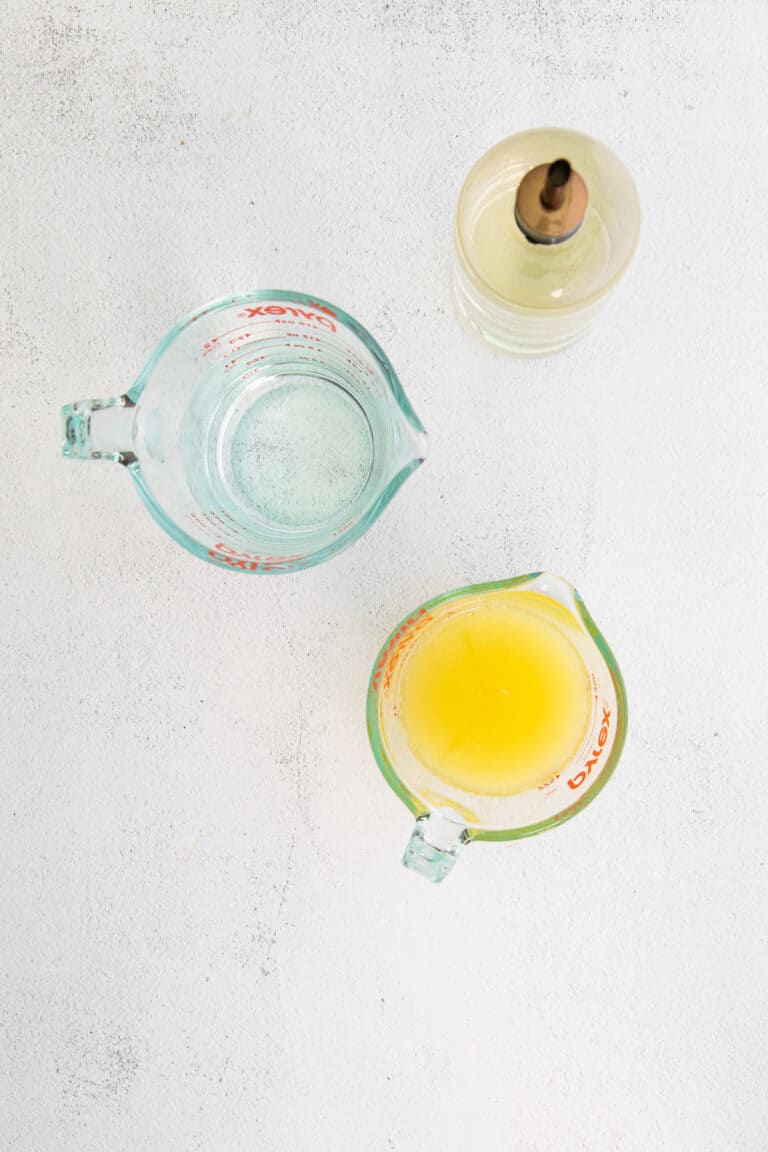 How to Juice Lemons
Lemons are the main ingredients in homemade lemonade (duh!). How you juice them is your business, but we have some tips and tricks!
Massage Your Lemons
No matter how you juice your lemons be sure that before you even cut into them that you massage them to get the juices flowing.
You can do this by massaging the lemons between your hands or rolling them with only hand along the counter too.
Use a Hand Juicer
One way to juice lemons is with a hand juicer. We love this classic hand juicer from crate and barrel. We love the connivence of hand juicer, especially if this is a smaller batch of lemonade.
Use an Electric Juicer
If you are making a larger batch of lemonade, your hand will get very tired using a hand juicer. You can use an electric juicer to make a larger batch of lemonade and save your hands a lot of cramping. We love this SMEG juicer, it is easy to use, easy to clean, and easy to assemble.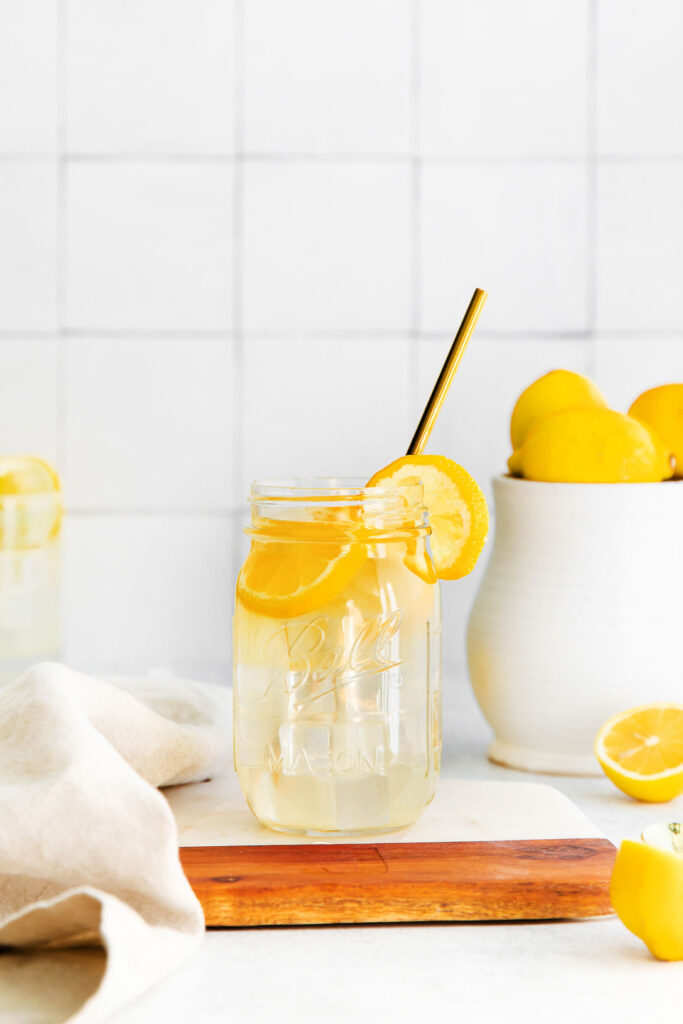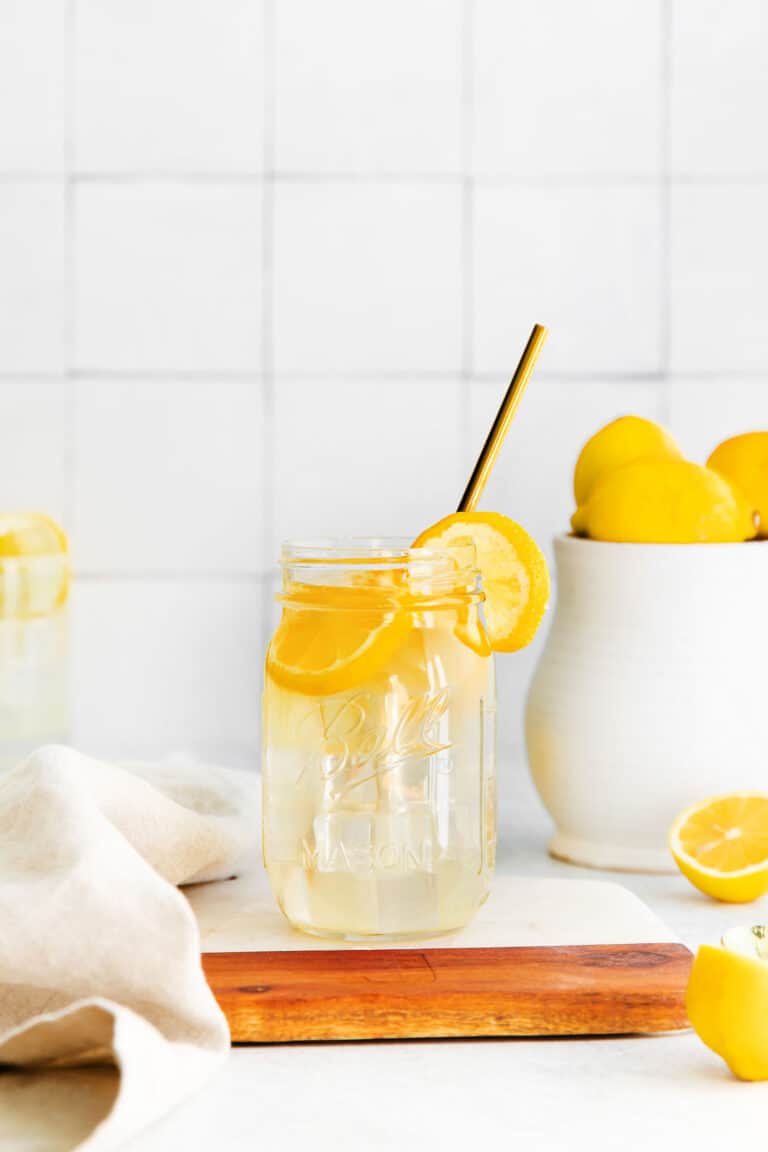 How to Make Homemade Lemonade
Prep the pitcher. Before you even juice lemons, prepare your pitcher for homemade lemonade by filling a pitcher halfway with ice and slices of lemons.
Juice the lemons. Whether you are juicing lemons by hand or with an electric juicer be sure you massage your lemons to get the juices flowing. Juice the lemons into the pitcher.
Add the water and simple syrup. Add the water and simple syrup to the pitcher with the ice.
Mix everything together. Mix everything together with a wooden spoon until combined.
Serve over ice. Serve the lemonade over ice and enjoy!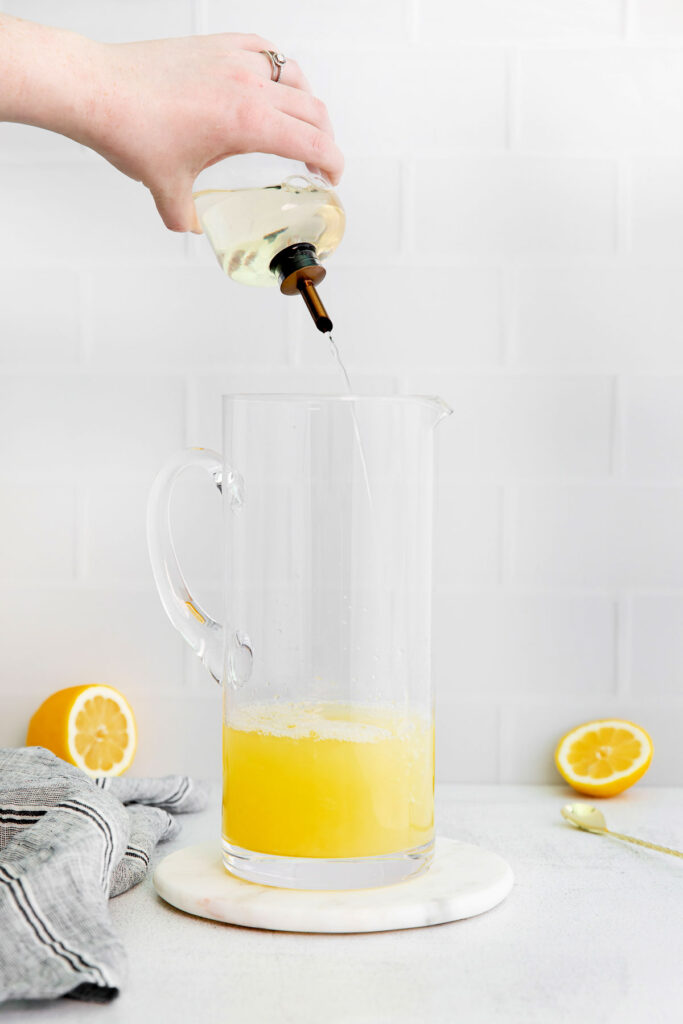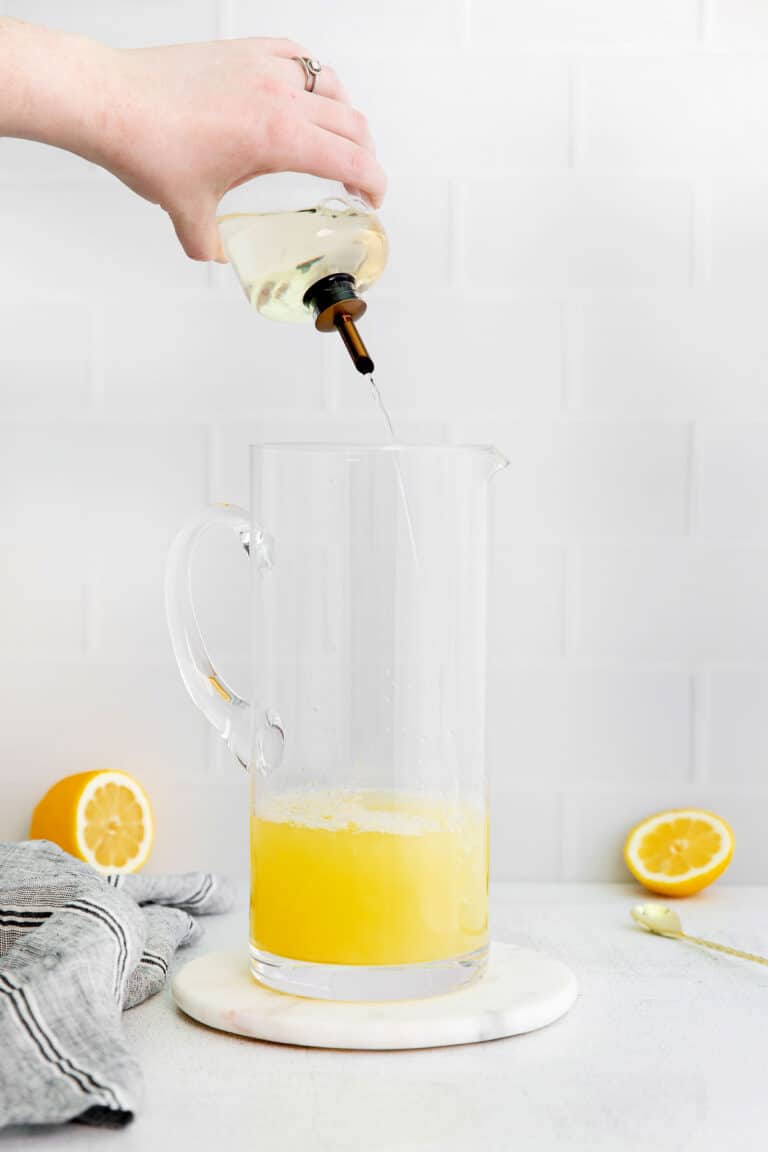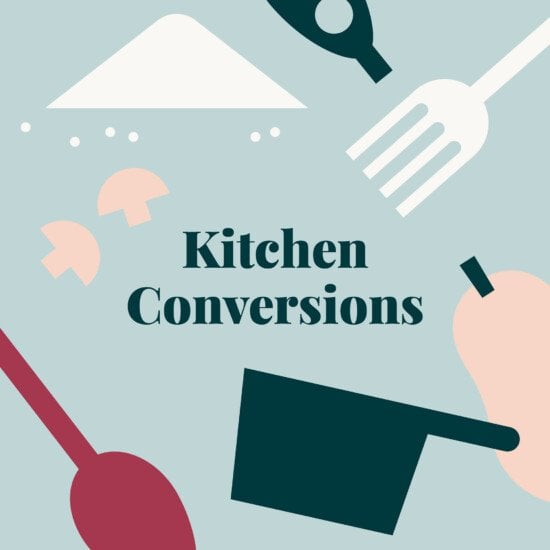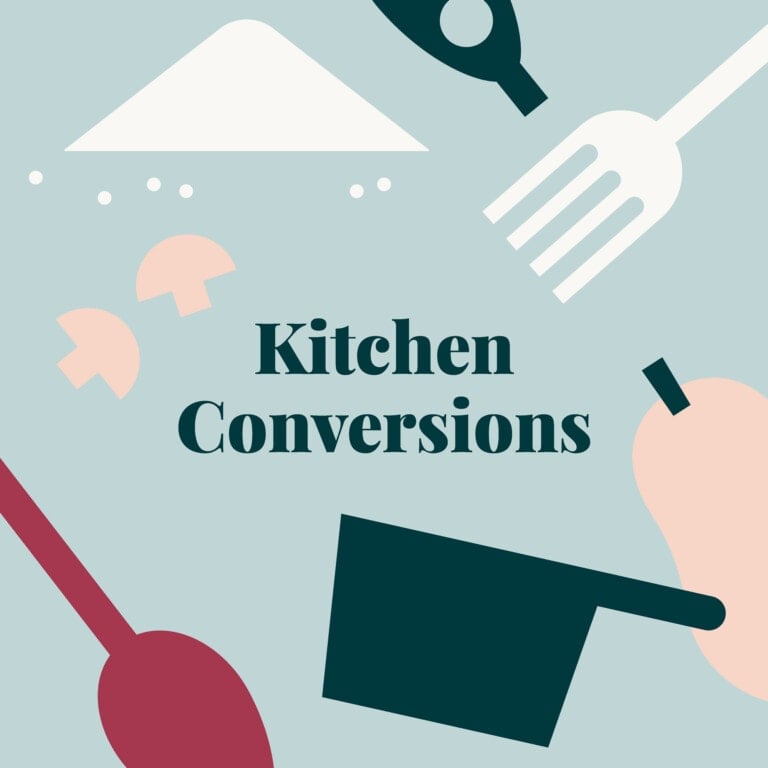 make it easy
Print Your Own
Keep common kitchen conversions like tablespoons to teaspoons and Fahrenheit to Celsius on hand at all times with our printable kitchen conversions chart.
get it now
Learn More Kitchen Conversions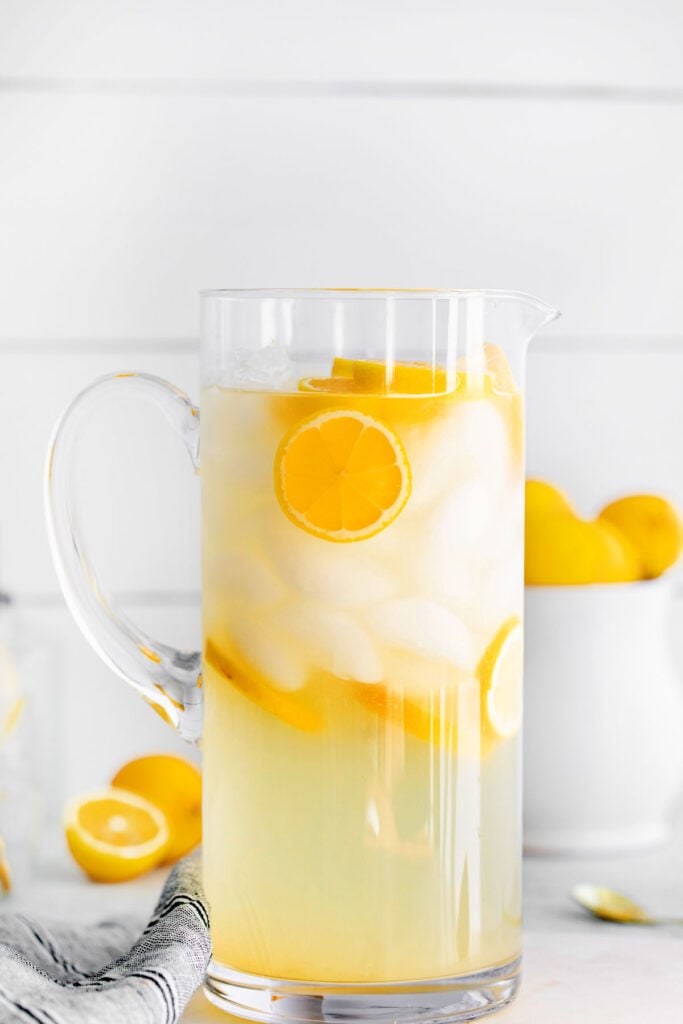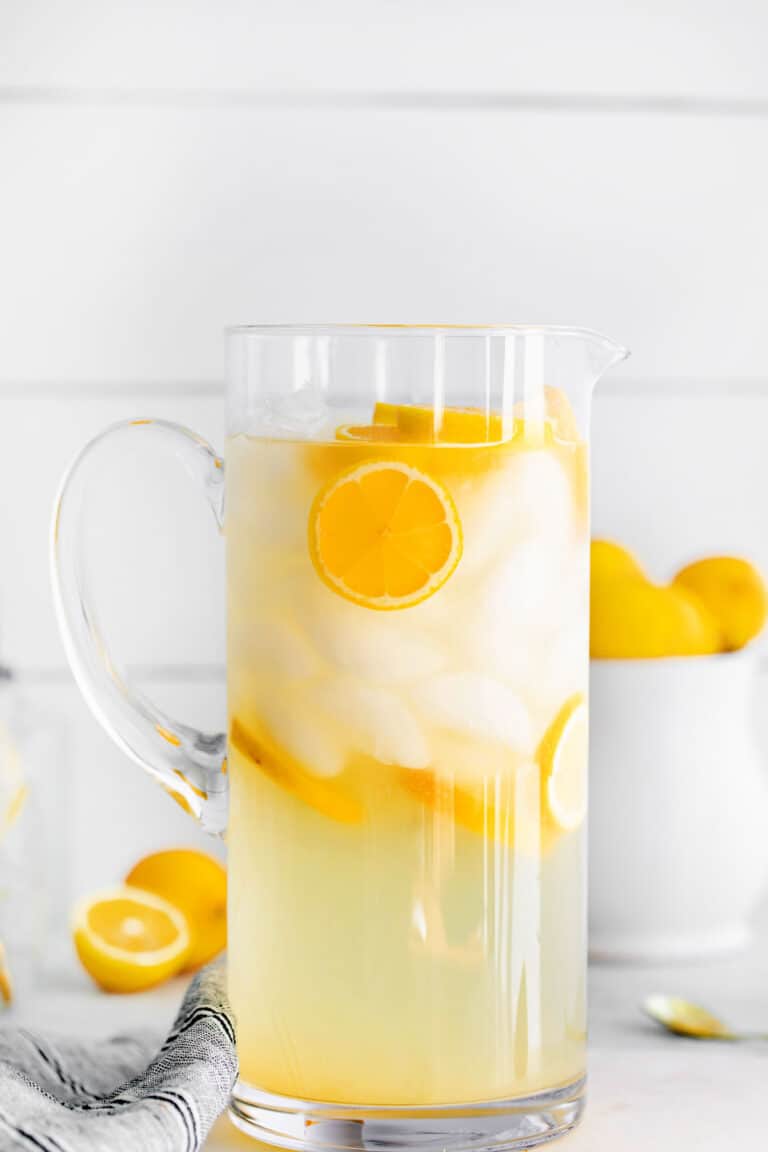 Tips + Tricks
Wait to add ice. We recommend adding ice to the pitcher if you deicide to serve the homemade lemonade immediately. If you are going to wait to serve the homemade lemonade, wait to add ice to the lemonade until right before serving. You don't want to water down the lemonade.
Change things up. If you want to jazz up your homemade lemonade feel free to add a couple tablespoons of fresh lime juice or grapefruit juice to your lemonade for a twist.
Add fruit ice cubes. Add your homemade lemonade to a glass with frozen fruit like a frozen berry mix or a tropical mix to mix things up.
Make it into a slushy. Add a cup of fresh lemonade and 1/2 cup of ice to a high speed blender and blend until smooth for a fresh frozen slushy!
Serving Suggestions
You can serve fresh homemade lemonade with so many dishes. Below are the recipes we suggest serving with this homemade lemonade recipe.
Grilled BBQ Chicken Breast– Grilled BBQ Chicken is hands-down one of my favorite summer meals. Whip up this healthy grilled chicken breast recipe on the grill with your favorite bbq sauce!
Slow Cooker BBQ Pulled Chicken– No matter the time of year BBQ Pulled Chicken is the way to go for any gathering. So, take out that crock pot and let's make the easiest Slow Cooker Pulled Chicken recipe of all time.
Grilled Chicken Thighs Recipe- These are the best grilled chicken thighs because the skin gets nice and crispy on the outside while the inside is tender and juicy.
Instant Pot Pulled Pork- The most tender and juicy Instant Pot Pulled Pork recipe made with a delicious dry rub and your favorite bbq sauce!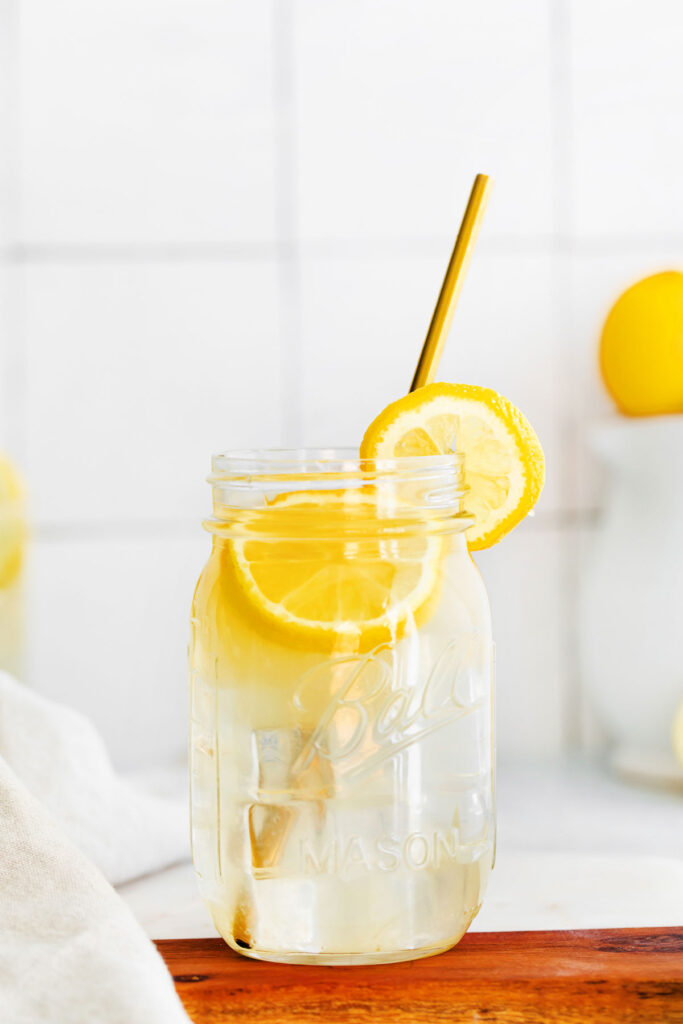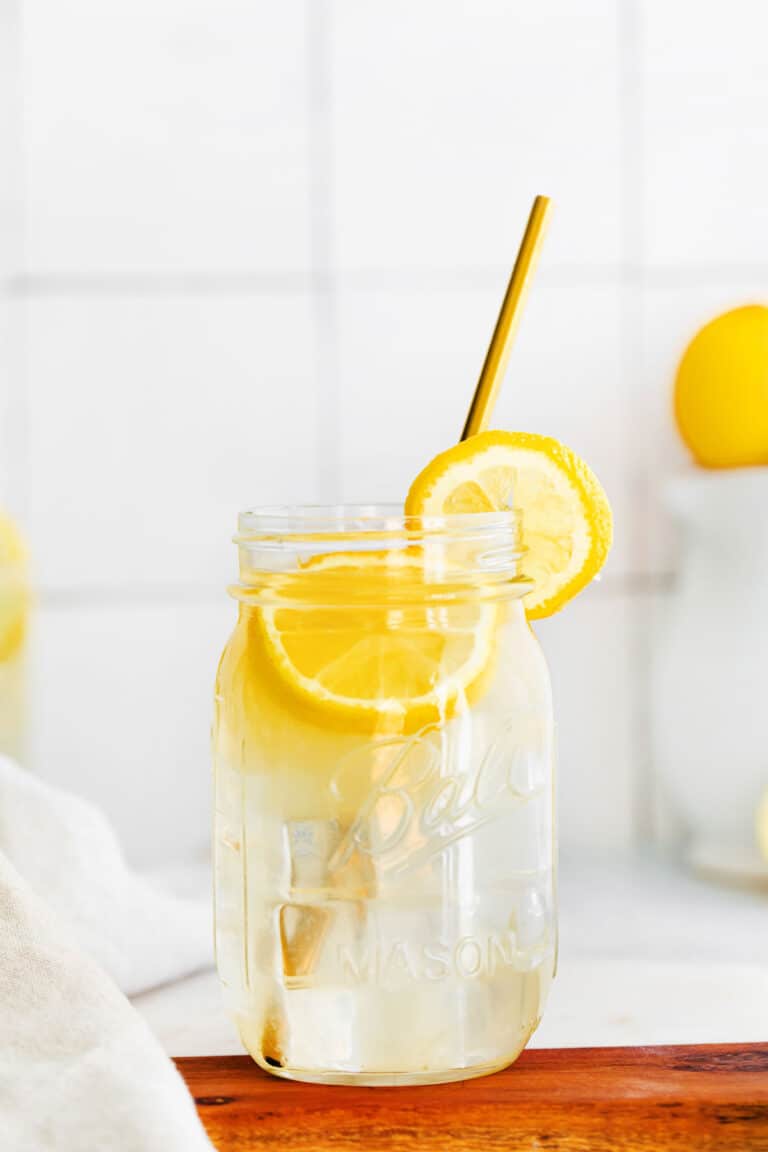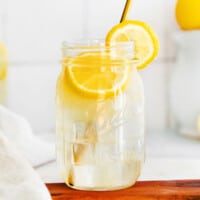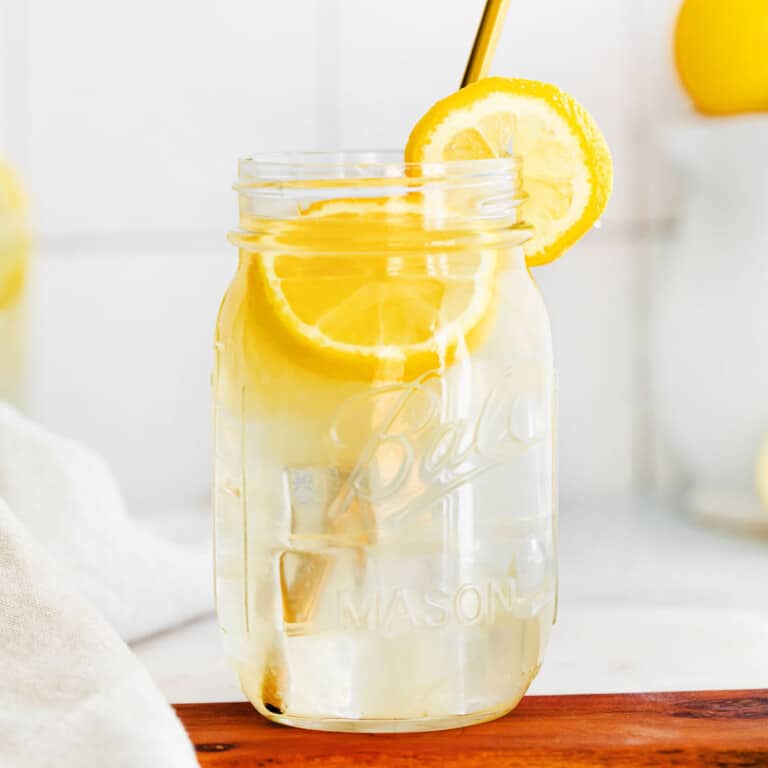 Homemade Lemonade Recipe
This is a simple and delicious homemade lemonade recipe. It is made with fresh lemon juice, water, and homemade simple syrup. 
Instructions
First, juice your lemons. We used 4 large, very juicy lemons, but all lemons vary. You will need about 1 cup of fresh lemon juice.

Transfer fresh lemon juice into a pitcher or large jar and add water and simple syrup. Mix to combine. 

Serve over ice. 
Nutrition facts
Calories:
227
kcal
Carbohydrates:
64
g
Protein:
0
g
Fat:
0
g
Fiber:
0
g
Sugar:
40
g