Make your own Homemade Italian Dressing at home with Ingredients you already have on hand. There are no added preservatives, it's easy to make, and so good for you. Drizzle it over your favorite healthy salad recipe today.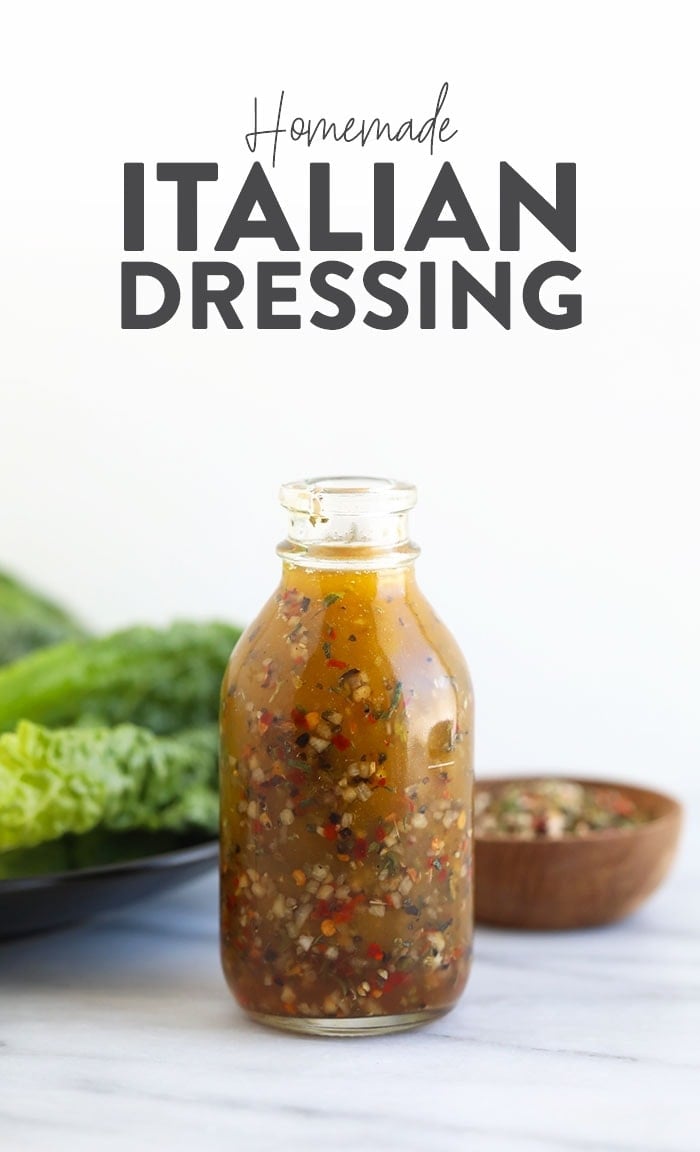 Homemade Italian Dressing Recipe- It's So Easy
There are so many different Italian salad dressings on the market, forget about them! Forget the store bought Italian dressing and make your own right in the comfort of your own home. You only need a few ingredients to make a classic Italian dressing that you can serve over a crunchy salad or a delicious pasta salad.
Why you'll love it!
It is so easy to make. Just throw everything into a bowl or jar and mix.
You can keep this homemade Italian dressing in your refrigerator for up to 5 days.
Not only is this homemade Italian dressing a perfect dressing to top any salad, but it is also a great marinade for chicken, pork, steak, veggies, and more.
This Homemade Italian Dressing is a healthy spin on a classic salad dressing without all of the preservatives and added sugar.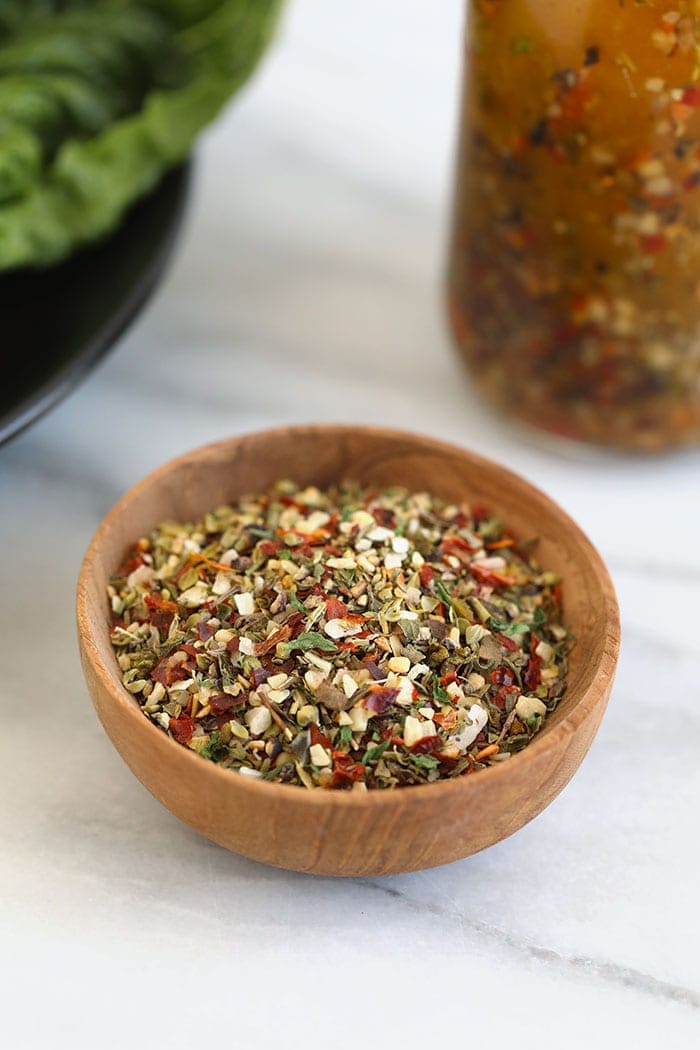 Featured Ingredients
We weren't joking that this homemade Italian dressing is so easy to make. Honestly, you probably have everything you need for the dressing in your pantry right now! Check out the ingredients for this homemade Italian dressing recipe below.
Olive oil: olive oil acts as a binder for many dressing recipes or vinaigrette. We use olive oil but you can use your favorite oil as a binder as well. You can use olive oil or extra virgin olive oil.
Vinegar: you can't skip the vinegar for this Italian dressing recipe because it adds the perfect bite and flavor to this dressing. We use rice vinegar but you can use white wine vinegar, red wine vinegar, apple cider vinegar, or a combination of any of these types of vinegar.
Lemon juice: a little citrus goes a long way in dressing recipes. Fresh lemon juices adds a freshness and brightness to any dressing.
Italian seasoning: the Italian seasoning adds many different wonderful flavors to this dressing. We highly suggest making our homemade Italian seasoning that is a combination of simple dried herbs. Our homemade seasoning is made of minced dried garlic, oregano, basil, parsley, onion powder, red pepper flakes, and more. It's a big step up from a store bought, classic Italian seasoning.
All-natural sweetener: a bit of honey is all you need to cut the savory and saltiness in this dressing.
here's a tip
If you have a store bought Italian seasoning at home it is usually made of dried oregano, basil, parsley, and other green herbs. Take it up a notch and add a teaspoon of red pepper flakes, a teaspoon of garlic powder, and a teaspoon of kosher salt to your mix. It will really take it to the next level.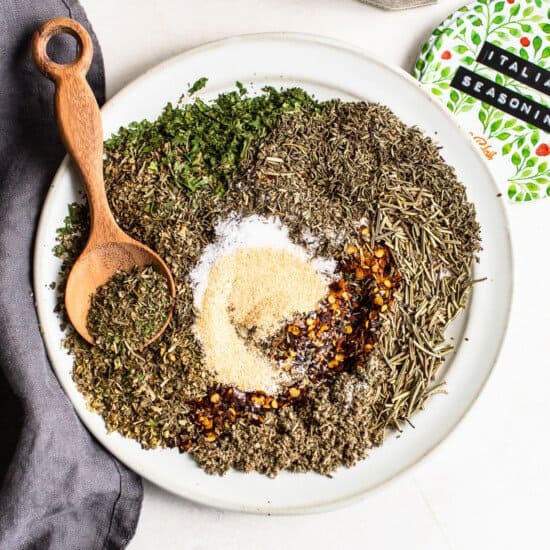 the best
Italian Seasoning Recipe
One ingredient that brings this Italian Dressing up a notch is a quality Italian seasoning. We love to use our u003ca href=u0022https://fitfoodiefinds.com/italian-seasoning/u0022u003ehomemade Italian seasoningu003c/au003e because it has so much flavor.
Make It
How to Make Italian Dressing from Scratch
Place all of the ingredients for this Italian dressing into a salad dressing jar or mason jar. You can also add all of the ingredients to a bowl except for the olive oil and mix. Then, drizzle oil into the bowl and whisk until combined.
Cover the jar with a lid and shake until all the ingredients are combined.
Pour the dressing over a salad, vegetables, or use it as a marinade!
Storage
Store this Italian dressing in an air-tight jar for up to 7 days in the refrigerator.
How to use Italian dressing
There are many different ways you can use this Italian dressing that isn't just on a salad! Check out our favorite ways below.
Use this Italian dressing as a marinade for chicken, pork, steak, vegetables or tofu.
Pour this Italian dressing over pasta, add veggies, parmesan cheese, salt, and pepper. Mix everything together and you've got a pasta salad.
Make this Italian dressing your new favorite simple vegetable dip. We like to dip tomatoes, cucumbers, broccoli, and other fresh veggies into this dressing for a little extra flavor.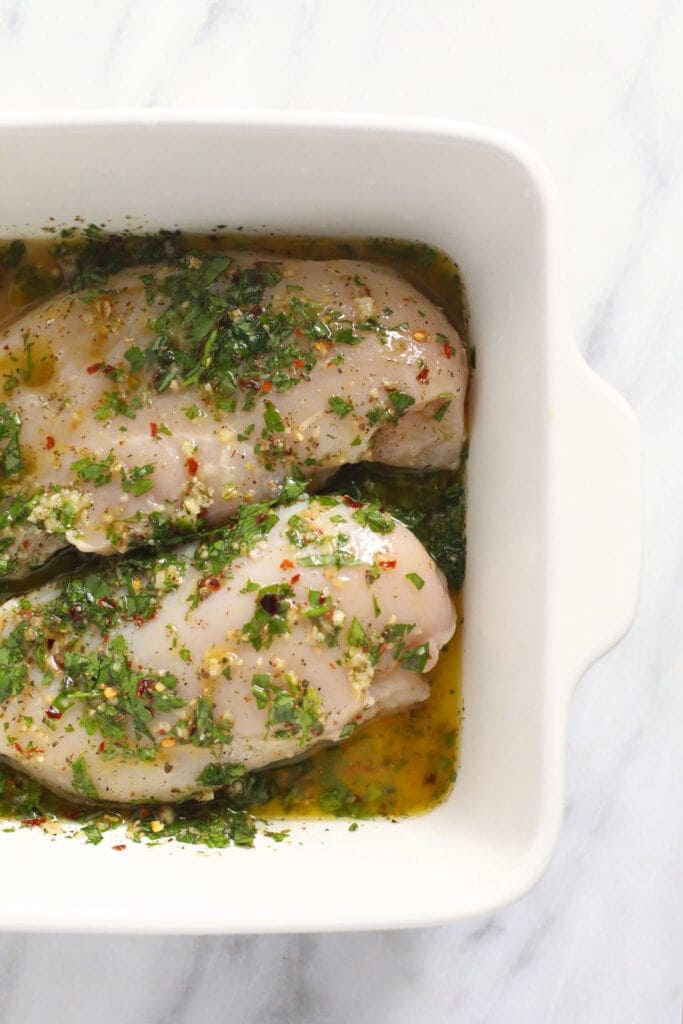 Homemade Italian Dressing FAQ
What is Italian dressing made of?

Most Italian dressing is made with oil, vinegar, a mix of dried herbs and spices and citrus.
How do I use Italian dressing?

We like to use Italian dressing as a dressing for green salads, pasta salad, as a dip, or marinade.
What does Italian dressing taste like?

Italian dressing tastes light, bright, and a little tart.
How do I thicken my Italian dressing?

To thicken your Italian dressing we recommend adding a bit of dijon mustard or butter milk.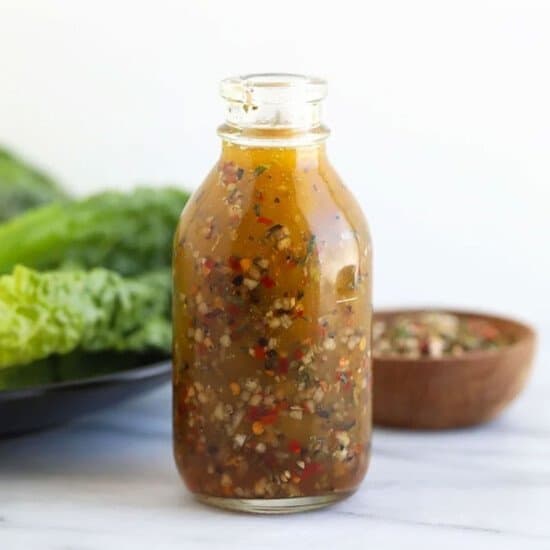 Italian Dressing Recipe
This homemade Italian dressing is made with olive oil, vinegar, Italian seasoning, citrus, and a bit of honey. Perfect for a salad dressing, pasta salad dressing, or as a marinade.
Ingredients
2

tablespoons

Italian seasoning

1/3

cup

olive oil

1/4

cup

rice vinegar

2

teaspoons

honey

1

tablespoon

fresh lemon juice

1/2

teaspoon

salt

1/4

teaspoon

pepper
Instructions
Place all ingredients into a mason jar and twist the lid on tight.

Shake mason jar until all ingredients are combined.

Serve over your favorite salad or use as a marinade.
Tips & Notes
Store in the refrigerator for 2-5 days in an airtight container.
Nutrition facts
Calories:
173
kcal
Carbohydrates:
4
g
Protein:
0
g
Fat:
18
g
Fiber:
0
g
Sugar:
4
g