Do you know what makes a really good salad? The salad dressing! We have pulled together all of the best homemade salad dressing recipes on FFF plus some of the best salad dressing recipes on the internet. Top your favorite salad with one of these homemade dressing recipes or use them as a tasty marinade recipe for veggies or meat!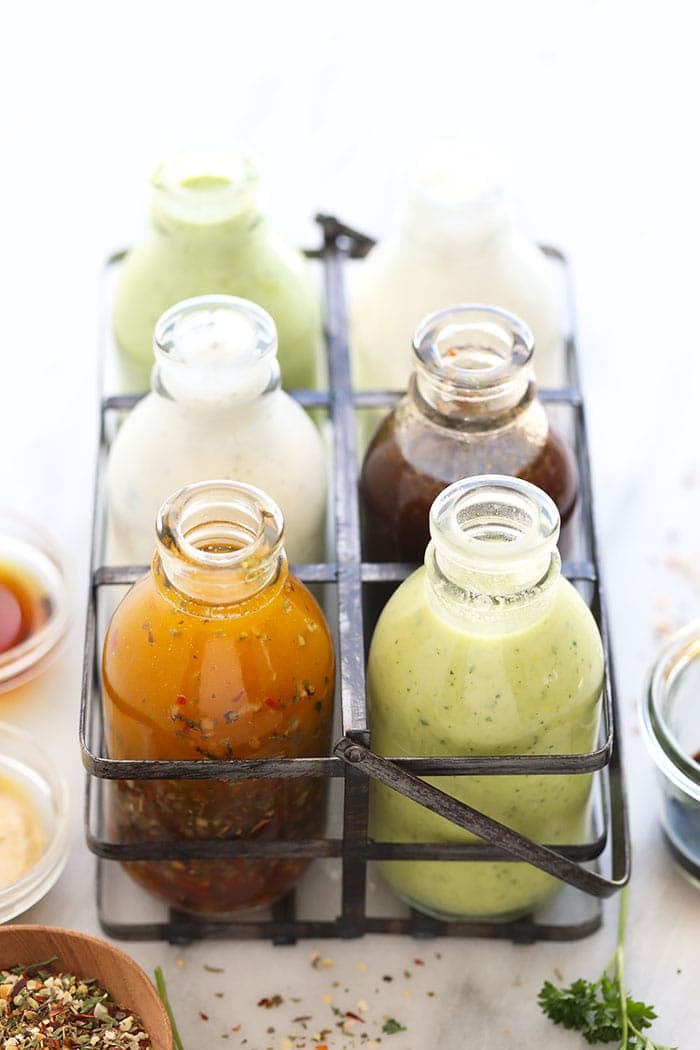 The Best Salad Dressing Recipe + MORE
Some people live to eat and some people eat to live. I think it's fair to say that here on Fit Foodie Finds we live to eat. We love developing new recipes, trying out new restaurants, and sharing it with all of you! We love recipes that are easy to make with amazing flavor. That's why we love salad dressing! Salad dressings are a great condiment to add to and salad to give it a little boost of flavor! We also love to use our favorite salad dressing recipes as a marinade for chicken, beef, or veggies. Is there anything better than grilled chicken that has been marinated in homemade Italian dressing and then grilled? The flavor is just out of this world.
Today we are chatting all about healthy homemade salad dressing. Why make homemade dressing rather than buying it from the store? We love homemade salad dressing because we can create the exact flavor we are looking for with simple ingredients with no additives and preservatives. We have so many healthy salad recipes on FFF and want to make sure they are dressed their best for all of YOU (see what I did there?).
Let's take a deeper dive into everything about salad dressings. There are a lot of questions floating around the internet on salad dressing, how to store it, and how you can make homemade salad dressing at home in no time. We've got you covered!
Homemade Salad Dressing Q & A
How many types of salad dressings are there? There are so many salad dressings out in the world! What dressing you use all depends on what kind of salad you are making. Check out all of the most popular salad dressing options below!
Italian Salad Dressing
Kale Salad Dressing
What can I use instead of salad dressing? If you don't have salad dressing on hand, try drizzling your greens with a little olive oil, lemon juice, and salt and pepper! Otherwise, a dollop or spoonful or the condiments below would work great as well…
Hummus
Cottage Cheese
Tahini
Greek Yogurt
How long does homemade dressing with garlic last? The shelf life of salad dressing all depends on the ingredients, how you store it, and what container you store it in. If you have a salad dressing with a fair amount of vinegar and lemon, the shelf life tends to be a bit longer. We like to say our salad dressings last about 3-5 days in the refrigerator in an airtight container.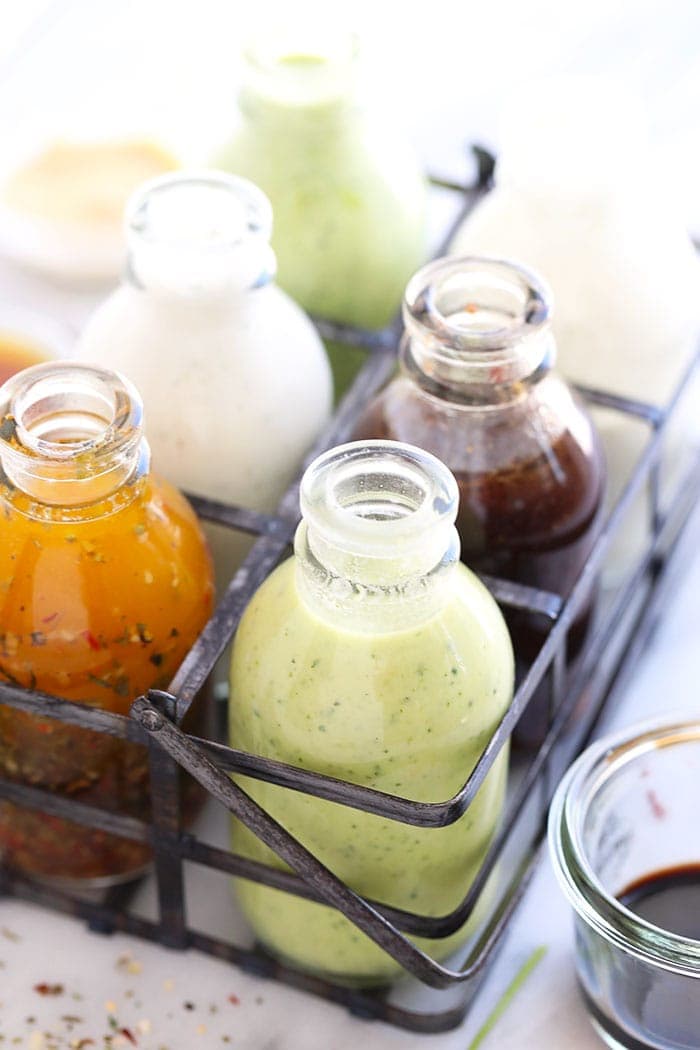 How to Make Homemade Salad Dressing
Find A Base
Every salad dressing is different. It all depends on what meal you are planning on pairing your salad dressing with. Generally, salad dressing has some kind of oil base. Most oils are interchangeable if you have to avoid a certain oil. Keep in mind that some oils do have different flavor profiles, so the taste a salad dressing may change slightly if you use a different oil. If you are looking for a non oil-based salad dressing have no fear, there are options for you too. Below are some great base ideas for a healthy homemade salad dressing.
Extra Virgin Olive Oil
Algae Oil
Grape Seed Oil
Avocado Oil
Sesame
Greek Yogurt
Hummus
Vegan Mayo
Vinegar
I'm sure you've noticed that in most salad dressings have a bit of tang to balance out the oil base and to create the perfect salad dressing flavor. There are more vinegar options on the market than you think. As you are mixing up a salad dressing, keep in mind that all kinds of vinegar are a bit different, so taste test them before using!
Apple Cider Vinegar
Rice Vinegar
White Vinegar
White Wine Vinegar
Balsamic Vinegar
Malt Vinegar
Herbs + Veggies + Fruits
One way to give your salad dressing a bit of dimension is to add fresh ingredients! Though it may mean the shelf life for the salad dressing isn't as long, the flavors will be fresh and more complex. We flavor our avocado dressing with fresh avocado and cilantro and it is out of this world! You also can't go wrong with adding a couple of teaspoons of citrus to any dressing. Feel free to blend any herbs, fruits, or soft veggies into any of your salad dressing!
Avocado
Strawberries
Blueberries
Raspberries
Basil
Cilantro
Parsley
Roasted Pear
Roasted Apple
Lemon
Lime
Orange
Flavor
Though fresh fruits and herbs do in fact add quite a bit to any salad dressing, don't forget about the power of dried herbs and spices! We have a favorite Italian Seasoning that we keep on hand at all times as well as our favorite garlic powder so we have access to or favorite spices all the time. Adding a little something sweet to any salad dressing is also SO important and helps to cut the acidity of the vinegar and citrus. We generally stick to natural sweeteners, but you choose your favorite!
Italian Spices
Garlic Salt
Maple Syrup
Honey
Agave Syrup
Dried Basil
Dried Ground Oregano
Blend or Shake
Once you have decided on all of the ingredients for your salad dressing, you have to decide how you are going to mix them all together. With oil and vinegar based salad dressing recipes (like our Homemade Italian Dressing), we tend to place all ingredients into a mason jar, close it tight, and shake until all ingredients are combined. For thicker dressings where herbs, fruits, or veggies need to be blended (like our Avocado Cilantro Lime Dressing, we tend to blend them in our Vitamix!
Keep in mind that the consistency of your salad dressing depends on you and your personal preference. If you like a thicker salad dressing, add less liquid. If you generally like a thinner dressing add little more oil or water if needed!
Storage
When it comes to storing salad dressing, the best containers are the ones that are airtight and easily stored in the fridge. Most of our Fit Foodie Finds salad dressing recipes are about 4-6 servings and can be stored in the refrigerator for 3-5 days! Our favorite salad dressing storage containers are below.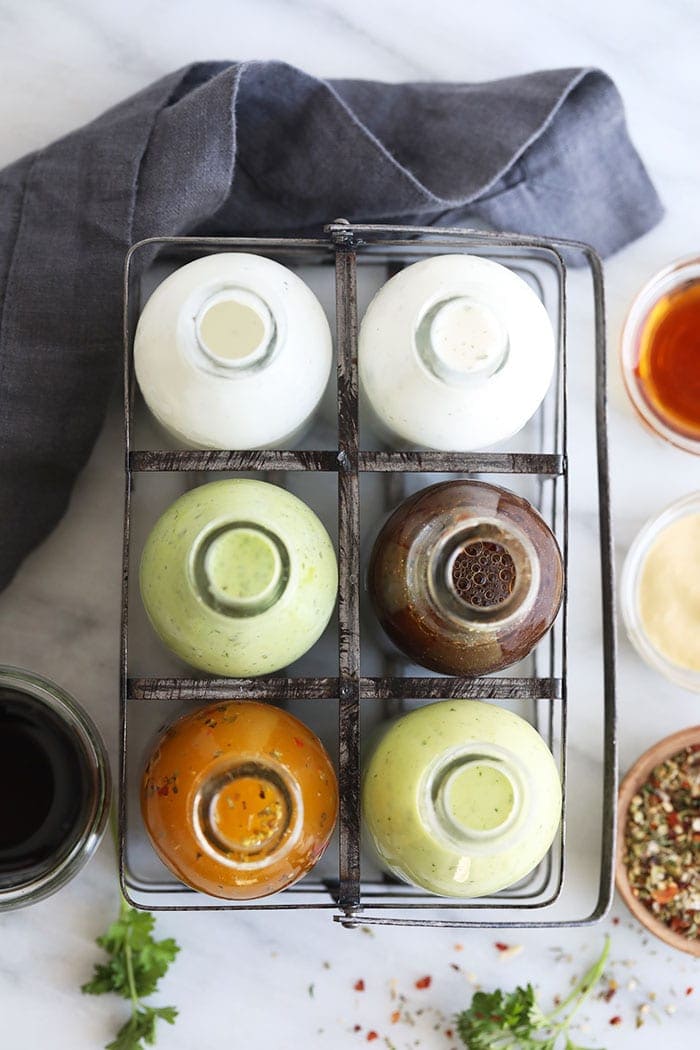 Get creative and have a little fun next time you make a salad for dinner! Here are our favorite FFF healthy salad recipes and some of the best healthy salad recipes on the internet!