Looking for a way to add more nutrition to your diet? Try one of the many Kale Salad Recipes recipes we have on Fit Foodie Finds! Plus, learn about the health benefits of kale, how to massage kale, and get inspired with one of our favorite kale salad dressing recipes!

From massaged kale salad recipes to kale quinoa salad recipes, we love kale salads! They are a great way to get in extra nutrition and the best part is that you can eat kale year-round because kale is one hearty vegetable. In this post, we'll share some of our best kale salad tips and tricks, all of our favorite kale salad recipes, and some of our favorite kale salad dressing ideas.
Kale Salad Tips & Tricks
Health Benefits of Kale
Kale is the green of all greens and is considered a superfood and we can definitely see why! One cup of kale has nearly 3 grams of protein, which is amazing for a green. It's also packed with vitamins A, C, and K and is high in fiber.
Kale Nutrition
Per 1 cup of kale: 34 calories, 1g fat, 7g carb, 1g fiber, 0g sugar, 2.5g protein
How to Massage Kale
First of all, if you are wondering why you massage kale in the first place, let me explain. Kale is an extremely hearty vegetable that takes some manpower to break down. If you were to eat raw kale without breaking it down a little bit beforehand, there is a good chance you would get a tummy ache. That is why you massage your kale before eating it. Essentially, you're making it a bit easier to break down in your stomach and it takes away some of the pungent flavors of kale.
How do you tenderize kale for salads?
In order to massage kale, you're going to need:
kale on the stalk
olive oil
salt.
Remove the kale from the stalk by either cutting it off or using your hands to tear it off. Cut into bite-sized pieces and then place in a bowl. For every 4 cups of kale, we suggest drizzling on about a teaspoon of olive oil and a pinch of salt. Use your hands to work the olive oil into the kale by massaging it. Do this for about 4-6 minutes or until the kale feels more malleable and is brighter in color. Once your kale has been massaged it's time to add more ingredients to your salad!
Can You Eat Kale Raw in Salads?
While you can totally eat raw kale off the stalk in salads, we suggest massaging first because it's a lot easier on your stomach! Follow our instructions above for how to massage raw kale. We did want to note that raw baby kale is okay to consume raw because it's not as tough as normal kale.
Now that you know the ins and outs of kale, it's time to get inspired with some of our favorite kale salad recipes! Check them out below!
Best Kale Salad Recipes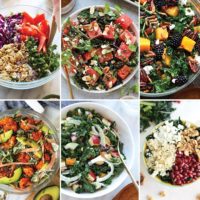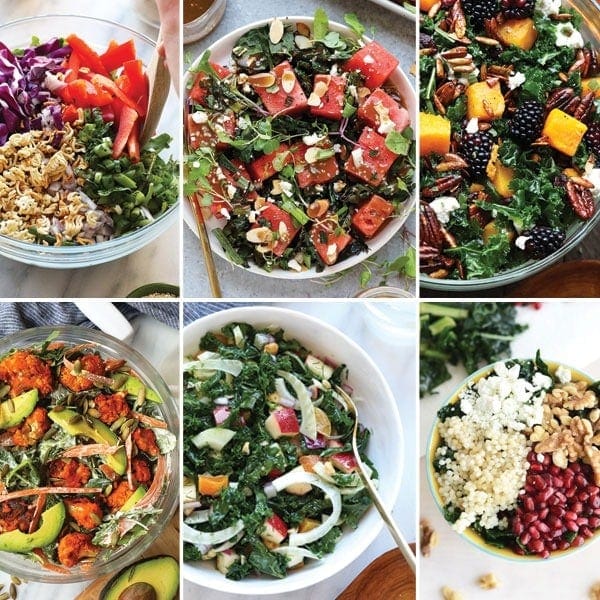 Basic Kale Salad Recipe
Looking for a basic kale salad recipe to add to any meal? Below you'll find our go-to kale salad recipe that's made with a few basic ingredients including a yummy kale salad dressing.
Prep:
15 minutes
Cook:
0 minutes
Total:
15 minutes
Ingredients
8 cups

chopped kale, deboned

2 teaspoon

olive oil
pinch of salt

3 tablespoons

diced red onion

1/4 cup

pepitas

1/4 cup

goat cheese crumbles

1/4 cup

dried cranberries
Kale Salad Dressing
3 tablespoons

olive oil

1 tablespoon

balsamic vinegar

2 teaspoons

lemon juice

1 teaspoon

maple syrup
pinch of salt
Instructions
First, prepare kale salad dressing by pouring balsamic vinegar, olive oil, lemon juice, and salt into a mason jar. Cover and shake until ingredients are combined. Set aside.
Place deboned kale into a large salad bowl and drizzle with one teaspoon of olive oil and a pinch of salt.
Next, massage kale with your hands for 3-4 minutes or until kale breaks down and the color become a brighter green.
Next, add red onion, pepitas, goat cheese, and dried cranberries to the kale. Pour on dressing and toss everything together.
Nutrition Facts
Serving Size:
1/4
Calories:
207
Sugar:
9
Fat:
8
Carbohydrates:
29
Fiber:
4
Protein:
8
Category:
Lunch
Method:
No Bake
Cuisine:
American
Keywords: kale salad recipe
Kale Salad Dressing Ideas
While you can pretty much top your kale salad recipe with any dressing your little heart desires, we have some kale salad dressing ideas for yah! Check them out below: