A flavorful Pomegranate Salad made with massaged kale, a homemade pomegranate salad dressing, and amazing toppings >> fresh pomegranate arils, pear slices, walnuts, and goat cheese.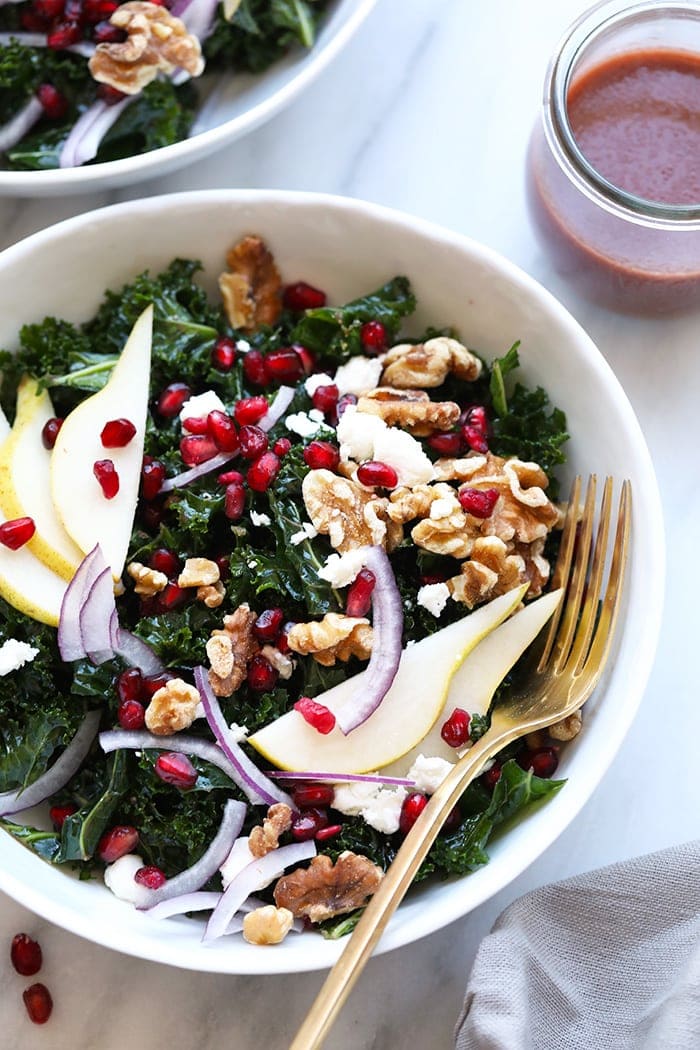 Happy Monday mis amigos! I am thrilled to be partnering with POM Wonderful today for the most beautiful and tasty kale salad on the planet. If you've seen my IG stories lately, you know I've been obsessed with POM Wonderful 100% Pomegranate Juice. I've been mixing it daily with my favorite kombucha! Let's jump right into why I love this product so much.
POM Wonderful 100% Pomegranate Juice
POM Wonderful 100% Pomegranate is exactly what it sounds like: 100% juice and 100% amazing flavor! None of that added stuff. No thank you.
100% juice — that's right, no added anything!
No added sugar (BOOYAH)
Non-GMO
Good source of potassium
Known for antioxidants (boasts 4x the antioxidants, on average, of green tea.)
Not only do I love adding a splash of this stuff to beverages, but it is also amazing in other things such as: smoothies, oatmeal, baked goods, and dressings! In this recipe, in particular, I used POM Wonderful100% Pomegranate Juice in a super simple dressing to massage into a gorgeous kale salad.
I've mentioned this before, but raw kale is difficult for the body to digest, so if you have a tasty, homemade vinaigrette to massage into it, all will be well!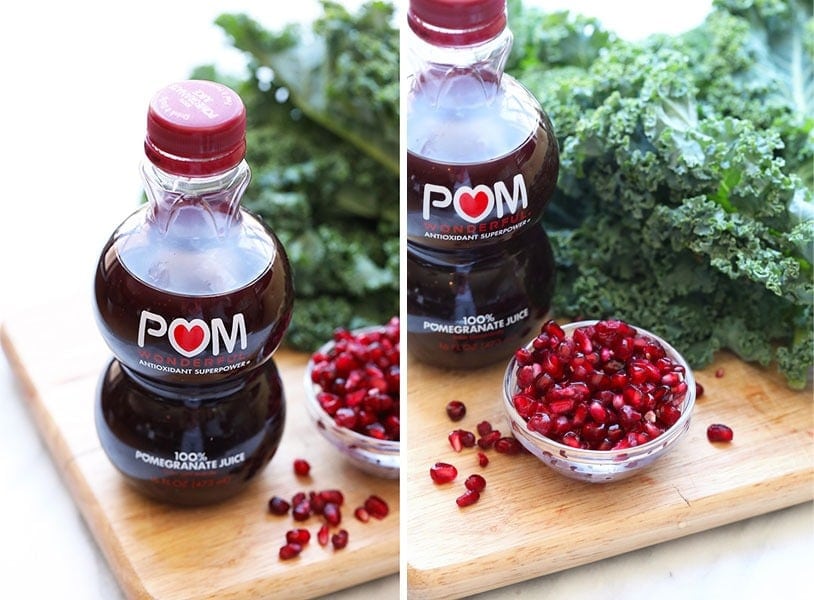 Why Make This Pomegranate Salad?
Let's chat all things Kale and Pomegranate Salad. This salad is amazing for so many reasons. First, the flavor combination is on point. I love the combo of pomegranate, fresh pear, and goat cheese.
Second, the texture is really great with the mixture of the massaged kale, toasted walnuts, and pops of pomegranate arils, which can be an optional addition too. So fresh and so delish.
And third, it doubles as a side salad or main meal! If you scroll all the way down, you'll see that meal-prepped this salad with some baked chicken and quinoa for a complete, protein-packed lunch or dinner.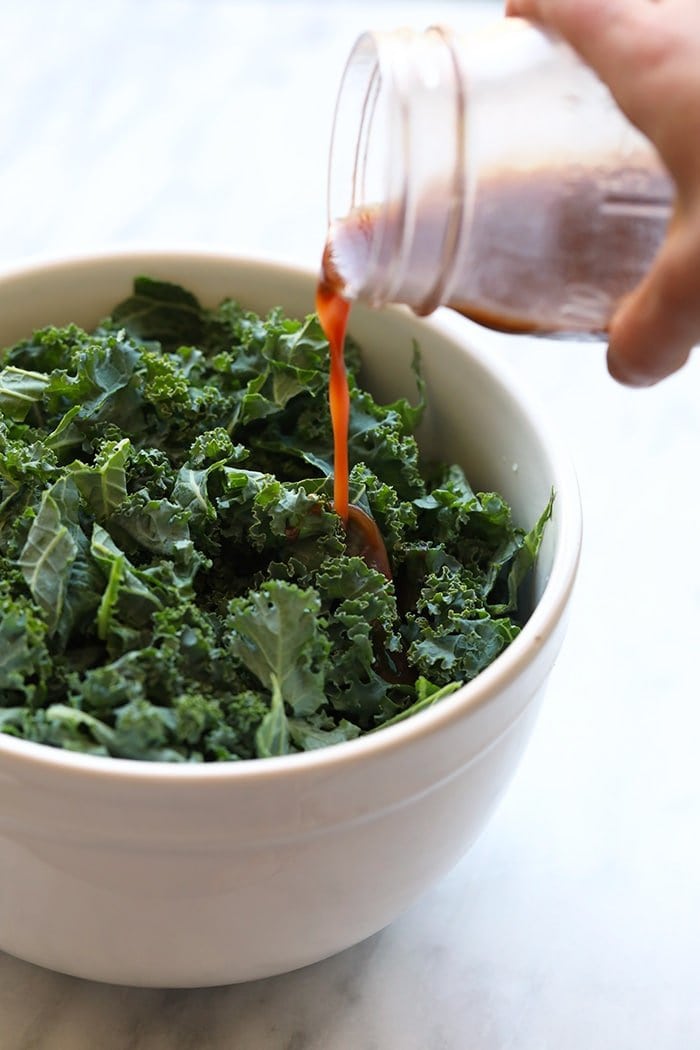 Here's What You'll Need:
Kale
Walnuts
Goat cheese
Pears
Pomegranate Arils
Red onion
Homemade POM Vinaigrette
Pomegranate Salad Dressing
The pomegranate vinaigrette is super simple. It's actually a variation of the dressing I make quite often at home. You'll need:
POM Wonderful 100% Pomegranate Juice
olive oil
balsamic vinegar
dijon mustard
honey
salt.
I like to place all the ingredients into a mason jar, screw the lid on, and give it a good ol' shake.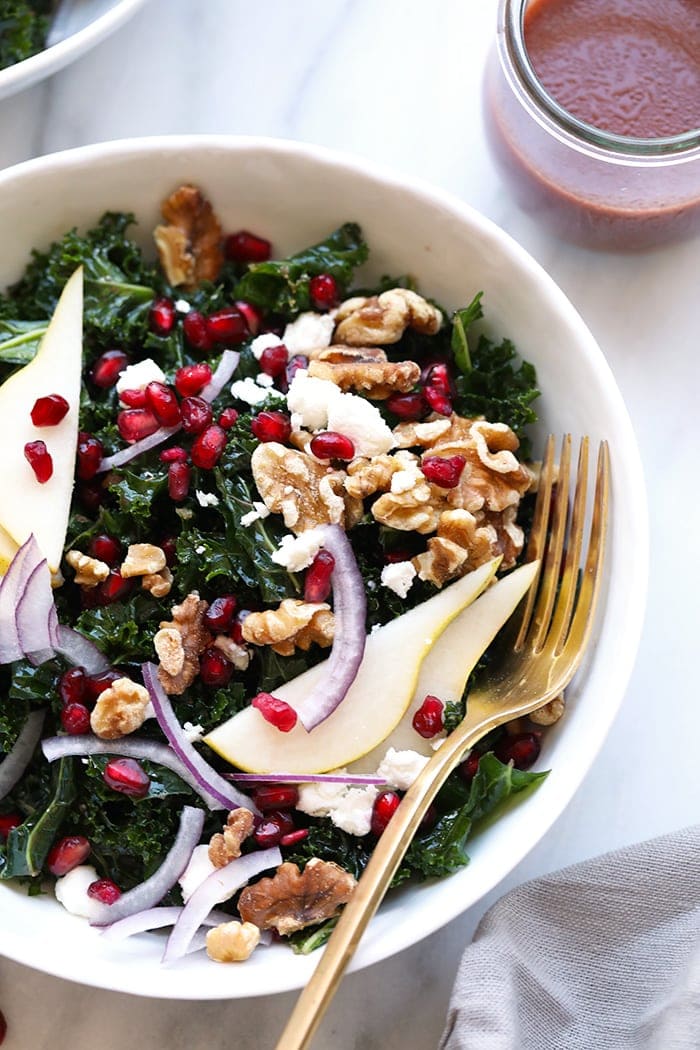 More Kale Salads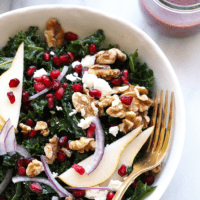 Kale and Pomegranate Salad
A flavorful pomegranate salad made with massaged kale, a homemade pomegranate salad dressing, and amazing toppings >> fresh pomegranate arils, pear slices, walnuts, and goat cheese.
Ingredients
For the Salad
8

cups

kale

deboned and chopped

1/2

cup

raw walnuts

2

oz.

goat cheese crumbles

2

medium pears

sliced

1/3

cup

POM Wonderful Arils

optional

1/2

medium

red onion, thinly sliced
Optional:
1/2

cup

cooked quinoa

per serving

4

oz.

chicken breast

per serving
Instructions
For the Dressing
Prep your dressing by placing all ingredients for dressing in a mason jar. Screw the cap and shake until ingredients are mixed well. Set aside.
For the Salad
Preheat the oven to 325ºF. Place walnuts on a baking sheet and bake for 6-8 minutes. Remove from oven and set aside.

While walnuts are baking, place chopped kale in a large bowl. Pour dressing over the kale and massage kale with your hands for 3-5 minutes. This will make the kale easier to digest and less pungent.

Once you've massage your kale, add the rest of the ingredients to the salad and toss.

Eat as is or top with a protein such as quinoa, chicken breast, or both!
Nutrition facts
Calories:
276
kcal
Carbohydrates:
25
g
Protein:
10
g
Fat:
18
g
Fiber:
7
g
Sugar:
11
g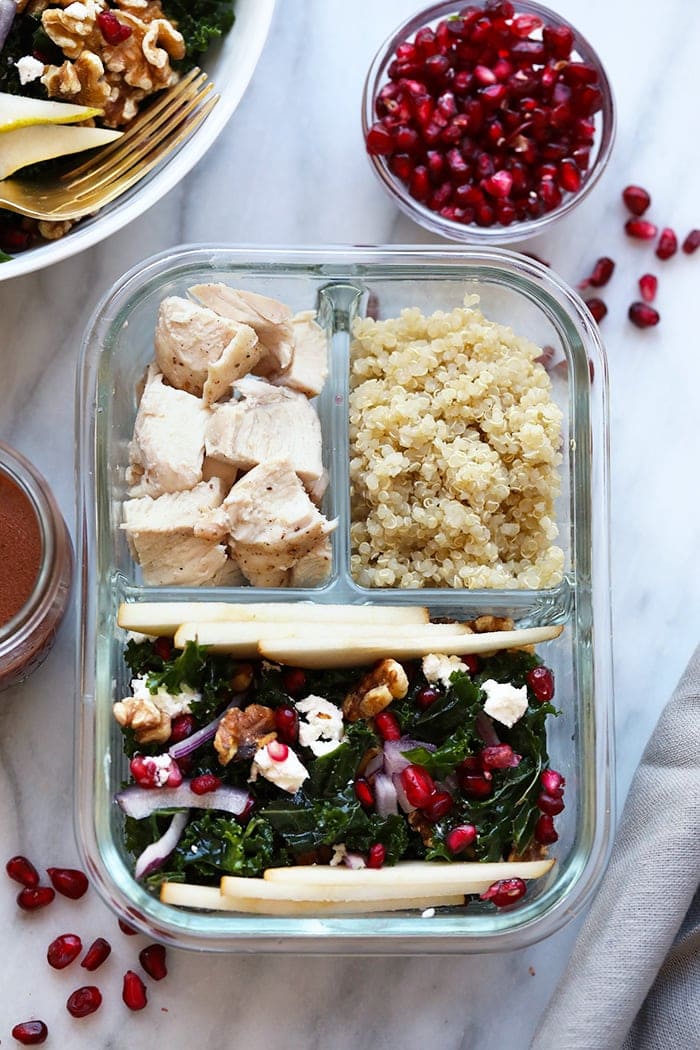 PS: In case you were wondering, Each 16 oz. bottle of POM Wonderful 100% Pomegranate Juice contains the juice of four whole-pressed pomegranates, and nothing else– no added sugar, fillers or preservatives. WOOT!
This post is sponsored by POM Wonderful. I was compensated and all opinions are my own. Thank you for supporting Fit Foodie Finds and for making this website possible!