This gorgeous Roasted Butternut Squash and Blackberry Harvest Salad is a Fit Foodie Finds reader favorite that's fall-inspired and so flavorful.
It's made with roasted butternut squash, candied nuts, blackberries, and massaged kale with a homemade dressing!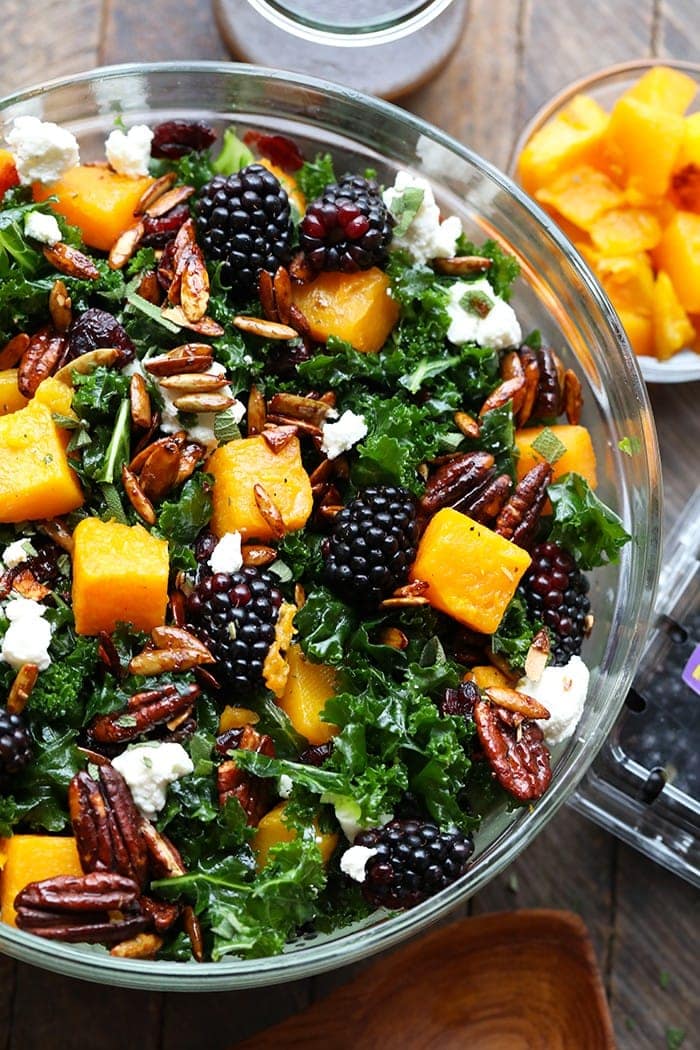 Perfect Harvest Salad
Talk about the most perfect harvest salad you've ever seen. It's sweet and savory at the same time and is made with the most delicious roasted butternut squash you've ever had.
I love me a good harvest salad because they're packed with seasonal ingredients, are filling, and packed with so much good nutrition.
Components of this salad
Here's a quick rundown of this harvest salad:
Roasted Butternut Squash
Massaged Kale
Fresh Blackberries
Candied Pecans
Balsamic Dressing
Goat Cheese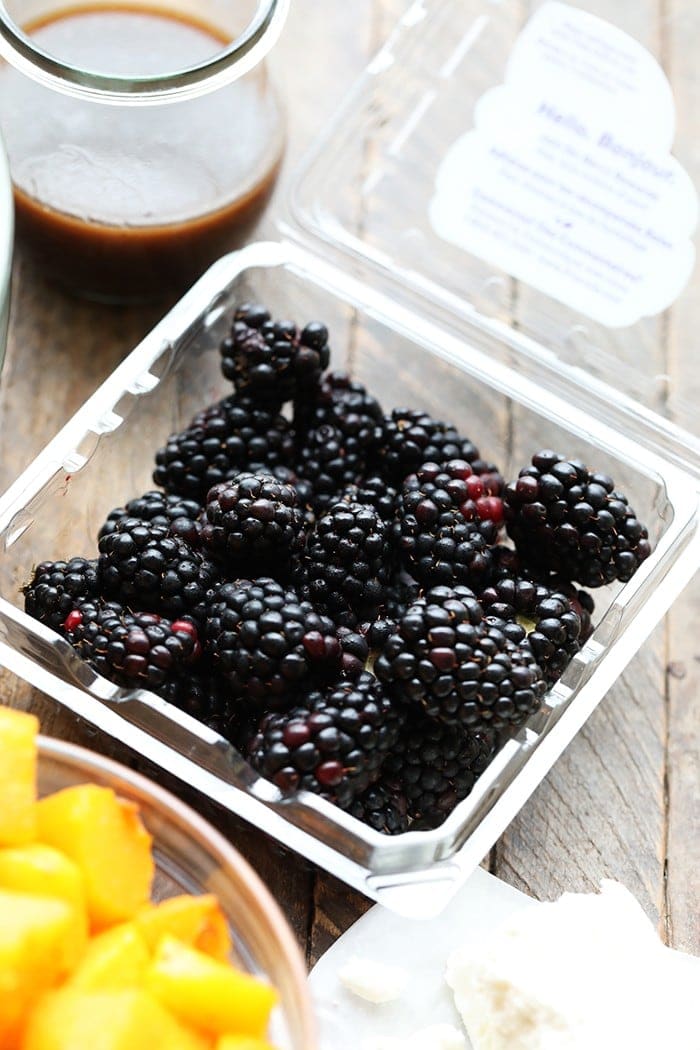 How to Massage Kale
Every great salad starts with a yummy green base. We love using kale in the fall/winter because it's hearty and abundant at most grocery stores.
If you're planning to use kale off the stalk (like this recipe), ALWAYS, and I mean always, massage the kale first. If you don't, it'll be hard to chew and might even give you a stomach ache.
We have an entire post on how to massage kale if you want to check that out, but I'll give you a quick rundown.
Wash kale under warm water and pat dry.
Debone kale by ripping off the leafs. Discard the bone.
Chop kale into large, bite-sized pieces and place it into a large bowl.
Drizzle on olive oil and sprinkle on some salt.
Massage the kale between your fingers. Do this for 3-5 minutes until the kale turns bright green and feels "wilted."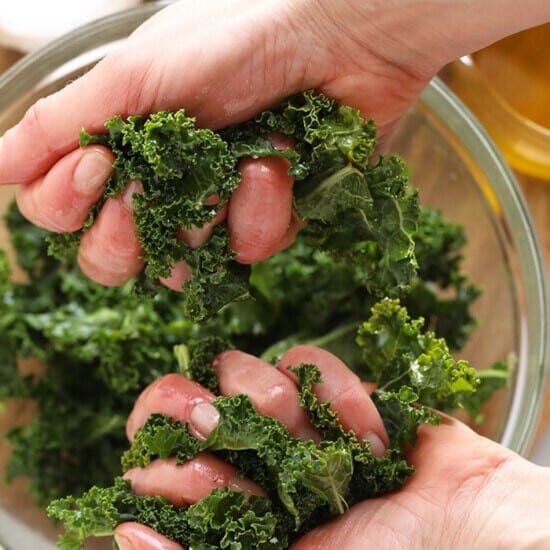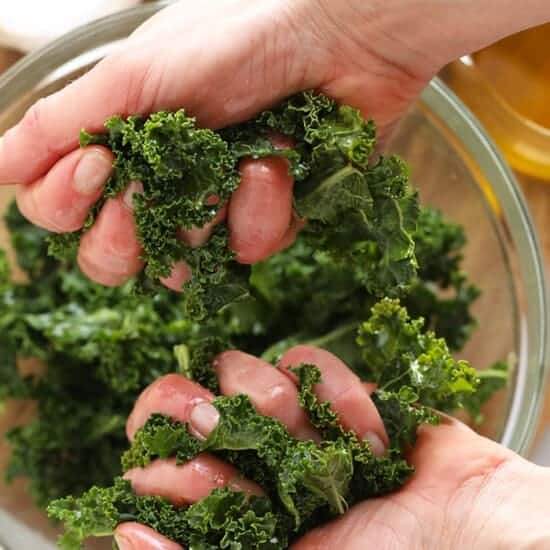 tutorial
How to Massage Kale
Massaged Kale Salads are all the rage right now. We love u003ca href=u0022https://fitfoodiefinds.com/best-kale-salad-recipes/u0022u003emassaged kale saladsu003c/au003e, but how do you massage kale? Don't worry, we've got you covered with this super simple tutorial!
Get Recipe
How to Roast Butternut Squash
Next up is the star ingredient of this harvest salad –> roasted butternut squash! Good news for you is that you can find pre-cubed butternuts squash these days to make this part of the salad super simple.
Butternut squash is one of my favorite vegetables (it's actually a fruit!) because it's hearty, slightly sweet, and so versatile. You can make butternut squash soup, butternut squash lasagna, you name it!
What You Need
Roasting butternut squash is simple and only requires a few ingredients. You'll need cubed butternut squash, olive oil, salt, and pepper. That's it!
How to Make It
Place butternut squash on a baking sheet.
Drizzle on olive oil and season with salt and pepper. Toss everything together
Roast at 400ºF for 20-25 minutes.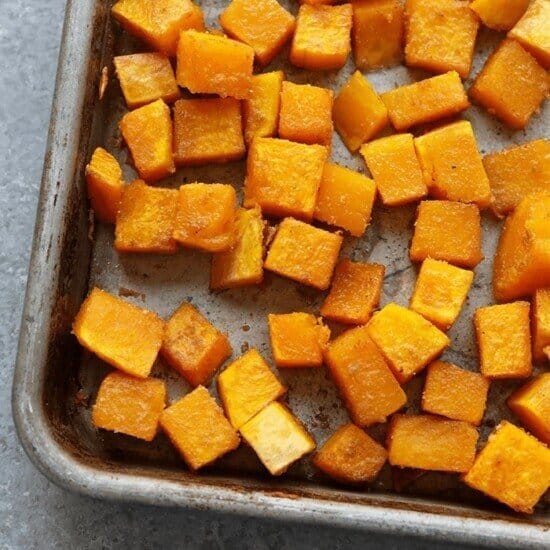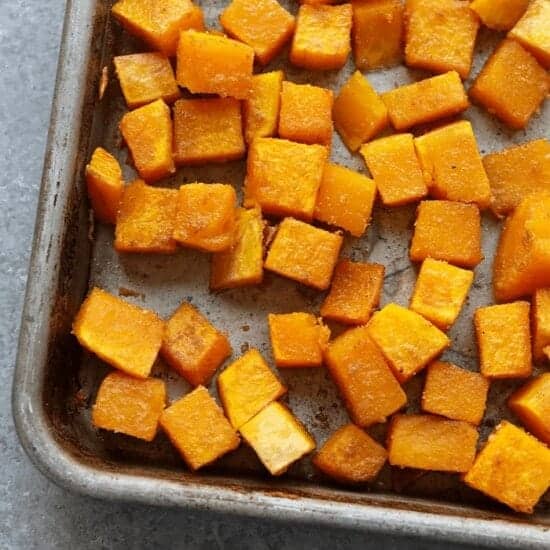 Tutorial
Roasted Butternut Squash
Wondering how to cook butternut squash? Don't be intimidated! It's a lot easier to peel, cut and roast butternut squash than it seems! Learn how with step-by-step instructions here.
Get Recipe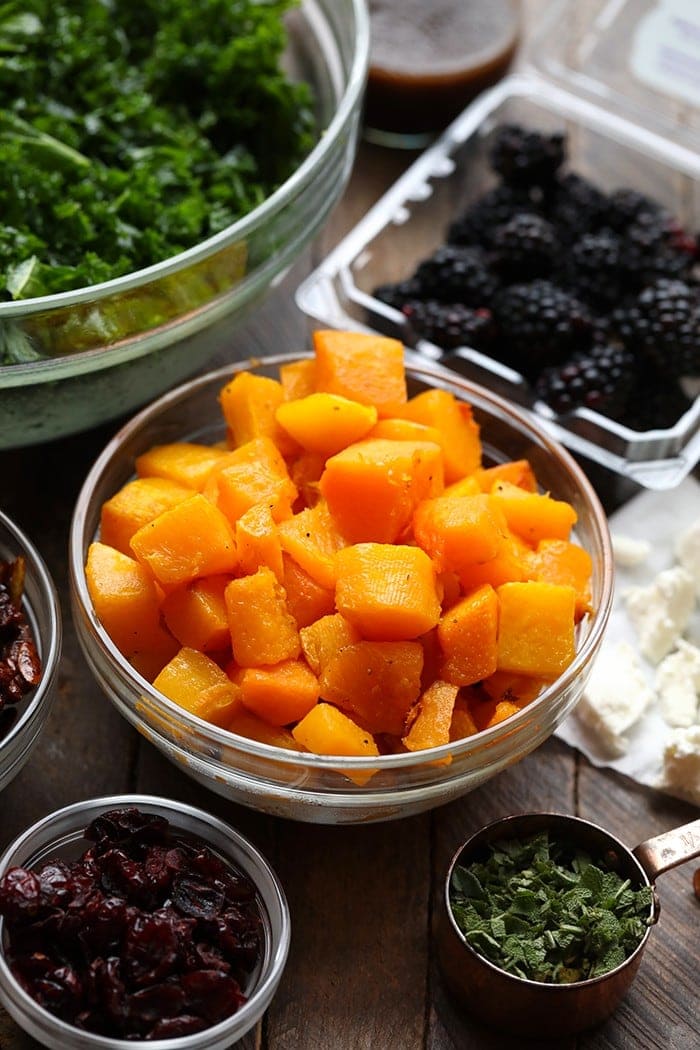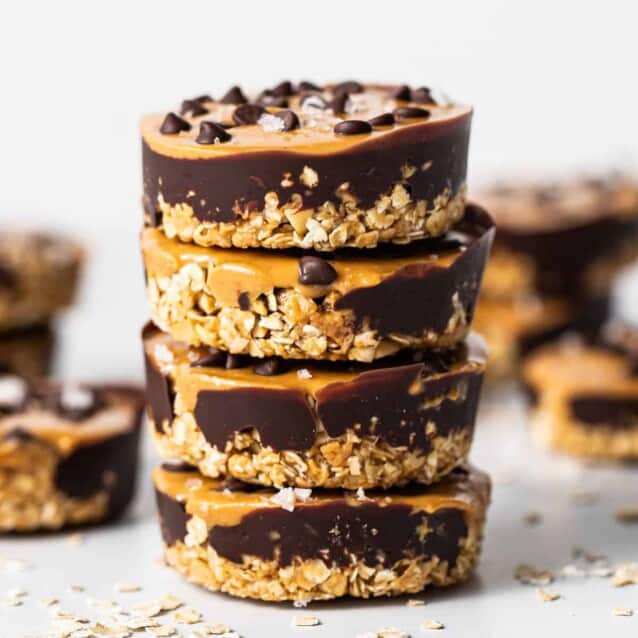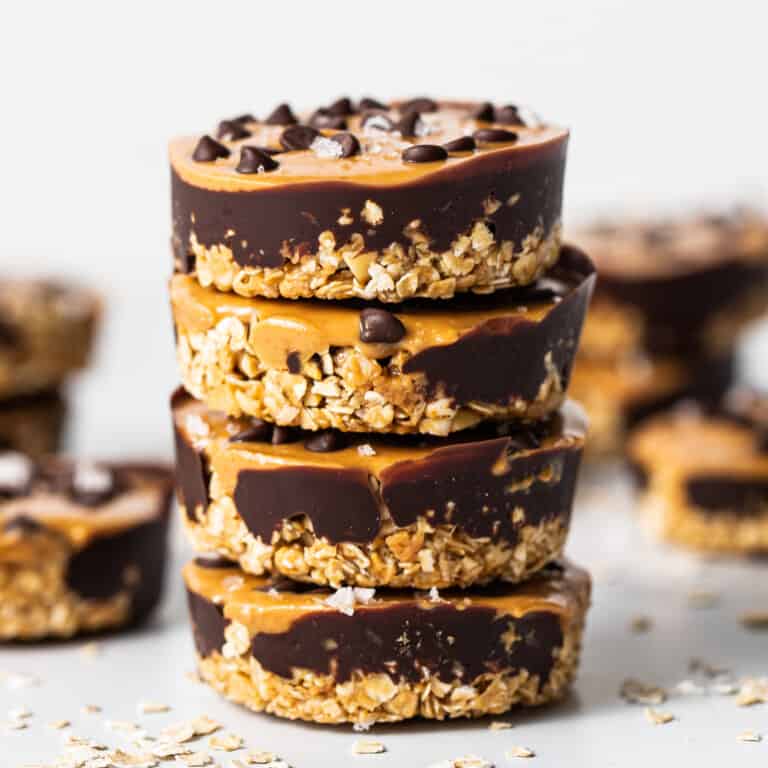 Get our Top 10 5-Star Recipes!
Join our email list for new recipes and BONUS: get our top 10 ⭐️⭐️⭐️⭐️⭐️ recipes e-book!
Favorite Balsamic Dressing
While you can use any store-bought balsamic dressing in this salad, we highly suggest whipping up your own homemade balsamic vinaigrette.
Here's what you need:
Dijon mustard
Maple syrup
Balsamic vinegar
Olive oil
Salt
Place all of the ingredients into a jar and mix them together. Voila, you have an easy balsamic vinaigrette!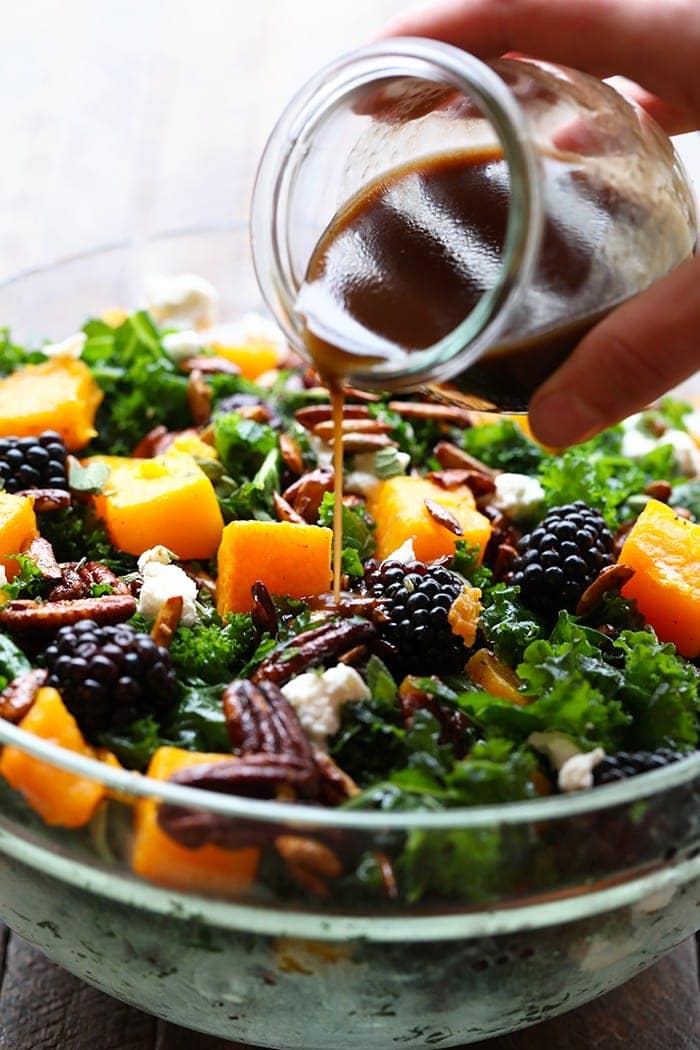 Harvest Salad Toppings
A salad isn't a salad without the toppings. We're going big because want to make sure this salad fills you up and fuels you for your day.
Roasted Butternut Squash: we've already oo-ed and aa-ed over roasted butternut squash multiple times in this post. We know you'll love it.
Candied Pecans & Pumpkin Seeds: go the extra mile and candy your nuts and seeds with a little maple syrup and salt. Trust us.
Blackberries: blackberries add a pop of freshness to this salad. You can really use any berry you wish.
Goat Cheese: goat cheese is a mild cheese and goes so well with the flavors in this harvest salad recipe.
Balsamic Dressing: we always recommend making your own dressing, but you can use store-bought, too!
Dried Cranberries: dried cranberries are like the cherry on top. They're sweet and easy to find at any grocery store.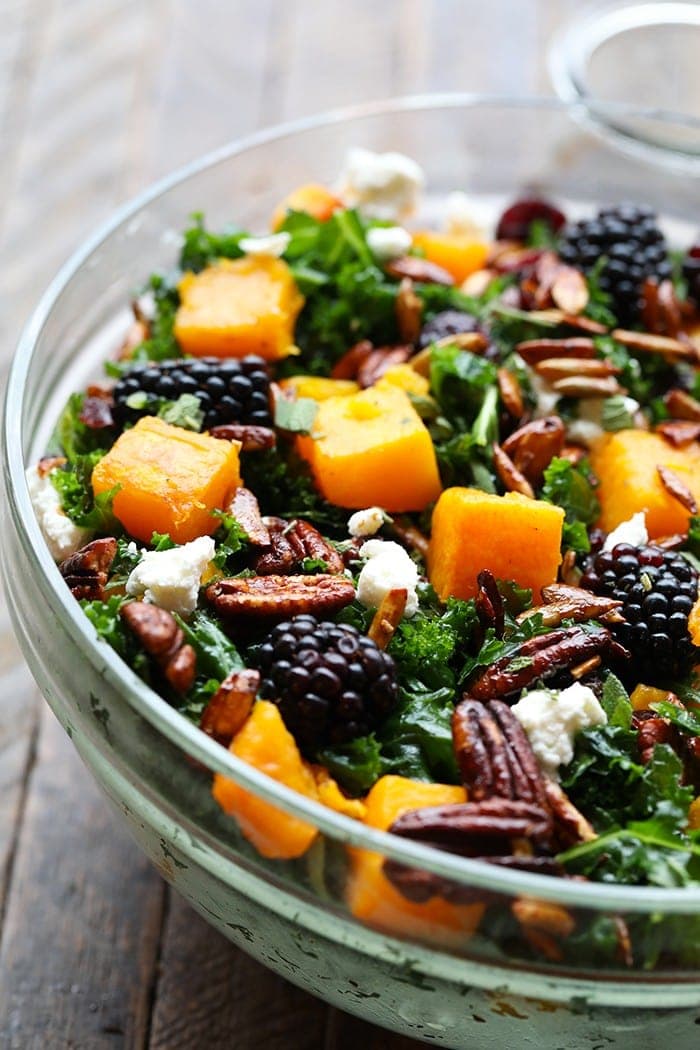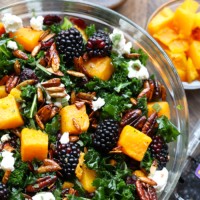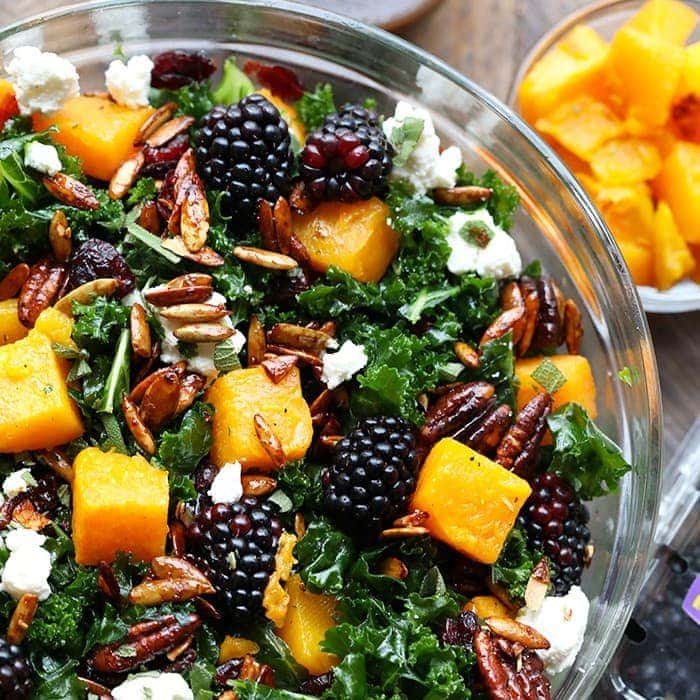 Roasted Butternut Squash and Blackberry Harvest Salad
This show-stopping Roasted Butternut Squash Salad is packed full of your favorite fall ingredients including massaged kale, candied pecans, fresh blackberries, and goat cheese.
Ingredients
Roasted Butternut Squash
Candied Nuts and Seeds
1

cup

raw pecans

1/3

cup

raw pumpkin seeds

1.5

tablespoons

maple syrup

1/8

teaspoon

sea salt
Other Salad Ingredients
12

oz.

blackberries

1/4

cup

goat cheese

1/4

cup

dried cranberries
Instructions
For the Kale
Place all ingredients for the kale in a large mixing bowl. Massage oil and salt into the kale with your hands for 3-4 minutes. Set aside.
For the Roasted Butternut Squash
Preheat the oven to 400ºF and spray a baking sheet with olive oil cooking spray.

Spread butternut squash out on the baking sheet. Add olive oil, salt, and pepper to the butternut squash and toss until squash is evenly coated.

Place the baking sheet into the oven for 20-25 minutes.
For the Candied Nuts and Seeds
Prepare a baking sheet by spraying with olive oil cooking spray.

Place all ingredients for nuts into a medium mixing bowl. Toss until nuts are evenly coated and then spread out evenly onto the baking sheet.

Roast for 8-10 minutes at 400ºF. You can roast the nuts in the oven with the squash.
For the Balsamic Dressing
Add all of the ingredients for the dressing into a mason jar. Tightly cover the mason jar and shake the jar to combine ingredients.
For the Salad
Add blackberries, goat cheese, cranberries, kale, nuts, and butternut squash into a large salad bowl. Pour dressing over the salad. Toss and enjoy!
Nutrition facts
Calories:
404
kcal
Carbohydrates:
32
g
Protein:
7
g
Fat:
31
g
Fiber:
7
g
Sugar:
13
g

This post is sponsored by Driscoll's. I was compensated and all opinions are my own. Thank you for supporting Fit Foodie Finds and making this website possible!