Wondering how to cook butternut squash? Don't be intimidated! It's a lot easier to peel, cut, and roast butternut squash than it seems. Learn how to cook butternut squash with step-by-step instructions here.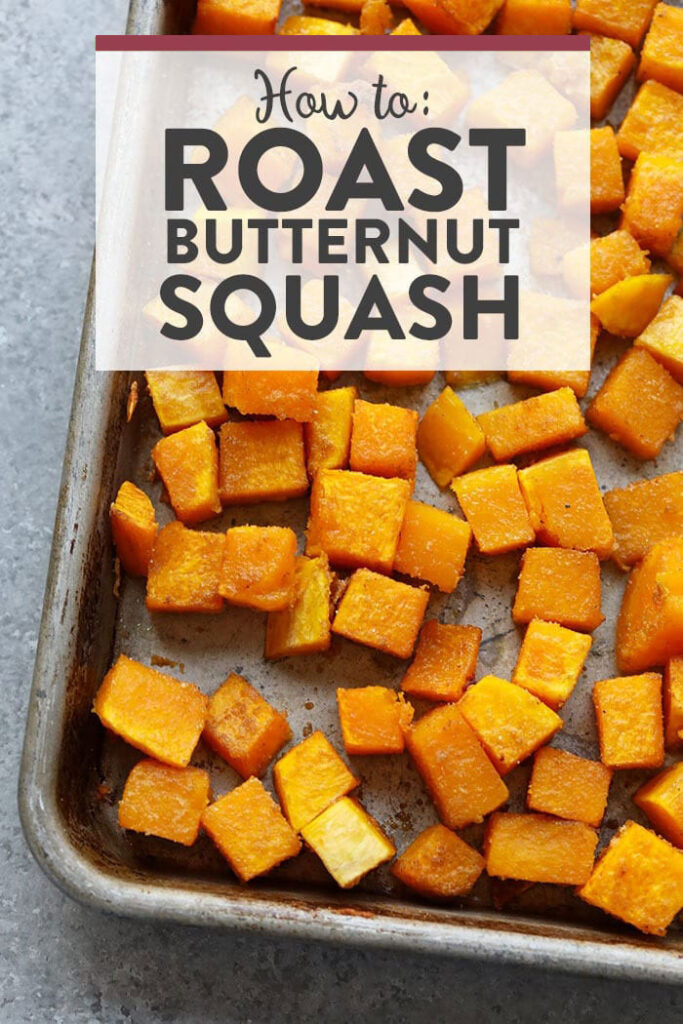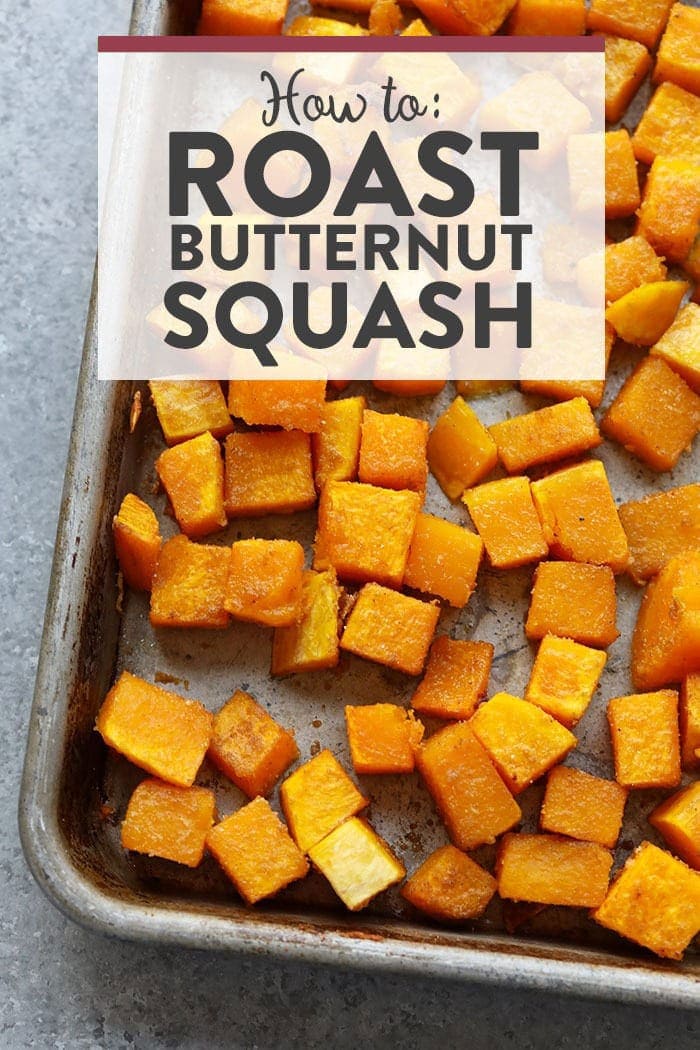 Butternut Squash – The Low Down
Did you know that butternut squash is actually a fruit?! Yup, thanks to those lovely little seeds in the middle, this commonly called vegetable is actually a fruit.
Butternut squash, however, is commonly eaten as if it were a vegetable — butternut squash soup, butternut squash lasagna, and butternut squash mac and cheese.
What does butternut squash taste like?
Butternut squash has the texture of a roasted sweet potato but is a bit softer. It tastes nutty, earthy, slightly sweet, and delicious!
Butternut Squash nutrition
Nutrition: Per 1 cup-cubed: 63 calories, 16g carbs, 1.5g protein, 3g sugar, 0g fat, 3g fiber.
Is butternut squash a bad carb? You'll see this as a top question on Google when people search butternut squash. It is not a bad carb. Just like anything you eat, eat butternut squash in moderation. It is fiber-rich and packed with vitamins and minerals!
Everything You Need to Cook Butternut Squash
We get questions about butternut squash…ALL the time. Everything from how to cook butternut squash, to how to peel butternut squash, to how to cut butternut squash. It's clear that you guys LOVE the flavor of butternut squash, but are really intimidated by how to prepare it.
We thought we'd break this down for ya step-by-step. You'll be on your way to delicious butternut squash success in no time at all.
Do I have to chop butternut squash before I roast it?
No, you can cook your butternut squash just by halving the squash (like in this Instant Pot butternut squash recipe). However, I like to chop before I roast for many reasons.
We prefer to chop the squash first so it is perfectly cooked and caramelized. Who loves mushy squash? Roasted squash tends to be the best method for al dente squash.
Why do i need a sharp knife to cook butternut squash?
I listed a sharp knife as the first ingredient because this is VERY important. While there are many ways to cut butternut squash and cook with butternut squash, this recipe has you chop your squash pre-roasting and a sharp knife is crucial.
Don't have time to chop?
If you're in a bit of a rush to make roasted butternut squash, feel free to buy pre-cut squash at the grocery store! They are all ready for you to toss on the baking sheet!
Can I use frozen butternut squash cubes?
We do not recommend buying frozen butternut squash for this recipe! It will turn out a bit mushy! However, feel free to use frozen butternut squash for this butternut squash soup!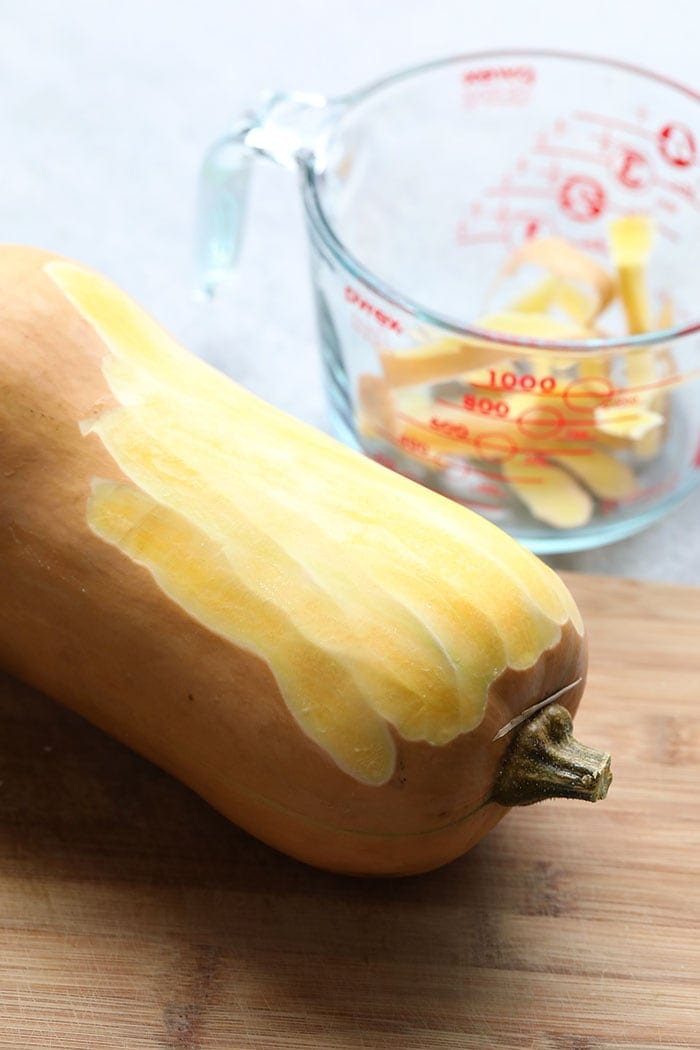 How to Cook Butternut Squash – Step-by-Step
For the sake of this tutorial, we are going to teach you how to peel, cube, and roast butternut squash.
How to Peel Butternut Squash
First things first, you are going to want to peel the skin off your butternut squash. Why? Because it's a lot easier to peel butternut squash with a veggie peeler than try to peel it off when it's piping hot after it comes out of the oven.
You can use a simple vegetable peeler or knife for this. We prefer a vegetable peeler for safety reasons. We have also found that it's relatively easy to get in a groove peeling around the squash and removing the perfect amount of butternut squash skin without wasting some of the delicious squash.
There really is no right or wrong way to peel butternut squash. We like to hold one end and go AWAY from our body for safety reasons. Go all the way around the squash and peel until all skill is gone.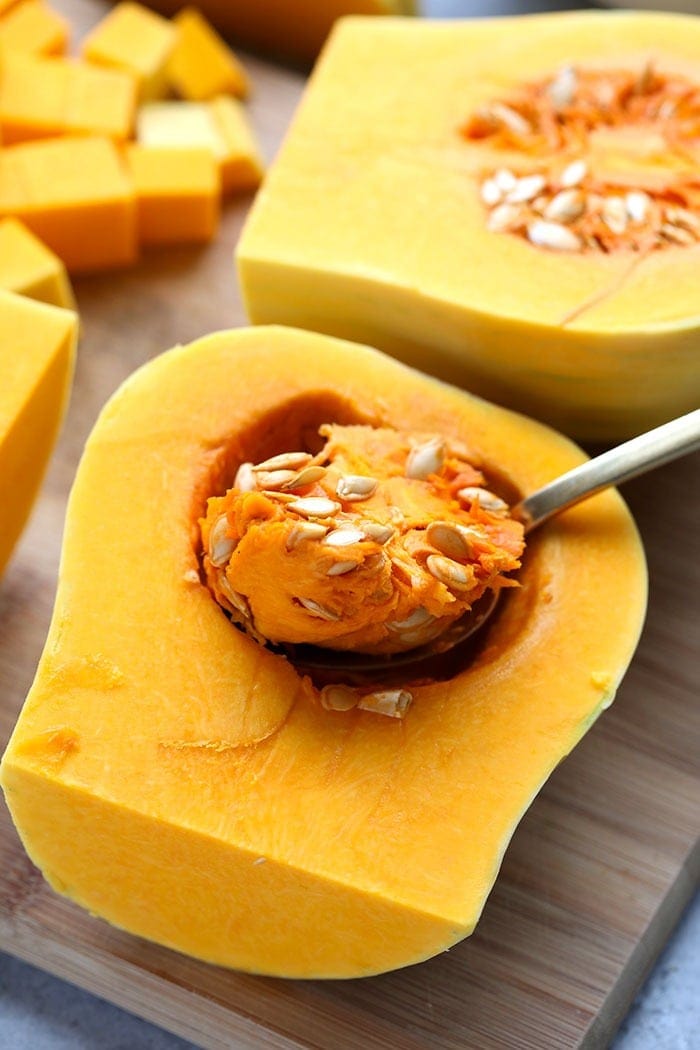 How to Cut Butternut Squash
The hardest part when cooking butternut squash is cutting the squash in half. You're going to need to use some elbow power and a really sharp knife for this and don't be afraid to give it all your might!
Once cut in half (longways, so the sides mirror each other) you can use a spoon to remove all of the seeds from the inside. The seeds look and feel like pumpkin seeds. Feel free to toss them out or roast them for a snack.
From here you can slice the butternut squash into cubes.
The one thing to make sure of when dicing up your butternut squash is the size of your cubes. You can cut them to your preference, but try and get them all around the same size. That way, they will cook evenly.
save the seeds!
When you are scooping out the innards of the butternut squash, save the seeds and roast them for a snack!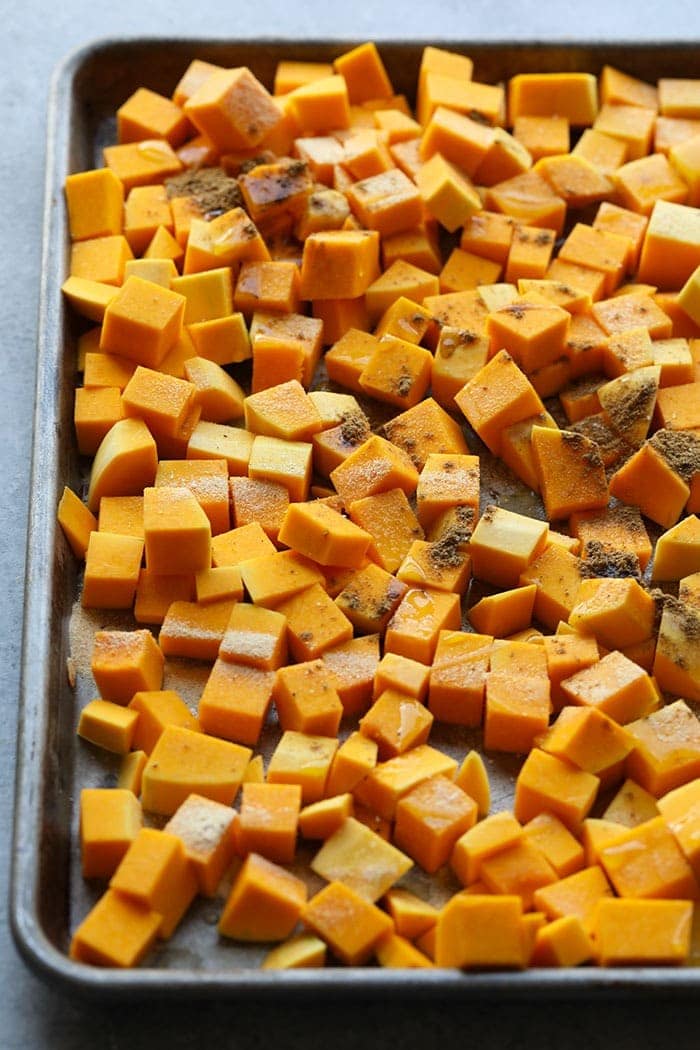 How to Roast Butternut Squash
Once the butternut squash is cut into cubes, it's time to oil them up with some olive oil (or any oil of your preference) and season then with yummy spices.
Our rule of thumb is to start with salt and pepper and then deviate from there, depending on what you're making and what flavor you're looking for!
In these photos specifically, we used a little cumin and cinnamon #yesplease, but feel free to get creative!
Seasoning Ideas
Feel free to use any fun spice mixes to jazz up your squash!
Roast Butternut Squash
The last step in cooking your butternut squash is roasting. We prefer to cook our squash at a higher heat, around 400ºF.
Preheat your oven to 400ºF.
Then, place the pan in the oven and roast for 25-30 minutes.
Toss the roasted butternut squash cubes halfway through the bake time, so that everything bakes evenly and the edges of your roasted butternut squash are golden brown and a bit crispy.
You know your squash is done with they are tender and easily pierced with a fork. Remove them from the oven and let cool for 5 minutes before eating.
Serving Suggestions
So, now you're a pro at cooking butternut squash. How on earth are you going to serve it? We have some fun recipe ideas for you below:
Harvest Grain Bowl: the ultimate grain bowl is made with wild rice, roasted butternut squash, and a Brussels sprout slaw.
Butternut Squash Soup: did you know our butternut squash soup recipe uses roasted butternut squash? It's so good!
Butternut Squash Lasagna: you will love this butternut squash lasagna recipe. It's vegetarian and made with mushrooms, ricotta cheese, mozzarella, and parmesan cheese.
Butternut Squash Mac and Cheese: make our secretly healthy butternut squash mac and cheese using roasted butternut squash in the cheese sauce!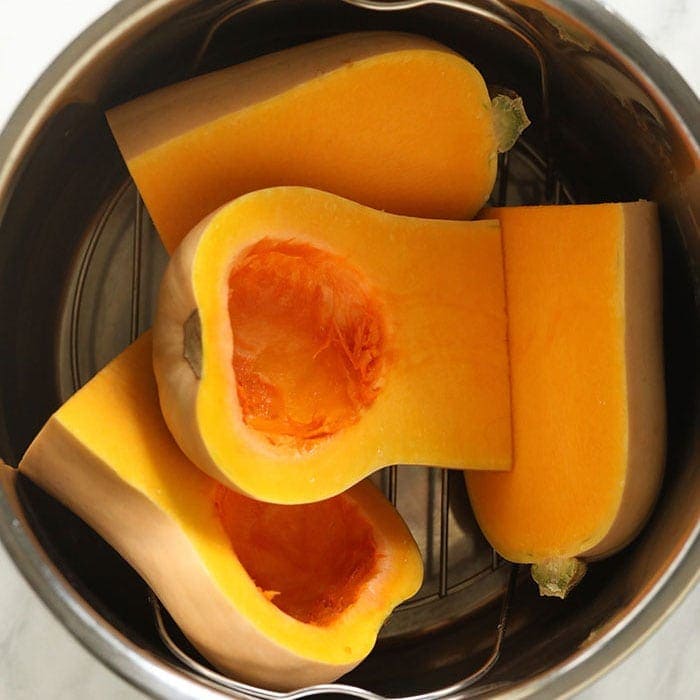 Instant Pot
Butternut Squash
Perfectly cooked Instant Pot Butternut Squash in under 20 minutes! In this post, we're sharing how to cook butternut squash in the Instant Pot – 2 ways!
Get Recipe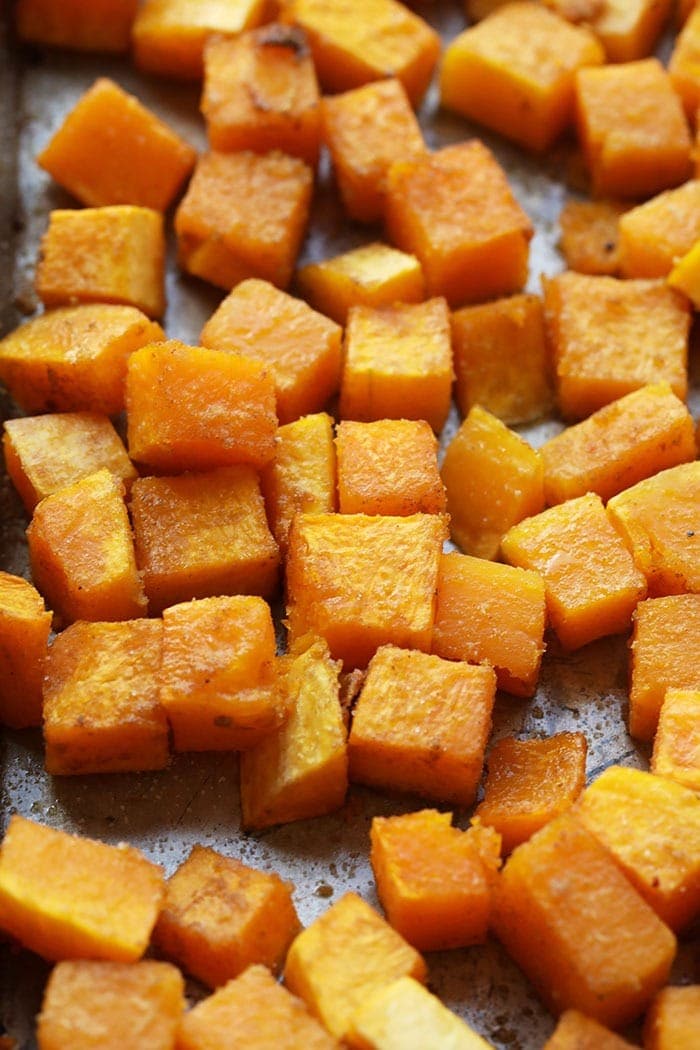 Storage
Let cubed squash cool completely. Then, transfer into an airtight container and store in the refrigerator for up to 3-5 days.
Can you freeze cooked butternut squash?
We actually don't recommend freezing cooked butternut squash, but you can freeze it raw. Simply dice it into chunks and transfer it into a gallon-size plastic bag. Remove as much air as possible and seal. Freeze for up to 3 months.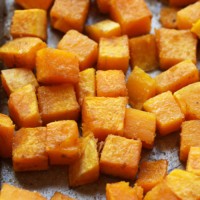 How to Cook Butternut Squash
Wondering how to cook butternut squash? Don't be intimidated! It's a lot easier to peel, cut and roast butternut squash than it seems! Learn how with step-by-step instructions here.
Ingredients
1

large butternut squash

4 cups cubed

2-4

tablespoons

olive oil

salt and pepper

to taste
Instructions
First, preheat oven to 400ºF.

Then, use a vegetable peeler to peel your butternut squash.

Use an extremely sharp knife to cut your butternut squash in half, hotdog style. Don't be afraid to put a little muscle into this!

Once cut in half, use a spoon to remove any seeds and flesh from the inside.

Then, cut away! We like to chop our butternut squash into bite-sized pieces so that it cooks faster. Make sure all pieces are cut to approximately the same size so that they bake evenly.

Drizzle on olive oil and season with salt, pepper, and any other spices your heart desires.

Toss with your hands and then place in oven.

Roast for 25-30 minutes, tossing halfway.
Nutrition facts
Calories:
153
kcal
Carbohydrates:
16
g
Protein:
1
g
Fat:
10
g
Fiber:
3
g
Sugar:
3
g