Wondering how to cook butternut squash? Don't be intimidated! It's a lot easier to peel, cut and roast butternut squash than it seems! Learn how with step-by-step instructions here.
And spoiler: there's only 3 steps! You'll be making butternut squash recipes in no time — like these butternut squash buddha bowls or this roasted butternut squash kale salad or this spicy butternut squash soup. YUM.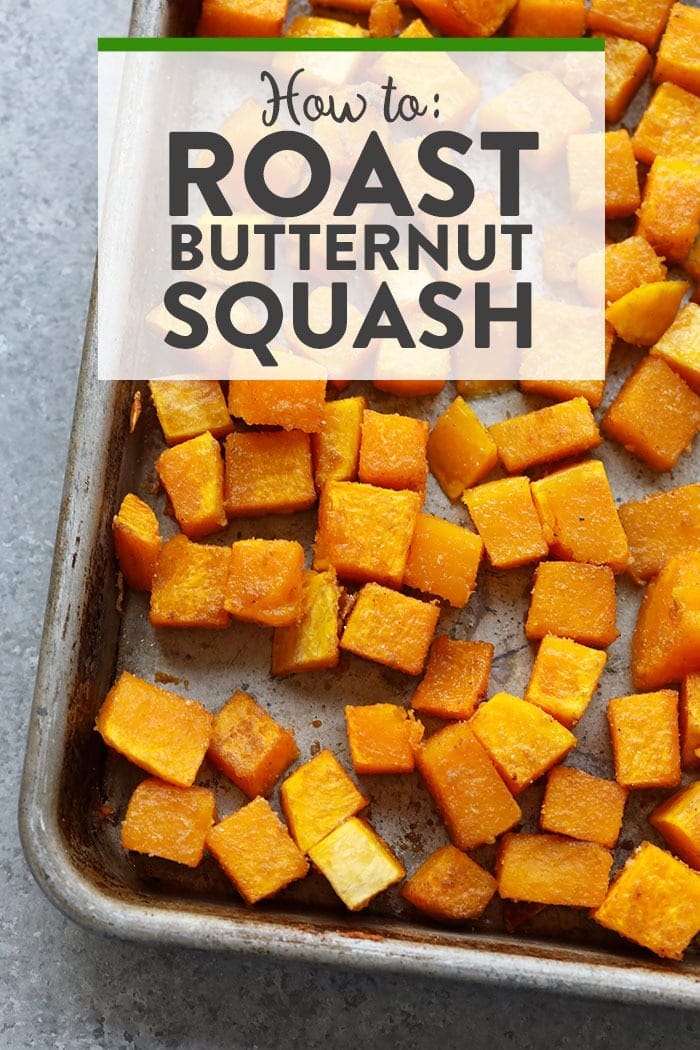 Butternut Squash is Your Friend
Let's talk all things butternut squash! We get questions about this ALLL the time. Everything from how to cook butternut squash, to how to peel butternut squash, to how to cut butternut squash. It's clear that you guys LOVE the flavor of butternut squash, but are really intimidated by how to prepare it.
Trust us, we were there too! So we thought we'd break this down for ya step-by-step. You'll be on your way to delicious butternut squash success in no time at all.
3 Easy Steps to Butternut Goodness
All you need for this recipe is a sharp knife, uncooked butternut squash, olive oil, salt, and pepper! I listed sharp knife as the first ingredient because this is VERY important. While there are many ways to cut butternut squash and cook with butternut squash, this recipe has you chop your squash pre-roasting.
I like to chop before I roast for many reasons, but mostly because I like my squash to be perfectly cooked on the inside and a little golden brown and crispy on the outside. I don't LOVE squash when it's super squishy and I've found the best texture by using this method here. Let's get into it: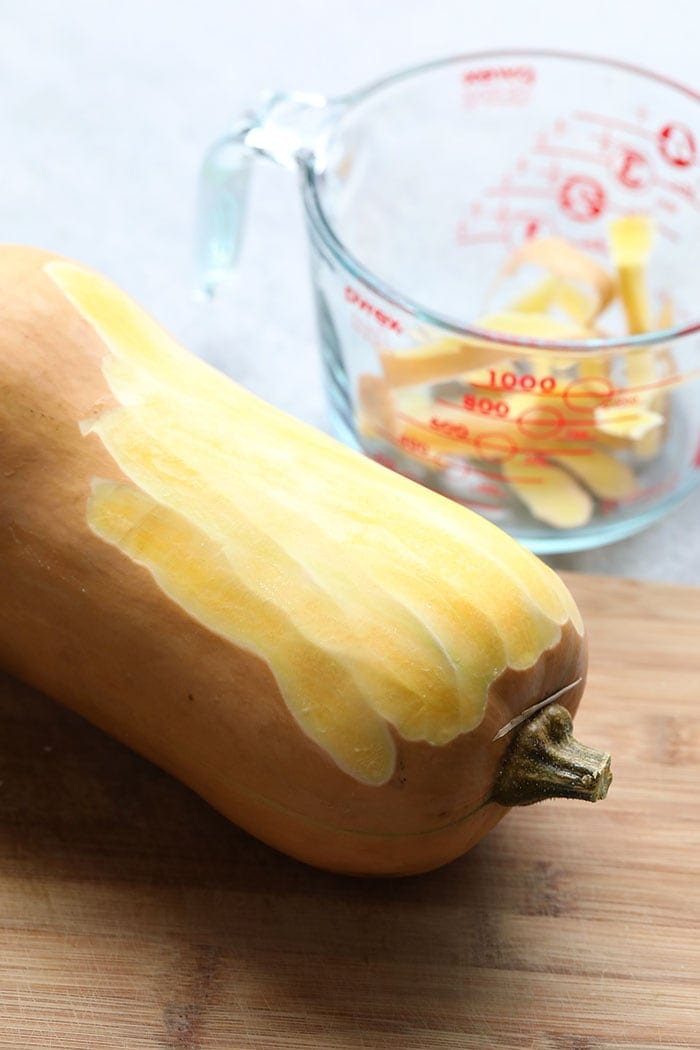 Step 1:
How to Peel Butternut Squash
Okay, so first things first, you are going to want to peel the skin off your butternut squash. You can use a simple vegetable peeler or knife for this. We prefer a vegetable peeler for safety reasons and have found that it's relatively easy to get in a groove peeling around the squash and removing the perfect amount of butternut squash skin without wasting some of the delicious squash.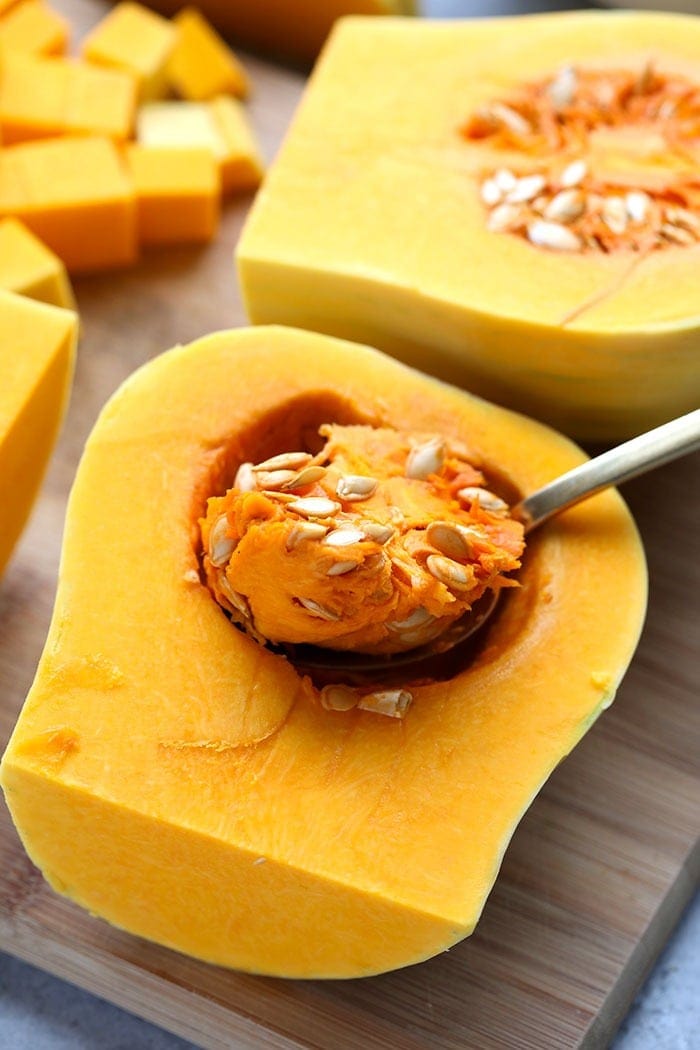 Step 2:
How to Cut Butternut Squash
Next is the hardest part, cutting that sucker in half. You're going to need to use some elbow power for this and don't be afraid to give it all your might! Once cut in half (long ways, so the sides mirror each other) you can remove all of the seeds from the inside. Feel free to rinse and save these seeds! They are super tasty when baked in the oven like pumpkin seeds.
From here you can cube away! The one thing to make sure of when dicing up your butternut squash is the size of your cubes. You can cut them to your preference, but try and get them all around the same size. That way, they will cook evenly.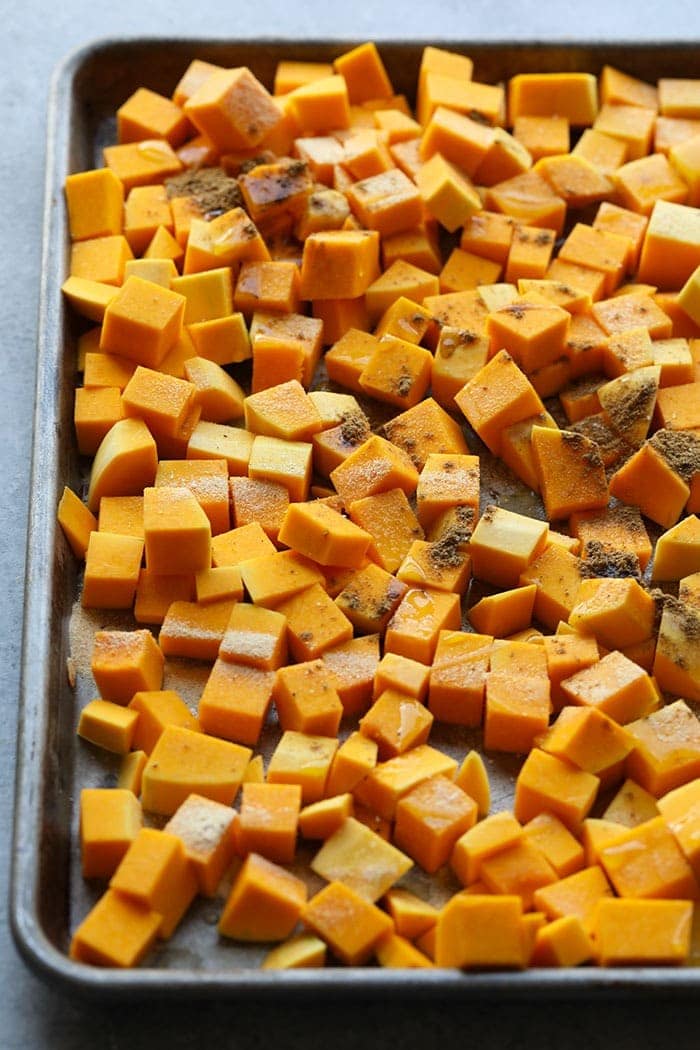 Step 3:
How to Roast Butternut Squash
Once that bad boy is cut into cubes, it's time to oil them up with some olive oil (or any oil of your preference) and season them up! My rule of thumb is starting with salt and pepper and then deviate from there depending on what you're making and what flavor you're looking for!
In these photos specifically, we used a little cumin and cinnamon #yesplease, but feel free to get creative! Great flavor inspo:
Italian seasoning
Seasoned salt
From there you throw the pan in the oven and roast away! I like to toss the butternut squash cubes half way through the bake time, so that everything bakes evenly and the edges of your roasted butternut squash are golden brown and a bit crispy.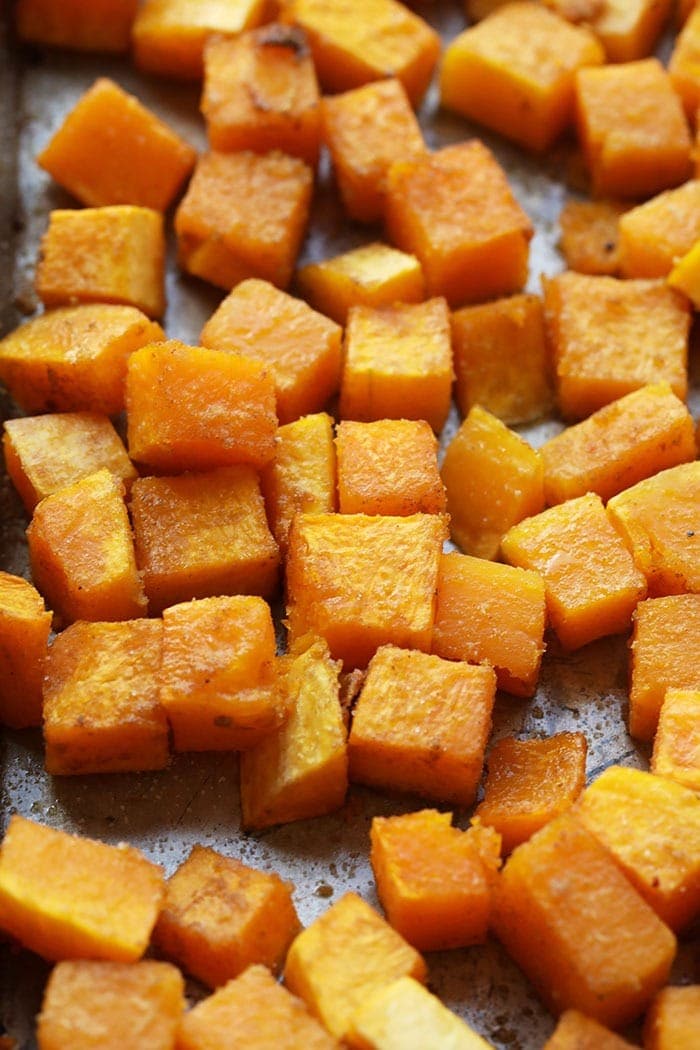 More Butternut Squash Recipes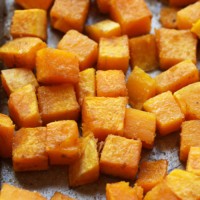 How to Roast Butternut Squash
Wondering how to cook butternut squash? Don't be intimidated! It's a lot easier to peel, cut and roast butternut squash than it seems! Learn how with step-by-step instructions here.
Prep:
20 minutes
Cook:
30 minutes
Total:
50 minutes
Fat
10
Carbs
16
Protein
1
Ingredients
1

large butternut squash (

4 cups

cubed)

2

–

4

tablespoons olive oil
salt and pepper, to taste
Instructions
First, preheat oven to 400ºF.
Then, use a vegetable peeler to peel your butternut squash.
Use an extremely sharp knife to cut your butternut squash in half, hotdog style. Don't be afraid to put a little muscle into this!
Once cut in half, use a spoon to remove any seeds and flesh from the inside.
Then, cut away! We like to chop our butternut squash into bite-sized pieces so that it cooks faster. Make sure all pieces are cut to approximately the same size so that they bake evenly.
Drizzle on olive oil and season with salt, pepper, and any other spices your heart desires.
Toss with your hands and then place in oven.
Roast for 25-30 minutes, tossing halfway.
Nutrition Facts
Serving Size:
1/4 recipe
Calories:
153
Sugar:
3
Fat:
10
Carbohydrates:
16
Fiber:
3
Protein:
1
Category:
Sides
Method:
Oven
Cuisine:
American
Keywords: butternut squash