You'll never make your butternut squash differently once you try this roasted butternut squash soup recipe!
Roast up your butternut squash with onion, apple, and a whole head of garlic, and then blend it all together with broth. Serve with créme fresh and ground black pepper.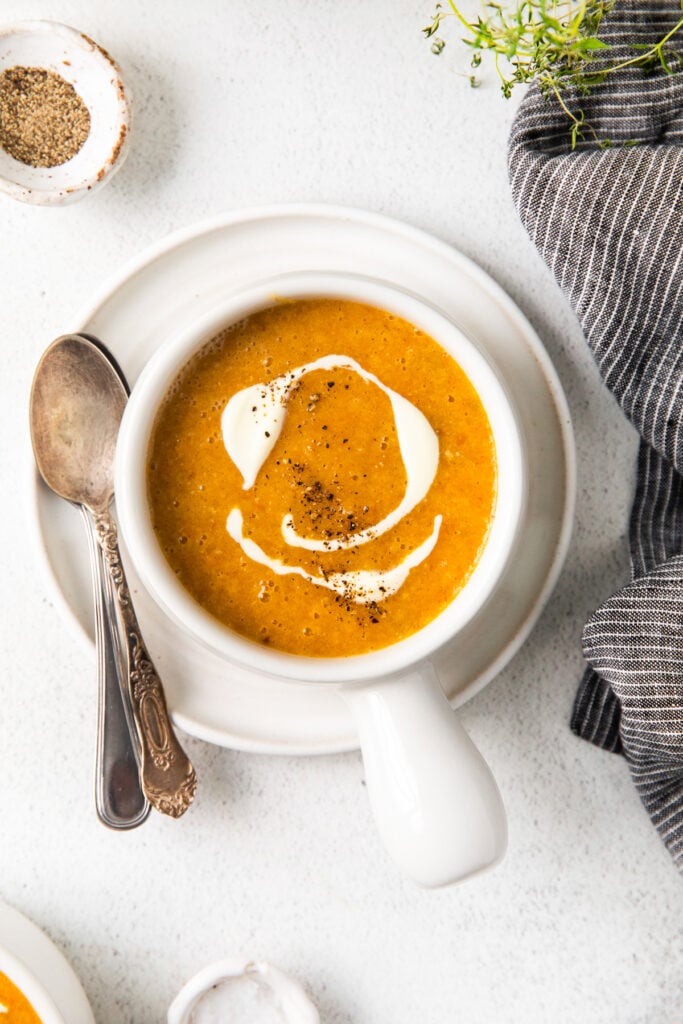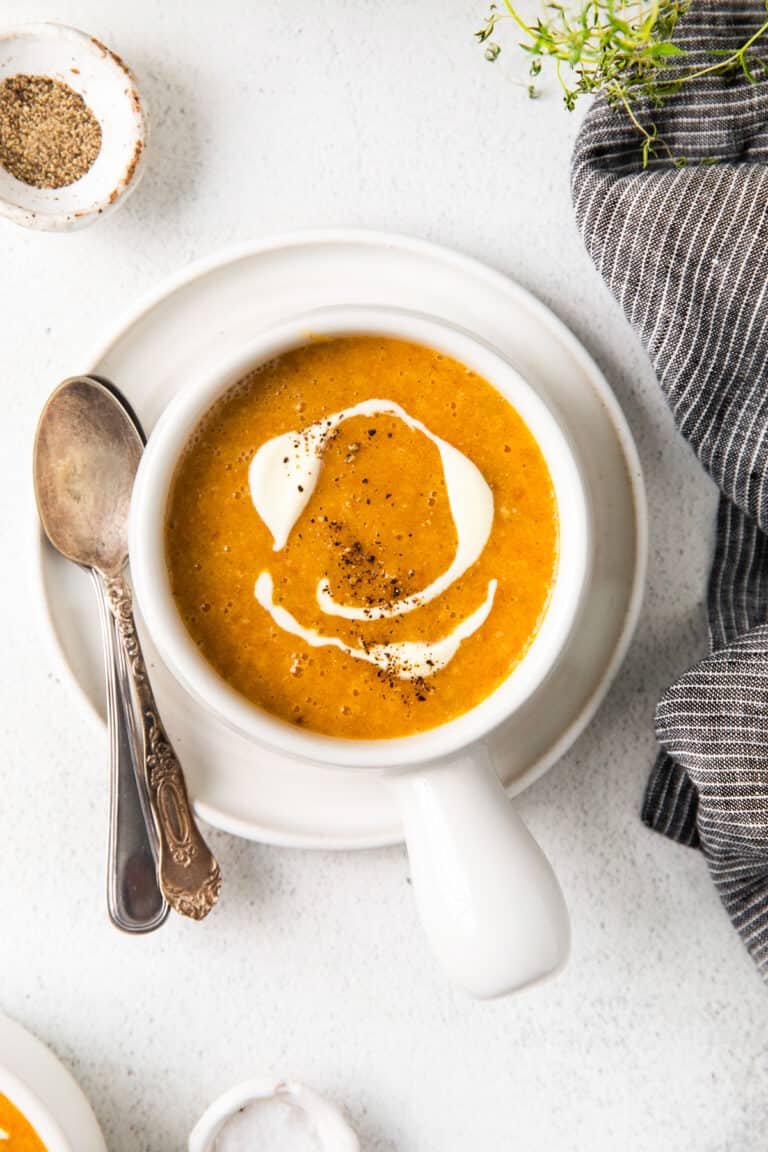 Seriously Delish Butternut Squash Soup!
Talk about a fall soup that warms the soul. Butternut squash soup on the stove is a team favorite around here.
We especially love roasted butternut squash because it intensifies the flavors of the soup and is so delicious. We have a few butternut squash soup variations on the blog already (spicy and Instant Pot) and this is our go-to classic.
Is butternut squash good for you?
Why you'll love it!
Simple Ingredients: I love how simple and fresh the flavors are in this soup.
Loaded with Veggies: This is a veggie-based soup, so you'll for sure get in at least a serving!
Easy to freeze: Make a double or triple batch and freeze this butternut squash soup for later.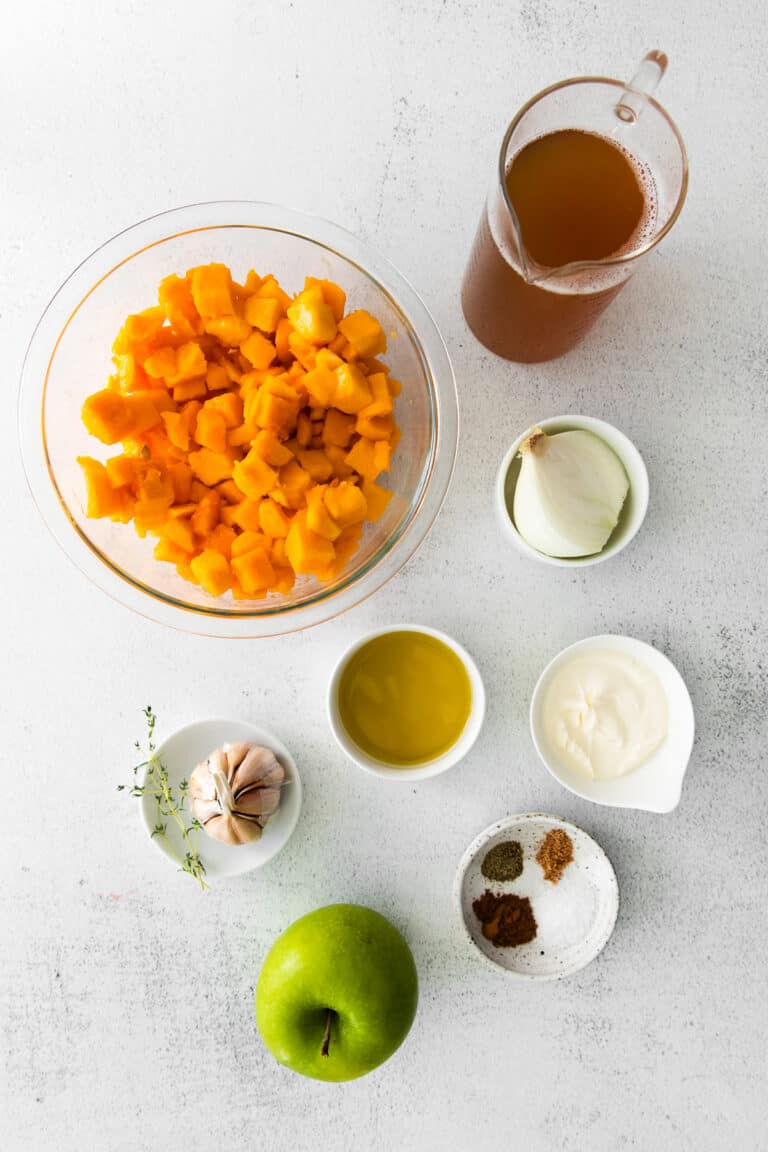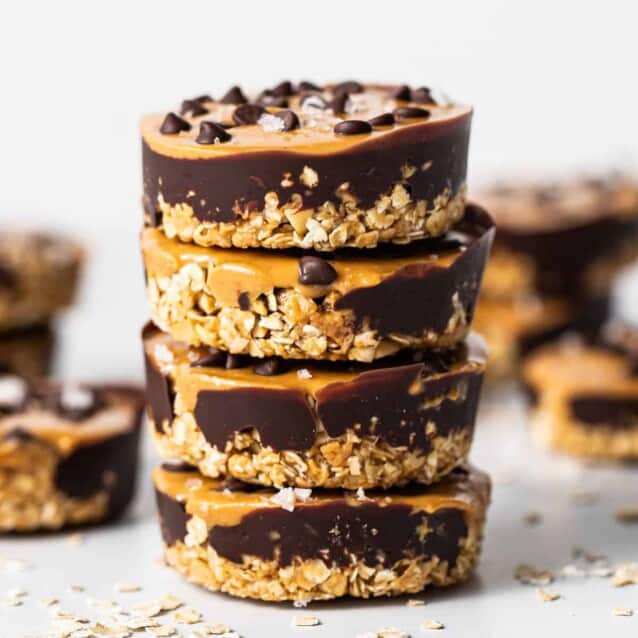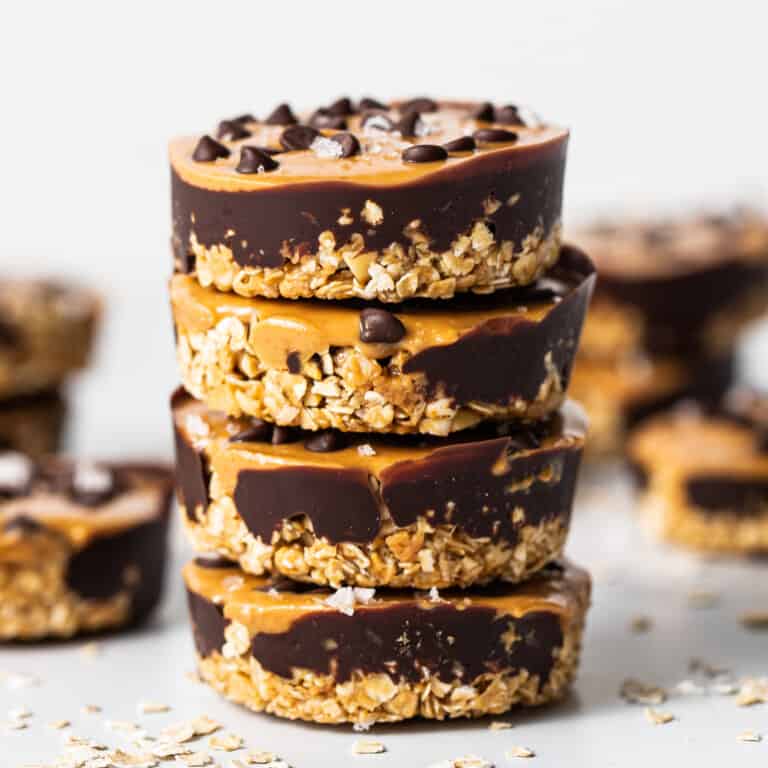 Get our Top 10 5-Star Recipes!
Join our email list for new recipes and BONUS: get our top 10 ⭐️⭐️⭐️⭐️⭐️ recipes e-book!
What You Need
Butternut squash: butternut squash is one of my favorite veggies to puree as a soup. We used pre-cubed butternut squash so you don't have to deel with peeling and roasting.
White onion: white onion adds a sweet and savory flavor to this soup base.
Granny smith apple: a hint of apple really makes this butternut soup special.
Olive oil: olive oil is used for roasting.
Beef broth: Beef broth We know many of you are hoping to make this vegetarian, so you are more than welcome to swap this for veggie broth.
Spices: Insteady of usinv savory seasonings like curry spice or garlic, we're actually using a few favorite baking spices: cinnamon, nutmeg, and salt.
Fresh thyme: fresh time is a fresh, yummy herb that pairs wonderfully with the cinnamon and nutmeg.
Créme fraiche: don't skimp on the créme fraiche! A little swirl of this cheese so so perfect for serving.
Can't find créme fraiche? Use a swirl of heavy cream instead!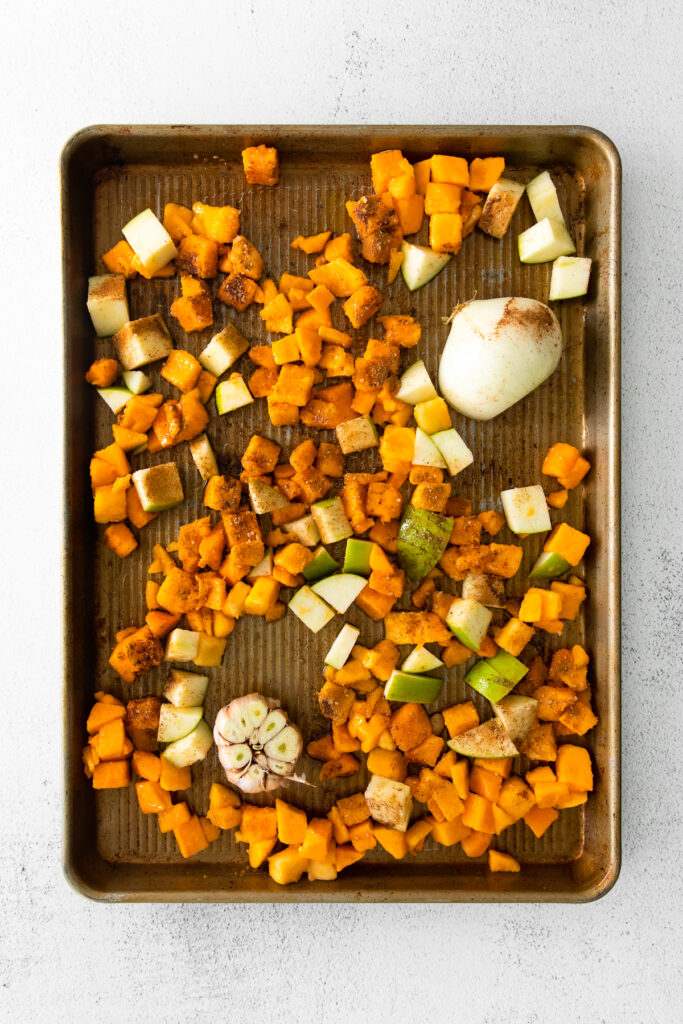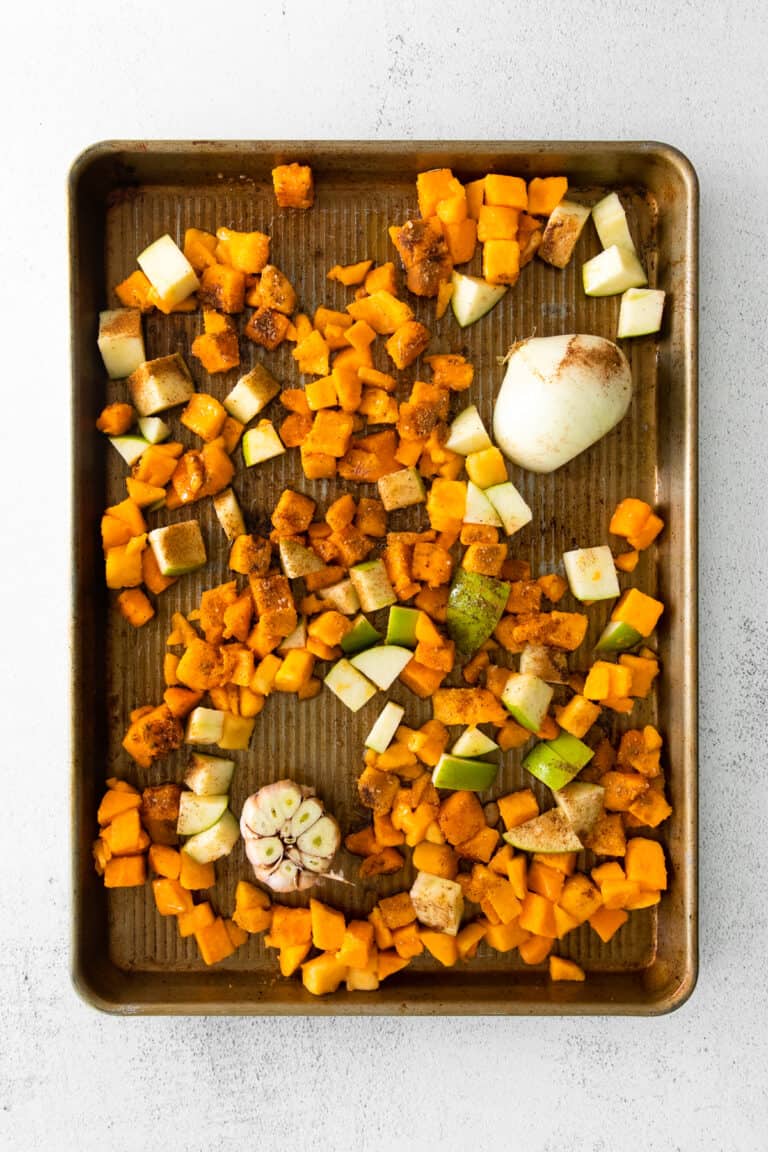 How to Make Butternut Squash Soup
Season Veggies
Place butternut squash, apple, and onion onto a baking sheet. Drizzle with olive oil and season with cinnamon, nutmeg, salt, and pepper. Add a head of garlic to the baking sheet and drizzle with olive oil.
Roast Veggies
Roast at 375ºF for 30 minutes. Toss the veggies and flip the garlic head over. Roast for another 10-15 minutes or until your butternut squash is fork-tender.
quick tip!
If you end up buying a full butternut squash instead of cubed butternut squash, feel free to use a veggie peeler to peel it and roast it in larger chunks.
If you go this route, you'll likely need to roast it for a longer amount of time until it's form tender.
Check out our tutorial on How to Cook Butternut Squash HERE.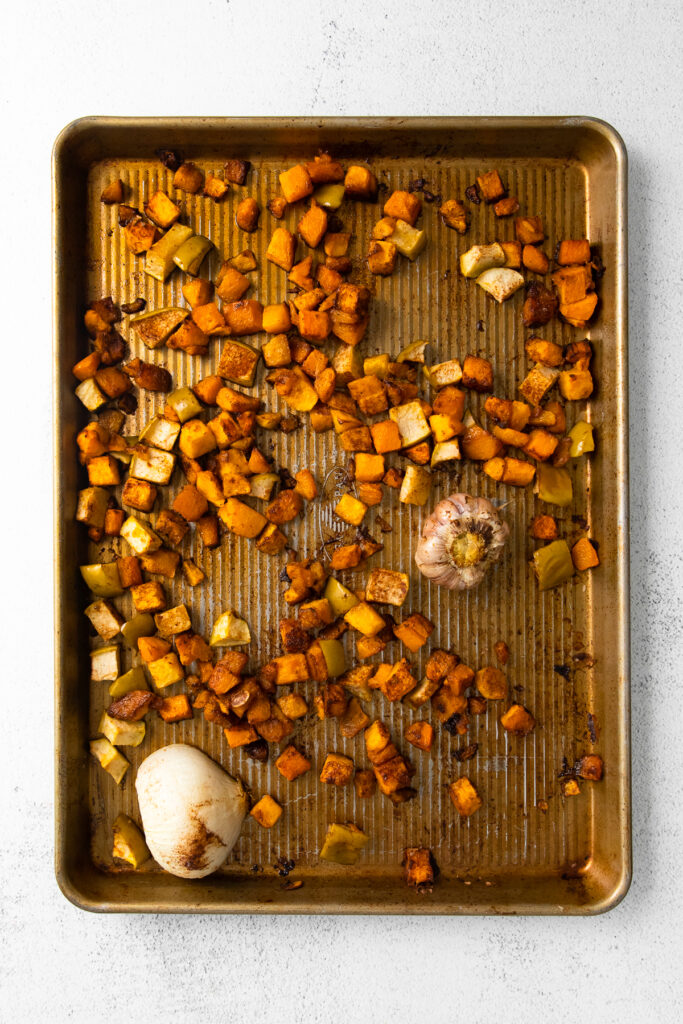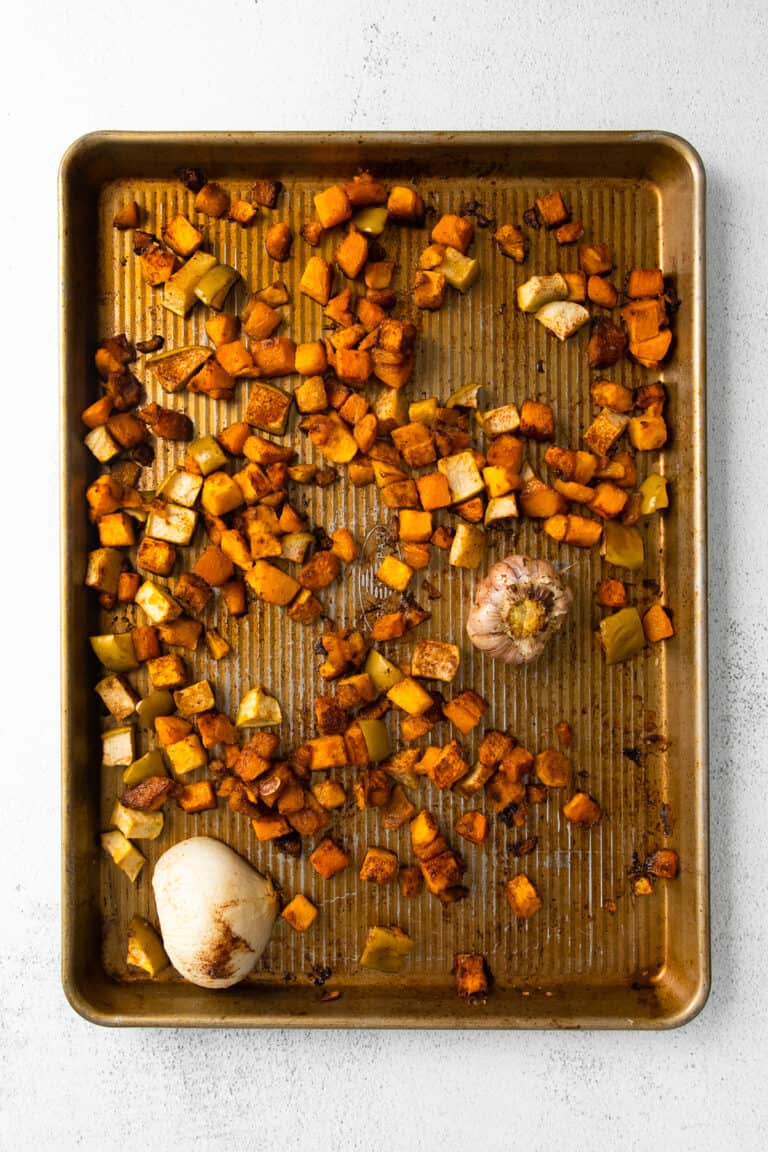 Blend Soup
Let veggies cool for around 10 minutes.
Transfer veggies into a high-speed blender and squeeze the garlic heads into the blender as well. Add the broth and blend until smooth.
quick tip!
Depending on how thick you like your butternut squash soup, you can add more or less broth.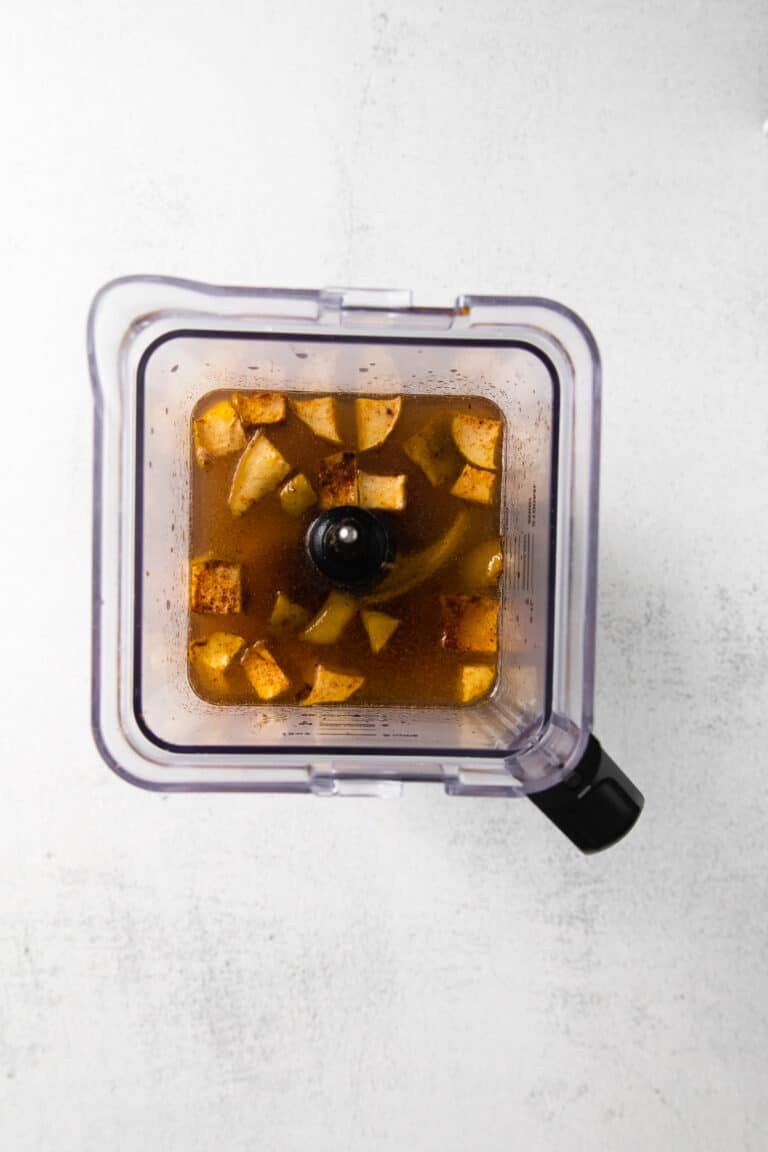 Heat Soup
Transfer the soup into a large stockpot and heat over medium heat for 10-15 minutes or until the soup is hot enough to serve.
Serve
Serve soup immediately with freshly cracked black pepper and a swirl of créme Fraiche.
How do you thicken butternut squash soup?
Soup too thin? Feel free to whisk some flour and broth together and add that into the soup as a thickening agent.
How do you thin out butternut squash soup?
Soup a little too thick? Simply add in a little broth by the 1/4 cup to thin things out.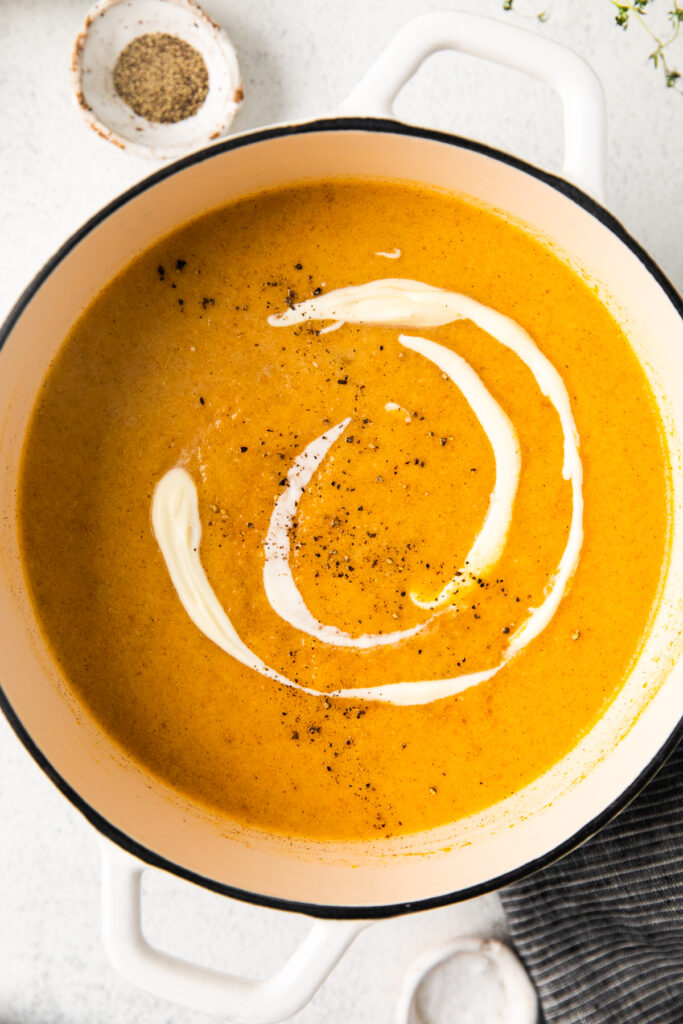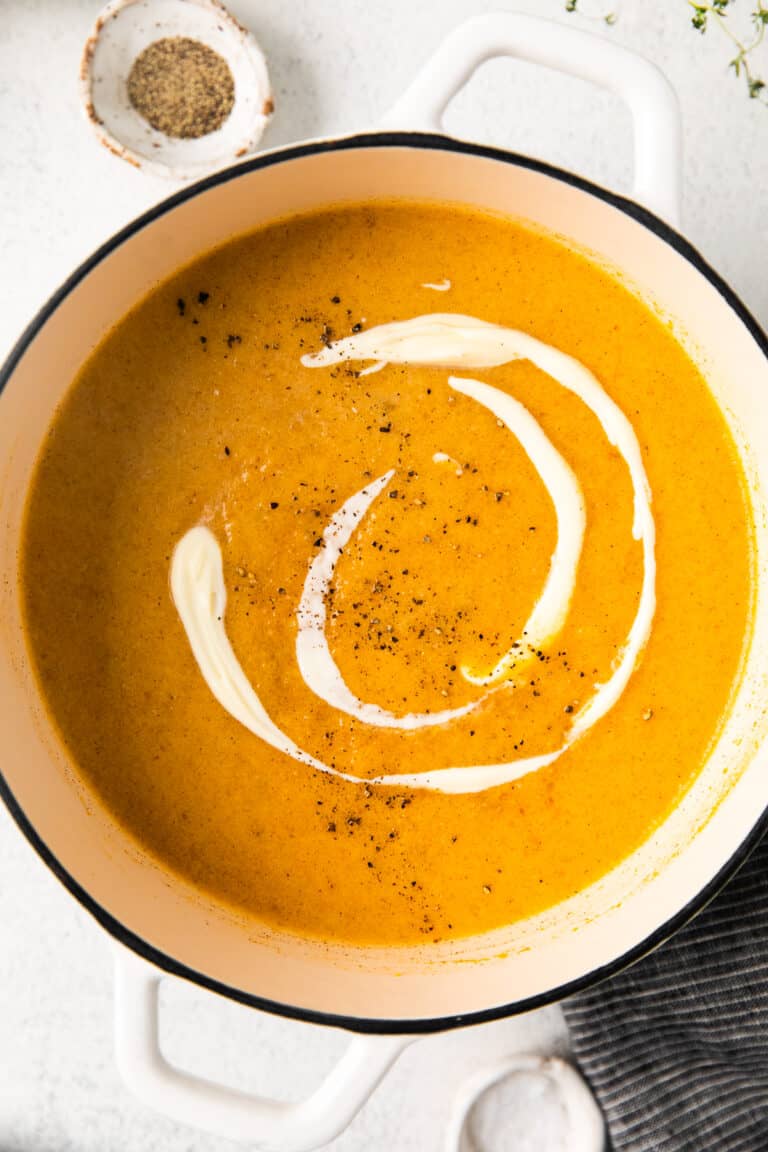 Serving Suggestions
While we love eating this soup hot with a French baguette on the side, you can also serve this as a side next to your favorite protein.
Storage
How to Store: let butternut squash soup cool completely. Then, transfer into an airtight container. Seal and refrigerate for up to 3 days.
How to Reheat: reheat butternut squash soup in the microwave for around 60-90 seconds on high. Or, reheat on the stovetop over medium heat for 3-5 minutes.
Quick tip!
As butternut squash sits and refrigerates, it will thicken. Before reheating, you may need to add some broth to thin it back out.
Freezer Directions
Let soup cool completely. Then, transfer it into an airtight container and remove as much air as possible. Seal and freeze for up to 3 months.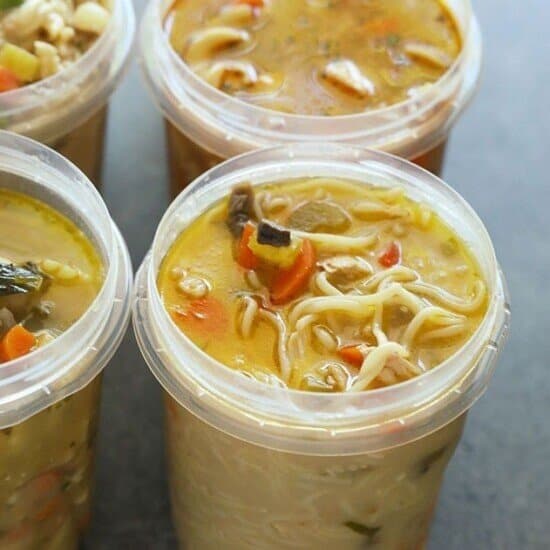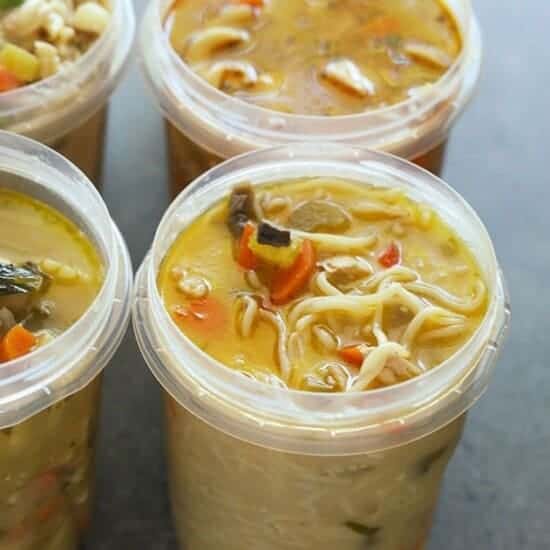 Tutorial
How to Freeze Soup & Chili
Learn how to freeze soup and chili with this easy How to Freeze Soup tutorial. We'll share all of our tips and tricks to perfect freezer soup.
Get Recipe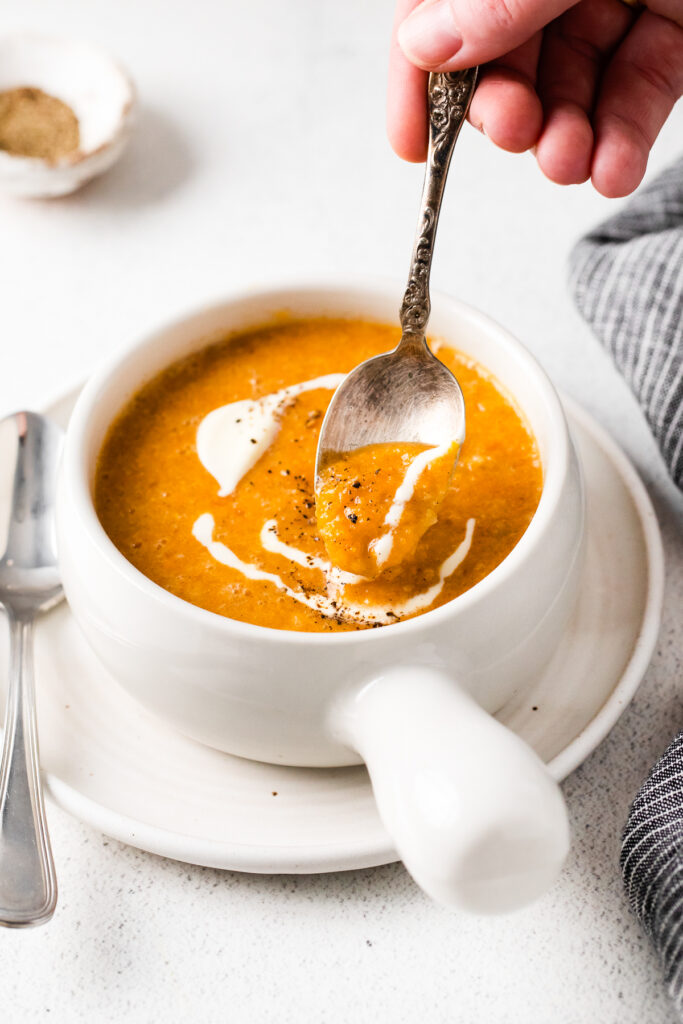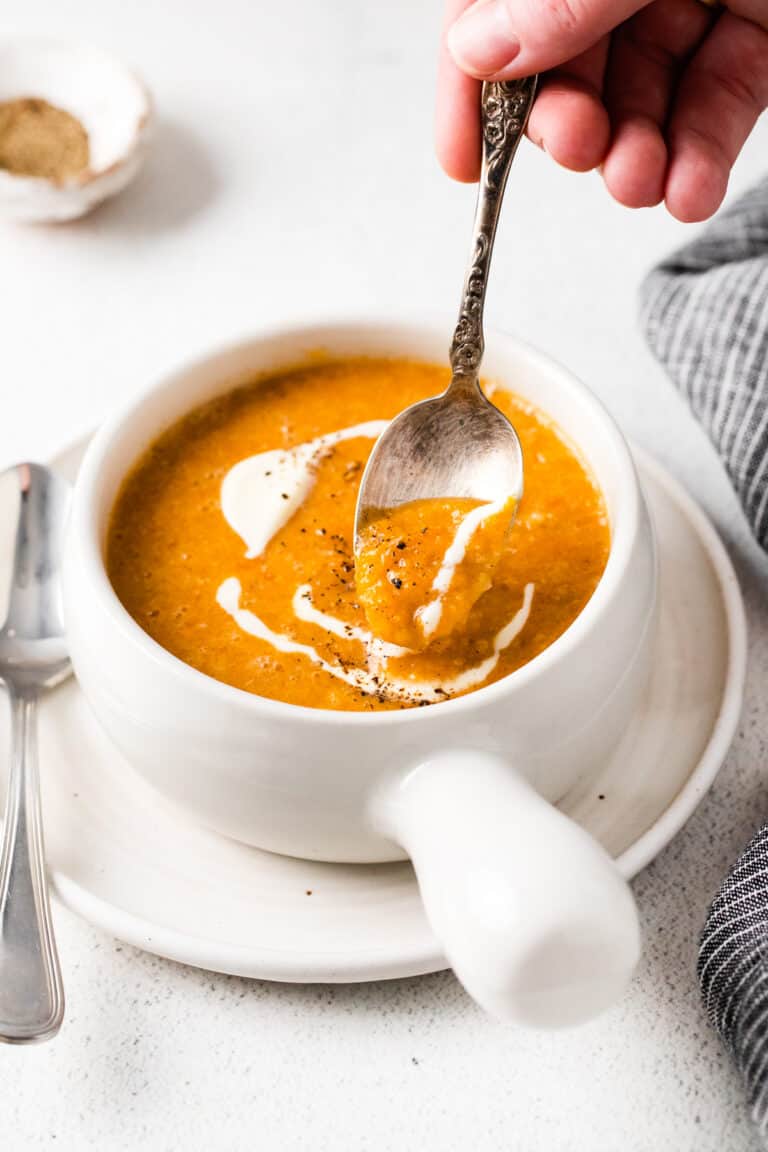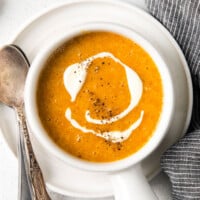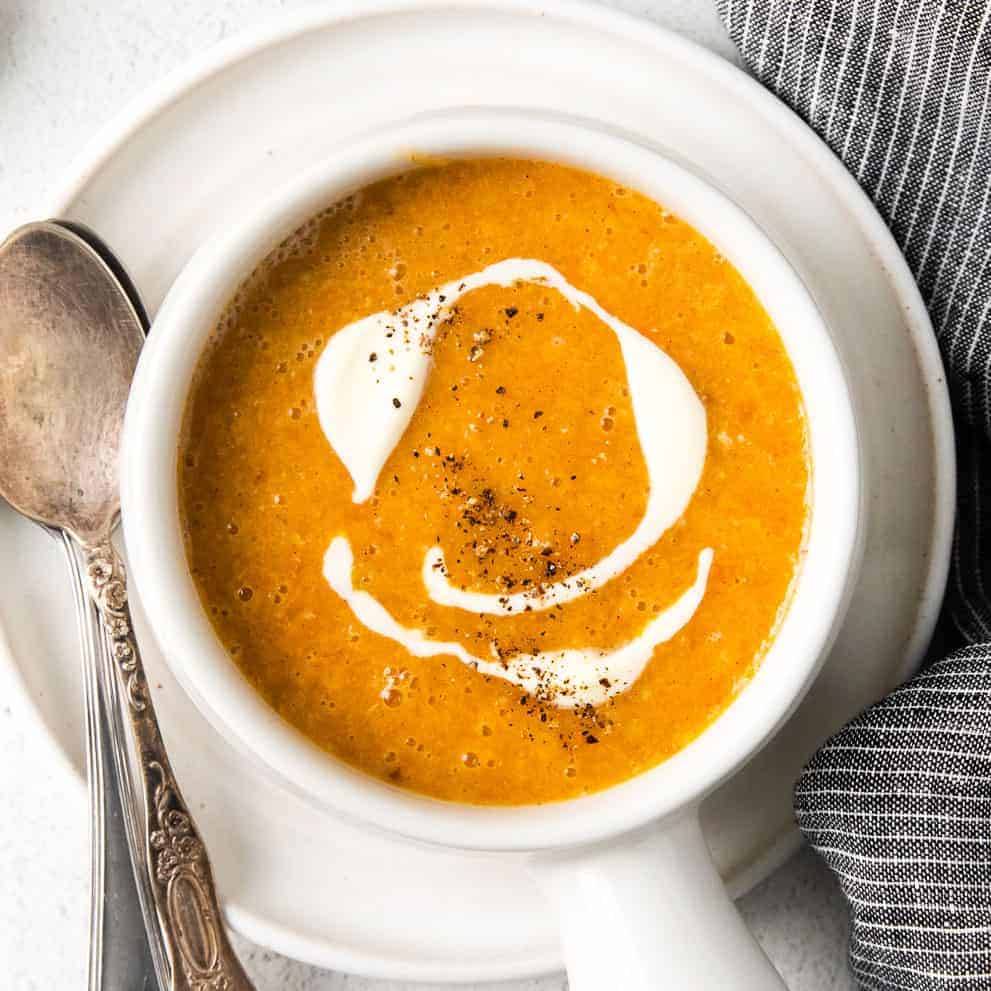 Butternut Squash Soup
This creamy butternut squash soup recipe is made with roasted veggies, a granny smith apple, and broth. It's topped with a swirl a créme Fraiche. 
Ingredients
6

cups

cubed butternut squash

½

medium white onion

1

granny smith apple

chopped

1

head garlic

3

tablespoons

olive oil

1/2

teaspoon

ground cinnamon

¼

teaspoon

ground nutmeg

1

teaspoon

salt

¼

teaspoon

ground black pepper

4-6

cups

beef broth

any kind of broth works

3

sprigs fresh thyme

2

tablespoons

créme Fraiche

for serving
Instructions
Preheat the oven to 375ºF and spray a baking sheet with non-stick cooking spray. 

Spread the butternut squash cubes, onion, and apple out on the greased baking sheet. 

Cut the end of the garlic head (opposite the root) so that the garlic cloves are exposed but remain intact. Set the garlic head open side up on the baking sheet. 

Drizzle the olive oil over the vegetable mixture and garlic. 

In a separate small bowl, mix together the cinnamon, nutmeg, salt, and pepper. 

Sprinkle the spice mixture over all of the ingredients and massage the spices into all the ingredients. 

Place the baking sheet in the oven and bake for 30 minutes. 

Toss all the ingredients and flip the garlic head over so the open side faces down and bake for an additional 10-15 minutes or until the butternut squash is fork tender and begins to carmelize. 

Remove the baking sheet from the oven and let the ingredients cool for 10 minutes. 

When the garlic head is cool, squeeze the garlic cloves out of the garlic paper and into a high speed blender.

Add the butternut squash, onion, and apple to the blender. 

Pour the broth into the blender and blend until smooth.* 

Pour the soup into a sauce pan and add the sprigs of thyme to the soup and stir. 

Heat the soup over medium heat for 10-15 minutes or until it reaches the desired temperature. 

When the soup is ready to serve, remove the stems of fresh thyme from the pot, drizzle the top of the soup with creme fraiche, and top with freshly cracked pepper. 

Serve and enjoy!
Tips & Notes
The amount of broth may vary. Feel free to add more if the soup is too thick. 

To make this recipe dairy-free, omit the créme Fraiche. To make this recipe vegan, use veggie broth and omit the créme Fraiche.
Nutrition facts
Calories:
274
kcal
Carbohydrates:
42
g
Protein:
9
g
Fat:
11
g
Fiber:
12
g
Sugar:
15
g