Made in under an hour, our Spicy Butternut Squash Soup is the perfect weeknight meal that the whole family will love!
This roasted butternut squash soup is made with creamy coconut milk and jalapeños for a fiery kick! It is dairy-free, vegetarian, and absolutely delicious.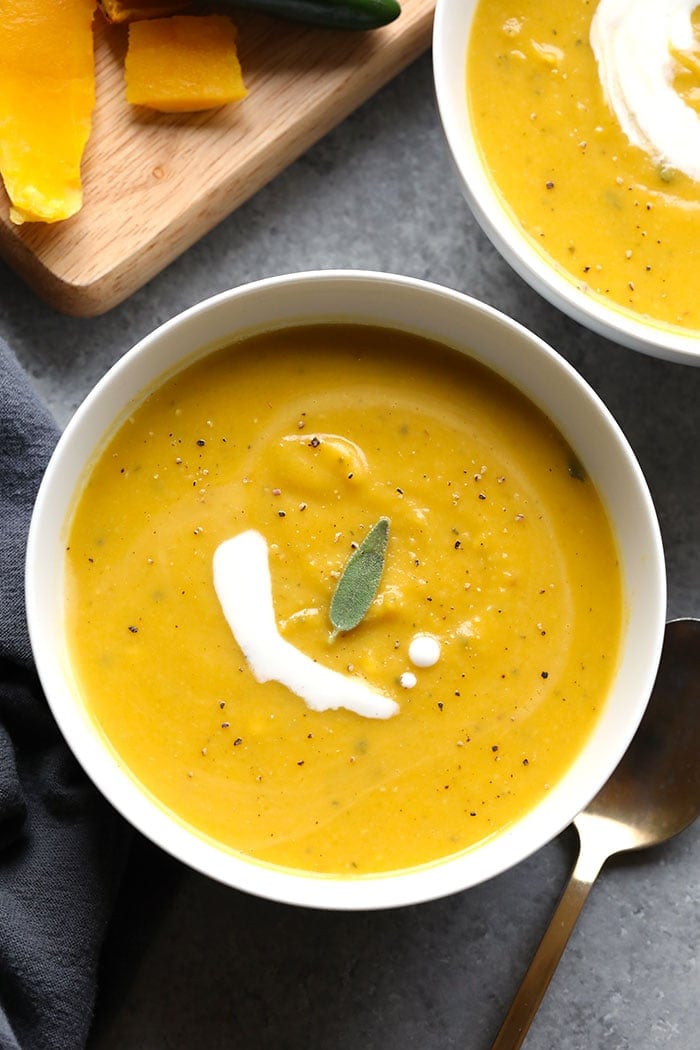 Fall = Squash Season
We have been obsessed with everything butternut squash this fall. Among all of the different kinds of squash, I have to say that butternut squash is my favorite.
I love all of the different ways you can cook it up. You can roast it and use it as a side dish or for an easy meal-prep vegetable throughout the week. You can make Instant Pot butternut squash if you don't have a lot of time. And, it's super easy to prepare pureed butternut squash which is great for baked good and…SOUPS!
Why Roasted?
The base of this spicy butternut squash soup is made from roasted butternut squash. We know that you can easily cook it on the stove-top or oven, but we absolutely love how roasted butternut squash tastes.
How Spicy?
I'm a midwestern girl who loves a little bit of spice. For this butternut soup recipe, we used 2 roasted jalapeños, which definitely gives it a kick. If you don't love spicy foods, we have some modifications for you.
Spicy: 2 jalapeños
Medium:

2 poblano peppers OR 1 jalapeño

Mild:

1 poblano pepper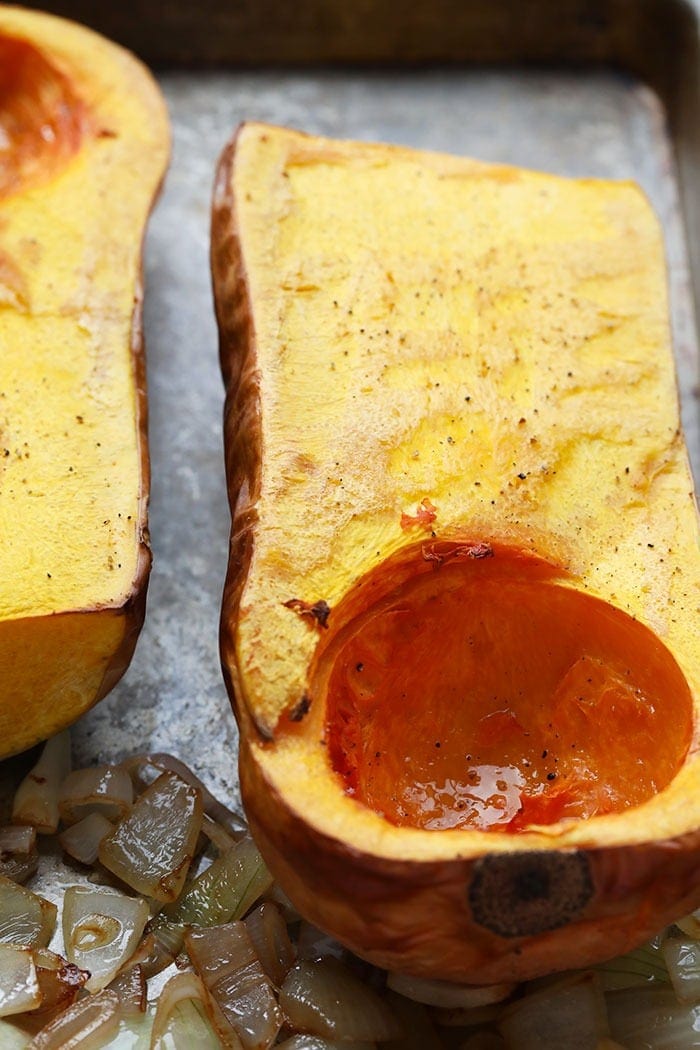 Roast, Blend, Simmer
This vegan butternut squash soup is made in 3 easy steps and I promise all the work is totally worth it!
Step 1: Roast
Roasting the butternut squash and other veggies is a very important part of this recipe. It adds so much flavor and will get your veggies soft enough to puree.
Start off by roasting your butternut squash for 30 minutes. Then add the rest of the veggies. Don't worry too much about cutting your veggies perfectly because they're going to get pureed anyway.
Step 2: Blend
Add all of the roasted vegetables from the pan into a large dutch oven or pot. You'll need to let the butternut squash cool for around 10 minutes before using a spoon to scrape out the flesh so that you don't burn yourself.
Once everything is in the pot, add coconut milk, broth, sage, nutmeg, and vinegar. Then, use a handheld immersion blender and blend away! You can also transfer everything into a Vitamix or high-speed blender and blend it that way.
Step 3: Simmer
Bring the soup to a boil over medium/high heat and then turn to low. Let simmer, uncovered for around 10-20 minutes to further bring out all the yummy flavors.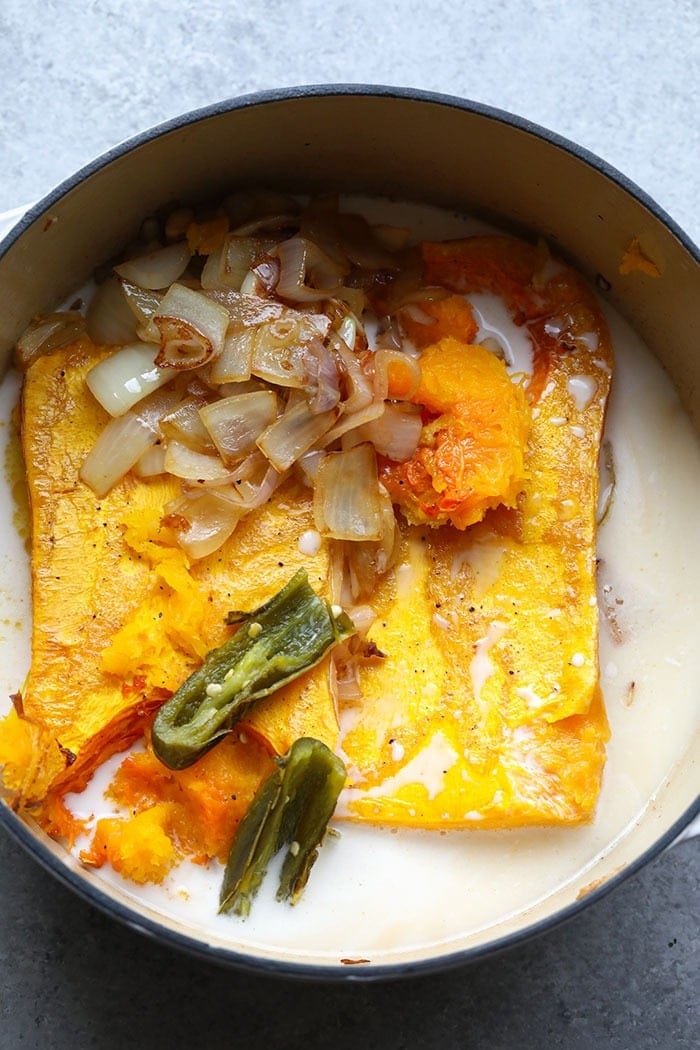 Is butternut squash soup vegan?
This roasted butternut squash soup is naturally vegan. It's made with vegetables, coconut milk, and veggie broth, to make it 100% plant-based.
Can you freeze roasted butternut squash soup?
Roasted butternut squash soup can be easily frozen. Follow our "how to freeze soup" tutorial to get a step-by-step tutorial of how to properly freeze this.
Storage
Refrigerator: First, let the soup cool completely. Then, transfer into a glass, airtight container. Store in the refrigerator for up to 5 days.
Reheat: Place soup into a microwave-safe bowl and reheat in the microwave on high for 90 seconds. Alternatively, you can transfer the entire batch of soup back into a stockpot and reheat on the stovetop over medium heat for around 15 minutes.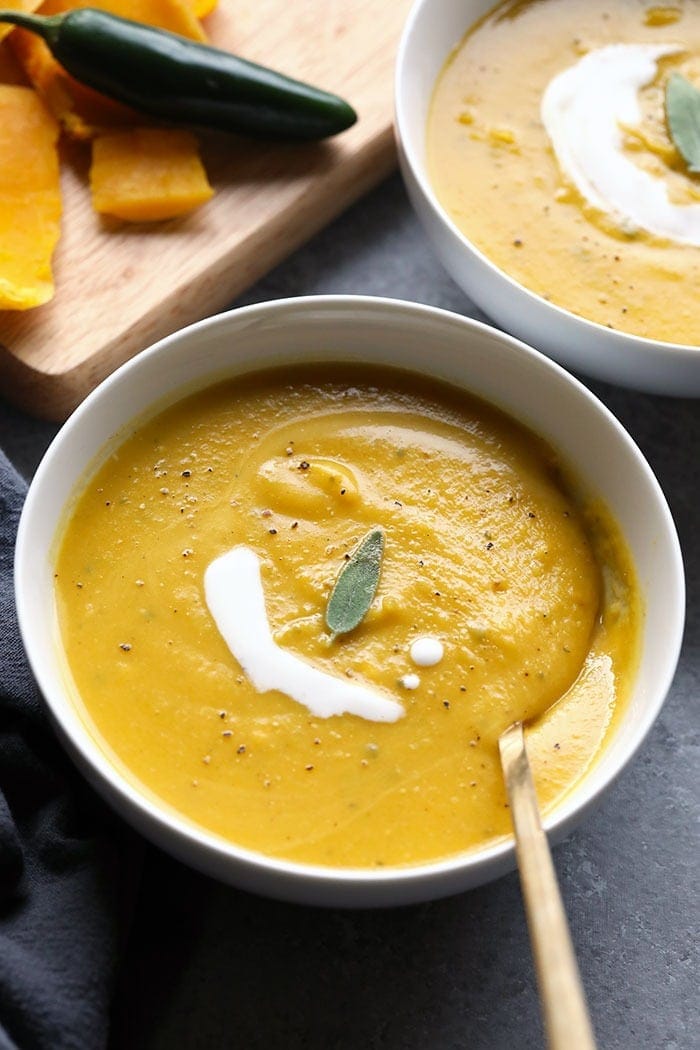 More Butternut Squash Recipes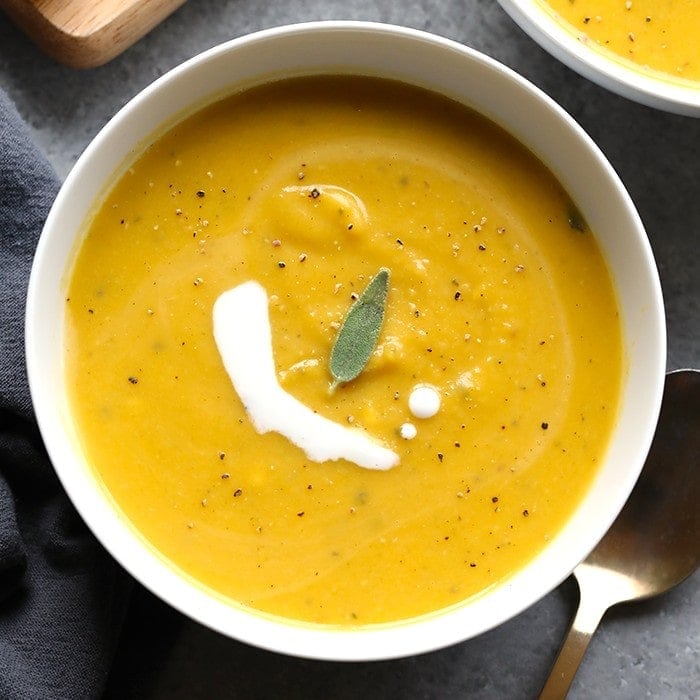 30-Minute Spicy Butternut Squash Soup
Made in under an hour, our Spicy Butternut Squash Soup is the perfect weeknight meal that the whole family will love!
Ingredients
1

large butternut squash

halved

1

medium white onion

diced

2

medium jalepeños

or poblano for less spicy

1

shallot

minced

5

cloves

of garlic

2

cups

vegetable broth

1

15-oz.

can full-fat coconut milk

4

leaves

fresh sage

1/4

teaspoon

ground nutmeg

1/2

teaspoon

apple cider vinegar
Instructions
First, preheat the oven to 400ºF and prepare a baking sheet by wiping it with olive oil or spraying it with nonstick cooking spray.

Next, cut a butternut squash in half hot dog style. remove seeds and place on pan.

Bake squash for 30 minutes, remove from oven and add onion, jalapeño, shallot, and garlic to the same pan. Drizzle veggies with olive oil and then bake for another 30 minutes.

Remove pan from oven and let cool for 10-15 minutes.

Then, scoop out squash flesh and discard the rind. Place it in a large pot with all of the other roasted ingredients from the baking sheet.

Next, add broth, coconut milk, fresh sage, nutmeg, and apple cider vinegar to the pot. Use an emulsifier to blend all of the ingredients together.*

Finally, bring soup to a boil and then turn heat to low. Let simmer for 20-30 minutes.
Tips & Notes
If you don't have an emulsifier place all ingredients in a food processor or high-speed blender, blend, and then put it into a large pot.
Updated: this recipe was slightly modified on 10/15/2019. No major changes were made.
Nutrition facts
Calories:
197
kcal
Carbohydrates:
18
g
Protein:
5
g
Fat:
12
g
Fiber:
3
g
Sugar:
3
g