Make this Roasted Butternut Squash and Goat Cheese Farro Salad for a healthy, delicious dinner that's made with whole grains and tons of veggies!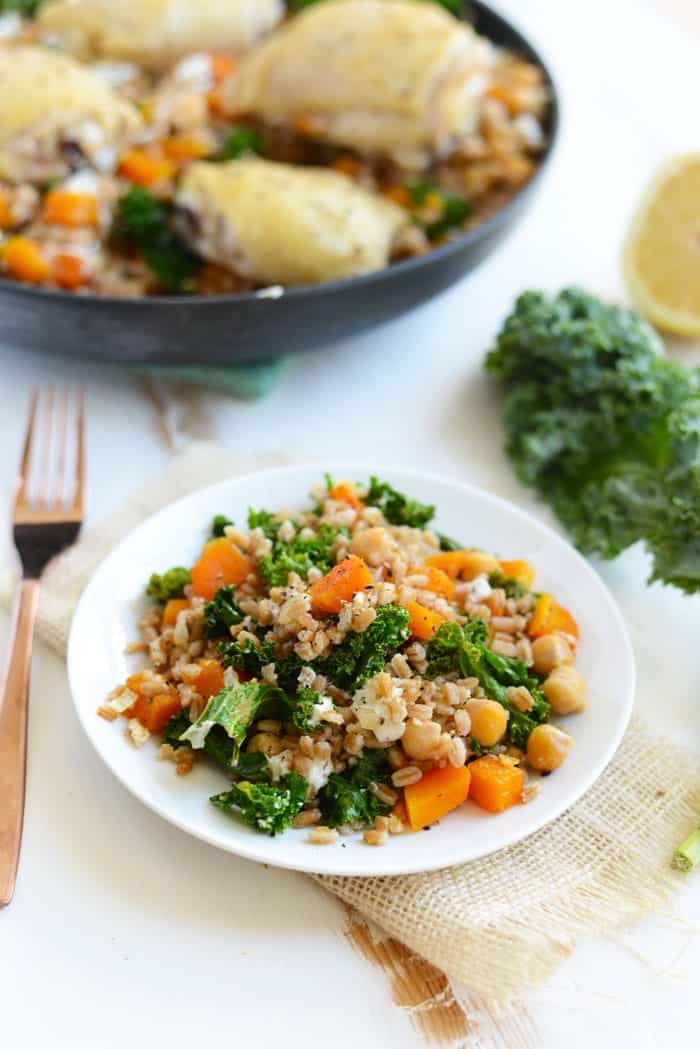 Confession- this is the FIRST TIME I have EVER cooked with butternut squash. I KNOW I KNOW, you probably think I'm crazy, but it's one of those foods (like mushrooms!) where I had a terrible first experience. After trying a delicious butternut squash soup in Israel, I decided to give it a second chance. In Israel, they pretty much called all squash pumpkin, which I found interesting 😀
Farro is a grain I've been wanting to cook with ever since I saw it on Edible Perspective (one of the first blogs I ever started reading in college!) years ago. For you gluten-free eaters…farro is not technically gluten-free, but it is relatively low in gluten. Just an FYI.
---
---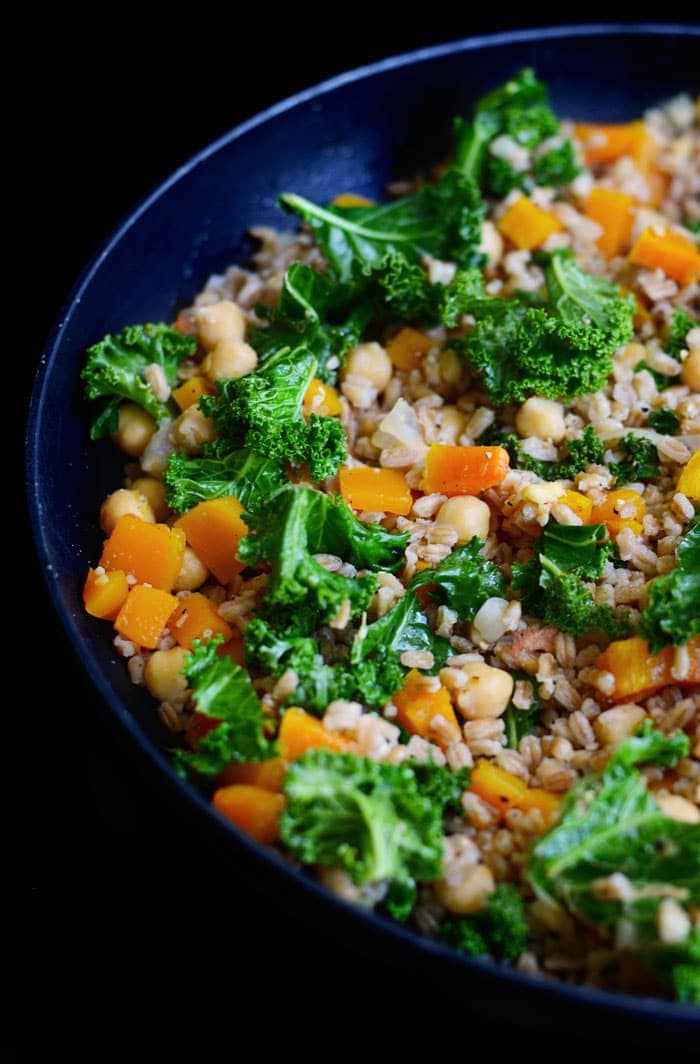 So this farro salad is super delish! It's made with…
butternut squash
onion
kale
garbanzo beans
It has simple flavors, but is a delicious, detoxifying dinner after the holiday weekend!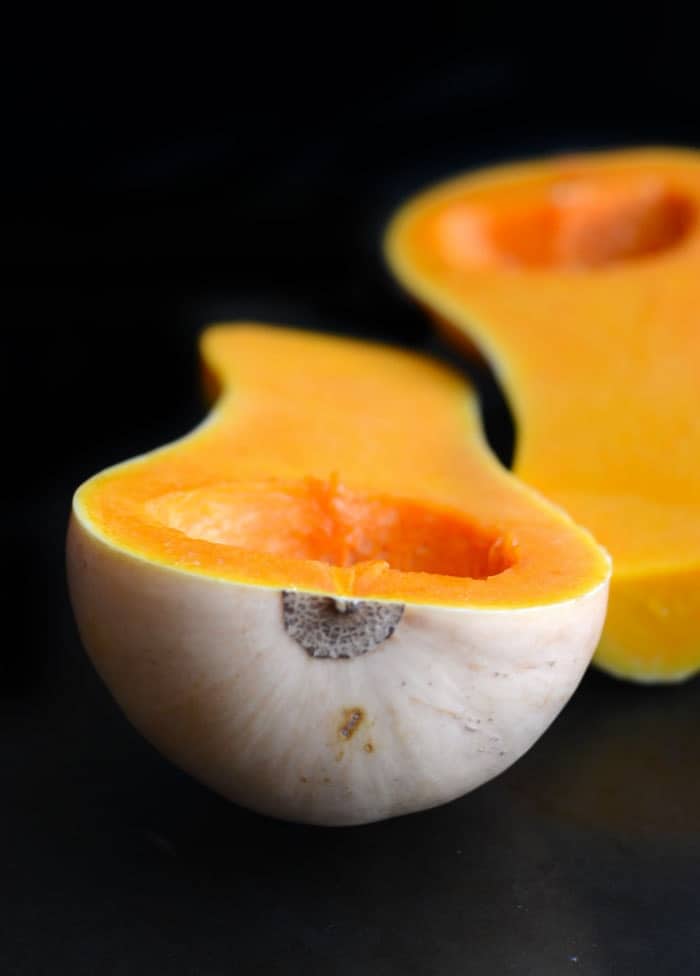 Can I just note that I thought peeling this was going to be a lot harder than it was. I had a blonde moment because I started off by using a knife to peel it not thinking a potato peeler would work. It was my first time okay….
Then I said screw this and tried the potato peeler. Worked like a charm!
It was easy to slice and dice into bite size pieces, which is just the way I like my sweet potato!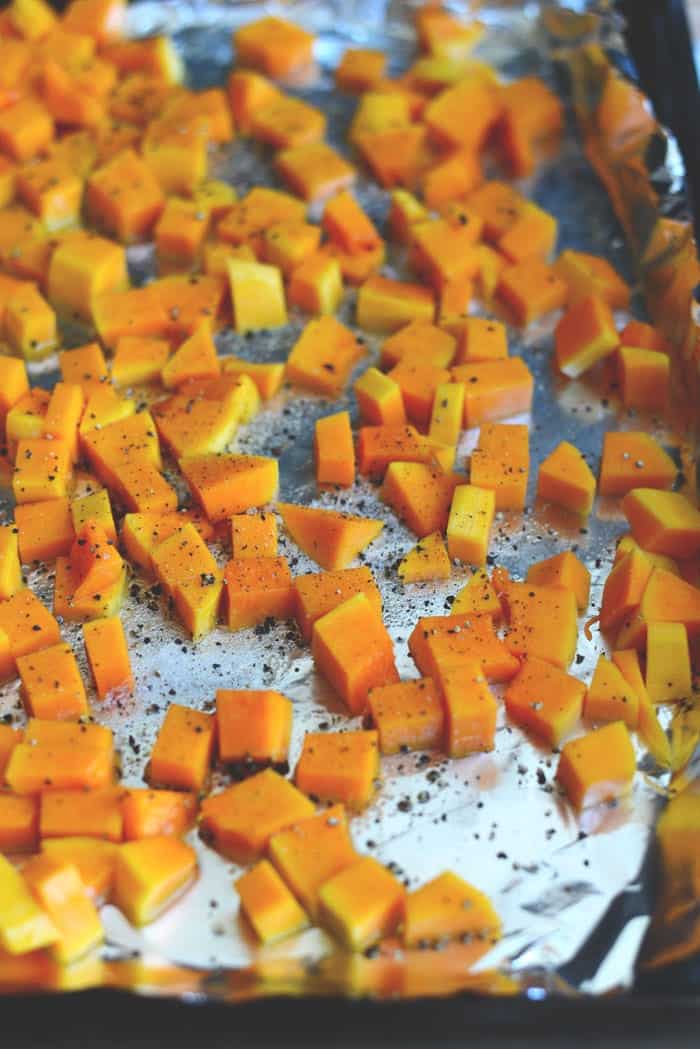 The goat cheese is a MUST in this recipe.
I didn't want to over flavor the salad with spices because I LOVE goat cheese. You best make sure you use a lot because you'll want a taste in every bite.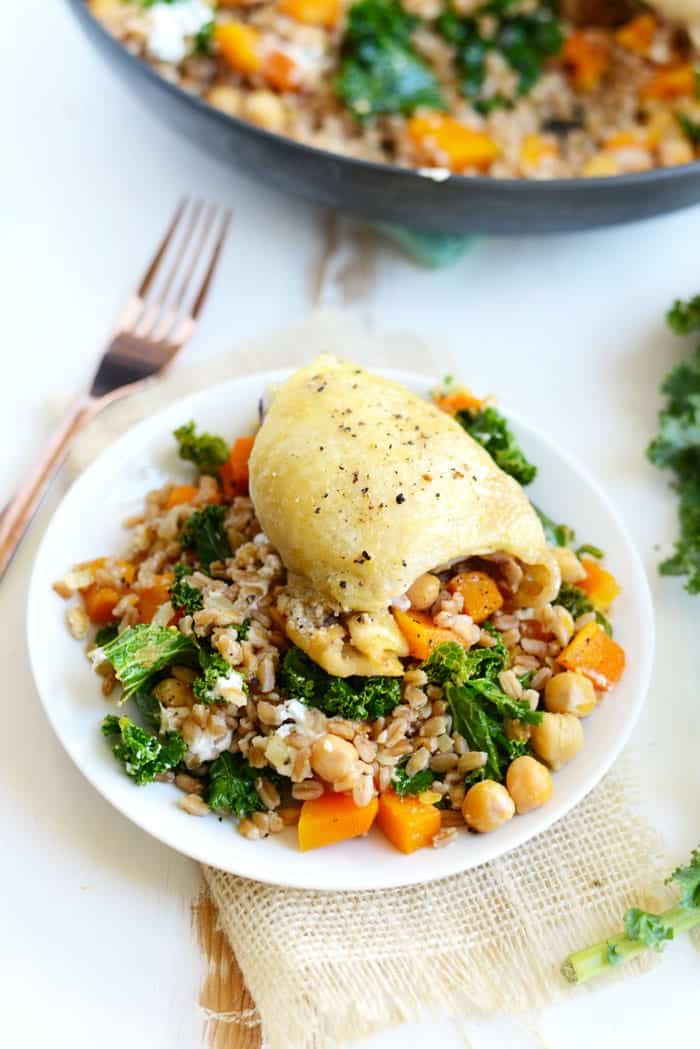 You can eat this salad plain (for all you vegetarians out there!), or serve it with some baked chicken, which is what I did. Gotta get Blakester to eat some how 😀
Roasted Butternut Squash and Goat Cheese Farro with Lemon Garlic Chicken
Prep Time:

15 minutes

Cook Time:

35 minutes

Total Time:

50 minutes

Yield:

4 servings
Ingredients
1/2 large butternut squash, peeled and chopped into bite-sized pieces
1 small yellow onion, diced
2 + 2 tablespoons EVOO, divided
1 + 1 tablespoons garlic (divided), minced
1.5 cups farro, rinsed
4 cups chicken/vegetable broth
4 large chicken wings
handful of kale, chopped
1 15 oz. can of garbanzo beans, drained and rinsed.
salt and pepper to taste
garlic salt, to taste
2 teaspoons italian seasoning
1-2 tablespoons lemon juice
1/2 cup goat cheese crumbles
Instructions
Begin by preheating oven to 375ºF. Then, in a medium-sized pot, bring farro and chicken broth to a rolling boil. Cover and turn to low, let boil for about 15 minutes. *NOTE: the liquid did not fully evaporate, but I wanted my farro to be al dante, so boil yours longer if you like it chewier.
Next, prep veggies by slicing butternut squash in half, removing seeds from the middle and peeling the skin. Then dice into bite-sized pieces using a sharp knife. Dice a small yellow onion.
Line a baking sheet with tin foil and drizzle on about 1-2 tablespoons of EVOO. Place butternut squash and onions on baking sheet and toss in EVOO. Season with salt and pepper and a tablespoon of minced garlic.
Prep chicken wings by lining another pan with tin foil and spray with non-stick cooking spray. Place on 4 chicken wings and season with salt, pepper, and garlic salt to taste. Squeeze on lemon juice.
Place chicken and veggies in the oven at the same time. Cook veggies for about 25 minutes and chicken for about 35 minutes.
Once the veggies are cooked, set aside.
In a large sauce pan, heat 1-2 tablespoons of EVOO. Then, add in chopped kale, garbanzo beans, and a tablespoon of minced garlic. Season with salt, pepper, and italian seasoning. Sauté for a few minutes or until your kale is at its desired texture.
Finally, add in roasted veggies, cooked farro, and another gulp of EVOO, and mix. Sprinkle on goat cheese to the top (generously…because why not!?). Serve with baked Lemon Garlic Chicken.
Here's some more of my favorite vegetarian dinners…