Make this Southwestern Black Bean Couscous Salad in under 30 minutes. It's packed with beans, veggies, and healthy fats and makes for a great meal prep lunch idea.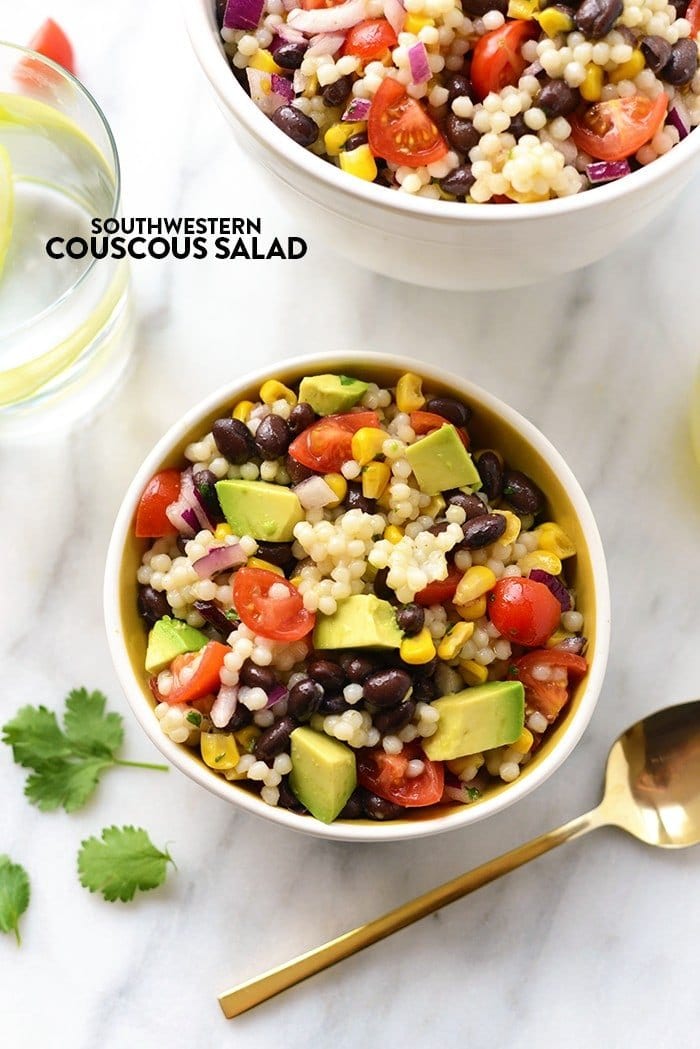 Linley picked me up from the airport last Monday at 11AM after my b-day trip to Milwaukee to see Man Candy and the first thing we did was go straight to Whole Foods for lunch. I love love love their selection of cold salads and the fact that you can get a little bit of everything. One of my favorite salads at WFHB (Whole Foods Hot Bar) has Israeli Couscous in it and I am obsessed. I'd never made Israeli Couscous until a few months ago and it's SO EASY! Boil water, add couscous, and POOF.
There are so many great flavor combinations that you can mix in with Israeli Couscous and we decided on a southwestern style. Check it —>
Quick Meal Prep Meal
The cool thing about this couscous salad recipe is that you can have it complete in under 20 minutes AND it makes for an amazing meal-prep recipe. You can eat it on its own or as a side. You've got your grain (couscous), your pulse/protein (black beans), and tons of veggies! I also think this is an excellent meatless Monday recipe, as well. The black beans do a whole lot for the protein/fiber content. Pulses, in general, can really amp up the nutrition of any recipe. FUN FACT- did you know that pulses are actually considered both a protein and a vegetable. MIND BLOWING. Let's check out the chunky line-up:
Israeli Couscous
Black Beans
Cherry Tomatoes
Sweet Corn
Red Onion
Refreshing Dressing
The dressing is SUPER simple and so refreshing. It's an olive oil base with lime juice, jalapeño, cilantro, cumin, and sea salt. YASSSSSSS. So good.
All you need to do is pop those ingredients into your high-speed food processor and whirl until combined. Then, you simply pour it on top of your Couscous salad and mix.
Couscous Q&A's
Wondering what the heck couscous even is? Check out some commonly asked questions and answers below!
What is couscous? Couscous is actually very similar to pasta. It is made from semolina, which is the hard part of the grain of hard wheat.
Can couscous be eaten cold? Couscous can be eaten either hot or cold, it just depends on your preference and what you're eating it with!
Is couscous healthier than pasta? When comparing couscous to pasta by the cup has 176 calories and 36 carbs. One cup of cooked pasta has 200 calories and 43g carbs.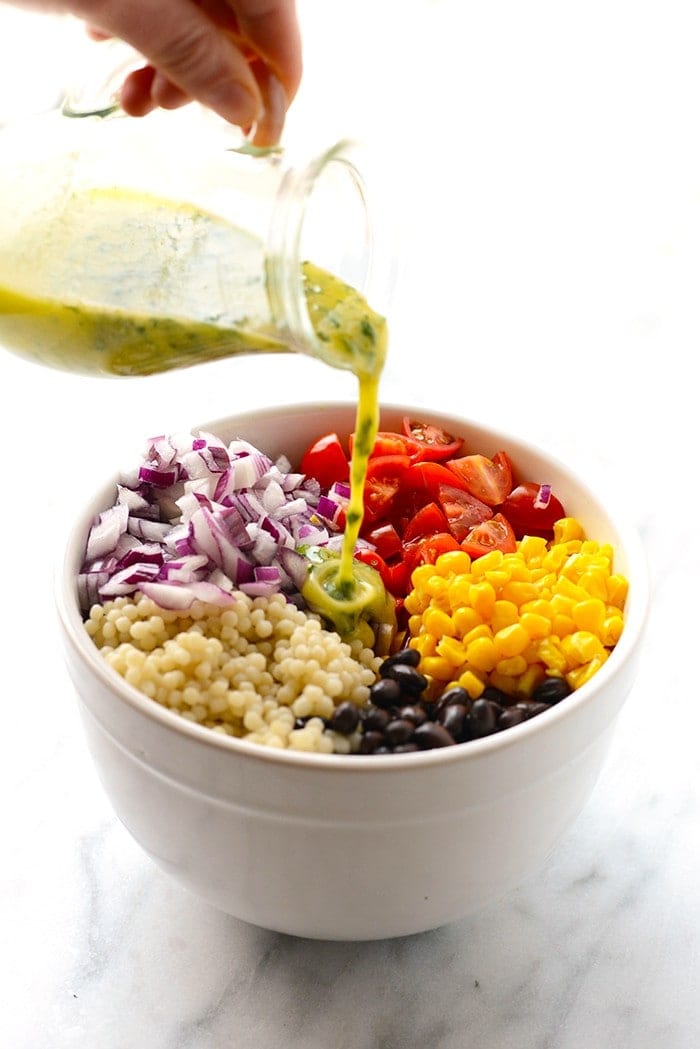 More Grain Based Salads
Southwestern Black Bean Couscous Salad Video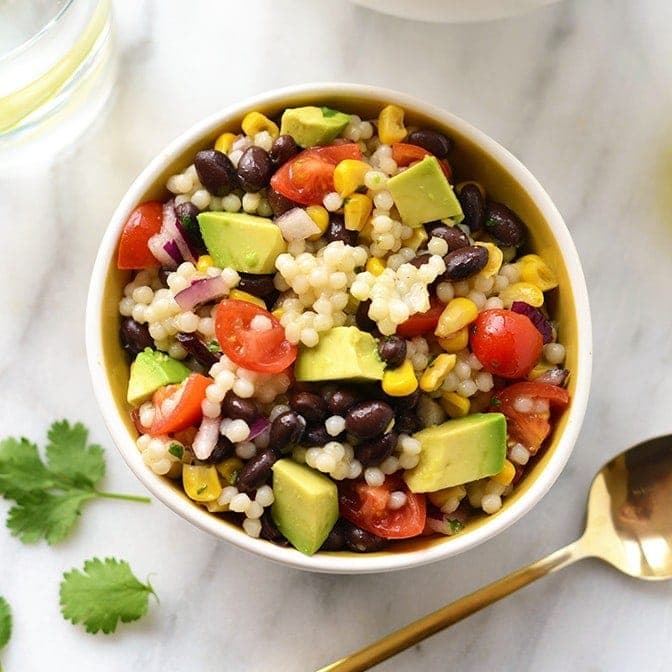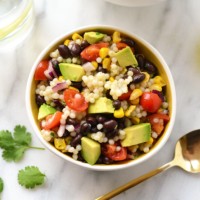 Southwestern Black Bean Couscous Salad
Make this Southwestern Black Bean Couscous Salad in under 20 minutes. It's packed with beans, veggies, and healthy fats and makes for a great meal prep lunch idea.
Prep:
20 minutes
Cook:
10 minutes
Total:
30 minutes
Fat
19
Carbs
25
Protein
6
Ingredients
For the Salad
1.25 cups

Israeli couscous

1.5 cups

water

1

15 oz. can black beans, rinsed

1 cup

sweet corn

1 cup

cherry tomatoes, cut into

four

ths

1/2

red onion, finely diced
For the Dressing
1/2 cup

olive oil

1/4 cup

fresh cilantro, chopped
juice from

1

to

2

limes*

1 teaspoon

ground cumin

1/8 teaspoon

sea salt
Instructions
Bring 1.5 cups of water to a rolling boil. Add in couscous and turn to low. Let simmer until all water is absorbed. Place in a tupperware and into the refrigerator to chill.
Once the couscous has chilled mix together couscous, black beans, sweet corn, cherry tomatoes, and red onion in a large bowl. Set aside.
Prep dressing by placing all ingredients int a high-speed food processor and mixing on high for about a minute, or until smooth.
Pour dressing over couscous mixture and mix.
Tips & Notes
Depending on how much you like lime, start with the juice from 1 and then go up from there. We used the juice from 2!
Nutrition Facts
Serving Size:
1/6
Calories:
290
Sugar:
3
Sodium:
52
Fat:
19
Carbohydrates:
25
Fiber:
5
Protein:
6
Category:
Salad
Method:
Stove Top
Cuisine:
Southwestern