These Butternut Squash Buddha Bowls are the most colorful meal you'll ever eat! They're made with sprouted brown rice, crunchy chickpeas, roasted butternut squash, greens, avocado, and harissa sauce.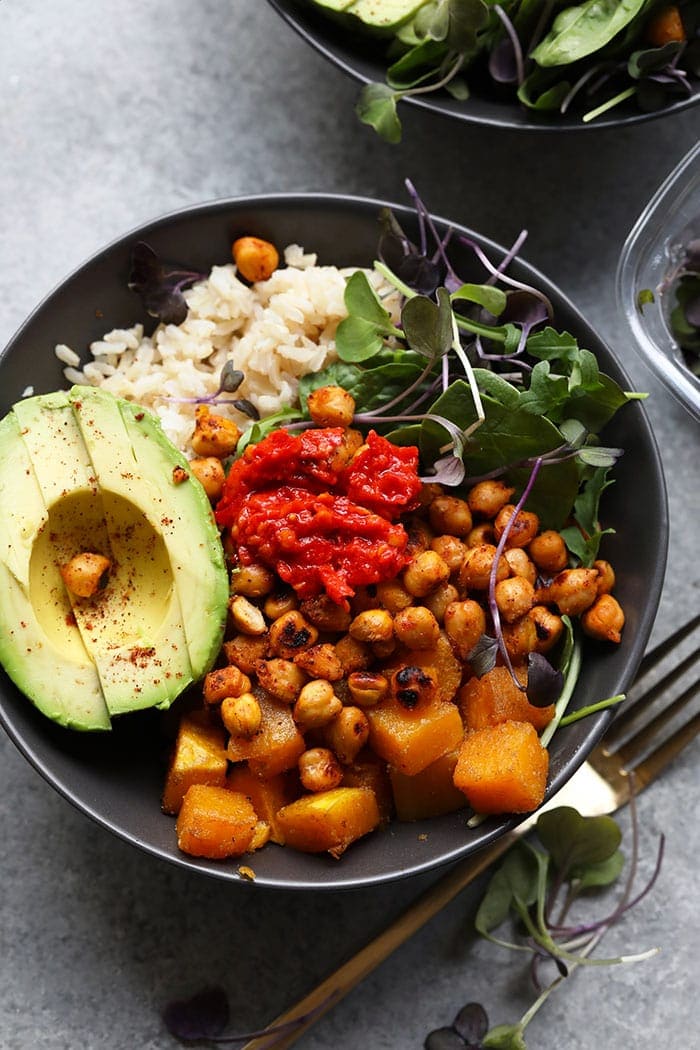 Buddha bowls have to be one of my all-time favorite meals to make. I feel like a Buddha bowl is like Whole Foods Hot Bar, there are so many amazing things packed into one meal. This all-star Buddha bowl is one of my favorite recipes from the HGG Reset. As you can see it packs in the plants, protein, whole grains, and healthy fats. That's a balanced meal if you ask me :)
Let's deconstruct:
Roasted butternut squash
Crunchy chickpeas
Greens
Avocado
If you've never had sprouted/germinated brown rice, I highly suggest it! I love the texture and the flavor too. I recommend the TruRoots brand, but you can also find it in the bulk section at some grocery stores. If you're not a butternut squash kind of person, you can swap it out for sweet potato or normal potatoes. TBH, I used to stray away from butternut squash because it's a pain to prepare, but now so many grocery stores pre-chop it for you! I've seen it at Fresh Thyme, Whole Foods, and Trader Joe's. Winning.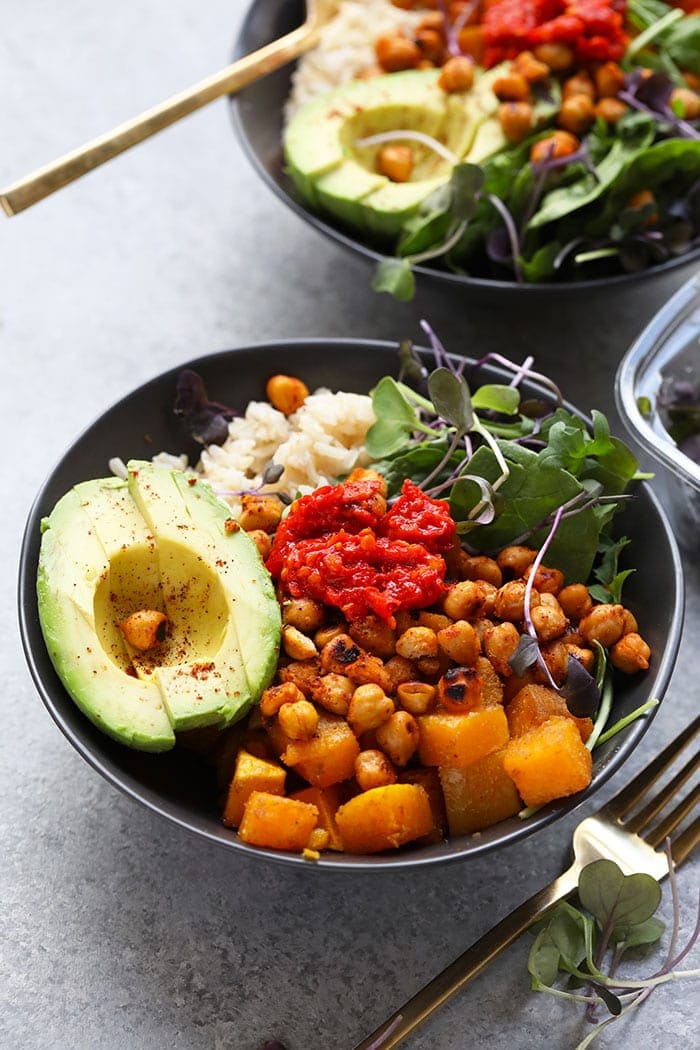 About HGG Reset
Back to the HGG Reset. I wrote an introductory post on Healthy Glow Co.'s newest, program, but thought I'd give you a refresher in case you're still on the fence about purchasing the program! The goal of the HGG Reset is to help you get from feeling good to feeling great. That's what "reset" means to us – it's about enjoying uncomplicated, delicious recipes that honor your body's nutritional needs while satisfying your taste and hunger cues. By the end of this program, you will crave wholesome, nourishing foods and get in a good rhythm of meal planning and prepping that you can implement in your everyday life. We based the program off of 3 pillars:
Pile your plate with produce to get needed nutrients and plenty of filling fiber.
Include foods that ease your digestion and help fight inflammation.
Get back in the kitchen to prepare real, whole foods and relax into cooking as a form of self-care!
Are you ready? Buy now for just $109, HERE.