Instant Pot Butternut Squash Soup that's ready in less than 30 minutes? Yes, please. This butternut squash soup is seriously so flavorful and easy to make.
Prep and cook your butternut squash soup in Instant Pot, and then puree it to perfection in the same pot. Seriously this is the most delicious butternut squash soup you'll ever eat.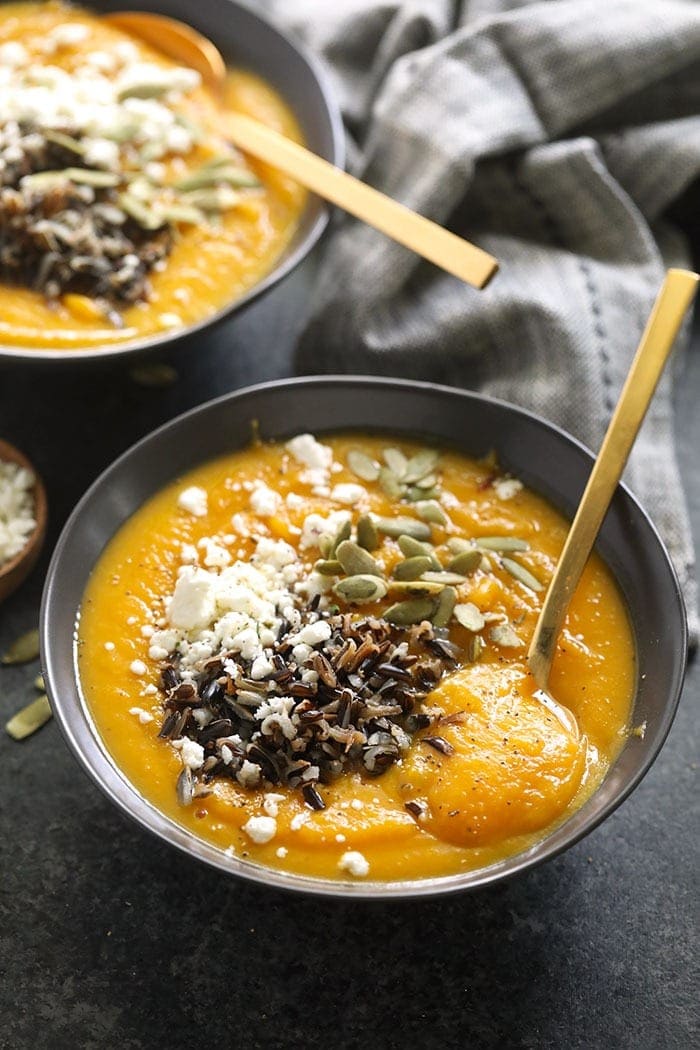 Instant Pot Butternut Squash Soup Made EASY
You love the flavor of butternut squash, but don't want to cube raw squash for another dish — we get it!
That's why we're so jazzed to share this Instant Pot butternut squash soup recipe that only requires a few slices on that pesky, raw butternut squash before placing into the Instant Pot for basically instant soup deliciousness 😀
Pressure cooker butternut squash soup is fall goals in a bowl. Its creamy texture is pretty incredible. Make it and you will understand 😀
What does butternut squash soup taste like?
Instant Pot Butternut Squash Soup is slightly sweet and savory at the same time. The texture is thicker than brothy soup, but the flavor is squash-intense and so delicious!
If you like sweet potatoes, then I know you'll love this butternut squash soup.
Is butternut squash soup healthy?
Butternut squash soup is a healthy soup option because of butternut squash itself. Here's why it shines:
Packed with vitamins A, C, E and B
High in fiber
High in calcium
82 calories/1 cup (cubed)
Is this butternut squash soup vegan?
Good news! This creamy Instant Pot soup is naturally dairy-free, gluten-free, and vegan.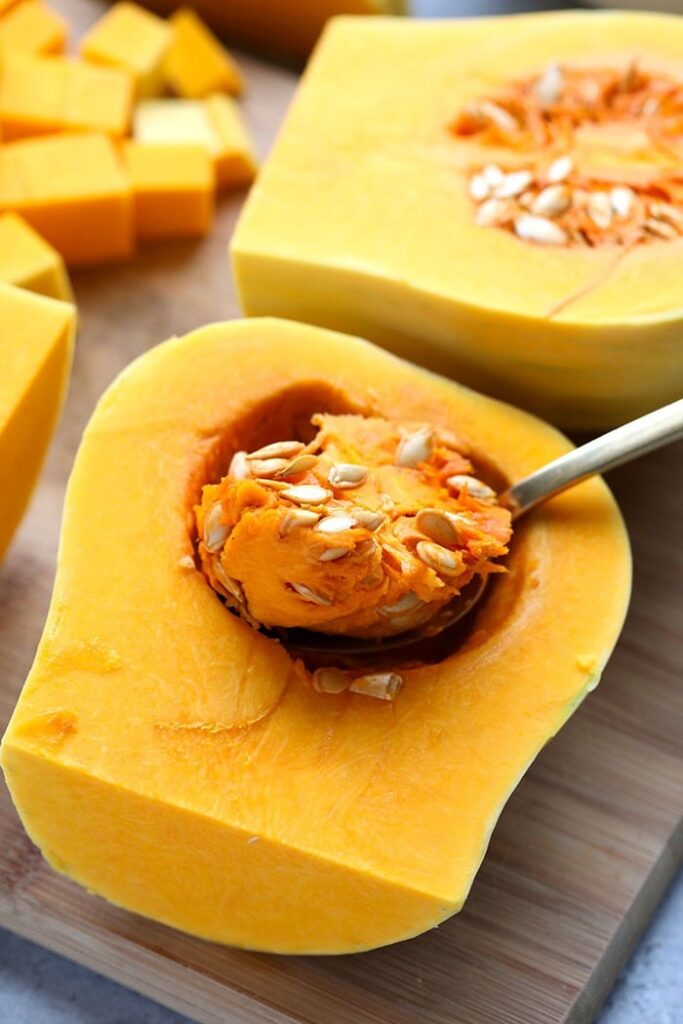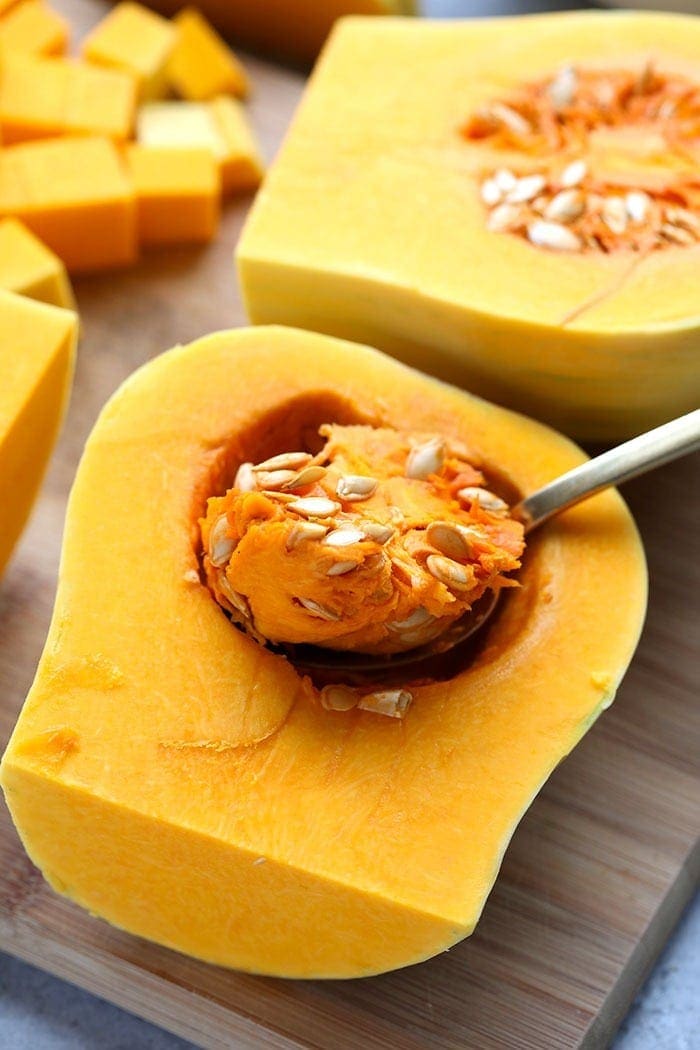 What You Need
olive oil: olive oil is needed at the beginning of the recipe to saute the onion and garlic to make sure they get nice and caramelized.
yellow onion: onion is such a great soup starter. Feel free to use yellow or white.
garlic: feel free to use fresh garlic or minced. Either work!
butternut squash: you only need 1 large butternut squash for this recipe.
vegetable broth: we're keeping things basic with vegetable broth. A lot of butternut squash soups call for coconut milk (like our Spicy Butternut Squash Soup), but we're keeping the flavors more squash-centric. Feel free to also use chicken stock or broth as well.
cinnamon: ground cinnamon is seriously so delicious in this soup. It gives it that little spice your tastebuds are looking for. You could also add a little ground nutmeg if that's your jam.
apple cider vinegar: always keep vinegar in your back pocket when making soups. It helps balance out all those flavors.
try it!
Feeling indulgent? Add 1/4 cup of heavy cream into the soup before blending. It will make your soup extra creamy and rich.
Have other root veggies in the fridge? Sneak them into your butternut squash soup. Here are a few we recommend: carrots, potatoes, sweet potatoes, celery, or turnips.
How to Prepare Butternut Squash for Cooking in the Instant Pot
This soup only requires you to quarter your butternut squash before transferring it into your pressure cooker.
Simply cut the squash in half by slicing the top and the bottom apart.
Then, cut each half lengthwise.
Use a spoon to scoop out the seeds from the 2 bottom halves.
Then, season with salt, pepper, and a pinch of cinnamon.
Should I peel my butternut squash first?
There is no need to peel your butternut squash before cooking In the Instant Pot. The flesh will become so tender that you can easily scoop it out of the skin.
#1 cutting tip
Our #1 tip for cutting butternut squash is a sharp knife. The skin of butternut squash is extremely tough, so in order to cut it safely, you need to make sure you have a sharp knife.
Butternut Squash Resources
Want more butternut squash resources? We got you! Check out:
How to Make Instant Pot Butternut Squash Soup
Saute onion & garlic: add olive oil to your Instant Pot and turn on the saute feature. Then, saute onion and garlic for 7-9 minutes or until onions are completely translucent.
Deglaze: next, deglaze your Instant Pot with broth. This will prevent the burn notice from happening. Just make sure you scrape the brown bits from the bottom.
Add the rest of the ingredients: add the quartered butternut squash and apple cider vinegar to the Instant Pot and season with spices.
Pressure cook: Put the lid on your Instant Pot and turn the valve to seal. Then cook on high pressure for 8 minutes. It will take around 10 minutes for your Instant Pot to fully pressurize. Eventually, it will start to count down from 10. Once the timer goes off, quick release your Instant Pot to let the steam pour out. Then, open your Instant Pot and remove the squash.
Scoop out innards: use a spoon to carefully scoop out the flesh of the squash. Be careful because it will be hot! Then, place the flesh back into the Instant Pot with the rest of your cooked ingredients.
Puree: use an immersion blender to blend all of the ingredients together. You can do this right inside of your Instant Pot to decrease the number of pots required. Feel free to add a little more broth, as desired, depending on your creaminess goals.
no immersion blender? No problem!
If you don't have an immersion blender, simply place all ingredients in a high-speed blender and puree.
Either will work, we just prefer the ease of using an emulsifier blender directly in the Instant Pot instead of dirtying the blender.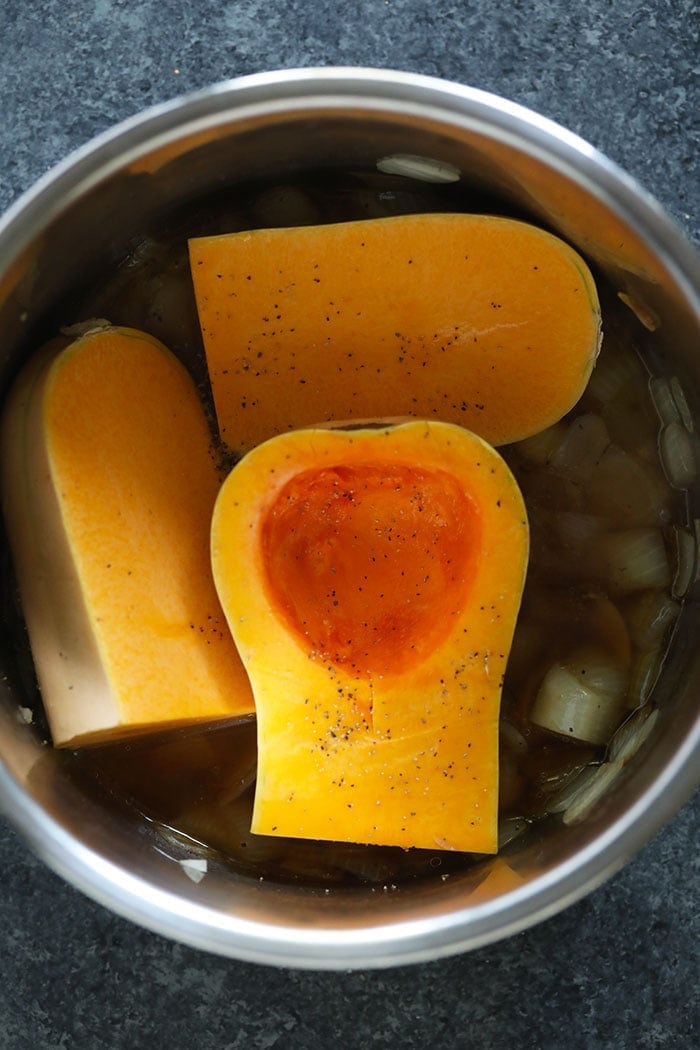 Toppings for Butternut Squash Soup
This butternut squash soup is delicious on its own, but if you're looking to jazz it up, we recommend one (or a combination!) of the following:
Goat cheese
Greek yogurt or sour cream
Roasted chickpeas
Pepitas (pumpkin seeds)
Freshly ground black pepper
Croutons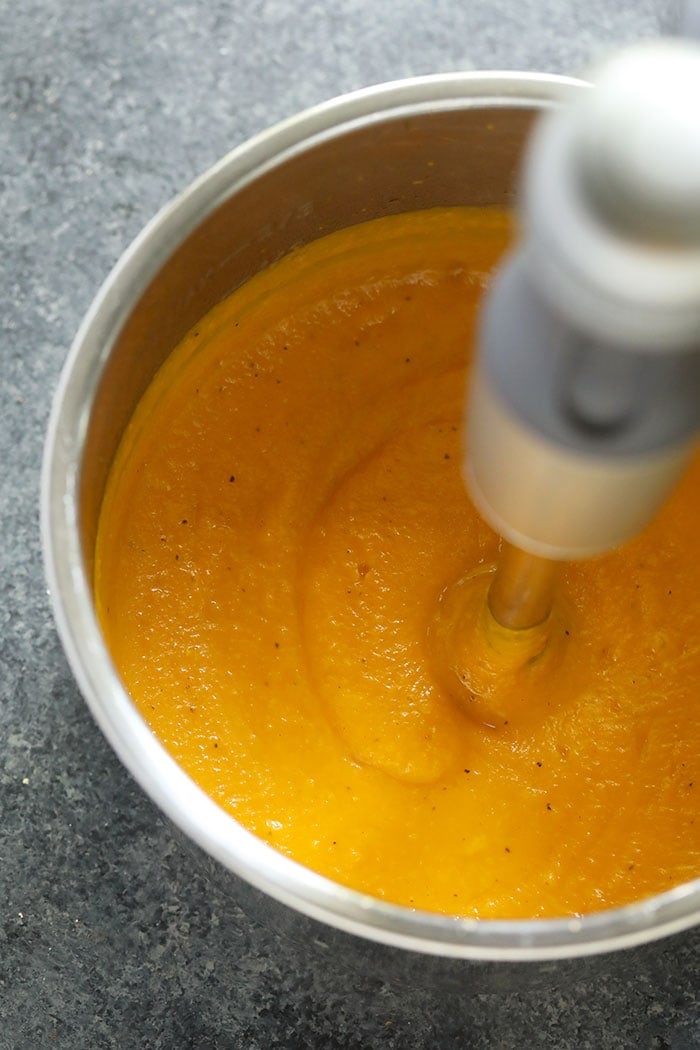 Does Squash Soup Freeze Well?
Yes, butternut squash soup does freeze well! We suggest freezing this soup BEFORE topping with any cheese or dairy. Check out our guide on How to Freeze Soup HERE.
Let soup cool completely.
Then, transfer it into an airtight container or gallon-size plastic bag.
Remove as much air as possible and seal.
Freeze for up to 3 months.
How to Reheat Butternut Squash Soup
From Thawed: If your butternut squash soup is in the fridge, simply reheat over low heat on the stovetop, and add extra broth if it's too thick for your liking.
Do note, that butternut squash does thicken as it chills, so you will likely need to add more broth to thin it out!
From Frozen: If your butternut squash soup is frozen, we recommend thawing it overnight in the refrigerator before reheating over low heat on the stovetop.
Frozen soup that has been thawed may require adding more broth than if it was never frozen.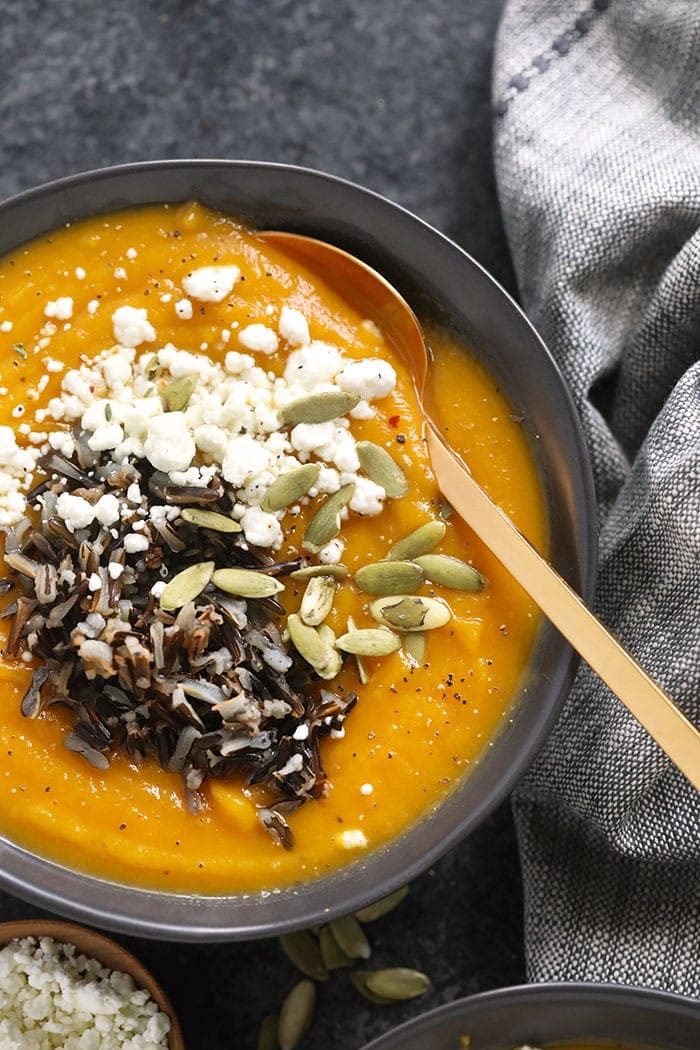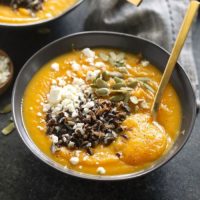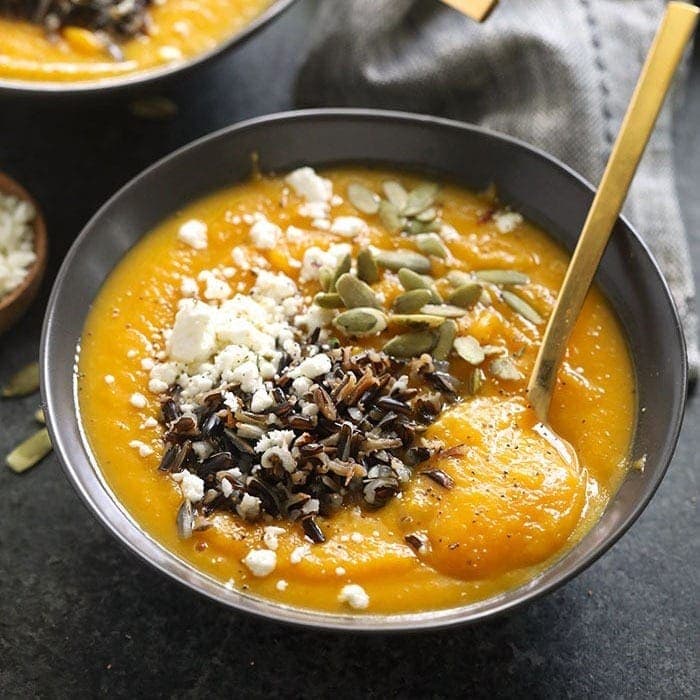 Instant Pot Butternut Squash Soup
The easiest Instant Pot Butternut Squash Soup recipe that doesn't require you to peel your squash. All you need is 1 pot (your Instant Pot) and 9 ingredients!
Instructions
Begin by preparing butternut squash. Cut the top off of the squash and then cut it in half, length-wise. Use a large spoon to remove the seeds and discard them. Then, cut each half in half again, length-wise to quarter the squash.

Next, turn on the Instant Pot's saute feature. Add olive oil.

When olive oil is fragrant, add onions and garlic to the Instant Pot and saute for 7-9 minutes, stirring periodically.

Then, deglaze your Instant Pot by adding broth. Use a wooden utensil to scrape the brown bits from the bottom of your pot. This will help prevent the burn notice.

Set the quartered squash on top of the onions, garlic, and broth. Season the squash with salt, pepper, and cinnamon. Pour apple cider vinegar over the squash.

Close your Instant Pot and turn the valve to seal. Cook on high pressure for 8 minutes. It will take around 10 minutes for the pressure to fully build up and start counting down from 8.

When the timer goes off, quick-release the pressure and uncover the Instant Pot.

Remove quartered butternut squash from the Instant Pot and carefully scoop the innards out from the butternut squash skin. Be careful, it will be hot! Discard the skin, and place innards back into the Instant Pot.

Use an immersion blender to blend everything together until smooth.* Option to add a little more broth if you like your squash soup thinner.
Tips & Notes
*If you don't have an immersion blender, pour everything into a high-speed blender and blend until smooth
Nutrition facts
Calories:
156
kcal
Carbohydrates:
31
g
Protein:
2
g
Fat:
5
g
Fiber:
4
g
Sugar:
14
g