Pack in the veggies with this delicious Butternut Squash Harvest Bowl recipe! This delicious bowl features butternut squash, roasted brussels sprouts, and a kale apple slaw.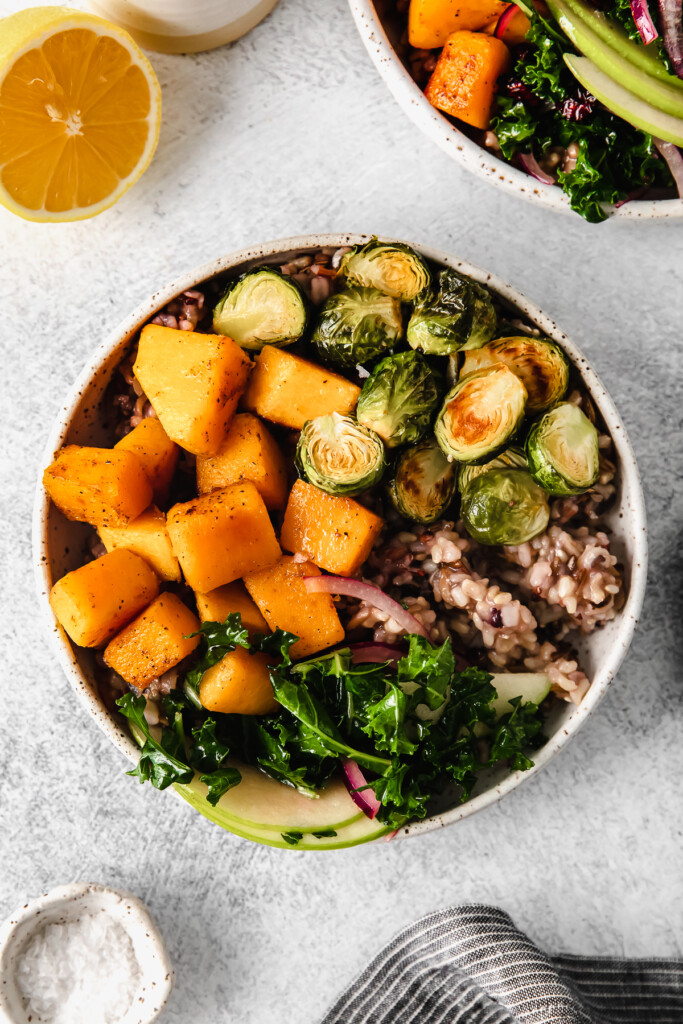 The Ultimate Harvest Bowl
This butternut squash harvest bowl is truly the ultimate fall meal. It's packed with so many different fall veggies and made with a yummy tahini dressing.
Harvest bowls are an excellent meal to whip up during the fall and winter months because they pack in the veggies and are made with whole grains. They also make for great meal prep for throughout the week.
What is a harvest bowl?
A harvest bowl is a Fall-inspired grain bowl made with in-season produce, a grain, and easy dressing.
Our recipe features butternut squash, brussels sprouts, wild rice, and a yummy tahini dressing.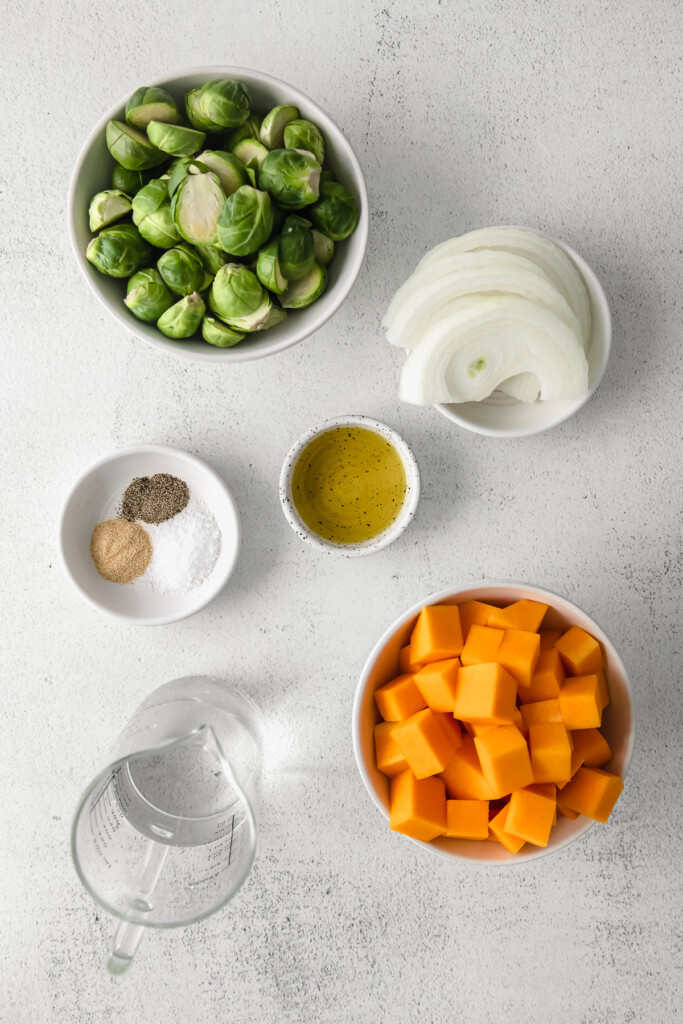 Elements of a Harvest Grain Bowl
The right amount of savory, just a little sweet, and a whole lot of delicious. This harvest grain bowl is packed with so much goodness. Here's what it features:
Wild Rice
Cooking wild rice perfectly can be finicky! Learn how to cook wild rice in the Instant Pot or on the stovetop here, and you'll never have under or over-cooked wild rice again.
Or, if you're lazy, you can even buy it pre-cooked at the grocery store.
Butternut Squash
Butternut squash is an amazing addition to any grain bowl, especially during harvest time. There are many different ways to cook butternut squash you can choose whatever your heart desires. Here are tutorials for our favorite ways: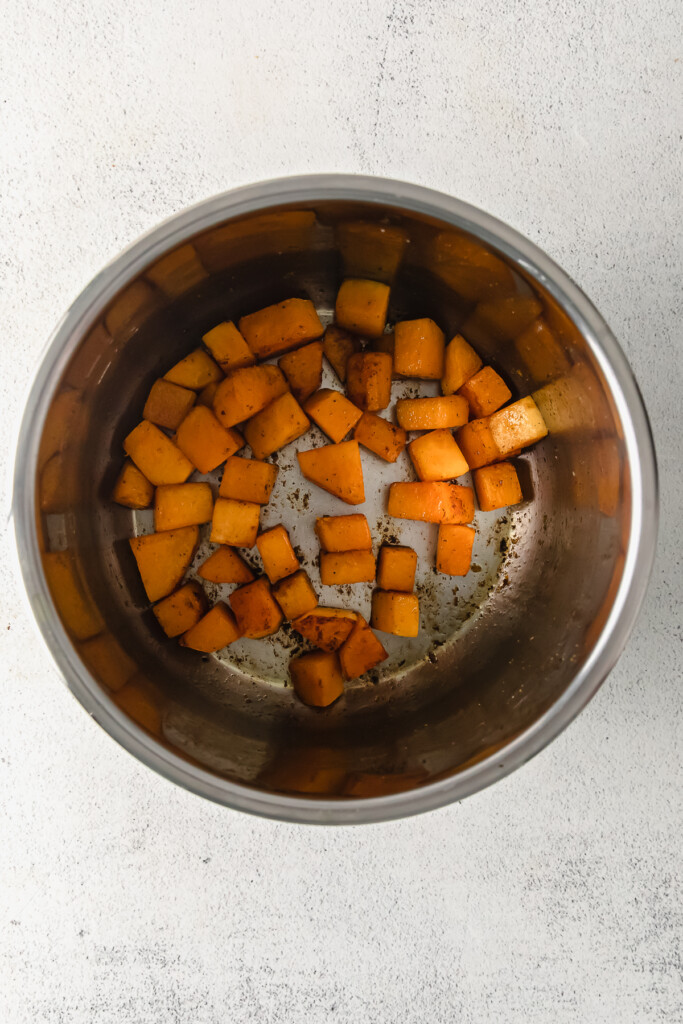 Brussels Sprouts
We have many simple brussels sprouts recipes here on Fit Foodie Finds. While this recipe calls for simple roasted brussels sprouts with onion, olive oil, garlic powder, and salt and pepper, feel free to get creative and sub in any of the following brussels sprouts recipes: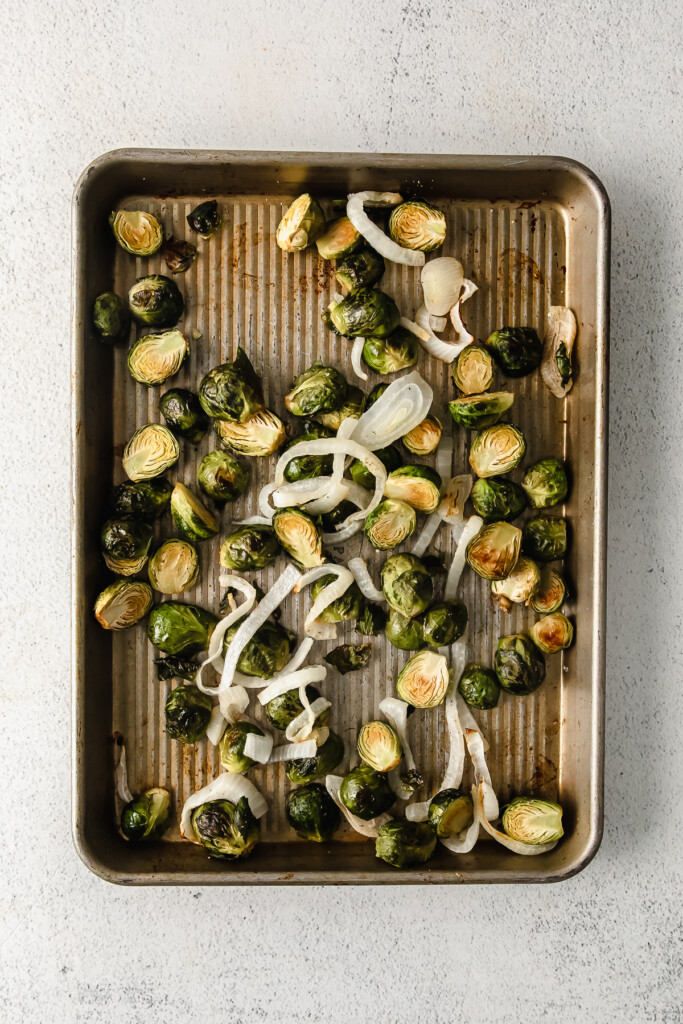 Kale and Apple Slaw
The kale and apple slaw adds a nice element of sweetness to an otherwise savory bowl. It's made of:
Thinly sliced apple
Baby kale
Thinly sliced red onion
Dried cherries or cranberries
Lemon juice
Honey
Apple cider vinegar
All you have to do is toss it all together and you're ready to rock.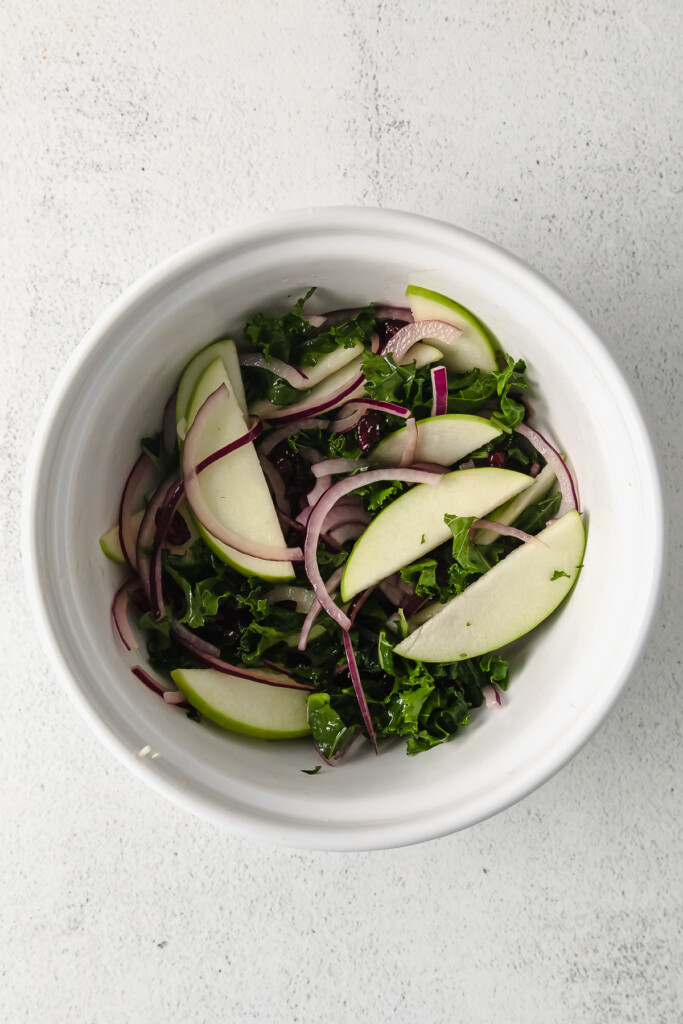 Tahini Dressing
Tahini, olive oil, balsamic vinegar, and garlic powder whisked together make this delicious dressing to truly complete these harvest grain bowls.
If you're craving a different dressing, be my guest. Here are some Fit Foodie faves that would pair quite nicely with this recipe!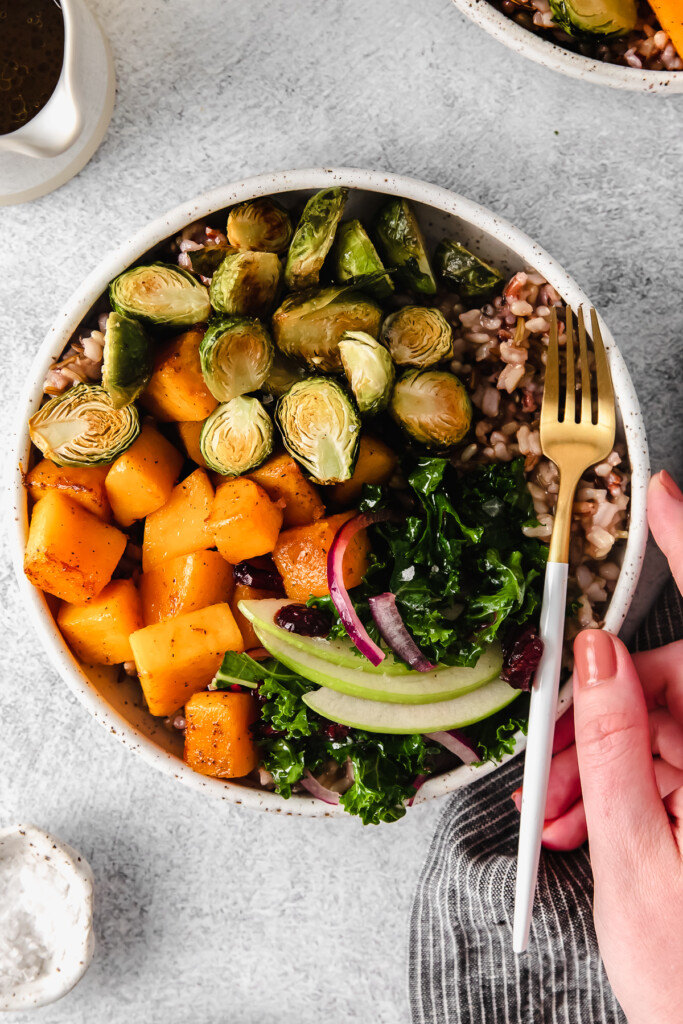 More Harvest Recipes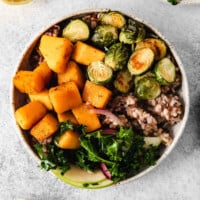 Butternut Squash Harvest Bowl
Pack in the veggies and whole grains with this Butternut Squash Harvest Bowl. It's truly the most balance fall meal!
Ingredients
Instructions
Wild Rice
Place wild rice and water into a large sauce pan. Turn burner to medium/high heat and bring to a boil.

Cover and turn heat down to low and let simmer for 50 minutes or until it reaches the desired texture.

Strain water from wild rice and set rice aside.
Brussels Sprouts
While the wild rice is simmering, preheat oven to 375ºF. Place all ingredients onto a baking sheet and mix together until the Brussels sprouts are covered in olive oil and spices.

Roast at 375ºF for 25 minutes.

Remove and set aside.
Butternut Squash
Turn the Instant Pot's saute feature on and add olive oil.

When the olive oil is fragrant, add cubed butternut squash and season with salt and pepper. Saute in the Instant Pot for around 6 minutes or until the butternut squash begins to brown.

Remove butternut squash from the Instant Pot and place it into a small microwave-safe bowl that will fit in the Instant Pot.

Pour 1 cup of water into the bottom of the Instant Pot and place the trivet onto the bottom of the Instant Pot.

Next, place the glass bowl full of butternut squash on top of the trivet. Cover the Instant Pot and cook on high pressure for 1 minute.

Remove from the Instant Pot and set aside.
Kale + Apple Slaw
Place all ingredients for the apple kale slaw into a large bowl and mix until all ingredients are combined. Set aside.
Tahini Dressing
Prepare the dressing by placing all of the ingredients for the tahini dressing into a mason jar. Tightly cover the jar and shake it until all the ingredients are combined.
Harvest Bowl
Assemble the harvest bowls by evenly distributing the wild rice, brussels sprouts, butternut squash, slaw, and tahini dressing into four separate bowls or meal prep containers.*
Tips & Notes
*If you are meal prepping these harvest grain bowls for later hold off on adding the dressing until serving.
Nutrition facts
Calories:
345
kcal
Carbohydrates:
41
g
Protein:
6
g
Fat:
20
g
Fiber:
7
g
Sugar:
18
g