This Vegetarian Brown Rice Bowl is packed with nutrient-rich veggies and grains, and makes such an easy meal prep idea for a week's worth of lunches!
We're big fans of meals in bowls over here on Fit Foodie Finds. Whether it's this vegetarian brown rice bowl or this mediterranean vegan buddha bowl or these delicious vegetarian harvest grain bowl, you can't go wrong with these healthy meal options!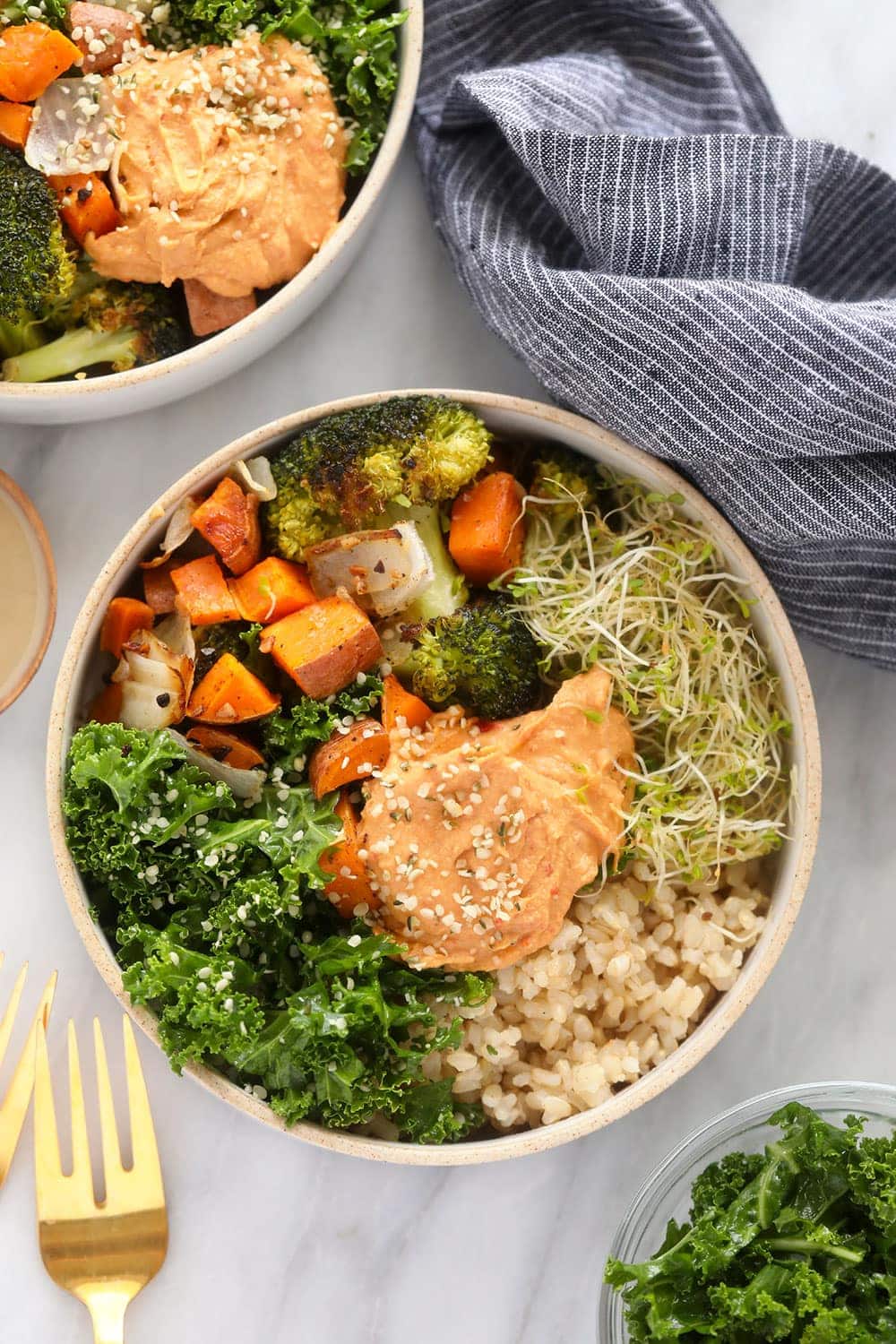 All You Need In ONE Bowl!
Get ready for everything you need for a healthy meal all put together nicely in one bowl! These vegetarian brown rice bowls are savory and delicious, and perfect for meal prepping easy lunches or weeknight dins.
Vegetarian Brown Rice Bowl — Deconstructed
No surprise that this vegetarian brown rice bowl is packed with delicious and nutritious ingredients! But know that nothing is set in stone with recipe (much like ALL of our bowl recipes!); you can absolutely sub in other ingredients you have on hand when the bowl mood strikes.
Roasted Veggies
We know that everyone's ovens are different and this is why bake time might vary up or down. Our biggest tip for getting perfect roasted vegetables is actually how you chop them.
You'll note in the recipe card that we instruct dice all of your root vegetables to approximately the same size. This will ensure all of your vegetables cook evenly.
For this recipe, we use:
Sweet potato
Yellow onion
Broccoli florets
Minced garlic
But feel free to use whatever hearty veggies you have on hand.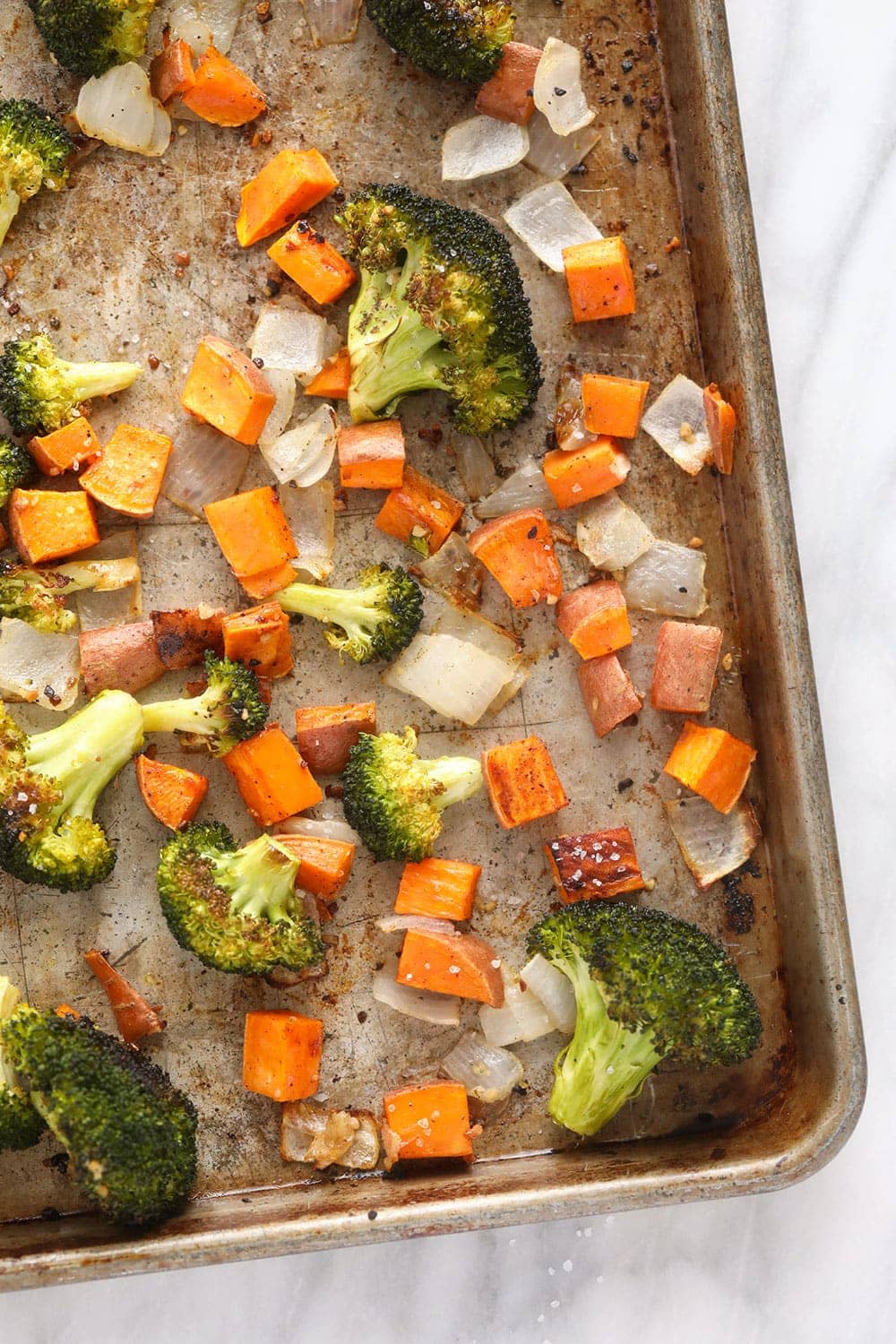 Brown Rice
Are you a short grain brown rice kind of person? Or do you prefer long grain goodness? We love short grain brown rice, but either one will do for this vegetarian brown rice bowl! And either are great to be meal prepped!
Pro Tip: we love to prep rice or quinoa for the week on Sundays. That way, it can be used for more than one recipe throughout the week. Double the brown rice for this recipe for the option to make a side of cilantro brown rice, too! Taco night, anyone?!
Greens
GREENS. You can use any kind of leafy green that your heart desires for this recipe! We found the most beautiful sprouts and baby kale for this bowl. But feel free to use arugula, spinach, romaine, or your favorite spring mix — whatever's looking the best at your local grocer!
Hummus
If you've never made homemade hummus, you're missing out! Hummus is typically made from a base of garbanzo beans, tahini, lemon juice, olive oil, and salt + any specific flavorings!
If you're in a time crunch, no worries…you can swap this homemade roasted red pepper hummus out for your favorite store-bought version (we love Sabra!). Either way, don't leave it out because this vegetarian brown rice bowl could use the extra fiber and protein!
Hemp Hearts
Hemp hearts add a nice little nutty crunch to these vegetarian brown rice bowls! Simply sprinkle a handful on top of your bowl and know you're adding a hearty dose of healthy fats and protein.
Don't have hemp hearts on hand? Sub in your favorite nuts or seeds.
Tahini 
Drizzle a tablespoon of tahini over your bowl for an added splash of flavor throughout. Pro Tip: If you're making these bowls for meal prep, wait to add the tahini drizzle til right before you're going to serve and eat this recipe!
Can you Double this Recipe?
Yes! In fact you can double, triple or even 1/2 or 1/4 this recipe to your heart's content. It's great for meal prep for the week, or if you're looking for a way to use the last of your veggies, the 1/2 option might suit you well! Either way, you can't go wrong with prepping a batch of these vegetarian brown rice bowls for the week, or whipping up a single serve on a moment's notice.
How to Store Vegetarian Brown Rice Bowls
If you're looking to meal prep these bowls and then eat them throughout the week, simply store in air-tight containers in the fridge for 3-5 days. Pro Tip: wait to add the hummus and tahini dressing til you're about to serve these bowls!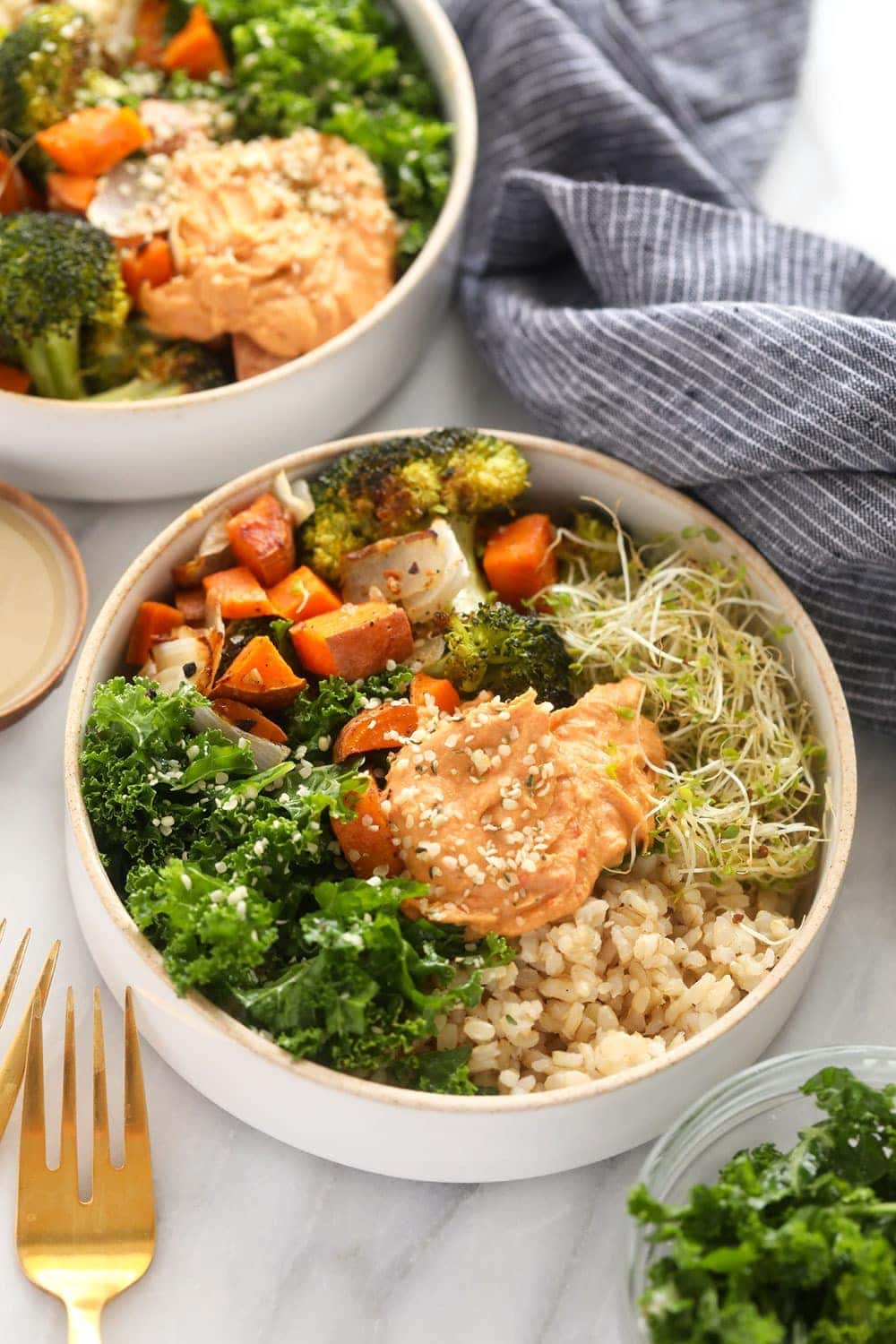 More Buddha Bowl Recipes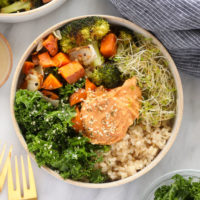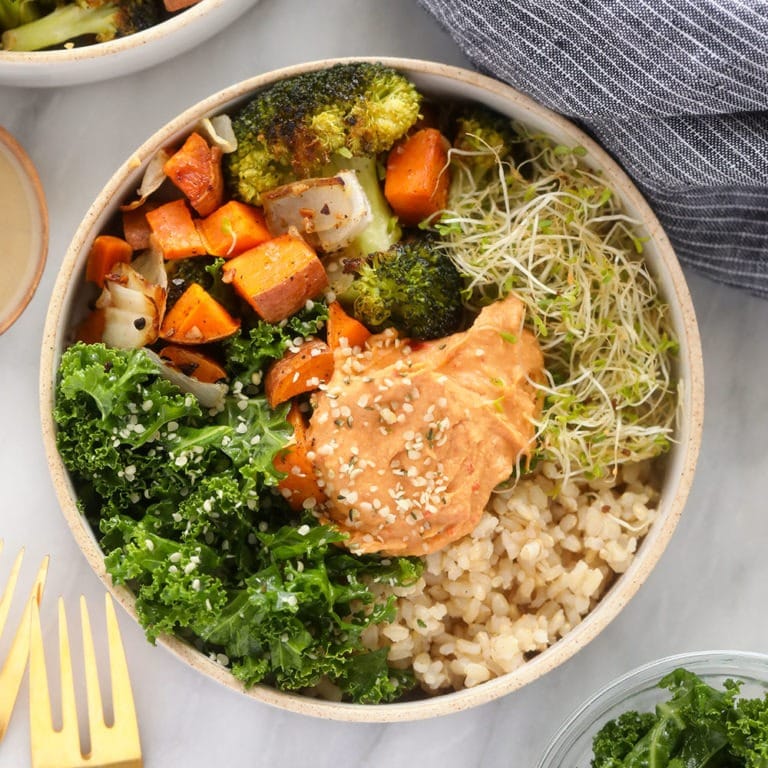 Vegetarian Brown Rice Bowl
This Vegetarian Brown Rice Bowl is packed with nutrient-rich veggies and grains, and makes such an easy meal prep idea for a week's worth of lunches!
Prep:
15 mins
Cook:
35 mins
Total:
50 minutes
Fat
23
Carbs
76
Protein
19
Ingredients
For the Roasted Veggies
2 tablespoons

olive oil

2 tablespoons

of minced garlic

2

large sweet potato, diced

1

medium yellow onion, diced

8 cups

of broccoli florets, chopped

1/8 teaspoon

salt

1/8 teaspoon

pepper
For the Bowls
1 cup

short grain brown rice, uncooked

2 cups

water

4 cups

raw kale, deboned and chopped

1 teaspoon

olive oil

1 cup

sprouts

1 tablespoon

hemp hearts

2 tablespoons

tahini
Instructions
First, preheat oven to 375ºF and spray a baking sheet with non-stick cooking spray.
Next, prepare the rice by adding the rice and water to a small pot and bring to a boil over high heat.
Then, turn heat to low cover pot, and let the rice simmer for about 30-40 minutes or until water has dissolved.
Next, spread the sweet potato, onion, and broccoli evenly over the greased baking sheet. Toss in olive oil and garlic.
Sprinkle salt and pepper over the vegetables and then place into the oven and roast for 25-30 minutes at 375ºF, tossing halfway.
Prepare the kale by placing kale into a bowl and drizzling with about 1 teaspoon of olive oil.
Massage the kale with hands until the kale breaks down by about half (read more about how to massage kale here). Set kale aside.
Remove rice from the stove top when finished and fluff with a fork. Set aside.
Remove vegetables from the oven. Set aside.
 Assemble bowls by evenly distributing rice, vegetables, kale, sprouts, hummus, hemp seeds, and tahini between four bowls or meal prep containers* and enjoy!
Tips & Notes
*If you are meal prepping these bowls, wait to add the tahini until right before eating.
Nutrition Facts
Serving Size:
1/4 recipe
Calories:
519
Sugar:
11
Sodium:
352
Fat:
23
Carbohydrates:
76
Fiber:
13
Protein:
19
Cholesterol:
0
Category:
Vegetarian
Method:
Oven
Cuisine:
American
Keywords: vegetarian brown rice bowl