This simple roasted Brussels sprouts recipe is roasted with olive oil and spices to get you crispy, caramelized Brussels sprouts every time!
In this post, we'll teach you all about Brussels sprouts, how to prepare them, and how to roast brussel sprouts so you can make them taste delicious!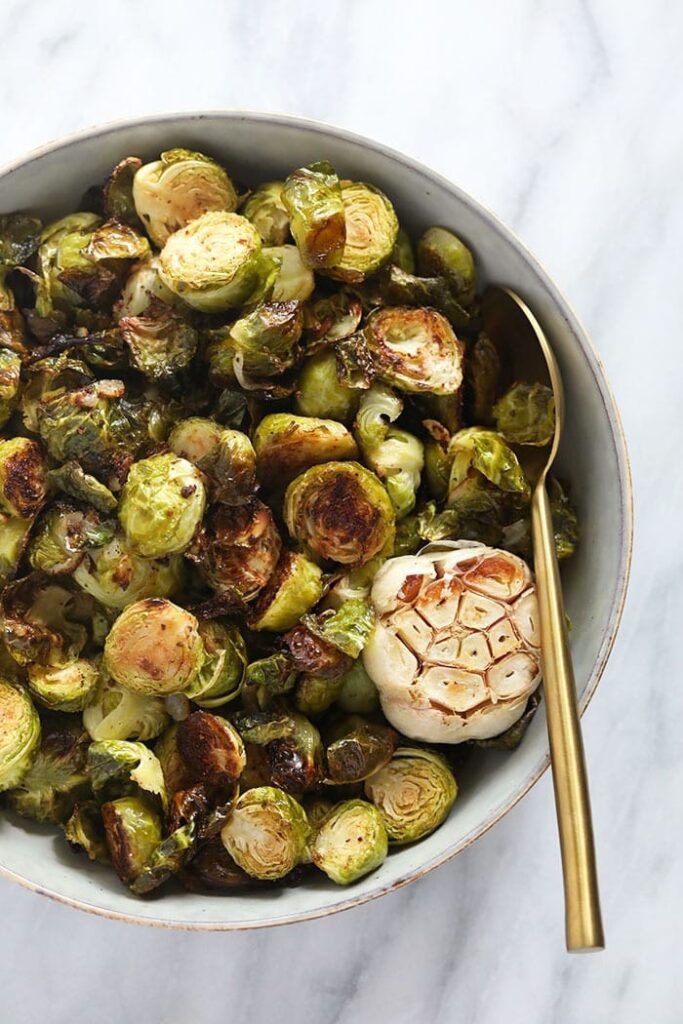 Seriously the Best Brussels Sprouts!
Mushy, tasteless Brussels sprouts no more! I had a terrible first experience with Brussels sprouts (insert: frozen steamed Brussels), but I'm so glad I decided to try cooking with fresh Brussels sprouts because they truly make a difference!
Brussels sprouts are officially one of my favorite side dishes. We're lucky enough in the US to be able to find them year-round and not just during Thanksgiving. I eat them next to my favorite pan-seared chicken or oven-baked pork chops and sometimes by themself!
This roasted Brussels sprout recipe is hands-down my favorite way to cook them because they come out caramelized and slightly cruchy. Plus, this recipe is pretty much hands-free (unlike cooking them on the stovetop).
What are Brussels sprouts? Brussels sprouts are in the cole-crop-family (same as caggabe and broccoli) and grow in the ground, but bud on stalks.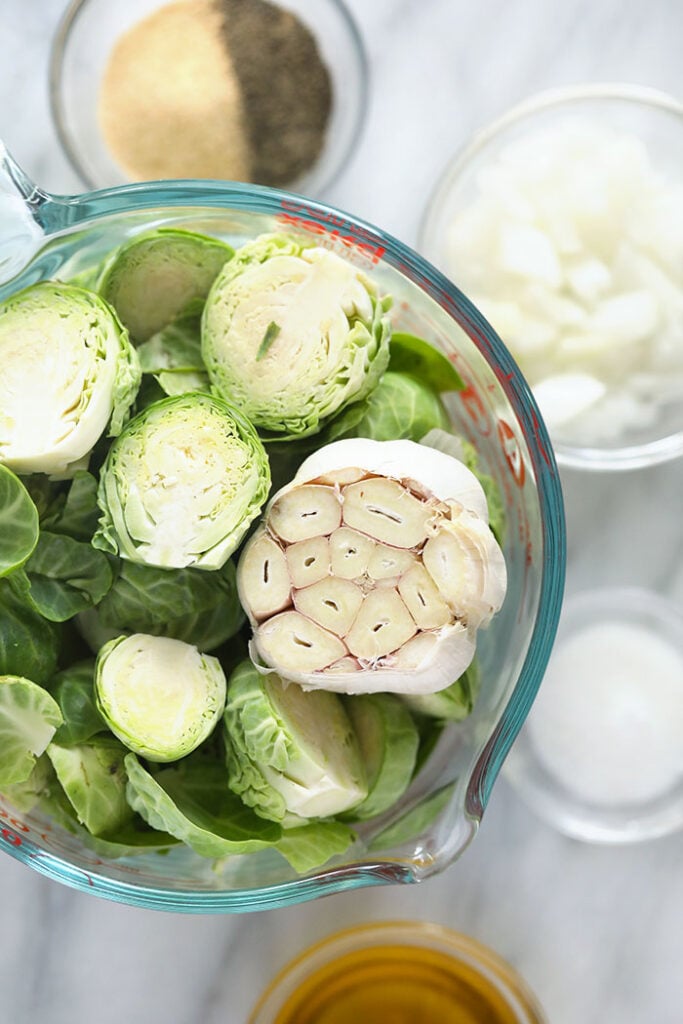 What you Need
Brussels Sprouts: Make sure to purchase raw, fresh Brussels sprouts for this recipe as you will not get the same results with frozen. You can find Brussels sprouts in the fresh vegetable section of most grocery stores.
Head of Garlic: You read that correctly, this recipe calls for an entire head of roasted garlic. You'll thank me later. Alternatively, you can use a tablespoon of minced garlic.
White Onion: We love adding onion to Brussels sprouts because it adds amazing flavor. For this recipe, we used a white onion, but you can also use a yellow or purple.
Oil: After drizzling your olive oil on the Brussels sprouts, use your hands to massage it into the Brussels so that everything is fully coated.
Salt and Pepper: Since this is our basic roasted Brussels sprouts recipe, we're keeping our seasonings basic with salt and pepper.
Get fancy!
If you are feeling fancy, you can sprinkle on 1/4 cup of grated parmesan cheese for extra yum yum.
How to Make Brussels Sprouts in the Oven
Wash, Slice, & Dice
Wash: The washing of your Brussels before doing any kind of roasting, pan-frying, etc. is extremely important. Brussels sprouts grow on stalks from the ground and dirt is common and normal! Run your Brussels sprouts under cold water to remove residue and then pat dry with a towel.
Slice: Begin by slicing the ends off your Brussels sprouts. We do this to remove any residue where the Brussels attached to their stalk.
Dice: Then, dice them in half longways (hot-dog style). The goal here is to get all of our Brussels sprouts around the same size so that they roast evenly. So, if you have some extra-large sprouts, you may need to quarter them.
You may notice that as you're slicing your sprouts, leaves become detached. This is A-okay and actually, I prefer this to happen because these detached leaves become crunchy and delicious in the oven!
Oil Options
Don't skimp on the oil, I repeat, don't skimp on the oil! Oil is what is going to give you that amazing caramelized texture, so make sure to use all 3 tablespoons!
This recipe calls for olive oil, but many other oils will work as well! Here are some flavor profiles that each oil would add to your Brussels.
Olive oil: slightly nutty and a touch savory
Coconut oil: on the sweeter side with a hint of coconut oil
Avocado oil: a mild oil that won't add so much outside flavor
Seasoning Variations
While sometimes keeping things super simple with just salt, pepper, and garlic is the way to go, sometimes you want to add a little spice to your sprouts!
Curry Turmeric: one of my favorite spice combinations for Brussels is curry powder and turmeric. Mix 2 teaspoons of curry powder with 1/2 teaspoon of turmeric and 1/4 teaspoon of sea salt.
Taco: homemade taco seasoning is an easy spice combo to add so much flavor to any roasted veggie. It's especially delish on Brussels.
Balsamic Sea Salt: Add a few tablespoons of balsamic vinegar and about 1/4 teaspoon of sea salt to a pan of Brussels sprouts and you'll taste heaven in every bite. PS: check out our Balsamic Sea Salt Roasted Brussels HERE.
Whatever spice combination you choose, make sure to sprinkle an even amount on top of your oiled Brussels sprouts and toss.
Once you've got your pan of sprouts ready to go, it's time to roast roast roast! So, preheat your oven to 400ºF, and lets' go!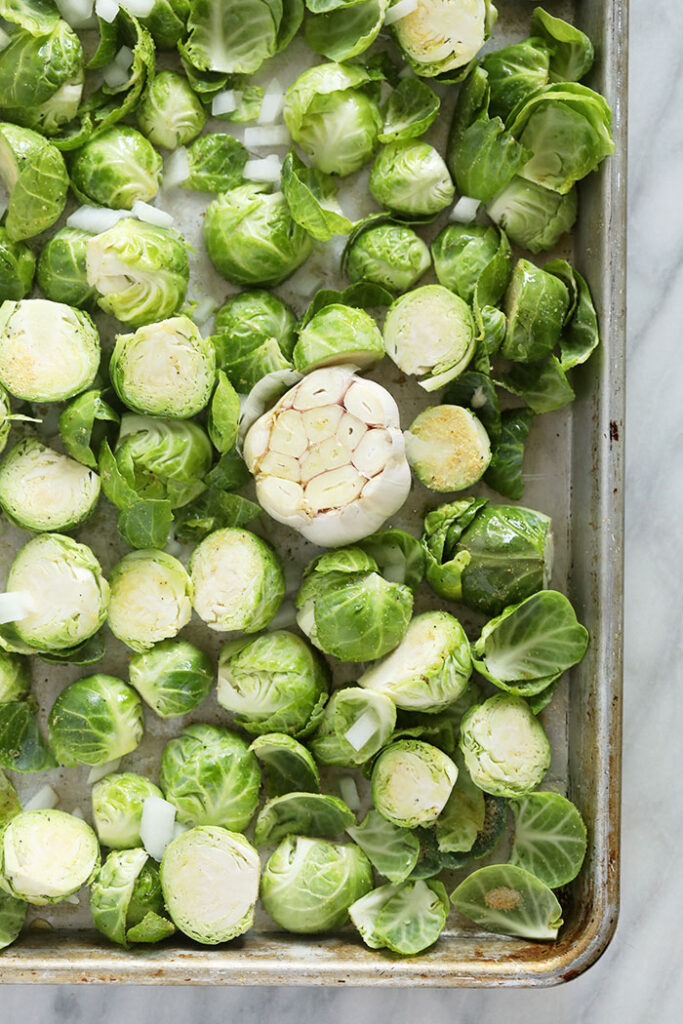 How Long to Roast Brussel Sprouts
Roast your brussels sprouts at 400ºF for 25-30 minutes, tossing them every 10 minutes. Depending on how large your brussels sprouts are will dictate the bake time. The Brussels sprouts we used were medium/average-sized and around 28 minutes hit the spot!
Why 400ºF?
400ºF is the perfect temperature to get tender Brussel sprouts on the inside and delicious caramelized/slightly crunchy Brussels on the inside. Plus, all of the outer leaves that fall off will get a little crunch to them.
A lower temperature will get you a softer Brussels sprout all together and anything hotter will risk burning the outside of your Brussels sprouts with an uncooked inside.
#1 Tip – Don't Forget to Toss!
Tossing your sprouts every 10 minutes is important to make sure everything is evenly cooked. The side facing down on the baking dish is what is going to get caramelized, so by tossing every 10 minutes, you can caramelize more of the surface area of the Brussels.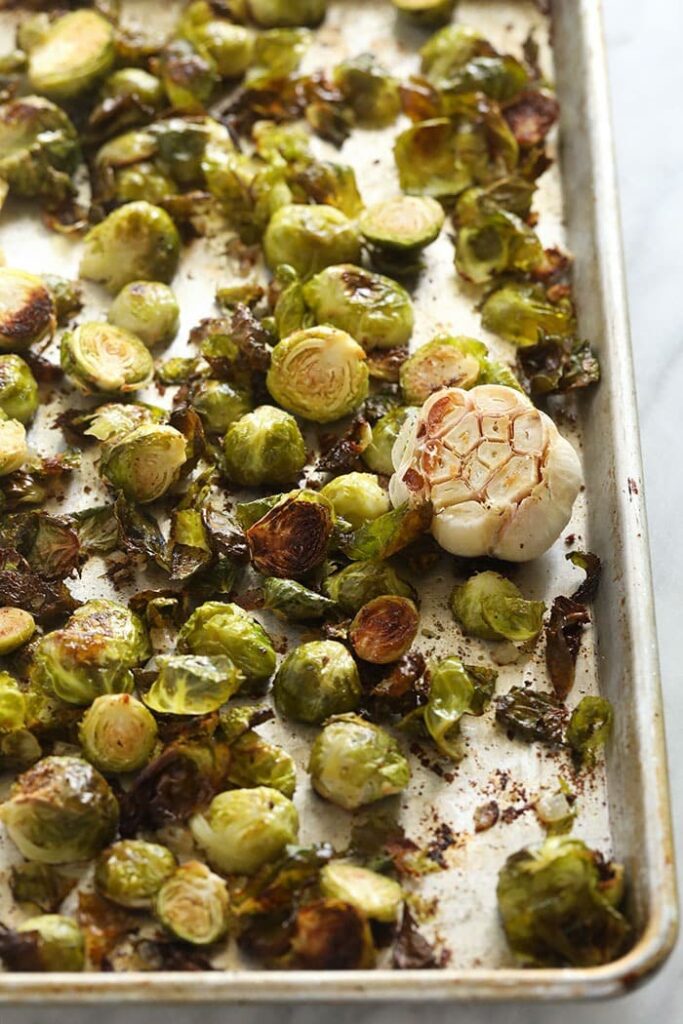 Storage
Let your Brussels sprouts cool completely. Then, transfer your veggies into an airtight container and store in the fridge for up to 3-5 days.
How to Reheat
Stovetop: add a little olive oil to a frying pan and heat over medium heat. Saute roasted Brussels sprouts for around 5 mintues or until hot.
Oven: preheat oven to 350ºF and transfer cooked veggies onto a sheet pan. Cook for 10 minutes or until hot.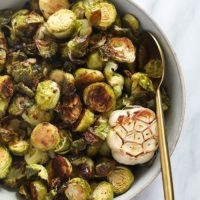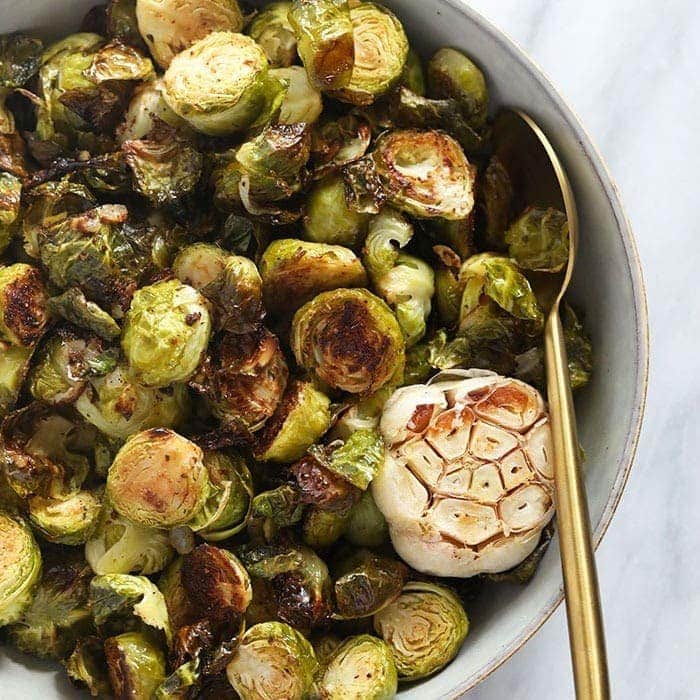 How to Roast Brussel Sprouts (Easy Roasted Brussels Sprouts)
Mushy Brussels sprouts no more! A roasted Brussels sprouts recipe that will get you crispy, caramelized Brussels sprouts every time!
Ingredients
2

lbs.

brussels sprouts

cleaned and ends chopped off

1

head garlic

end chopped off

1/2

medium white onion

minced

3

tablespoons

olive oil

1/8

teaspoon

salt

or more, to taste

1/4

teaspoon

ground pepper

1/2

tablespoon

garlic powder
Instructions
First, preheat the oven to 400ºF.

Then prepare brussels sprouts by scrubbing them under warm water to remove dirt. Pat dry with a towel.

Use a sharp knife to cut tips of the brussels sprouts off. If some of the leaves fall off, don't worry! You'll roast these too.

Next, cut both ends off of a head of garlic and remove the casing and dice 1/2 medium white onion.

Place Brussels sprouts, garlic head, and onion onto a large baking sheet.

Drizzle veggies with a generous amount of olive oil salt and season with salt, pepper, and garlic powder.

Use hands to massage oil and spices into the veggies.

Spread Brussels sprouts out evenly on the baking sheet, making sure they do not touch. If the Brussels overlap at all, they will not roast evenly. Make sure the head of garlic is open-face down.

Bake for 25-30 minutes, tossing Brussels sprouts and flipping garlic head every 10 minutes.

Remove from the oven once your Brussels sprouts are brown and crispy.

Let cool for 10 minutes and then use your hands to squeeze the garlic cloves out of the casing. Toss cloves with Brussels sprouts and enjoy!
Nutrition facts
Calories:
141
kcal
Carbohydrates:
17
g
Protein:
5
g
Fat:
7
g
Fiber:
6
g
Sugar:
4
g