Roasted sweet potatoes are the most delicious vegetable addition to any meal. In this post, we're teaching you how to roast sweet potatoes perfectly every time.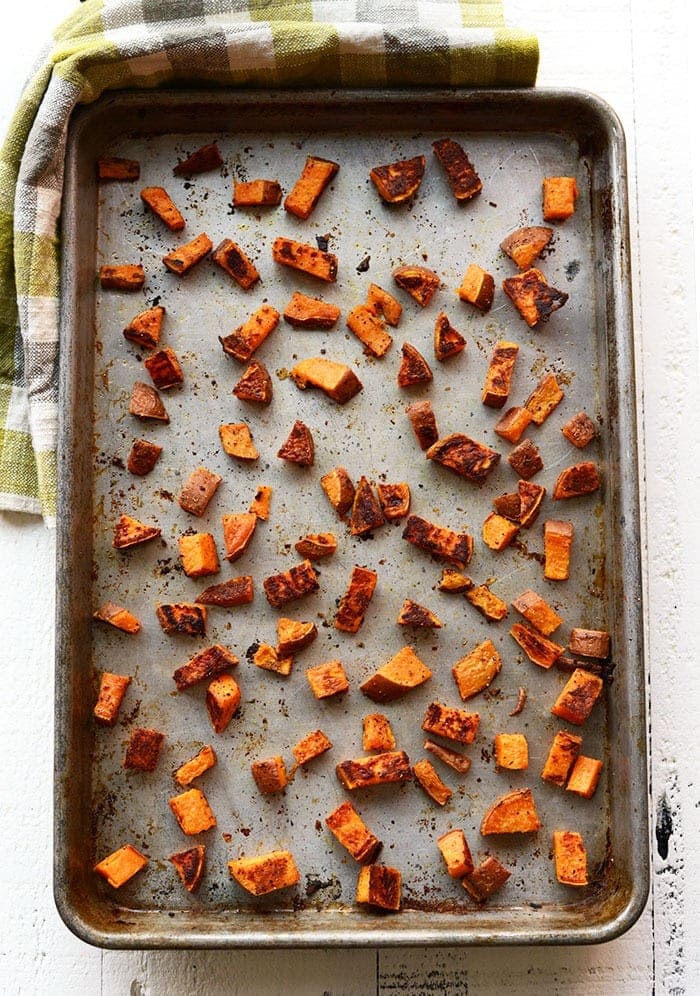 How to Roast Sweet Potatoes
Roasting sweet potatoes in the oven is such an easy and cheap way to eat more veggies. You can add sweet potatoes to any buddha bowl recipe and they make for such a great side to pretty much any healthy dinner idea you may have.
Step 1: Choose the Right Potato
Choosing the right sweet potato may seem daunting, but you really can't wrong. Sweet potatoes come in many shapes, sizes, and colors! Have you ever seen a purple sweet potato? They're beautiful!
The main thing you need to look for when choosing the right sweet potato is either softness or rotting. Your sweet potato should be hard all over free of mold. If it is soft anywhere, this is a sign that it might be rotting. It is very normal for sweet potatoes to have a little discoloration and dirt..they do come from the ground after all!
What is the difference between a sweet potato and a yam? While yams and sweet potatoes are not the same vegetables, they can often be used interchangeably in most recipes. Sweet potatoes are native to North American and yams are native to Asia and Africa.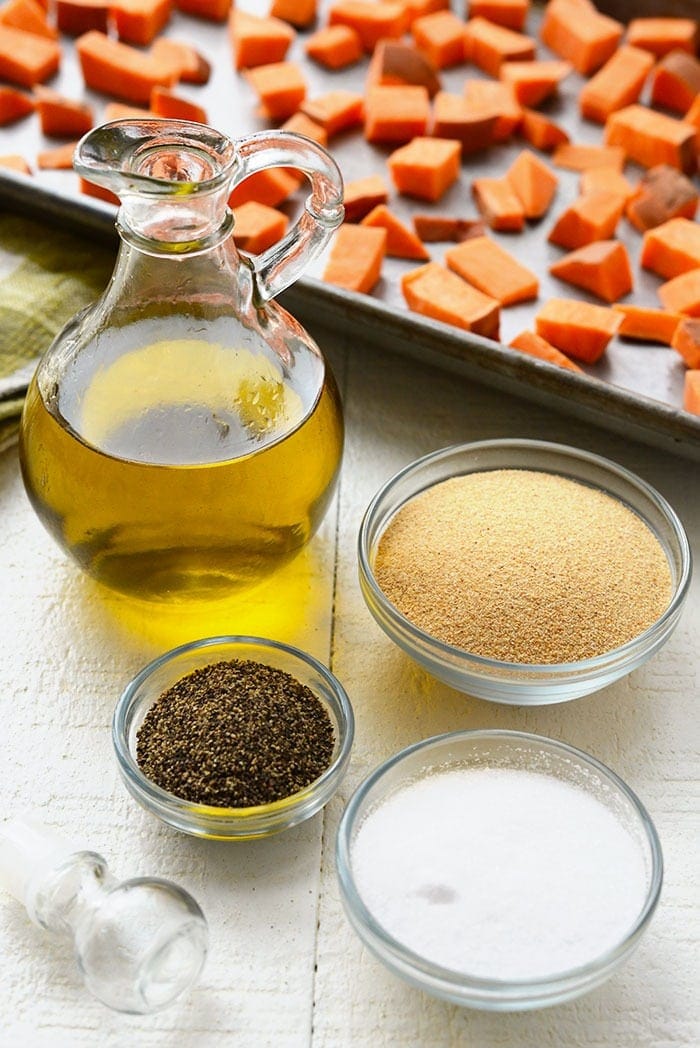 Step 2: Slice
Next up, it's time to slice your sweet potatoes to prepare for roasting! First things first, do you peel sweet potatoes? The short answer is yes and no! While we prefer to keep the skin on because it has more nutrients and helps the sweet potatoes get crispy while roasting, you can absolutely use a vegetable peeler or knife to peel your sweet potatoes.
Once you decide whether or not to peel your sweet potatoes, you can choose exactly how you want to slice them. Oh, you've got options!
Ways to Slice Sweet Potatoes
Rounds
Wedges
Fries
Cubes
Slicing Tips and Tricks
Sharp knife: A sharp knife is our number one tip in easily cutting through your sweet potato. I say easily because sweet potatoes are a tough veggie to slice through. We use a 6-Inch Wusthof Chef Knife and can get our sweet potatoes sliced extremely thin.
Thickness: Whether you are slicing your sweet potatoes into rounds or wedges, cutting them all relatively the same thickness is extremely important for roasting time. The more similar in thickness, the more even they will roast.
Cut the ends off first: If you cut the ends off of your sweet potatoes first, that will create a flat surface for you to continue slicing on. This is much safer than trying to cut a sweet potato on its curved edge.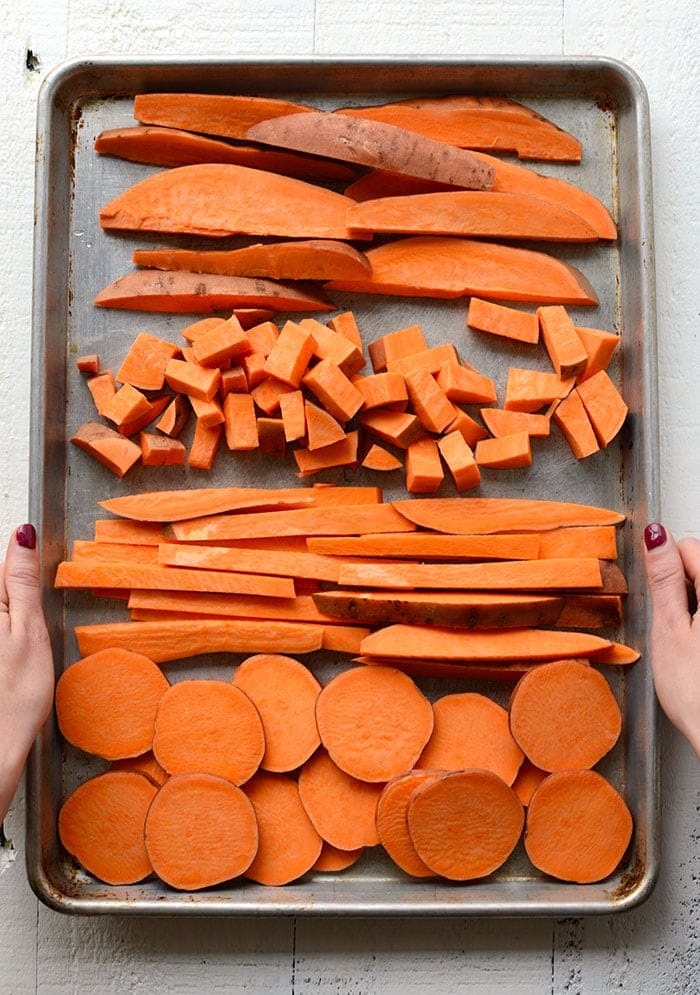 Step 3: Oil + Seasoning
For every large sweet potato, you're going to need about 1 to 2 tablespoons of olive oil depending on how crispy you like your sweet potatoes. We prefer to use olive oil for roasted sweet potatoes, but other oils like canola or coconut will work just fine.
When it comes to seasoning your roasted sweet potatoes, we prefer to keep things basic with just salt, pepper, and garlic powder, but you can make this recipe your own by adding other spices and fresh herbs.
Other Seasoning Ideas
Curry Powder
All-Purpose Seasoning
Cinnamon Sugar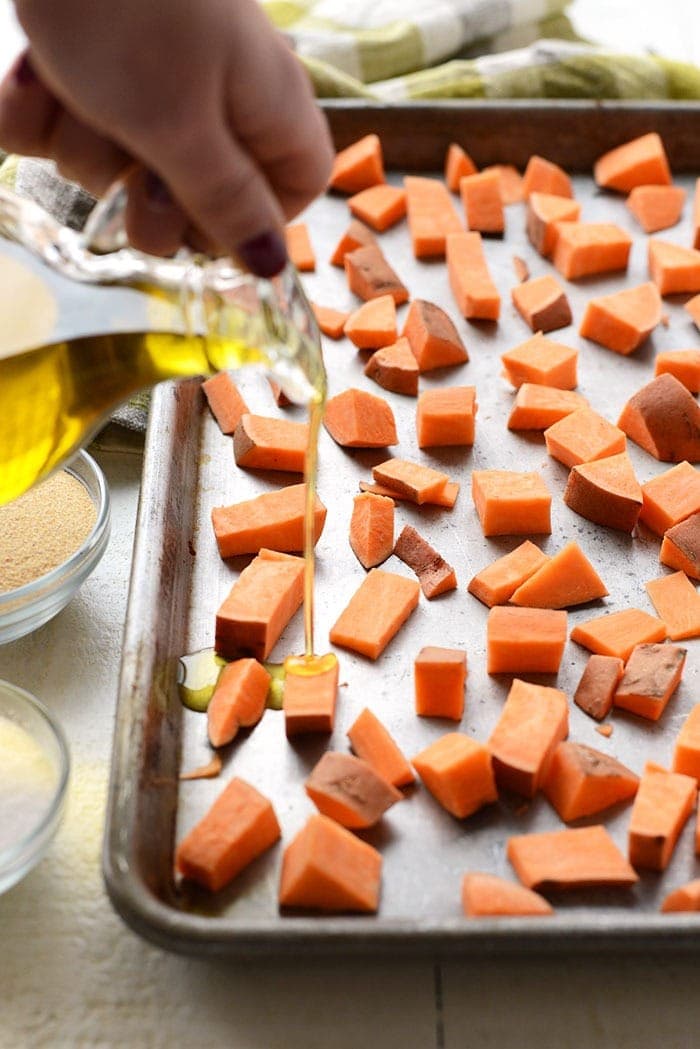 Step 4: Roast
For perfectly roasted sweet potatoes every time, we suggest roasting them at 400ºF. This higher temperature is what will get you that super crispy outside, but perfectly cooked inside.
You can absolutely roast more than one sweet potato, but just make sure that there is just one layer of sweet potatoes on your baking sheet and that none are overlapping. This will prevent even cooking.
How Long to Roast Sweet Potatoes: Roast your sweet potatoes for anywhere from 20-30 minutes, tossing every 10 minutes. Tossing will encourage even baking and also prevent burning on one side.
Do sweet potatoes need to be parboiled? Sweet potatoes do not need to be parboiled, especially if you are slicing them for roasting.
What to Eat with Sweet Potatoes
We love eating roasted sweet potatoes with a grain such as quinoa and a big kale salad. Roasted sweet potato cubes are also the star of a lot of our Buddha bowl recipes. Here are some other pairing options for your taters: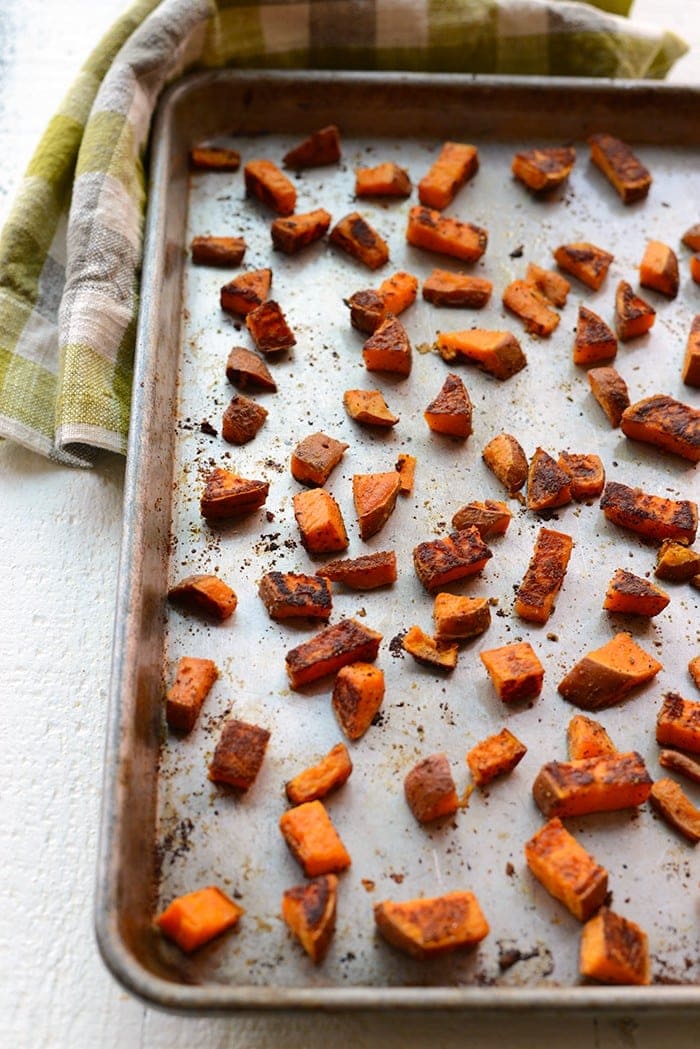 Recipes with Roasted Sweet Potatoes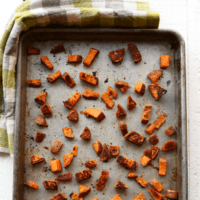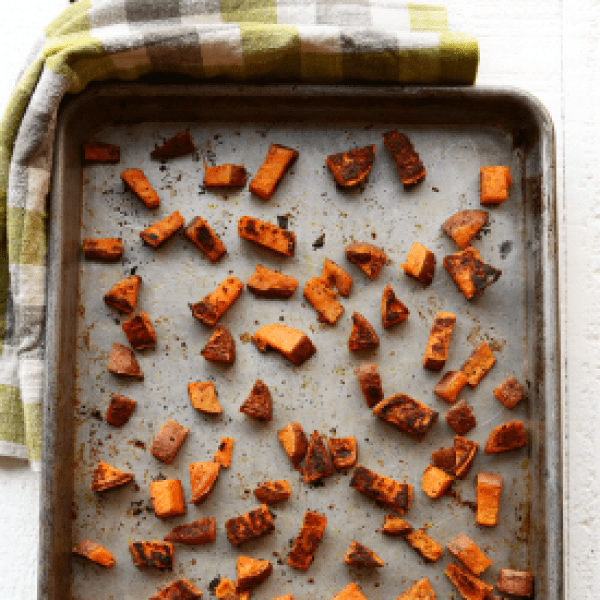 Roasted Sweet Potato Recipe
Roasted sweet potatoes are the most delicious vegetable addition to any meal. In this post, we're teaching you how to roast sweet potatoes perfectly every time.
Ingredients
1

large sweet potato

or 2 medium

1-2

tablespoons

olive oil

1

tablespoon garlic powder

1/4

teaspoon

sea salt

1/8

teaspoon

pepper
Instructions
First, preheat oven to 400ºF.

Then, prep your sweet potato by cutting off the ends off to create a flat surface.

Next, slice your sweet potatoes into cubes, fries, rounds, or wedges and place on a large baking sheet. You want the thickness to be anywhere between 1/2-inch to 1-inch. Just make sure that all slices are the same thickness.

Drizzle with a generous amount of olive oil and season with garlic powder, sea salt, and pepper. Then, toss with your hands to make sure everything is coated.

Roast at 400ºF for around anywhere from 20-30 minutes, tossing every 10 minutes. The thicker you slice your sweet potatoes, the longer they will have to roast.
Nutrition facts
Calories:
215
kcal
Carbohydrates:
22
g
Protein:
3
g
Fat:
14
g
Fiber:
3
g
Sugar:
6
g