Stuffed sweet potatoes never looked so delicious with 3 different variations to spice up your weeknight meals!
Now…onto the taters. We all have that one vegetable that we could NEVER get sick of. Mine? SWEET POTATOES. Every time I'm in the grocery store, I swing by and grab a sweet potato even if the recipe I'm making doesn't call for it. You never know when you're going to have a sweet potato fry craving! Seriously, I'm in love with a vegetable (sorry Mark, you'll have to share me).
Another great thing about this majestic root vegetable is that there are so many different ways to prepare it. YOU CAN…
Spiralize it into NOODLES
Grate it into a HASH
Chop it into FRIES
Mash them up into MASHED potatoes
oooorrr bake them and STUFF them with all of your favorite toppings (WINNER)
Baked potato bar was my all time favorite hot lunch in high school. Everyone got a spud and then you could make it your own by adding veggies, meat, cheese, and everything in between. PEOPLE, all you have to do is wash up your sweet potatoes, oil them, salt & pepper them, and then throw them in the oven to bake for about an hour.
Then? TOPPINGS!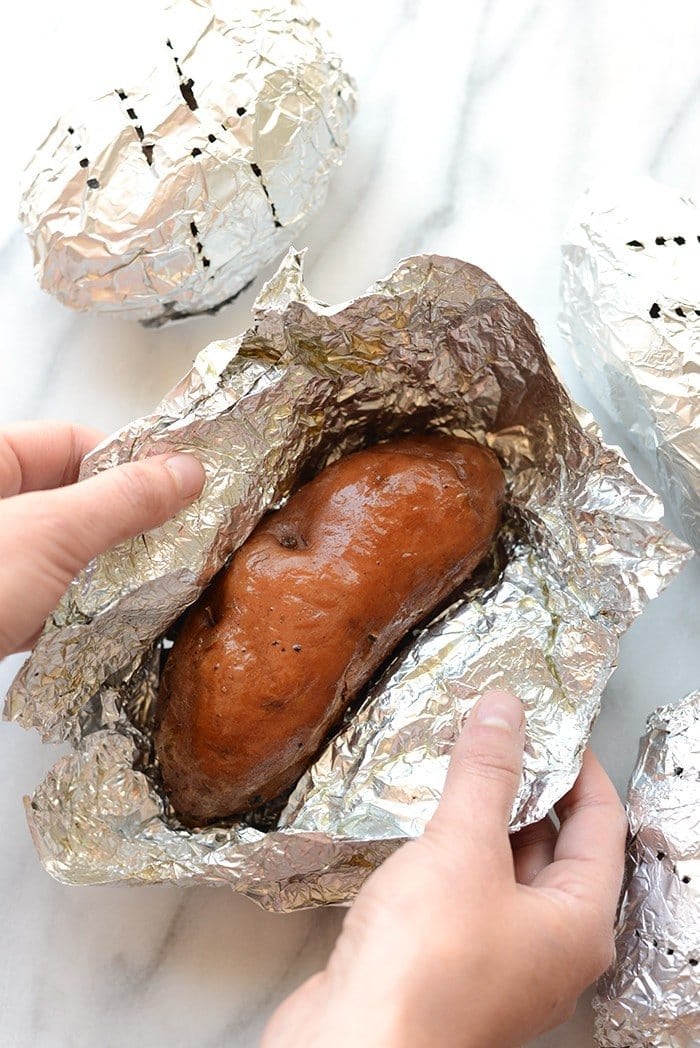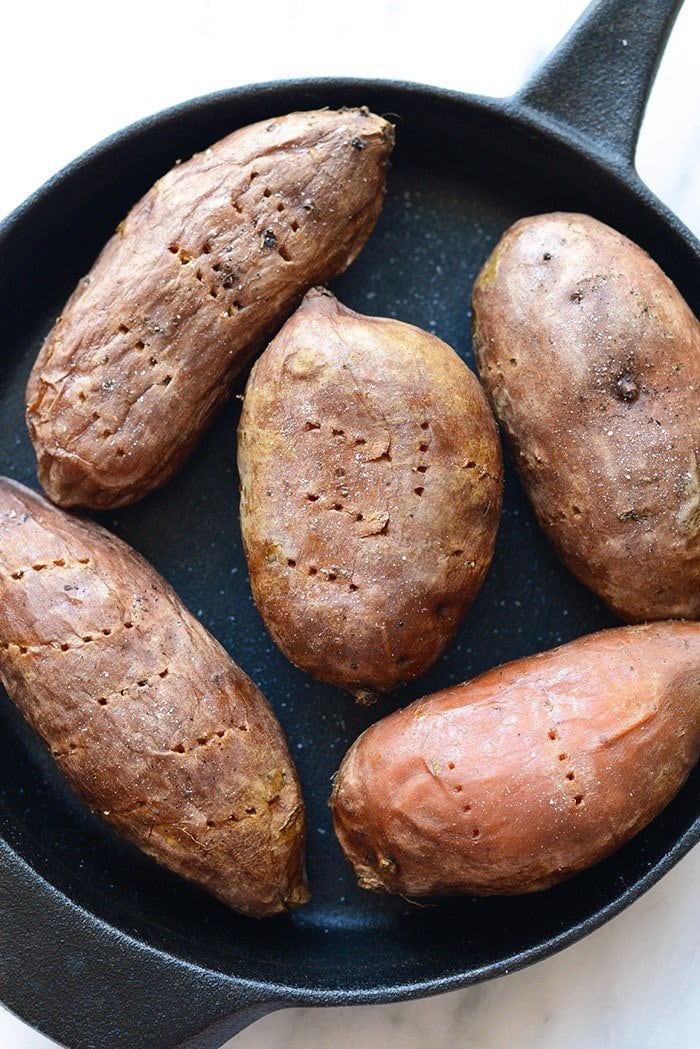 Breakfast
Bacon
Avocado
Green Onion
Maple Syrup
Fried Egg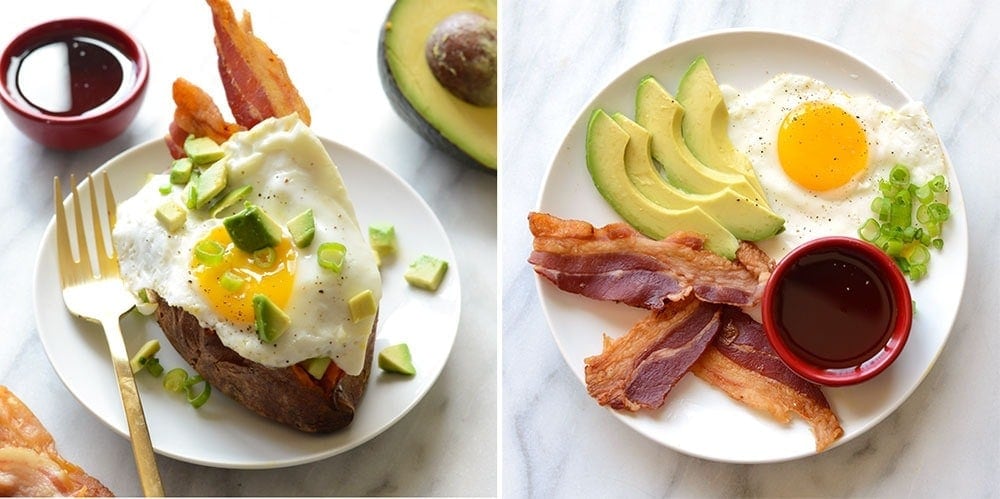 Classic
Dill Greek Yogurt
Cheddar Cheese
Green Onion
Bacon Bits
Southwestern
Black Beans
Corn
Red Onion
Guacamole
Lime Juice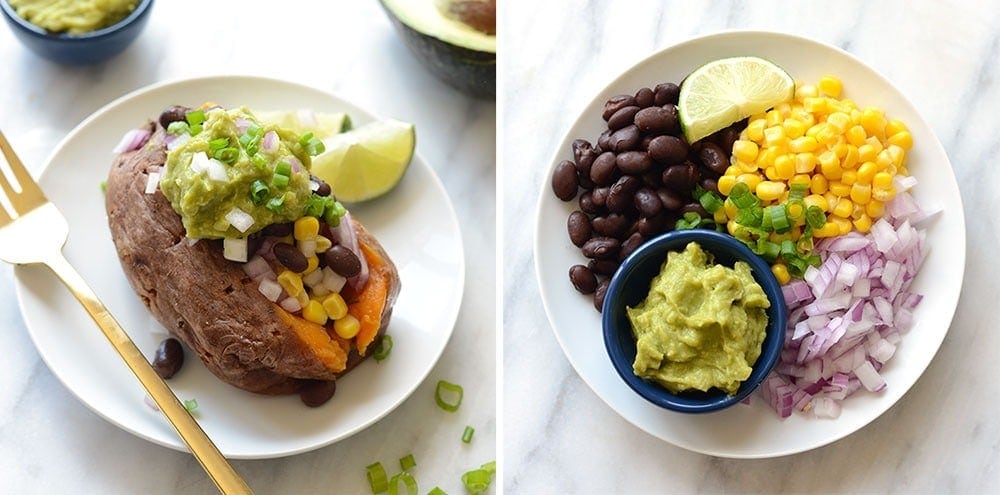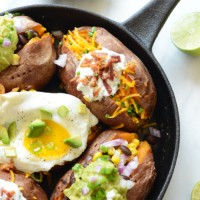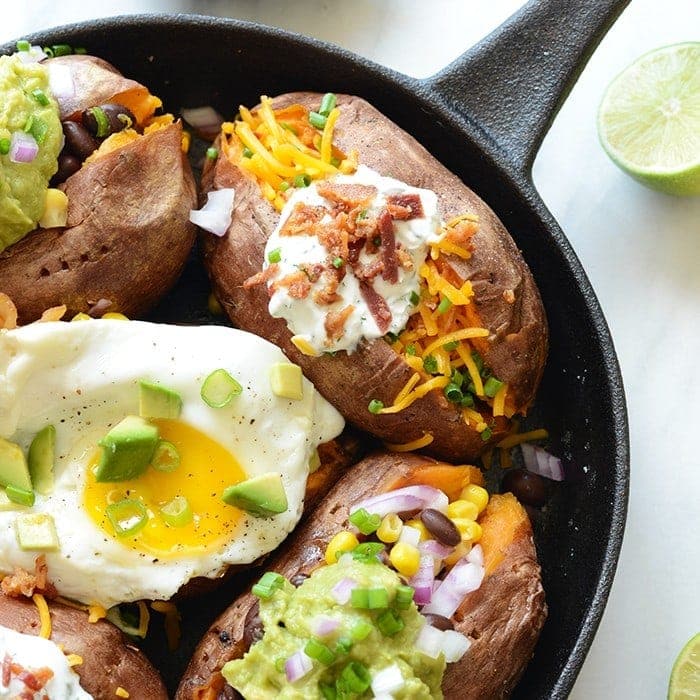 Stuffed Sweet Potatoes – 3 Ways!
Step your baked potato game up a bit by adding stuffed sweet potatoes to the menu. They are a great source of vitamin B AND potassium. And? They taste pretty good too! 
Prep:
10 minutes
Cook:
60 minutes
Total:
1 hour 10 minutes
Ingredients
4

sweet potatoes, washed

2 tablespoons

olive oil
salt and pepper, to taste
Instructions
First, wash your sweet potatoes.
Next, drizzle a 1/2 tablespoon of oil over each sweet potato. Make sure to coat the whole spud.
After you oil the potatoes, season with salt and pepper to taste.
Then, wrap each sweet potato in tin foil and poke holes (with a fork or knife) all around the potato. Lastly, throw them in the oven and cook them at 425ºF for 45-60 minutes.
When the potatoes are done, make sure they are cooked all the way through by poking them with a fork. If there is no resistance, they are done!
Top with your favorite toppings and ENJOY!
Tips & Notes
Nutrition facts do not include toppings
Nutrition Facts
Serving Size:
1 sweet potato
Calories:
172
Sugar:
5
Sodium:
144
Fat:
7
Carbohydrates:
26
Fiber:
4
Protein:
2