This Super Simple Garlic Roasted Cauliflower is the perfect flavor-packed, healthy side dish for any meal. It even makes for a great snack!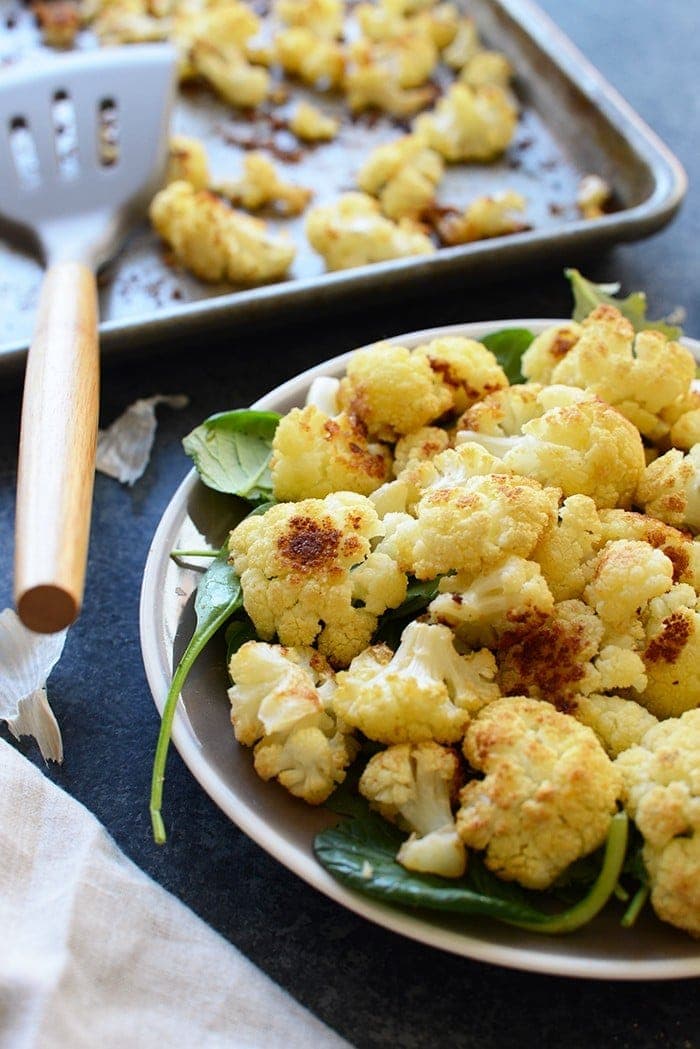 Oh hai! Who else has a short week this week? I do, I do! I'm off to Milwaukee and Chicago for Christmas on Wednesday and couldn't be more excited. I'm feeling good about my workload and rightfully so. Lin and I were able to get in a full week of work together last week, which doesn't happen often! I've been doubling up on both Fit Foodie content and working on the big launch of the Healthy Glow Collective (er mer gerd I'm so excited!) so I feel like all I have been doing is work work work. I'm not complaining one bit because I've loved every second of it!.Today, Linley and I are testing a few recipes and prepping for a video shoot tomorrow. We're jumping in to 2017 with a big focus on VIDEO. Get ready for January recipes, friends!
Can we pause for a moment and just talk about how everything is all about video now? I can't scroll through my newsfeed without pausing to check out a cupcake decorating video or a delicious looking one-pan dish. To be completely honest, when recipe videos started to become popular on Facebook, I wanted nothing to do with them. I loved where Fit Foodie was and video just seemed like another new thing- it was uncharted territory. The thought of shooting video for FFF made me nervous because I knew it was a HUGE challenge that I would eventually have to conquer. I quickly got over that fear with a little nudge from The Healthy Maven and other blogger friends. If they can do it..I can too!
I think one of the main reasons why video was so scary to me is because I've never done it or even tried. I was on That's So Maven last week (Davida's new podcast) and one thing she mentioned that I do well is asking for help when I need it. I guess she's right 😀 I didn't know how to shoot video, so I hired a team to help me and now w're popping out videos left and right. I love that Fit Foodie Finds opens so many new doors that I never could have never dreamed of opening. When you open your mind and say YES- magical things can happen. Lin and I are still learning the world of video on our own and we have even upgraded to Canon Mark IV
along with other fun new camera accessories to make video a much smoother process (check out everything in my camera bag here–>Inside My Camera Bay + Favorite Food Styling Props) and we have now found a flow for days that we shoot recipes. It's a dream. Stay tuned for new Fit Foodie videos in 2017- it can only go up from here!
This Super Simple Roasted Cauliflower is a Team Fit Foodie favorite. It's been a staple in our kitchen for quite a while and we both realized we might as well share this easy recipe with all of you. We love meal-prepping this cauliflower so that we have a tasty vegetable on hand for bowls, a mid-day snack, or for a last minute side dish for an unplanned dinner. It's a crazy simple recipe that has so. much. flavor.
The first time I chopped up cauliflower and popped it in the oven, I was skeptical. It never used to be a favorite of mine because I had a bad experience in college with frozen cauliflower. I boiled it in water and didn't season it at all. YUCK. Thankfully my cooking skills have expanded past frozen veggies. With the help of a little olive oil + spices after 30 minutes of roasting, this tasty veggie skyrocketed to the top of my list. Seriously, put a bowl of this cauliflower in front of me during a movie and I will eat it like movie popcorn. OM NOM NOM.
So, whether you are looking for an easy side dish to compliment your beef or pork roast this holiday season, or if you need a new meal-prep recipe for lunch, this cauliflower won't let you down.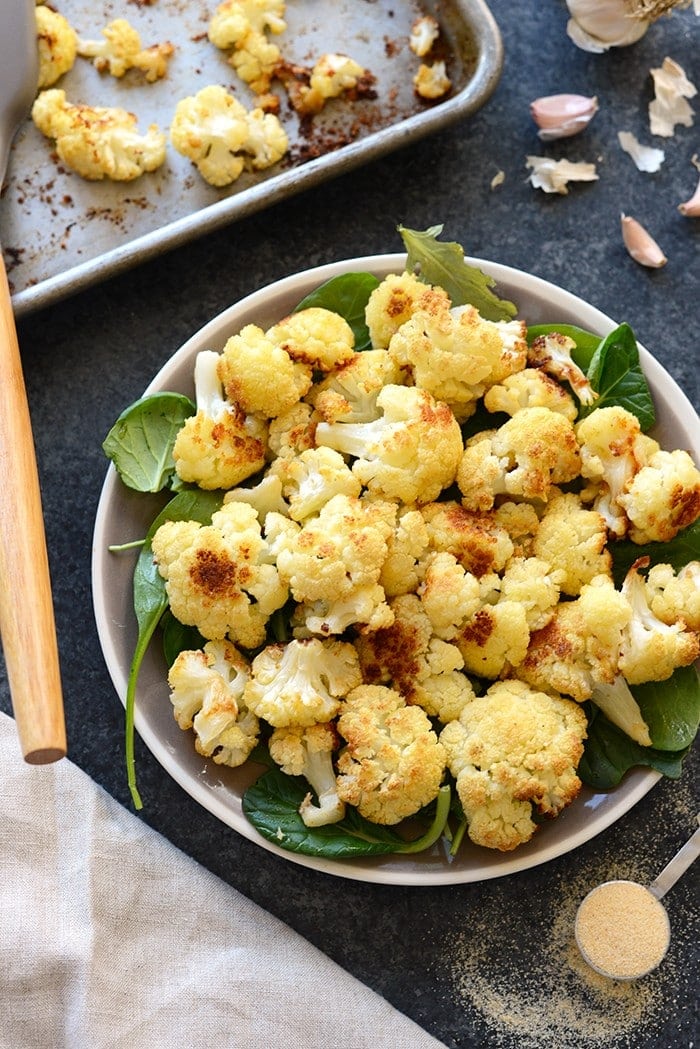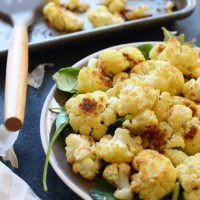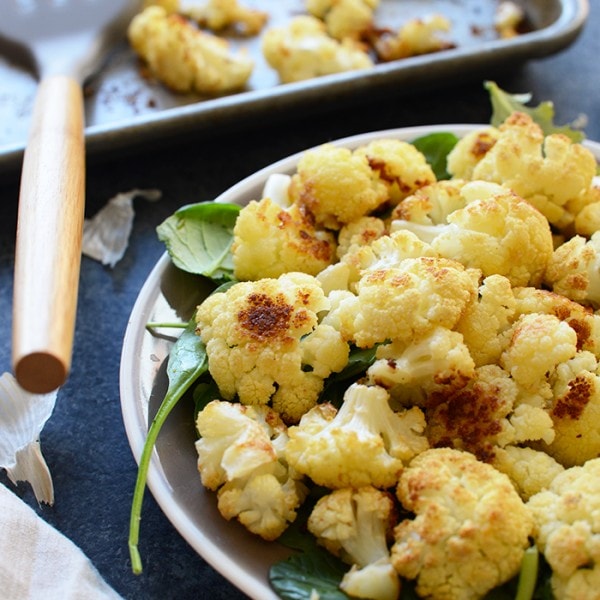 Garlic Roasted Cauliflower
Prep:
5 mins
Cook:
40 mins
Total:
45 minutes
Ingredients
1

large head cauliflower, chopped into florets

3 tablespoons

olive oil

6

cloves garlic, pressed

1/2 teaspoon

coarse sea salt

1/4 teaspoon

freshly ground pepper
Instructions
Preheat oven to 400ºF and line a baking sheet with parchment paper.
Add all of the ingredients to a large mixing bowl and massage the oil, garlic, salt, and pepper into the cauliflower to be sure every piece of cauliflower is oiled and spiced.
Pour the cauliflower onto the parchment paper and be sure to scrape any garlic or oil from the bowl with a spatula. Spread the cauliflower out evenly over the parchment paper.
Roast the cauliflower at 400ºF for 30-40 minutes or until the cauliflower is golden brown. Remove and toss the cauliflower after 15 minutes.
Tips & Notes
Bake time will vary depending on how moist your cauliflower is and your oven.
If you like your cauliflower extra crispy broil the cauliflower on high for 3-5 minutes or until it reaches desired crispiness.
This recipe was updated on July 14th, 2022.
Nutrition Facts
Serving Size:
1/4 recipe
Calories:
142
Sugar:
4
Fat:
11
Carbohydrates:
6
Fiber:
0
Protein:
4
Because WE LOVE MEAL PREP. Here's an idea for you:
Garlic roasted cauliflower + roasted chicken + spinach + cherry tomatoes.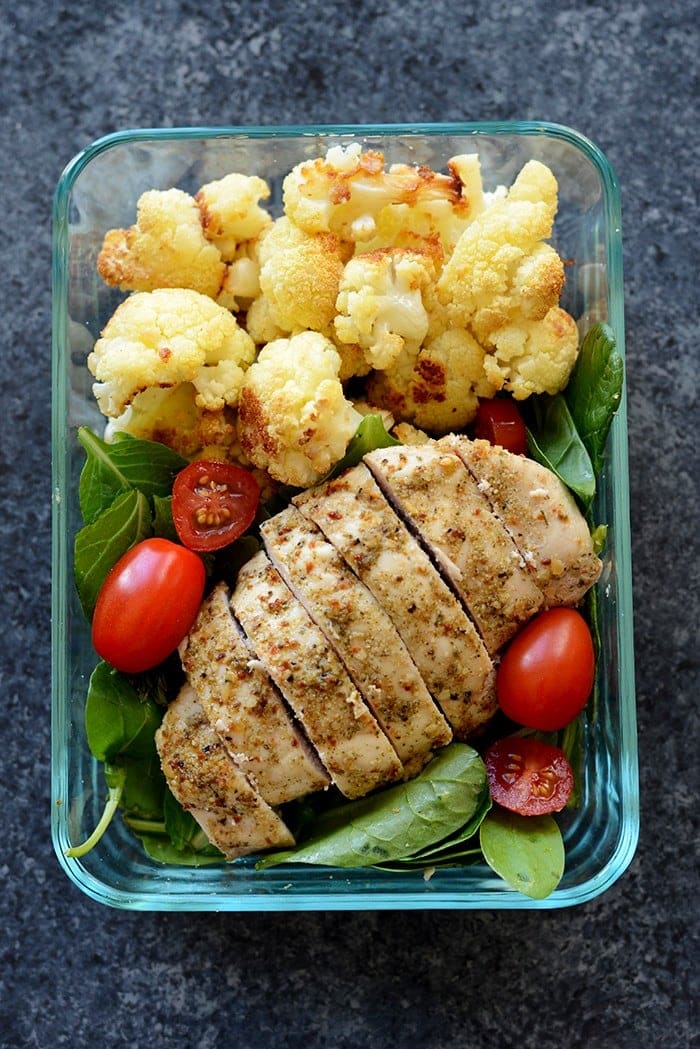 Have you ever had a bad experience with a vegetable and it took you years to finally like it?