Oven roasted asparagus is the best way to eat asparagus! It's a healthy side dish recipe that's cooked to perfection.
In this post, we're sharing tips and tricks on how to get perfectly roasted asparagus every time! Plus, we'll teach you all the different ways to use this roasted asparagus.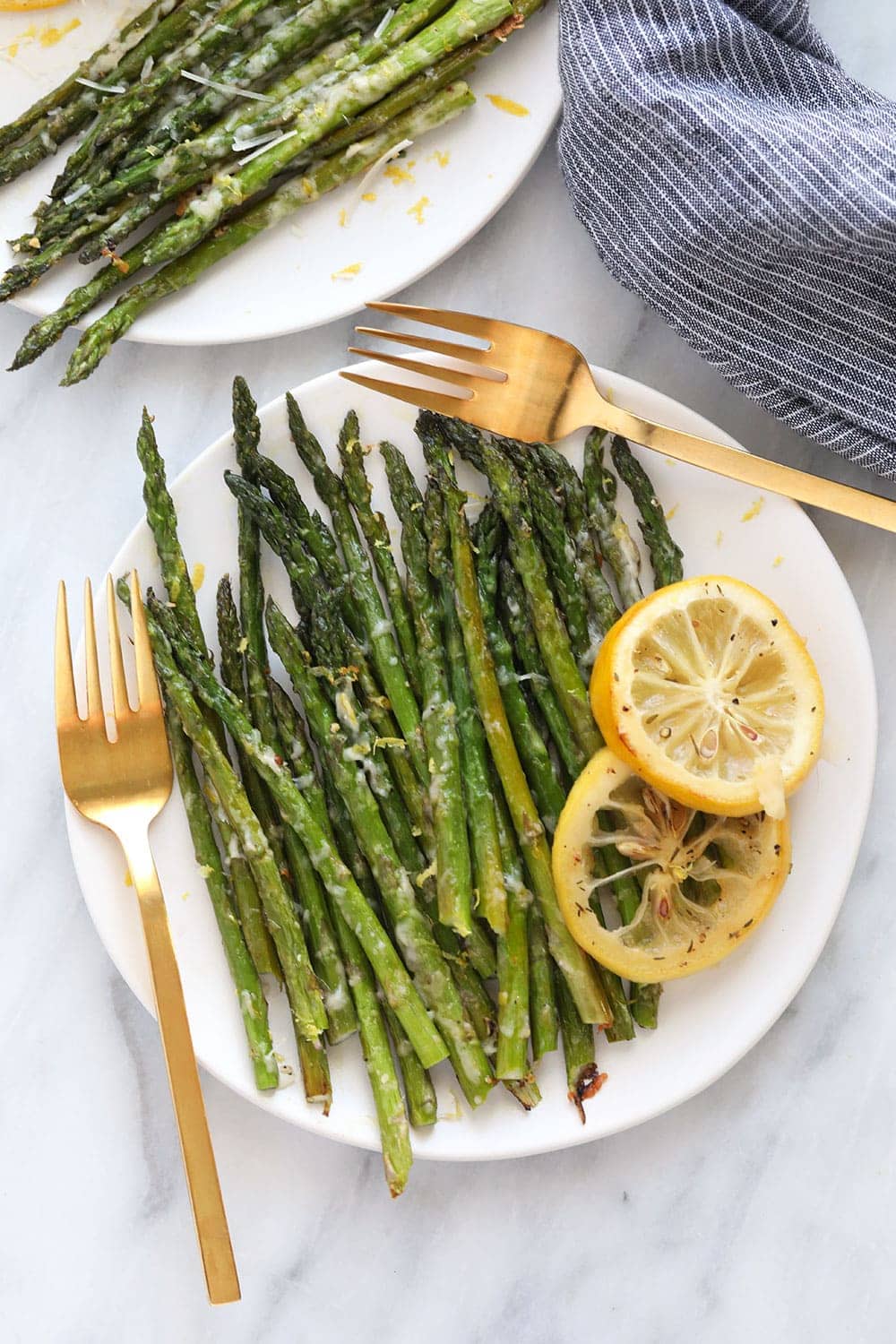 Is Oven Roasted Asparagus Healthy?
These healthy green spears can be thick and they can be thin and are known for making your pee smell funny. Asparagus is a hearty vegetable that can pretty much grow anywhere, which makes it super easy to find in most supermarkets!
Nutrition Facts: (per 1 cup serving) 40 calories, 4g protein, 1g fat, 4g fiber, and 5 carbs
lower in calories
high in antioxidants
high in vitamins A, C and K
Asparagus is a healthy vegetable that is a perfect and easy side dish for any meal!
How to Prepare Asparagus for Roasting
Oven roasted asparagus is one of the easiest and most delicious methods for cooking asparagus. Why? Because it allows you to get amazing flavor while keeping the spears crunchy on the outside. No one likes soggy, overcooked asparagus.
Here are the basics you need to get started:
large baking sheet: a standard-size baking sheet will fit around 2 lb. of asparagus spears without having them overlap.
sharp knife or scissors: don't have either? NO FEAR! WE have a secret method that doesn't require a knife or scissors.
optional: tin foil (tin foil can be great for a quick clean up, but isn't necessary!)
How to Remove Woody Ends of Asparagus
Pretty much the only thing you need to do in order to prepare the asparagus for roasting is remove the ends. The end of asparagus is tough to chew, so by cutting off about 1 inch of the end, it's easier to eat and digest!
To do this, you can either use a sharp knife, pair of scissors, or…just snap them off with your fingers (learned this one from my mom!). Any of these methods work.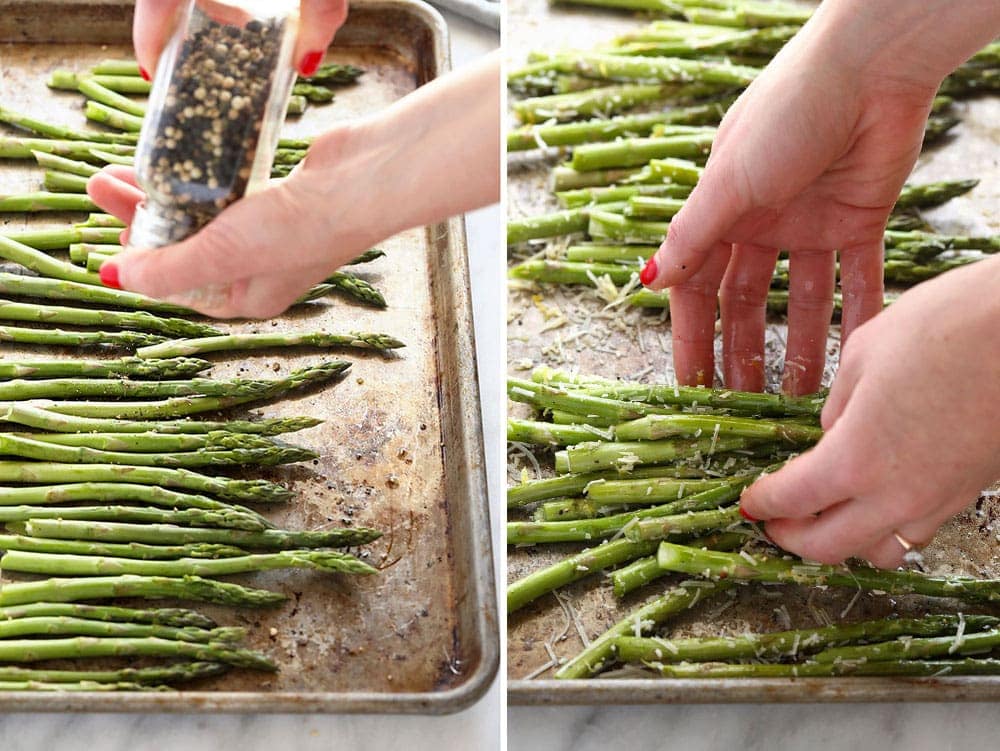 How to Roast Asparagus
Roasting asparagus is easy and only requires a few basic ingredients to get started. From there, you can add additional flavors to make this the asparagus of your dreams.
Ingredients You Need
asparagus: the fresher the better when it comes to asparagus! When buying a bunch of asparagus, look to see that it is hard to the touch and keeps its shape. If asparagus is at all soft or wilty, then it is likely old.
olive oil:

olive oil Is our favorite kind of fat to roast vegetables in, but you can also use coconut oil or even better!

salt and pepper: we're keeping things basic with this recipe and using only salt and pepper.
parmesan cheese: because cheese makes everything better. Parmesan is mild in flavor but adds so much to this recipe.
lemon zest: a little bit of lemon zest goes a long way. Feel free to also squeeze on some fresh lemon juice for an even more intense flavor.
Best Temp for Oven Roasted Asparagus
The higher the temp the better when it comes to asparagus. Why? Well, it's the secret sauce to getting perfectly cooked asparagus that still has a bit of a crunch to it! While we prefer to roast our asparagus at 425ºF, we're giving cooking directions for multiple options below.
425ºF for 10 to 12 minutes
400ºF for 12 to 14 minutes
375ºF for 14 to 16 minutes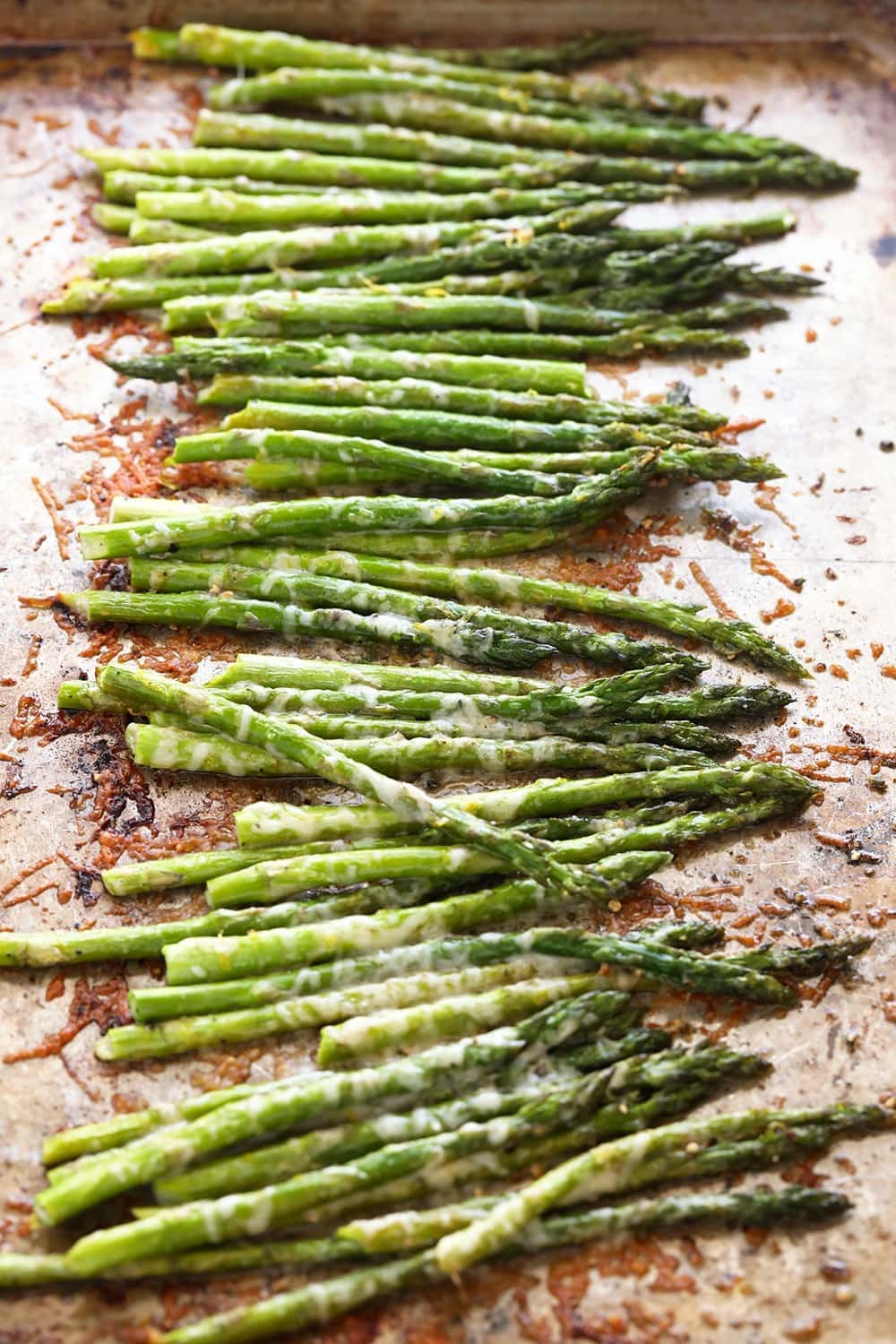 What to Do with Roasted Asparagus
Got roasted asparagus and don't know what to eat it with? Here are some super simple ideas for what to pair or mix with your asparagus!
Pasta: one of my favorite things to do is toss roasted asparagus with pasta! You can mix it with our creamy vegan sauce or a butter sauce and make our asparagus shrimp scampi instead!
Egg Bake/Frittata: Whether you're looking to make a veggie frittata or any kind of egg cup (like our asparagus and mushroom egg cups), asparagus is a tasty addition!
Buddha Bowl: When in doubt, make a buddha bowl! Roasted asparagus is so perfect in our Pesto Chicken Meal-Prep recipe.
Pair it with a Protein: The most simple thing to do with roasted asparagus is to pair it with a protein. I'm thinking basics >> Sous Vide steak, baked lemon chicken, or slow cooker pork roast.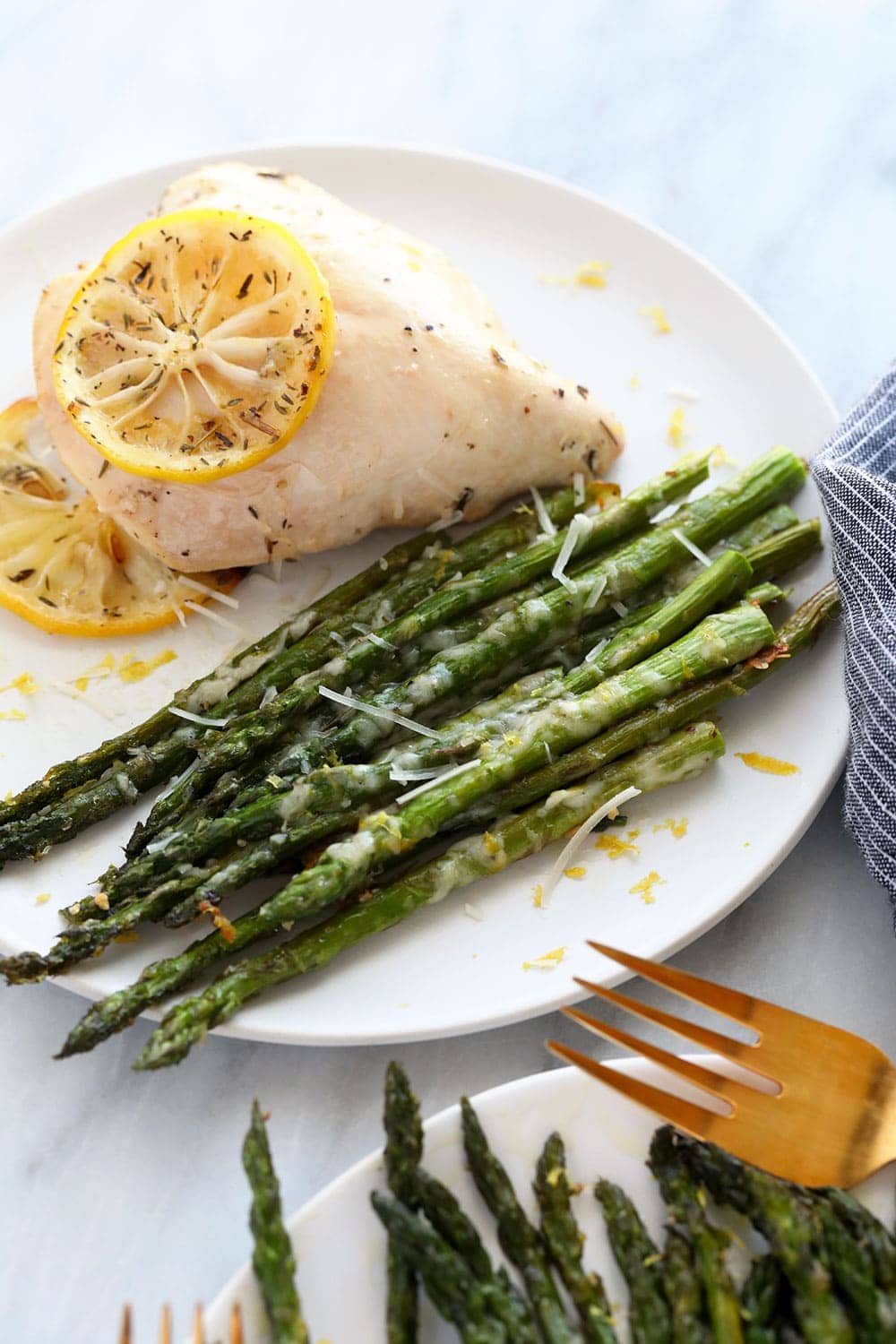 Oven Roasted Asparagus 101
When is Asparagus in Season?
The asparagus growing season is from February to June, but peaks in April. Lucky for us in the USA, we can get it pretty much year-round!
Does asparagus make your pee smell funny?
Girl, I know you've Googled this before because I for sure have! The answer is YES. Asparagus contains a sulphuric compound that when broken down releases a by-product that makes your pee smell funny.
How to Store Roasted Asparagus
Store roasted asparagus in an airtight container in the refrigerator.
How Long Does Roasted Asparagus Last?
Asparagus will last up to 3-5 days in the refrigerator.
How to Reheat Roasted Asparagus
Microwave: Place cooked asparagus on a microwave-safe plate. Microwave on high for 60-90 seconds.
Stove-Top: Add about 1/2 tablespoon of olive oil to a skillet and turn burner to medium/high heat. Saute cooked asparagus for 3-5 minutes or until warm.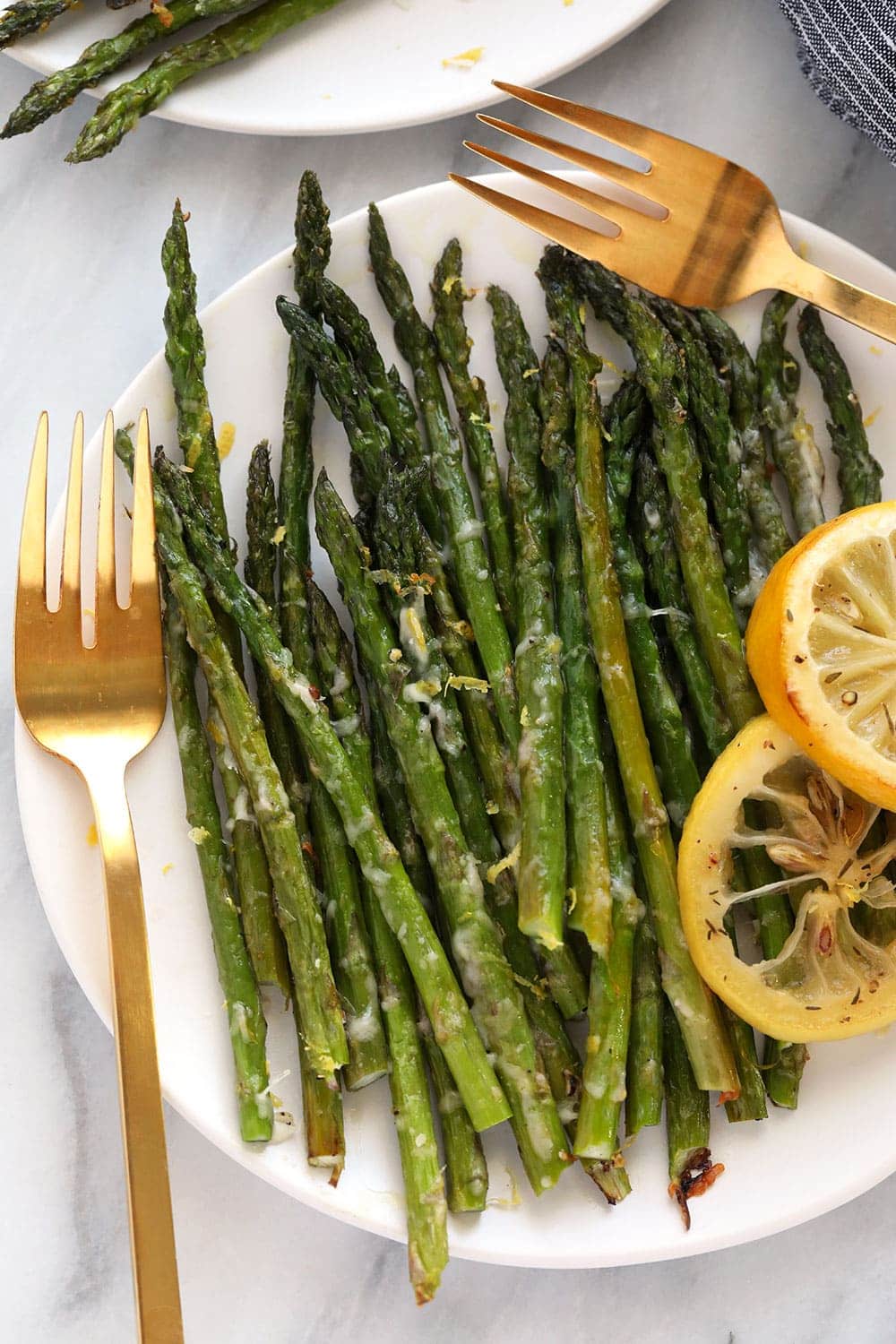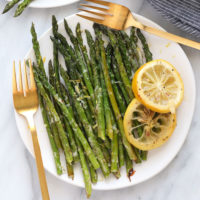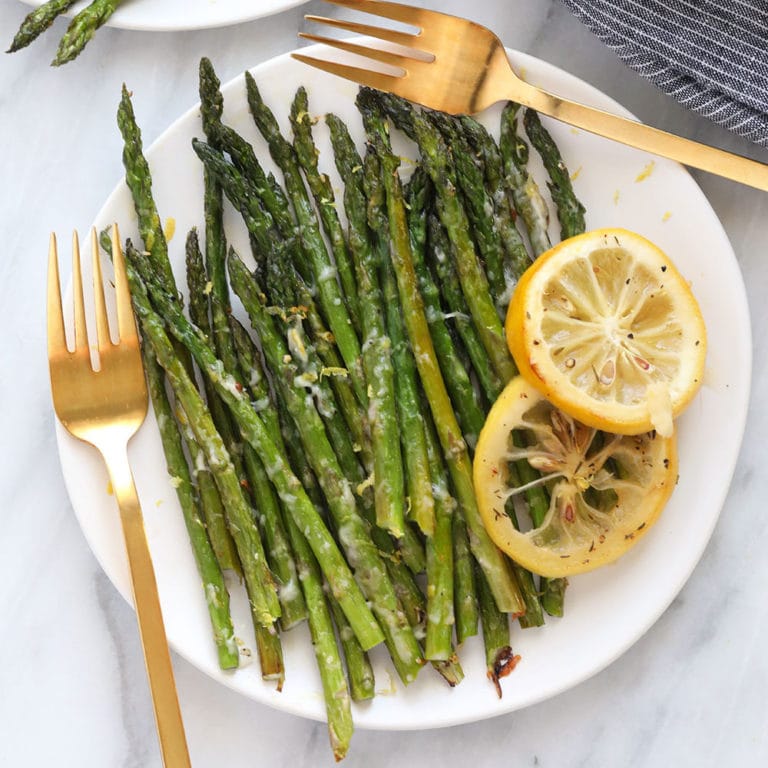 Oven Roasted Asparagus
Oven roasted asparagus with parmesan cheese is the best way to eat asparagus! It's a healthy side dish recipe that's cooked to perfection.
Ingredients
Instructions
First preheat oven to 425ºF and spray a baking sheet with nonstick cooking spray.

Next, prepare asparagus by snapping off the ends. You can use a knife to cut them off, or just snap them right off.

Then, place asparagus on the baking sheet and drizzle with olive oil. Toss.

Generously season asparagus with salt and pepper and toss again.

Sprinkle on 1/2 of the grated parmesan cheese and lemon zest and toss one more time.

Roast at 425ºF for 8 minutes*. Then, remove from oven, sprinkle on the remaining parmesan cheese and toss. Bake again for 2-4 more minutes, depending on how thick your asparagus spears are.

Serve with fresh lemon zest and more cracked pepper.
Tips & Notes
Roasting time: we used thinner asparagus spears. So, if you buy super thick asparagus, you may need to increase your bake time.
Nutrition facts
Calories:
138
kcal
Carbohydrates:
5
g
Protein:
7
g
Fat:
11
g
Fiber:
2
g
Sugar:
2
g