This bacon wrapped asparagus is a fun way to dress up your favorite veggie. You can make this bacon wrapped asparagus recipe for a tasty side dish for dinner or you can make them for an easy appetizer for a party. Either way, they're delicious!
Do you love bacon wrapped vegetables? If you have leftover bacon make these bacon wrapped green bean bundles or bacon wrapped brussel sprouts.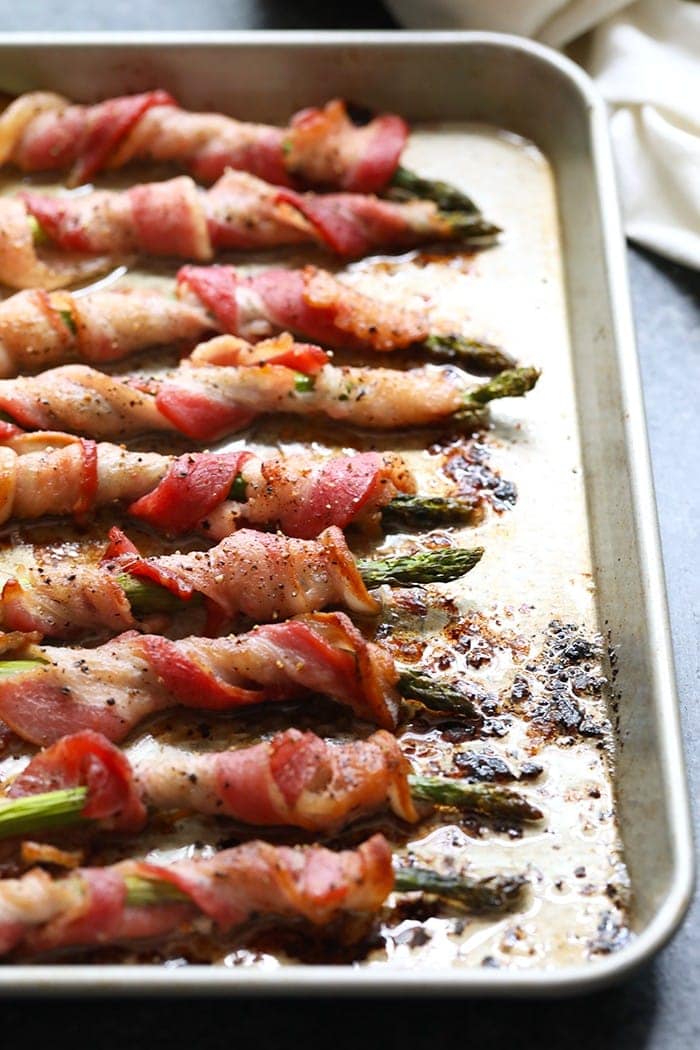 Easy Bacon Wrapped Asparagus
Need a quick and easy appetizer that looks pretty and tastes good? Great, these bacon wrapped asparagus spears are one of our favorite bacon wrapped appetizers. You get a veggie, a little protein, and a lot of street cred. for making an appetizer with bacon.
why we love this recipe
You only need two ingredients; Bacon slices and asparagus spears.
It is an appetizer that takes very little effort so you can focus on entertaining or the main dish.
There are fun variations you can make to these bacon wrapped asparagus to bring them up a notch (check them out below).
These salty stalks can be a side dish as well as an appetizer.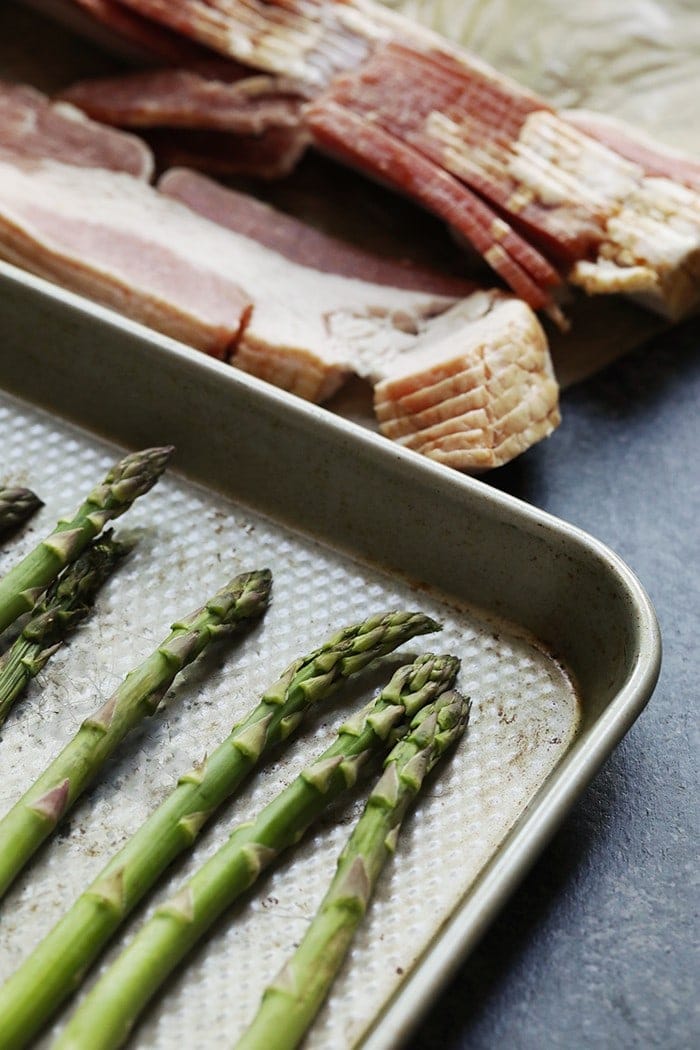 How to Make Bacon Wrapped Asparagus
Though this simple appetizer is easy to make, here is an easy step-by-step look of how to make the process as smooth as possible.
Prepare the asparagus stalks. Just like any other asparagus recipe, you want to break the woody ends of the asparagus off before wrapping them. Gently bend the asparagus towards the bottom of the stalk and the woody end should break off easily.
Wrap the asparagus in bacon. Use thinly cut bacon and wrap each asparagus spear in the bacon. Set the bacon on a bacon sheet. If you're nervous that the bacon will stick to the baking sheet, line the baking sheet with parchment paper. FYI, there is no need for olive oil in this recipe, the bacon produces enough oil.
Bake. Place the baking sheet in the oven and bake at 400ºF for 18-22 minutes or until the bacon reaches your desired doneness.
Enjoy. Remove your bacon from the oven and enjoy it as an appetizer served with a fun dip or dressing. We suggest serving them with homemade ranch dressing or blue cheese dressing.
do you like crispy bacon?
If you are a very crispy bacon person, here are a few ways you can make sure you end up with the crispiest bacon without ending up with mushy asparagus.
Pre-cook your asparagus in the microwave, oven, in the air fryer, or in a skillet on the stove top over medium heat. for a few minutes (or more depending on your method). This will start the cooking process on just the bacon rather than the asparagus, too.
Place a wire rack on the baking pan and then place your bacon wrapped asparagus on top of the wire rack to allow the oil to drip off the bacon strips. It will leave you with crispier, less oily bacon.
Jazz Up Your Bacon Wrapped Asparagus
Make them spicy. Sprinkle the bacon wrapped brussel sprouts with red pepper flakes or a favorite spicy spice mix before you bake them to give them some heat.
Add a little balsamic vinegar glaze. After the bacon wrapped brussel sprouts are done baking, drizzle them with a balsamic glaze to add a tart sweetness to your appetizer.
Sweeten them up. Roll the bacon in a few teaspoons of brown sugar before wrapping the asparagus. The brown sugar crystalizes and makes these candied wrapped asparagus.
Use a fun spice mix. If you want to take these bacon wrapped asparagus up a level you can roll the bacon in a few teaspoons of everything bagel seasoning or our favorite pork rub.
Make them into bundles. If you want to make asparagus bundles rather than single asparagus stalks, go for it. Wrap 3-4 stalks of asparagus in on piece of bacon. Wrapped asparagus bundles are a great option if your asparagus stalks are thin.
Pro tip. No matter how you decide to season your bacon wrapped asparagus, every version would be delicious with freshly cracked pepper and sprinkled with parmesan cheese.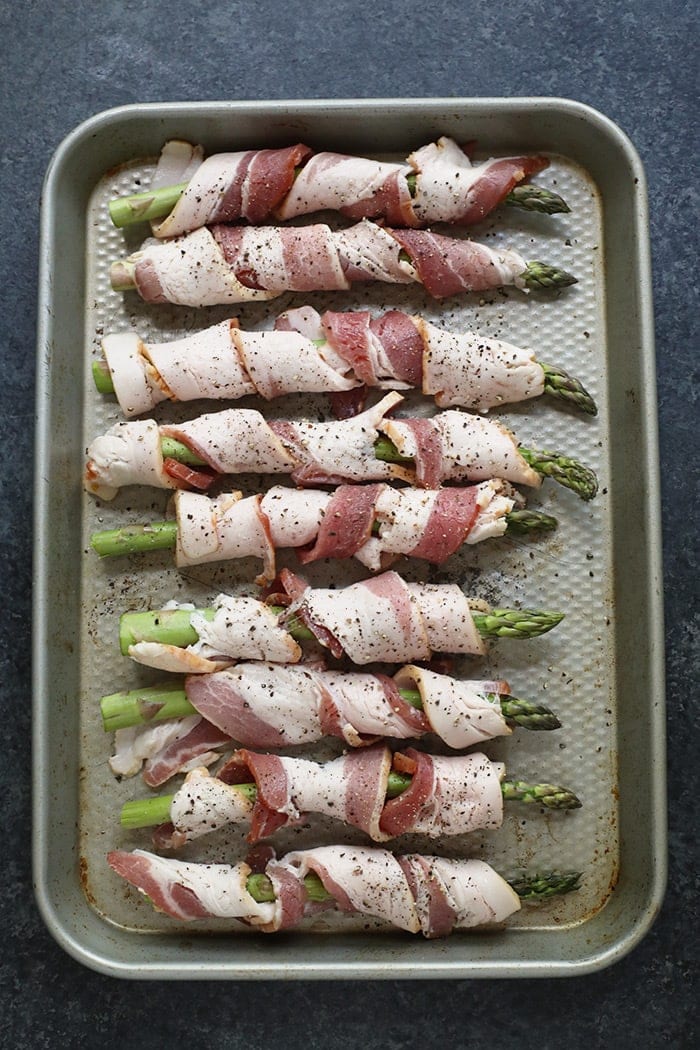 Commonly Asked Questions
How long do you cook bacon wrapped asparagus in the oven?
You cook asparagus for 18-22 minutes in the oven, depending on how crunchy you like your bacon.
What temperature to cook bacon wrapped asparagus?
Bacon cooks nicely and gets extra crispy if you bake it at 400ºF.
How do you cook bacon wrapped asparagus on the grill?
Heat grill to 400ºF and then place a piece of tin foil down on the grill. Next, lay bacon wrapped asparagus on tin foil. Grill for 18-20 minutes.
How do you trim asparagus spears?
Usually, if you bend asparagus, it will break where the tender part of the asparagus meets a thicker portion of the asparagus that is not that appetizing to eat. The woody part of the asparagus should just snap off.
Otherwise, use a knife to cut off the ends of the asparagus. Cut where the asparagus begins to get a bit thicker. It sometimes has a slightly different color.
Storage
Store the baked bacon wrapped asparagus in an airtight container once the are cooled completely.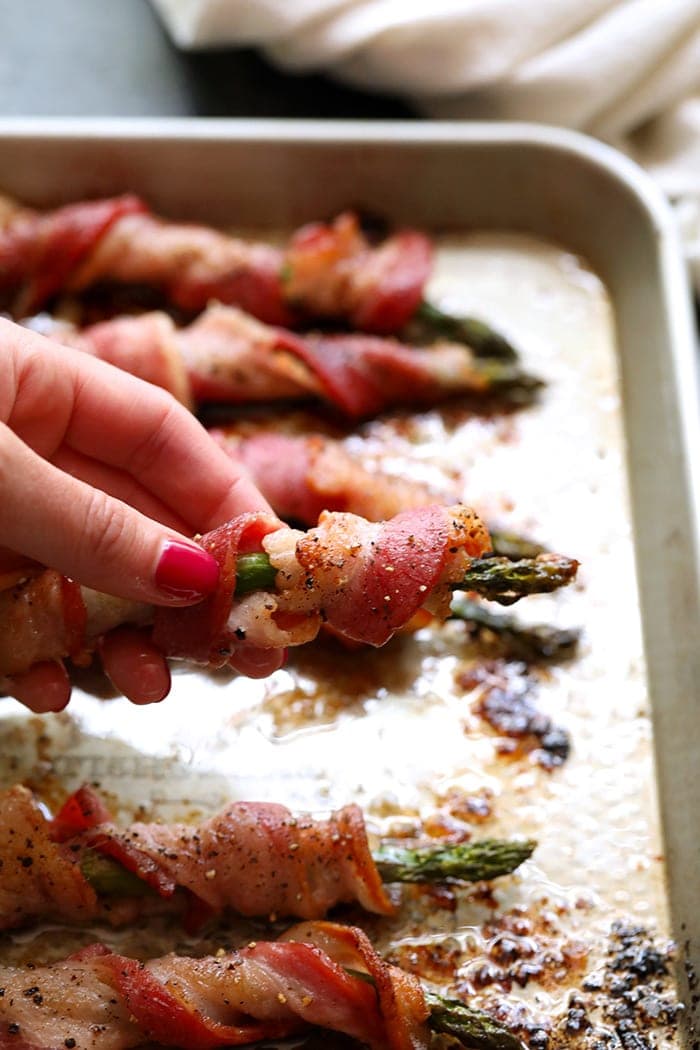 Bacon Wrapped Appetizers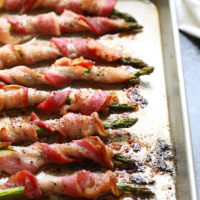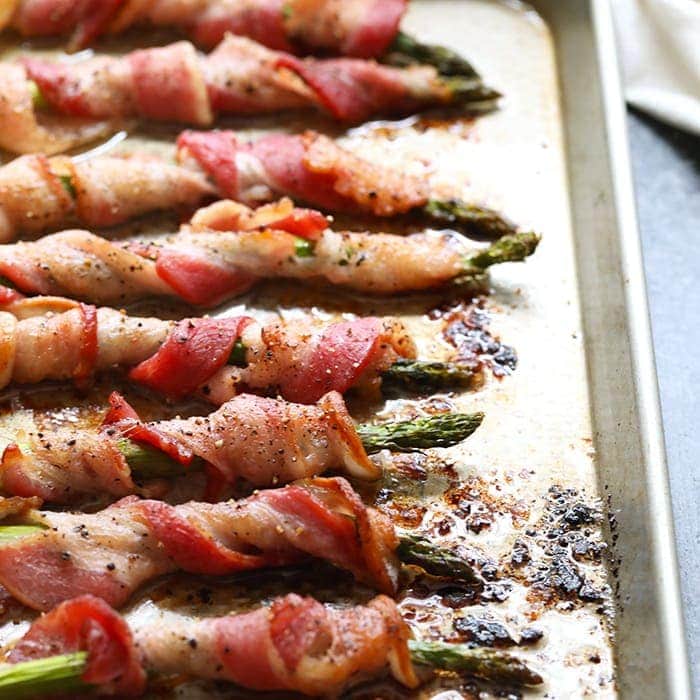 Bacon Wrapped Asparagus
These asparagus spears are wrapped in crispy bacon and ready in just 20 minutes. Perfect as an appetizer or as a side dish.
Ingredients
1

lb.

asparagus

25ish spears

1.5

lbs.

bacon

25ish strips

pepper

to taste
Instructions
Preheat oven to 400ºF.

Wrap one asparagus spear with one piece of bacon and place on baking sheet. Repeat process until bacon and asparagus are gone.

Bake for 18-22 minutes (depending on how thick your bacon is)
Nutrition facts
Calories:
44
kcal
Carbohydrates:
1
g
Protein:
3
g
Fat:
4
g
Sugar:
1
g