These healthy asparagus and shiitake mushroom egg cups are the perfect high protein breakfast baked in under 30 minutes!
HAPPY APRIL (slash birthday month!!)
The second I got home from the Propel Photo Shoot in LA I knew I wanted to start recreating the delicious food we ate a la our personal chefs. One morning we ate the most amazing asparagus egg white frittatas. I decided to add a twist, because I am a huge fan of egg yolks (full eggs).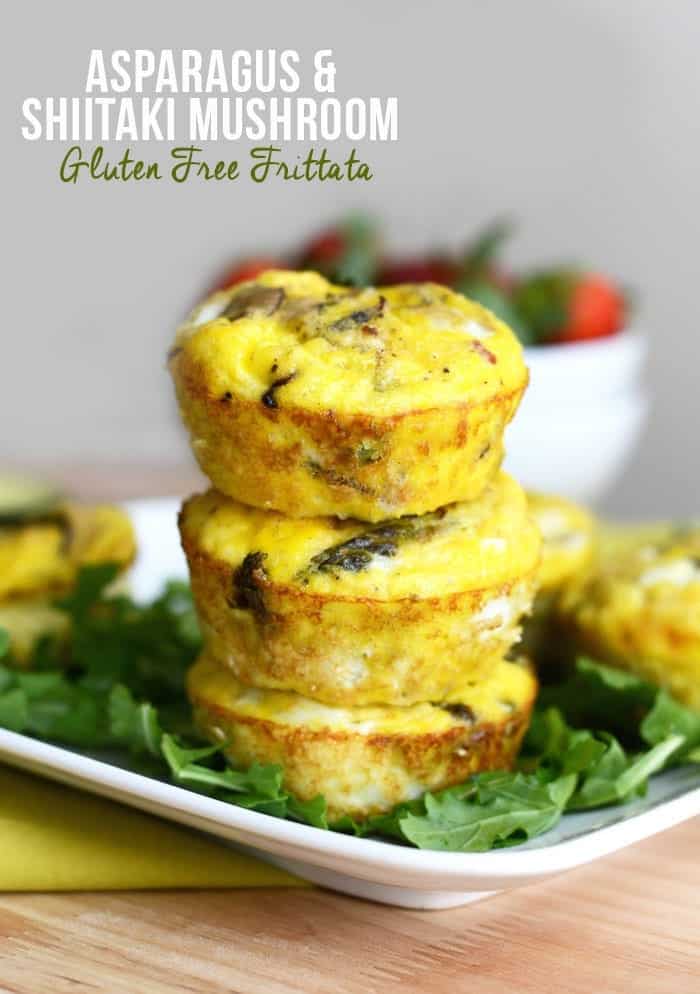 Single egg frittatas are actually the best snack ever invented. Loaded with protein, tons of veggies, and easy to make and store for later.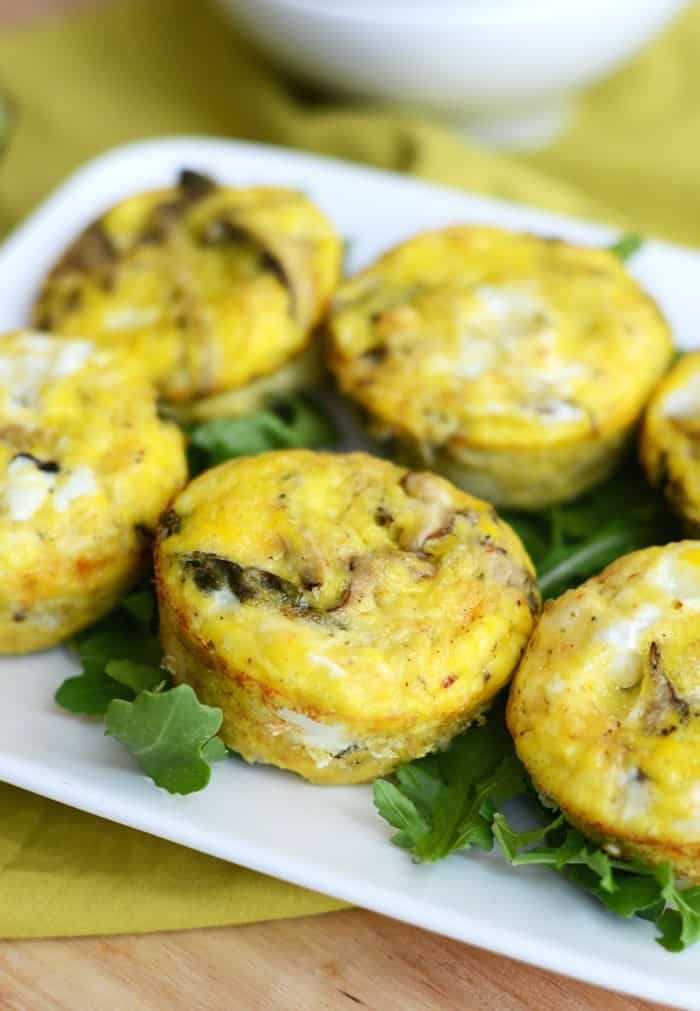 Confession: Blake is a shroom lover and I am a shroom hater (just being honest). Opposites attract, right? He was ecstatic when he saw mushrooms were making an appearance in a Fit Fooodie Finds Recipe. And I do have to say they were quite tasty in these frittatas. I think they're growing on me.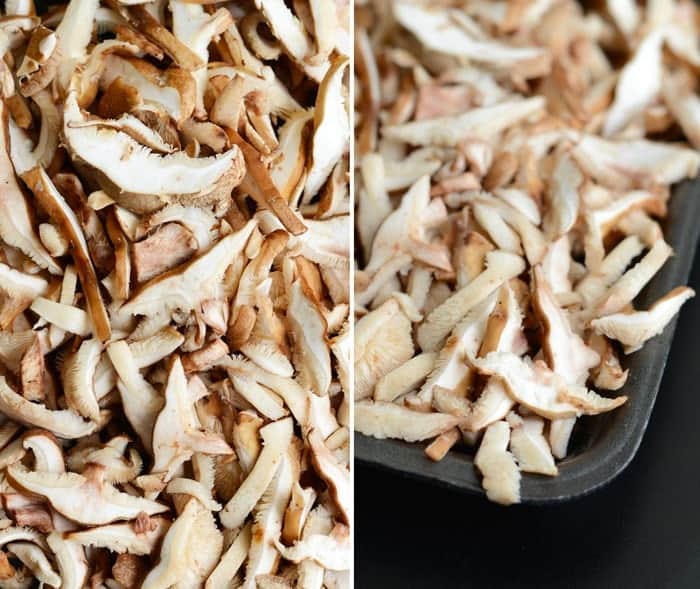 You can add any veggies that you like. I suggest onions, peppers, spinach, broccoli, really anything that floats your boat.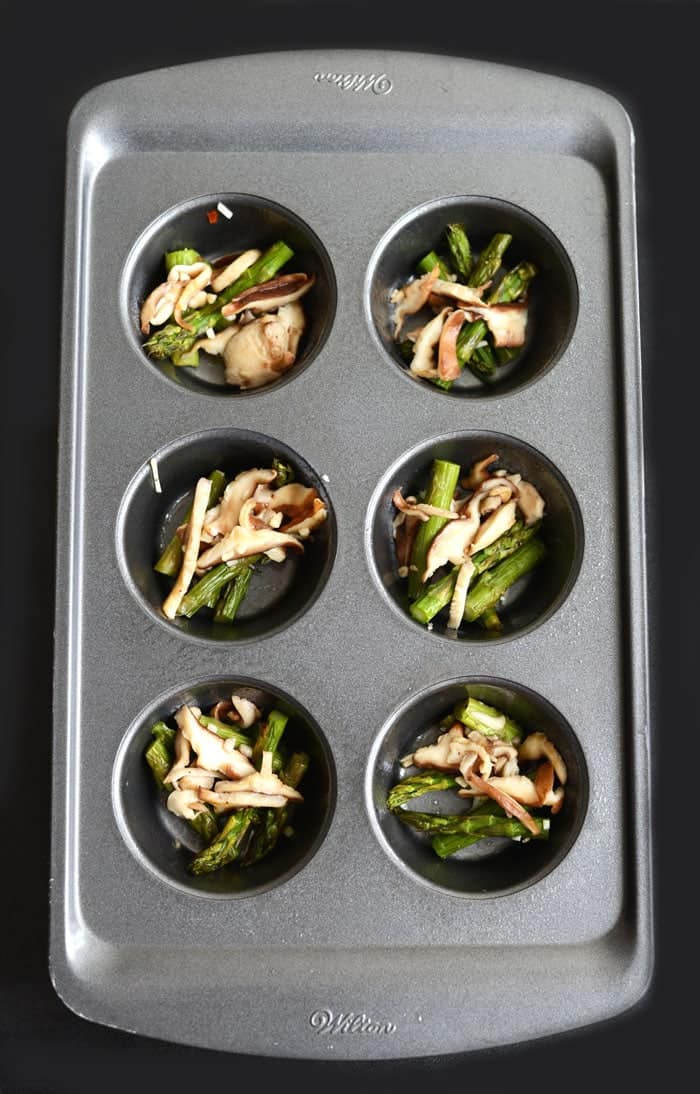 Make sure you spray your muffin tin with nonstick cooking spray or rub with coconut oil or you will have yourself a mini disaster. I warned yah.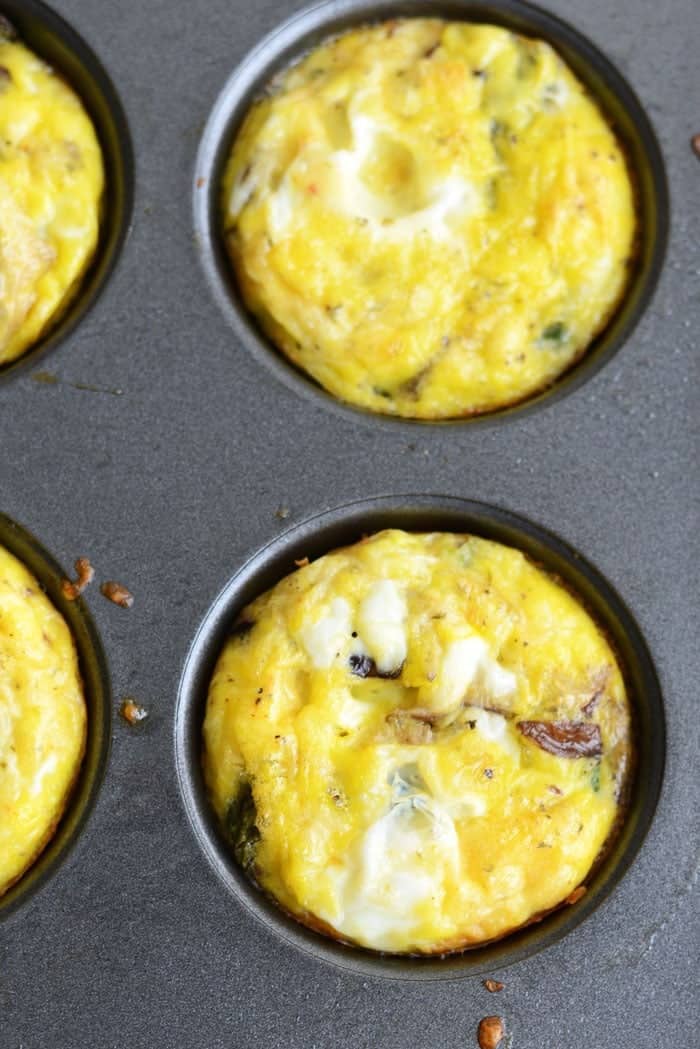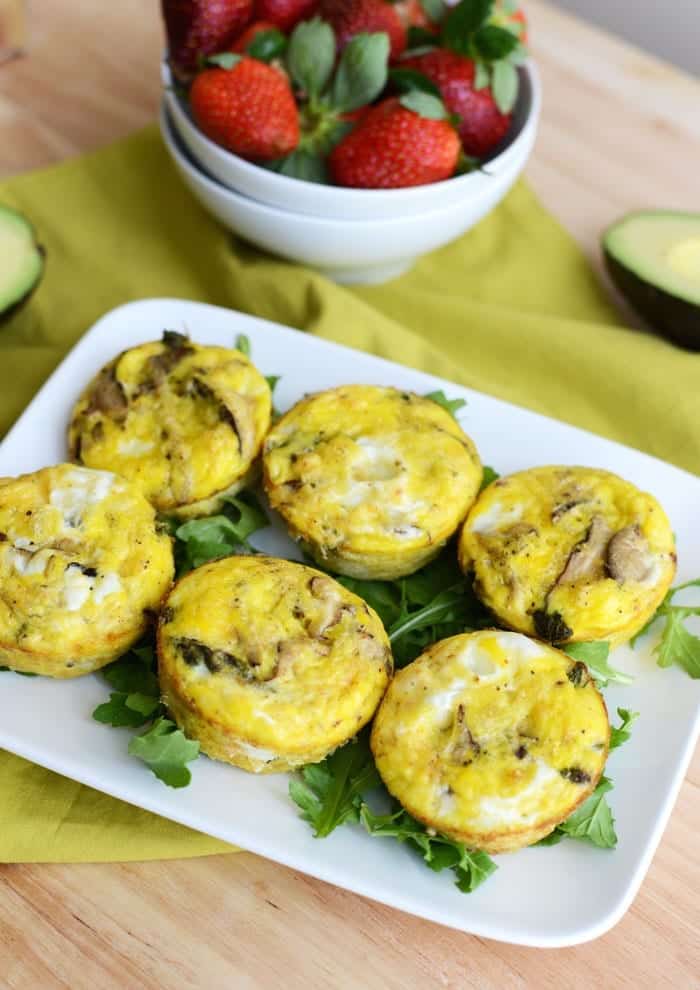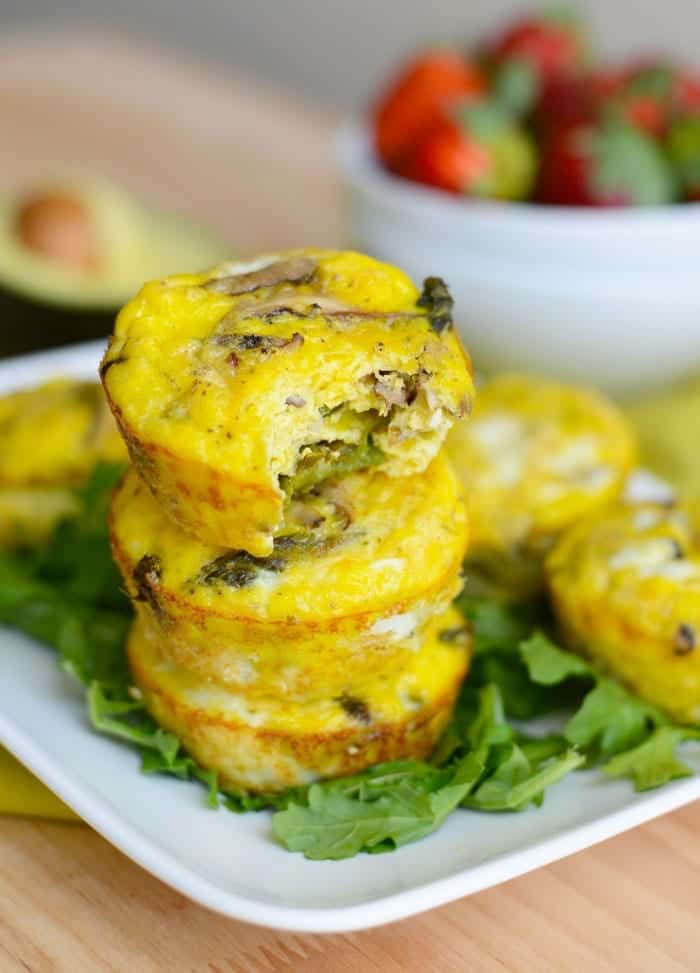 Recipe
Asparagus and Shiitaki Mushroom Frittatas
These healthy asparagus and shiitake mushroom egg cups are the perfect high protein breakfast baked in under 30 minutes!
Prep Time:

5 minutes

Cook Time:

25 minutes

Total Time:

30 minutes
Ingredients
6

eggs, large

1 tablespoon

olive oil

1/2 tablespoon

garlic, minced

1/2 cup

shiitake mushrooms, sliced

1/2 cup

chopped asparagus, quartered
salt and pepper to taste

2 tablespoon

s milk, any kind

3 tablespoon

s grated cheese (your favorite kind!)
Instructions
First, preheat oven to 350F and spray a 6 tin muffin tin with nonstick cooking spray.
Next, in a large sauce pan, heat 1/2 tablespoon of garlic in 1 tablespoon of EVOO. Then, sautee asparagus for about 4 minutes, then add in mushrooms for an additional 3 minutes or until they have both softened up a bit.
While the vegetables are cooking, whisk together 6 eggs and 2 tablespoons of milk.
Next, divide out out the veggies into the muffin tin. Then, pour egg on top, filling about 3/4 of the way. Season with salt and pepper to taste and sprinkle on your favorite kind of cheese.
Bake at 350 for about 25 minutes or until the eggs have set.
Nutrition
Serving Size:

1/6

Calories:

115

Sugar:

1

Sodium:

198

Fat:

8

Carbohydrates:

3

Fiber:

1

Protein:

8
Similar
So- I have been getting lots of photography questions lately and I think it's time for a little tutorial. But first- I want to know more questions you have about the different styles and techniques I use to edit my photos and images. Here's what I asked on my facebook page: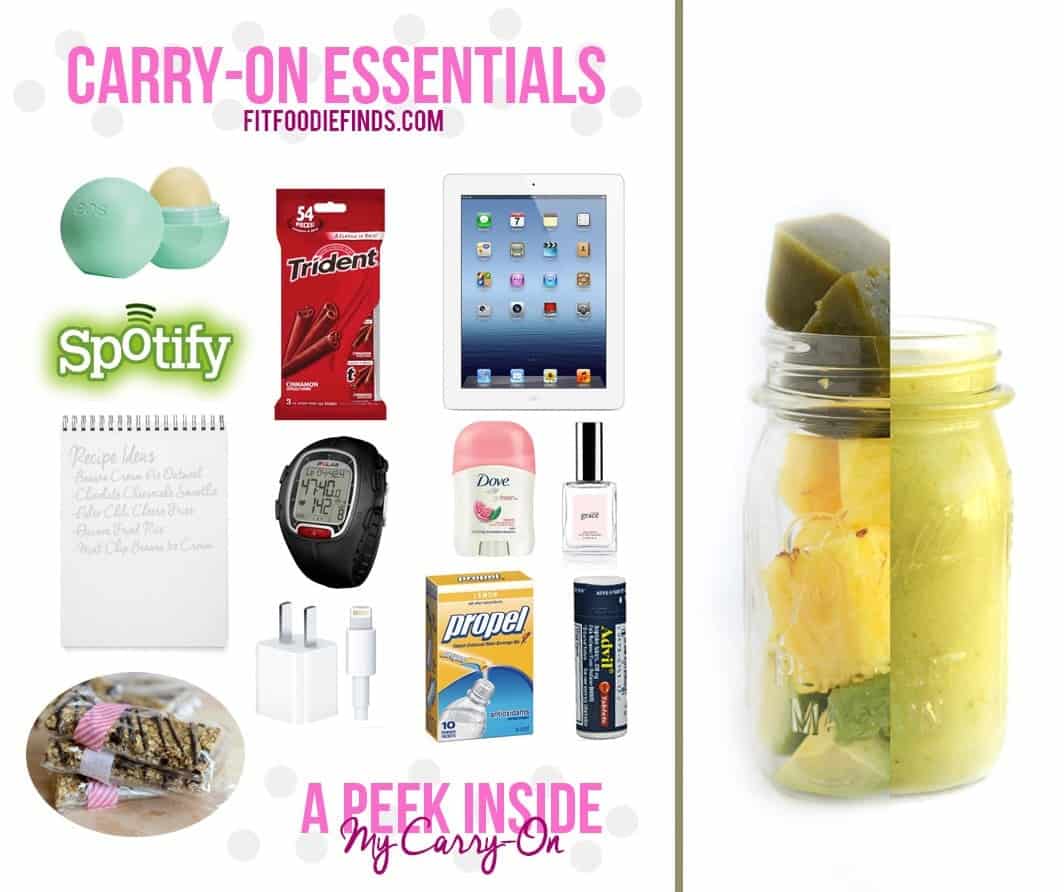 Hey guys! I am planning on doing my first photography tutorial. I've gotten a lot of questions on how I edit or design certain images. Which would you like to learn how to do?
1. See my process in editing a photo from start to finish
2. How to make a collage like Carry on Essentials
3. How I made yesterday's before and after smoothie image
4. Anything specific YOU'RE dying to learn?