Sous vide chicken breast means perfectly cooked chicken every time. Follow our step-by-step tutorial of how to make juicy sous vide chicken.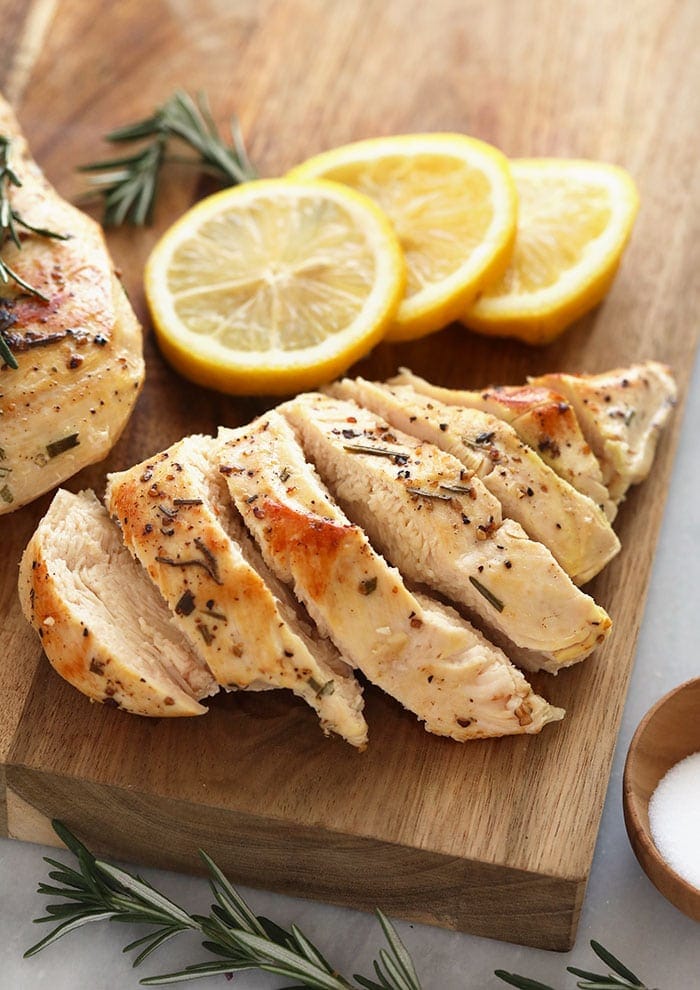 The sous vide is the new, hot kitchen gadget and guess what? Team Fit Foodie has totally bought into the perfectly cooked protein goodness that the sous vide produces.
We Love the Sous Vide
Perfect. Meat. Every. Time. Have you checked out our Mongolian Beef in the Sous Vide? It's tender, flavorful, and perfectly cooked because of the Sous Vide. Or our perfectly cooked Sous Vide Steak or Salmon?
And it's not just meat, you can make so many other delicious things in the sous vide, like Our Cheesy Sous Vide Egg Cups! They are light and fluffy and also my new favorite savory snack!
Before I go too crazy about my favorite sous vide recipes, let's break down what a sous vide even is. From there, you will better understand the whole, perfect meat every time thing.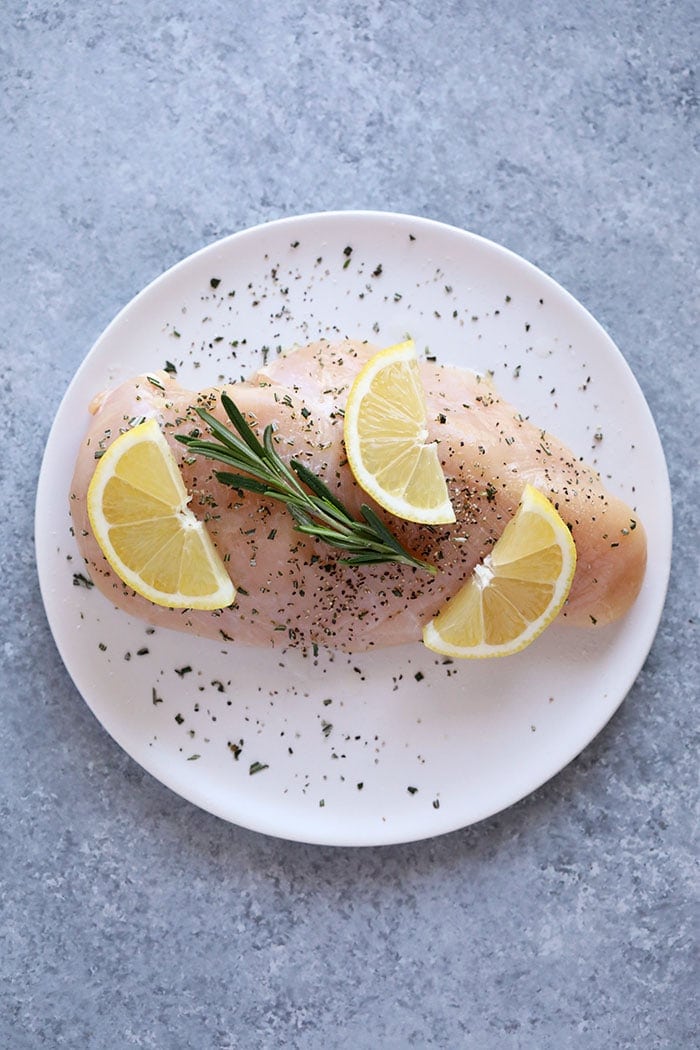 What is a Sous Vide?
A sous vide machine is a device that heats a container of water with a heated metal coil. Sous vide cooking is a technique where you use precise water temperature to cook food in a vacuum-sealed bag (we like to call it a french slow cooker or a meat hot tub)!
The sous vide machine heats the water to your desired temperature and then whatever is cooking in the sous vide cooks gradually and in a controlled environment. It is foolproof. Each time you have perfectly cooked protein however you like it! If you're looking for a sous vide to buy, we recommend this $99 one from Anova Culinary. It's the one we use in our kitchen!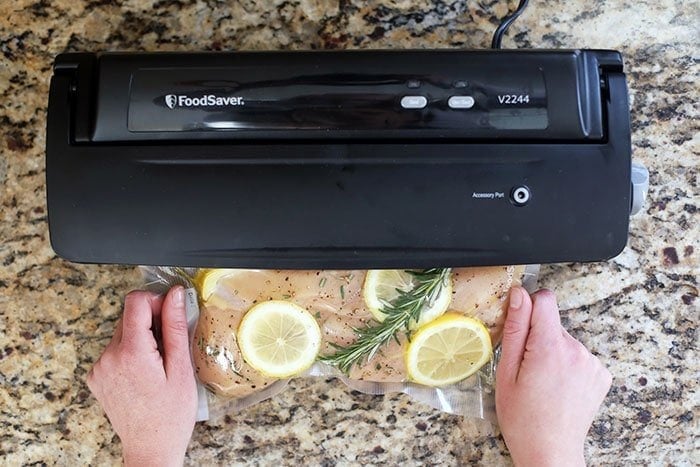 Sous Vide Chicken Basics
There are so many ways to prepare a chicken breast and we love trying every single way. We love sous vide chicken when we need to cook a lot of chicken at one time or if we want very flavorful chicken! No matter when or how you like your sous vide chicken breast, we've put a list together of some sous vide chicken essentials that will help make sous vide chicken a breeze!
What You Need
A Ziploc bag would work just fine when you sous vide chicken, however, when you have the right tools for the job it makes life easier. If you love sous vide, get yourself a vacuum sealer and everything else below to make sous vide cooking a breeze!

Sous Vide Chicken Tips + Tricks
How do you like your chicken? Sous vide chicken temperature is set at can range from 140º-165ºF depending on how you like your chicken breasts. For juicier chicken set sous vide to 140ºF and for firm chicken breast set sous vide to 165ºF.
Marinade or Dry Rub? Sometimes using a marinade or sauces in your plastic bag can get a bit tricky if you are using a vacuum sealer. If you are going to use a liquid or sauce make sure it stays at the bottom of your bag or that the sauce is as far from the opening of the bag as possible. You don't want the vacuum sealer to suck up your liquid!
Otherwise, dry rubs easy to whip up and are #1 preference when it comes to making sous vide chicken breasts! Try our fav chicken dry rub HERE.
Get Creative! Don't be afraid to get creative by adding chopped fruits or veggies to your chicken breasts. It enhances flavor and gives you a simple side to go with your chicken breast. Try throwing asparagus or bell peppers into the freezer bag with your chicken breast.
How to prepare chicken breast There are so many ways you can prepare your chicken breast after cooking it in your sous vide. Check out our basic sous vide chicken breast recipe below for an easy weeknight dinner. You can also meal prep a bunch of chicken breasts and shred your chicken to make FFF's Healthy Buffalo Chicken or make one of our favorite chicken salad recipes! The options are endless!
Sous Vide Chicken Q&A
How long does it take to sous vide chicken breast? The sweet spot for sous vide chicken is between 1 1/2-2 hours. The beauty is that you can cook the chicken even longer than this (if you forget) and it won't overcook your chicken breast!
The only thing to look out for is if you do decide to sear your chicken breast, sous vide your chicken at a lower temperature because you don't want to overcook your chicken breast when you sear it. Only sear for about a minute on each side for tasty crunchy flavor!
Can you eat chicken at 150º degrees? Yes! Anywhere between 145º-165ºF is safe for chicken. Your chicken breast will be juicy and tender if you sous vide your chicken breast at 145ºF and a bit more firm if you cook it at 150ºF. It is all about personal preference!
Can you use Ziploc bags for sous vide? Yes, you can use Ziploc bags for sous vide. You just have to make sure you squeeze out all of the air from the Ziploc bag. You also want to make sure that the chicken is always submerged in the water. It helps to use clips to keep the bag in place!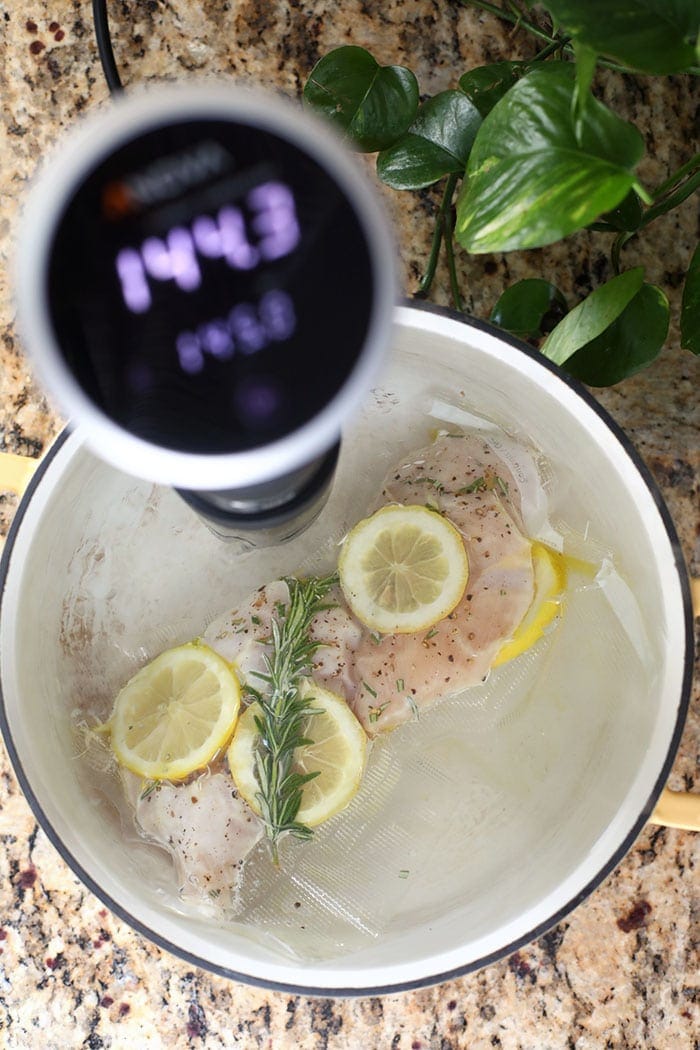 Flavor Combinations
The sky is the limit when you are flavoring your sous vide chicken breast. Play around and get creative! Personally, we love a basic lemon herb chicken or a smoky dry rub when we make our sous vide chicken breast. Here are some tasty flavor combinations to try:
Lemon Rosemary
Herb Butter
Honey Mustard
Orange Tamari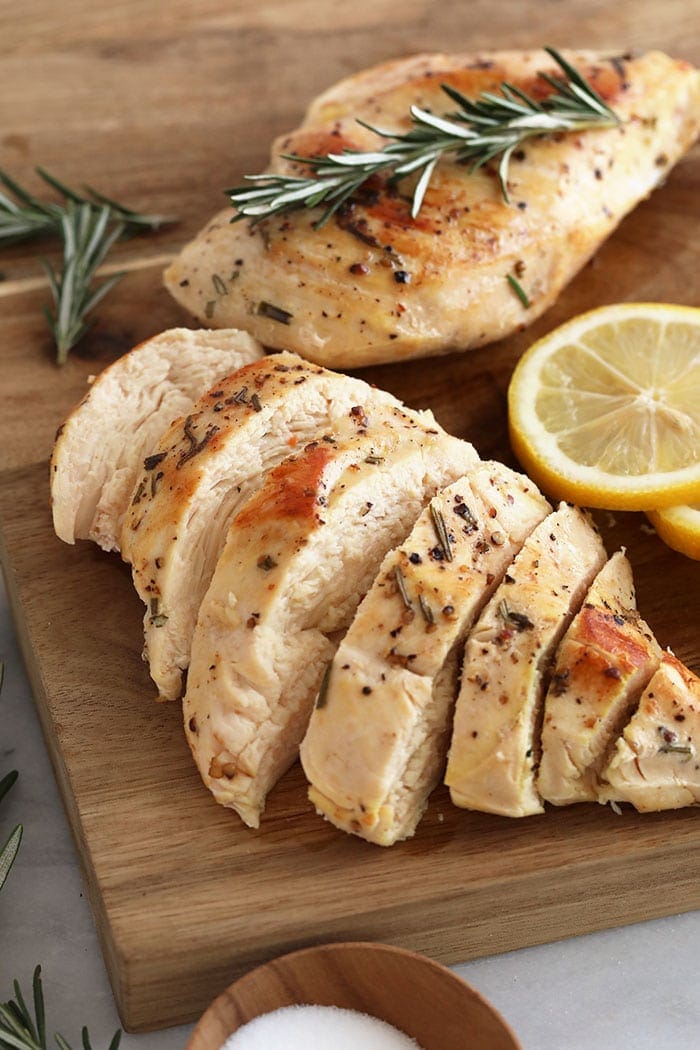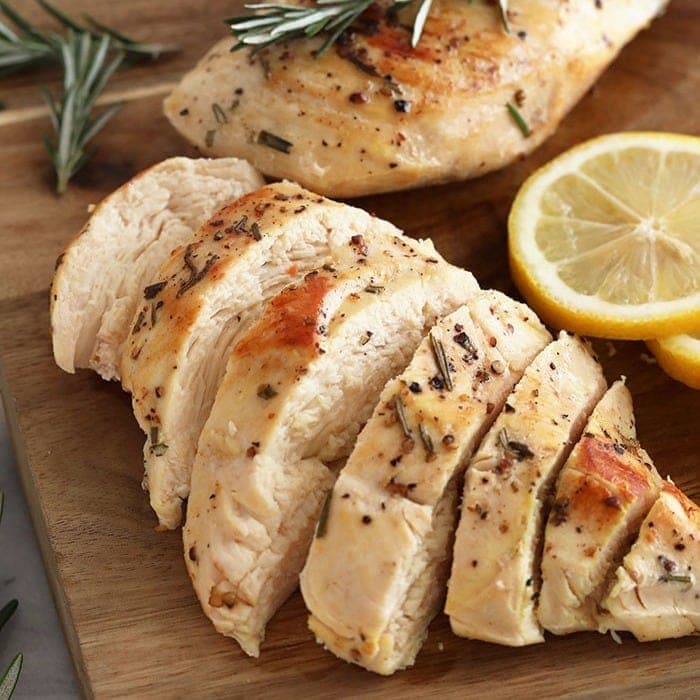 Sous Vide Chicken Breast Recipe
Sous vide chicken breast means perfectly cooked chicken every time. Follow our step-by-step tutorial of how to make sous vide chicken!
Ingredients
Instructions
Fill a large stock pot (or larger) with water, attach your sous vide to the pot and set your sous vide to 145ºF. You want to make sure you can fully submerge your chicken breast in the water.

Then, season chicken breast with salt and pepper and place into a vacuum seal bag. A Ziplock will work fine too!

Add lemon slices, olive oil, and rosemary to the bag and make sure chicken breast is covered in oil and spices.

Remove as much air as possible from vacuum seal bag or Ziplock. We do this so that the chicken will sink to the bottom of the pot. Then fully submerge in water.

Cook chicken breast at 145ºF for 1.5 - 2 hours.

Once the timer goes off, remove the bag from the water bath and the remove chicken breast from the vacuum bag. Prepare your favorite chicken recipe or see step #7 for a seared chicken breast.

Heat 1-2 tablespoons of olive oil in a medium-sized pan. When olive oil is fragrant, place chicken breast into the pan. Sear for 1-2 minutes on each side. Enjoy!
Nutrition facts
Calories:
184
kcal
Carbohydrates:
0
g
Protein:
26
g
Fat:
8
g
Sugar:
0
g
18 Sous Vide Chicken Recipes