Wondering where to start with sous vide cooking? Start here with this guide to sous vide cooking!
Whether you are just starting out, or have a couple sous vide meals under your belt, you will love our sous vide recipes here on Fit Foodie Finds.

Table of Contents
What is Sous Vide Cooking?
What is a Sous Vide?
Best Sous Vide
What You Need to Sous Vide
Sous Vide Accessories
Why We Love Sous Vide Cooking
What Can You Sous Vide?
To Sear or Not to Sear?
Sous Vide Q&A
Sous Vide Recipes
What is Sous Vide Cooking?
Sous vide cooking is a technique where you use precise water temperature to cook food in a vacuum-sealed bag or another air-tight vessel. You can monitor your water bath or use a sous vide immersion circulator (which is our preferred method) to cook sous vide.
Basically, your meat, vegetables, or whatever you are cooking sous vide is cooked at the perfect temperature for an extended period of time, while NEVER over-cooking because it's kept at a certain temperature the entire time. In that time, it will retain moisture and cook to absolute perfection!
A quick rundown: Fill a large pot with water, attach your sous vide to the pot, set the sous vide temperature to bring the water bath to the cook temperature, and then add whatever you're cooking to the water bath. We like to call it a french crock pot.
What is a Sous Vide?
The sous vide (aka an immersion circulator) acts as a heater and warms your water bath to the exact cooking temperature that you set it to and maintains that temperature for the duration of the cook time. Want to cook your steak at 140ºF for 2 hours? Set the temperature and timer and press start!
A sous vide is typically shaped like a long cylinder with a digital screen at the top. There is some kind of clip or clamp that every sous vide has on its side to secure it to the side of your water bath.
Best Sous Vide
Our first sous vide was the Anova Culinary Sous Vide 800W and we have never looked back. It is reliable, easy to use, and has Bluetooth capabilities, meaning you can control it from your phone anywhere.
We love how simple this sous vide is, and how few buttons there are. Set the temperature using the dial and press start!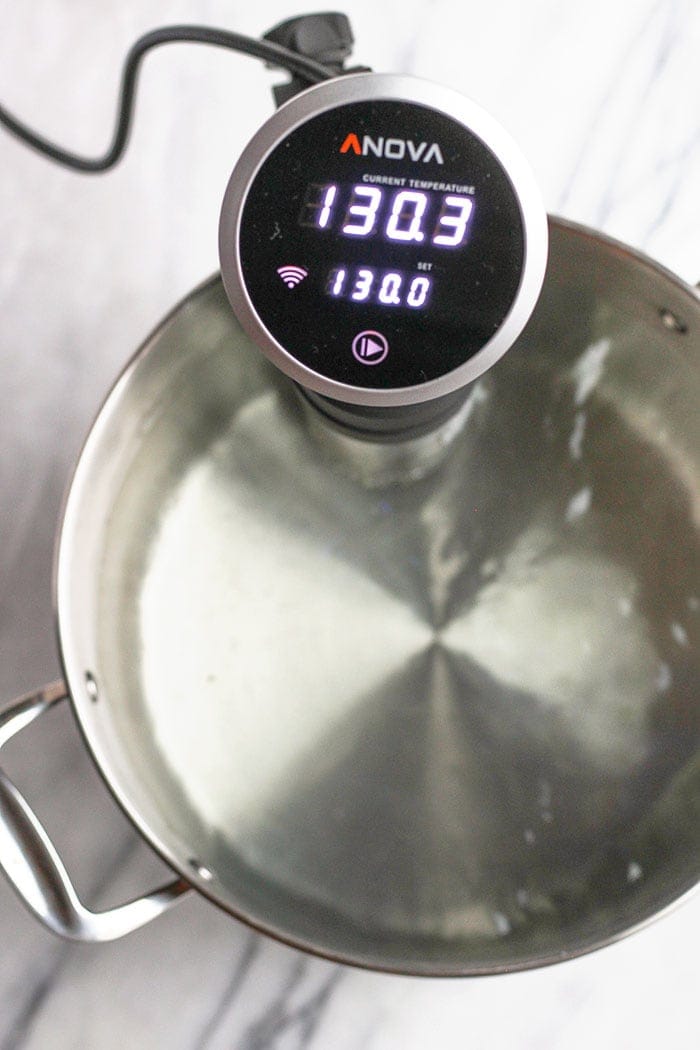 There are many different sous vide brands out there in addition to Anova. Here are some of the most common for you to check out in case you are interested:
What You Need to Sous Vide
Just like any recipe, if you are equipped with the right tools and knowledge, you are more likely to be successful. We want to make sure you are prepared as you set off to make any of our sous vide recipes.
We are always learning as we soak up more knowledge about the sous vide, but here is everything we know thus far in our sous vide journey!
The basic pieces of equipment you need to get started with sous vide cooking are:
Sous Vide Accessories
Not everyone's sous vide knowledge and experience is the same. There are so many options when it comes to accessories, and it all depends on what level you are at and what you're hoping to make in your sous vide.
If sous vide cooking is a new thing for you, we suggest starting with the basics! Are you a pro? Check out our accessories list for the pro to level up your sous vide cooking.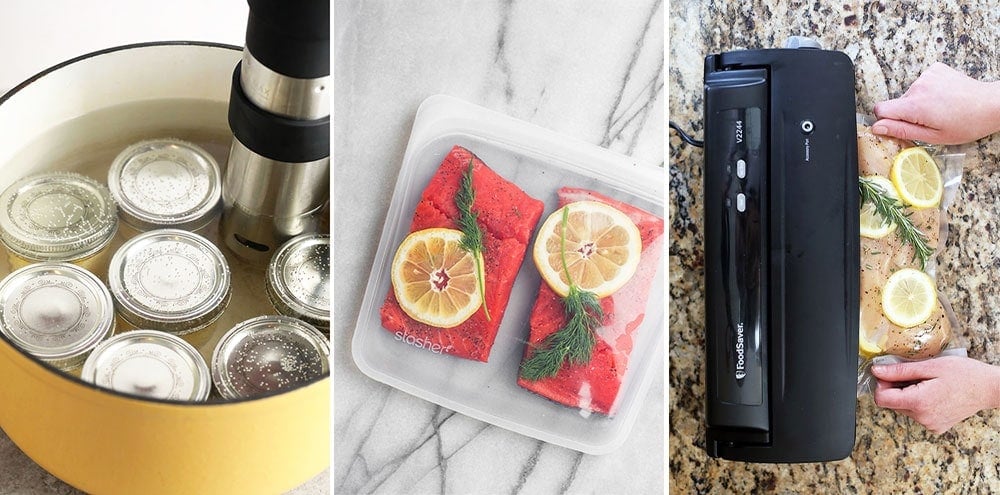 Basics
Large Stock Pot – You can use any large container you would like. All you have to do is make sure whatever you are cooking in the sous vide is fully submerged in water. We use a large pot, but you can use a large rubber bucket, cooler, or even your kitchen sink, too!
Silicone Bag – Stasher Bags or any other silicone bag are great options for cooking meat and seafood.
Mason Jars – our favorite vessel for sous vide egg cups.
For the Pro
Bags/Vessels – in addition to Stasher Bags, non-BPA plastic bags will do the trick as well! Pro tip: if you're using a normal plastic bag, you may want to double bag for longer cook times to prevent leaking.
Vacuum Sealer + Food Saver Bags – our FoodSaver is a dream. By vacuum sealing your meat, it will remove the air from the bag and allow the food to sink in the water completely. We have THIS ONE and it's only $50 on Amazon!
Clips – we like clipping our bag of food to the side of the pot to make sure it stays submerged in water the entire time.
Ping Pong Balls – place these in your water bath, and they will help the water in your pot from evaporating if you're planning to cook something for 12+ hours.
Sous Vide Container with Lid – $9.99, and an easy solution to preventing water evaporation during cooking.
FoodSaver
We know that we have FoodSaver listed under "for the pro" and that's because it's definitely an investment for your sous vide cooking.
Once you're cooking sous vide on a regular basis, we highly recommend purchasing a FoodSaver and FoodSaver bags. This will streamline your sous vide cooking, and allow you to remove ALL the air from from the bag every time before placing in the sous vide. Here are the exact products we own: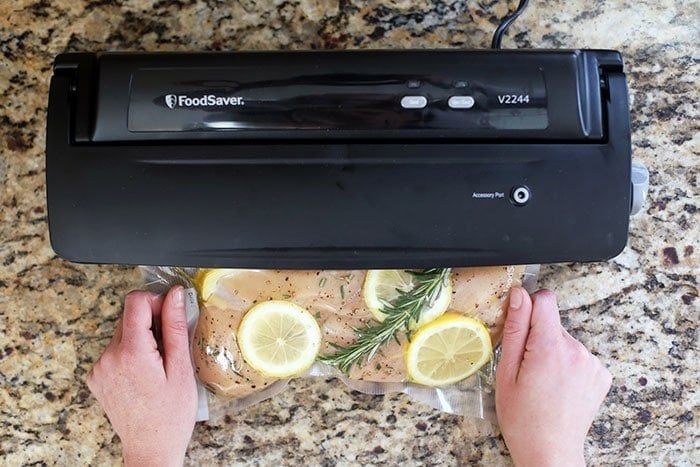 Why We Love Sous Vide Cooking
It never overcooks – You never have to worry about overcooking whatever is in the sous vide. Set the temperature and let it sit. Because the temperature remains consistent the entire time, no matter how long it is in the sous vide, it won't overcook!
Easy to move – It is easy to take a sous vide anywhere. Forget about lugging a slow cooker or Instant Pot to the cabin for the weekend. We just grab our sous vide and go. All you need is your sous vide a large pot or container.
Meat is so tender – Though you can cook many different things in the sous vide, if you are a carnivore, you are not going to want to cook your meat any other way once you've tried the sous vide. It cooks meat at the perfect temperature so you are never left with an undercooked or overcooked piece of meat.
The sous vide can also cook meat for an extended period of time, similar to slow roasting, which breaks the meat down to a juicy and tender consistency.
What Can I Sous Vide?
We have focused mostly on sous vide meat so far on our sous vide journey. We have dabbled in egg soufflés (a fancy word for sous vide egg bites) and love them, too! If you are wondering where to start with sous vide cooking, we recommend starting with meat!
Sous Vide Chicken
Sous vide chicken is some of the most delicious and juicy chicken you will ever have. You will never have a chalky chicken breast again! Decide on what cut of chicken you are going to prepare, how you're going to flavor it and get your sous vide chicken game on.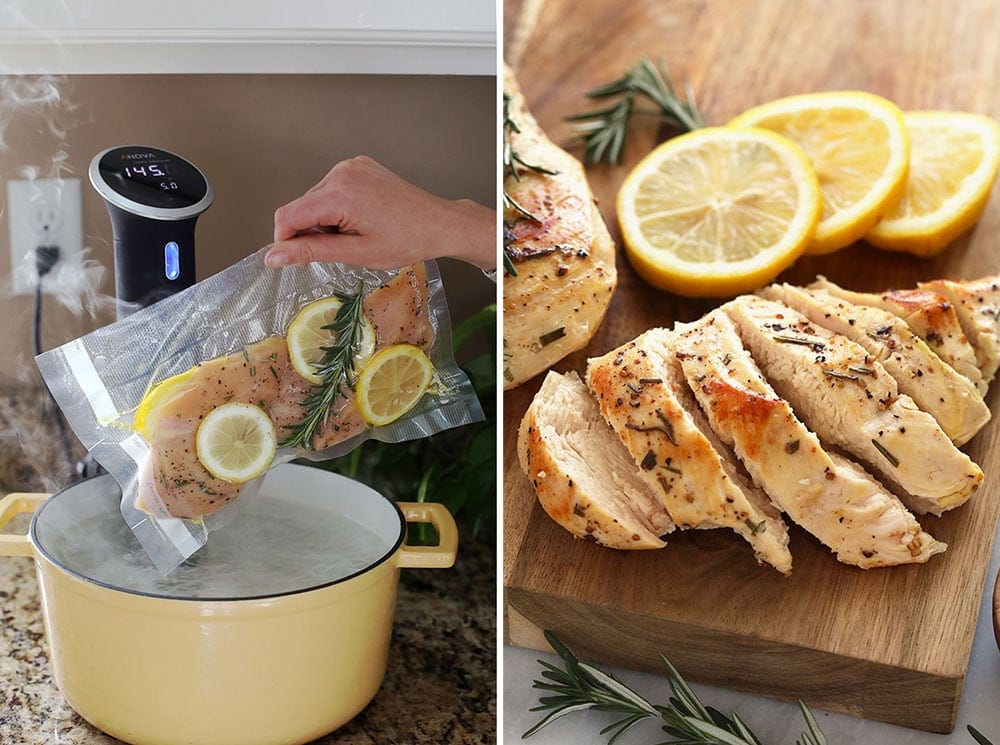 Cuts of Chicken to Sous Vide
Here's a great flavor option–> We recommend using a dry rub or fresh herbs rather than a marinade when planning to sous vide chicken. Marinades tend to be a bit on the messy side and dry rubs really do provide the best flavor.
Try using our homemade dry rub for chicken next time you sous vide chicken.
Temperature Guide for Chicken
Very Tender + Juicy: 140ºF
Juicy + Tender + Easiest to Shred:

150ºF

Firm + Juicy + Easy to Shred:

160ºF
Sous Vide Beef
Beef is one of our favorite meats to prepare in the sous vide. Preparing beef can be especially hard when you are trying to cook steak a perfect medium-rare using any other method. However, with a sous vide steak, you get a whole steak cooked absolutely perfectly, not just the middle!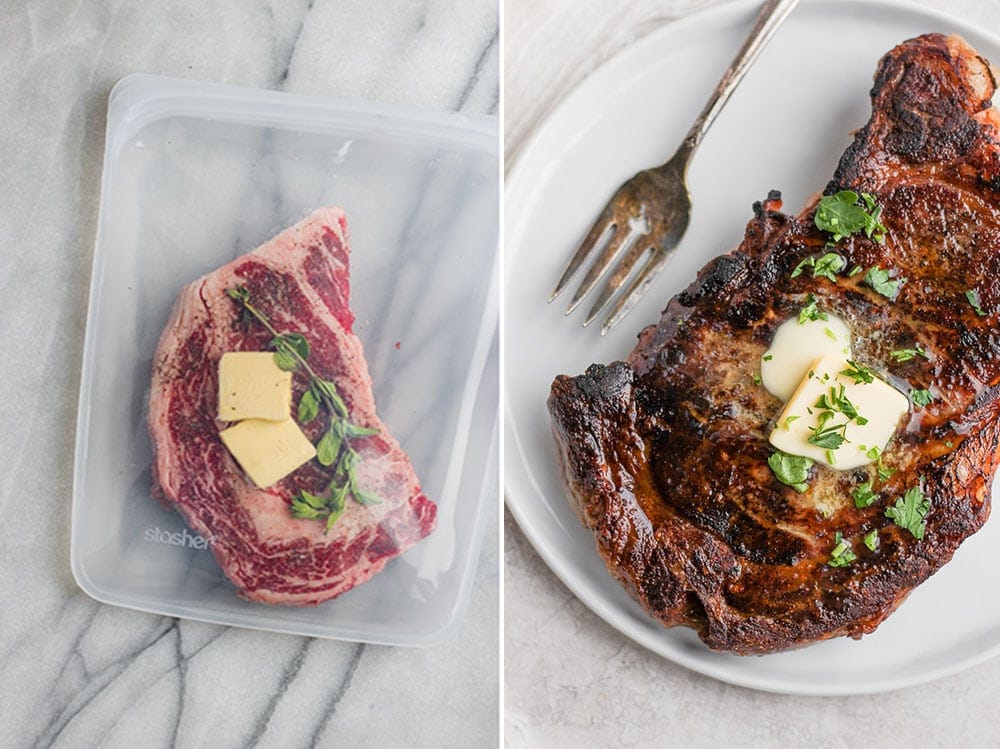 Cuts of Beef to Sous Vide
Ribeye (our favorite)
Filet mignon
T-bone
Flank steak
Chuck roast
Here is a great seasoning option–> We find that when cooking a steak sous vide, salt, pepper, butter, and dry herbs are all you really need. It brings out the flavor of the beef without masking the flavor of the steak.
Temperature Guide for Beef
Rare: 130ºF (Mostly pink + juicy)
Medium Rare: 140ºF (Pink + tender)
Medium: 155ºF (Tender, but almost cooked throughout)
Well Done: 165ºF (No pink + very firm)
Sous Vide Pork
Pork is another type of meat that you can easily overcook to a chalky consistency. We love cooking pork sous vide because it cooks the pork to a juicy and flavorful texture every time!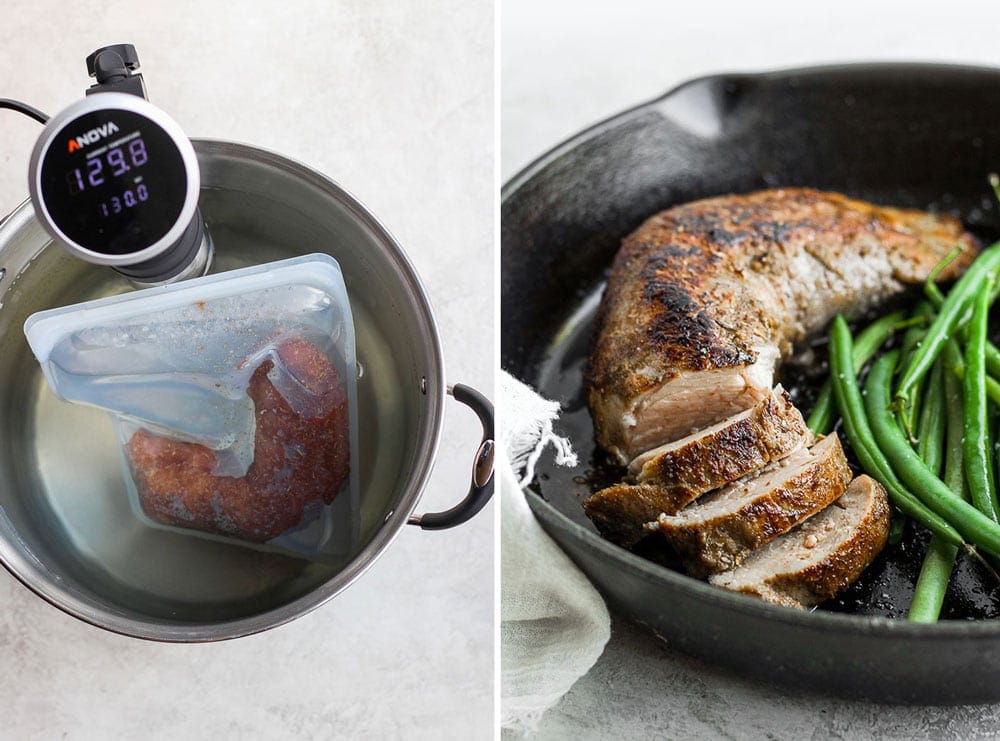 Cuts of Pork to Sous Vide
Ribs
Tenderloin
Pork chops
Pork roast
Here's a tip—> Cuts of pork differ significantly in size! Be sure that your pot is big enough for whatever cut of pork you are cooking! Ribs and pork roasts can take up a lot of space, where a tenderloin is a bit smaller.
Temperature Guide for Pork
Medium Rare: 130ºF (pink, tender + very juicy)
Medium: 140º (Firm + juicy)
Well Done: 150ºF (white + firm)
Sous Vide Salmon
Sous vide salmon turns out flakey and moist every time! Salmon can be hard to cook to perfection using other methods, but with the sous vide you can control the cook temperature AND the flavor!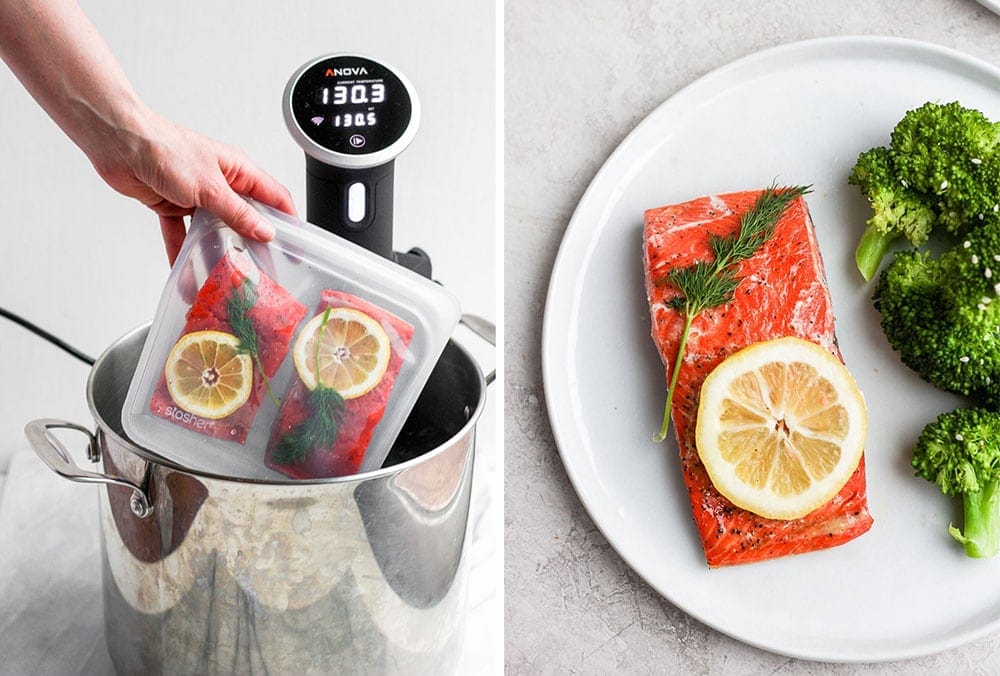 Temperature Guide for Salmon
Pink + Juicy: 110ºF
Tender + Flakey: 120ºF
Flakey + Dry: 130ºF
Here's a tip–> Play around with citrus and herbs when preparing sous vide salmon. A little salt, fresh dill, and lemon is our favorite combination. Try your favorite herb combination, and enjoy!
To Sear or Not to Sear?
To sear or not to sear? One thing you lose out on when cooking meat sous vide is the flavor that is drawn out when you roast or sear the meat. You can have the best of both worlds, you just have to sear the meat before or after you sous vide.
What is the point of sous vide if I have to sear the meat anyway? The sous vide cooks meat to perfection and searing the meat adds extra flavor and a crispy outer crust. Sous vide is the easiest way to get perfectly cooked meat- no question, and starting or finishing the cooking process with a quick sear is all you need.
Whether you are searing the meat before you sous vide to draw out the flavor in the meat or if you are searing a piece of steak after you sous vide, it is not a waste of time. You also do not HAVE to sear the meat, it just offers the best flavor and crispy seared edges you may be looking for with traditional cuts of meat.
If you are trying to save time, feel free to skip the sear. Your sous vide meat will still taste delicious!
Your Sous Vide Questions — Answered
Are Ziploc bags safe for sous vide? There are so many questions about whether or not it is safe to cook in plastic with your sous vide, but there is still little extensive research on the topic. Because of this, we recommend using BPA-free plastic containers when sous vide cooking.
Is sous vide cooking worth it? Yes! We think sous vide cooking is worth it! However, you have to try it for yourself and decide!
Can you overcook in sous vide? It is very unlikely that you will overcook something in the sous vide if you have the temperature and cook time correct. However, things can get soggy if you leave them cooking in the sous vide too long. We suggest following the recipe that you are using. That should help avoid any confusion in cook time.
How safe is sous vide cooking? Sous vide cooking is safe if you follow all safety precautions in the manual that comes with your sous vide. We recommend reading the manual of your sous vide before using it.
How long does sous vide take to heat up? It all depends on what temperature you have your sous vide set at, and the amount of water that needs to heat up. The higher the temperature and the larger the quantity of water, the longer it will take the sous vide to heat up. In general, your sous vide should take between 15-30 minutes to heat up.
Can you cook sous vide without a machine? Yes, you can cook sous vide without a machine, but we do not recommend it. You would have to carefully monitor the water temperature for long periods of time and there is much more room for error.
What can I cook in a sous vide? You can cook so many things in the sous vide! From meat to eggs, to vegetables, the options are endless. Check out Fit Foodie's sous vide recipe collection here!
Can you put frozen foods in the sous vide? Yes, you can put frozen foods in the sous vide. However, for optimal results, we recommend using fresh ingredients or thawing before cooking in the sous vide.
Best Healthy Sous Vide Recipes