This cast iron steak is perfectly seasoned with our amazing homemade steak seasoning and seared to perfection in a cast iron skillet. Enjoy!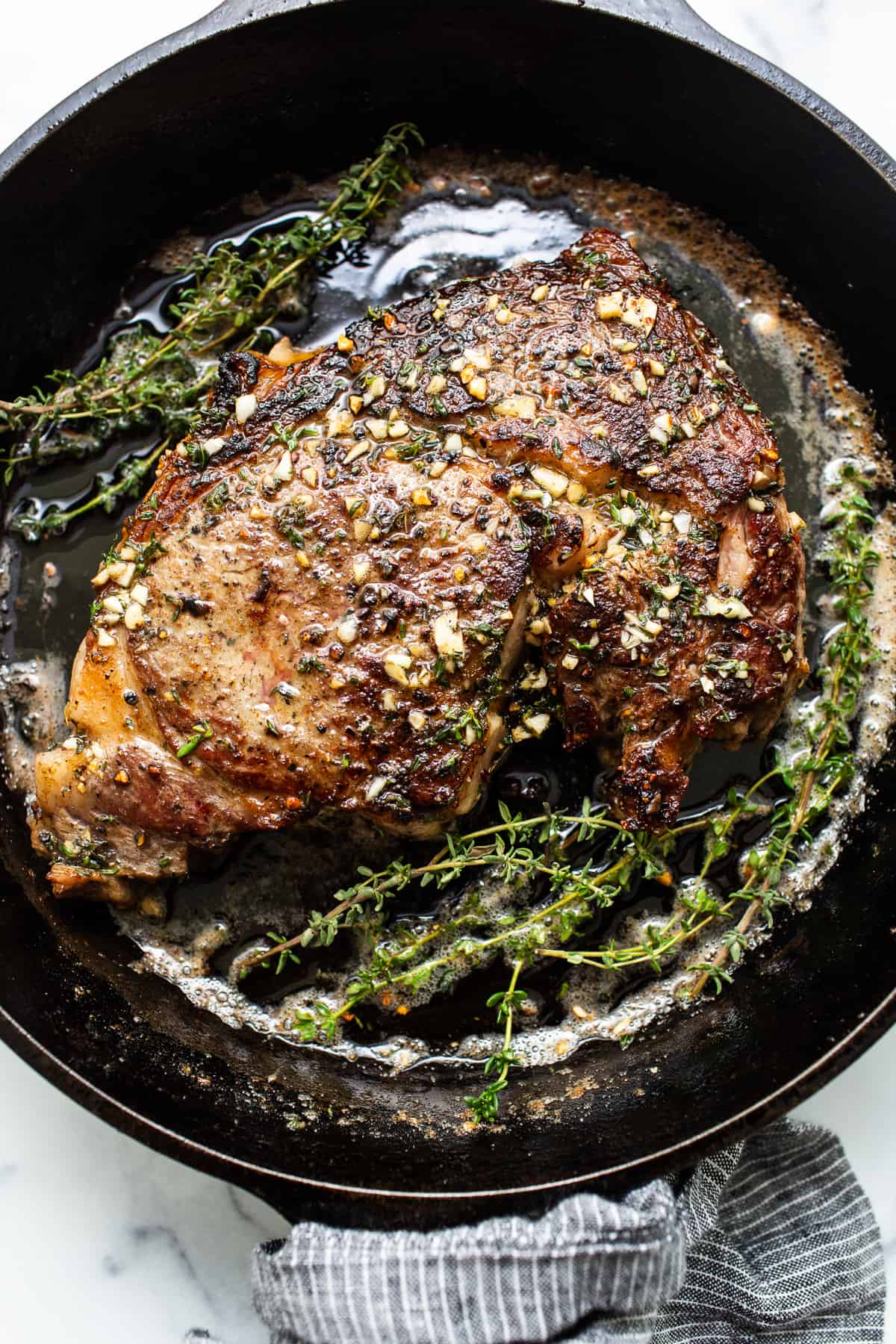 Delicious Cast Iron Steak
There are so many different ways to cook a steak, you can grill a steak or sous vide a steak, but our favorite way to prepare the steak in a cast iron. All you need are a few steaks, our delicious steak seasoning, butter, and a cast iron skillet.
why its the best way to cook a steak
Cast iron steak always leaves you with a thick brown crust and a juicy inside.
The only tool you need is a cast iron.
You have a lot of control over how your steak is cooked.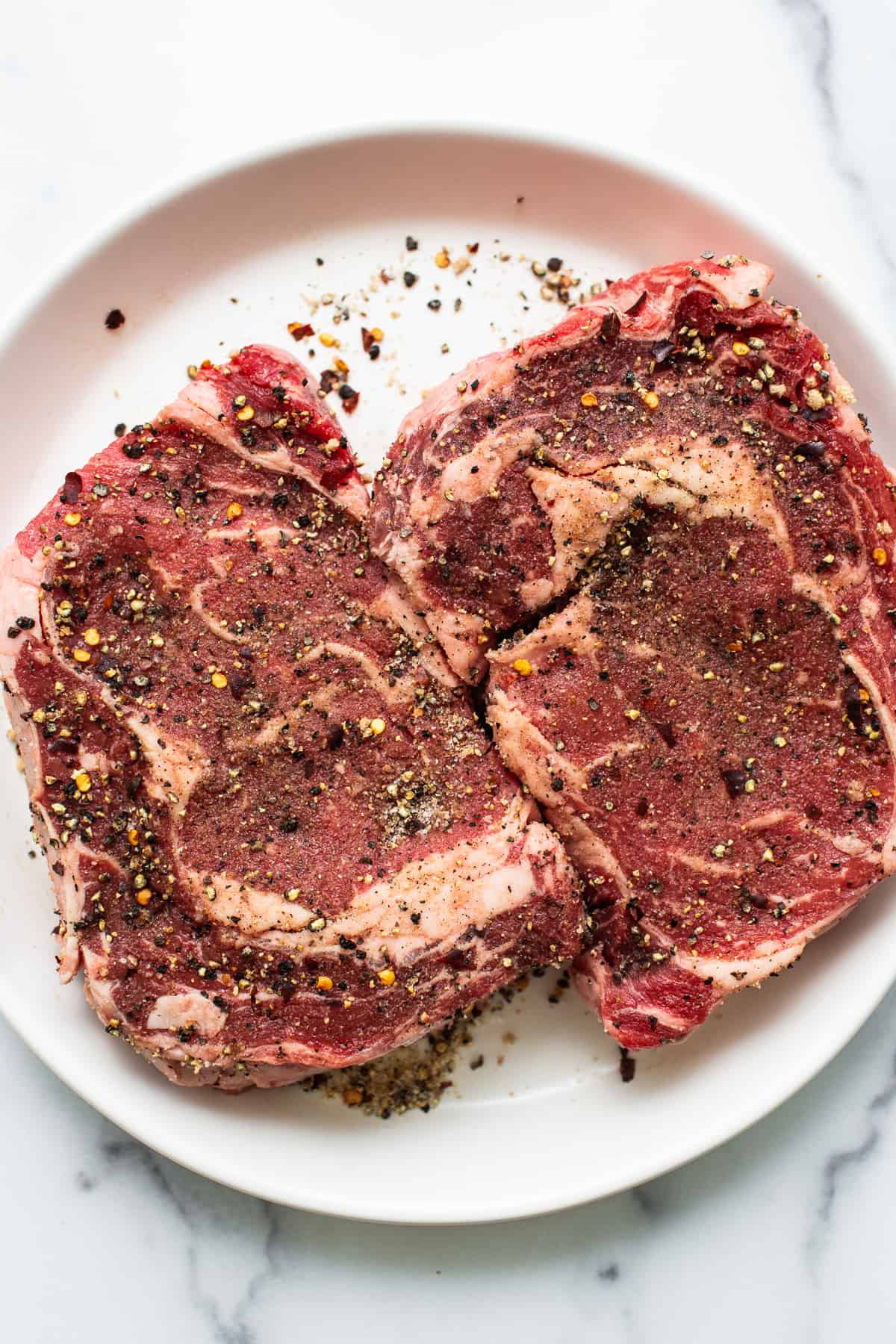 Featured Ingredients
Steak: the beauty of cast iron steak is that it is you can make steak on your time and use whatever cut of steak that you would like. Our preferred cut is a ribeye steak. Ribeye tends to have great marbling and flavor.
Homemade steak seasoning: some people prefer just salt and pepper on their steak, but we are big fans of taking the flavor up a notch with our homemade steak seasoning. Not only does it add great flavor, but it helps to create a delicious crust on the steak.
Butter: butter, butter, butter. Though you initially sear the steak in oil, eventually you spoon melted butter over the steak as it sears. Trust us, you won't regret it.
Tools for Cast Iron Steak
Best Cuts of Beef for Cast Iron Steak
Looking for the best steak cuts for cast iron steak? Here are a few of our tried and true favorites.
Ribeye steak
New York Strip
Sirloin steak
Flank (check out our Grilled Flank Steak recipe)
Skirt steak
T-bone steaks
Tri-tip steak
Filets mignons
Porterhouse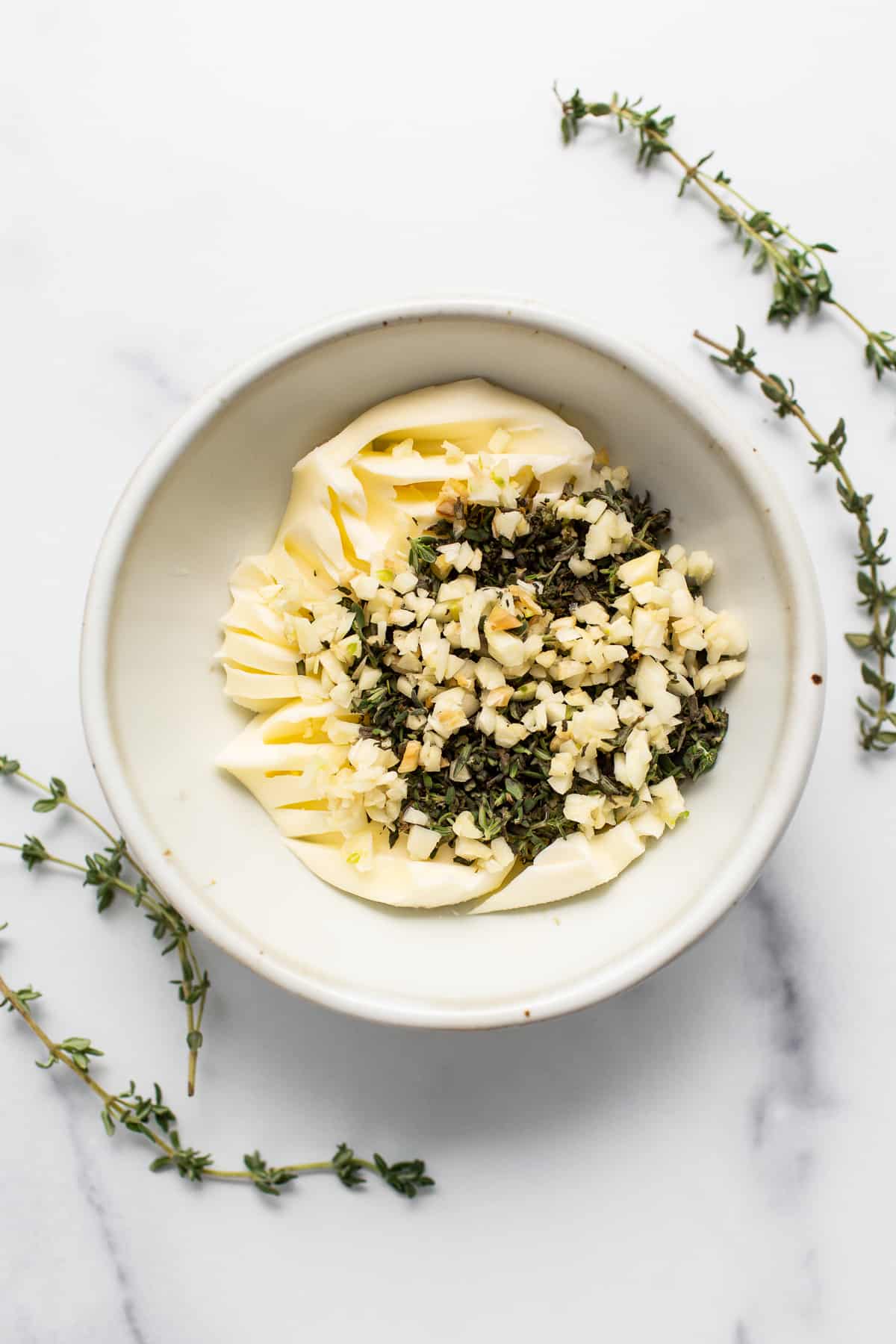 How to Make Cast Iron Steak
Dry rub the steak. Season the steak with the homemade steak seasoning. We use a tablespoon, but if you would like more, feel free to add it. Massage the steak with your hands.
Let it rest. Let the steak rest for 20-30 minutes to come to room temperature and to allow the meat to salt.
Make the garlic butter. Mix the garlic butter together with the herbs and salt until mixed and smooth.
Get the cast iron very hot. When the steak is ready, heat olive oil a large cast iron skillet over high heat until the cast iron is very hot. You will hear the olive oil sizzle when the cast iron is ready.
Sear the steak. Add the steak to the pan and sear the steak for about 3 minutes. How long you sear the steak will depend on how thick the steak is. If you have a thinner steak you may need to sear the steak for 2 minutes. Flip the steak and immediately add the garlic butter to the cast iron. When the butter melts begin to carefully spoon the butter over the steak for 3 minutes or until the internal temperature reaches your desired temperature (we prefer 135ºF, medium-rare).
Let it rest. Immidately remve the steak from the pan and let the steak rest on a cutting board to allow the juicest to settle.
Steak Internal Temp
Everyone is different when it comes to how they like their steak. We are big fans of a medium-rare steak, but check the internal temperature of your steak when it's almost done.
Rare: 130ºF
Medium Rare: 140ºF
Medium: 155ºF
Well Done: 165ºF
Remember, as your steak rests after it's done cooking, the internal temperature will continue to raise around 5ºF.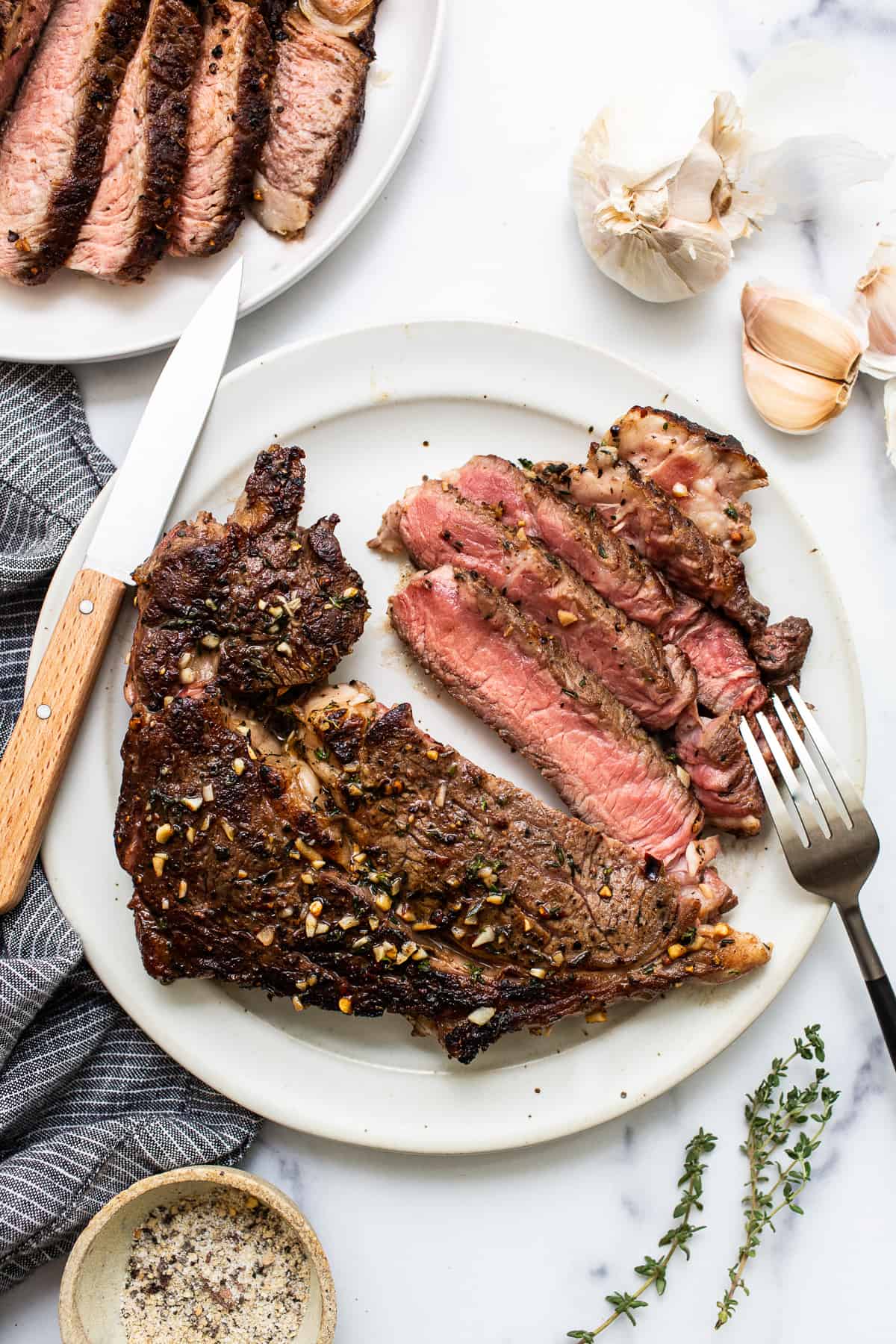 Tips for Cast Iron Steak
Don't sear a cold steak: be sure to remove the steak from the refrigerator at least 20-30 minutes before searing the steak to bring it to room temperature.
Don't overcook: when in doubt, keep an eye on the internal temperature of your steak. We like to keep a meat thermometer on hand at all times while searing a steak to make sure we can sear it to the perfect temp
Let Rest: always let your steak rest once you're done grilling so that it can continue cooking 5ºF more. Letting your meat rest also helps make your steak super juicy.
Cast Iron Steak FAQ
How long do you cook a steak in cast iron?
You cook cast iron steak for about 6-8 minutes, flipping half way, depending how thick your steak is. Less time for thinner steaks. About 6 minutes for a 1-1.5-inch steak.
How long to cook steak in cast iron for medium rare?
You cook a steak for about 3 minutes per side for a 1-1.5-inch steak.
Do you use butter or oil when cooking steak in a cast iron skillet?
Both butter and oil can be used to cook steak in a cast iron skillet.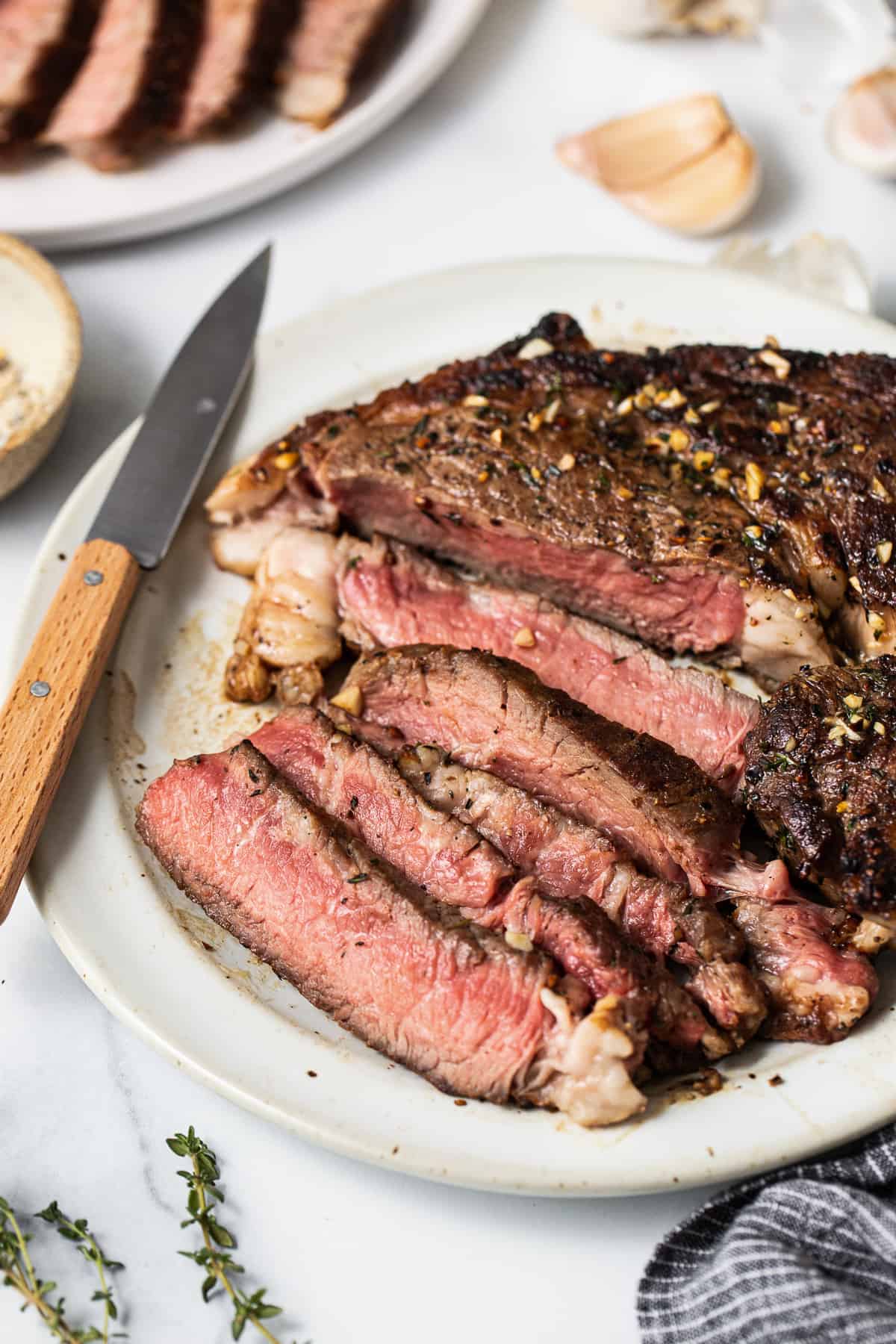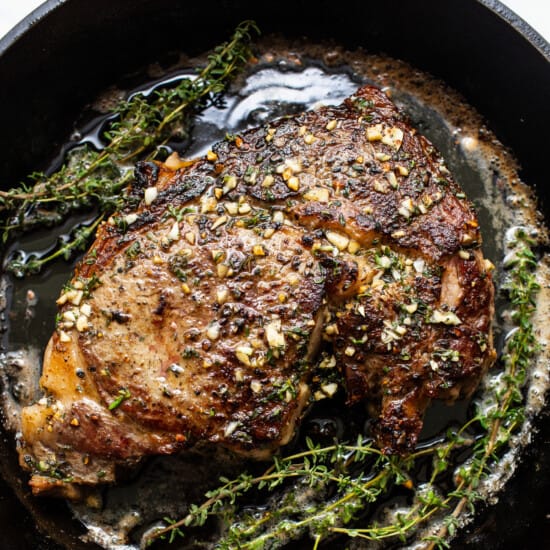 Cast Iron Steak
This cast iron steak is seasoned with a steak dry rub, seared, and sliced thin for a delicious cast iron steak recipe.
Ingredients
Other Ingredients
1

tablespoon

steak seasoning

2

ribeye steaks

~1.5 lbs.

4

tablespoons

unsalted butter

room temperature

1

tablespoon

chopped fresh thyme

2

garlic cloves

minced

2

tablespoons

olive oil
Instructions
Add all of the ingredients for the steak seasoning into a jar or small bowl and mix.

Season both sides of the steaks with 1 tablespoon of steak seasoning. Massage the seasoning into the steaks and be sure they are completely coated. Let the steaks sit at room temperature for 30 minutes – 1 hour.

While the steak is resting, add the butter, thyme, and garlic to a bowl and mix with a fork or spoon until combined. Set aside.

Heat a large cast iron skillet over high heat and allow the skillet to become extremely hot, for about 5 minutes. Add the olive oil to the skillet.

Once hot, sear the steak for 3 minutes. Flip the steak and then immediately place half of the butter mixture in the skillet. The butter should melt immediately. Carefully begin spooning the melted butter over the steak as it sears for 2-3 more minutes, depending on the desired doneness of the steak.

Remove the steak and let it rest for 15 minutes before serving.

Wipe the cast iron skillet out and repeat steps 1-5 for the second steak.
Tips & Notes
We highly recommend using freshly cracked black pepper for this recipe. You can crack it in a pepper grinder or a mortar and pestle.
A cast iron skillet is a must for this recipe.
You can replace the ribeye with a New York Strip.
Feel free to skip the butter mixture for a simple steak sear.

Internal Steak Temperatures 

135ºF – rare

140ºF – medium rare

150ºF – medium

165ºF – well-done
Nutrition facts
Calories:
415
kcal
Carbohydrates:
4
g
Protein:
23
g
Fat:
35
g
Fiber:
1
g
Sugar:
1
g
Photography: photos taken in this post are by Ashley McGlaughlin from The Edible Perspective.