Use this homemade chili seasoning to make a big batch of chili. This chili seasoning is easy to make and has the perfect balance of savory and smokey.
There are countless ways you can use this chili seasoning! Not only can you use it in any of these chili recipes, but you can use it in recipes like this tasty chili cheese dip, too!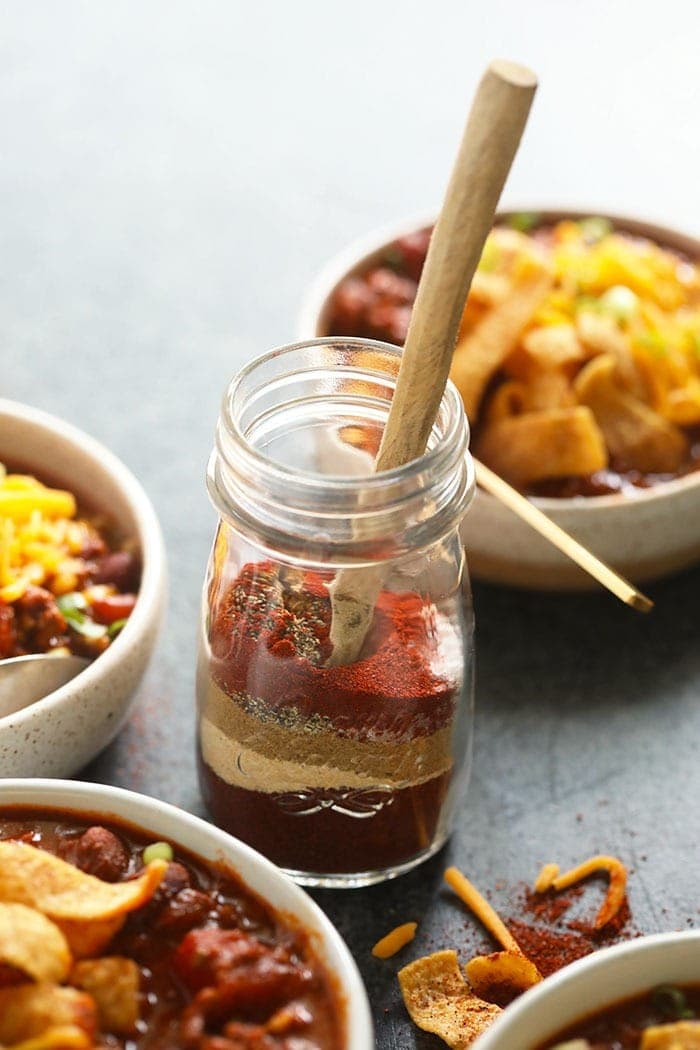 Homemade Chili Seasoning
Have you ever been in the middle of making a big batch of chili and realized that you are out of chili powder or cumin? Those are two of the main ingredients in chili seasoning and you're so close to eating a big bowl of chili?! We feel you.
Don't let that happen again, prepare a big batch of homemade chili seasoning and keep it in your pantry all chili season long!
Chili Seasoning Ingredients
The key to a delicious chili seasoning is having the perfect balance of all of the classic chili spices. You probably have all ingredients for this chili seasoning in your pantry right now:
Chili powder
Garlic powder
Ground cumin
Smoked paprika
Salt
Ground pepper
These are simple ingredients that when mixed together make the perfect blend of smoky, spicy, and earthy flavors. Perfect for chili. Keep in mind that you can take out or add any spices to change the flavor of your chili seasoning.
If you want your chili spicy, add cayenne pepper or red pepper flakes. If you want to add a little bit of sweetness to your chili seasoning, add a teaspoon of brown sugar or coconut sugar to the mix.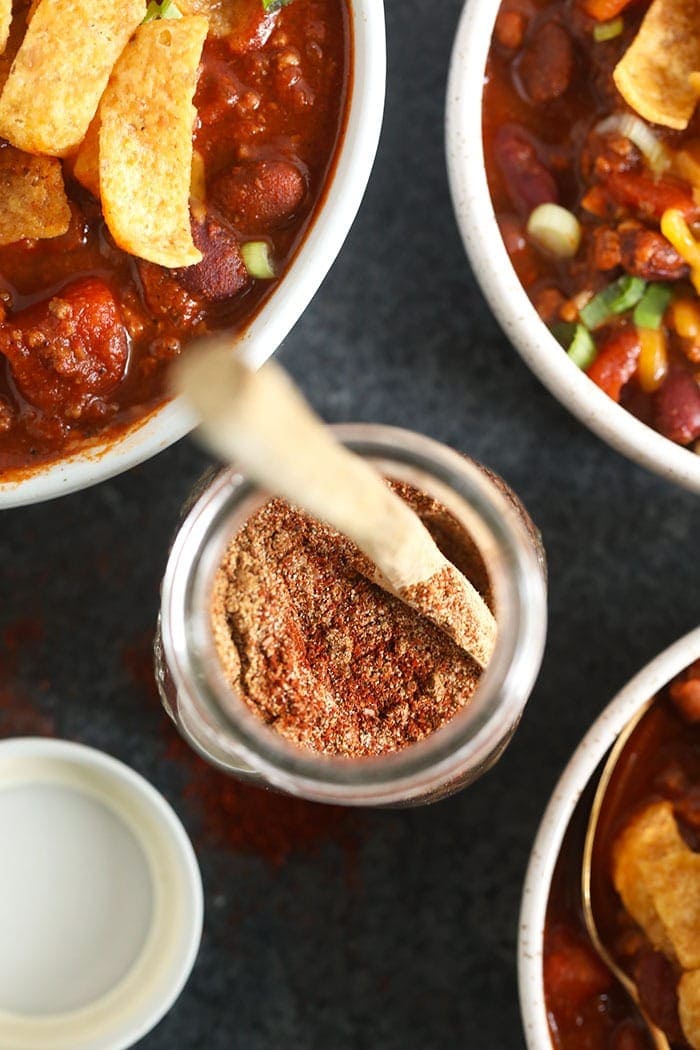 Everything You Need to Know
We like to make sure you feel confident to use this chili seasoning in your favorite chili recipes without question. Here is everything you need to know before you mix up a fresh jar of homemade chili seasoning.
What do I store my chili seasoning in?
There are so many great options for spice storage these days. As long as you have an airtight container, you're golden. If you don't want to buy new spice containers, save old spice containers, wash them, and keep them for when you make homemade spice mixes!
Here are some of our favorite spice containers right now: 
Can I add flavor to my chili?
Yes! You can add any flavor you would like to your chili. We recommend adding 3-4 tablespoons of chili seasoning to your chili and from there feel free to make it your own!
What recipes can I use chili seasoning in?
Chili seasoning is most commonly used in chili recipes, but it doesn't have to stop there! This homemade chili seasoning would be delicious in so many different recipes!
Spice Rub: Use this chili seasoning as a dry rub for chicken, beef, pork, or shrimp! Use a tablespoon of spices per pound of meat for amazing flavor!
Roasted Veggies: This chili seasoning is a great mix for veggies, too! Add a tablespoon or two to a pan of veggies that are tossed with olive oil. Bake the veggies at 400ºF for 25-30 minutes and you have a perfect vegetable side.
Appetizers: Mix this chili seasoning into dips, meatballs, or as a spice mix for homemade tortilla chips. Chili flavor goes great with just about everything!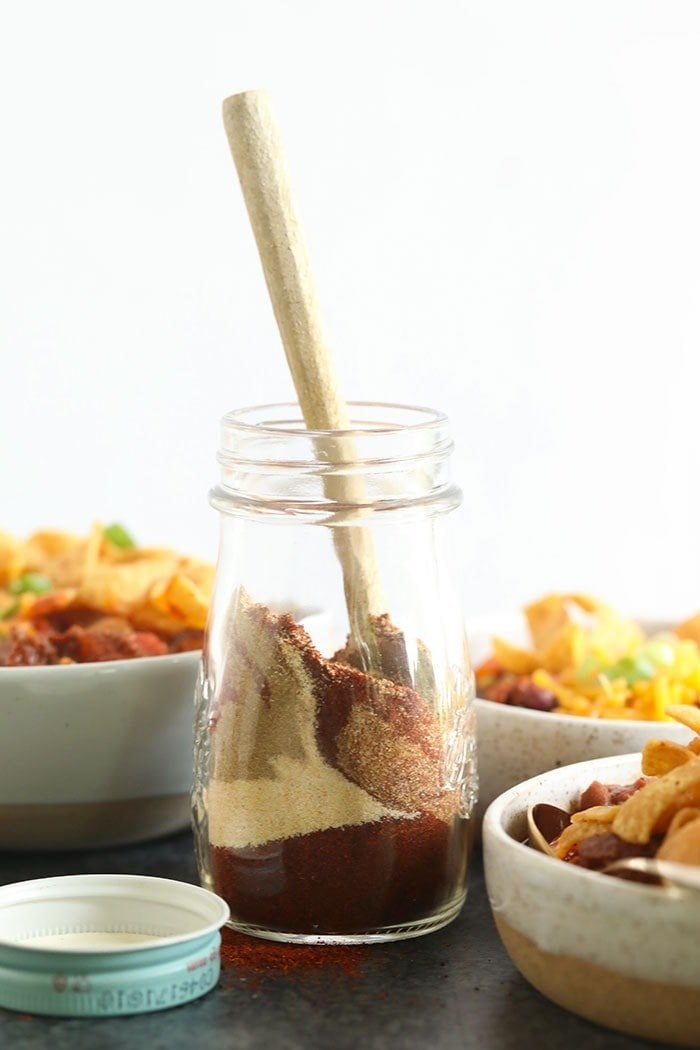 Chili Seasoning Uses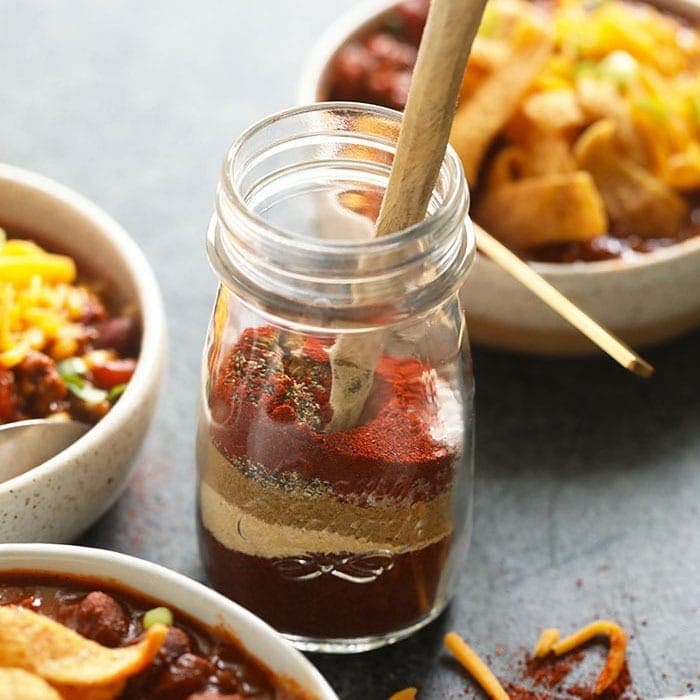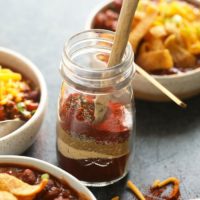 Quick Chili Seasoning Recipe
Make a big batch of chili and use your own homemade chili seasoning! This chili seasoning is easy to make and has the perfect balance of all of the classic chili spices.
Prep:
5 minutes
Cook:
0 minutes
Total:
5 minutes
Ingredients
12 tablespoons

chili powder

8 teaspoons

garlic powder

8 teaspoons

ground cumin

2 teaspoon

smoked paprika

2 teaspoons

salt

1 teaspoon

ground pepper
Instructions
Place all ingredients for the chili seasoning into a large glass container or mason jar.
Cover the jar and shake until all spices are combined.
Store chili seasoning in a cool, dry place with the jar covered tightly.
Tips & Notes
In a typical chili recipe, use around 4 tablespoons of homemade chili seasoning.
Single batch: To make a single batch of this homemade chili seasoning follow the following measurements: 3 tablespoons chili powder, 2 teaspoons garlic powder, 2 teaspoons ground cumin, 1/2 teaspoon smoked paprika, 1/2 teaspoons salt, 1/4 teaspoon ground pepper.
Nutrition Facts
Serving Size:
1/4
Calories:
101
Sugar:
2
Fat:
4
Carbohydrates:
18
Fiber:
9
Protein:
5
Category:
Spices
Method:
No Bake
Cuisine:
American
Keywords: chili seasoning