Looking for a healthy homemade salad dressing to make? Try our poppy seed dressing recipe. It's made with olive oil, lemon juice, a little Greek yogurt, poppy seeds, and honey.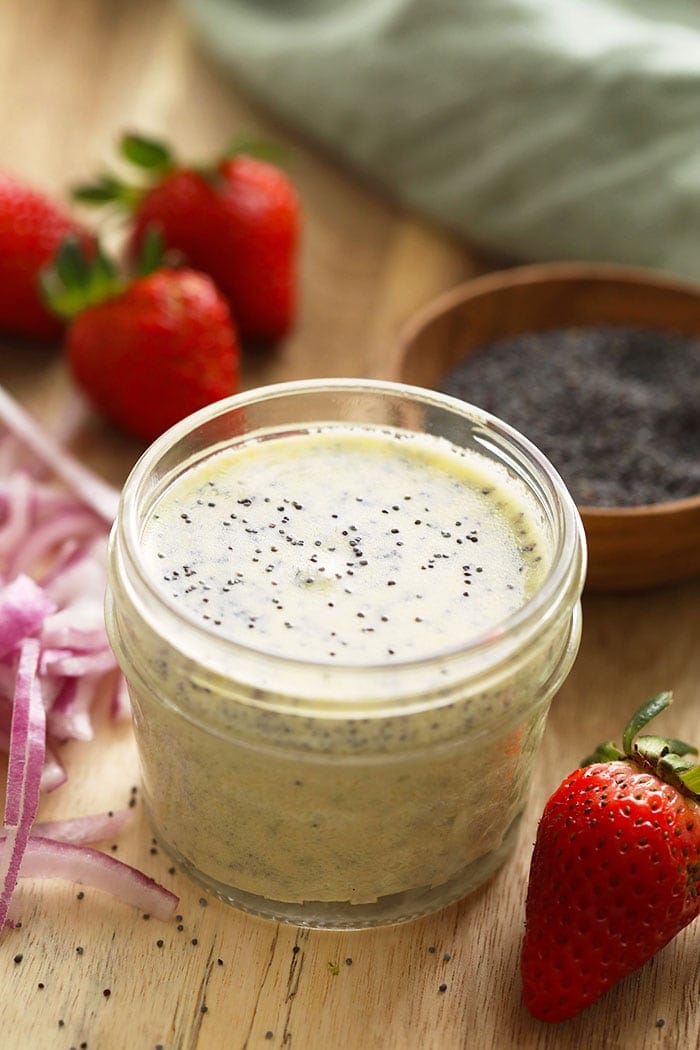 The Best Homemade Poppy Seed Dressing
Growing up my mom had a salad a day and there was a 100% chance she topped it with a deliciously sweet store-bought poppyseed dressing.
To this day, poppy seed dressing is my favorite salad dressing of all time. I just love how simply delicious it is AND how super simple to make in your own kitchen.
Today we're showing you how to make this healthy salad dressing recipe in under 10 minutes. Cuz why wouldn't you want to top your kale salad or strawberry spinach salad with this goodness?
Homemade Poppy Seed Dressing
This healthy poppy seed dressing is a combination of a vinaigrette and a creamy dressing. What I mean by this is that we used a good amount of olive oil as the base and then added a few tablespoons of Greek yogurt to thicken things up.
Don't worry, there are plenty of other amazing flavors in this dressing to really give that salad of yours some oomph. Here's what you're going to need:
olive oil
Greek yogurt
lemon juice
apple cider vinegar
honey
poppyseeds
salt
The tang of ACV and lemon juice mixed with honey makes me hungry. The nice thing about this simple salad dressing is that all you have to do is place everything into a mason jar, close the lid, and shake! You'll have this lemon poppy seed salad dressing ready in no time!
Latest Dressing Recipes
Skip the store-bought dressing and make every dressing homemade!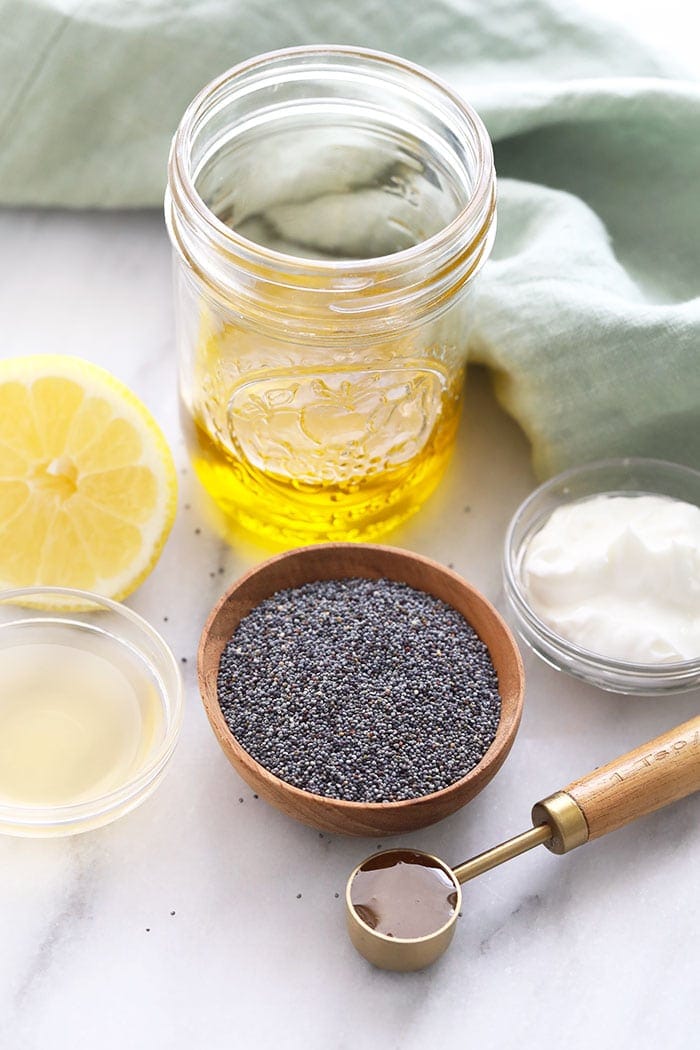 Homemade Poppyseed Dressing Quick Facts
Is poppy seed dressing good for you?
While store-bought poppyseed dressing likely has added sugar and shelf-stable additives, this homemade poppyseed dressing is for sure good for you! It's made with whole ingredients and no refined sugars.
What is poppy seed dressing made of?
Healthy poppy seed dressing is made with a combination of olive oil and Greek yogurt. It also includes lemon juice, apple cider vinegar, honey, and salt.
How long does homemade poppy seed dressing last?
Since our homemade poppy seed dressing has no additives and does use a little dairy, this dressing will last around 3-5 days in your refrigerator.
Ingredient Substitutions
There is always room to substitute some ingredients if you are running low on pantry items or if you prefer something else. Check out some easy substitutions below.
Olive oil –> grapeseed oil
Greek yogurt –> buttermilk
Apple cider vinegar –> a combination of white, red wine vinegar, etc.
Honey –> you can use agave syrup or a bit of granulated sugar
Poppy seeds –> no poppy seeds, no problem. You can use chia seeds, too.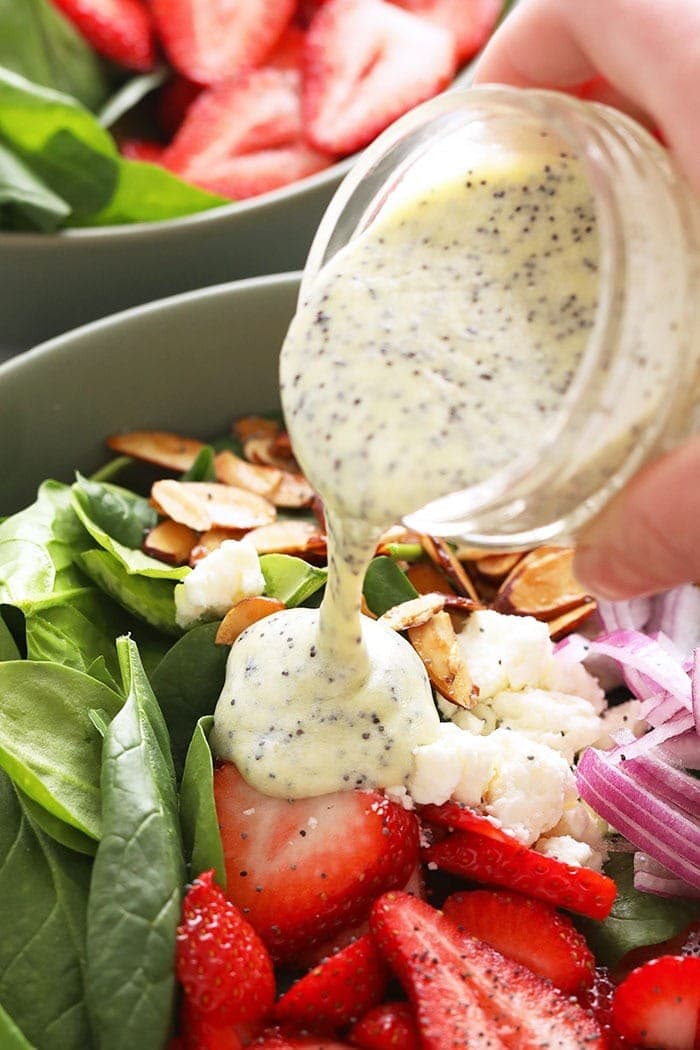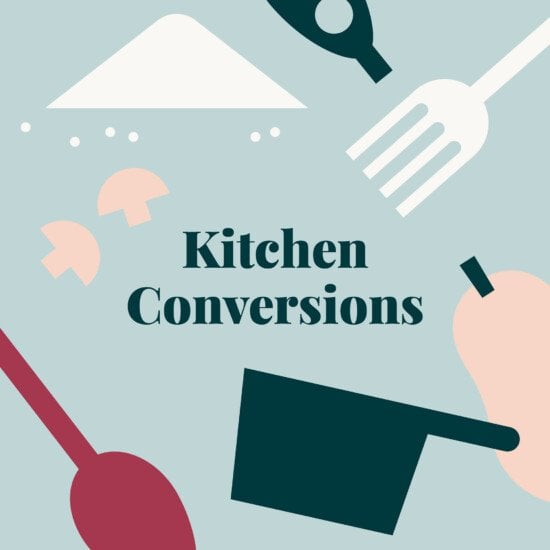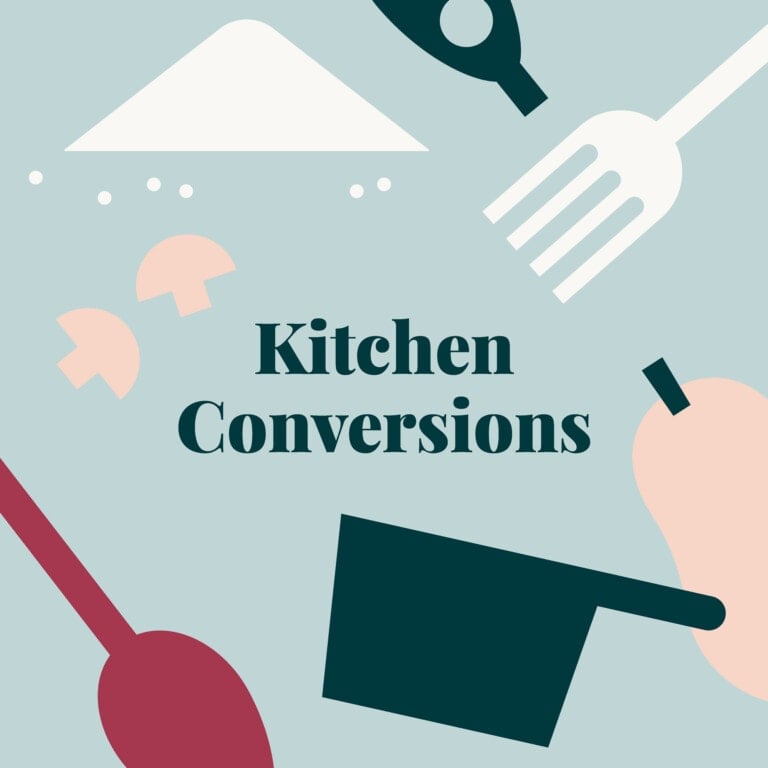 make it easy
Print Your Own
Keep common kitchen conversions like tablespoons to teaspoons and Fahrenheit to Celsius on hand at all times with our printable kitchen conversions chart.
get it now
Learn More Kitchen Conversions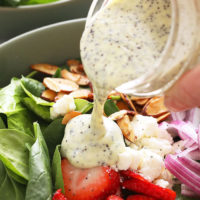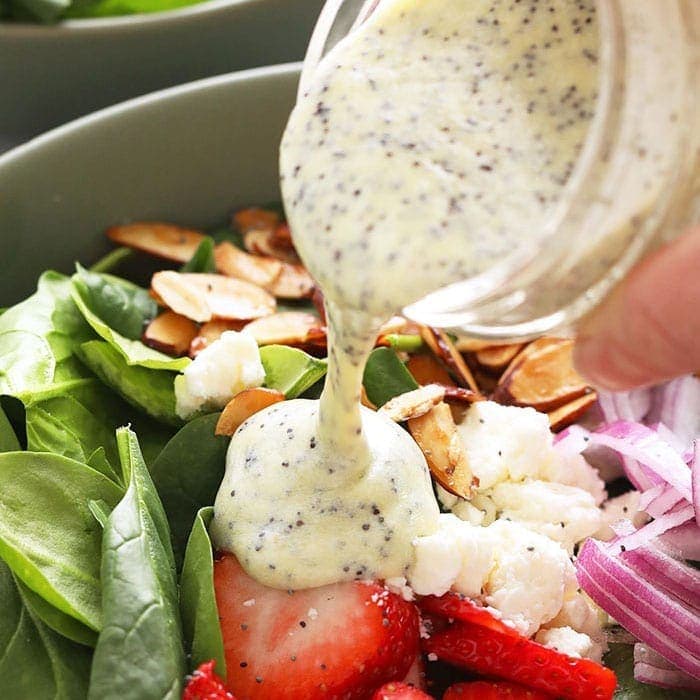 Homemade Poppyseed Dressing
Whip up a batch of this delicious homemade poppy seed dressing. It is creamy, sweet, and has a bite from fresh lemon juice.
Instructions
Place all ingredients into a mason jar. Then, screw the lid on and shake until fully combined.
Tips & Notes
Refrigeration: Will stay in your refrigerator for up to 3-5 days.
Nutrition facts
Calories:
146
kcal
Carbohydrates:
3
g
Protein:
0
g
Fat:
13
g
Fiber:
0
g
Sugar:
3
g