This asparagus salad is made with shaved asparagus, massaged kale, and other fiber packed ingredients. It's smothered with a delicious hummus dressing that is seriously delicious!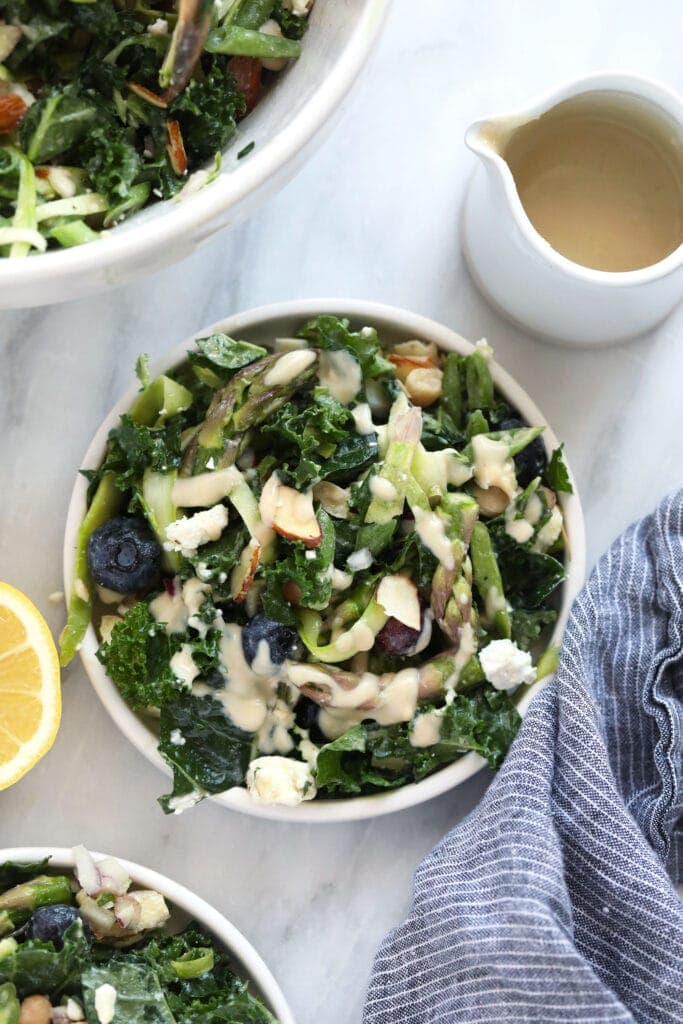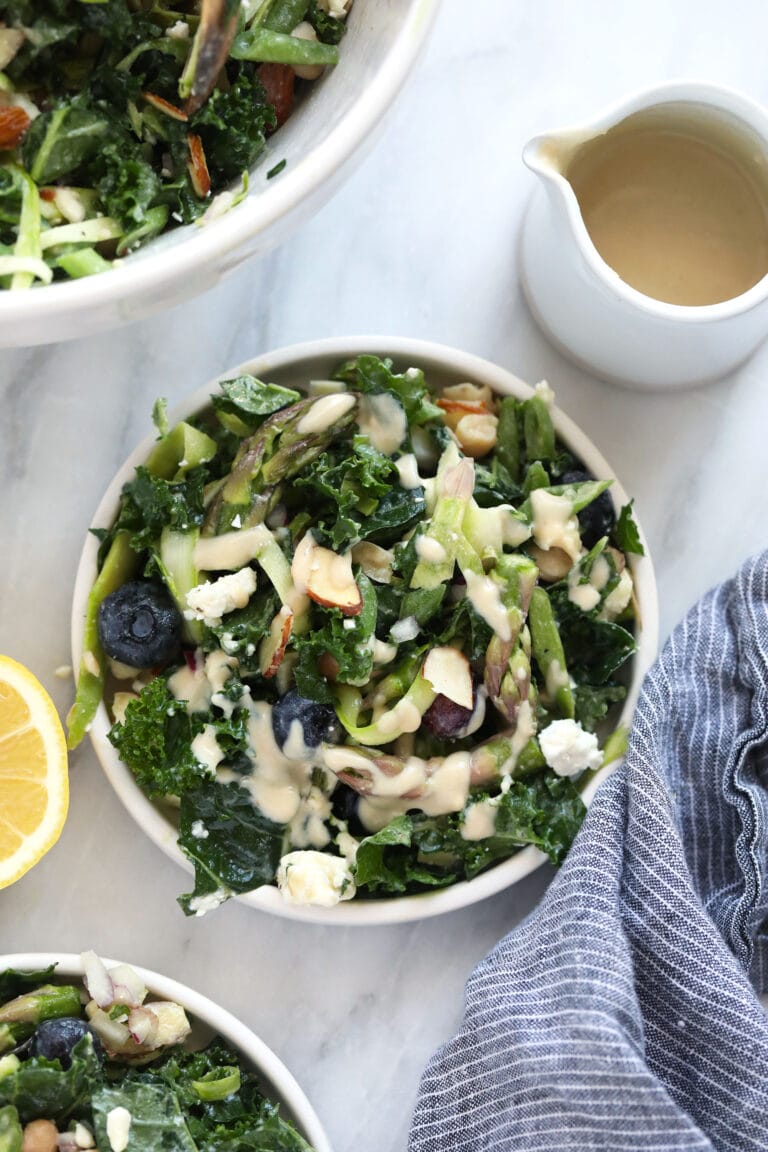 The BEST Asparagus Salad Recipe
When you think of asparagus recipes you usually think of a recipe like this grilled asparagus or this bacon wrapped asparagus. Right? They are traditional, delicious, and easy to make!
Let us introduce to you, one of our favorite ways to prepare asparagus—> in a salad!
This asparagus salad is packed with all of of our favorite salad fixings and is a great refreshing salad by itself or along side any of your favorite BBQ meals.
Ingredients You Need
There is a delicious mix of flavors and textures in this salad, but it is so easy to make! Here is everything you need!
Asparagus
Great northern beans
Lemon juice
Olive oil
Salt
Cayenne pepper
Kale
Fresh green beans
Red onion
Blueberries
Feta cheese crumbles
Almonds 
White wine vinegar
Hummus
Honey 
Pepper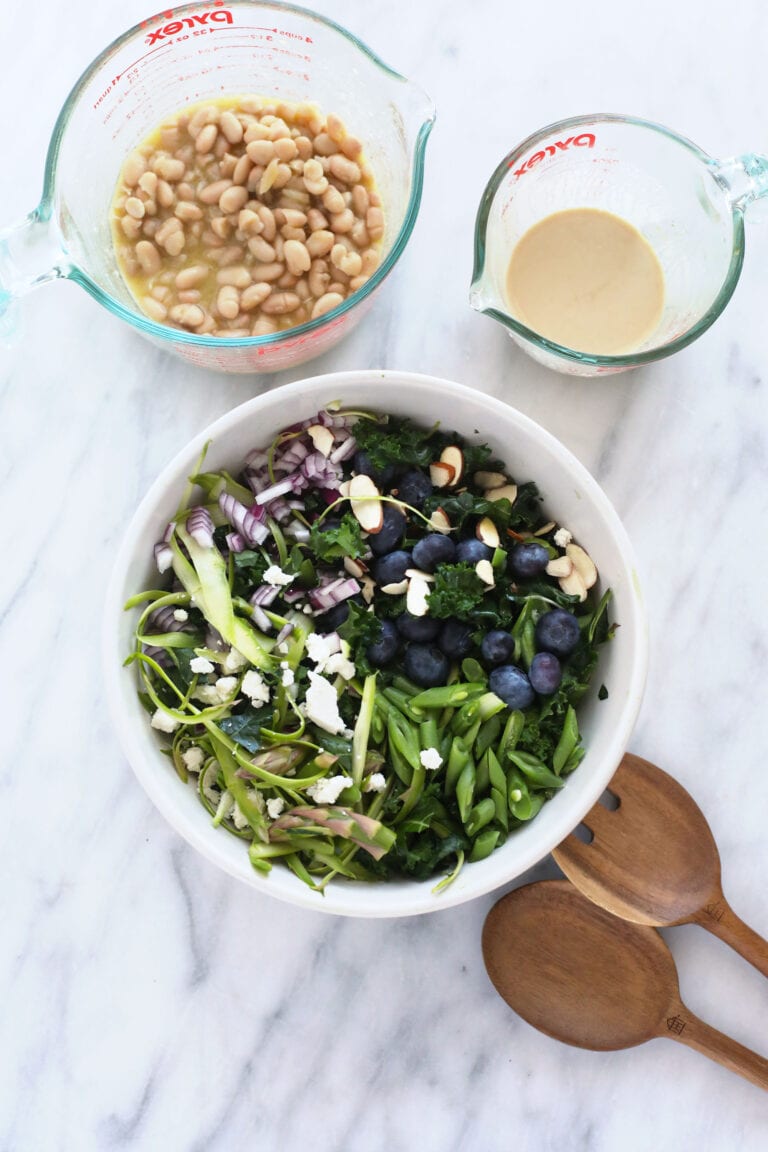 Our Favorite Way to Prepare Beans in Salad
When you are adding beans to a salad (especially canned beans), it's nice to cook them a little bit and give them some flavor!
We are always inspired by were inspired Cook's Illustrated, but specifically the way the do a quick zap of their beans in the microwave and infuse them before they toss them in a salad.
That is exactly what we did (and highly recommend any time you make a green salad with beans) is toss your beans with olive oil, citrus, salt, and a little spice and then microwave the beans for 90 seconds.
Then, remove them from the microwave, toss them, and let the infuse for 15-20 minutes. BOOM. So good.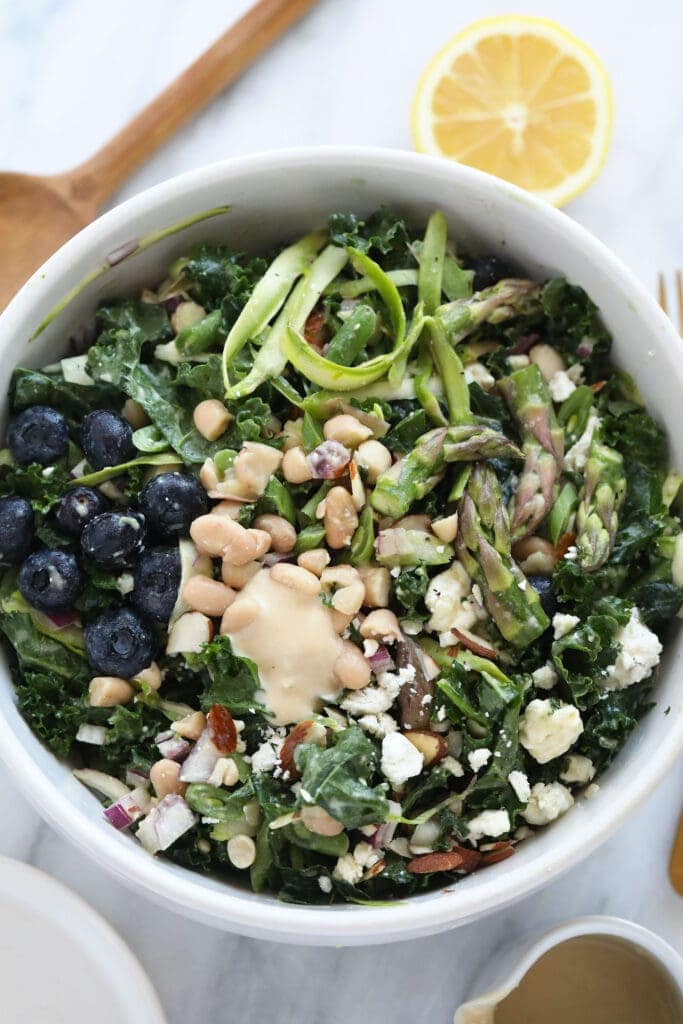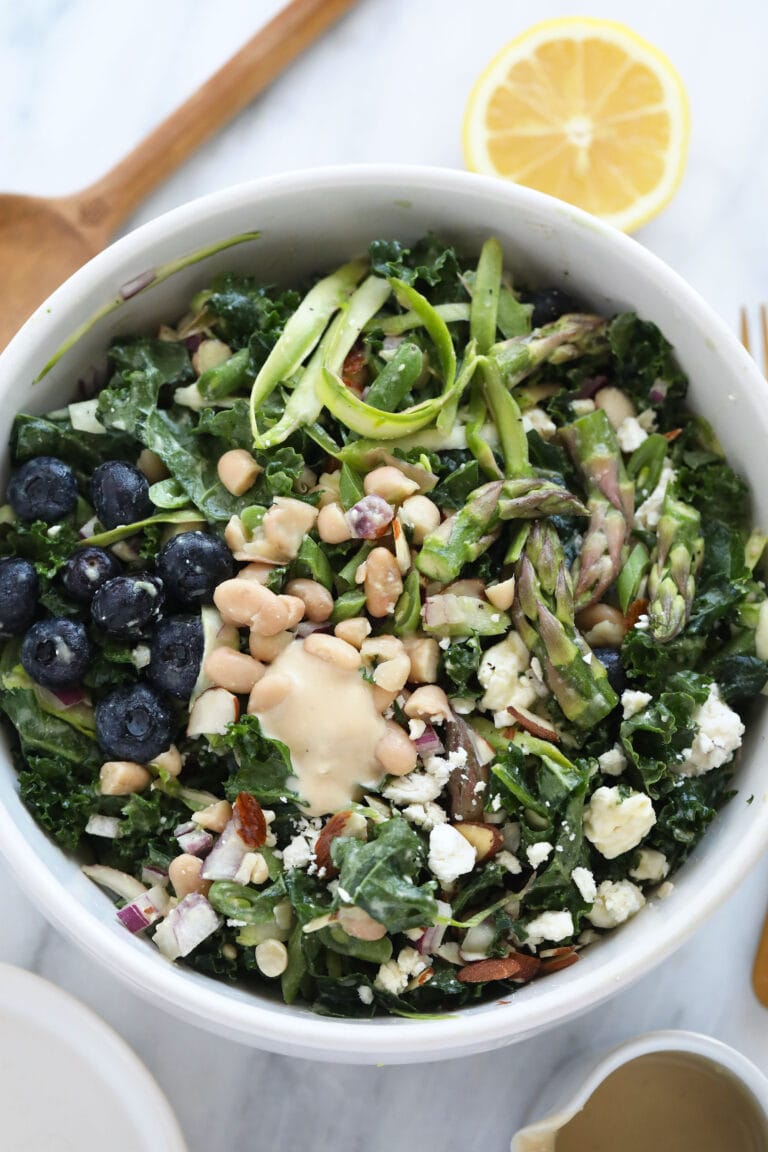 How to Make Asparagus Salad
Infuse the beans. Don't forget to get those beans done first! The longer they sit in the oil, the more flavor they will have!
Massage the kale. Massage your kale with a little oil and salt before tossing the rest of the ingredients in with the kale! Please don't skip this step. Here is a step-by-step on how to massage kale!
Make the asparagus ribbons. To make asparagus ribbons, you snap the bottom of the asparagus off and save the asparagus tips. Then take a veggie peeler and peel the asparagus spear like you would if you were peeling a carrot. Peel them right into the bowl with the massaged kale. Set aside.
Shake the dressing. Place all of the ingredients for the dressing into a mason jar and cover it. Shake until all the ingredients are mixed together.
Assemble. Add of all the ingredients to the bowl and drizzle the dressing over all of the salad and toss until all of the ingredients are covered in dressing.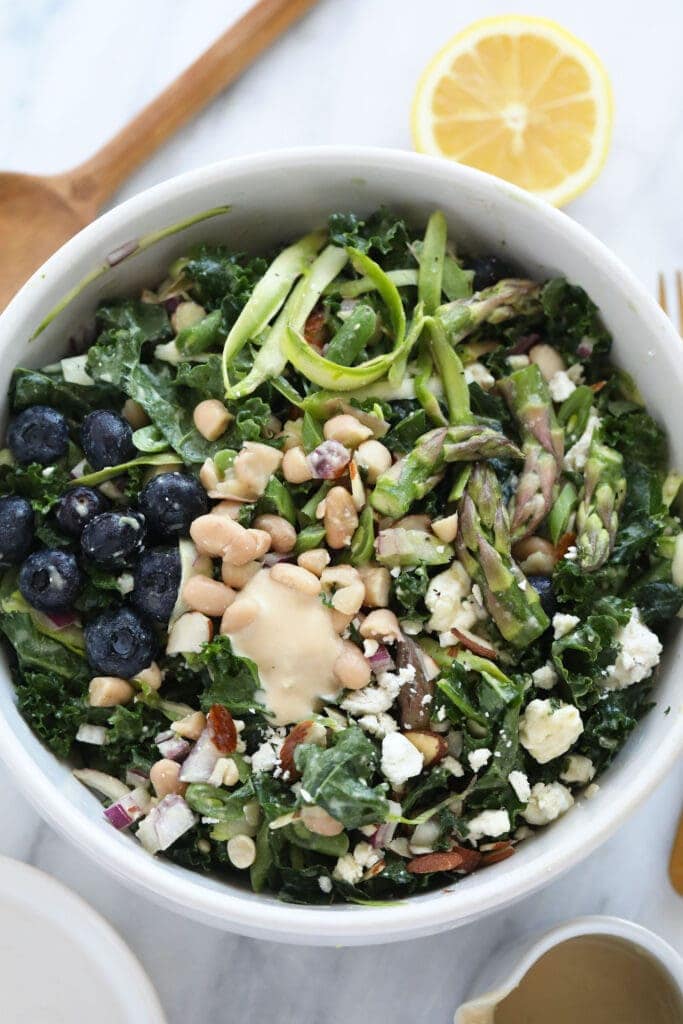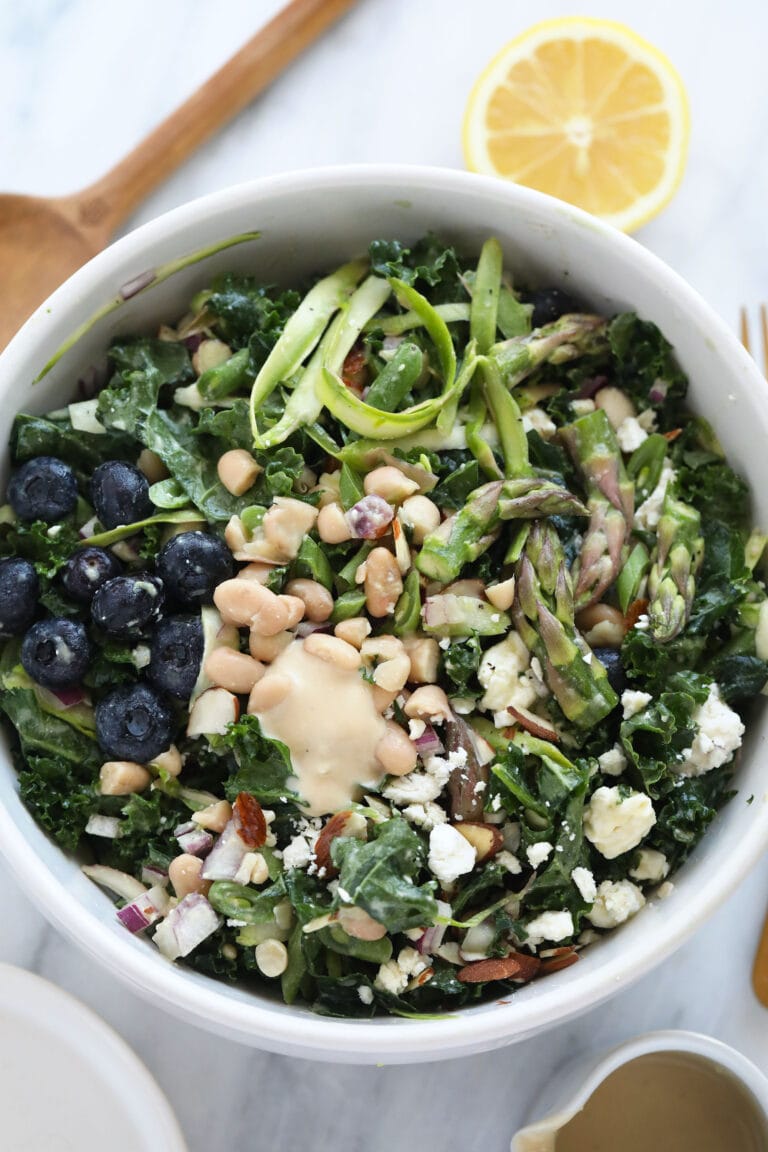 How do I store this asparagus salad?
Store this asparagus salad in an air tight container in the refrigerator for up to 5 days when you keep the dressing separate or 3 days with the salad already dressed.