This asparagus salad is made with shaved asparagus, massaged kale, and other fiber packed ingredients. It's smothered with a delicious hummus dressing that is seriously delicious!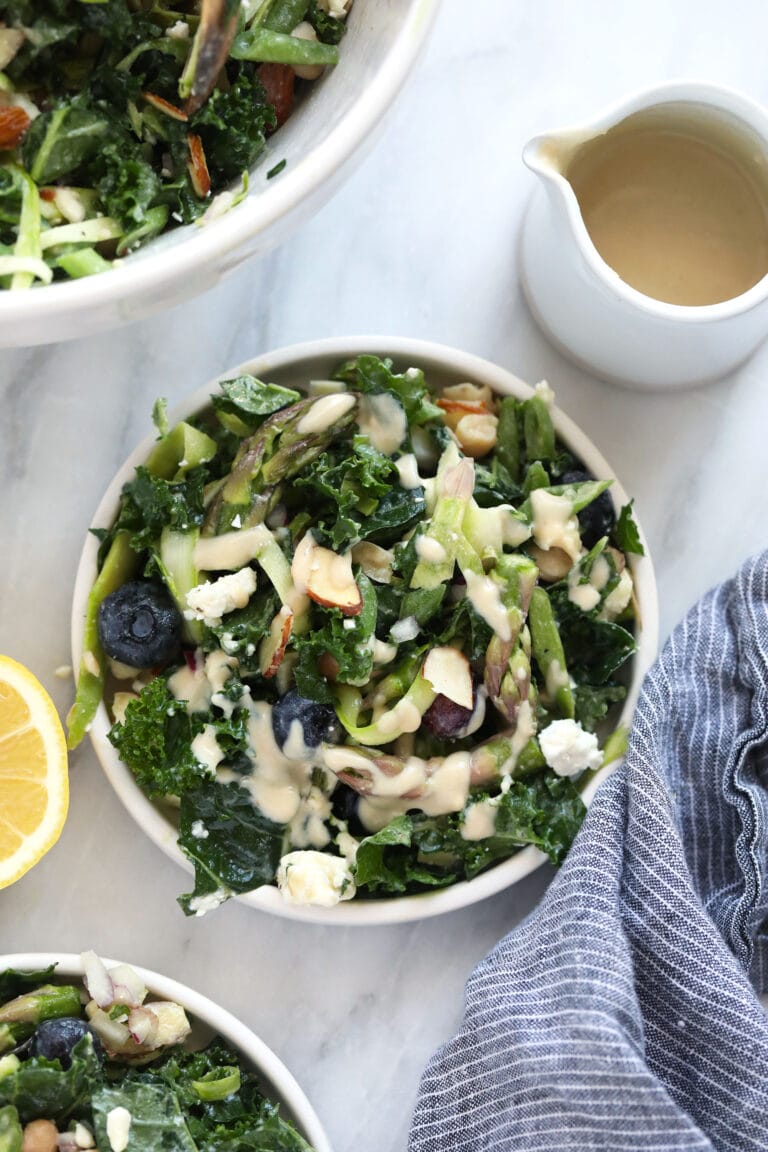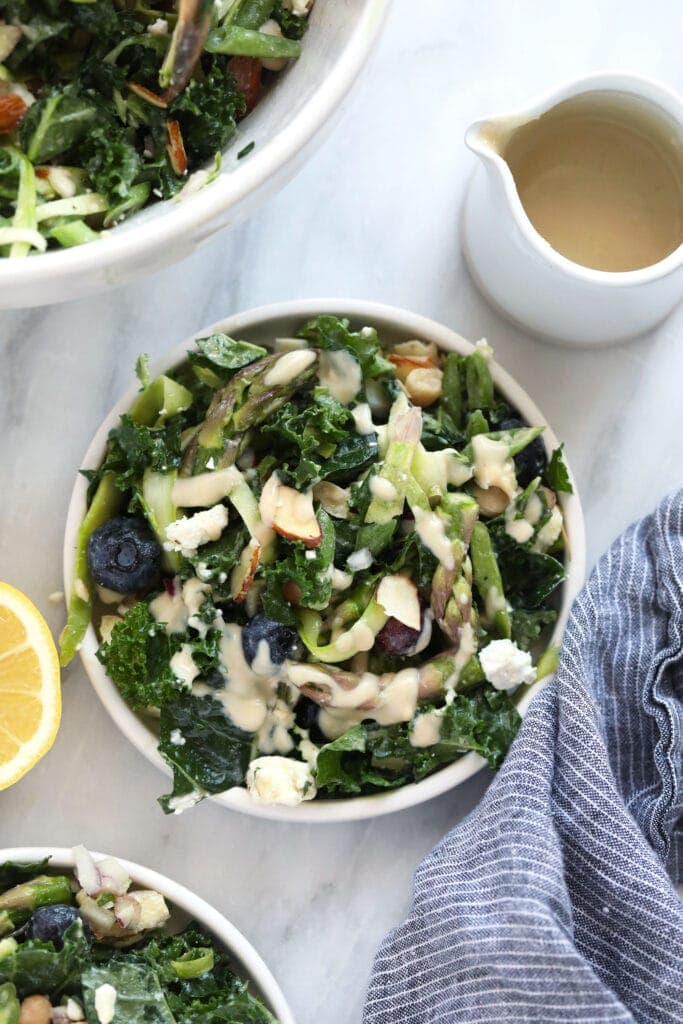 The BEST Asparagus Salad Recipe
When you think of asparagus recipes you usually think of a recipe like this grilled asparagus or this bacon wrapped asparagus. Right? They are traditional, delicious, and easy to make!
Let us introduce to you, one of our favorite ways to prepare asparagus—> in a salad!
This asparagus salad is packed with all of of our favorite salad fixings and is a great refreshing salad by itself or along side any of your favorite BBQ meals.
Ingredients You Need
There is a delicious mix of flavors and textures in this salad, but it is so easy to make! Here is everything you need!
Asparagus
Great northern beans
Lemon juice
Olive oil
Salt
Cayenne pepper
Kale
Fresh green beans
Red onion
Blueberries
Feta cheese crumbles
Almonds 
White wine vinegar
Hummus
Honey 
Pepper
good substitutions
All of the ingredients above taste amazing together, but here are some common substitutions if you're missing a few things.
Great northern beans –> any white bean
Olive oil–> avocado oil or grape seed oil
Kale–> spinach
Blueberries–> raspberries or dried cherries
Feta–> goat cheese or queso fresco
Almonds–> pistachios
White wine vinegar–> red wine vinegar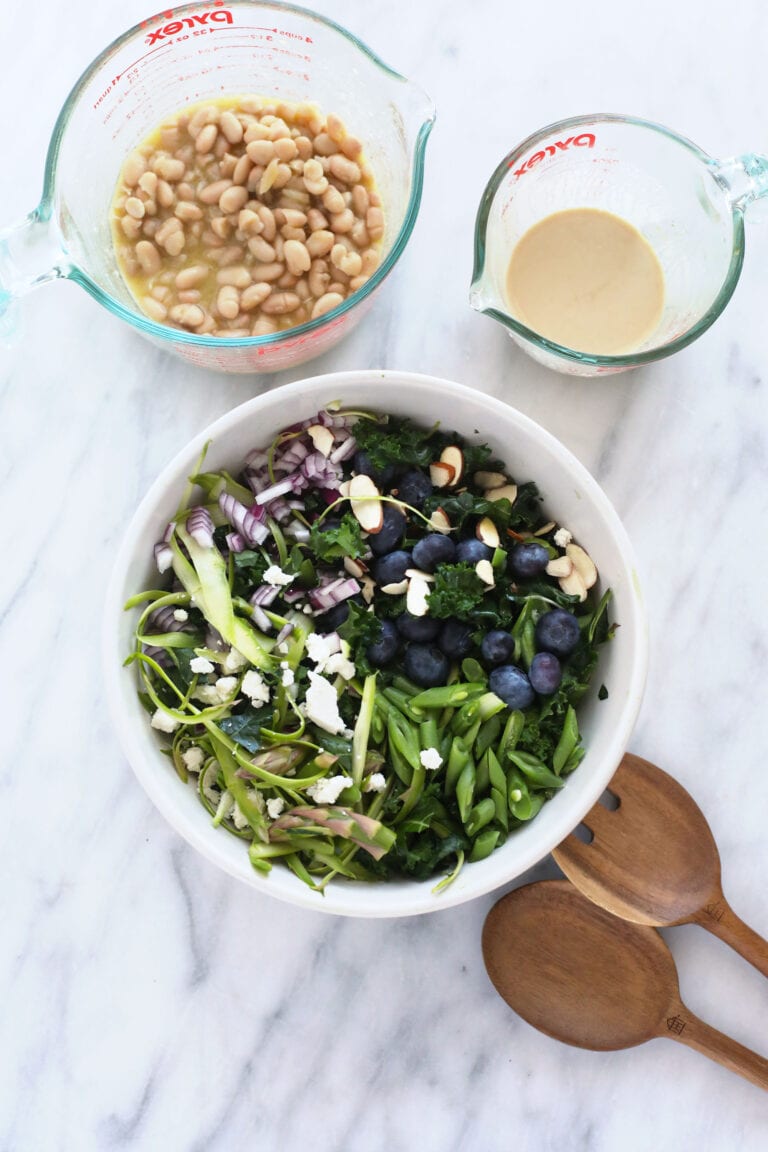 Our Favorite Way to Prepare Beans in Salad
When you are adding beans to a salad (especially canned beans), it's nice to cook them a little bit and give them some flavor!
We are always inspired by were inspired Cook's Illustrated, but specifically the way the do a quick zap of their beans in the microwave and infuse them before they toss them in a salad.
That is exactly what we did (and highly recommend any time you make a green salad with beans) is toss your beans with olive oil, citrus, salt, and a little spice and then microwave the beans for 90 seconds.
Then, remove them from the microwave, toss them, and let the infuse for 15-20 minutes. BOOM. So good.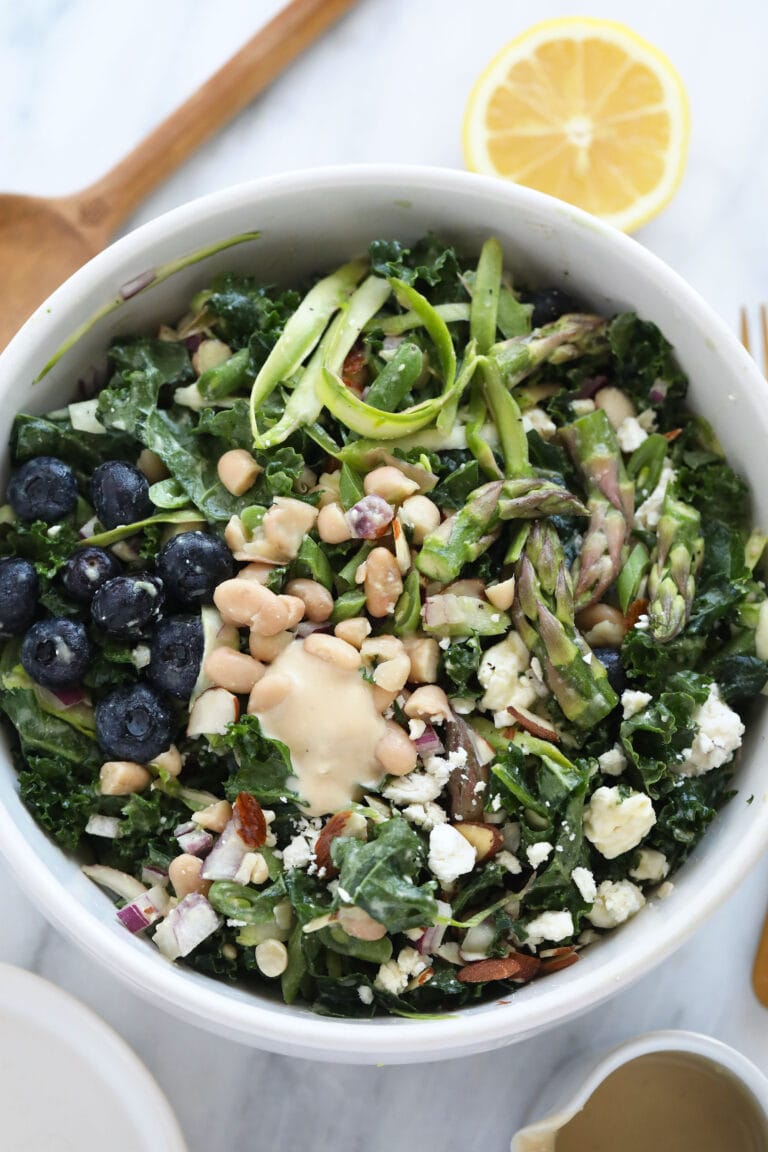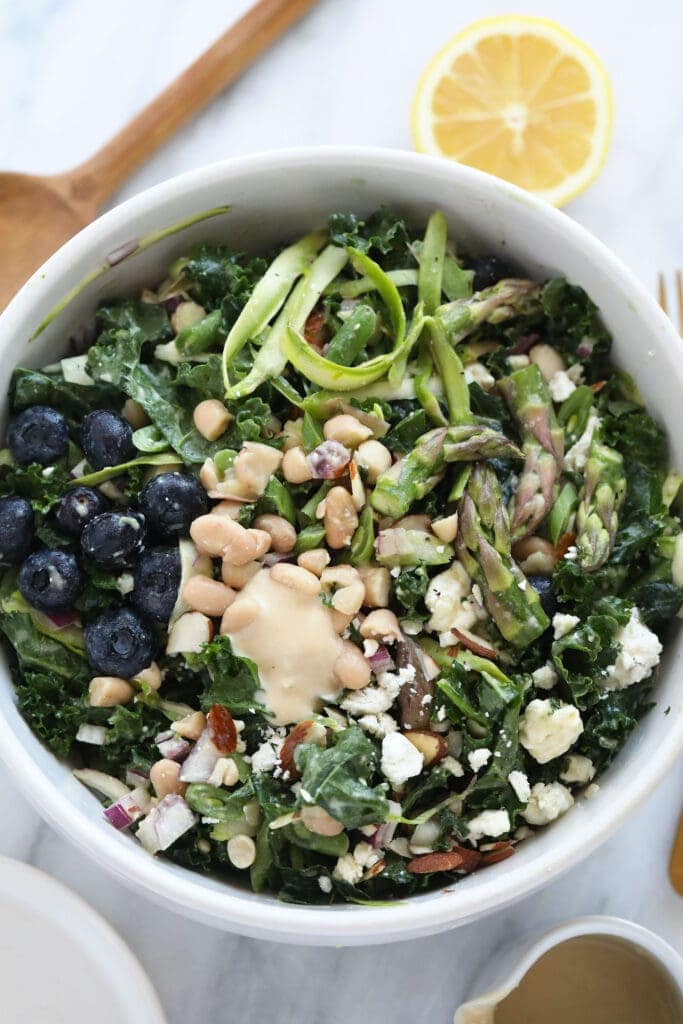 How to Make Asparagus Salad
Infuse the beans. Don't forget to get those beans done first! The longer they sit in the oil, the more flavor they will have!
Massage the kale. Massage your kale with a little oil and salt before tossing the rest of the ingredients in with the kale! Please don't skip this step. Here is a step-by-step on how to massage kale!
Make the asparagus ribbons. To make asparagus ribbons, you snap the bottom of the asparagus off and save the asparagus tips. Then take a veggie peeler and peel the asparagus spear like you would if you were peeling a carrot. Peel them right into the bowl with the massaged kale. Set aside.
Shake the dressing. Place all of the ingredients for the dressing into a mason jar and cover it. Shake until all the ingredients are mixed together.
Assemble. Add of all the ingredients to the bowl and drizzle the dressing over all of the salad and toss until all of the ingredients are covered in dressing.
you have dressing options
Don't feel like humus dressing? No problem! You can choose from any of these delicious salad dressing recipes for this salad! Below are some of our favorites!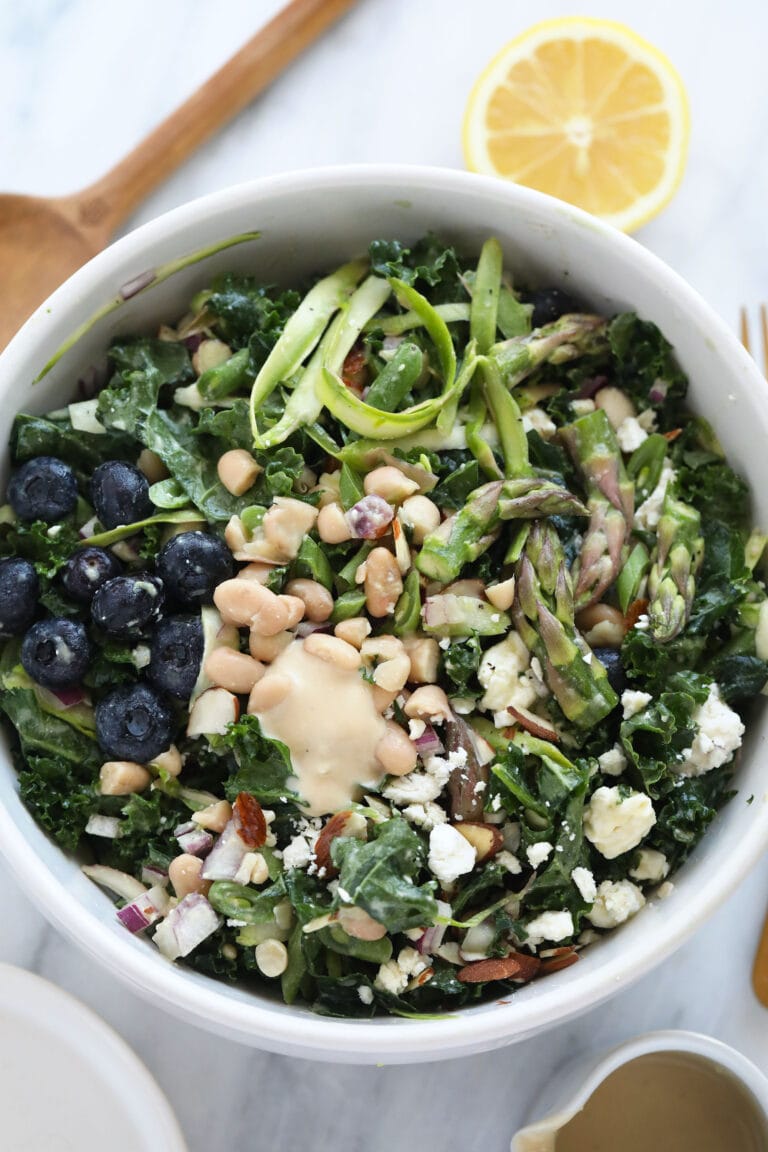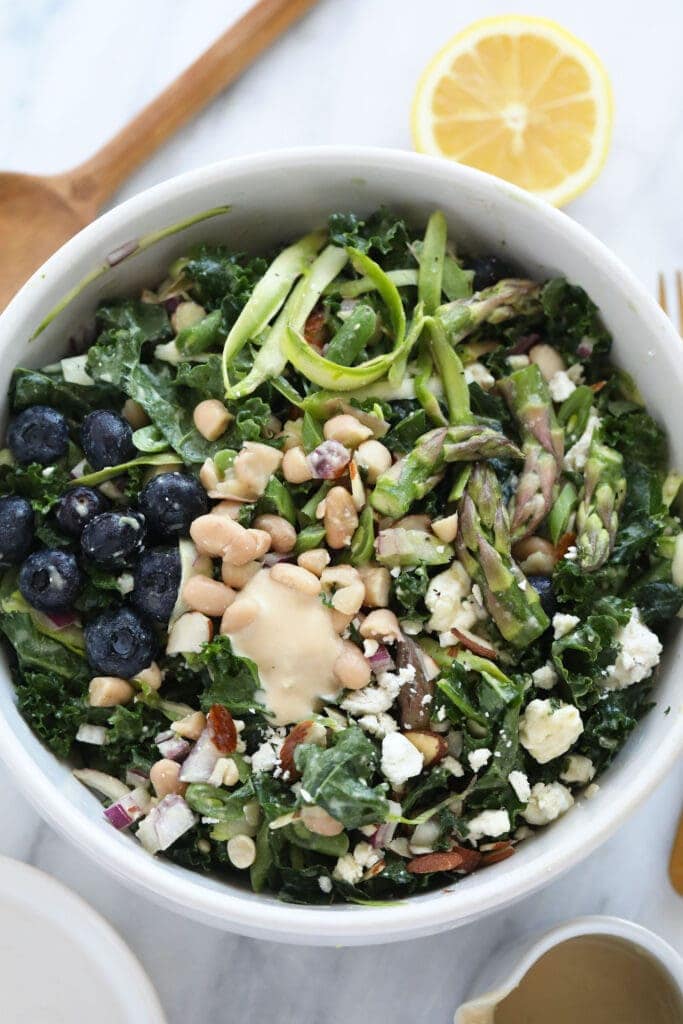 Tips for Asparagus Salad
Wait to add the dressing.
Wait to add the salad dressing to the salad until right before serving for optimal salad crunch.
Get a great veggie peeler.
You can make veggie ribbons a heck of a lot easier with a sharp veggie peeler! Invest in a good vegetable peeler like this one!
Fun ingredients to add.
If you want to add even more veggies to this salad, check out some other delicious options below!
Sliced fennel
Sliced red bell pepper
Fresh mint
What to serve with asparagus salad.
There are so many delicious dishes that will go perfect with this asparagus salad! Choose from any of the delicious main dishes below.
How do I store this asparagus salad?
Store this asparagus salad in an air tight container in the refrigerator for up to 5 days when you keep the dressing separate or 3 days with the salad already dressed.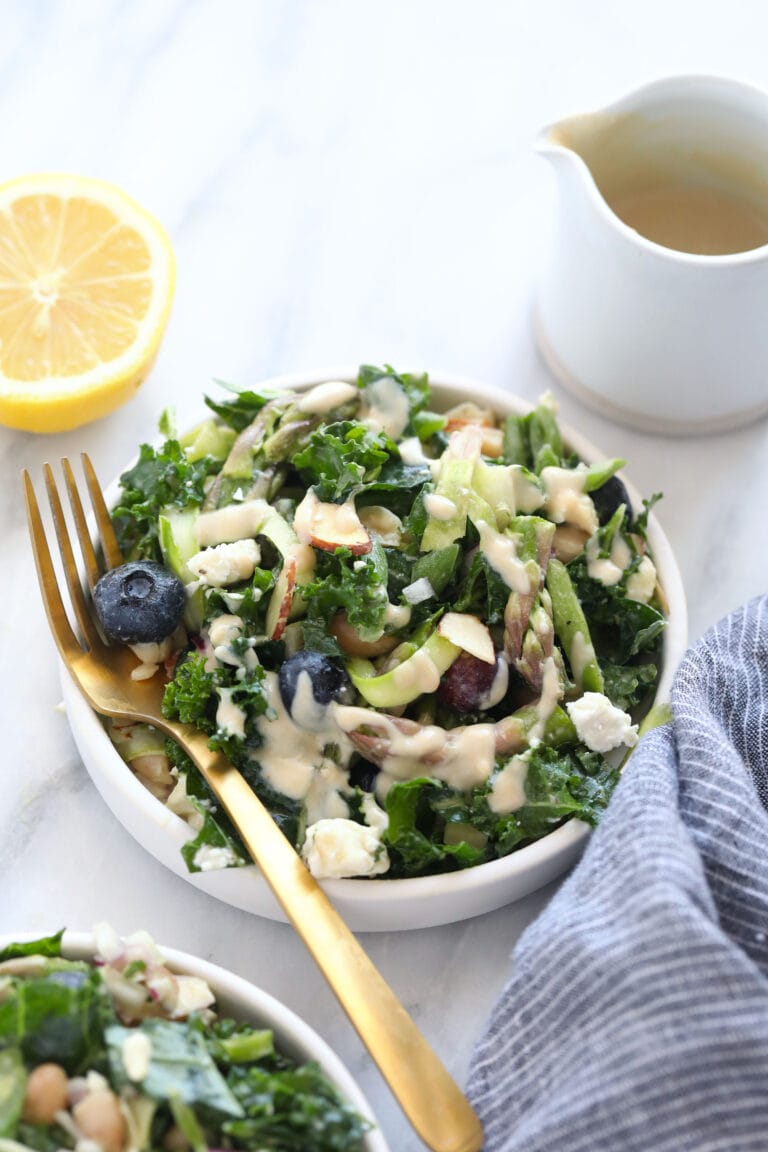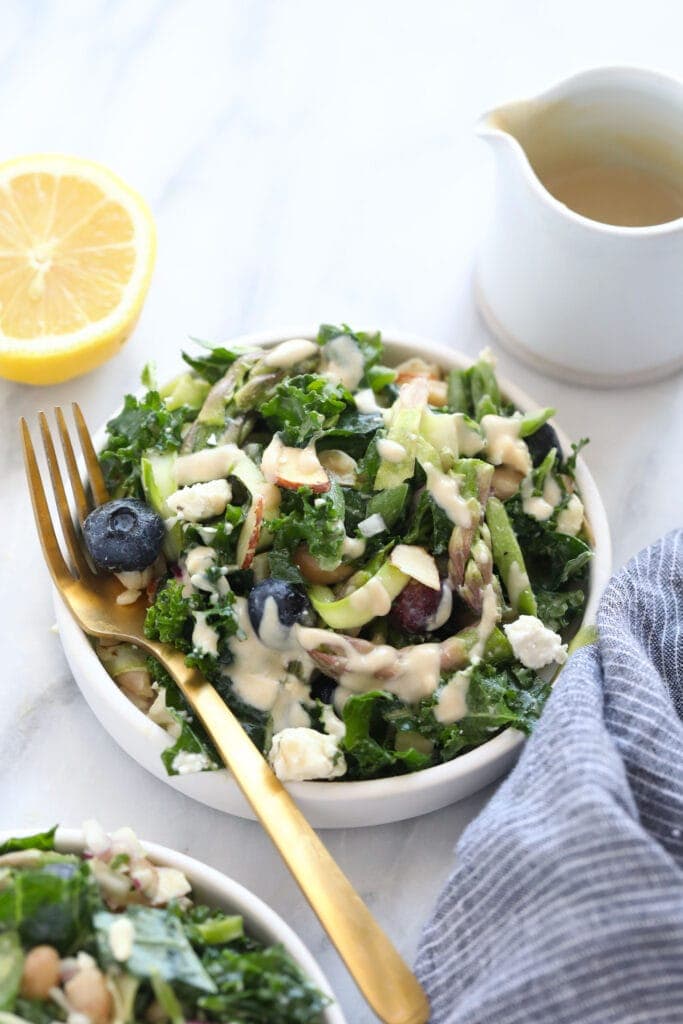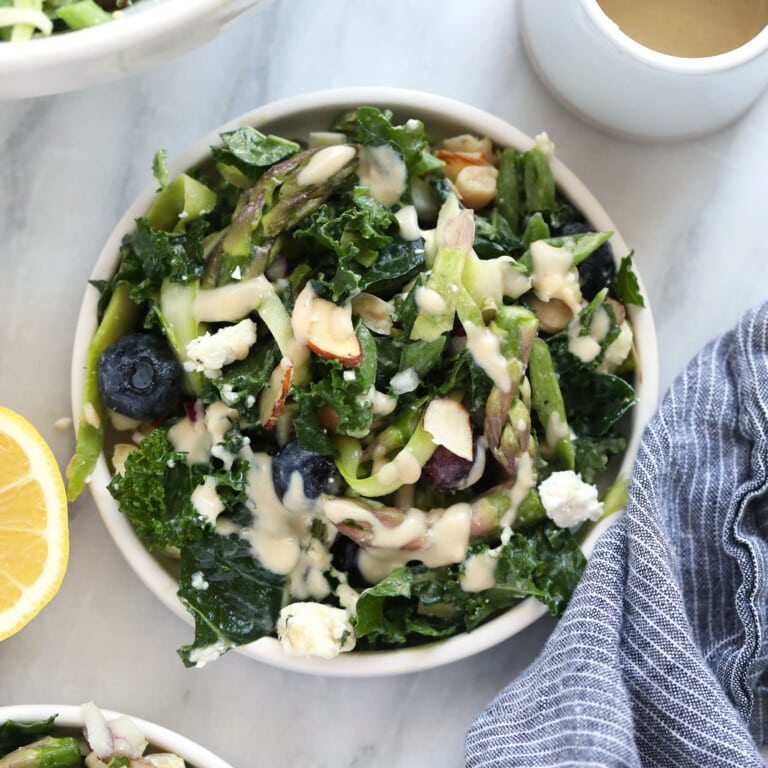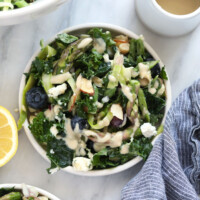 Asparagus Salad Recipe
Make this asparagus salad when you are craving a bright and veggie filled meal! 
Prep:
25 minutes
Cook:
0 minutes
Total:
25 minutes
Fat
18
Carbs
31
Protein
10
Ingredients
1

–

15

oz. can great northern beans, drained and rinsed 

3 tablespoons

lemon juice

1/4

+

1 tablespoon

cup olive oil, separated 

1 teaspoon

salt

1/8 teaspoon

cayenne pepper, or more if you like it spicy

4

–

5

cups raw kale, deboned and chopped

1

lb. fresh asparagus spears

1

lb. fresh green beans, diagonally sliced 

1/2

medium red onion, finely minced (or

1/2 cup

chopped green onion)

1 cup

fresh blueberries

1/2 cup

feta cheese crumbles

1/2 cup

slivered almonds 
Dressing
2 tablespoons

cup white wine vinegar

2 tablespoons

hummus

1 teaspoon

honey 

1/8 teaspoon

ground pepper
Instructions
First, add the great northern beans to a medium microwave-safe bowl.  Add the lemon juice, 1/4 cup olive oil, 1/8 teaspoon salt, and cayenne pepper to the beans and mix until the beans are coated in oil.  Microwave the beans on high for 90 seconds. Remove, mix and let the beans sit for 15 minutes. 
Meanwhile, add the kale and 1 tablespoon of olive oil to a large bowl. Massage the kale with your hands for 2-3 minutes or until the kale begins to soften and turns bright green in color. 
Next, prepare the asparagus. Chop off the asparagus heads and toss them into the bowl with the kale. Then, use a vegetable peeler to create ribbons. Peel the asparagus ribbons right into the bowl with the massaged kale. 
Add the green beans, red onion, blueberries, feta cheese, and slivered almonds to the kale and toss. 
In a separate small bowl prepare the dressing, whisk together the white wine vinegar, garlic hummus, black pepper, and honey. 
Finally, add the beans (olive oil included) to the salad and drizzle the dressing over all the ingredients. 
Toss the salad together until everything is coated. 
Nutrition Facts
Serving Size:
1/6
Calories:
314
Sugar:
8
Sodium:
919
Fat:
18
Carbohydrates:
31
Fiber:
8
Protein:
10
Cholesterol:
8
Category:
Salad
Method:
No Bake
Cuisine:
American
Keywords: Asparagus Salad