Wrap your Gold'n Plump Seasoned Boneless Skinless Chicken Breast in bacon and pop it in the oven for the most delicious salad protein EVER.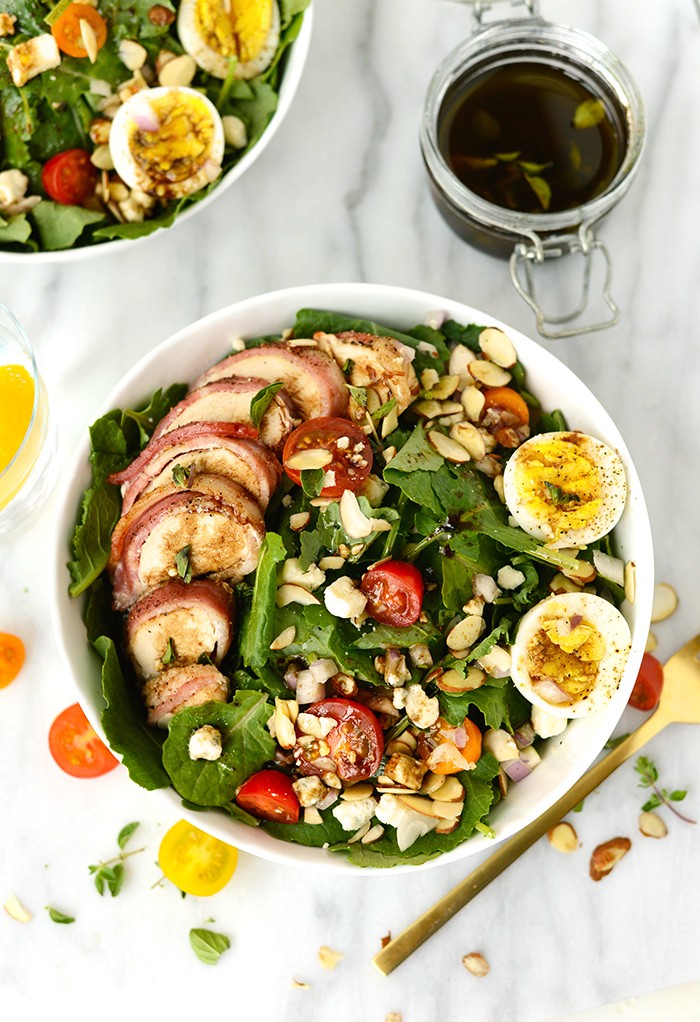 I feel like sometimes salads get a bad "healthy" rap. Like, they're not filling enough and are BORING. I'm here to change your mind! I love packing my salads full of good stuff so that I feel satisfied. There is no such thing as too many toppings. 
Today I am partnering with my favorite local chicken brand- Gold'n Plump! You guys know I support local when possible and it's so great that Gold'n Plump is local to Minnesota! Lucky for me, Gold'n Plump is pretty much available at any grocery store chain in the Twin Cities, including Target. I love that Gold'n Plump chicken is chicken with purpose. They work with local farmers to raise chickens with no added hormones for the best chicken possible. I am super excited about their individually-packaged chicken breasts, which is what I'm featuring today. They store really well in the freezer, which is really important for a person cooking for 1 🙂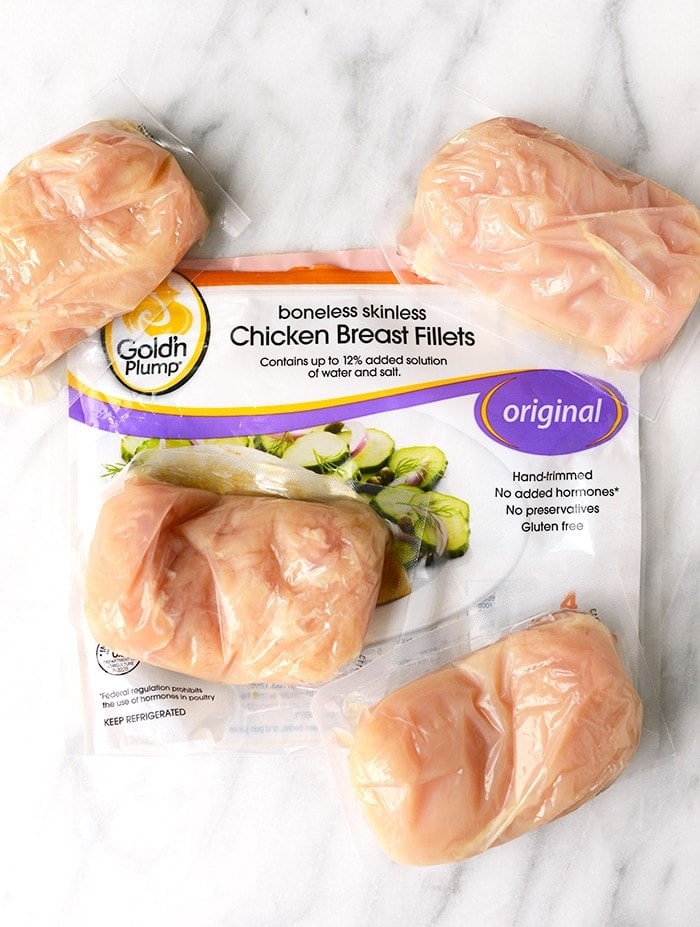 This recipe is super simple! All you really need is Gold'n Plump Seasoned Boneless Skinless Chicken Breast, thick-cut bacon, and your favorite salad toppings! I kept the chicken pretty simple and straightforward in this recipe, seasoned with salt and pepper. The bacon gives off so much great flavor that you don't need much more. 
You've got the option to grill, bake, or pan-fry your bacon-wrapped chicken breast. I tried both grilling and baking, and baking is my preferred way! It's quick and a very easy clean up. Depending on the size of your chicken breast you'll need about 2 strips of bacon. I used a smoked applewood variation because that's my jam! Feel free to use any thick-cut…just be mindful of added hormones…try and go hormone free if you can!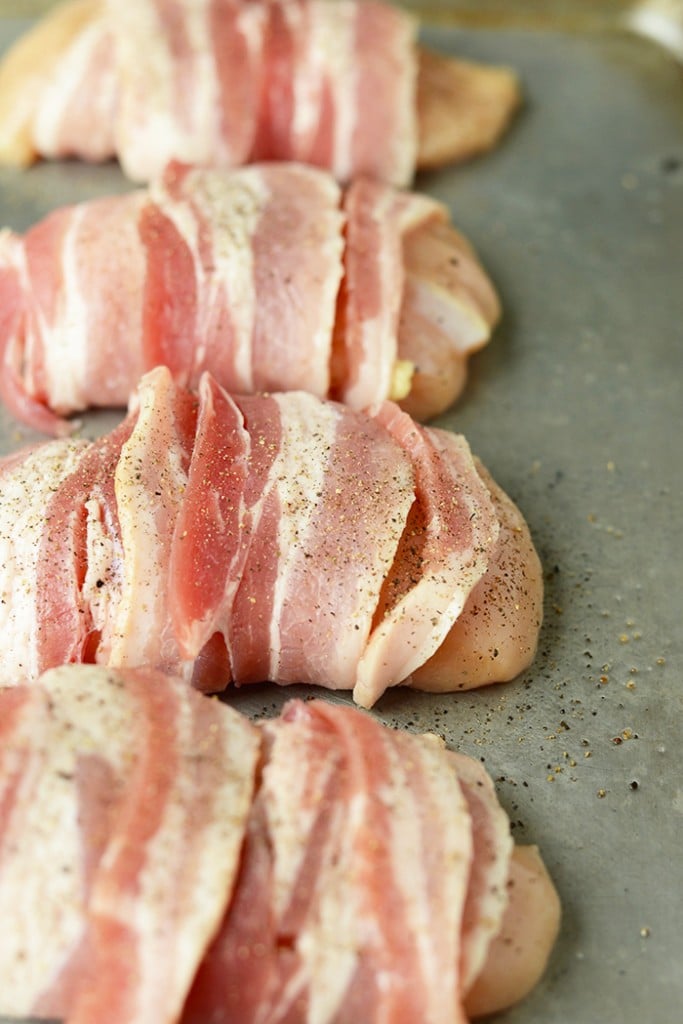 Another great thing about this bacon-wrapped chicken is that it stores well in the fridge. If you don't eat all 4 chicken breasts at once, you can pop them in the refrigerator for a couple of days.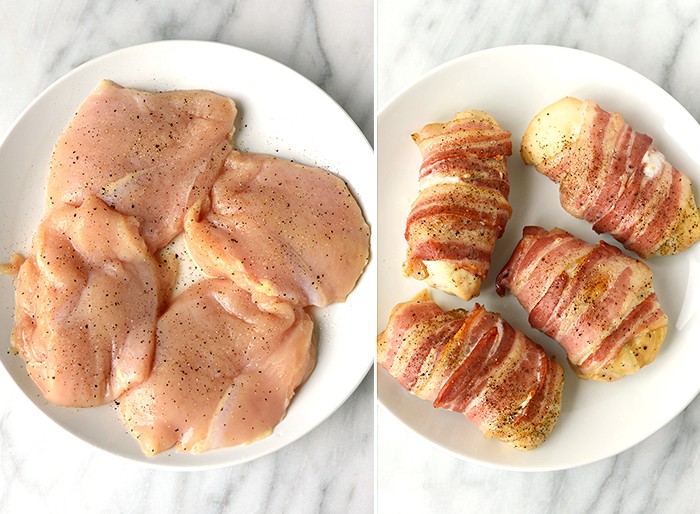 Let's talk salad. 
On my salad I used a hard boiled egg, cherry tomatoes, slivered almonds, purple onion, bleu cheese, and a super simple homemade balsamic vinaigrette. Like I said- get creative with your toppings. This is your salad and your taste buds 🙂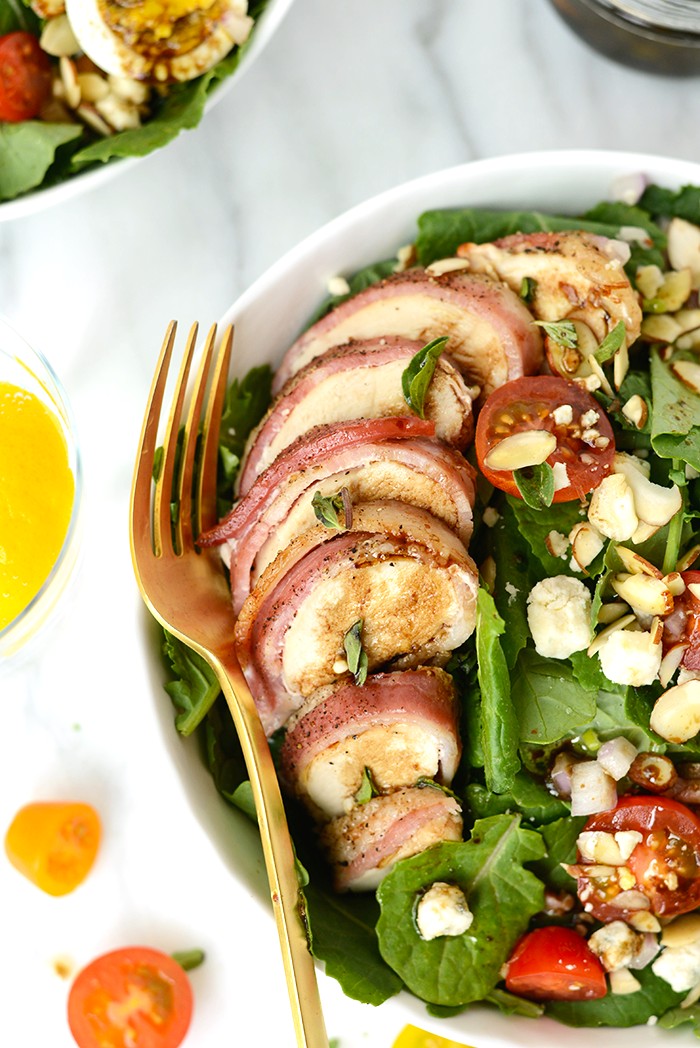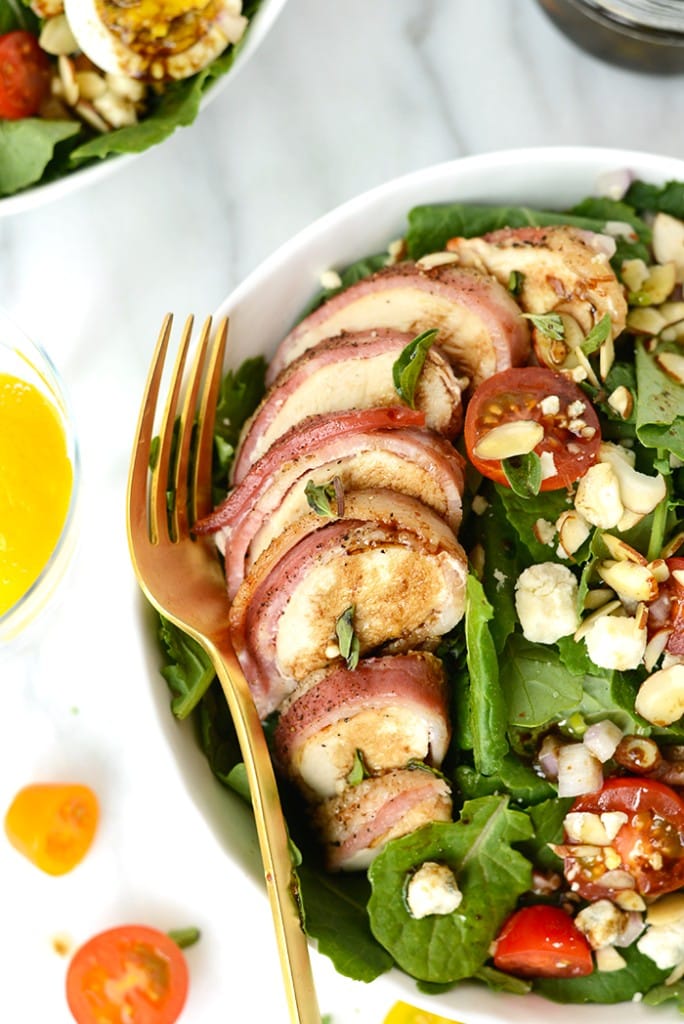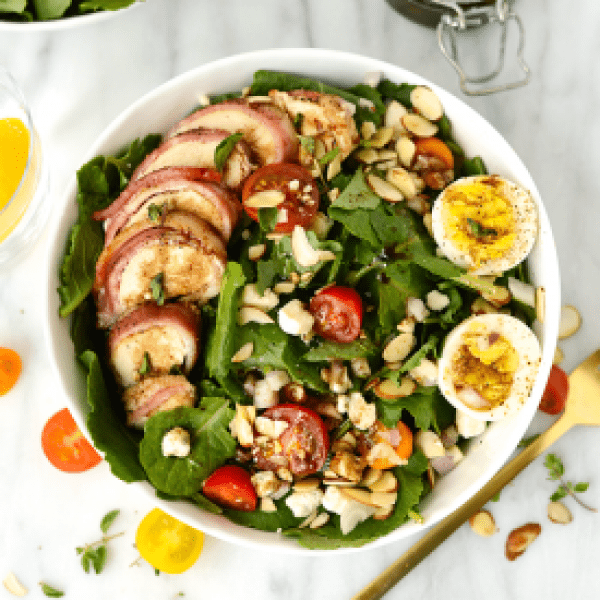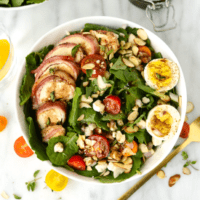 Bacon-Wrapped Chicken
Wrap your Gold'n Plump Seasoned Boneless Skinless Chicken Breast in bacon and pop it in the oven for the most delicious salad protein EVER.
Prep:
5 minutes
Cook:
25 minutes
Total:
30 minutes
Ingredients
4

Gold'n Plump Chicken Breasts (

6 oz

. each)

8

strips thick cut bacon
salt and pepper to taste
For the Salad
Instructions
Preheat oven to 400ºF and spray a baking sheet with nonstick coconut oil spray.
Wrap each chicken breast with 2 strips of thick cut bacon each, making sure to place the ends of the bacon on the bottom of the chicken.
Place chicken in oven and bake for 25 minutes or until chicken is fully cooked to 165ºF (always depends on how thick your chicken breasts are cut).
Tips & Notes
Nutrition facts for bacon-wrapped chicken only
Nutrition Facts
Serving Size:
1/4
Calories:
245
Sugar:
0
Sodium:
490
Fat:
8
Carbohydrates:
0
Fiber:
0
Protein:
47
This post is sponsored by Gold'n Plump Chicken, my favorite Minnesota chicken brand. I was compensated and all opinions are my own. Thank you for your continual support on Fit Foodie Finds!