This Moroccan quinoa salad with crispy chickpeas is protein packed and full of veggies! Make it today for a healthy meal prep lunch idea for the week!
You guys seem to be obsessed with the lunch salads (especially this simple Asian salad) we make on Instagram, so here are 36 health salad ideas that you can add to your list of must make meal prep lunch recipes! But first, this Moroccan quinoa salad recipe!
The Best Lunch Recipe
Does anyone else have a hard time deciding what to have for lunch? It all started back in grade school when you had to decide on hot lunch or cold lunch at the beginning of the week!
How do you know what you're going to be in the mood for that day? So many options and at the end of the day. Who has time to make breakfast, lunch, and dinner while also trying to make everything healthy? Whew.
This Moroccan quinoa salad with crispy chickpeas may be one of the best lunch meal prep recipes in all of the land. Why?
It has so many different textures and flavors that you get excited to eat it for a few days in a row.
You can have this salad as a main course or pair it with a different protein everyday to mix things up.
You will make your co-workers jealous because of how gorgeous and delicious it is.
We have many meal prep recipes on Fit Foodie Finds, but I honestly believe salads like this are the perfect option for lunches. Before you continue to read on check out all of our kitchen meal prep essentials that will make meal prepping any meal a breeze!
How to Make Perfect Crispy Chickpeas
One of the best parts of this salad are the crispy chickpeas. You want to start this recipe by getting these bad boys in the oven so they are ready in time!
These chickpeas add flavor and the perfect amount of crunch that every salad needs! Here are a couple of tips on how to make the most perfect crispy chickpeas.
Make sure you strain and rinse your chickpeas and then remove as many of the outer shells of the chickpeas with a paper towel.
Soak up any access moisture after rinsing the chickpeas with a paper towel. The drier they are, the more they'll crisp up.
Cover the chickpeas in seasoning! You need more seasoning than you think for a crispy and flavorful chickpea.
When roasting the chickpeas, be sure they are spread out on the pan, not all clustered together in a pile!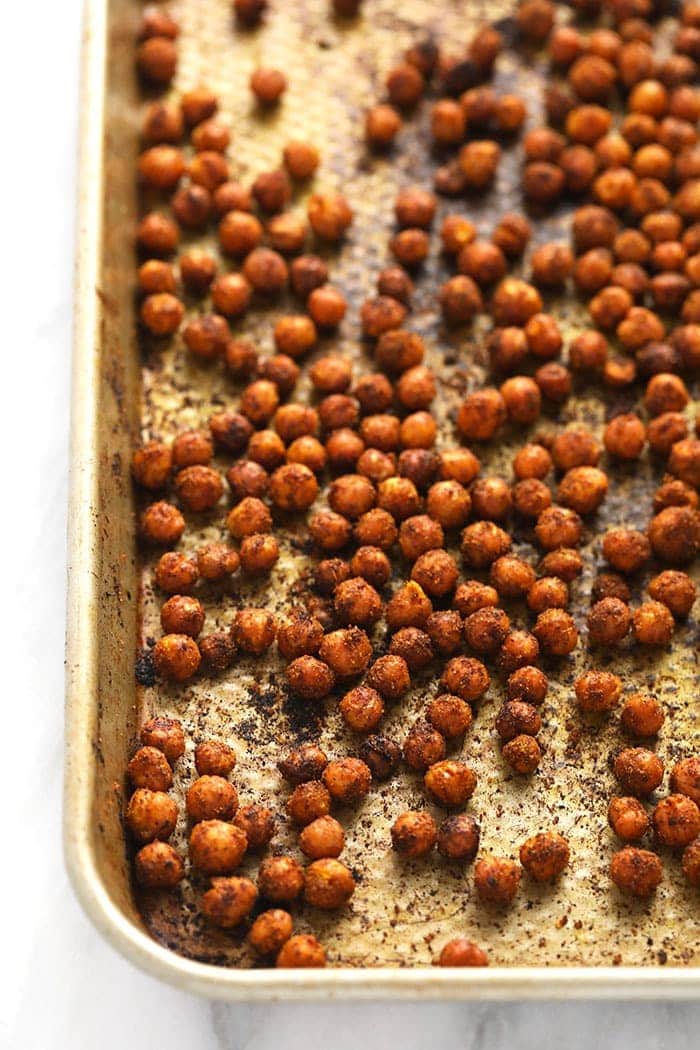 How to Assemble this Salad
This salad has a few different layers to it. Try to focus on one layer at a time and when it's time to mix everything together, you are going to be one happy camper!
Prepare the Quinoa
After getting the crispy chickpeas in the oven (read tips above), get your quinoa started on the stove. Quinoa is the base of this salad and has a longer cook time than some of the other layers.
Tip–> If you need to speed up your quinoa cook time feel free to try making your quinoa in the microwave.
Massage that Kale
Quinoa and kale are the base of this salad and we are BIG advocates of massaging your kale (check out details on why in our how to massage kale post).
Thankfully, massaging kale is super easy and one of the easiest parts of this recipe. The beauty is you can get this step done and set the kale aside until the end of the recipe.
Tip–> If you want to skip adding a little extra olive oil to break down the kale, try using a little lemon juice instead!
Chop + Peel
One of the best parts of this salad is all of the different textures and sizes of all of the ingredients (that is one of the keys to a delicious salad). No matter what salad you are making, the more shapes, sizes, and textures you have, the more interesting (and fun to eat) the salad will be!
After massaging your kale chop your onion, dates, and mint and toss them with the kale.
We decided to make vegetable ribbons out of the carrots and the asparagus. Making vegetable ribbons is as simple as peeling a carrot, except you don't throw away the peels, they go right into the salad.
Tip–> How long your vegetable ribbons are depends on how long your carrot or asparagus is. If you cut the vegetables in half, the shorter your ribbons will be.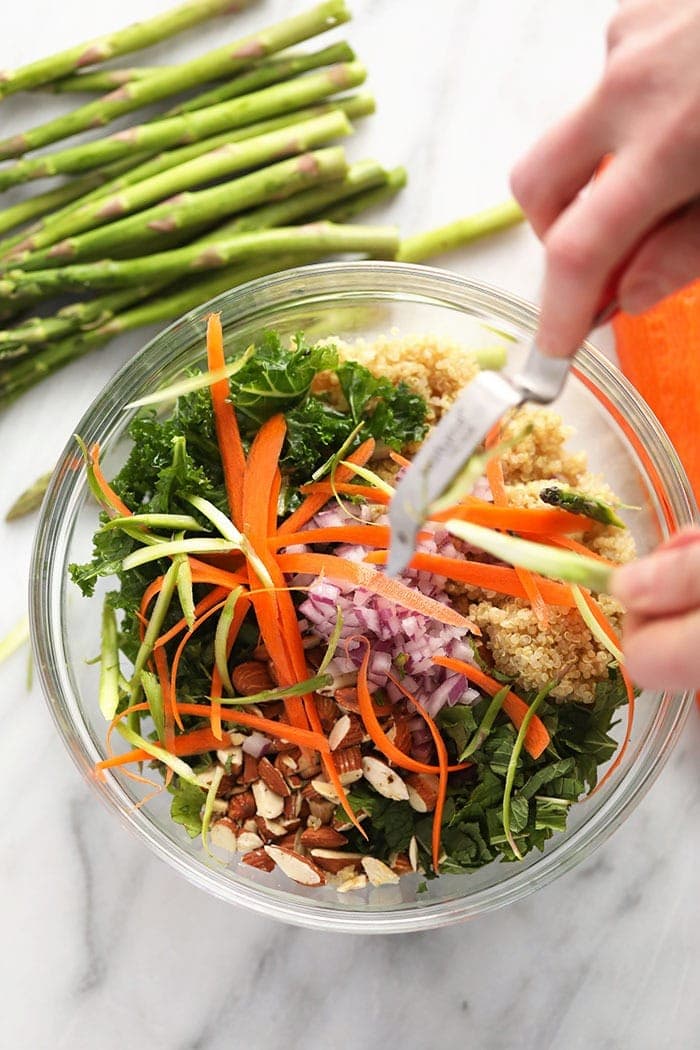 Keep the Dressing Separate
I love developing new salad dressings. Salad dressing is a great way to add amazing flavor to any salad. Guess what, salad dressing can be healthy and easy to make!
All you have to do is place all of the salad ingredients in a mason jar, shake until all the ingredients are mixed together and you're all set.
Here's a tip–> If you are meal prepping this salad, wait to add the salad dressing to the salad until right before eating it. Salad dressing can last up to 7 days in the refrigerator.
If you're looking for a different salad dressing for this recipe check out all of our favorite salad dressings here!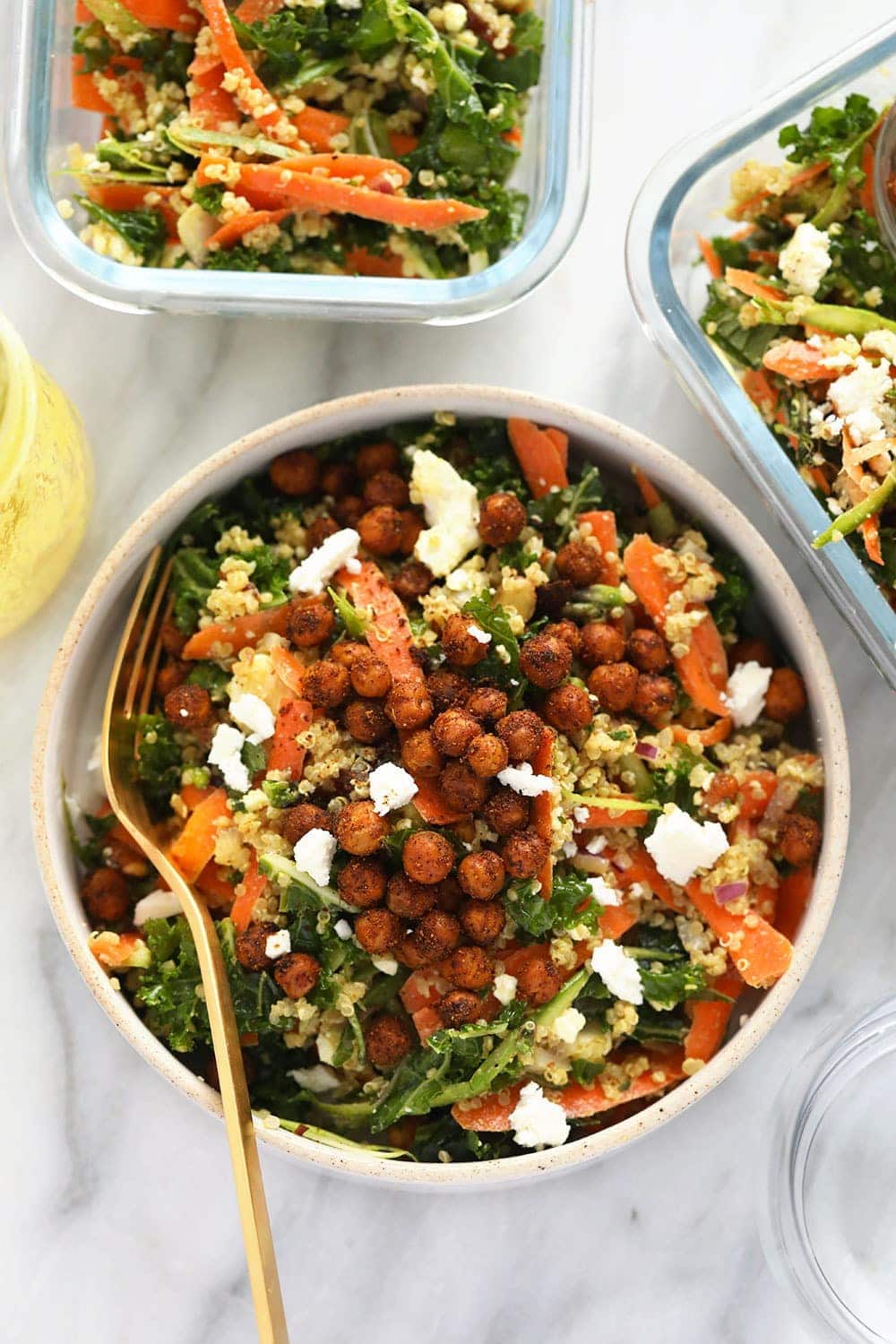 The Easiest Way to Meal Prep this Recipe
If you are meal prepping this recipe for the week, we recommend following the recipe in the recipe card. The only changes we would make would be to wait to add the crispy chickpeas and salad dressing to the salad until right before you plan on eating the salad.
The chickpeas will get soggy if you add them right away and the rest of the salad may get soggy if you add the dressing too many days ahead of time!
An easy way to keep the salad, dressing, and chickpeas separate is to store them all in this 3-compartment meal prep container! It will save you a ton of hassle!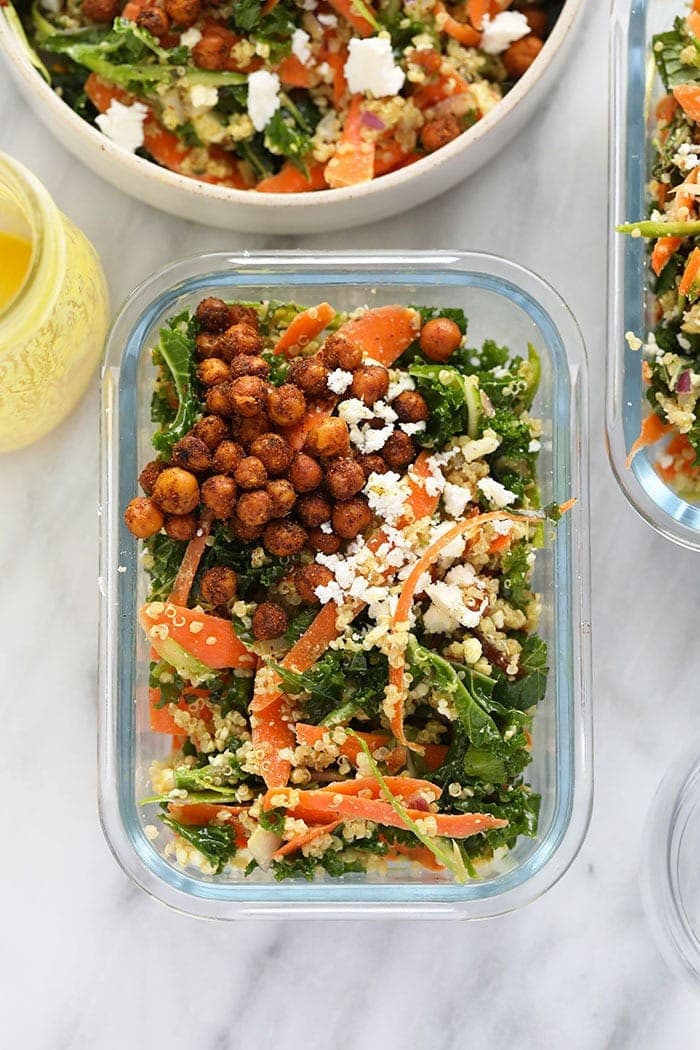 More Vegetarian Lunch Ideas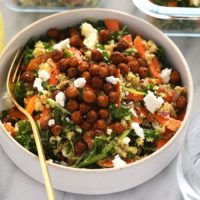 Moroccan Quinoa Salad with Crispy Chickpeas
This Moroccan quinoa salad with crispy chickpeas is protein packed and full of veggies! Make it today for a healthy meal prep lunch idea for the week!
Ingredients
Quinoa Salad
1

cup

quinoa

uncooked

2

cups

water

3/4

cup

chopped almonds

4

cups

kale

deboned

2

teaspoons

olive oil

pinch

of salt

2

large carrots

ribboned

15

medium asparagus spears

ribboned

1/4

medium red onion

minced

1/3

cup

chopped fresh mint

8

medjool dates

pitted and chopped

4

oz.

feta cheese

crumbled
Instructions
Crispy Chickpeas
First, preheat oven to 400ºF. Then, spray a baking sheet with nonstick cooking spray.

Drain and rinse 2 15-oz. cans of garbanzo beans. Then, place 2 pieces of paper towel on your counter and transfer beans to the top. Use another piece of paper towel to press as much moisture out of the beans as possible.

Once you've removed the moisture from the beans, transfer them to the baking sheet.

Next, prepare the Moroccan seasoning. Mix together all spices in a small bowl.

Drizzle on 2 tablespoons of olive oil and toss.

Finally, sprinkle on the seasoning and toss, making sure all chickpeas are fully coated.

Place baking sheet in oven and roast at 400ºF for 30-35 minutes, tossing every 15 minutes.
Dressing
Place all of the ingredients for the dressing in a jar and then screw the lid on.

Shake the jar aggressively until all ingredients are combined. Set aside for later!
Quinoa Salad
First, prepare quinoa. Place quinoa and water into a medium pot.

Bring to a boil over medium/high heat. Once boiling, turn down to low and cover. Let simmer for 15-20 minutes, or until all liquid has absorbed.

Next, toast almonds. Place chopped almonds into a pan. Turn heat to medium and toast for around 3-5 minutes making sure to constantly stir so they do not burn. Remove from heat once they've turned a golden brown.

Place kale into a large bowl and drizzle on olive oil. Season with a pinch of salt. Use your hands to massage the kale for a few minutes until the kale turns a bright green and has become softer to the touch. Set aside.

Next, prepare carrot and asparagus ribbons.

For the carrots, use a vegetable peeler to create ribbons. Simply peel each carrot as you normally would with a vegetable peeler but continue until the entire carrot is gone. Repeat for both carrots.

For the asparagus, cut off the asparagus tips and add them to the bowl with the carrot ribbons. Then, cut off the hard end at the bottom of each asparagus spear and discard. Using the same vegetable peeler, create asparagus ribbons with the center part of the asparagus.

Assemble the salad by placing the carrots, asparagus, red onion, fresh mint, dates, and feta into a large bowl.

Add the kale and quinoa to the bowl and toss.

Finally, drizzle on the salad dressing and toss until everything is combined.

Serve immediately and top with the crunchy chickpeas or meal prep by distributing the salad evenly into four meal prep containers. Keep the chickpeas separate from the salad if meal prepping because you don't want the chickpeas to get soggy!
Tips & Notes
Nutrition information is for 8 servings.
Nutrition facts
Calories:
488
kcal
Carbohydrates:
58
g
Protein:
16
g
Fat:
24
g
Fiber:
12
g
Sugar:
3
g