This General Tso's Cauliflower is a twist on classic takeout but made vegetarian with cauliflower instead of chicken!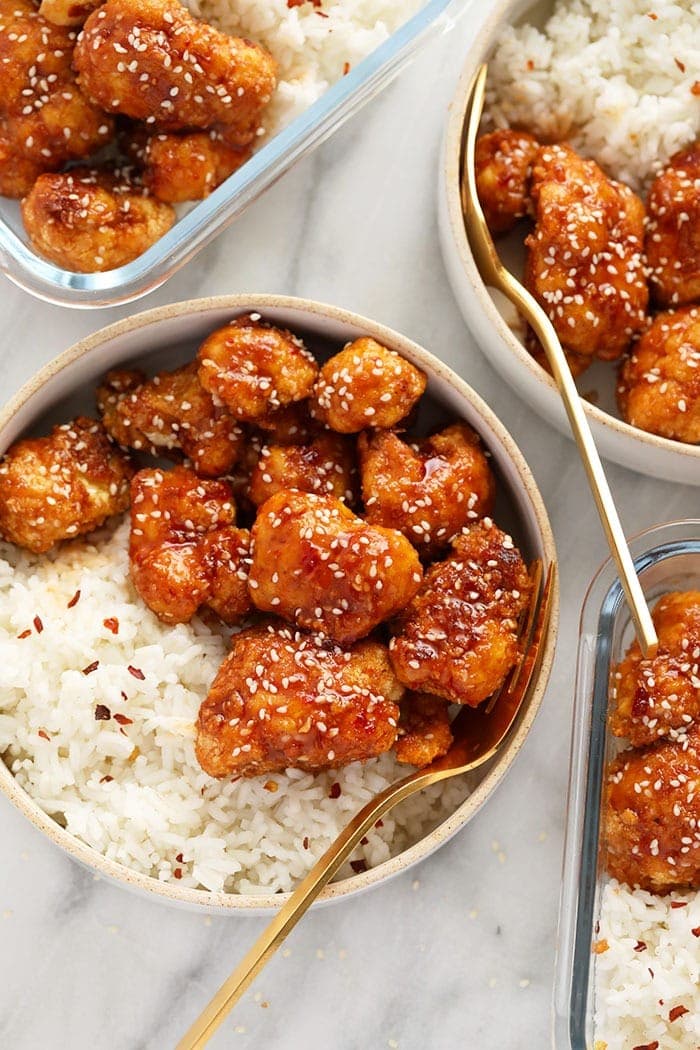 Hello beautiful General Tso's Cauli. Have I mentioned lately that we've been obsessed with all things cauliflower? Our Baked Buffalo Cauliflower Wings are a game-day fav and our Golden Roasted Cauliflower Salad is a lunch dream.
How to Make General Tso's Cauliflower
Classic General Tso's is all about the chicken. Can you guess what this recipe is all about? The Cauliflower!
Cauliflower
Dip, Coat, Bake: Remember these three words because in order to make delicious, crunchy, fried-like cauliflower, you need to DIP the florets in egg, COAT them in breadcrumbs and seasonings, and BAKE them to perfection.
Start off by cutting your cauliflower into bite-sized florets, making sure they're all relatively the same size so that they bake evenly. Then, dip, coat, and bake!
Bake the cauliflower at 400ºF for 25-30 minutes, flipping halfway!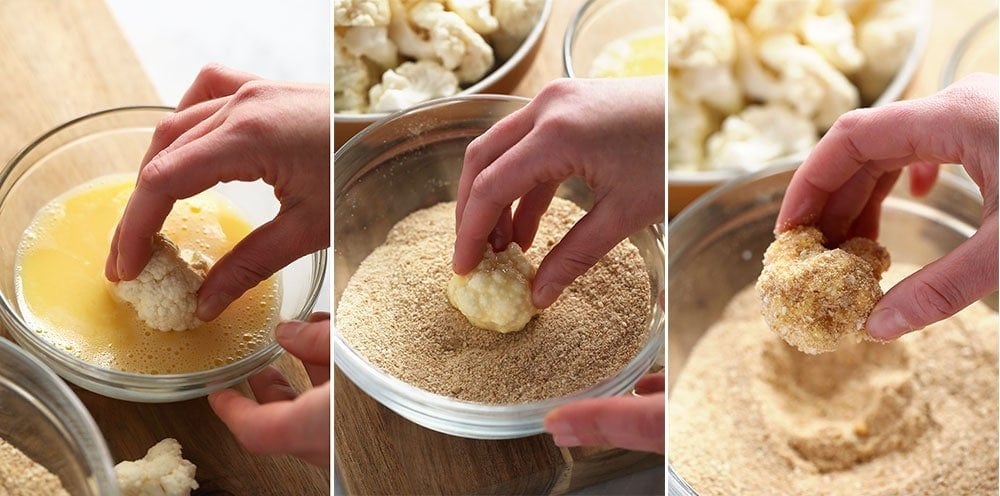 How to Make this Gluten-Free
Simply use gluten-free breadcrumbs or even make your own. Then, swap tamari for soy sauce and you're good to go!
How to Make this Vegan
While we haven't tried this method, try tossing your florets in melted coconut oil or cooking spray instead of an egg wash. You need to use some kind of liquid as a bind to hold the breadcrumbs on there! Then, in the sauce, use maple syrup instead of honey.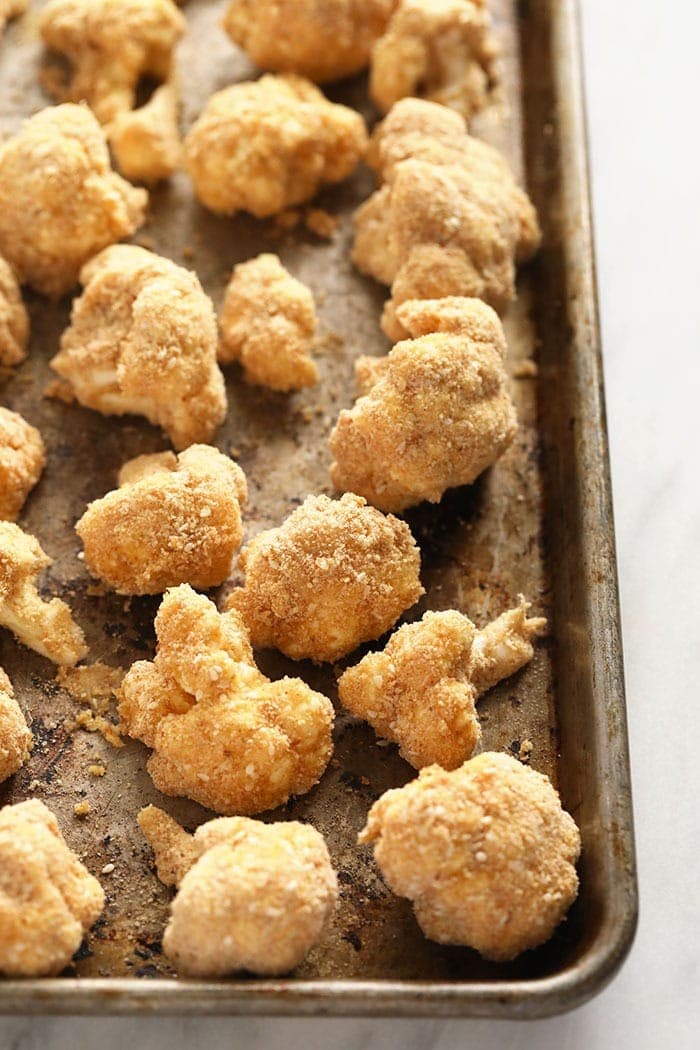 Sauce
What does general Tso's sauce taste like? General Tso's is slightly spicy and sweet at the same time. It's also sticky and quite addicting.
Our general Tso's sauce is 100% refined sugar-free and made healthier with better-for-you-ingredients. Check it out!
chili garlic sauce
soy sauce (or tamari)
orange juice
tomato paste
sriracha
honey
Once your cauliflower is golden brown, it's time to toss it in your General Tso's sauce! We did this by making the sauce in a large bowl and adding the cauliflower so you can easily coat all sides of the cauli.
Trying to tame down the heat to make it more kid-friendly? Use more honey or less chili garlic sauce. The sweet will tame down the heat, so if you need to make it less spicy, you can.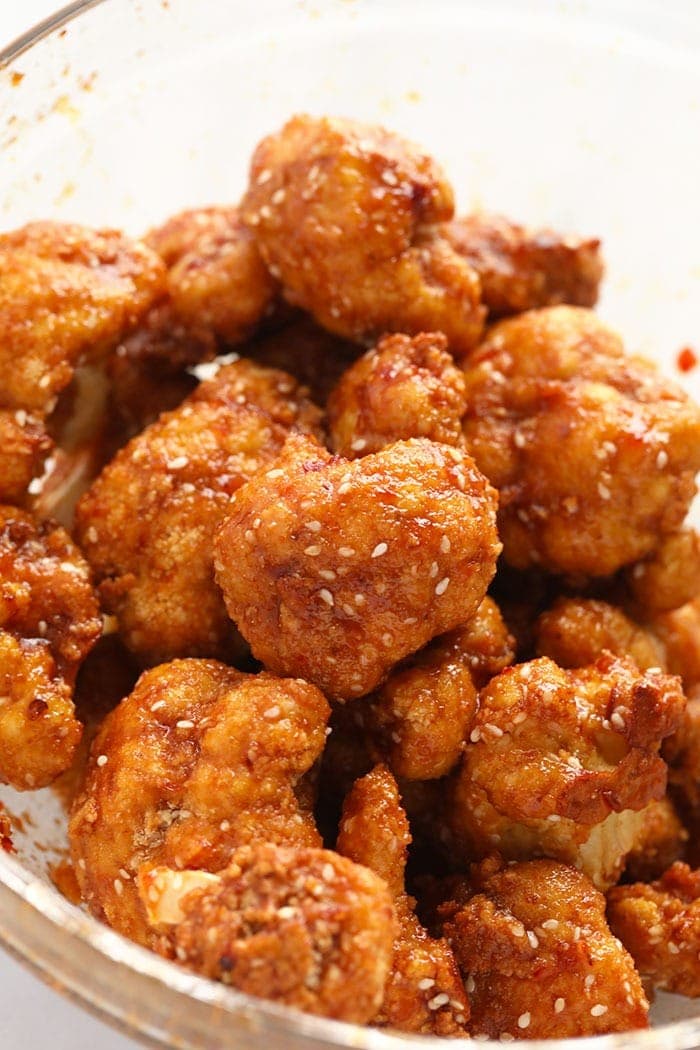 Easy Vegetarian Lunch Idea
Prep once, eat all week! This General Tso's recipe is great for those looking to eat more plant-based this year and hoping to get some meal-prep done once so that they can eat it all week long. Can you say vegetarian meal prep?!
While your cauliflower is roasting in the oven, make your grain of choice. We used white sticky rice, but you can use quinoa, brown rice, cauliflower rice, etc. Then, divide out your grains into 4 meal-prep containers and when your cauliflower is ready, add that as well.
Can you double/triple this recipe? Of course! If you're prepping for more than one person, we suggest doubling this recipe so that you can have plenty of leftovers for both parties for days to come!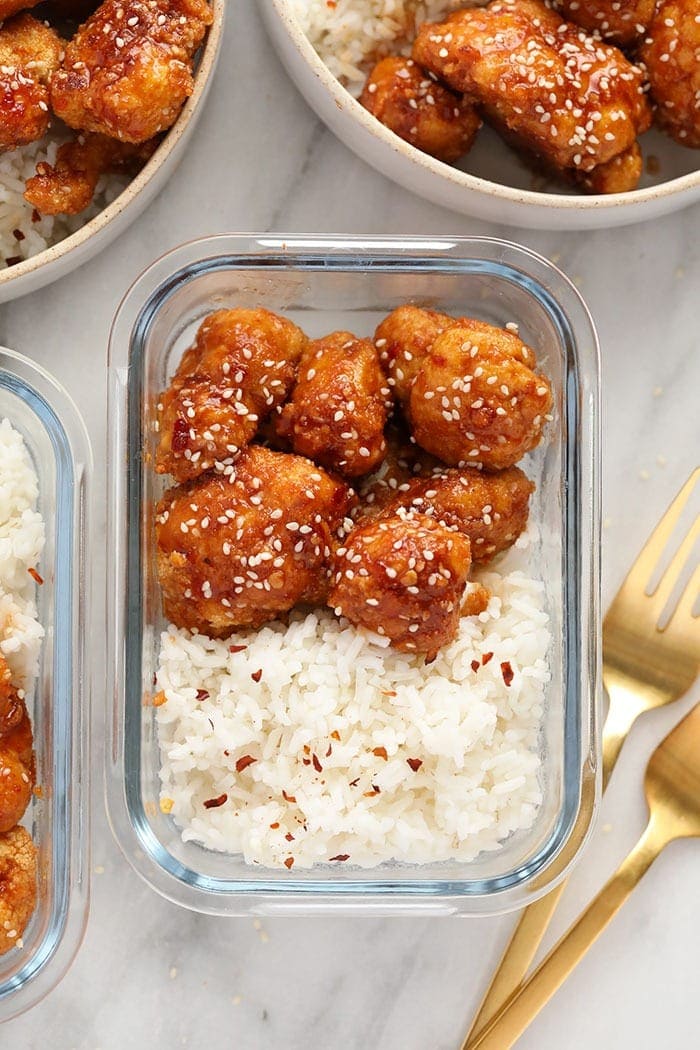 More Vegetarian Takeout Recipes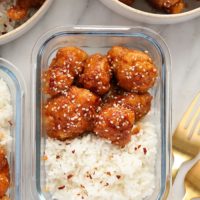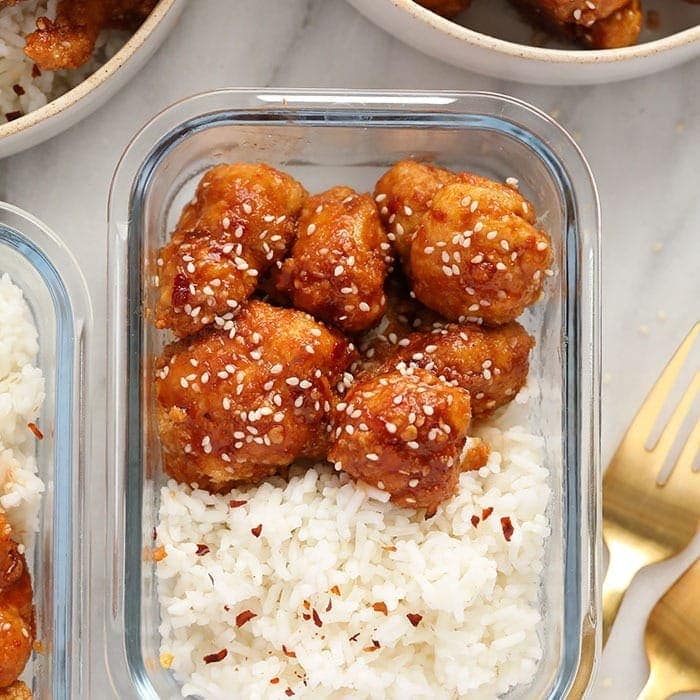 General Tso's Cauliflower
This General Tso's Cauliflower is a twist on classic takeout but made vegetarian with cauliflower instead of chicken!
Instructions
First, preheat oven to 400ºF and spray a baking sheet with nonstick cooking spray.

Next, Prep cauliflower by washing and patting dry. Then, cut into bite-sized florets and set aside.

Crack 3 eggs into a medium bowl and use a fork to whisk. Set egg wash aside.

Prepare the breading. Place breadcrumbs, sesame seeds, garlic powder, coconut sugar, and salt into a large bowl and mix until combined.

Dip each cauliflower floret into the egg wash, making sure to fully coat the entire thing.

Then, dip each piece of cauliflower into the breadcrumb mixture, coating the entire thing.

Place on cookie sheet and repeat until all florets are coated.

Bake cauliflower florets at 400ºF for 15 minutes.

Remove baking sheet from oven and carefully flip each cauliflower wing over.

Place back into the oven and bake at 400ºF for another 10 minutes.

While the cauliflower wings are baking, prepare sauce.

In a large bowl, mix together chili garlic sauce, soy sauce, orange juice, tomato paste, sriracha and honey. Set aside.

When the cauliflower is done roasting. Let cool for around 5 minutes. Then, transfer the cauliflower into the large bowl with the sauce.

Toss cauliflower in sauce making sure that everything is fully coated.

Serve cauliflower on top of your favorite grain with sesame seeds and red pepper flakes.
Tips & Notes
Nutrition Information does not include rice.
Nutrition facts
Calories:
300
kcal
Carbohydrates:
44
g
Protein:
13
g
Fat:
8
g
Fiber:
3
g
Sugar:
27
g