These Sweet Chili Cauliflower Wings are baked until golden brown and tossed in a delicious sweet and spicy chili sauce! Make them for dinner or bring them as an appetizer to your next party!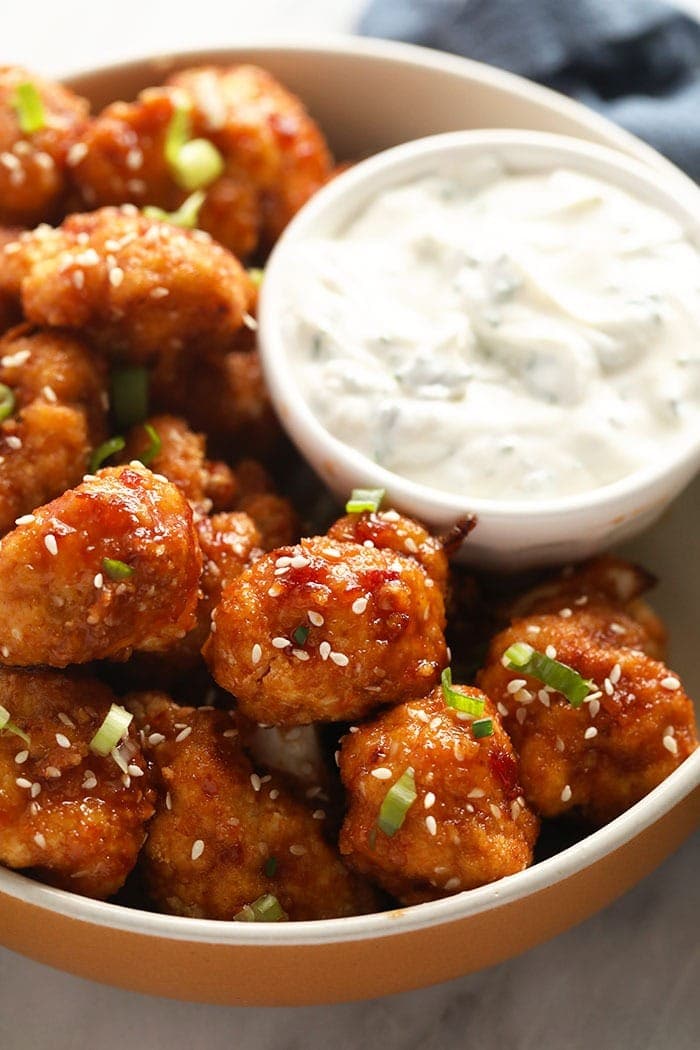 Vegetarian Wings
There are no chickens involved in these Sweet Chili Cauliflower Wings. In fact, these delicious wings aren't our first cauliflower wing rodeo on FFF because we make our famous buffalo cauliflower wings for almost every game day.
Why do we love cauliflower wings?
They are a great saucy, hot, and hearty appetizer for any party or game day.
You get a serving of vegetables while eating wings at the same time.
Amazing vegetarian option for those that can't do real chicken wings.

Get those Wings Crispy
One very important thing we focused on when we were developing these wings was making sure they turned out crispy and delicious. How did we achieve this?
Egg wash: first dip the raw cauliflower florets in an egg wash
Bread crumbs: then toss them in a delicious mixture of bread crumbs and spices
Bake: and then bake them to a perfect golden brown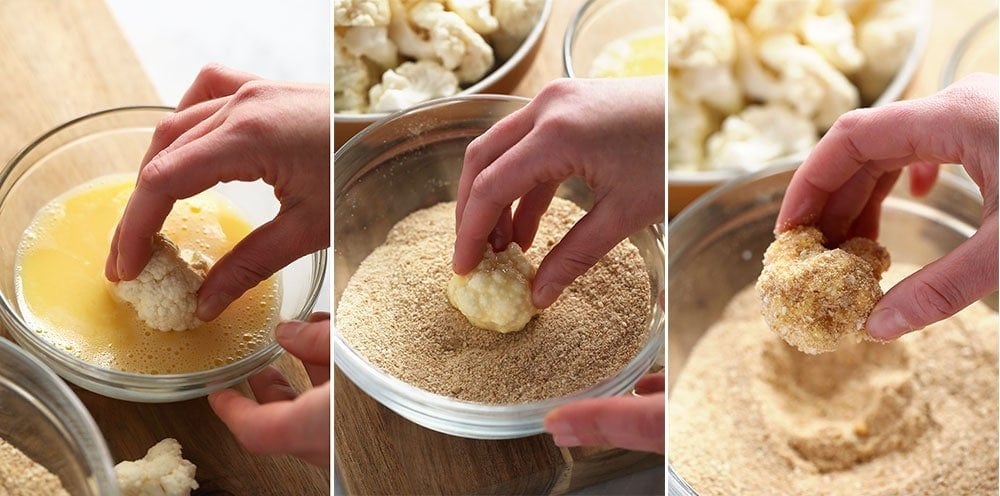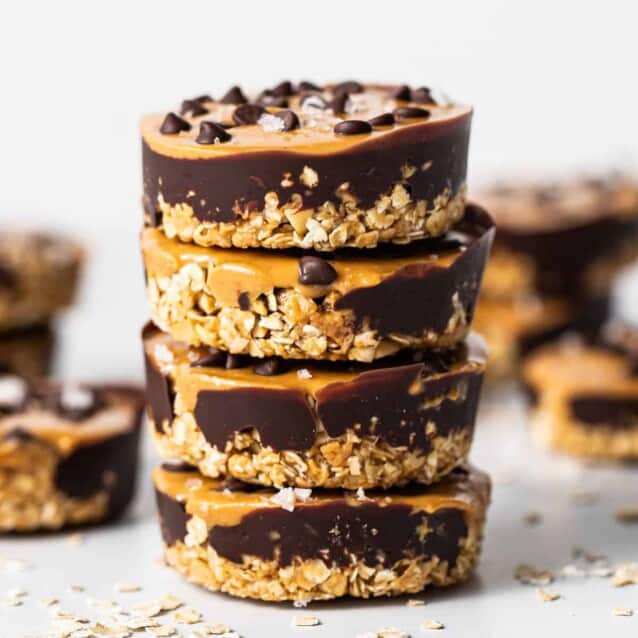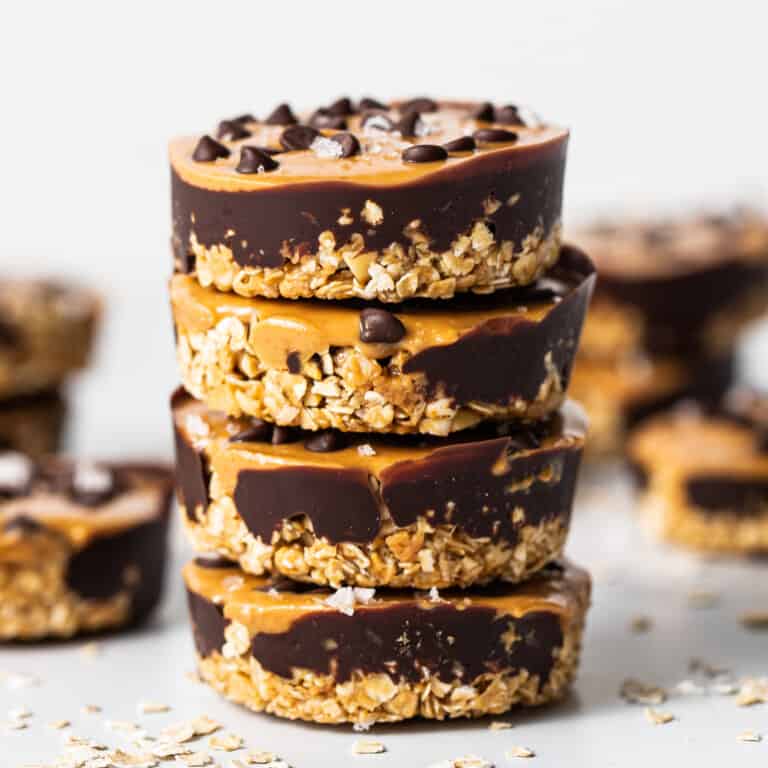 Get our Top 10 5-Star Recipes!
Join our email list for new recipes and BONUS: get our top 10 ⭐️⭐️⭐️⭐️⭐️ recipes e-book!
Here's a tip—> Make sure you dip the entire cauliflower wing in the egg wash and let the excess egg drip from the cauliflower. Then, make sure the bread crumb mixture gets into every nook and cranny of the cauliflower.
The bread crumbs are what create the delicious crunch, so don't skimp on that either! Lastly, don't skip flipping the wings halfway through the bake time. You want both sides of the cauliflower wings to be golden brown!

Make it Saucy
Let's talk about how amazing the sauce is for these wings. It is super easy to make and the combination of ingredients + flavor makes this sauce over-the-top sticky and finger-licking good!
The honey is our favorite ingredient in the sauce because it cuts the spiciness just enough to get you a smooth sweetness before the spiciness of the chili sauce.
The honey also caramelizes the wings and adds another layer of crispy goodness after you pop the wings in the oven for the last 5 minutes of their bake time.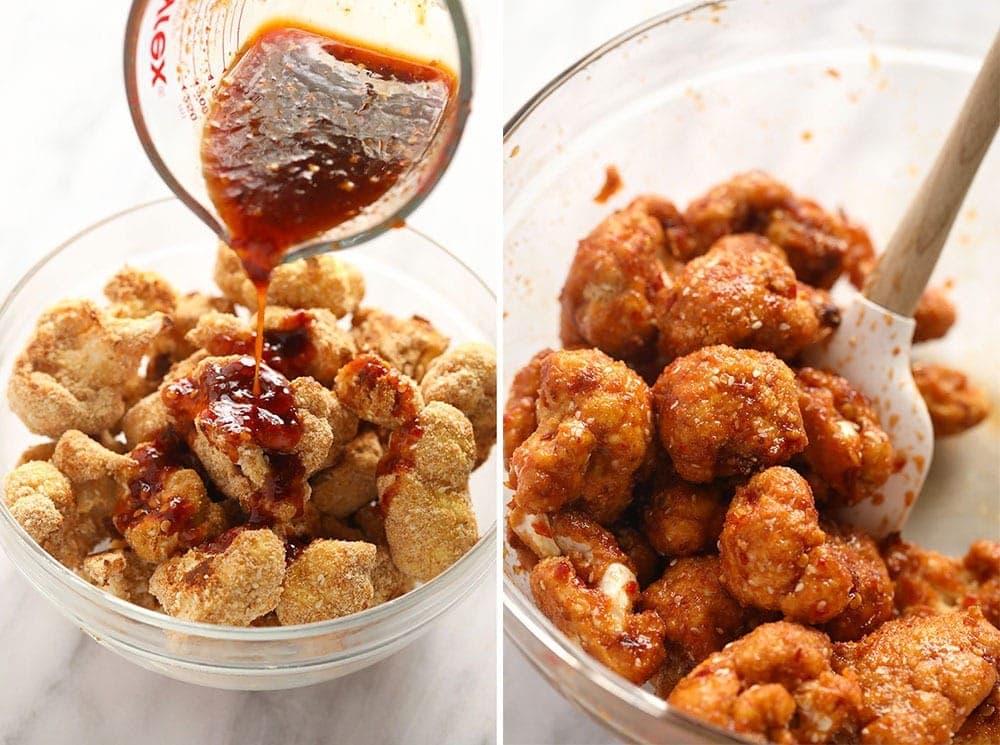 When I Dip, You Dip, We Dip
Choosing a dip for any wing is a very personal decision. Maybe you want to just enjoy the wings without a dip, maybe you like a creamy dip, or perhaps you'd like dip that is spicy and flavorful!
Here are some delicious dips and dressings to choose from!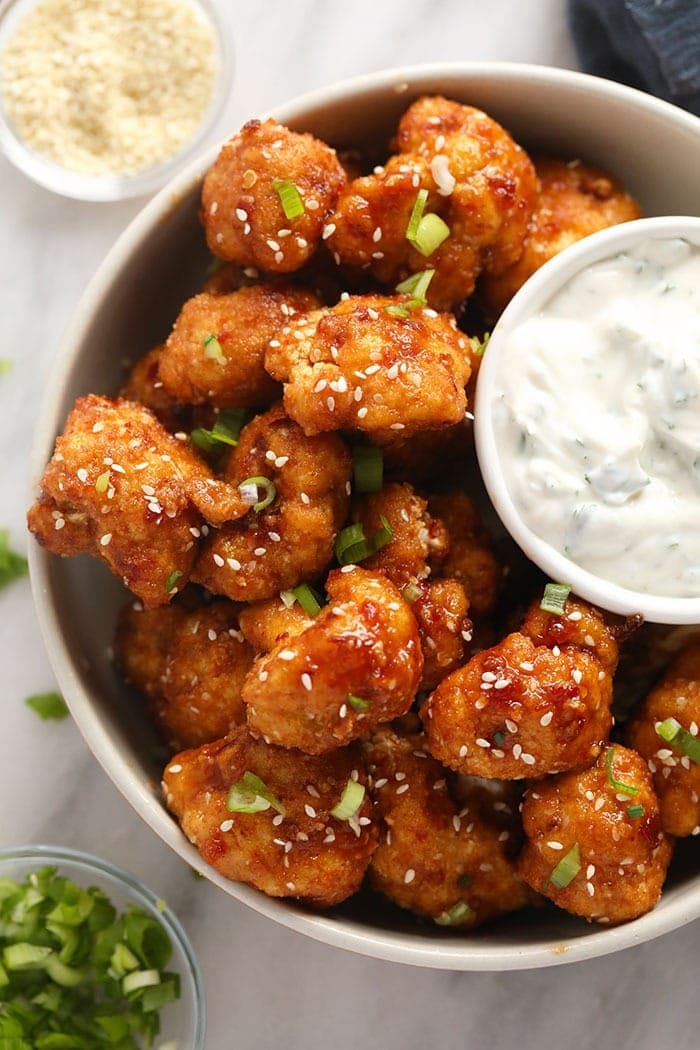 Healthy Wing Recipes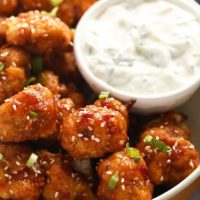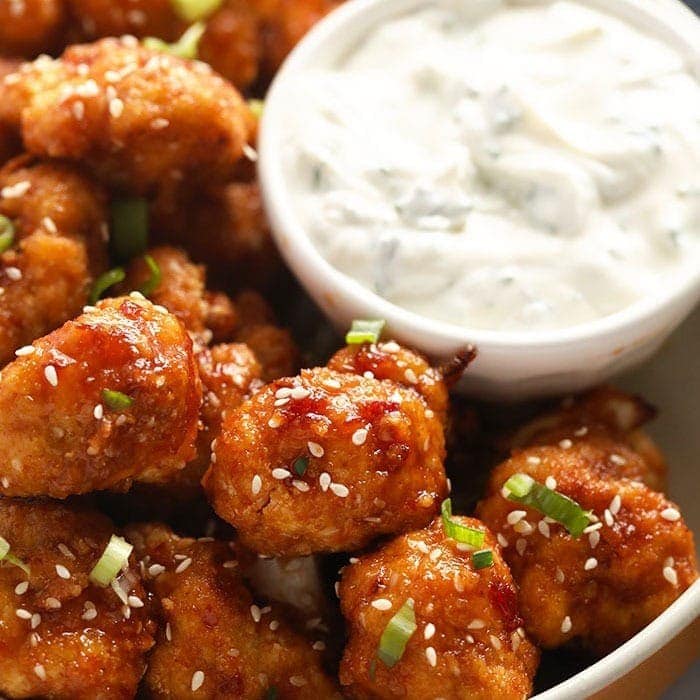 Sweet Chili Cauliflower Wings
These Sweet Chili Cauliflower Wings are baked until golden brown and tossed in a delicious spicy sweet chili sauce! Make them for dinner or bring them as an appetizer to your next party!
Instructions
First, preheat oven to 400ºF and spray a baking sheet with nonstick cooking spray.

Next, Prep cauliflower by washing and patting dry. Then, cut into bite-sized florets and set aside.

Crack 3 eggs into a medium bowl and use a fork to whisk. Set egg wash aside.

Prepare the breading. Place breadcrumbs, sesame seeds, ground ginger, garlic powder, and salt into a large bowl and mix until combined.

Dip each cauliflower floret into the egg wash, making sure to fully coat the entire thing.

Then, dip each piece of cauliflower into the breadcrumb mixture, coating the entire thing.

Place on cookie sheet and repeat until all florets are coated.

Bake cauliflower florets at 400ºF for 15 minutes.

Remove baking sheet from oven and carefully flip each cauliflower wing over.

Place back into the oven and bake at 400ºF for another 10 minutes.

While the cauliflower wings are baking, prepare sauce.

Place chili garlic sauce, soy sauce, fresh grated ginger, and honey into a large bowl. Whisk until combined.

Once cauliflower wings are done cooking. Let them cool for around 5 minutes. then, transfer them into the sauce and toss.

Serve with your favorite wing sauce such as ranch or blue cheese.
Nutrition facts
Calories:
236
kcal
Protein:
9
g
Fat:
7
g
Fiber:
3
g
Sugar:
18
g