Make any game day or fun family gathering extra tasty with these Healthy Baked Chicken Wings. They're perfectly crispy and tossed with a spicy + sweet buffalo sauce. Enjoy!
Whether you're making these buffalo chicken wings or our BBQ chicken wings or even these vegetarian asian zing cauliflower wings, we've got a wing ding for you!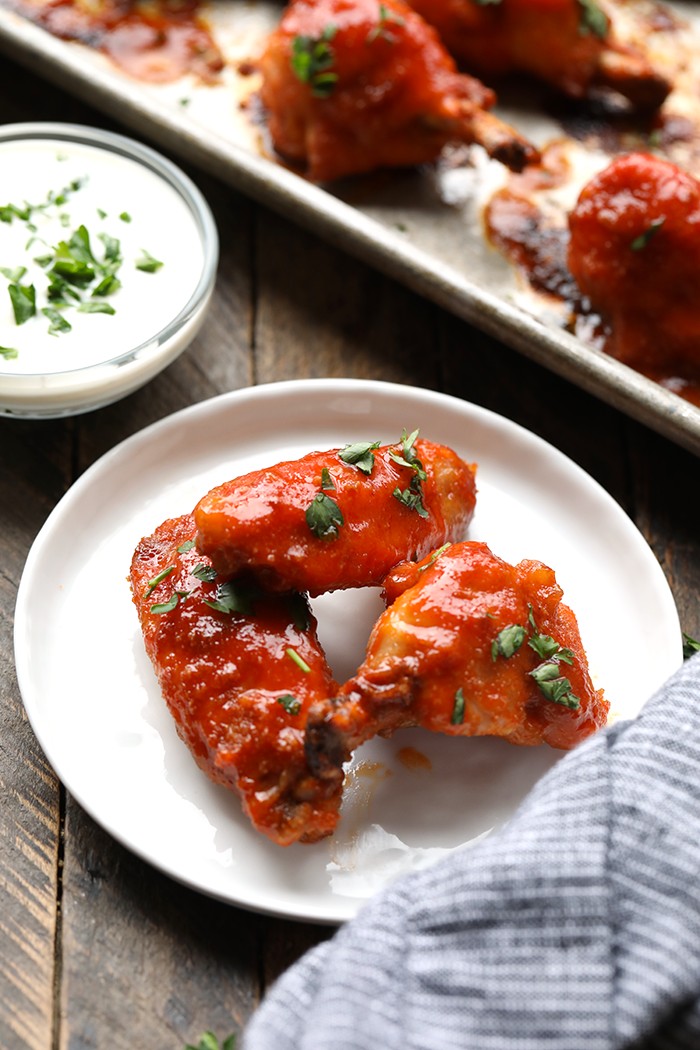 We Heart Healthy Apps!
We are all about delicious and healthy appetizers, snacks, and desserts here at Fit Foodie Finds HQ. We love dreaming up healthy recipes for you to take to game-day parties, holiday gatherings, and everything in between.
This is by far one of my favorite healthy appetizer recipes (our Healthy Cauliflower Wings are a close second!). Not just because of my love for chicken wings, but because then you can have an easy and great tasting appetizer ready in about 30 minutes. It's genius and you should all make them right MEOW.
Baked Chicken Wings 4Ever
We do love the classic buffalo chicken wing, but we wanted to try and add another layer of flavor into these tasty wings. First, we coated them in dry rub and baked them so they were tender and juicy. Next, we tossed them in the classic Franks Hot Sauce with a touch of honey. It was a flavor explosion.
The key to good chicken wings comes down to 3 things:
the flavor
making sure they don't turn out too dry
and to sauce them up!
I am a huge fan of a saucy buffalo chicken wing, so these baked buffalo chicken wings are right up my alley. You get the healthy baked goodness of baking them in the oven matched with the perfect amount of sauciness at the end.
After your chicken wings are perfectly baked, you only have one more important decision to make. What chicken wing dip do you use!? We've got you covered there, too!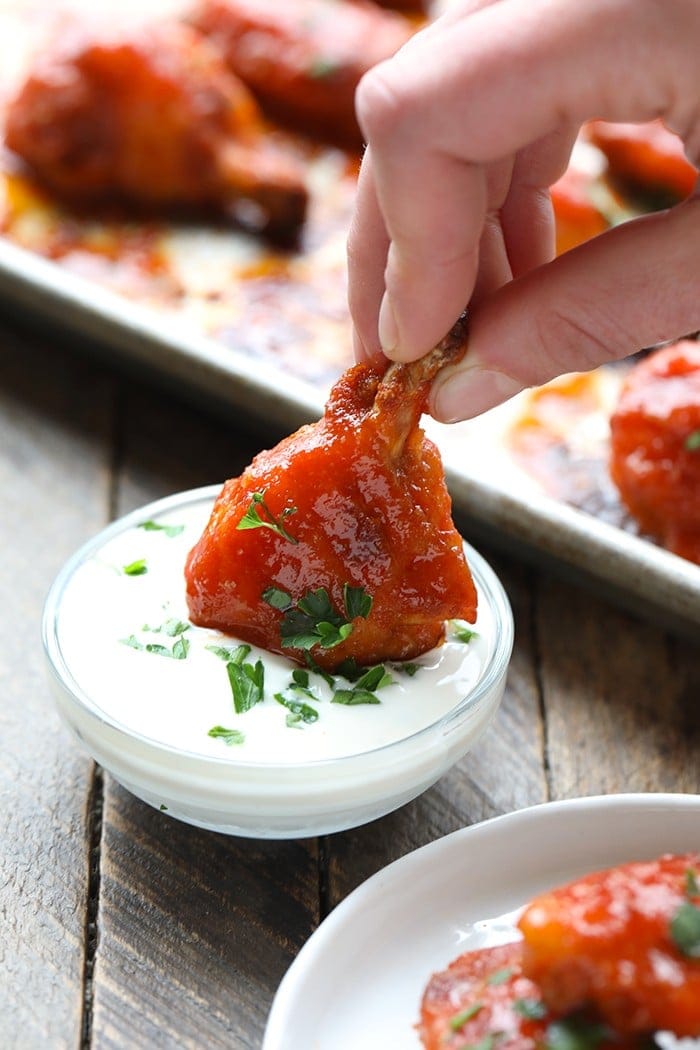 Chicken Wing Dipping Sauces
What do you dip your chicken wings into? The classic buffalo chicken wing dips are either a ranch dressing or blue cheese dressing.
Personally, I am a die-hard blue cheese dressing fan when pairing a chicken wing with a dip. However, we have so many healthy chicken wing dip options for you on Fit Foodie Finds, so take your pick!
Baked Chicken Wing FAQs
How long do you put wings in the oven?
Keeping in mind that every oven is different, we recommend baking these specific chicken wings for about 30 minutes.
That being said, we remove them at the 25-minute mark to toss them with a buffalo sauce. We do this so that the sauce is hot and tangy!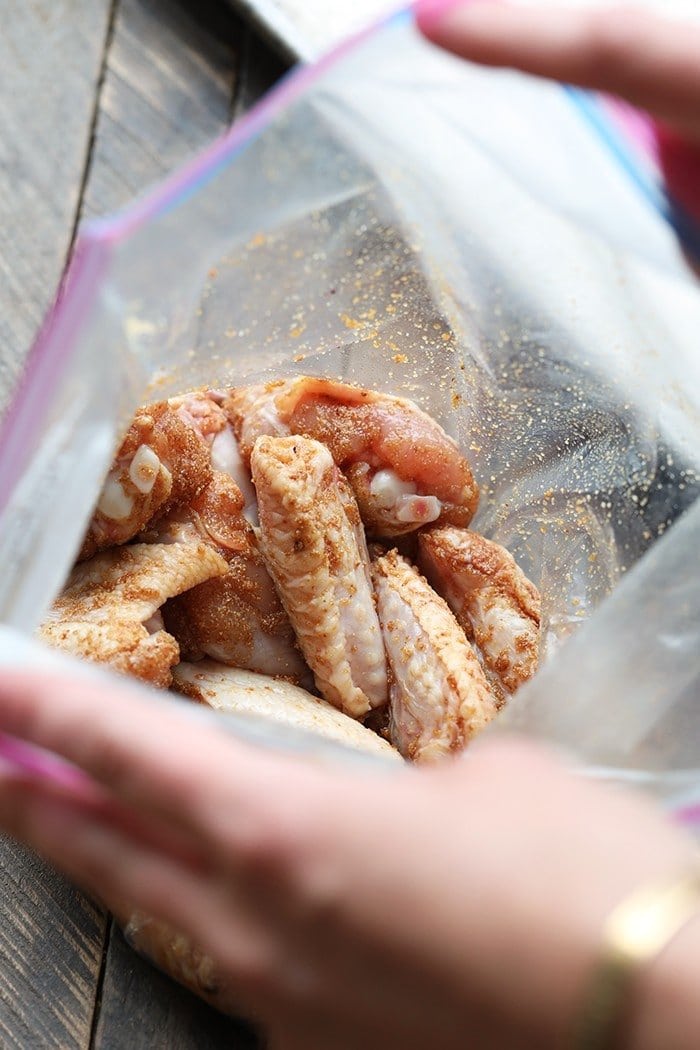 How do you make baked chicken crispy?
Typically, chicken wings are fried. That is usually what gives chicken wings the delicious crispy texture that people are used to! We gave these chicken wings a bit of a crunchy texture by caramelizing them in the oven after tossing them with coconut sugar! You guys, it is SO delicious.
Another way you can make baked chicken crispy is by tossing your chicken in an egg wash and coating them with a crushed corn flake cereal, a crushed nut, or coconut like our Coconut Crusted Chicken Fingers.
Can chicken wings be healthy?
Yes, chicken wings can be healthy! Removing the method of frying a chicken wing automatically makes it healthier. Chicken is a great source of protein and if you keep the sugar content in whatever sauce you use down, it can definitely be a healthier appetizer or meal option!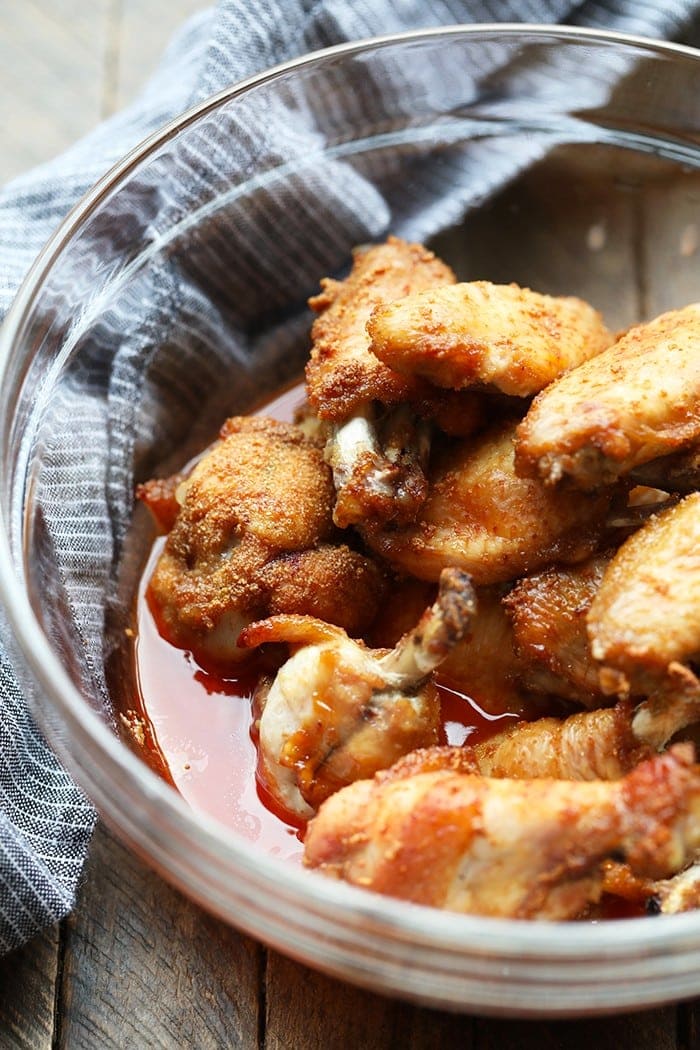 How do I reheat chicken wings?
If you have leftover chicken wings, heat your oven at a fairly low temperature. We tend to set our oven to about 325ºF. Place chicken wings on a baking sheet and place them in the oven for 10-15 minutes.
Pro Tip: After your wings are reheated, feel free to toss them in more sauce, place them back in the oven for an additional 5 minutes to heat the sauce up, and enjoy!
More Wing Recipes
Still in the wing ding mood?! Let us introduce you to the plethora of wing recipes we have here on Fit Foodie Finds (both chicken and vegetarian variations!):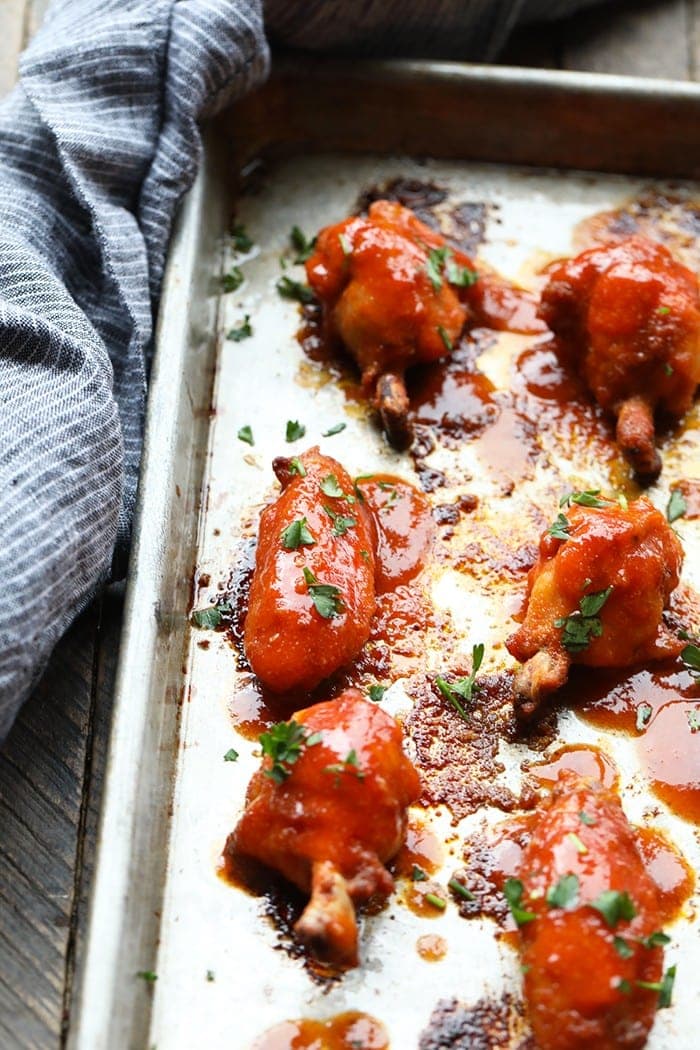 Healthy Chicken Recipes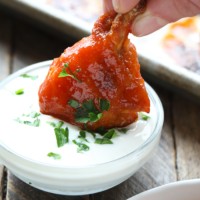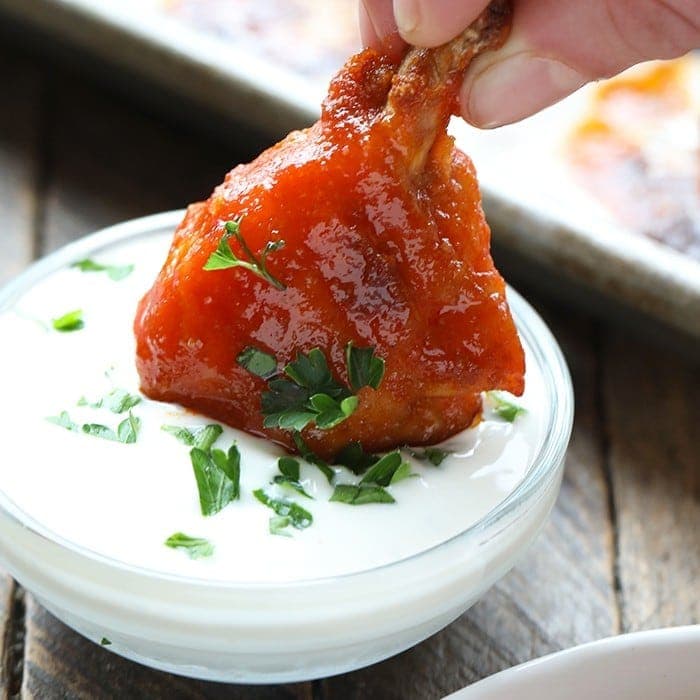 Buffalo Baked Chicken Wings Recipe
Make any game day or fun family gathering extra tasty with these Healthy Baked Chicken Wings. They're perfectly crispy and tossed with a spicy + sweet buffalo sauce. Enjoy!
Instructions
Preheat oven to 400ºF. Spray a baking sheet with non-stick cooking spray and set aside.

Prep dry rub by stirring together garlic powder, coconut sugar, and salt into a small bowl.

Place chicken wings into a gallon size bag, add the dry rub, and tightly seal. Shake the chicken wings and dry rub until wings are coated.

Place wings onto the baking sheet and bake for 20-25 minutes (or until caramelized).

While wings are baking, stir together Frank's and maple syrup and place into a large mixing bowl.

Remove chicken wings from oven and toss them in the hot sauce mixture.

Return wings to the oven to bake for an additional 5 minutes.

Remove from oven, let cool, and enjoy!
Tips & Notes
*If you are unable to find wingettes and drummies, you will need to purchase full chicken wings and separate them yourself.
**If your coconut sugar is not finely ground, you will need to place it in the food processor and process until finely ground.
Nutrition facts
Calories:
309
kcal
Carbohydrates:
15
g
Protein:
34
g
Fat:
14
g
Fiber:
0
g
Sugar:
11
g